Coron is one of the most famous destinations in the Philippines. Coron is an easy pick for families, couples and vacationers simply because of its beauty. Pristine beaches, magnificent lagoons, towering rock formations, rich coral gardens, and diverse wildlife are the things you will encounter and experience when you visit Coron.
Coron is located in Northern Palawan and is part of Calamianes Group of Island. Coron as a destination can be divided into major islands namely Busuanga where Coron town and the airport are located, Coron Island where Kayangan Lake is located and Culion Island which was a former leprosarium and where an old church can be visited. Another major Island that is now gaining popularity because of the Safari is Calauit Island which is located in the Northwest of Busuanga Island. Other Islands which are commonly part of Island hopping tour packages are Banana Island and Malcapuya Island – these islands have world-class beaches.
Busuanga Island is the main island where the airport, hotels, cafes, restaurants and tour operators are located. Unless you have a hefty amount of money to splurge in some island accommodation in Coron, you are most likely to stay in Coron Town in Busuanga. Coron town has a number of cafes where you can dine, drink or work.
How to Go to Coron
As mentioned above, the airport is located in Busuanga Island. These three airlines, as of writing, flying to Coron from Manila, Clark and Cebu.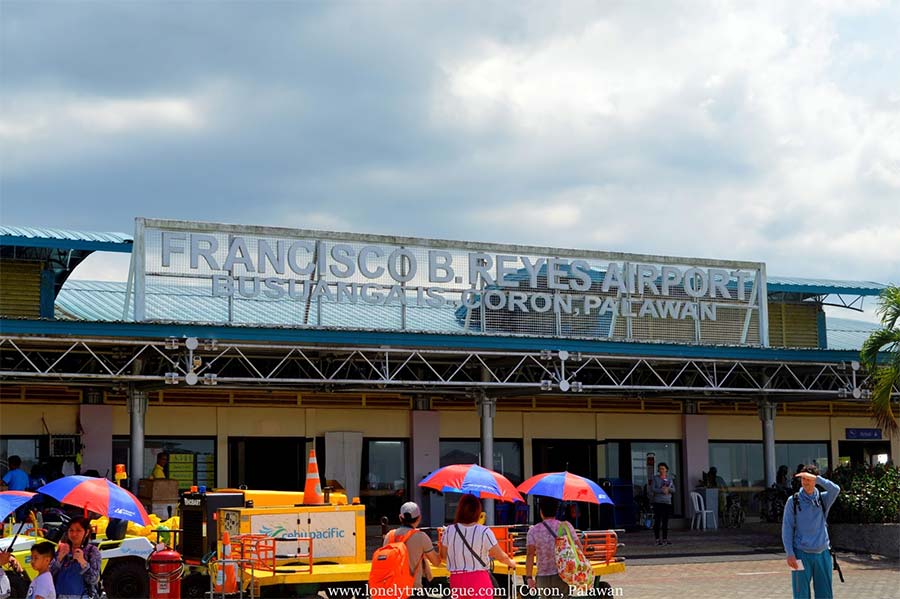 Via Manila Cebu Pacific flies to Busuanga 4 times daily while Skyjet flies 2 times daily from Ninoy Aquino International Airport (Manila)
Via Cebu  Philippine Airlines flies to Busuanga 3 times daily from Mactan International Airport.
Via Clark Philippine Airlines flies to Busuanga 4 times daily while Cebu Pacific flies 2 times weekly from Clark International Airport.
If you are from Manila, you can also choose to fly via Clark. There are times that fares via Clark are much cheaper going to Coron. Clark is just two hours away from Manila so if you have time to spare and especially if you are from northern Manila like Quezon City, you can consider this routes. I have a guide on how to travel from Trinoma to Clark using Genesis P2P Bus.  
From Francisco B. Reyes Airport (Busuanga Airport) there are vans offerings transfer to Coron town for Php150.00 each. Your hotel can also arrange this for you. The driver will drop you in front of your hotel or your own designated place within the town. Going back to the airport, they will also pick you up in your hotel.   
Where to Stay in Coron
There is a lot of accommodation in Coron ranging from budget to luxurious hotel. You can choose from a pension house, hostels, guest house, luxurious hotels, and island accommodation like Binga Beach, depending on your budget. Most of the hotels are in town or within the town. You also would want to stay in the town or within the town because the nightlife, restaurants, and other services are there.   
We stayed in a pension house about 10 minutes walk away from the town. We stayed in Lan Bless Pension House.
Lan Bless Pension House has basic accommodation with air conditioning units in all rooms. As of writing, they do not have WiFi yet (Mar 2018). I failed to ask them how much is their rooms but ours cost Php1,500.00 per night and is good for two with heavy breakfast. Note that they do not provide toiletries.
Steps away from our pension house is Dayon Hostel where I saw a lot of foreigners staying. Dayon Hostel has a nice interior (at least in the lobby) and lighting.