Thailand offers the epitome of island living, boasting exceptional weather, invitingly warm ocean waters, and picturesque palm-fringed beaches. Complementing this natural beauty is a wide range of top-notch accommodations, making it a truly remarkable holiday destination. Additionally, with the advantage of a cheap cost of living rate, great cuisine and easy transport, travellers can fully immerse themselves in the splendours of this captivating country.
Thailand boasts a plethora of islands, each with its own distinct character and offerings. From lively markets and awe-inspiring temples to captivating swimming spots, beach bars, and vibrant coral reefs, these islands have something for everyone. Whether you seek adventure through activities like kayaking, swimming, and snorkeling, or prefer to unwind with a refreshing coconut drink in hand, Thailand has an island that perfectly matches your preferences.
At Lonely Travelogue we have created a list of 20 Thailand islands. Besides natural beauty, we also look at factors such as who is it best suited for and when to visit to get the best weather.
20. Koh Samet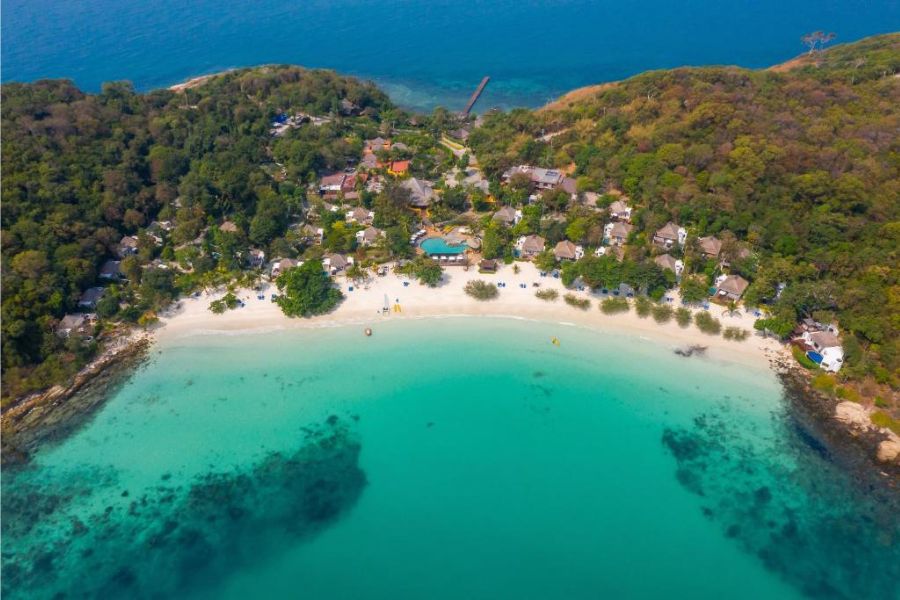 Koh Samet is the ideal getaway island from Bangkok and Pattaya and gets busy, especially at the weekend and public holidays. Ban Phe Pier, from where you take the ferry, is located only a two and a half hour's drive South East from Bangkok. It is also one of the islands that gets the least amount of rainfall making it perfect to relax on the beach.
Koh Samet, a stunning island located within a national park, derives its name from the abundant trees that flourish in its surroundings. As a weekend destination and popular with tourists it has decent nightlife for its small size. There are plenty of BBQs, beach bars and fire shows for you to enjoy, especially on Haad Sai Kaew (Diamond Beach). Due to its small size almost everywhere on the island you can walk or take the songthaew (local taxi).
Haad Sai Kaew is the main beach on Koh Samet. The other beaches are quieter like Ao Hin Khok, secluded Ao Tubtim, and Mae Ramphueng Beach.
Size = 5.1 Km2
Nightlife = 6
Tranquillity = 6
Natural Beauty = 7
Best Season – November to April – Dry season
19. Koh Chang Noi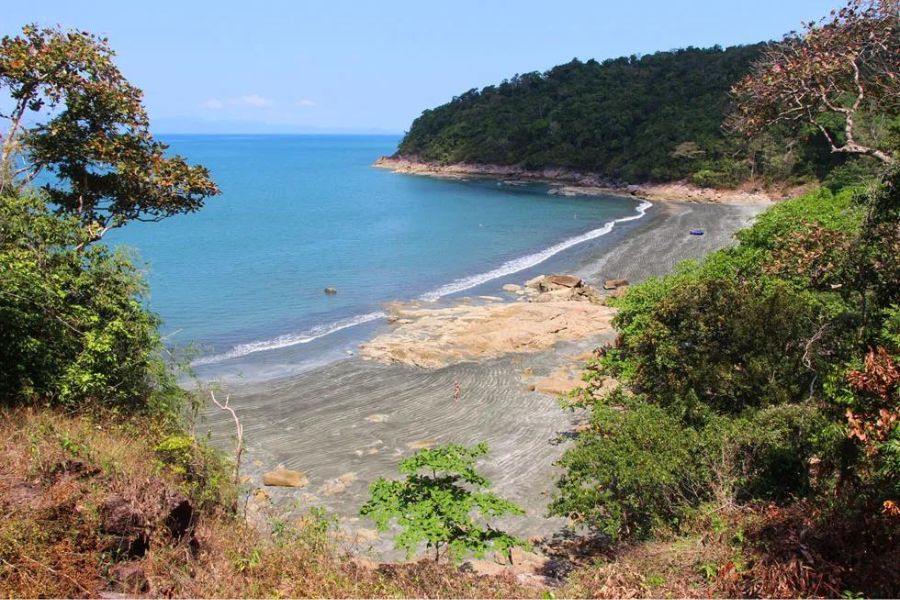 Koh Chang Noi, located in the northern province of Ranong in the Andaman Sea, should not be mistaken for the island of Koh Chang in eastern Thailand. It is important to note the distinction between these two locations.
Koh Chang Noi may not be widely recognized, but it has gained popularity among adventure-seeking travelers, mostly from Germany. The absence of roads along the beaches provides a unique experience where you can retreat to your humble cabin for a restful stay. Electricity is only available from 6:00 PM to 11:00 PM, meaning amenities such as WiFi, hot showers, and fans may not be available in your bungalow.
Koh Chang Noi is an ideal destination for couples seeking a peaceful retreat amidst nature or individuals who value simplicity and authenticity. This secluded island can only be reached by boat, guaranteeing a tranquil and back-to-basics experience.
Size = 18 Km2
Nightlife = 0
Tranquillity = 10
Natural Beauty = 8
Best Season – November to March – Drier season
18. Ang Thong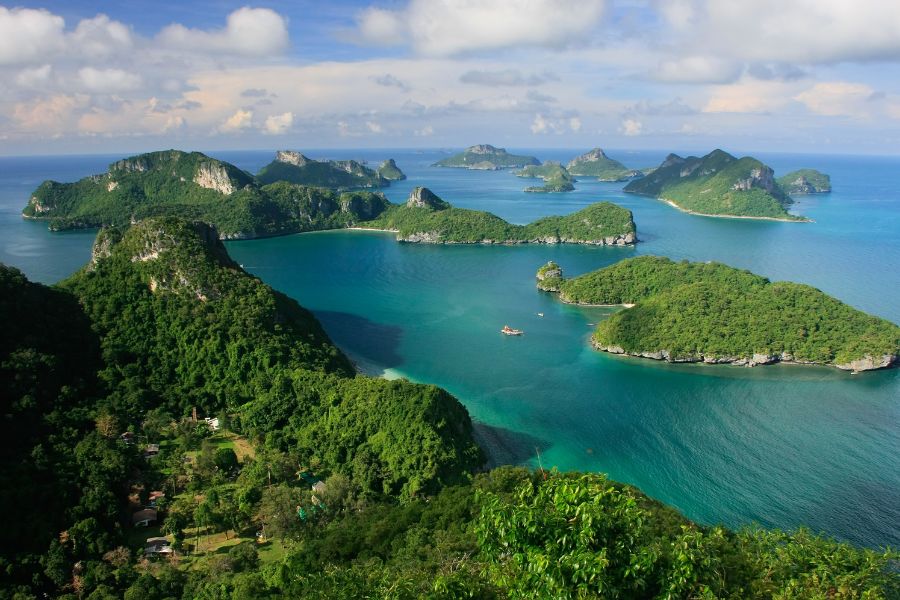 Mu Ko Ang Thong is a stunning marine national park located in the Gulf of Thailand, just a short distance away from Koh Samui. Spanning across an expansive area of 102 square kilometres, the park is home to a collection of 42 picturesque islands. Within this vast expanse, approximately 50 square kilometres are comprised of land, while the remaining portion is made up of pristine, crystal-clear waters. This remarkable park was officially established in 1980, and since then, it has become a beloved destination for nature enthusiasts and adventurers alike.
The Ang Thong islands boast an abundance of natural marvels, encompassing beautiful waterfalls, hidden coves, and serene lakes. These islands serve as a sanctuary for a wide array of wildlife, both terrestrial and aquatic you will find langurs, otters, sea turtles, and little herons.
Most of the smaller islands can not be visited by tourists. However, some of the larger islands can be visited and are popular day trips with tourist staying in Koh Samui or Koh Phangan.
Discover the captivating wonders of Koh Paluay, the sole inhabited island within a cluster of over 40 islands, known for its unique community of sea gipsies. Alternatively, you can venture to Koh Mae, often referred to as Mother Island, offering a breathtaking beach and the magnificent Emerald Lagoon.
Size = 50 Km2
Nightlife = 0
Tranquillity = 10
Natural Beauty = 10
Best Season – December to March – Dry and Cool Season
17. Koh Jum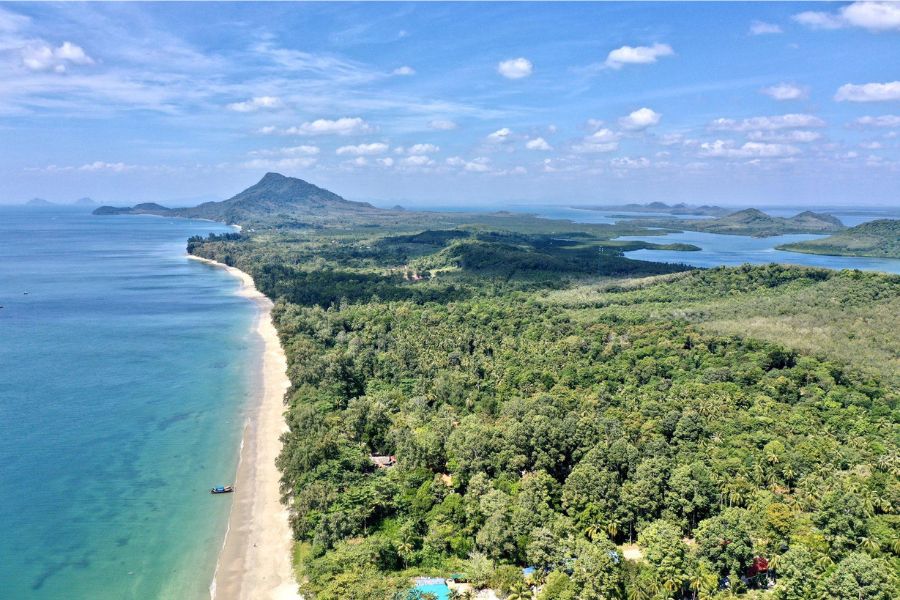 The island of Koh Jum is located between the tourist hotspots of Koh Lanta and Krabi. It gets surprisingly few tourists wanting to visit, which is great as this almost the most tranquil hideaway you can get close to an International Airport in Thailand, in this case, Krabi Airport.
Koh Jum, also known as Koh Pu, is a serene island covered by lush jungle vegetation. It is renowned for its tranquil atmosphere and stunning beaches, which offer visitors a serene and idyllic escape.
You come to this island to escape from it all. There is a very laid-back vibe, encouraging travelers to unwind and recharge. If you want to engage in physical activities on Koh Jum, the number one experience is to climb the 401-meter-high Koh Pu mountain. From here you have beautiful views over the island and the Andaman Sea.
Size = 9 Km2
Nightlife = 1
Tranquillity = 9
Natural Beauty = 9
Best Season – December to April – Dry season
16. Koh Kradan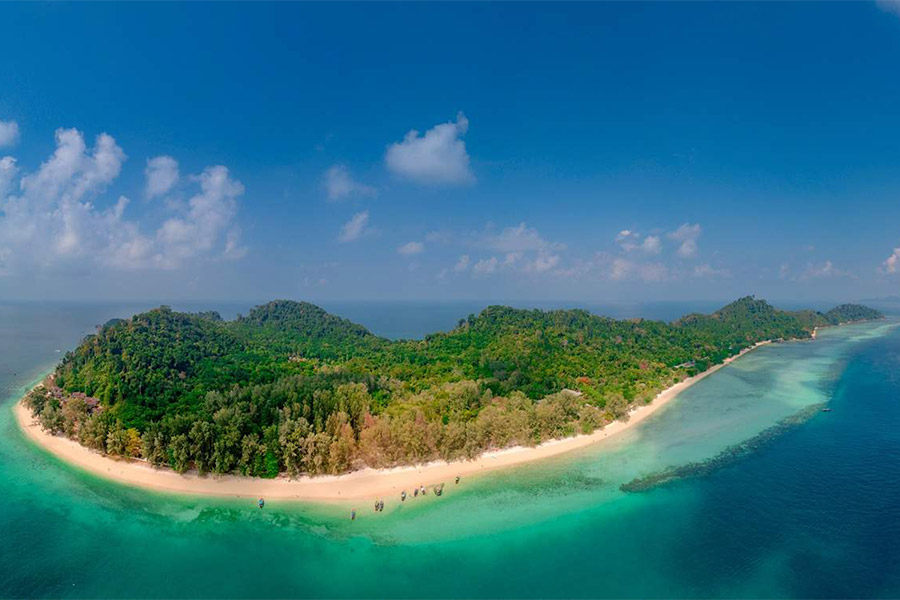 Koh Kradan, located off Thailand's Andaman Coast, is widely regarded as the most stunning island among the 40 Trang Islands. Unlike popular tourist destinations such as Koh Phi Phi or Phuket, Koh Kradan offers a serene and tranquil atmosphere, free from the crowds and commotion. With its picturesque landscapes and untouched beauty, this island is a hidden gem for those seeking a peaceful tropical getaway.
How long it will stay a hidden gem and not be visited by the crowds is not clear especially as it was also voted the number one beach in the world by the World Beach Guide. The nomination was used by the Thailand tourist authority to promote Thailand tourism.
Koh Kradan lacks a village or proper roads, you will find a string of beautiful beach resorts on one side, while the no beachy side of the island is covered in the vibrant greenery of Hat Chao Mai National Park.
Koh Kradan's primary beach is a stunning 2 km expanse of pristine white sand, seamlessly blending with the mesmerizing azure waters of the ocean. The landscape offers a truly awe-inspiring sight, with picturesque limestone karsts and a vibrant coral reef easily visible from the shoreline.
Unlike other destinations, Koh Kradan is characterized by its tranquil ambiance and lack of excessive activities, which only adds to its charm. Travelers flock to this island paradise to relax, bask in the warm sun, and fully immerse themselves in the laid-back beach lifestyle it offers.
There is not much you can do than sunbathe, snorkel, and enjoy some local foods and drinks and kayaking around the island. The most strenuous activity you can do is take a hike along the forest path leading to Chonglom Bay Beach, where you can witness some of the most stunning sunsets the island has to offer.
Size = 2.4 KM2
Nightlife = 0
Tranquility = 9
Natural Beauty = 9
Best Season – November to April – Dry season
15. Surin Islands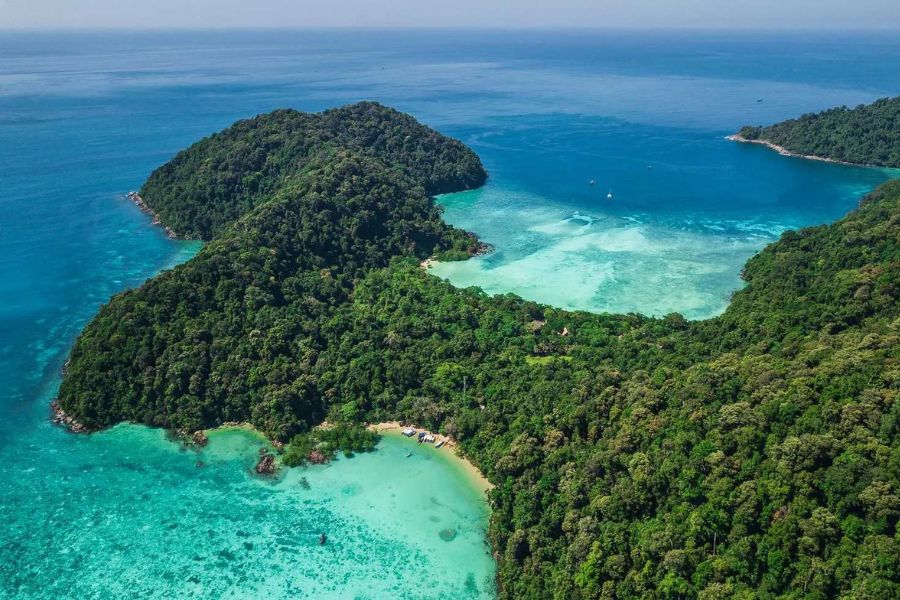 The Surin Islands, situated within the Mu Ko Surin National Park, are a collection of stunning islands. The archipelago consists of two primary islands, Koh Surin Nuea and Koh Surin Tai, along with three satellite islands.
The islands offer pristine white-sand beaches, crystal-clear waters, and a refreshing absence of touristy attractions. A visit here feels like a journey back in time, allowing visitors to indulge in various activities such as snorkeling, diving, hiking, and game fishing. For those seeking solitude, renting a longtail boat is a perfect way to explore the untouched shores.
For a truly memorable stay, you should spend a night in a tent or beach hut on Koh Surin Neua beach. This secluded spot offers a peaceful and picturesque setting, allowing you to unwind and connect with nature.
If you are a nature enthusiast or diver, you should not miss the opportunity to explore the extraordinary coral reefs in Ao Chak. These reefs are renowned for their stunning beauty and biodiversity. It is not uncommon to encounter magnificent whale sharks while diving or snorkeling in these waters.
Size = 9 Km2
Nightlife = 0
Tranquillity = 9
Natural Beauty = 9
Best Season – December to February – Dry and cool season, March till May hot season
14. Koh Yao Noi & Koh Yao Yai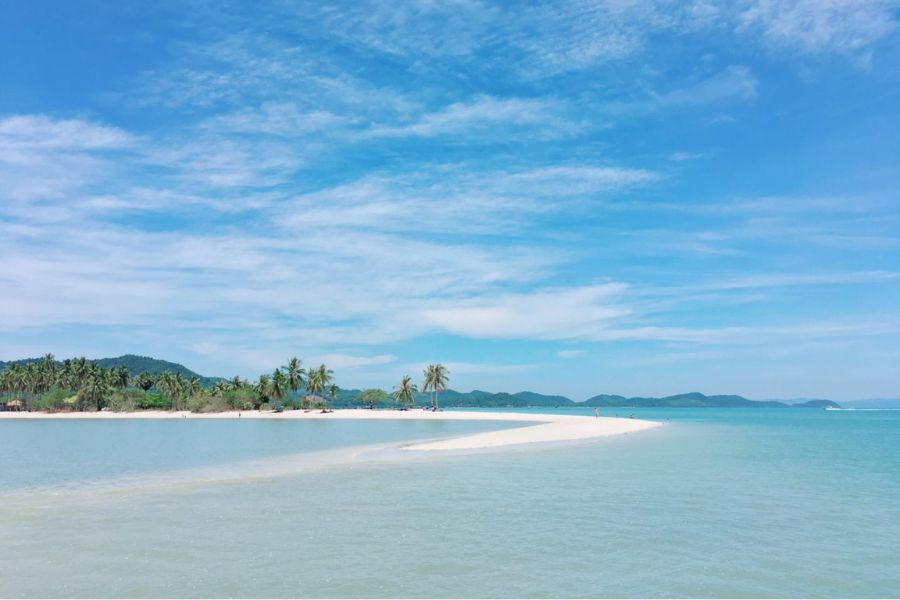 Koh Yao Yai and Koh Yao Noi are two stunning islands nestled in the captivating waters of Phang Nga Bay, renowned for their awe-inspiring limestone rock formations and enchanting mangrove forests. These islands provide an authentic and immersive Thai experience, offering visitors the opportunity to stay in traditional local homestays housed in charming wooden dwellings, embraced by picturesque coconut groves, tranquil rice paddies, and verdant rubber plantations.
Located just a short ferry ride away from Phuket, the picturesque islands of Koh Yao offer a tranquil escape from the bustling city. With no ATMs or banking facilities available, visitors can truly disconnect from the demands of modern life. In fact, the islands only have one 7-Eleven, emphasizing the simplicity and untouched beauty of this hidden gem.
The choice between visiting the two islands ultimately depends on personal preference. Both Koh Yao Noi and Koh Yao Yai are often overlooked destinations that offer alluring island getaways with secluded beaches, exceptional scuba diving opportunities, and breathtaking sunsets. While Koh Yao Noi is slightly more developed than Koh Yao Yai, it is important to note that the term "built-up" is relative as both islands maintain a tranquil atmosphere.
Koh Yao Yai stands out as the more secluded option among the two. It boasts a selection of mid-range accommodations suitable for families, along with a quaint and traditional village atmosphere. Additionally, Koh Yao Yai is renowned for its stunning beaches.
Size = 111.9 Km2
Nightlife = 1
Tranquillity = 8
Natural Beauty = 9
Best Season – November to March – Dry season
13. Koh Mak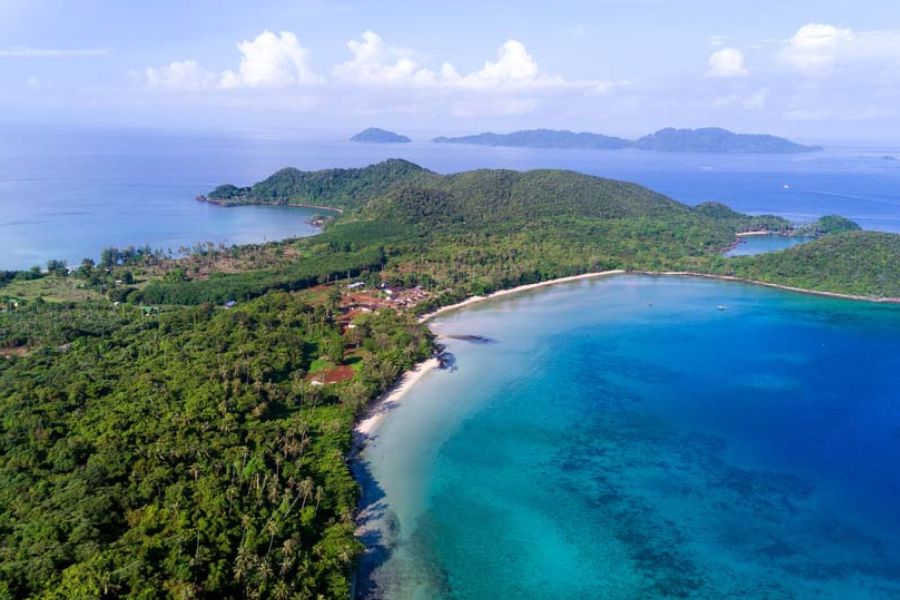 Located between Koh Chang and Koh Kut, Koh Mak is a small island in the East of Thailand. With a local population of 1200 and no 7-11 supermarkets, Koh Mak is a small flat island with about 15 small resorts. This island is far away from mainstream tourism and remains a well-kept secret. Although the Sunday Times tried hard to get it out in the open by including it in the 10 most beautiful undiscovered islands of the world.
Koh Mak, although not densely developed, offers a vibrant range of activities and attractions that make it far from dull. Visitors can engage in various pursuits such as yoga or Muay Thai training, explore the underwater world through diving and snorkeling, take tours to rubber tree plantations, or participate in Thai cooking classes. Additionally, you can visit the Koh Mak Museum and the intriguing Koh Mak Erotic Art House.
Size = 12.4 Km2
Nightlife = 2
Tranquillity = 9
Natural Beauty = 8
Best Season – November to March – Dry season
12. Koh Kut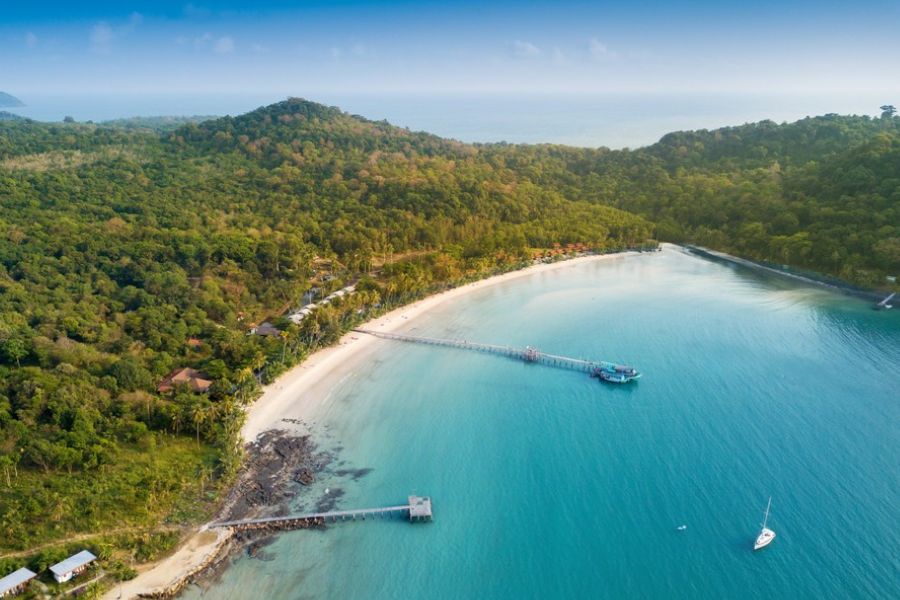 Koh Kut, also referred to as Koh Kood, stands out as one of Thailand's most breathtaking islands, offering an ideal destination for a luxurious and tranquil getaway. Unlike its neighboring island of Koh Chang, Koh Kut guarantees a serene and peaceful atmosphere, boasting an array of pristine beaches adorned with coconut palm trees, unspoiled jungles, and magnificent waterfalls.
Situated in the eastern part of Thailand close to Cambodia, Koh Kut is the second-largest island offering a wide range of accommodation options to suit different budgets and preferences. Whether you are a budget-conscious traveler or seeking luxury, Koh Kut has something for everyone with its diverse selection of basic beach bungalows and high-end resorts.
Discover the charm of two authentic fishing villages located on the east coast of the island. Chill out at some of the public beaches, with Ao Tapao Beach being a standout destination.
There are several popular activities you can engage in while on the island. These include sea kayaking, snorkelling, diving, and going on waterfall hikes, with Klong Chao Waterfall the highlight.
Size = 111.9 Km2
Nightlife = 1
Tranquillity = 9
Natural Beauty = 9
Best Season – November to March – Dry season
11. Phuket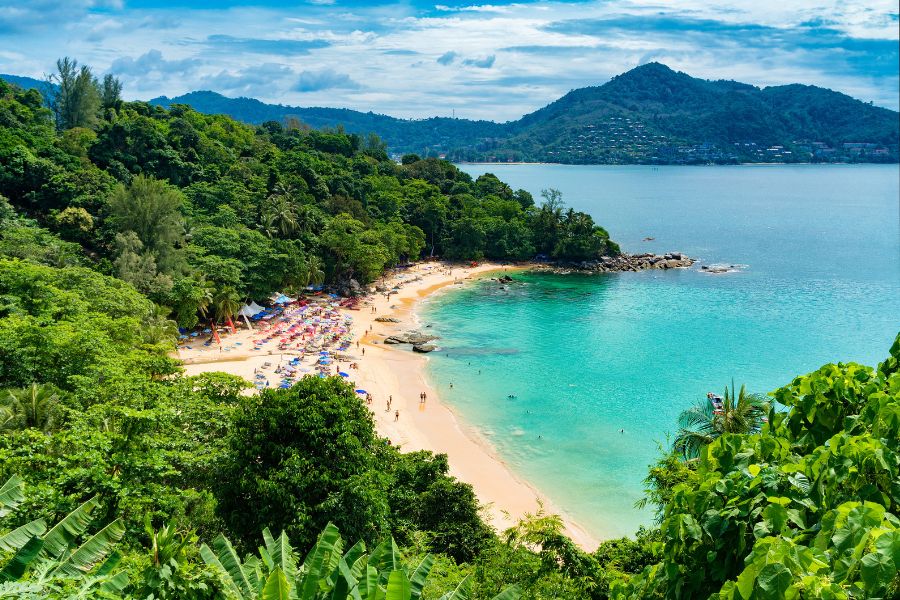 Phuket, located in Thailand, is not only the largest island but also the most prosperous province in the country. As the second-busiest tourist destination, following Pattaya, Phuket welcomes a multitude of holidaymakers annually, all seeking to indulge in their own personal slice of paradise.
Phuket Island attracts numerous travelers due to its thriving infrastructure and vibrant nightlife. If you are seeking tranquillity, this may not be the ideal destination for you.
Patong stands out as the go-to place for nightlife enthusiasts, offering a bustling resort atmosphere. There are plenty of more family-friendly beaches and resort towns with slightly less nightlife like Kata Beach and Karon Beach.
Chalong Bay offers you the opportunity to delve into the rich cultural heritage of the island by exploring impressive Buddhist monuments.
Phuket island is renowned for its abundance of luxury resorts, offering visitors a truly indulgent experience. The island is also home to stunning tropical beaches adorned with beautiful casuarina trees, creating a picturesque setting. Beyond its shores, Phuket boasts enchanting coral reefs and captivating islands, making it an ideal destination for snorkeling and diving enthusiasts. In fact, the snorkeling and diving opportunities here are considered some of the best in Thailand.
For those who prefer to stay on land, Phuket offers a variety of activities to keep visitors entertained. Bicycle tours allow you to explore the island's scenic landscapes and discover hidden gems along the way. Mini-golfing provides a fun and leisurely pastime for families and friends to enjoy. Additionally, traditional cooking classes offer a unique opportunity to learn about Thai cuisine and its authentic flavors.
Whether underwater or on land, Phuket provides an array of experiences that cater to different interests and preferences. From luxurious resorts to breathtaking beaches, this island destination promises a memorable and comprehensive getaway.
Size = 539 Km2
Nightlife = 9
Tranquillity = 5
Natural Beauty = 8
Best Season – November to April – Dry season
10. Koh Lanta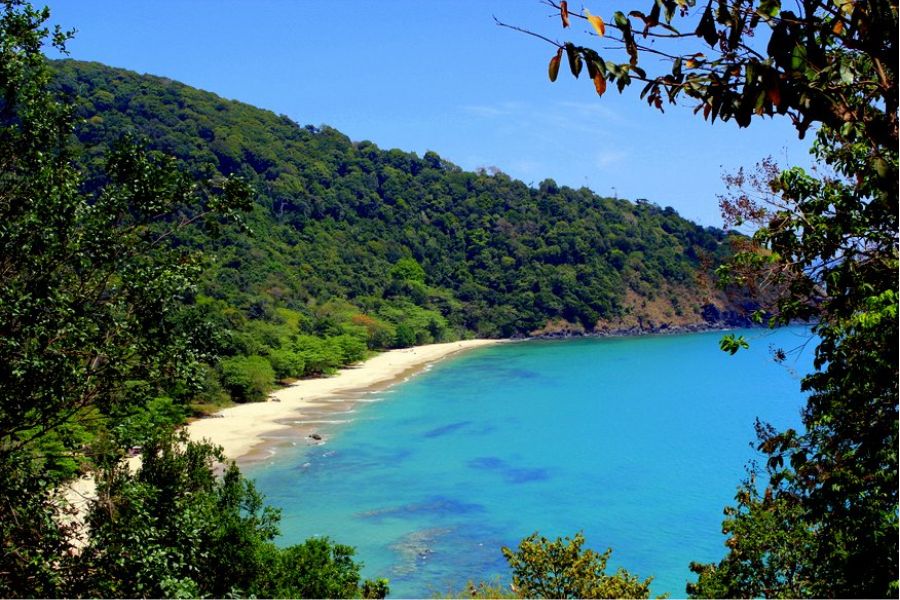 Koh Lanta, located amidst a picturesque landscape of mangroves, coral-fringed beaches, and lush rainforests, offers a harmonious blend of modern amenities and tranquil seclusion. As an integral part of the Mu Koh Lanta National Park, this destination boasts a plethora of natural wonders, including ancient caves, verdant mountains adorned with dense jungles, and captivating waterfalls, creating a paradise for exploration and adventure seekers.
Situated in the southern part of the Krabi province, Koh Lanta is a captivating group of islands worth exploring. The largest island, Koh Lanta Yai, attracts most of the tourist activity and offers a range of attractions and activities.
For a leisurely beach experience, take a stroll along Pra Ae, also known as Long Beach. Alternatively, head further south to discover the quieter and more untamed beaches on the west coast. From witnessing breathtaking sunsets at Khlong Dao or Khlong Nin to engaging in yoga sessions, taking rescued dogs for a walk, or embarking on thrilling caving adventures, Koh Lanta offers a myriad of experiences to suit different preferences.
A visit to Koh Lanta's National Park is an absolute must. This can be done on foot by following the network of hiking trails that lead to the beach or the lighthouse. As the sun sets, don't miss the opportunity to witness the mesmerizing bioluminescent plankton on the beach.
In addition to the National Park, other notable attractions in Koh Lanta include the old town, known for its charm and local heritage, the impressive Khao Mai Kaew cave network, and the picturesque Khlong Chak Waterfall. While it may not have the same level of fame as Phi Phi, Koh Lanta boasts some of the finest diving and snorkeling spots in Thailand. So, remember to pack your flippers and explore the vibrant underwater world.
In conclusion, Koh Lanta offers a diverse range of activities and attractions for travelers seeking a unique and memorable experience. Whether you are drawn to its pristine beaches, natural wonders, or underwater treasures, this island group is sure to captivate your senses.
Size = 81 Km2
Nightlife = 3
Tranquillity = 8
Natural Beauty = 8
Best Season – November to April – Dry season
9. Koh Muk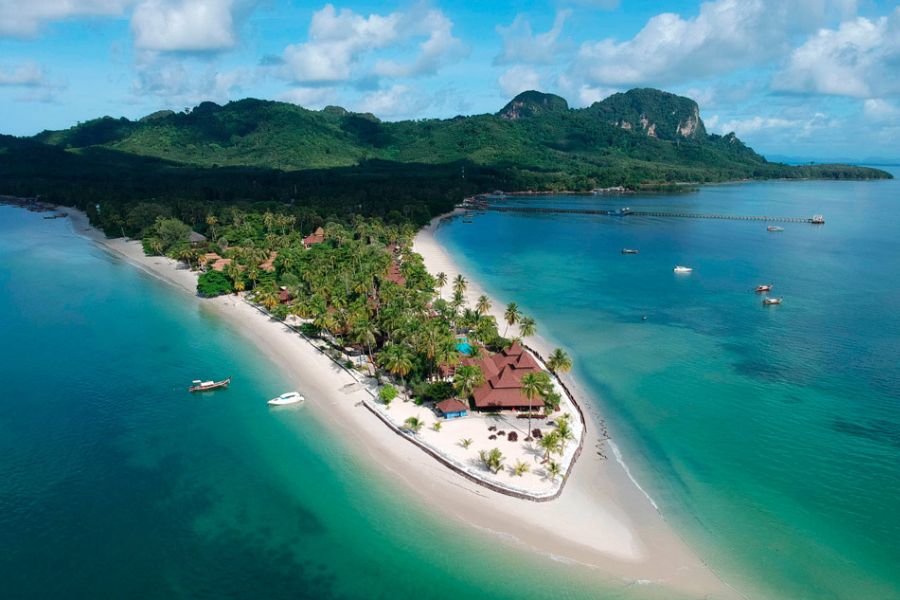 Koh Muk, alternatively referred to as Koh Mook, is a serene island located in the southern region of Thailand. Renowned for its tranquil ambiance, this destination offers a unique blend of natural beauty and cultural charm. A significant portion of the island is designated as a national park, preserving its pristine landscapes, while the remaining areas are inhabited by fishing villages characterized by their distinctive stilted houses overlooking the crystal-clear waters.
As its name suggests, Koh Muk, meaning Pearl Island, exudes a sense of untouched tranquility, far removed from the bustling tourist crowds. Accessible via a convenient 45-minute ferry ride from the town of Trang, this hidden gem promises an authentic and immersive experience for those seeking an exclusive getaway.
The island is not big and there are two main beaches with Sivalai Beachthe one that stands out for its scenic beauty. On the other hand, Farang Beach is the go-to spot for many tourists, offering a delightful panorama of Koh Kradan.
Things you should do are, go on a thrilling jungle trek and discover the charming village of Baan Koh Mook. The island's most renowned feature is Tham Morakot, popularly known as the Emerald Cave.
Make sure to plan a visit to Sabai Beach during low tide, accessible either by boat or by sea kayak. This secluded beach offers a tranquil and serene atmosphere.
Size = 7 Km2
Nightlife = 2
Tranquillity = 8
Natural Beauty = 9
Best Season – November to April – Dry season
8. Similan Islands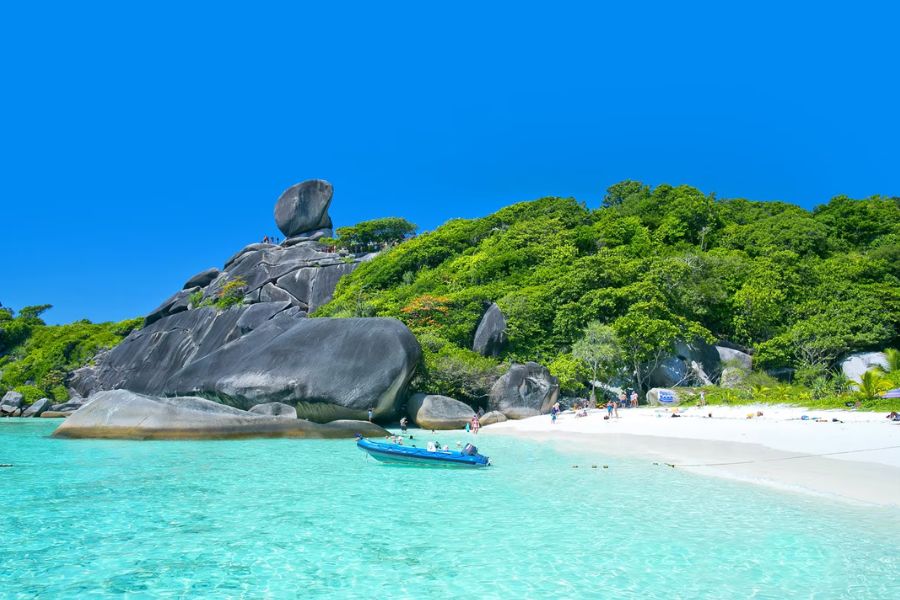 With their low-lying landscapes and dense vegetation, the Similan Islands provide a captivating and immersive experience for nature enthusiasts. The islands' distinct rock formations, ranging from intriguingly shaped boulders to majestic granite cliffs, create a visually stunning backdrop against the crystal-clear turquoise waters.
Visitors to the Similan Islands can indulge in a range of activities, such as snorkeling, scuba diving, and hiking, to fully appreciate the beauty and biodiversity of the area. The islands are renowned for their vibrant coral reefs, which are home to an array of marine species, including tropical fish, sea turtles, and even reef sharks. Exploring the underwater world here is a true delight for divers and snorkelers alike.
In addition to the captivating marine life, the Similan Islands boast lush forests that harbor a rich variety of flora and fauna. Trekking through the verdant trails, visitors may encounter playful monkeys, colorful birds, and other fascinating wildlife species. The islands are also known for their breathtaking viewpoints, offering panoramic vistas of the surrounding islands and azure waters.
To preserve the natural wonders and delicate ecosystems of the Similan Islands, the Mu Koh Similan National Park enforces strict conservation measures. Visitors are encouraged to practice responsible tourism and adhere to guidelines to ensure the long-term sustainability of this remarkable destination.
In conclusion, the Similan Islands offer a captivating blend of natural beauty and biodiversity. From their unique rock formations to their vibrant coral reefs and lush forests, these islands are a haven for nature lovers and adventure seekers. Immerse yourself in the wonders of the Similan Islands and discover the enchantment that awaits in this pristine corner of the Andaman Sea.
Size = 26 Km2 between the 11 islands
Nightlife = 0
Tranquillity = 8
Natural Beauty = 9
Best Season – October to May – Dry season
7. Koh Tarutao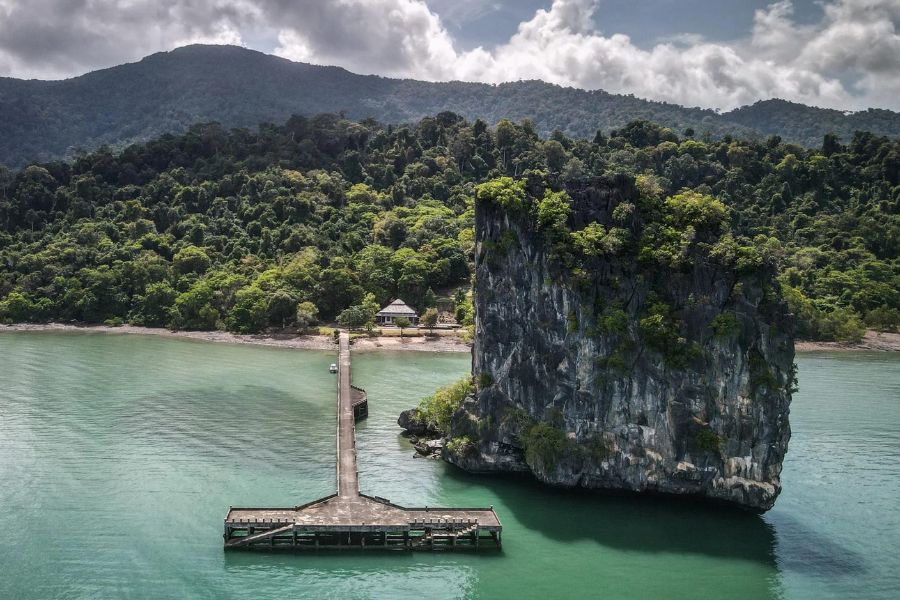 Koh Tarutao, located within the expansive Tarutao National Marine Park, stands as the largest island among a collection of over 50 picturesque islands in Thailand. Renowned for its breathtaking natural beauty, this untamed paradise offers a diverse landscape encompassing lush jungles, captivating mangroves, secluded beaches, and imposing limestone cliffs, all of which beckon adventurers to embark on thrilling explorations on foot or by bicycle.
Koh Tarutao, formerly a prison island, offers a range of captivating historical sites for visitors to explore. One of the notable highlights is the Ao Ta Lo Woo Pier, which provides a glimpse into the island's past. Additionally, a meandering historic trail connects various buildings that once functioned as a political prison, adding to the island's rich historical significance.
The main island of Koh Tarutao is home to the headquarters of the national park. This pristine and secluded destination offers limited facilities and is exclusively accessible to tourists between October and April annually.
You can reconnect with nature through activities such as hiking, mountain biking, and sea kayaking. You also have the chance to encounter a diverse range of wildlife, like wild boars, langurs, and over 100 species of birds.
Size = 152 Km2
Nightlife = 0
Tranquillity = 9
Natural Beauty = 9
Best Season – November to April – Dry season
6. Koh Samui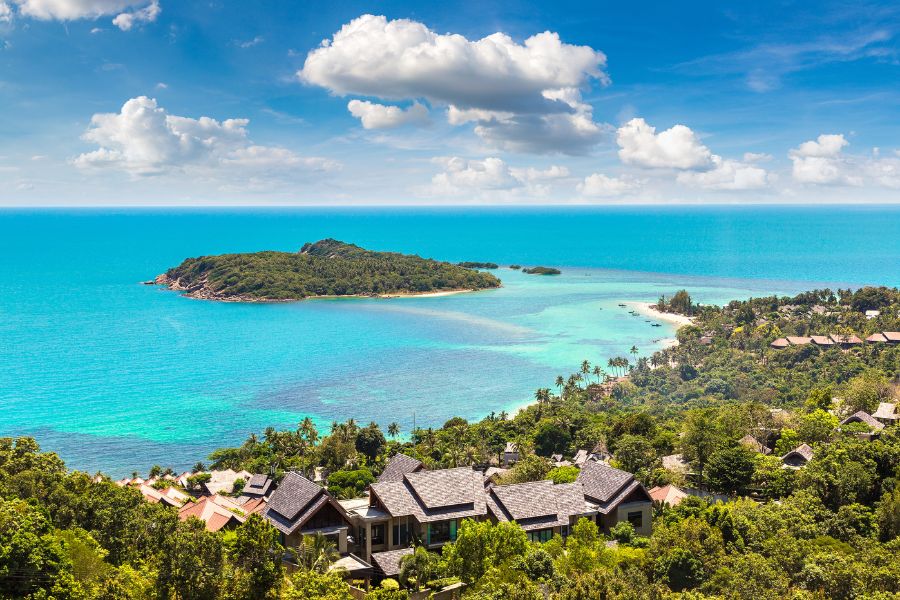 Koh Samui is the second-largest island in Thailand and it is close to another travel favourite, the island of Koh Phangan. It is one of the few islands with an international airport making it easier to access, however, the airport is owned by Bangkok Airways and flights are on the expensive side.
Boasting picturesque palm-fringed beaches, dense rainforests, and sprawling coconut groves, Koh Samui is widely recognized as one of Thailand's most captivating islands. Its natural beauty and diverse landscapes make it an idyllic escape for travelers seeking relaxation and exploration.
Many travelers flock to the island specifically to indulge in the various hedonistic spa treatments on offer. These treatments include traditional Thai massage, yoga retreats, cleansing fasts, chakra balancing, tai-chi camps, and cleansing fasts treatments. Whether you are seeking relaxation or holistic wellness, there are abundant options to cater to your needs.
To fully explore the island, you should consider renting a scooter, which allows for convenient beach hopping and easy access to the various attractions. Chaweng Beach, known for its vibrant nightlife and stunning coastline, is a must-see for those seeking a lively and bustling beach experience. Another notable spot is Fisherman's Village in Bophut, where you can immerse yourself in the local culture and enjoy a wide range of dining options.
For a spiritual journey, make sure to visit the Wat Plai Laem temple, known for its intricate architecture and beautiful statues. Additionally, don't miss the opportunity to witness the unique natural wonders of Koh Samui, such as the Grandfather's Rock, a rock formation with interesting folklore, and the Tan Rua or Hin Lat Waterfall, where you can refresh yourself amidst lush greenery.
Size = 228.7 Km2
Nightlife = 8
Tranquillity = 5
Natural Beauty = 8
Best Season – December to April – Dry season
5. Koh Phangan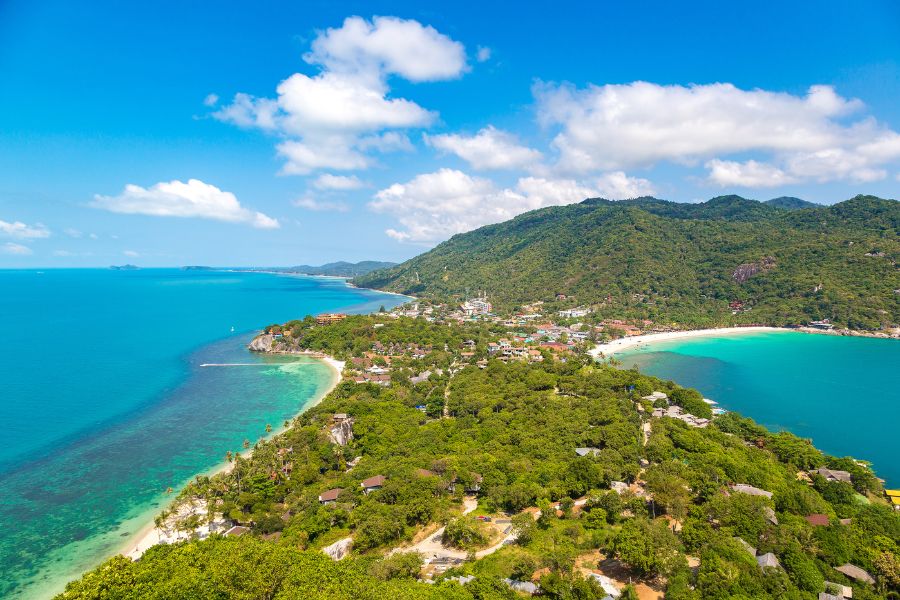 Koh Phangan is the fifth-largest island in Thailand, and it is renowned for its immense popularity among backpackers. Peak times seem to be the monthly full moon parties at Haad Rin Beach, with crowds swelling to 30,000.
While it doesn't have its own airport, it is often included in travel itineraries along with a visit to the nearby island of Koh Samui. With its breathtaking landscapes of lush jungle, striking granite boulders, and pristine white-sand beaches, Koh Phangan offers a compelling destination for travelers seeking natural beauty and relaxation.
Koh Phangan is widely renowned for its vibrant Full Moon parties that take place on the island every month. These lively events are complemented by the equally popular Half Moon and Black Moon parties, all of which offer visitors a thrilling nightlife experience.
Set against the backdrop of stunning beaches, these late-night beach parties feature mesmerizing fire dancers and an abundance of neon lights, creating an electric atmosphere. There is also the weekly Eden Garden Party attracting party enthusiasts from afar, making Koh Pangan a must-visit destination.
Koh Phangan offers a diverse range of activities beyond its renowned party scene. In addition to the vibrant nightlife, visitors can indulge in beach hopping, where they can explore various beaches such as the bustling Sunrise Beach, or opt for a more tranquil experience at the serene white-sand beaches of Hat Khuat and Hat Thian.
The island caters to adventure enthusiasts with opportunities for beach games, snorkeling, diving, hiking, jet-skiing, and sea kayaking, among others. For those seeking a thrilling experience, the Challenge Phangan Park is a must-visit. Additionally, visitors can enjoy breathtaking views from the island's viewpoints and savor the local flavors at the vibrant Thong Sala Night Market. Koh Phangan truly offers a well-rounded experience that goes beyond its party reputation.
Size = 125 Km2
Nightlife = 9
Tranquillity = 6
Natural Beauty = 9
Best Season – December to April – Dry season
4. Koh Lipe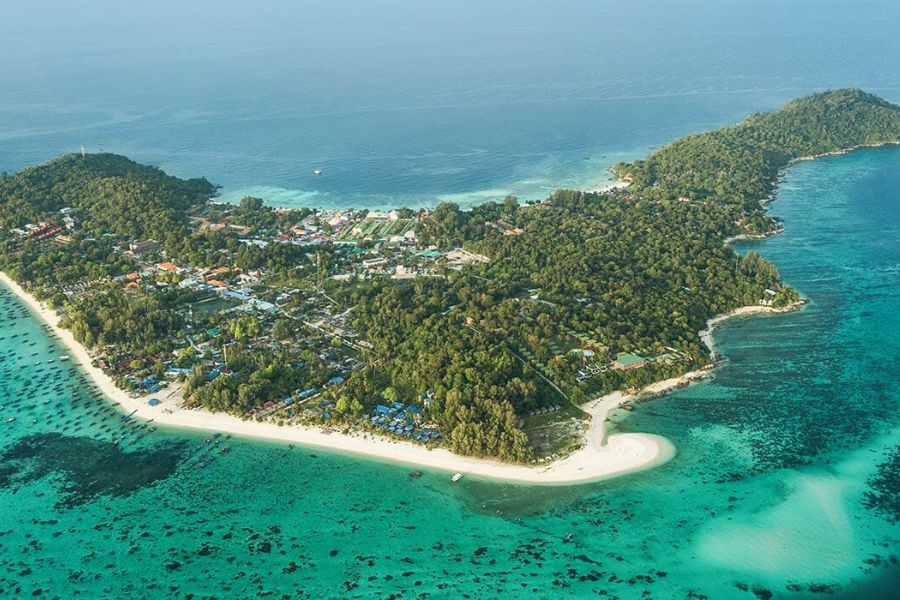 Located near the Malaysian border, Koh Lipe is a small island that forms part of the Adang-Rawi Archipelago. There is plenty of coral reef surrounding the island making it ideal for snorkeling and diving trips. You can reach Koh Lipe via boat from Langkawi in Malaysia or the many speed boat operators that run up and down the coast from Krabi to Koh Lipe stopping at various islands.
Koh Lipe is beautiful, with three main sandy beaches, Sunrise Beach, Sunset Beach and Pattaya Beach. It has its own walking street with shops and restaurants lining the streets. Koh Lipe has become a victim of its own success and it is quite crowded on the island which impacts sustainability.
From Koh Lipe, you can do tours to Koh Adang, from where you can hike up to a viewpoint to see the whole island of Koh Lipe. Other tours include various snorkeling sites around Koh Lipe and Koh Adang and visiting the remote crystal-clear waters on the beaches of Koh Adang.
There is a nice vibe on the island and it makes for some chilled nightlife. The island is so small that everything is easily walkable, however, you can take a tuk-tuk to go around.
Size = 4 Km2
Nightlife = 5
Tranquillity = 6
Natural Beauty = 9
Best Season – November to April – Dry season
3. Koh Chang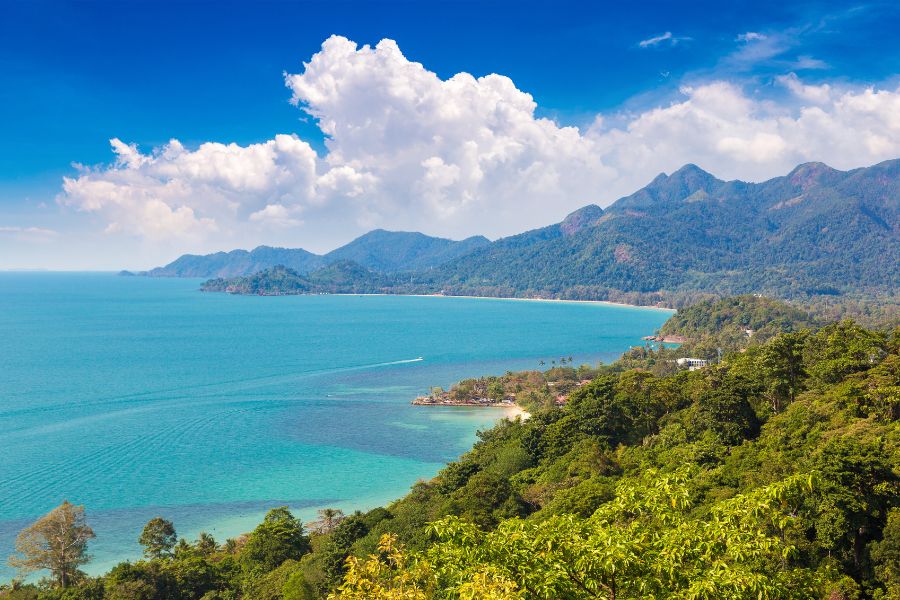 Situated in close proximity to the Cambodian border, Koh Chang stands as the third largest island in Thailand and the largest within the Koh Chang Marine Park archipelago. This magnificent island boasts a breathtaking landscape characterized by its mountainous terrain, numerous waterfalls, vibrant coral reefs, lush rainforests, and extensive stretches of pristine white sandy beaches. A visit to Koh Chang guarantees a remarkable experience amidst the beauty of nature, offering visitors the opportunity to explore cascading waterfalls, immerse themselves in vibrant marine life, traverse enchanting rainforest trails, and unwind on idyllic beaches.
Over the span of less than a decade, Koh Chang has emerged as a prominent tourist hotspot in Thailand, although it maintains a more serene ambiance compared to bustling islands like Phuket or Koh Samui. Among the island's numerous beaches, White Sand Beach stands out as a top choice for visitors. Situated on the northwest side of the island, it boasts the longest stretch of sandy coastline on Koh Chang. The central portion of this beach offers a variety of accommodations, with resorts and hotels lining its shores.
Hat Tha Nam, also known as Lonely Beach, is a popular destination for backpackers due to its vibrant waterfront party scene. This lively atmosphere has become a major draw for adventurous travelers seeking a fun and lively experience.
Size = 224 Km2
Nightlife = 6
Tranquillity = 8
Natural Beauty = 9
Best Season – November to April – Dry season
2. Koh Tao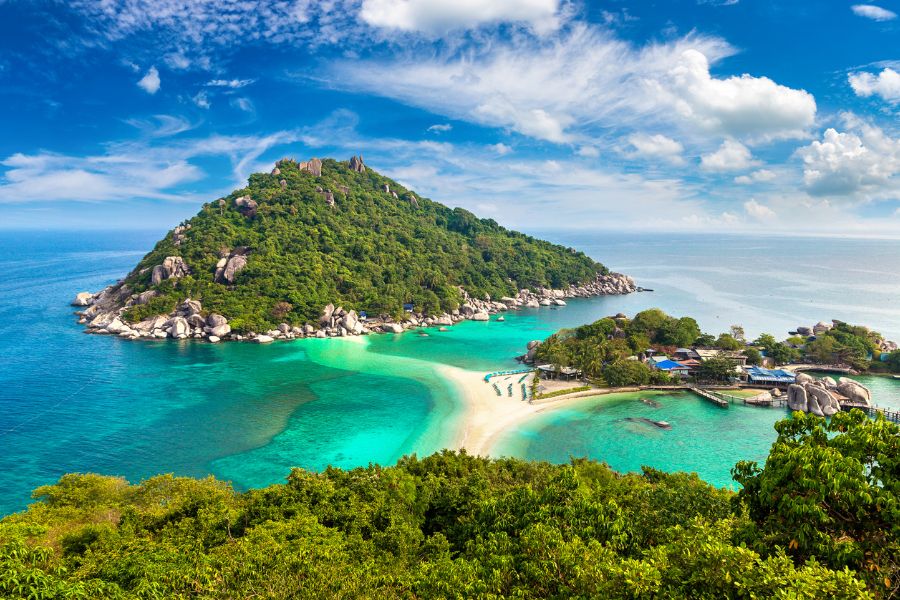 Koh Tao, also known as Turtle Island, has emerged as a highly sought-after destination among travelers seeking recreational activities in Thailand. This picturesque island is particularly renowned for its offerings in scuba diving, rock climbing, and hiking. In fact, Koh Tao attracts an impressive number of individuals, with approximately 7000 new divers obtaining their certification here annually. This statistic solidifies its position as one of the most popular destinations worldwide for those looking to learn and explore the underwater world through diving.
Koh Tao, true to its name, is not only a beautiful island but also a significant nesting site for hawksbill and green turtles. If you're a fan of marine life, you won't want to miss Haad Tien or Rocky Bay, commonly referred to as Shark Bay due to the presence of black-tip reef sharks. Snorkeling alongside these magnificent creatures is an unforgettable experience. For breathtaking panoramic views of the island, make sure to visit the John-Suwan Viewpoint, Mango Viewpoint, and Two Views, which is the highest peak on Koh Tao.
Size = 21 Km2
Nightlife = 5
Tranquillity = 7
Natural Beauty = 9
Best Season – December to April – Dry season
1. Koh Phi Phi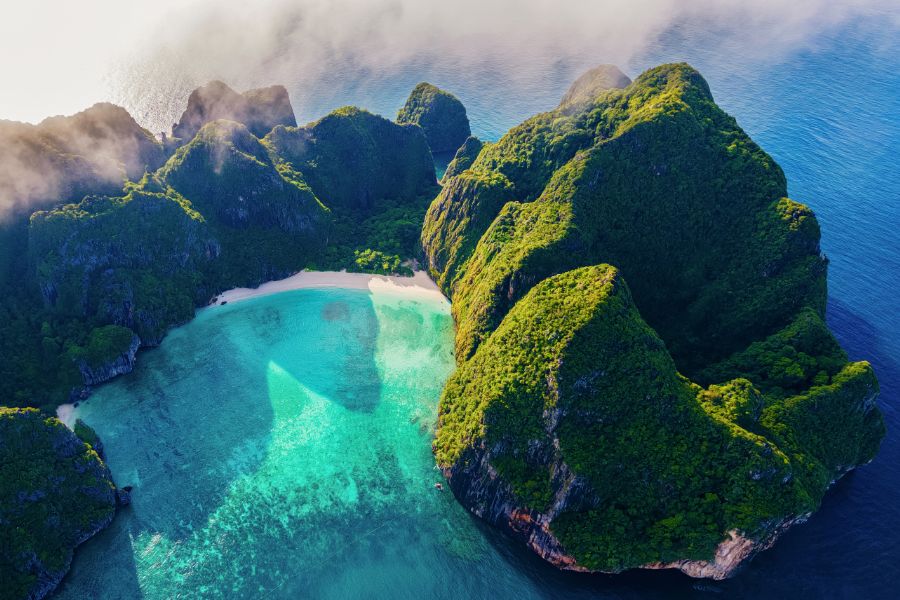 Phi Phi is a renowned archipelago situated off the coast of Phuket, and is widely recognized as one of the country's premier tourist destinations. Comprising a cluster of islands, it is frequently the preferred choice for travelers when organizing their visit to Thailand. Not everyone might like Phi Phi and there are definitely some issues with over-tourism.
The Phi Phi archipelago is a collection of stunning islands that embody pure paradise. Among these islands, Koh Phi Phi Don stands out as the largest and busiest, making it a popular choice for accommodation. However, during the day, visitors have the opportunity to explore the other five islands in the archipelago. Regardless of the island you choose to visit, you can expect to be surrounded by lush jungles, pristine beaches, and crystal-clear waters.
It is important to note that the breathtaking scenery of Phi Phi attracts a large number of party-goers, with many visitors opting to enjoy the vibrant nightlife on the sandy shores until sunrise.
Maya Bay on Phi Phi Leh stands out as one of the most notable attractions, primarily due to its appearance in the movie The Beach. Even if you haven't visited Thailand, you are likely familiar with the captivating image of Maya Bay, featuring its magnificent limestone cliffs and pristine beach cove.
Maya Bay does get its fair share of tourists and Thailand has been more proactive to stop over-tourism from destroying the natural habitat. Tourists are allowed only knee-deep into the water and sunscreen is forbidden. Besides that, there are regular periods when the bay is completely closed to tourism.
Size = 12.25 Km2
Nightlife = 7
Tranquillity = 6
Natural Beauty = 10
Best Season – November to April – Dry season