Fine white sand beach where coconut trees are lined up as if they are guarding you, suitable cliffs where you can find the first courage to jump, fresh seafood and most of all far enough so folks will frown going and eventually not to go – there certainly one thing in mind, I should set foot again here no matter what… or it will be a heartbreak of a life time. We did go back almost exactly one year since we first set foot in the island called Bantayan.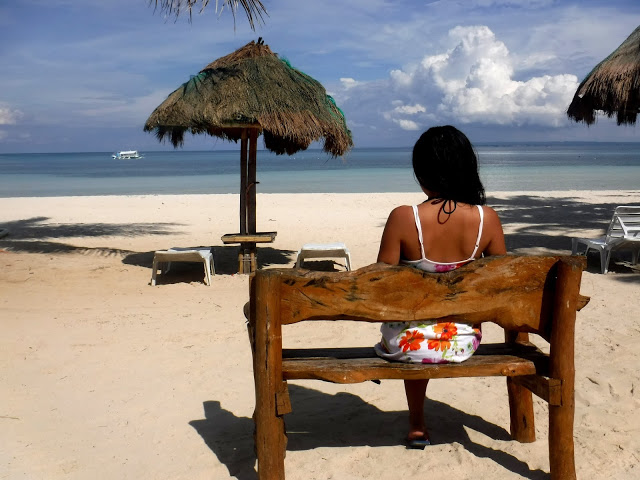 Bantayan Island is in the Northern part of Cebu Province. Batayan Island has three municipality namely, Bantayan, Sta. Fe and Madridejos. There is a high chance that you'll stay in Sta. Fe because most hotels and restaurants are there.

If you know about the history of the Philippines, we were occupied by the Spaniards for 333 years. During the Spanish occupation, there were several watch towers (locally known as bantayan) in Bantayan Island they were being attacked by the Moro Pirates (origins from Mindanao Island). The people kept on saying "bantayan" in their intercessions during the attacks. From then on, the island is called Bantayan Island. There are no standing watch tower today except the one in Madridejos.


Main industry in Bantayan Island is livestock and fishing. You'll notice the stinky smell caused by the farms when you tour around the island.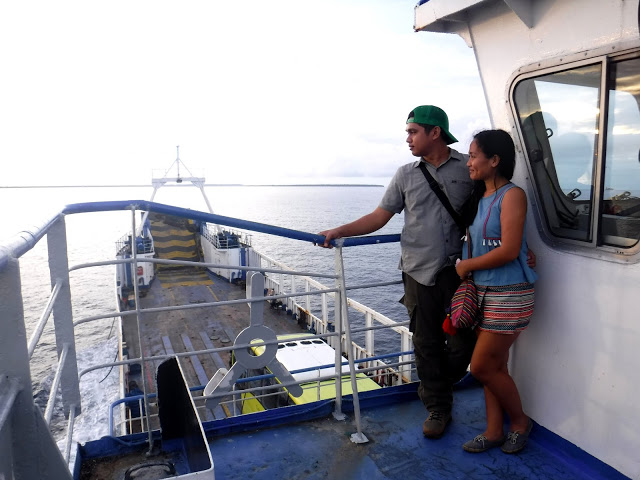 Nevertheless, Bantayan Island is an alluring place
hypnotizing foreigners (and Filipinos too) to stay and go back only if they
discover what the island has to offer. It was my boss who introduce me to Bantayan Island during
one of our field work when I was still working in a bank. I didn't pay
too much attention then when he said that Bantayan Island is 5 hours away from
Cebu City and it will include a bus and a ferry to go there. I didn't have a
leave to spare for Bantayan that time. Then came 2016, I was planning a Cebu
trip for me and my girlfriend, Lana when I candidly browse about Bantayan Island. Honestly, I wanted to go to Malapascua Island, the paradise for diving, and to visit the famous
Kalangaman Island. But fate brought me to Bantayan Island, less crowded, less
expensive and equally beautiful paradise for a beach bum like me.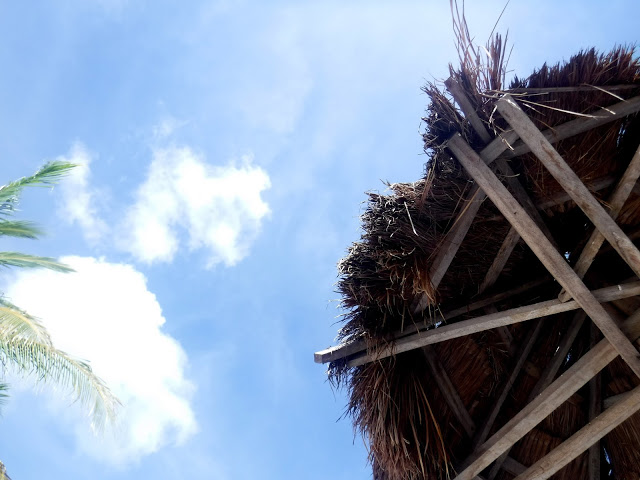 We pursued
Banatayan, but I didn't have the courage then to write about the Island. One
thing for sure after that trip in Bantayan, I promised myself that I will go back,
and it happened a year after. Today I'm in anyway ready to book a flight to
Cebu to go back again for my third. What's the deal about Bantayan Island? Let me tell you: Bantayan is quiet. Bantayan is not that crowded. There are less tourists compared to equally beautiful places such as Boracay, El Nido, Malaspascua, Coron, you name it! They are all nice and worthy of our visit but Bantayan is heaven for me. It is easy to deal with the locals. They are friendly and it's less likely that they will take advantage. The food is guaranteed fresh and affordable. Take for example in Virgin Island, we commissioned our boatman to cook lunch for us. He offered me Php2,000.00 for a sumptuous lunch that includes rice, scallops (a lot), crabs, fish and grilled pork. I was hesitant at first, but I gave it a shot anyway! Guess what, we did not regret it! The scallops were sent from heaven cooked by fishermen turned boatman/guides. It's more delicious that what I have tasted in some restaurants in Bantayan, Cebu and Manila. And guess what they just steamed it and put some spices.
In 2016 it was only me and my girlfriend Lana. Last year, 2017, I brought all my travel buddies. I booked their flight and arranged everything for them all for love of Bantayan Island. My first agenda was to look for a place to stay in Bantayan for three nights for eight people. Give it to me…
Budyong Beach Resort is the best that I could find. Beach front accommodation with air-condition, comfort room, a perfect sunset and a loyal dog guarding us named Pinky. That's the only place I could find, sorry. Oh, and the room cost Php2,500.00 per night for 4 people. So that's Php625.00 per head per night. Too bad for all the amenities I mentioned. Wink! Wink!
We arrived in Bantayan Island at around 6PM and my contact was quick to recognized me steps away from the ferry. He approached me, asked my name and said that our service was ready to pick us up. I said where and he pointed out a custom-made motorcycle, called motorela, that could accommodate up to 10 people. Wow! It was cool, but I quickly realized that what we talked about was a multi cab. I let it pass since the Titos and Titas of Manila seemed to enjoy the ride. During the ride I notice that motorela is slow compared to a multicab so I demanded a multi cab for our tour the next day. Gladly, my contact was quick to acknowledge my request.
In our first night, we ate at the only food hub in Bantayan Island located in Sta. Fe. We ate scallops, tanigue, tuna, pansit, shrimps and some vegetables in a restaurant called Panyang. We paid less than Php200 each.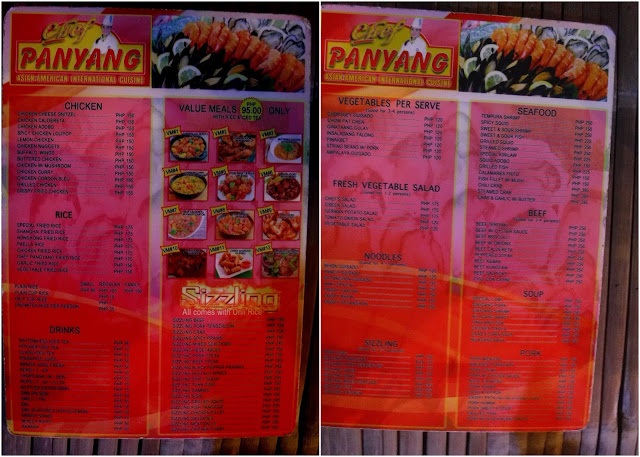 Morning came, we were ready to hit the beach and the road, but I decided to rent a bike in Budyong to explore the town by myself. I asked some of my friends if they wanted to join and 5 out of 8 joined the bike tour! Lana, my girlfriend could not join because she's not feeling well while Leon, the NCCA guy, decided to just stay in the resort and enjoy the beach together with Rem, the word wizard.
We biked around nowhere in mind where to go. While biking Claire, the renowned writer of the group, asked where we were going, I said Bantayan town! Brennan, the Cebu based blogger + quote and quote dog lover, was quick to rebut me saying "And layo!" Something like that. I said okay, I shut the hell up and continue biking. Booooo!!!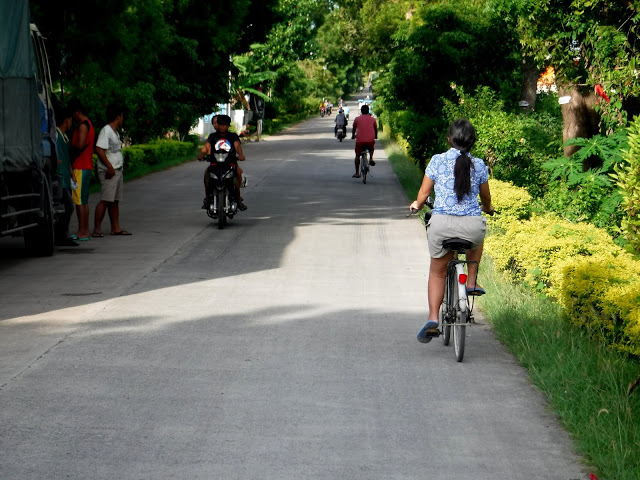 I asked them to turn left towards the Bantayan Tourism Road to show them one of Bantayan's best spot. I don't know what it's called officially but local knows it when you ask, "where you can cliff jump" or "in the ruined house where you can cliff jump" Google Map says it is called Sta. Fe Cliff Diving Spot. Tricycle drivers knows it but you can bike it like we did.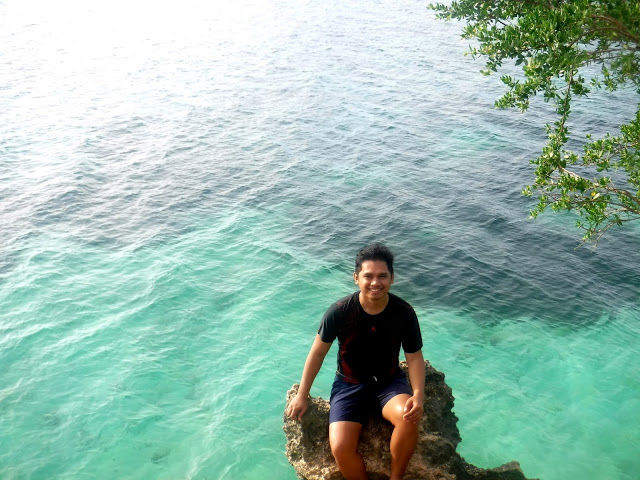 From the name itself, it's a place where you can do cliff jumping during high tide. You can swim during low tide for sure. It's in that spot, whatever you call it, where I fall in love with Bantayan. The color of the water and dramatic scene created by the cliff took my heart in one nanosecond. Feel free to jump there all day, it's free as of writing.

We came to Bantayan because of the beach. Luckily, Budyong Beach Resort has the best beach area in Bantayan. All the resort has the same shoreline but Budong's is well maintained. Though I saw some trashes, I could not, in anyway, blame it point blank to Budyong's staff or it's guest. Trashes can be brought by the wind and by wave.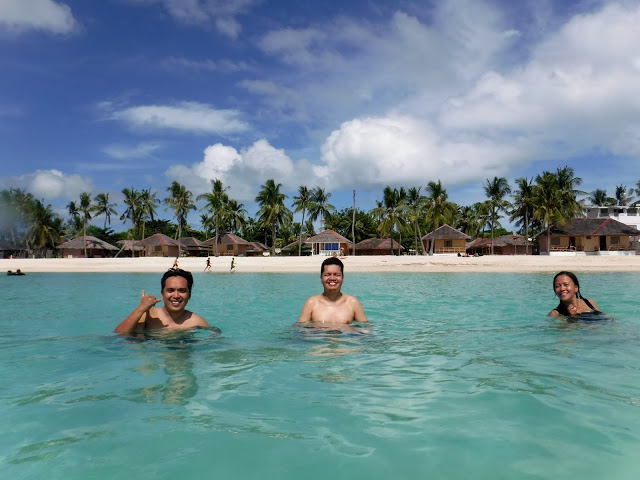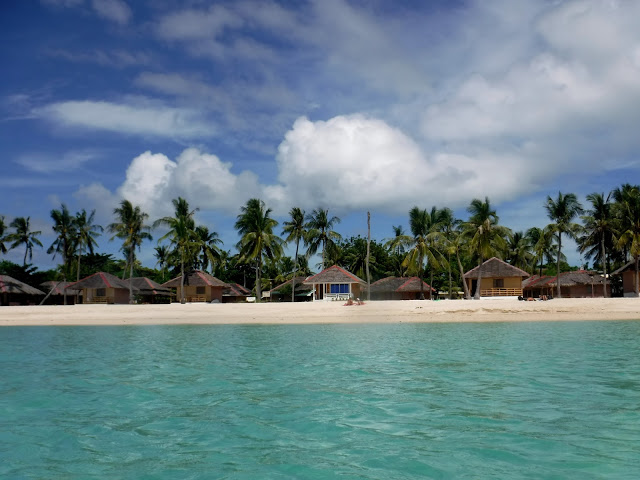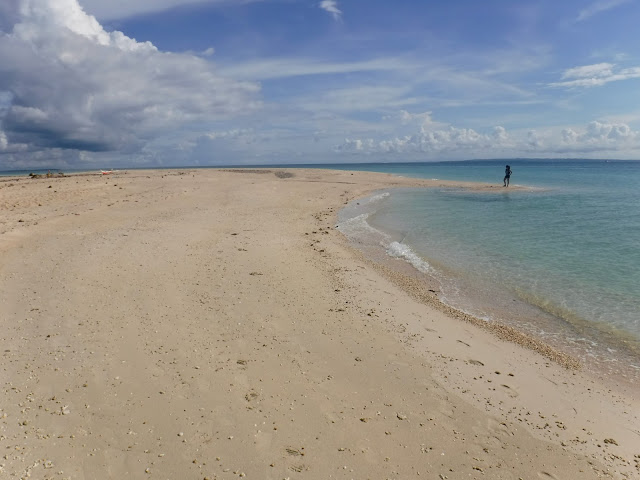 We enjoyed the beach like a 3-year-old would enjoy it. We stayed in the water, under the sun until it's almost time to tour around the island. The multicab has just arrive while we were in the pinnacle of our heaven on earth.
We hit the road with our happy and accommodating driver/guide. Our first stop was the Oboob Mangrove Garden also known as the Oboob Marine Protected Area. Oboob is a work done by the community to deliver more fish to catch. It a nice place to educate yourself about different types of mangroves, how they grow, it's importance to the ecology and other technical details about it.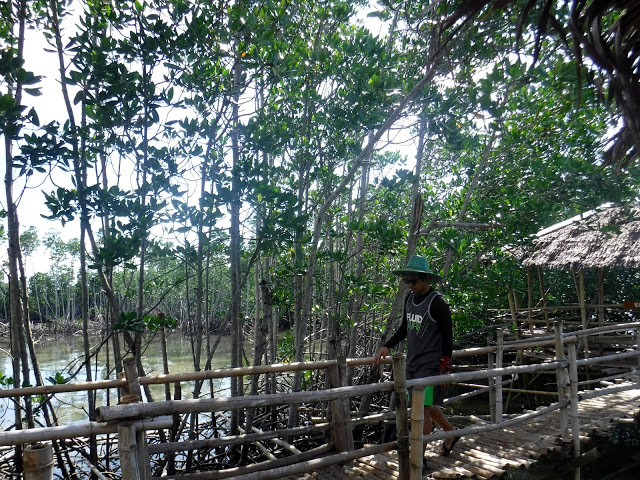 One thing I know. Mangroves is very importance in our ecology. Without mangroves there will be now fish on the table. Mangroves serves as the hatching place for the fish. When the hatched egg grows, reached the appropriate size, our dear fishermen will catch it in open waters.
It is nice that the local government organized the community to develop, protect and preserve the Mangrove park as a tourism site. At the end of the day it's not about the money that you pay to enter, it's the preservation of humanity and awareness on how we can do our share. Your selfie in Oboob mangroves is more than the liked and heart it will get, you are being an instrument to promote the place and allow the people to be aware of it's importance. So, keep the selfies coming!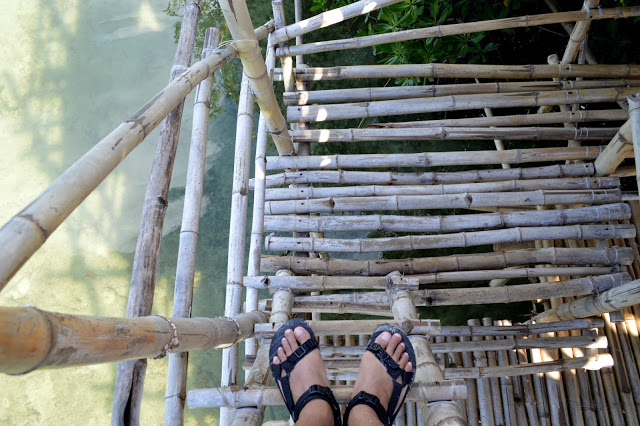 They have a restaurant in Oboob Mangrove Park. You can indulge after you sigh see and selfie galore with the mangroves. I love to think that the restaurant is also being operated by the community. Before I move on, the guide is free of charge. They will answer all your question about mangroves the best way they can. Give them a tip. The universe has it's way to pay you back with your generosity. Tips should be part of your travel budget. Wink! Wink! We badly needed some sweets after the savory lunch at Oboob. I know some place in Bantayan Town to have that fluffy and creamy leche flan. But first we toured around Bantayan Town Public Plaza, Sts. Pater and Paul Parish Church and everything surrounding it such as the old house, markets and the people. Unfortunately, the tourism office was close because it was Sunday.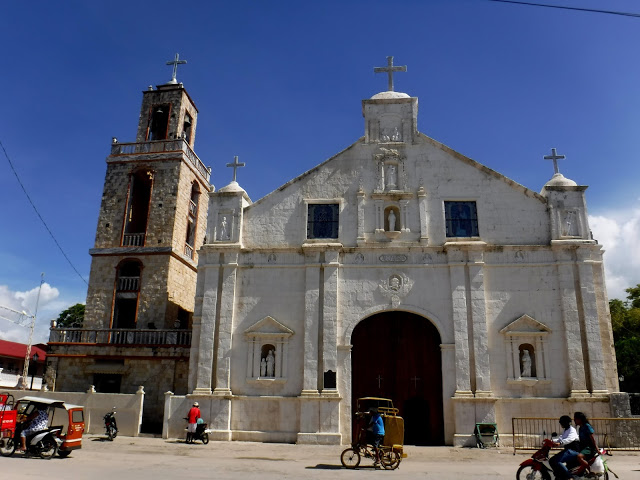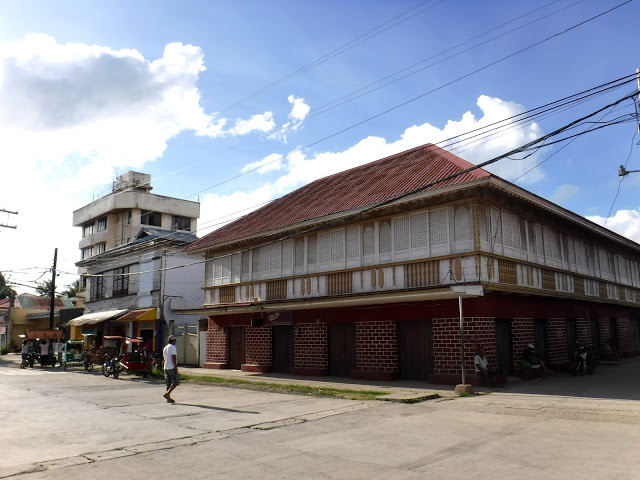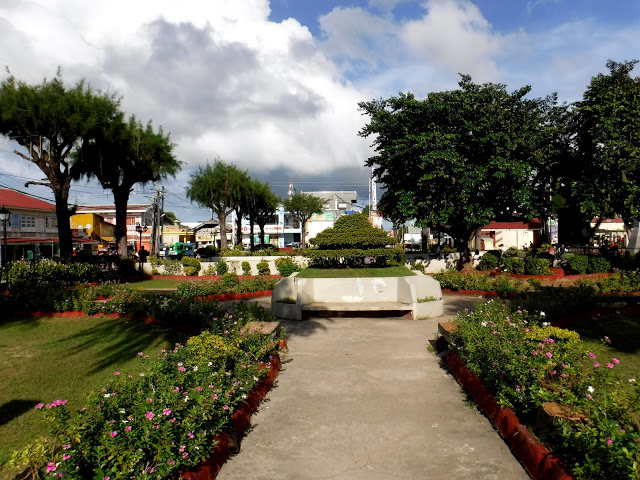 Bantayan housed a large public plaza, a central market,
fishing port and the only century old church in Bantayan Island. Based on
observation, Bantayan is the commercial and financial capital of the island
while Sta. Fe is the tourism and transport hub. After we toured around the public plaza and while some
devoted Catholics of the group said their prayer inside the church, we proceed
to the market where we will get some sweet. Danguit or any dried fish in Cebu City cost twice than those in Bantayan Island. The reason, these dried fish are made in Bantayan. When you go to Bantayan Island, go to the market and buy a lot for your family. Most of us bought dried fish, but I was the one who sweep the chart of who-brought-the-most. I spend around Php1,000.00 shopping for the dried fish.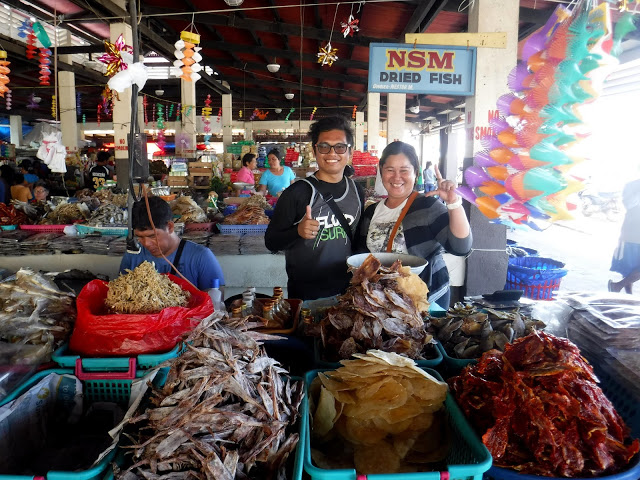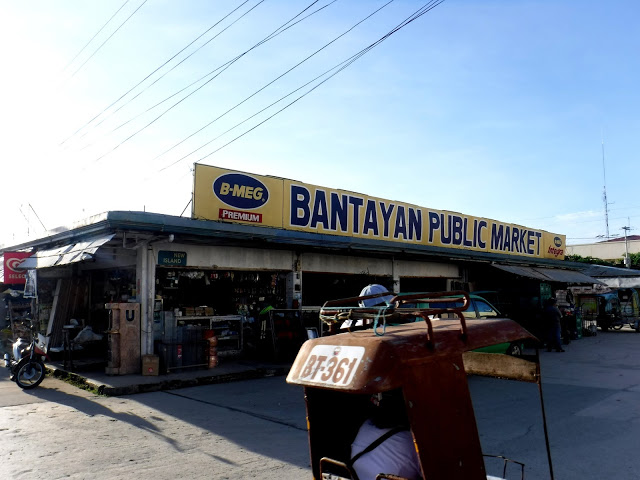 Before the sun hides to us we all jumped into the multi cab for Madridejos, the Northern most town of Bantayan Island. We heard somewhere that there are locals drying fish along the shores of Madridejos. We're also up for that but our main purpose is to check out the lone standing ruined watch tower in Bantayan Island, the Kota Park. The watch tower in Madridejos is a beautiful century-old structure only if the tourism office takes care of it seriously. The thick old walls are its charm but the whole place should capitalize on that. There are some efforts made by the authorities like the lamp posts, some artifacts in one corner with some historical details and some plants manicured inside to provide better ascetics to the place. But those were not enough to say that we respect and value what these walls means to us today if you only finance it once then leave it alone for years. The watch tower has a great potential but for now, its just there standing waiting to be buried in the mouth of the locals to be an oral history.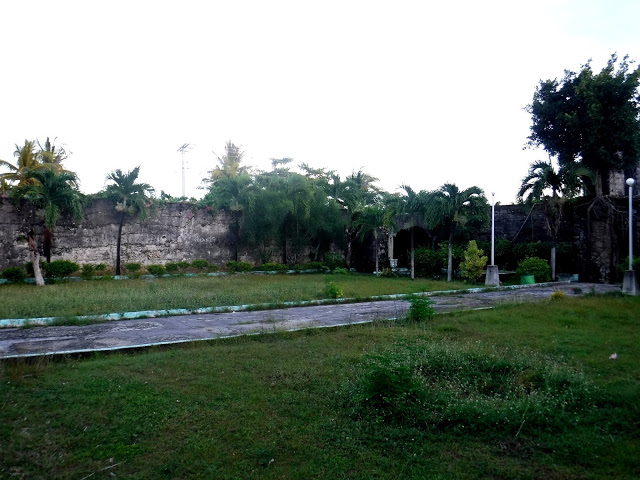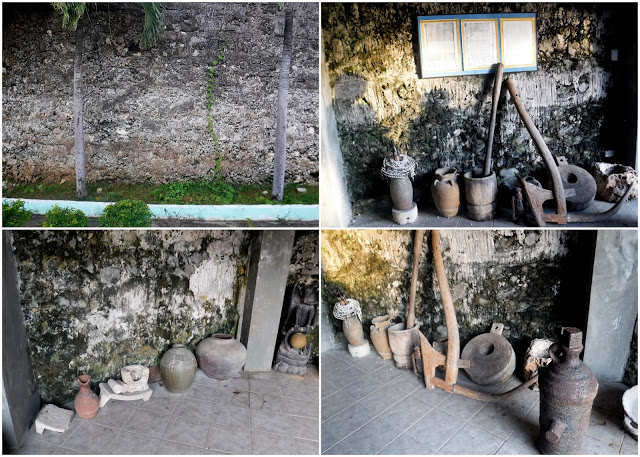 I must admit though that the watch tower in Madridejos is a better story than the watch tower in Sta. Fe called Baluarte Sta. Fe by Google Maps. Although the map says that it's just beside Kota Beach Resort which is beside our resort, Budyong Beach Resort, we had a hard time locating it. We found it in front of the beautiful white beach of Sta. Fe after the forested trail full of shit. We found the wall and the heartbreaking state of once a great defender of the island. Only the tick wall remains and the shit of stray cats and dogs. Shit, right?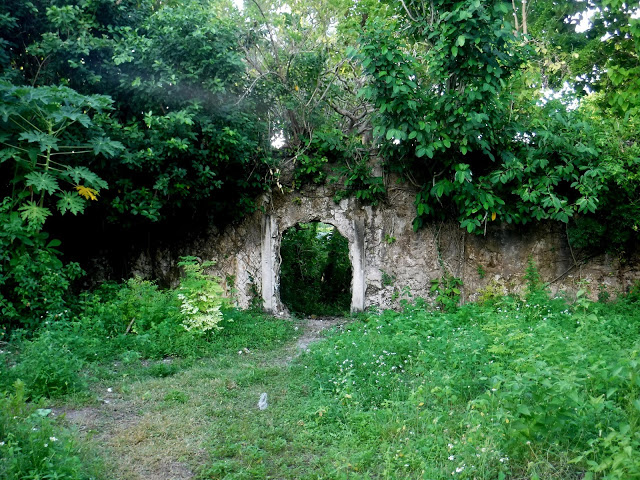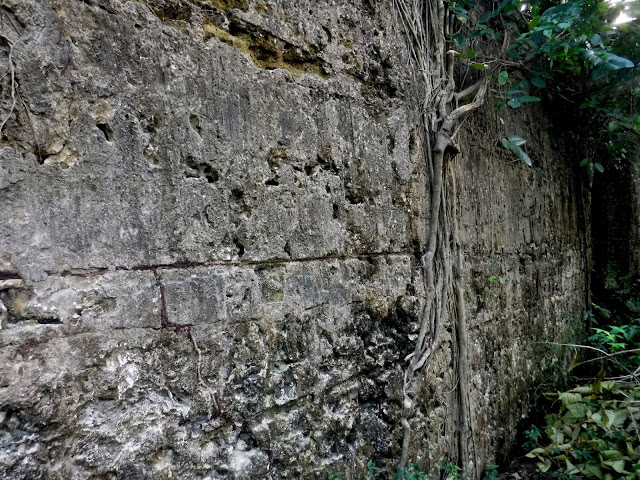 The local government of Madridejos build a boardwalk in the shallow water opposite the poor watch tower. We walk on the dilapidated steps of the board walk made from concrete. Every step of mine leads to more question of: Why did the local government built such structure? Why is it turning to be like the ruined watch tower opposite it? It's very dangerous to walk on the steps because it might fall on the water anytime. Why did they build it? After the post travel research, I found out that the infrastructure was build to provide light to the fisherman. Is it still working, that I do not know.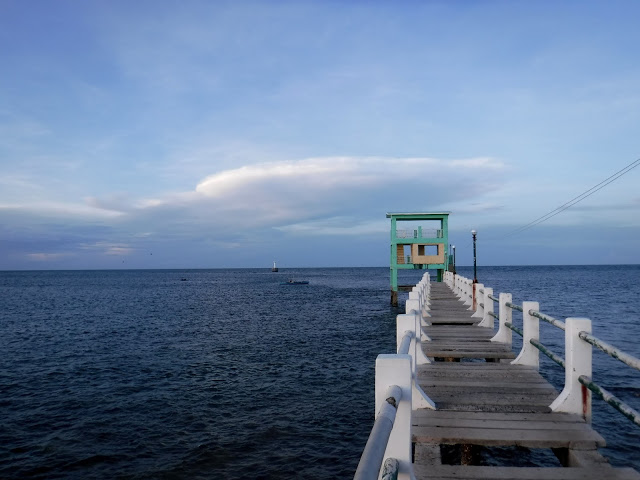 Surely locals enjoying their tax money on it. I saw a couple of individual doing some reflection and a lot of love birds creating moments together. I tried to get rid of my questions about the board walk and tried to savor the air, the freedom and the love I have surrounding me. Our group enjoyed what we do have at that moment, the sea breeze and the sunset.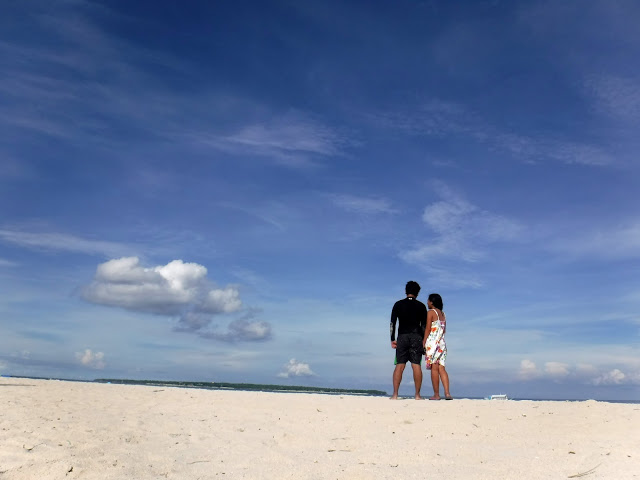 That's one part of Bantayan Island. All my disappointment in the island was overshadowed by three words – beach, peace, love. I am a romantic in my own way and I tend to savor and over internalizing anything that I found lovely and beautiful. I may say I love these and these, but one thing for sure – I will be heartbroken if I don't step again in beach of Bantayan Island.

"What's your favorite thing about Earth?"


Gardner Elliot in the movie "The Space Between Us" kept asking that question when he landed on Earth. I asked myself that question. My favorite thing about Earth is the beach. Probably is the best thing about this planet. In a heartbeat I'll get lost in the wilderness ending in a beach and I'll be happier if its in Bantayan Island.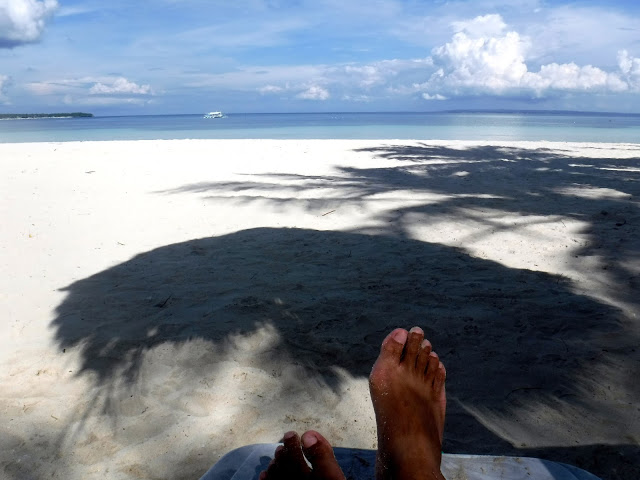 How to go to Bantayan:
From Mactan – Cebu International Airport, go to Cebu North Bus Terminal
Take a bus to Hagnaya Port. That's a 4 hours ride. Fare is Php165.00 (A/C)
In Hagnaya Port, take a ferry going to Sta. Fe, Bantayan Island. Last trip is 4:30PM. Fare is Php170
For more information on how to go to Bantayan Island, click here.