During our stay in Microtel by Windham UP-Technohub we were pampered with a Continental cuisine at Millie's that serves delicious and affordable food for its multinational guest. I was surprise when Mr. Ace Infante mentioned to me that we will be having a dinner at Millie's, the in-house restaurant of the hotel. I was just actually expecting a sumptuous breakfast at Millie's. Later on Sous Chef Boo of Millie's joined us in our dinner to explain the food that they served.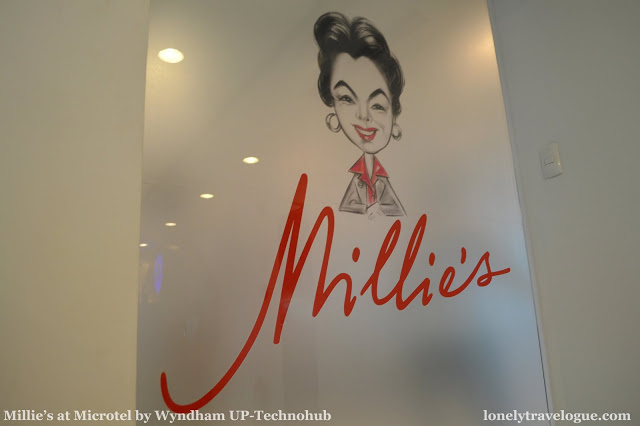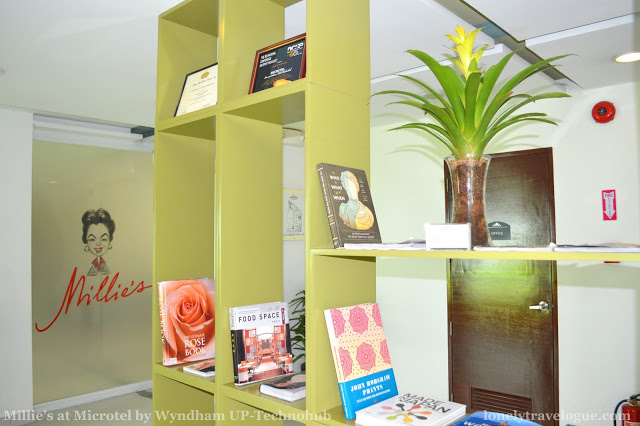 When you approach the front desk of the hotel you will see a number of book displayed on the shelves. From there you will see the hotel's restaurant that is Millie's. I like how they incorporate books in the interiors of the lobby as well as of the restaurant.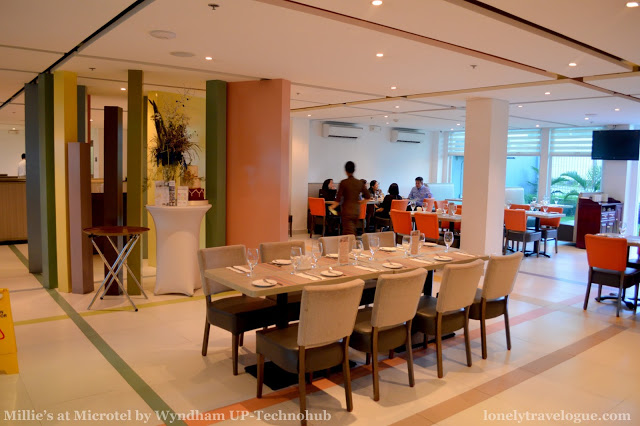 Aside from the elegant dining furniture at Millie's, the ambiance and lighting is very conducive for a great dining experience. Tableware is simple but with touch of uniqueness into it.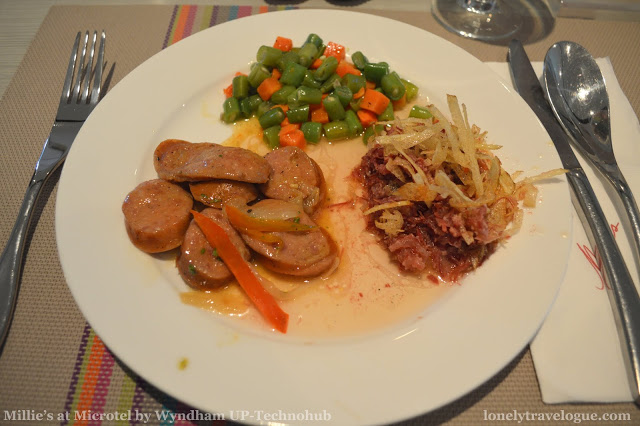 We started our day in Millie's in a Continental buffet breakfast. The menu is well balanced with meat, vegetables and fish. It also has bread section for those who prefer lighter breakfast.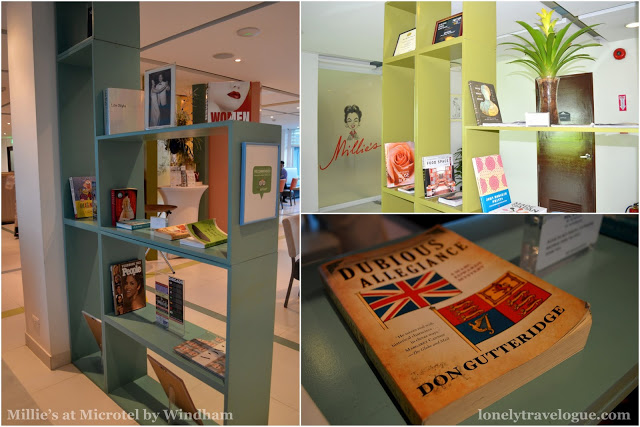 For our dinner Millie's allowed us to travel in America, France and Italy. First stop is an Italian/French dish called Gnocchi. I am not into European dish except for the steak. So first I thought this is a soup for appetizer. When I scoop it I notice that its very tick and the aroma of the flavors made me stop. When I put the scoop into my mouth, the saltiness, creaminess and its oily (butter) texture burst into my palate! Literally! It was very good. One of the reason why I was quick to love it is because of the cheese. There were actually four kinds of cheese in this Gnocchi.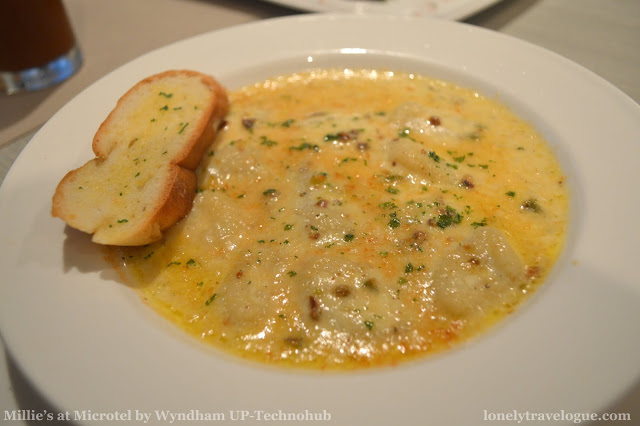 Gnocchi in Gorgonzola and Pistachios At first scoop I knew that it has cheese, a lot of cheese actually. I called the waiter to ask about this dish and they could not answer me right away. After awhile Sous Chef Boo joined us to explain whats in the table. The Gnocchi that they serve was Potato Gnocchi with Gorgonzola Cream and Roasted Chopped Pistachios. Okay, that was a very complicated dish, I thought. Later on I knew that Gnocchi is another pastry dish in France that originated in Italy. We were also served with Baby Back Ribs with Ranch Sauce and Side Salad with French Dressing. Baby back ribs, as we all know is a popular grilled dish in America that we, Filipinos, also love. With the Baby Back Ribs, Millie's added a little twist with the side salad with French Dressing.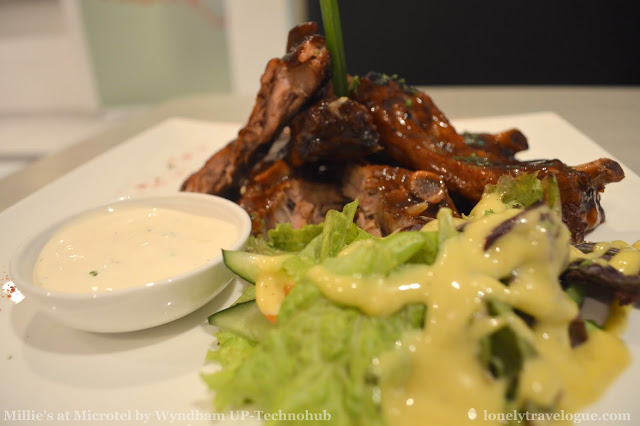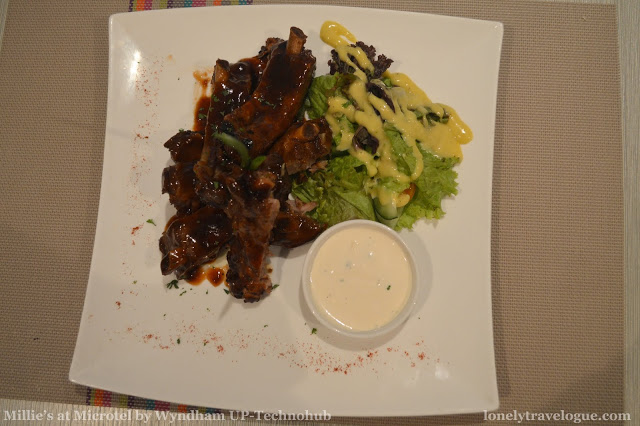 The flavor of the ribs is so rich that I could taste its sweetness and saltiness in my palate. The meat is so tender and juicy. The salad compliments the complex yet flavorful taste of the ribs.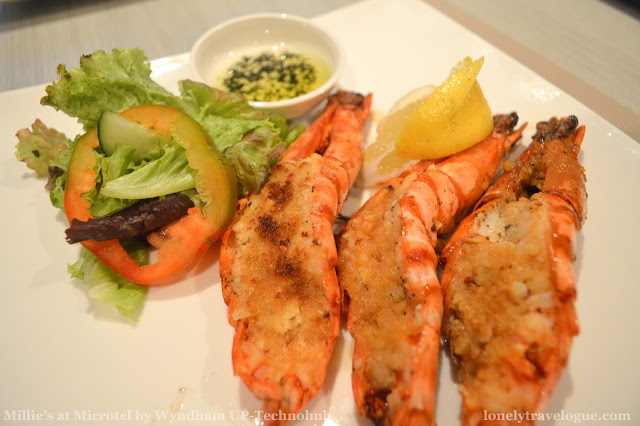 Grilled Prawns Our last dish, which is very Continental in nature, is a common favorite in almost all restaurants – Prawns. But in Millie's they served it grilled and with garlic on top. They also partnered it with Side Salad and Basil Infused Olive Oil for much flavorful prawns.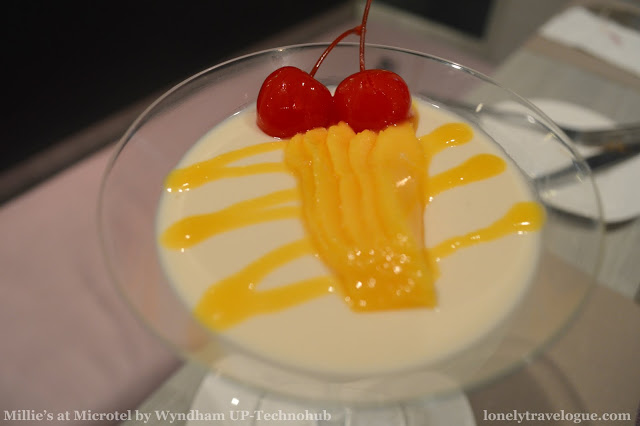 After our delightful dinner, we had a Panna Cotta with fresh mangoes and cherries. The texture of the Panna Cotta is evenly sweet and creamy. You will never get tired of eating Millie's Panna Cotta.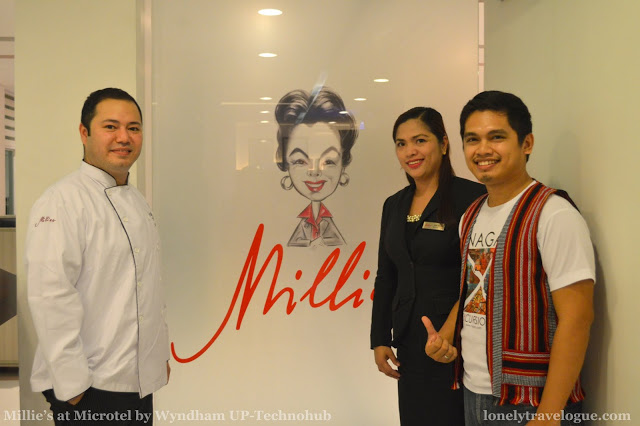 Aside from the food, I enjoyed talking to Sous Chef Boo. We did not just talked about the dish that he prepared but also his experiences as a chef here and abroad. I gave him a copy of the movie 100 Foot Journey because I think he will not enjoy the movie but definitely can relate to it. The corporate Chef of Microtel by Windham is Gino Santayana. When you stay at Microtel UP-Technohub be sure to try other dish that I think are equally good as what was served to us. According to Sous Chef Boo, Millie's is adding a new dish every month. So rest assured that you will taste an innovative food at Microtel. Millie's is also located at Microtel Mall of Asia and Acropolis.