Sombrero Island is located at the eastern tip of Tingloy Island in the province of Batangas. Sombrero Island is a mini island paradise inhabited by no one. It serves as a side trip for most tourist diving in the world renowned Anilao Manrine Sanctuaries and for those whose climbing Mt. Gulugod Baboy. The island can be reach through a medium size boat or banka which can be hired through a middle man who will approach your group.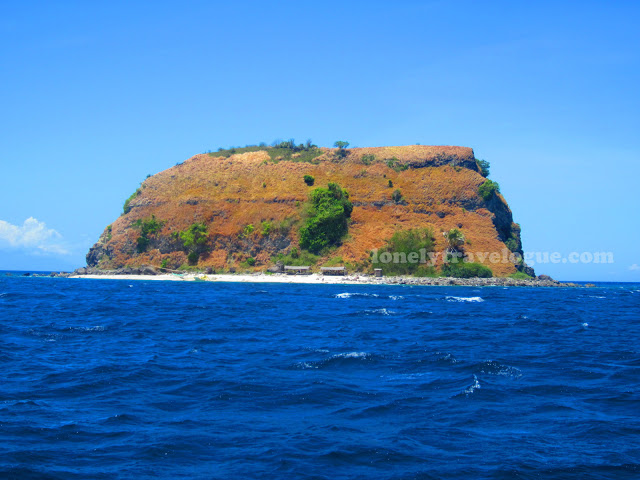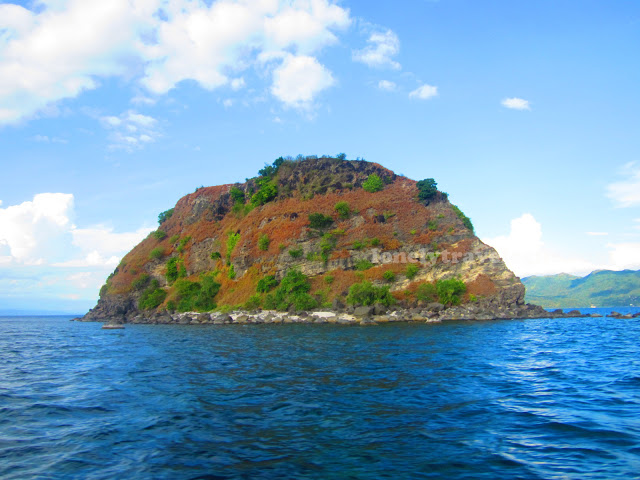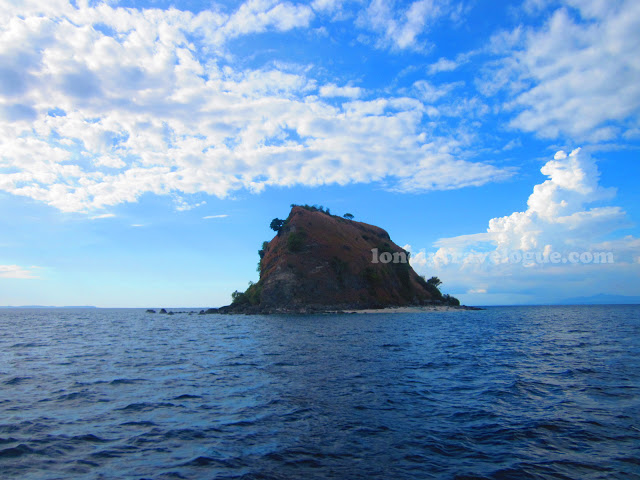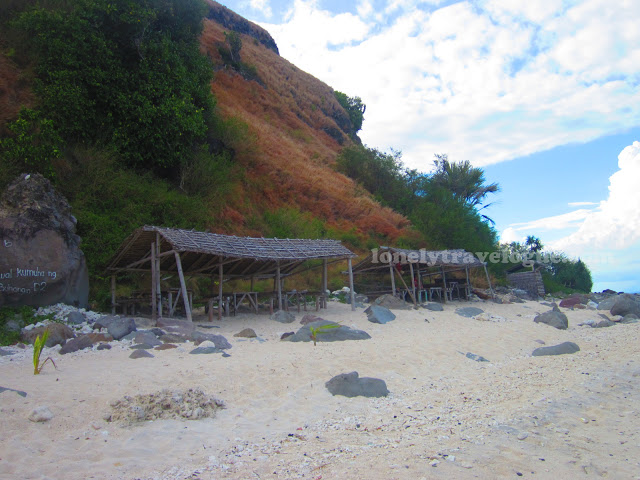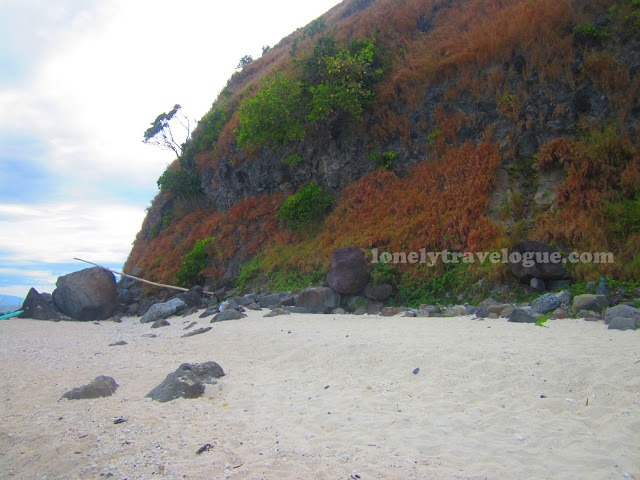 You need not to be an expert of geography to know why the island is called Sombrero Island. Well it really seems like a cap or a Sombrero. The form is clearly visible while hiking Mt. Gulugod Baboy.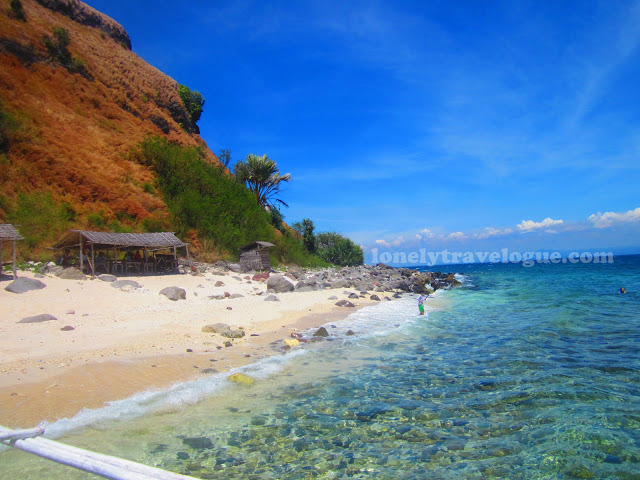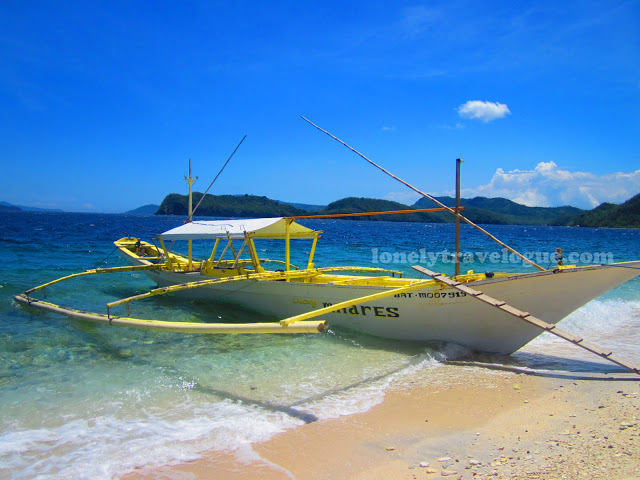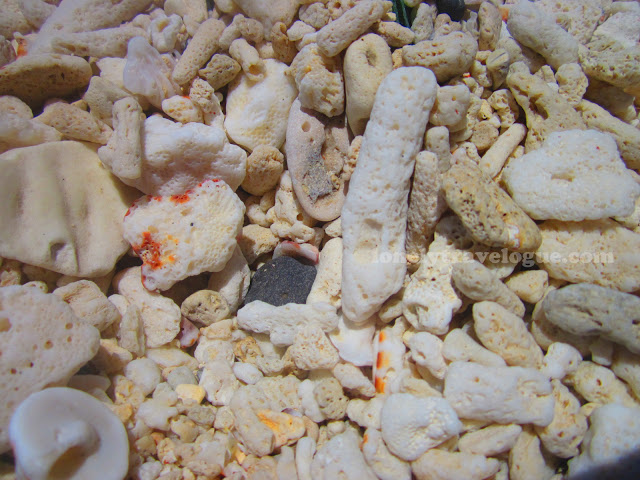 It will take 20-30 mins of boat ride to reach the Island. Once at shore you will be greeted by a rocky beach with crytal clear water. Admirably the Philippines has a lot of white beaches and Sombrero Island is one of them.
The white sand has a heavy lightning effect brought about by the sun and the clouds. What a perfect combination to go beachin'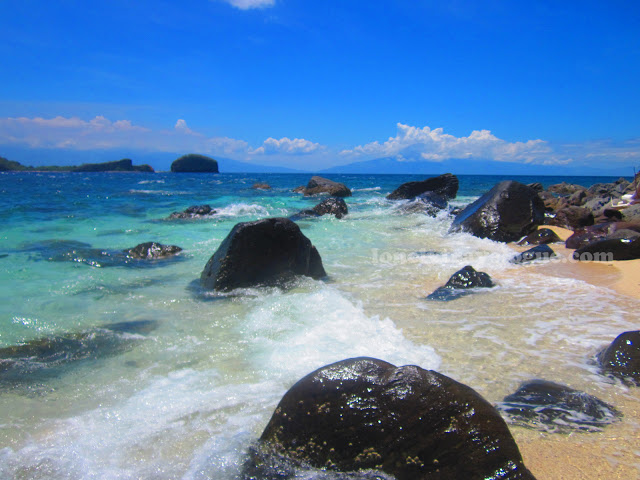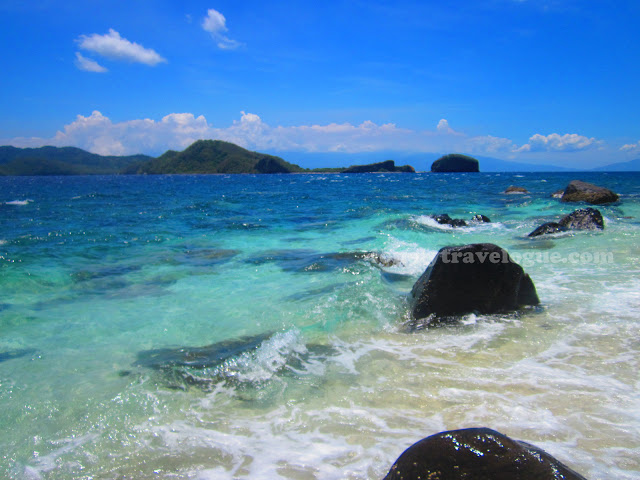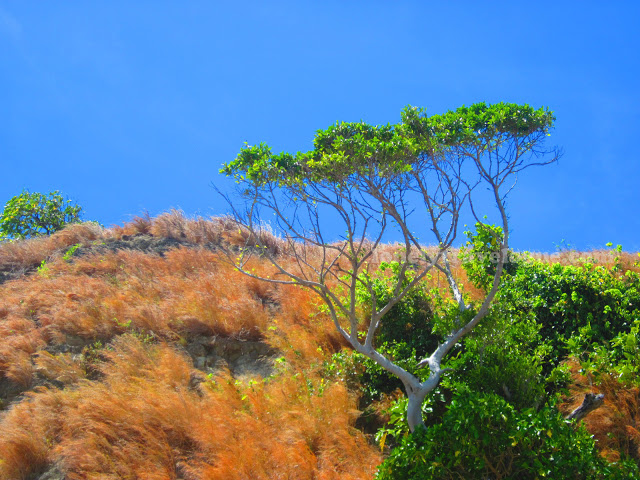 The island, expectedly (bitter, haha)  has a fee. And just like in Mt. Gulugod Baboy I do not know how to label that fee. According to some locals the Island is private just like the other island in Batangas but the fee that is collected goes to the local government. The fee cost us Php100 per head. I just hope that money
goes to the conservation and protection of the island.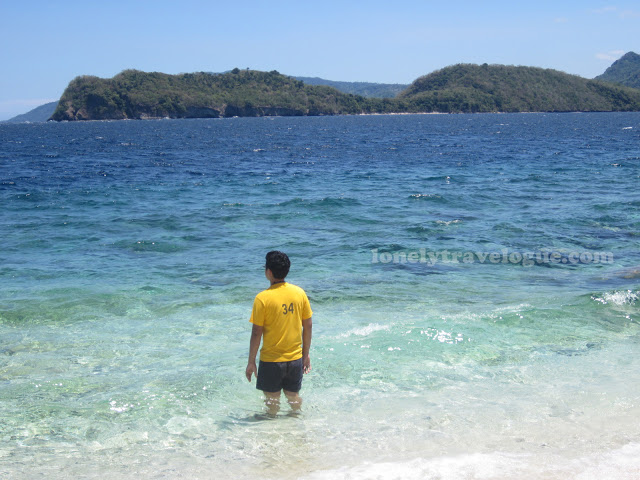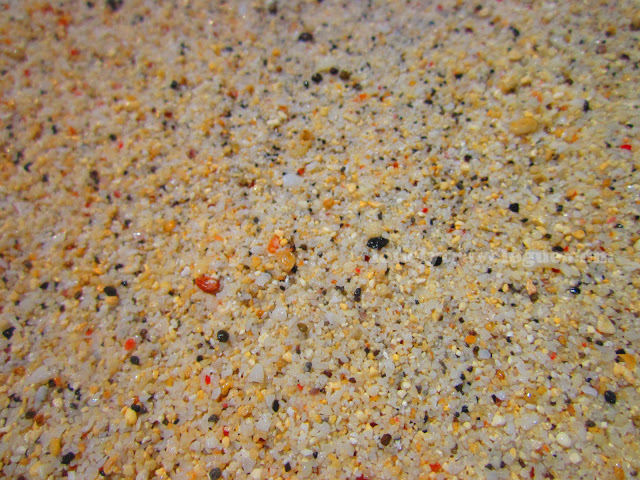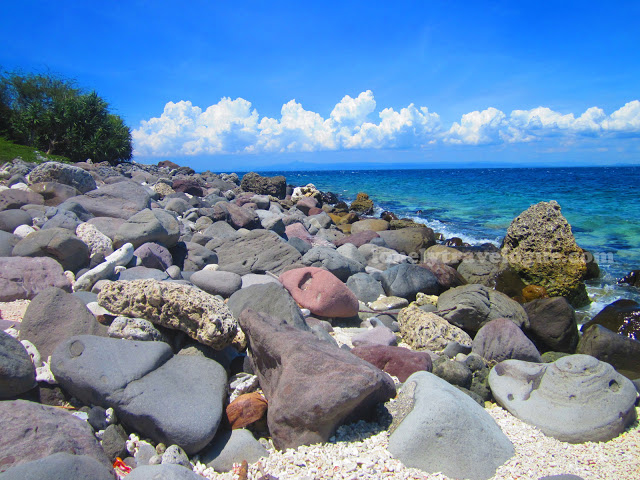 Because it was too hot to go to the beach right away or maybe we were at awe of the view we are seeing then all of us sheltered ourselves on the …tent turned to be our sun protector. The scene was like we were stranded in an island far away from civilization and we were waiting for a rescue. I remember Johann David
Wyss novel The Swiss Family Robinson where one family was trapped in an island.
Well ofcourse we were not trapped… But like in the novel we learned (I mean I) learned how to deal with each other (especially on their jokes hehe) and to commune with nature.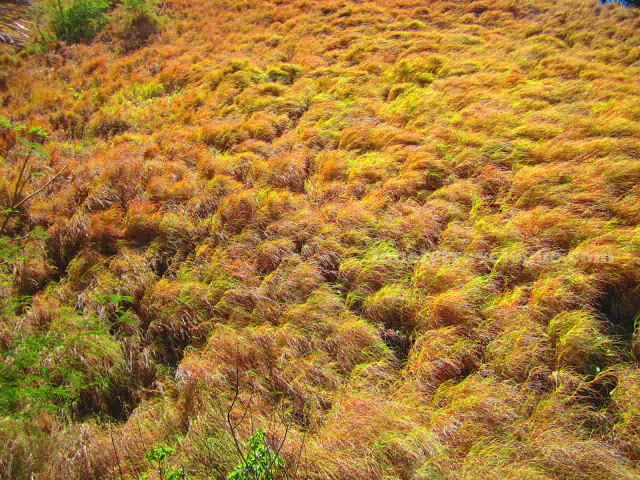 Too much beach bumming because of the heat of the sun was over when the pulse of the moment said that
we had to go and feel the waves of the sea. Contrary to the hot humid the water sea water was cold enough to quench the heat in our body. The waves endue satisfaction to our longing skin for beachin' moment. It was a longing since the summer heat makes it way to the eastern hemisphere… and so it was The Beach!!!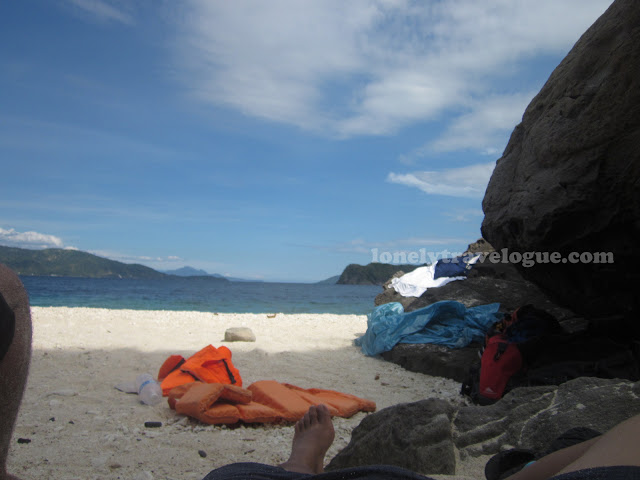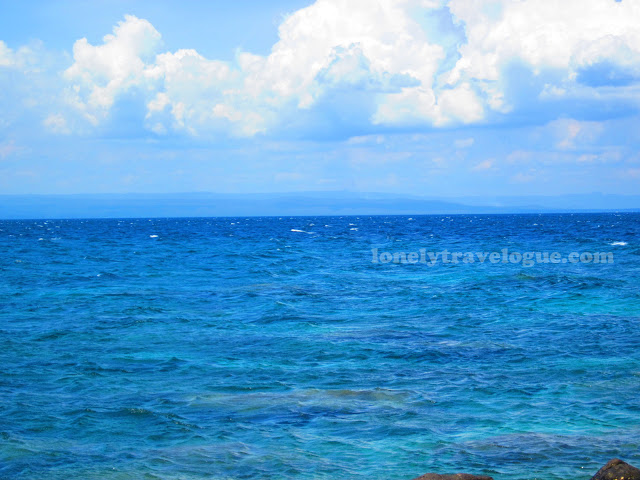 After doing some beachin' I checked out the big stones on the other side of the beach. I have no intention
of getting to far because it was too hot and humid. Suddenly, I saw Dharzie approaching that seemed approaching till the end of the island curve. I followed him then Ken and Jayvee followed. There was nothing the far end. I guess all of us wanted to go around the whole island but a cliff-like stone formation that seems smashed by a big wave blocks the way to the other side of the island.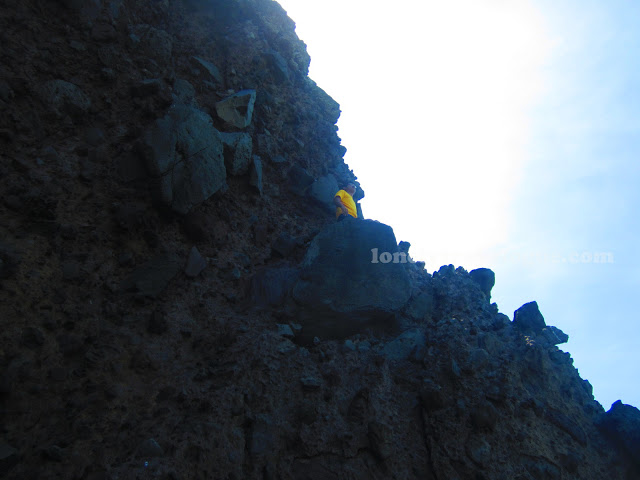 The cliff like stone information invited Dharzie to climb it without any safety gear. And of course Ken and Jayvee won't allow themselves not to try it either. I do not have any intentions of getting to the 20-25 feet (estimate) cliff. But peer pressure has its way for me to do so. I am not a physically fit person, no doubt (hehe) that was why I didn't want to risk my life getting up there and conquer my fear. I might not be able to carry my own weight. But I did. After Ken went down I immediately went up and find the most stable stone to climb on.  
Oh boy it wasn't that easy. I got bruises and scratches which I only notice when I get back home. But at least, beside peer pressure, I did another first in my life. Though that's not high enough to boast about, still that's 20-25 feet high. Thanks to Dharzie, Ken and Jayvee for the pressure =)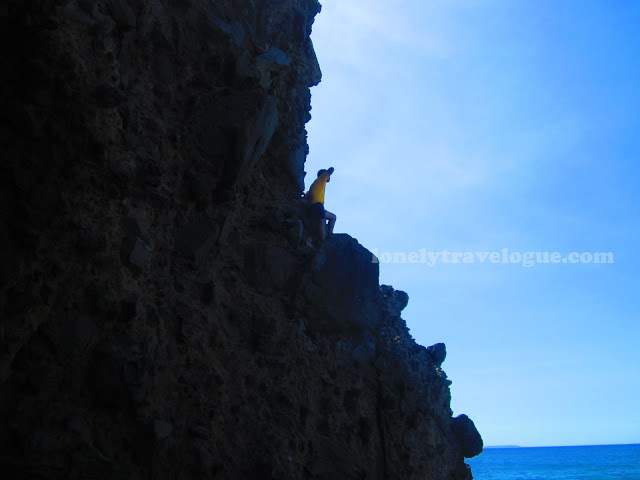 Then its lunch time!!!
Late lunch actually. Because of the failed attempt to cook rice (blame on lack of salt) we had to be resourceful to create our own lunch as most of us have different appetite. Not quite different actually, its just Claire is a full blooded vegetarian thus she creates her own specialty using salted egg, anchovies, tomatoes and bread. Taste good actually. Taste good for an empty stomach. Hehe… But Javee won't allow Claire to be the Master Chef Sombrero Edition. He created his own dish with much pretty
plating compared to Claire hehe…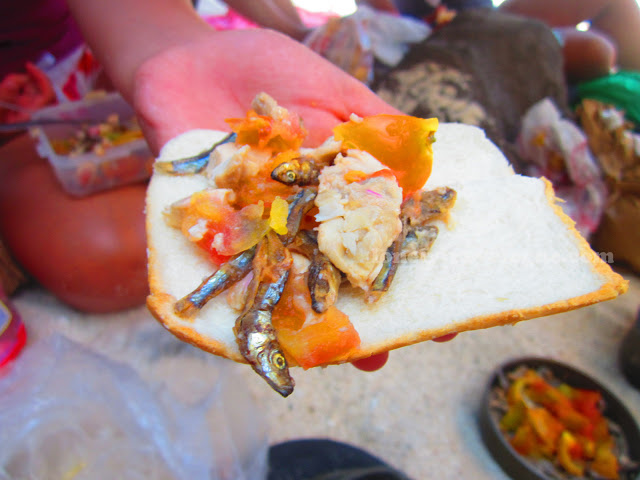 Claire's Dish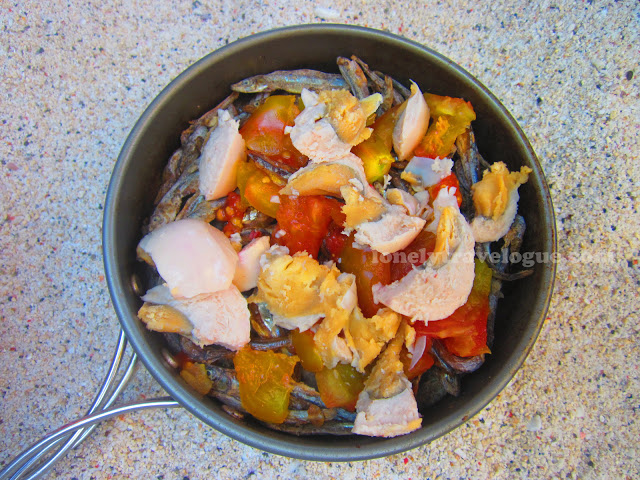 Jayvee's Dish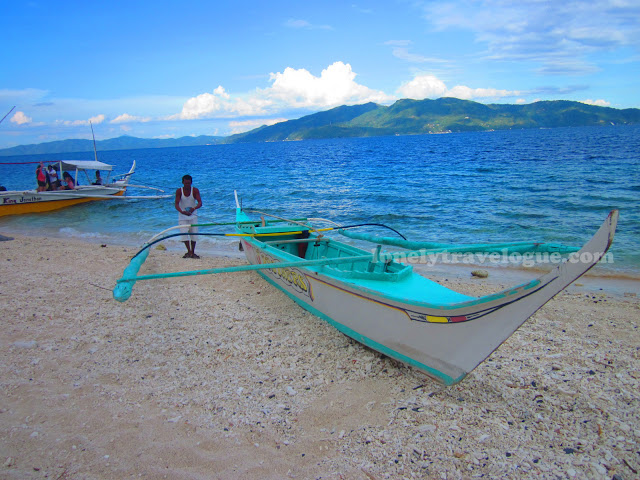 Sadly its time to go. I wish
we could spend a night in that island.
"Every goodbyes leave the eyes teary. But
tears no more another adventure is on the way"
But before that sad departure a
survivor inspired shot was necessary to capture memories of the short but
eternal happy moments at Sombrero Island.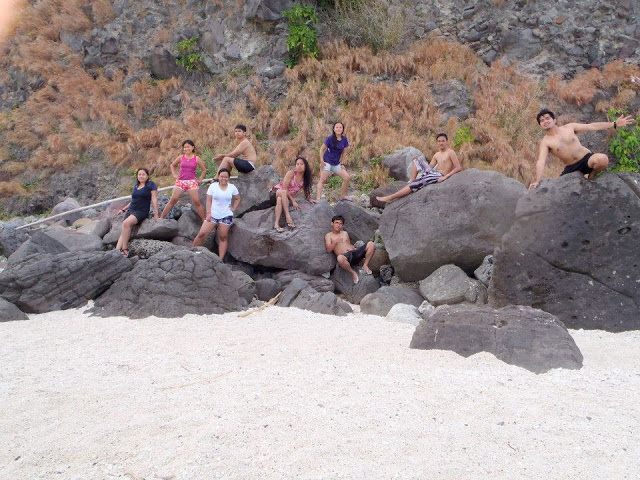 copyright DharzieL-R Kat, Claire, Natz, Me, Dharzie, Sharon, Mina, Ken and Jayvee
A good hike and rejuvenating
beach bumming are perfect to end with a nice dinner. And what else will you
find great in Batangas? Bulalo!!! A dose of hot beef soup is perfect for the
tiring 2 day camping. And because of this my birthday weekend ended just
perfect as it is =)
Bulalo worth Php300. Good for 3-4 person.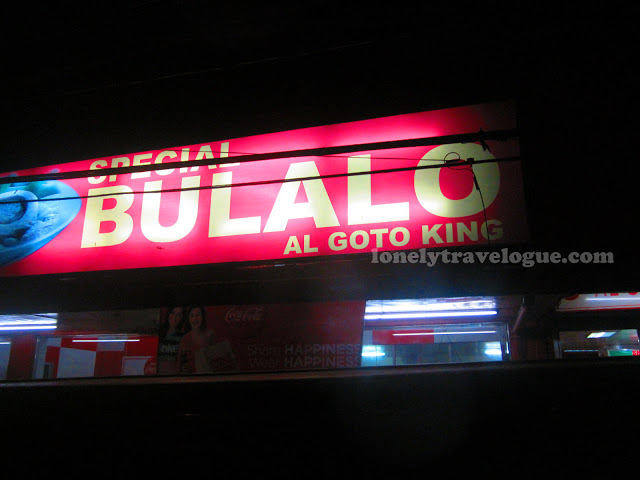 Happy Travels =)

Related Post:
Social Climber: Mt. Gulugod Baboy/Birthday Climb