This is a sponsored post. All opinions are mine. #ad
Christmas is in the air. Malls are playing Mariah Carey's
signature hit "All I Want for Christmas" while the streets are filled with the
aroma of roasts chestnuts and special cakes cooked in charcoal called Bibingka
and Puto Bungbong. Christmas for many of us is the happiest season because it's
the time we received gifts and most importantly we give presents to our
family, friends and love one's. All I want this Christmas is to give simple joys to
the people who has been part of my trials and success throughout the year. In this days and age where everything is online, shopping websites
such as Groupon makes it easy and hassle free for us to bring smile to our family,
friends and love one's. There are a lot of choices from Gadgets to Groupon's Things To Do – you will never ran out of Christmas gift ideas.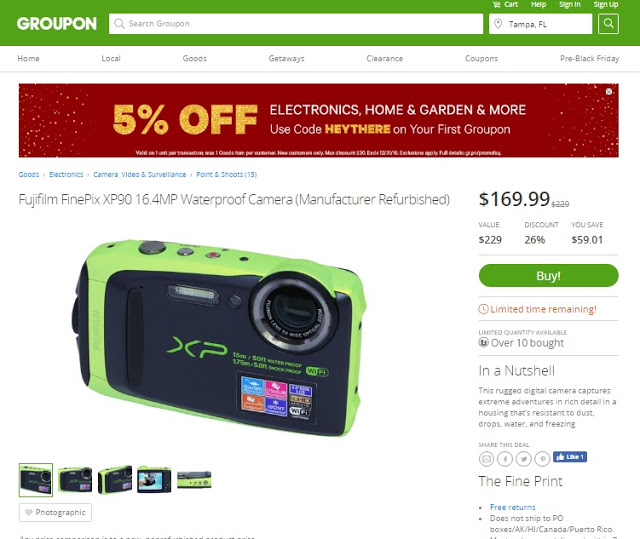 Aside from making our love ones' happy this Christmas season
we also want to give something for ourselves! After 11 months of daily grind
inside your office cube, corporate war rooms and tons of client meeting, Christmas
is the time to reward yourself. Some would want to have a month-long vacation
in a secluded beach, some wants new set of expensive clothes or the newest
gadget in town while others would want a grand staycation. Well my preference would
be the new Fujifilm XP90. A not so expensive underwater camera but durable,
stylish enough and most of all it suites to my need as a traveler. With this camera and its quality, who know, I might make money out of it. So right now, in Mariah's tune, I'm singing – All I Want for
Christmas is that Fujifilm XP90.