Who would have the courage to go to an island where most of
the terrorist (?) and rebels live? I guess no body, especially a tourist, in
his right mind would ever do that! Well, that fact (or opinion) is not true to
us. (give me a tap on shoulders, naks!)
Zamboanga to Isabela, Basilan takes 45-60mins via fastcraft.
  There is no direct route from Manila to Basilan. Zamboanga
City is the gateway to Basilan Island and the Island is about 25kilometers
south of Zamboanga ity City.
We manage to catch up the first trip of Weesam Express going
to the Island. The Port Authority charges each passenger a Php10 terminal fee.
You can choose a vessel going to Basilan from ordinary vessels
for a much cheaper fare off course to fastcraft vessel for more convenient travel. We choose the fast craft (Weesam Express)
for Php170 one way. You can buy the tickets directly at the entrance of the
vessel.  Travel time is approximately
45-60 minutes depending on the wave condition.  
We were greeted by a busy street full of tricyle roaming around to get some
passenger. My impression of the island was, this was just like any other
provincial municipality where most of the people got their living in fishing
and farming. Well not until I got to spoke with some locals.  
Who said its not possible to stroll in Basilan? hmmm
At the Port (Basilan Port) we walk further south to look for
the Capitol Building. Along the way we saw a Catholic Church celebrating the
Eucharist. This was a revelation to me seeing a catholic church in a Muslim
Island (?).
I did not expect to see a Christian  Church.
Look at that in full attendance!
Beside the church is a park. It was then closed but we were
able to persuade the guards for us to enter. Our reason? We were Tourist! Maybe
the guard was surprise by the idea or she was just too polite, she escorted us
inside and even assists us by taking pictures of us. So, we didn't waste this
moment to get to chat with the very accommodating lady guard.    
The lady guard was a victim of a bombing in Basilan. One of her ears is not functioning.
Looks nice on pink background'
The side of the church victimize by a bombing a year ago. 
We asked her about the place we may visit. She even asked us
if we wanted to rent a tricycle to see the whole city. While waiting for the
tricycle we decided to eat in the only fast food chain in Basilan. Jollibee!
Hehe.
Yeah right the bee is also in Basilan with no clown friend.
Across Jollibee is the Capitol Building of Basilan. We
wanted to enter the white with pink border building but to our disappointment
the guards did not allow us to enter maybe because it was Sunday. Poor tourist
from Manila, we had to make some strategy how to get a good camera shot outside
the Capitol.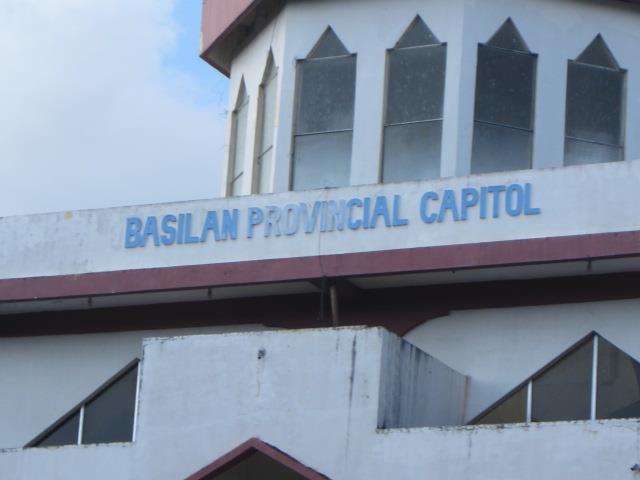 We saw a small mosque – Masjid
Majabba Mosque before we proceed to Ma'had Isabela Al Arabie Islamie or
Isabela Islamic Institute in english. The
institute is a school teaching Islamic language to kids and adult every Sunday.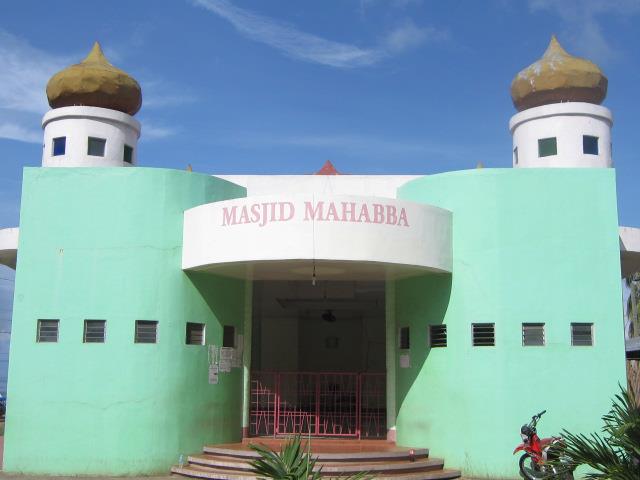 At this mosque, we spend almost half of our tour conversing
to the principal and teachers; and chatting to the students.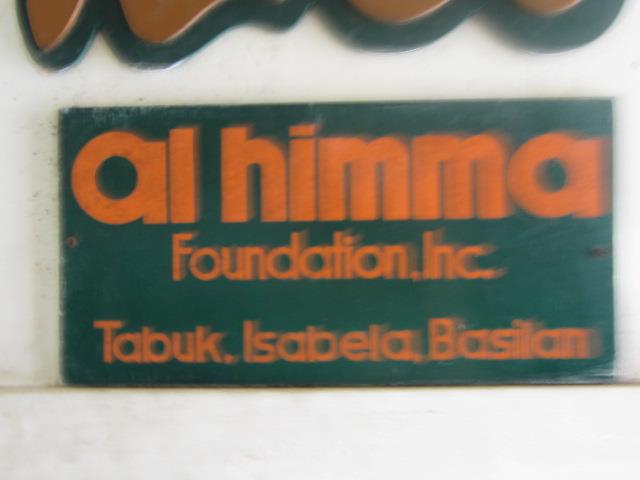 Honestly, I was very nervous of what we were doing that
time. I have no idea what to ask them. Then they gave us some coffee and bread
for snack until they told the two girls with us (Lily and Teta) that they can
enter a room where female teachers stay.
In the Muslim school set up, female faculty members are
separated from the male because of the prevailing custom among them that
females are precious and they have to protect them among other men who, as men,
can be tempted by the allure of the women.
Our Moslem teachers friend =)
As Christian, actually I am a leader of our Christian
Church, they did asked us about our well as they said "Religion" Then I explain
it to them that we were saved by the blood of Jesus Christ. This was the topic
that I did not want to discuss to them because you know as the media portray,
Muslims hated Christian not only in International arena but as well as in the
local (Mindanao dispute).  
Ok only Lili and Teta were allowed to enter.
Until our time to leave the teachers were very humane and
courteous to us. I did not feel any bad thorn to them. The media, obviously exaggerate
things over the Muslim-Christian issue. The experience was one of a kind. I promise myself to visit
again the place and eventually put Sulu on my list.
Seemingly, we were the only people aware that there's photo session with the busy teachers. 
  Three hours of stay in one of the most dangerous place in the country (or maybe the World), I felt unfairness on the part of the people in Manila. Perhaps I should blame the media. Should I blame them for the bad publicity of the province? I do not know. There were places in Basilan that could match the beauty of Palawan and Boracay as the locals address it. No doubt there is without seeing it. There can be peace in Basilan. There can be tourism there. Maybe not now. I am hopeful for the best.   After the Basilan Invasion for three hours, Lili and Teta invited us for a lunch in Alavar Restaurant. Sweating for seafood, good thing I found a retaurant (a semi fine dining) that offers a real seafood experince. When Teta mentioned their specialty while we were in Sta. Cruz, I really do not had an idea what is she talking about. She told us that curacha is the restaurant's specialty as well as the famous Alavar Sauce.   Later I found out that Alavar Sauce is shrimp paste cooked with coconut milk. I actually had this one while we were having dinner at Tsokolate. They serve it as a condiment to rice. Shrimp Paste with coconut milk is really good. My lola told me that that's the way the Cebuano's cooked Bagoong Alamang.
Curacha!!!
Picture courtesy of Teta =)
Going back to Curacha, the dish did not dissapont me. I said wow! In English Curacha is Deep Sea Crab. According to the locals you can only catch these tuna like crabs in Zamboanga only. Really? That, maybe, the reason why Curcha is so expensive when I saw it in Boracay. It cost us Php700 for a 4 pieces of big curacha in Zamboanga. In Boracay it cost Php1700 per 100 grams. Ok now do the math!   While eating every bit of our meal, and talking intelligently in the presence of our two new friend, the time reminds us that every thing has to end. We bid goodbye to Lili and Teta for we have to catch our flight in the afternoon. We were seperated by our physical bodies but good memories will last.    Budget in Basilan
Fast Craft – Php340 (two way) Terminal Fee – Php10 (Zamboanga) Terminal Fee – Php5 (Basilan) Tour (Tricycle) – Php75 (300 divide by 4) Breaffast at Jollibee – Php75 Total Php505
If this helps you or inspired you please share it in any Social Media platform or comment here if you wish to ask for more =) 
This is the travel blog of Jherson Jaya – banker by profession, adventurer by passion. Everything written here were based on his experiences. The lust of seeing new places thrilled him to explore both the explored and unexplored world. Old and new architecture fanatic; lover of food, both exotic and indulgence; and founds peace in long bus and train rides – thats how he describe his way of traveling.    Follow his adventure by liking his Facebook Page LonelyTravelogue and following him on Twitter and Instagram.