January of 2012 I had an assignment in one of the most famous island in the world located in the center of the Philippines – BORACAY. Yes that was Official Business! Although it was
not a personal trip I still managed to get away and soak in the waters of Boracay.
San Art in Boracay We left in the office Monday afternoon bound to Kalibo, Aklan. I did separate booking because we suppose to travel back to Manila via bus (Company Cost Cutting =?). Well, as a lover of long land travel, that was not a problem for me. I manage to booked Manila-Kalibo via AIrphil Express for Php1,400.00 for two. Land travel could cost Php1,200.00
each versus Php700 via plane. Yes, air travel is much cheaper because of the
promo. Before we left the office I tried to look for a flight Kalibo-Manila and
guess what it only cost Php2,000.00 for two. Lol, so we end up traveling via
airplane for both ways. Landing in Kalibo we were
welcomed by an Ati-Atihan booth inside the airport. Beside the booth is the
shuttle bus bound to Jetty Port in Caticlan. Shuttle bus cost us Php200 each
including the boat going to the Island. However I still paid Php75.00 for terminal
fee and environmental fee. Travel time is 1-2 hours. From Jetty Port Caticlan to Jetty
Port Boracay (yes they have the same name), it will take you 10-15 minutes boat
ride. From Jetty Port Boracay a
tricycle would be willing to take you to your destination for Php100 (special
trip) per trip. Our hotel which my boss managed
to book courtesy of his relative living in Nabua, is located in Station 2.
Hotels in Boracay would not be less than Php1,000.00 with two beds, air
conditioning unit, cable TV and a hot water. Fair enough Casa Sta. Fe is about
50 meters away from the shore. You can reach the owner via her Smart no
09186773347. When I saw the main street of
Boracay, I felt I was in a cIty!!! It was very crowded and has a lot of
establishment! My boss told me that Boracay changed a lot since he first
visited the Island. Change is constant. No change. No Development.
Starbucks in Front of the Beach


Because we were very hungry that
night (about 11pm) we searched for some restaurant in front of the beach. We
ate at Gerry's Grill beside Starbucks. That cost the company Php400.00 for a
dinner =)
                                                       The Expensive Seafoods of Boracay


I planned to wake up early to see
the sunrise of Boracay but to my disappointment it was raining at 5-7am. =) We
had our breakfast in Andok's Chicken for Php60 each. On our first day we met a client
in ShangriLa Boracay.
Fortunately, after work (after
walking in DMall in almost a coat and tie where everybody wears two piece…
hahaha) the sun showed inviting people to soak in the water!!! Yahoooooo!!!
When I saw the sun light touching
the water and the white sand I felt the rays on my eyes, fainting on the beauty
of the crystalized water and alluring white sand! Then I said,this is Boracay!
No wonder many people of my age and above my age fell in love with the charm of
the Island.
Isn't that perfect?


I immediately jump of my feel to
the hotel and change clothes for we do not have any pending business for the
day. But looking at the people bathing on the sand and water, I knew I needed
to buy some inexpensive beach shorts for swimming. The water did not fail me. It was
the lightest sea water beach I ever soaked in. I started at about 1pm and I
ended at 4pm (?) I just loved what I saw; I saw little colored fish playing
while my shadow in the water reflected (yes it will reflect because the seabed
is white). That was really awesome. You will be mesmerized as the cool sea
breeze touches your face fighting the heat of the sun.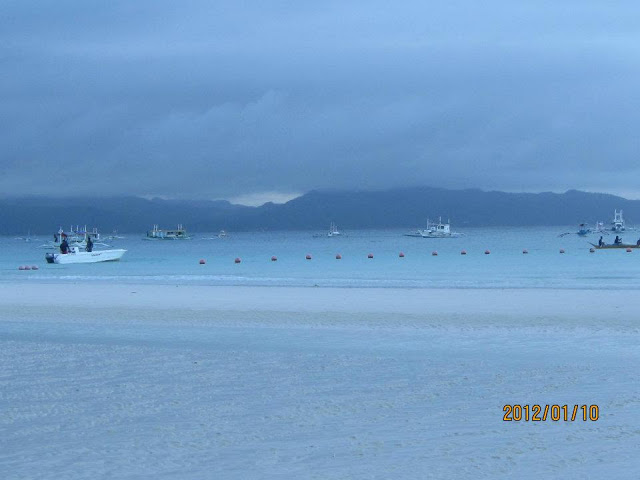 Then I walked in the shore
without minding the time. During the months of December to February the flocks
of different nationality will gather in the Island to escape the winter season
in their country. Most of them are Europeans; specifically Russians (maybe
because of the DOT caravan last year in Russia) and Koreans.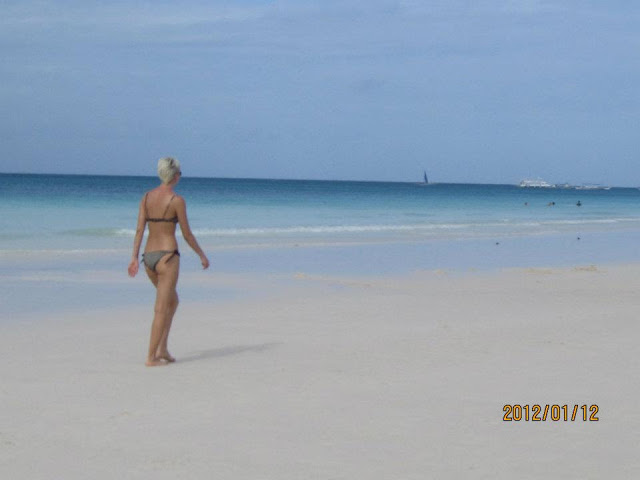 Traveling alone needs some guts to ask people to take pictures of you.


The night came. After spending dinner
in an all-you-can-eat restaurant along the bay for Php400 per head I simply
cannot not afford to lose sight of Boracay nightlife. My boss, said he was
tired. Well physical constraint could not stop me to stroll around the island. I wasn't that disappointed but
there was something missing during that night and I cannot figure it out until
my last night – an acoustic bar for god sake. Lol The night is alive, bunch of
people strolling (still) in their bikinis and trunks. Some thought, I guess,
that the white sand flooring is a cat walk of a beach fashion show. Well that's
the way it is. There are locals with their livelihood being push to the
tourist. It should not be hard for a tourist to look for decent activities in
the island because locals will offer you packages (tour and activities) and the
best thing – you can haggle. On the second night I tried the
massage along the beach. It was not the best but it gave me relief after the all-day
work and swimming in the clear-crystalized water. I shell out Php300.00 for the
massage. On the last night I felt I had to chillaxed and listen to the lyrics of
the acoustic singer by the beach. Complemented with two light drinks for
Php80.00 each, the night was perfect to end my little Boracay Experience.     Bathing in the beach of Boracay
lasted for 3 days. I was able to stay long out of a tight budget because it was
paid by my company. =)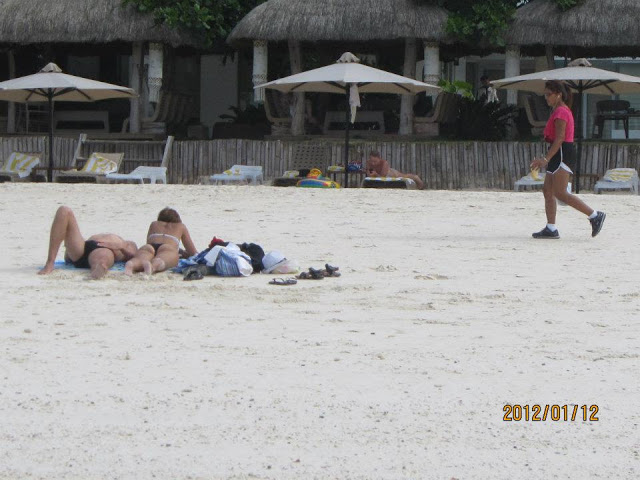 Wonder how much will you spend in
Boracay? I estimated a cost is Php10,000.00 if you want to do some water
activities and dine in semi-expensive restaurant. This does not include the
airfare.