Last year (2011) was a blast I had
five travels from Sagada to Zamboanga. Later on I will be posting a summary of the
entire trip since last year since I almost forgot all the details of my travel
in Sagada and Cebu-Bohol. For now this is the second leg of
my Zamboanga City Trip. Base on my research there was an
island in Zamboanga that not only offers a white sand beaches but PINK sand.
What pink!?!? Yes, pink sand beaches.


The night before our planned visit in Sta. Cruz Island (where the pink sand beach is), we asked people (police and some locals) in Paseo del Mar where were the boats or banka going to the island and we got different answers. I was kinda' disappointed until one police told us that we just have to wait boats on the gazebo at side of the plaza.   So early morning we went there without exactly knowing if we can get to the island. We reached the gazebo and found a group of people (a family I think) flocking and waiting for the boat. Then I asked the two ladies sitting on the bench if they are going to the island and they said yes! Actually these two girls (also backpackers) were also waiting for some more people to fill the boat and to further lessen each payment on the boat.  
Boat bound to Sta, Cruz Island





One small boat can fill up to 10 people for Php1,000. So since we were four, travel buddy kuya Allan and the two ladies we met, Teta and Lilly.
One needs escort because of security problem.
I think they were more than 10!!!
 Our problem is not yet over. Anybody who wants to go to the island needs to register in the tourism office. We went there on our first day but we stupidly did not register… hay… Fortunately, when a soldier came (yes a soldier) I asked him if we can still go even though we fail to register at the tourism office. And he said yes! I just wrote our name on Teta and Lily's permit.   Anyone who wants to go to Sta. Cruz Island needed to secure a permit from the tourism office because a soldier will have to accompany you during your stay in the island. That's how dangerous it is? Yes, maybe since Basilan is the next island.      Travel time is 10-20 min. There were no entrance fees but you have to rent their cottages and some snorkeling equipment from the locals.
Crystal clear water =) nice!
The Island is being manage by the city government.
 Seeing the sand disappoints us expecting "Hot Pink" sand as Lily and Teta whispered. Haha… The island is so virgin. There were no structures erected except for the one wooden cottage where you can stay some and cottages. There were no even bathrooms. On all of these you cannot expect an electricity connection in the island.   We didn't bring food or dinks in the Island expecting a sari-sari store in the Island. Luckily, there were some locals who sell crabs (I don't know what kind) for Php200 only and some sea weeds for Php10. We asked the seller to cook the food for us and to buy us rice of course for additional cost.   To our disappointment, the crab was not edible! It tastes like mud inside!!! Woah!!! We just settle in the see weeds and rice and some snacks of our two new friends.
Looks nice and delicious ha…
It was actually the first time I eat this, it tastes like ocean lol
That was the finished product ha =/ 
Teta (on blue) and lili (on green)
The locals are selling this for Php5 each.
Going back to the "pink sand." Actually it was (is) pink when you look closer. So, it was (is) really pink especially when the sun hits the grounds. The sand is pink because of the crushed "red corals" mixed with the island white sand. You can see a lot of red corals on the shore aside from the crushed one.   The island was so amazing! The water is crystal blue. You can see fishes of different colors when you snorkel.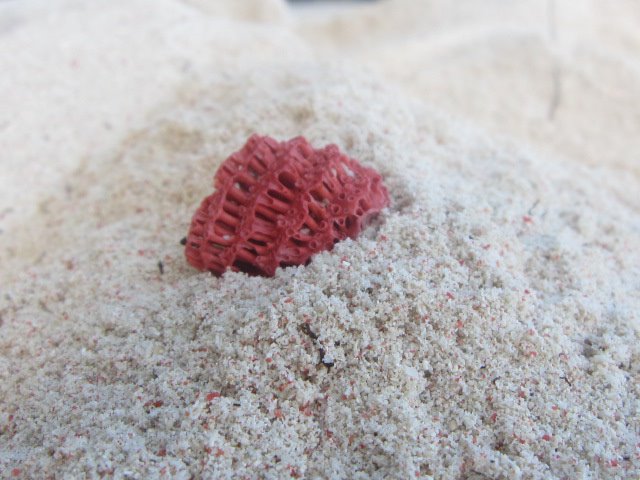 We stayed there until 11am. But before we asked our boat man and the soldier escort, we bought some souvenirs from the locals lining up in the Island. Although it was more expensive to buy compared to the city we still bought some items to help them. You can buy pearl, female accessories, some sculptures and black corals (yes black corals! I bought one)
Locals selling souvenir items.
I do not know what is this…lol
When we were about to leave we asked our soldier escort to drop by Rio Rondo just to take some pictures but he was reluctant because according to him it was too dangerous. But with a little more push he said yes (because of our "pambobola" and I think he's a little drunk).
The escorts soldiers having a good time.
Farewell to other travelers
Rio Rondo for them is dangerous because it looks like a slum area and most of the thieves hide and run in that area. Muslims lives above the water because it is accessible as most of them own a boat.
There were much colorful Rio Rondo like houses in Basilan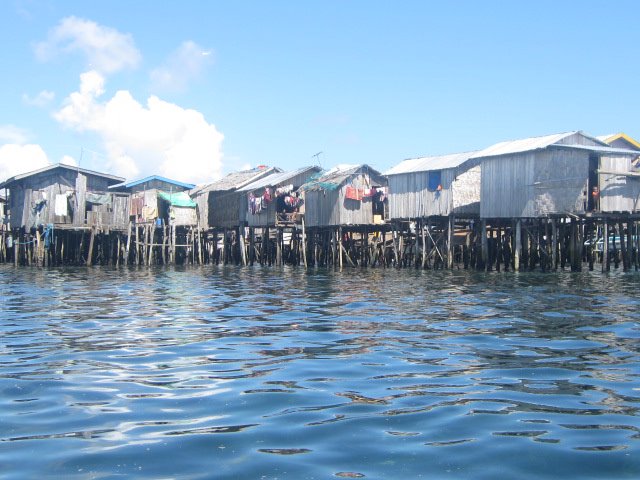 This experience was a little bit
challenging as well as fulfilling. I will definitely recommend visiting this
island and I will come back here whenever I go to Zamboanga. This place has a
lot of potential to be a tourist destination of the south if only the security
reason will be resolve.