A 33 hectares of sprawling forest, with endemic species and a community of indigenous
people situated in Jamildan, Capiz – an hour or so town from
Roxas City, is now open for us to explore and experience. The place is actually a
military camp of the 3rd Infantry Battalion Forces of the
Philippine Army. Of the 33 hectares less than 10 percent is utilized
by the army while the remaining is either occupied by the Indigenous
Peolple of Panay or idle land where hidden waterfalls are situated.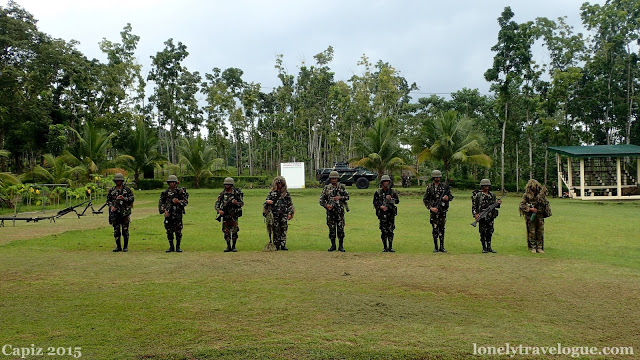 Our agenda was of course
the latter – waterfalls.
Camp Peralta The Spearhead Troopers
(nick name of the soldiers stationed in the camp) opened the camp
to civilians, locals and tourist, so that its natural and later on
man-made attraction can be shared and enjoyed.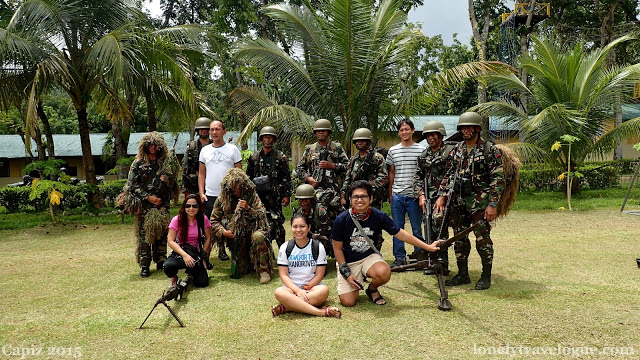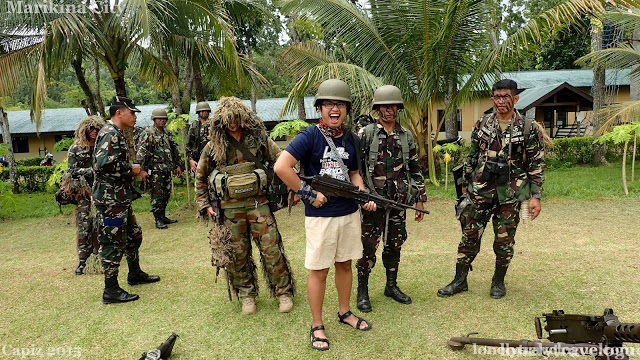 Right now people can go
inside the camp and trek to the waterfalls with the guidance of our
mighty soldiers. At the moment trekking to the waterfalls is the main
attraction but you can also do biking and firing. They
also have soccer fields and golf (driving) range for those who are in
these kind sports. In the near future, they are planning to put zip line,
orchidarium, cottages and a restaurant. Sounds like Camp Peralta
will be a one stop place for families, gathering of friends like
batch reunion and even educational field trip for students in the
Island of Panay. They even plan to conduct IP Cultural Presentation
apart from the static display that they already doing for the guest. After the 15 – 20
minutes orientation we proceed to the field where soldiers were in
their combat gears and their artilleries were lined up as well. That
was the static display I guess. A minute or two of meet and greet,
the soldiers started their display. Watch the video below: (Video soon)Some of the equipment of the Philippine Army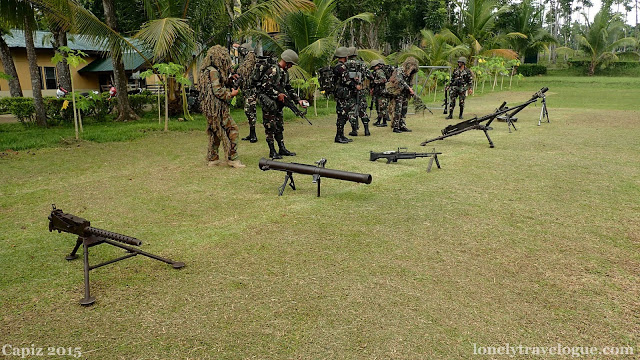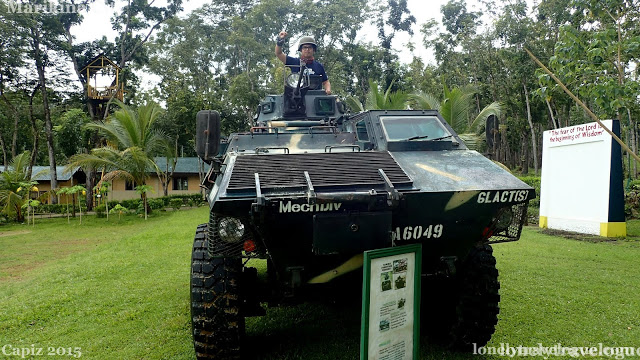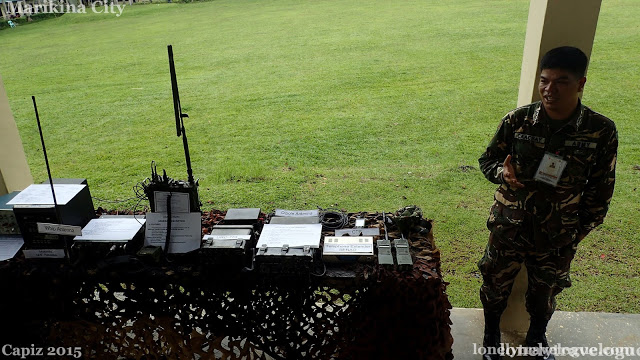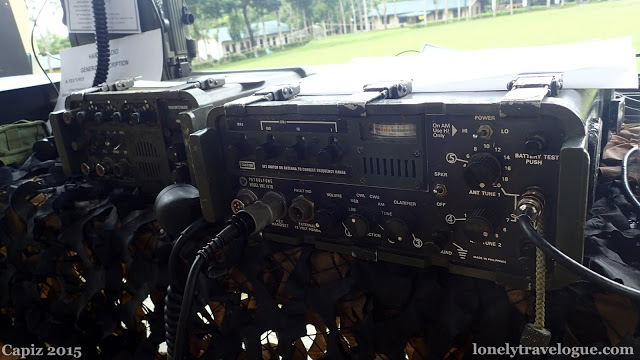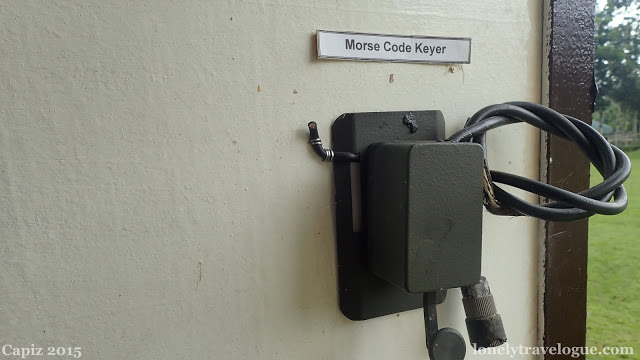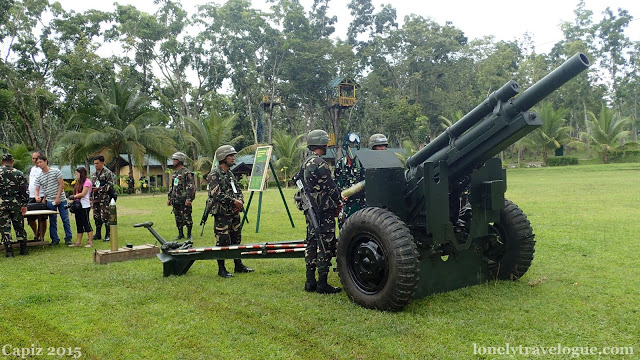 Malinamon Falls It now time for the 30
minutes trek to Malinamon Falls!
There are seven known
waterfalls inside Camp Peralta. Prepare a good of 5 days of trek if
you want to see all the seven waterfalls. Malinamon Falls is the
easiest waterfalls to reach.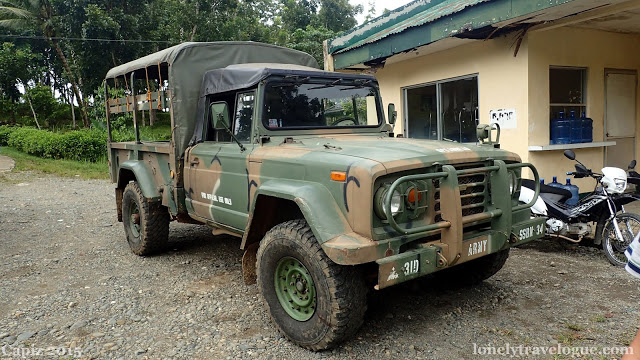 Our service up to the jump off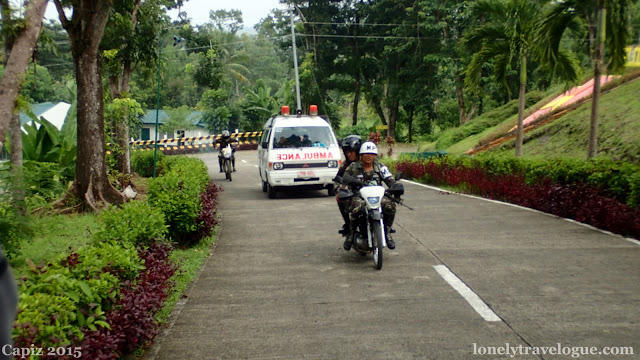 Yes we have a convoy that consist of an ambulance The trek was striking and
punishing. Made by the rare sights of natural wonders for us, metro
people and only because my sandals was loosening thus frequent
sliding was a common occurrence during the trek. The rain the night
before contributed to my misfortune I guess – though the trip
itself was not a misfortune, it's just me. As a tip make sure you
have a good footwear for the trekking.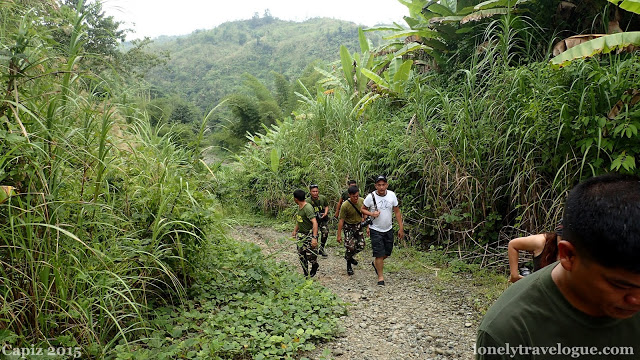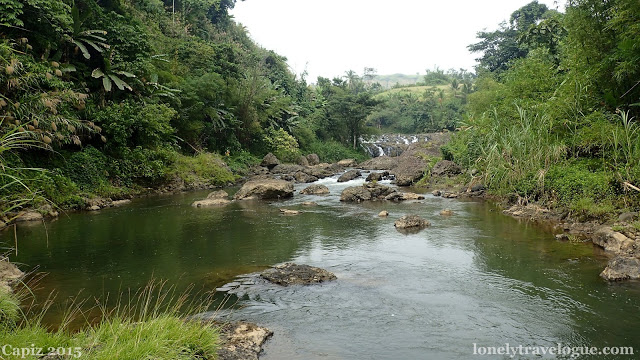 The trail is an easy one
as per mountaineering leveling is concern. Malinanon falls is not
actually in a mountain thus hiking shouldn't bother you though a
little preparation like stretching is advisable.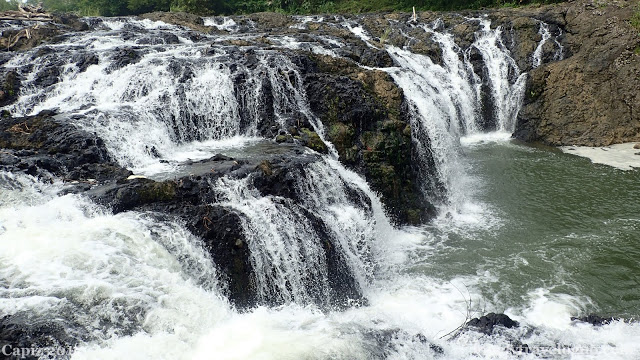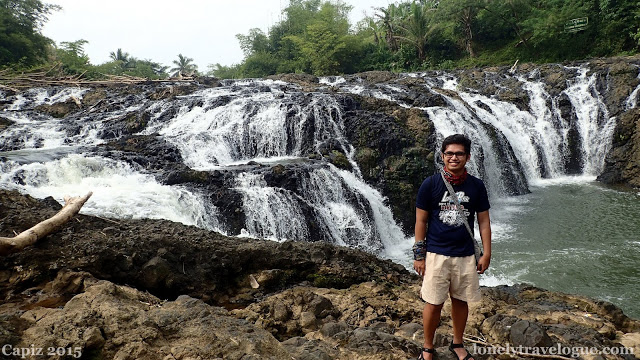 Malinamon Falls is a
two-tier cascading waterfalls. One of our soldier-guide mentioned
upon reaching falls that it is their version of Niagara Falls much
like Tinuy-an Falls in Surigao. I rather not call it the ________
falls of Capiz but rather call it Malinamon Falls in Capiz. I didn't
tried to correct the soldier because he has M-16 riffle strapped on
his shoulders.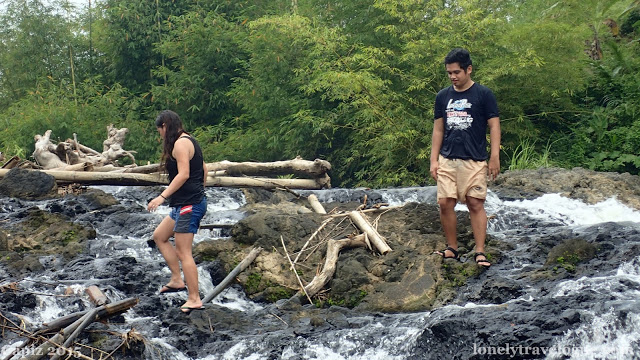 After minutes of
observing the uniqueness of this waterfalls and some obligatory
selfies and "blog-worthy" or "Instagram-worthy" shots, we
dip ourselves in the surprisingly not so cold water of the falls.
There are a lot of areas in the waterfalls where in you can dip with
your preferred deepness and pressure of the flowing water. There are
areas where you can lay and allow the flowing water to massage your
back. There's a big tub where in the water are still and is good
for just relaxing your body.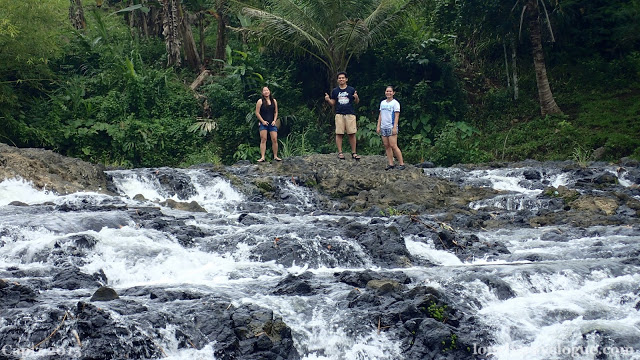 But the real fun is
climbing on the first tier. Climbing up is literally finding your
rock. Upon reaching it, the challenge is walking in the deep areas
and in the shallow areas which has slippery rocks. A question like
"how do we go down?" popped as we punish ourselves on the rocks.
"Let's figure it out later" was the courageous answer of us who
thinks that what we were doing can save Africa from its
ballooning debt.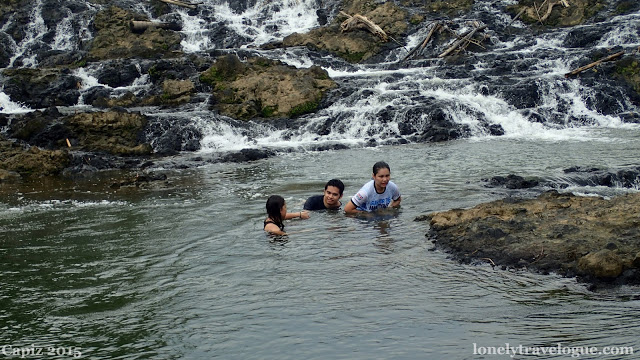 Of course the reward was
the fulfillment that – we did it! The photograph is just secondary,
really. Our photographs do not state how we risked our lives climbing
in the moss colonized rocks. But that was ok, our purpose was a
humble one, now we felt like we just paid the debt of Greece as well.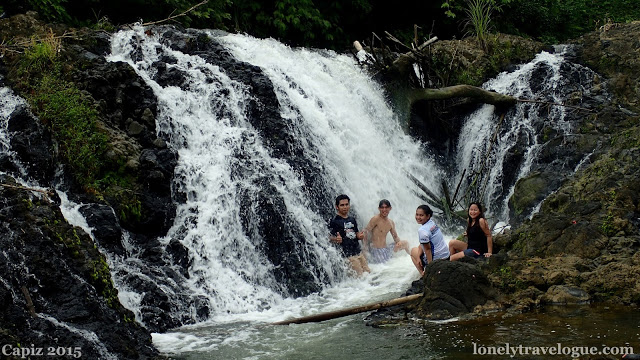 Kidding aside, Malinamon
Falls is both stunning and challenging. The cascading waters will
fascinate every human being. It will make you stop and contemplate in
nature for a while. Getting up the first tier was even surprising
because there you will see the source of the growling waters still
and peaceful. It made me think that no matter how still and peaceful,
there will be time that you will growl like a tiger looking for its
prey. No matter how plateau is our life, one day you will growl. This
was a sign of my sleeping career as after my trip in Capiz, I started
my new job in a new company! For more information
about Capiz sights and attraction you may contact:
Capiz Provincial
Tourism and Cultural Affairs Office 2nd Floor,
Provincial Capitol, Roxas City, Capiz, Philippines Tel: +63(36) 621-0042
loc. 133 Email:
[email protected] Facebook:
facebook.com/CapizTourismAndCulturalAffairs
If you don't have time
to do research for your seafood indulgence in Capiz you may ask Las
Islas Travel and Tours to arrange tours for you!
Las Islas Travel and ToursContact Numbers: +63 995-335 7310; +63 999-430 0133 Email Address: [email protected] Website: www.lasislas.phThis tour was sponsored by the Capiz
Provincial Tourism and Cultural Affairs Office of the office of the
governor. Camp Peralta was part of the Familiarization Tour conducted
by the said office on September 27 – 30, 2015. The Familiarization
tour was done as part of Capiz Tourism Month.