Roxas City in Capiz is
dubbed as the "Seafood Capital of the Philippines" No wonder why many of its
people called Capizeños are thriving in the fishing industry to supply the whole archipelago of seafood. The local leaders developed the a livelihood based tourism called Cadimahan-Libotong River Tour so that
local and foreign tourist can enjoy seafood while experiencing
Capizeños hospitality on board the large bamboo raft or cabana.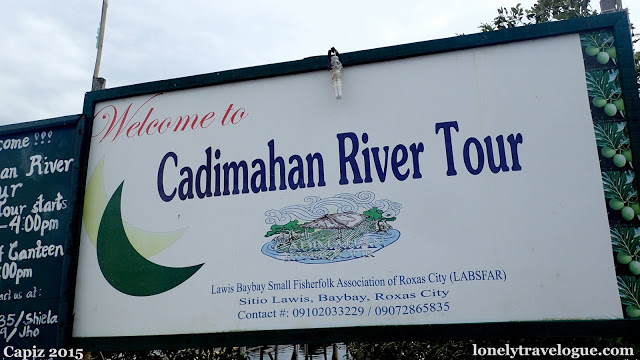 From Urban Manor Hotel in
Pueblo de Panay we proceed to Libotong River for our lunch in
Cadimahan-Libotong River Tour. A nice bamboo bridge leads us to the big bamboo
raft called cabana which serves as the dining area. The atmosphere
was like a fiesta because people were all smiling while other are
laughing and just having a good time with their family and friends
over lunch.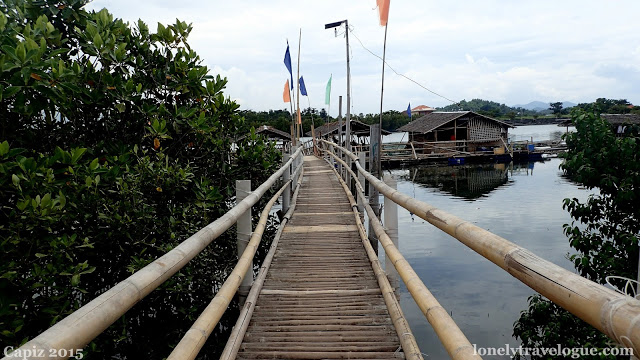 I cannot contain my
excitement when we were ushered to our designated cabana. There was a
trio dressed in purple welcoming us with their acoustic
guitar and ear-catching voice. They sang Folksong in Hiligaynon in which we did not
understand. Forget about the language barrier, we enjoyed watching
and listening to them in rhythm and melody. Later on we were informed
that they were part of the choir that welcomed us in the airport that
morning.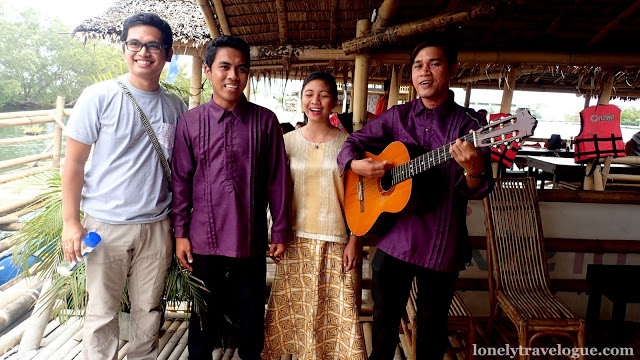 Not all cabana in
Cadimahan River Tour can sail the Libotong River. Only two are mobile
and the others are stationary cabana. All cabana regardless if
stationary or mobile can accommodate 35 people. One reason why you
have to coordinate prior to your arrival in Cadimahan-Libotong River Tour is
because there are limited cabana that can tour you in Libotong River.
Tours can last up to 2 hours.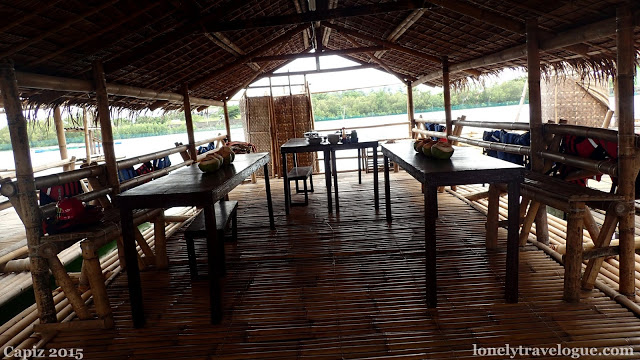 The trio was still
singing when we docked off the banks of the river. We were asked to start our
lunch which was composed of none other than – seafood!!! I was actually
looking forward to eat like a king. I expected to eat a lot of
seafood especially prawns and crabs. We were earlier informed that
there were no supply of Diwal which is abundant only in waters of
Panay, scallops and oysters. It was a disaster at first but thank God
Tiger Prawns, Crabs and various fresh fish unknown to me saved our
tummy.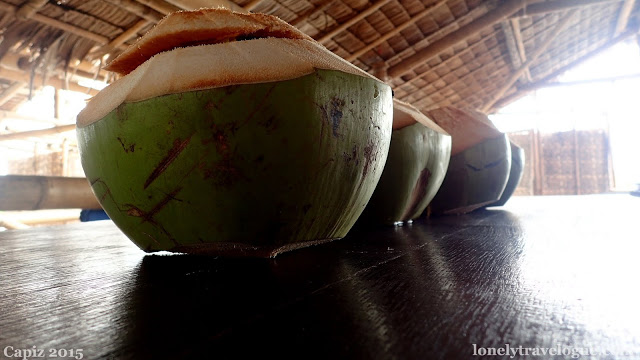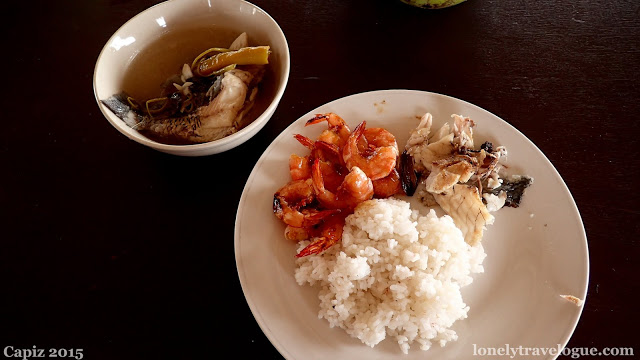 For a while the trio
stopped singing to eat with us. This time I got the chance to talk to
the fisher folks of Cadimahan-Libotong River Tour who was with us on board.
Mr. Bienvenido Dela Cruz, Jr. the vice chairman of LABSPAR or
Lawis-Baybay-Small Fisher Folks of Roxas City shared to us what
activities we can do in Cadimahan-Libotong River Tour. He also shared their
struggles and how they stood up after Yolanda.
According to Mr.
Bienvenido Dela Cruz, Jr. Cadimahan came from the word Ca from
the first syllable of Capiz and Dima which means breadfruit in
English. The Han was added to denote the place. He added that
at the end of the river there is a breadfruit or Dima.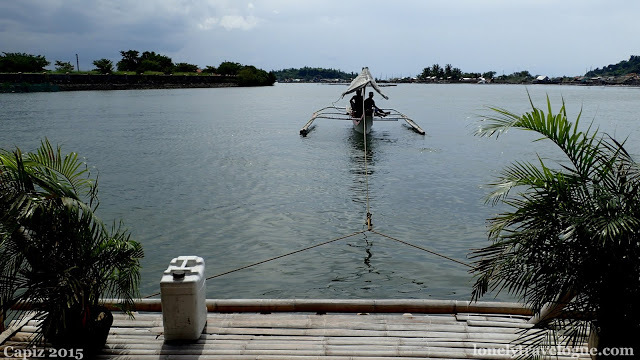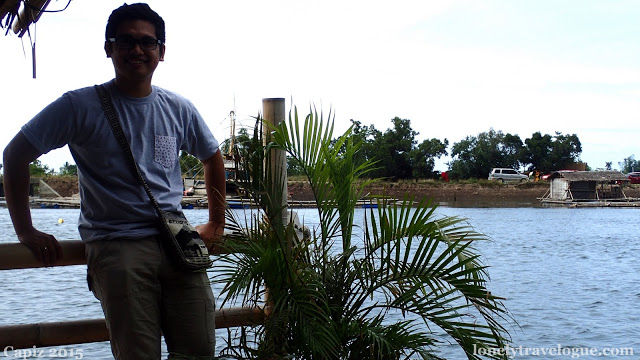 Typhoon Yolanda had a
great impact not only in their livelihood which is fishing but as
well as in the tourism industry. In their part, the cabanas was
crushed by the typhoon leaving them with nothing but a hopeful
spirit.
Through the support of
the government and private organization the fisher folks of Roxas
City and the Cadimahan-Libotong River Tour resurrected months after the
typhoon. Because Filipinos are resilient, it so wonder the Cadimahan-Libotong River Tour stood up and is now serving the tourist with seafood fresh
from their catch.
Cadimahan River Tour not
only gives livelihood to the town folks, it also promotes
environmental protection awareness through its eco-friendly tours.
Aside from the floating cabana, River Tour and paddle boat experience
you can also participate in their Mangrove Planting and River Clean up
activities. Mangroves are important to the fisher folks to cultivate
fish and shellfish. We need mangroves to sustain the supply of our
sea crops.
While the trio resumes
singing, you can have a foot massage and spa after eating. Yes, there
will be a license massage therapist with you on board! Foot massage
cost Php150.00.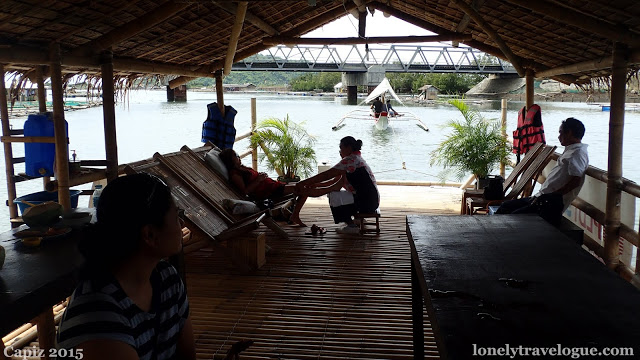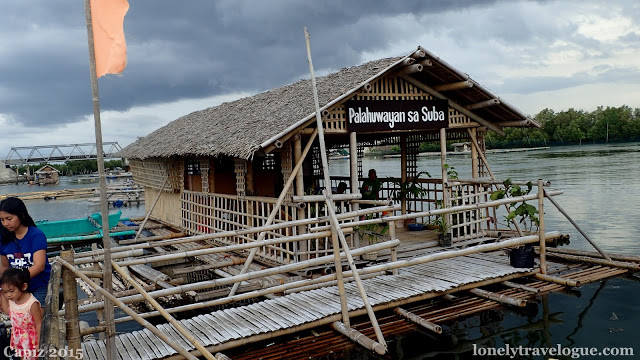 Stationary Massage Cabana   Although I cannot
understand the language I still enjoyed the trio singing in
Hiligaynon. I requested them to sing in Tagalog song which
they quickly granted. They sang Rey Valera's "Kahit Maputi na ang
Buhok Ko" and later on sang it in Hiligaynon. It was a cute
rendition of the Filipino classic song. Michael, the lead singer, of
the Trio sang "Pusong Bato" in both Tagalog and Hiligaynon. I was
impressed by the quality of his voice. He can hit high notes
flawlessly. They got our attention again when they sang the
Hiligaynon version of the infamous "Careless Wisher" Here's the
video of the trio singing on board: