DAVAO FRUIT GAZING: BANGKEROHAN MARKET
I asked my boss who is from Mindanao where I could buy cheap Durian in
Davao. He said durian vendor are everywhere! In almost every street corner you
could see vendors selling durian for 30-40 pesos per kilo. What!!! But the
center of the city delicacy is of course the public market where everything is
cheap and fresh. As for Davao Bangkerohan Market is the center of street trade
and also the center of not just Durian but also of other tropical fruits like pomelo,
marang, mangosteen and a lot more. But of course the King of Bangkerohan is
nonetheless the king of fruits – Durian!!!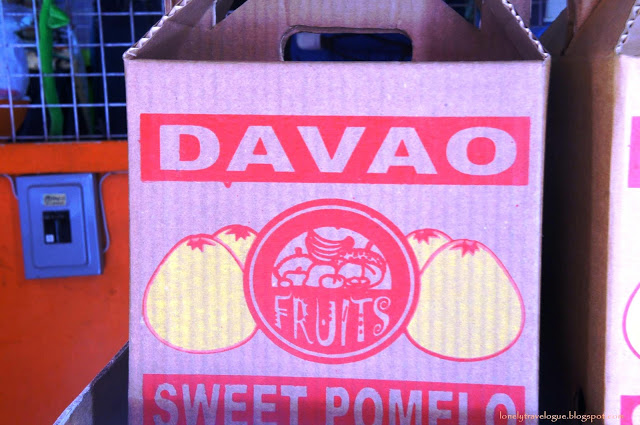 Before we proceed to the Philippine Eagle Center we wanted first to
experience the pride of Davao – Durian. And where else we can have it? Well as
mentioned above…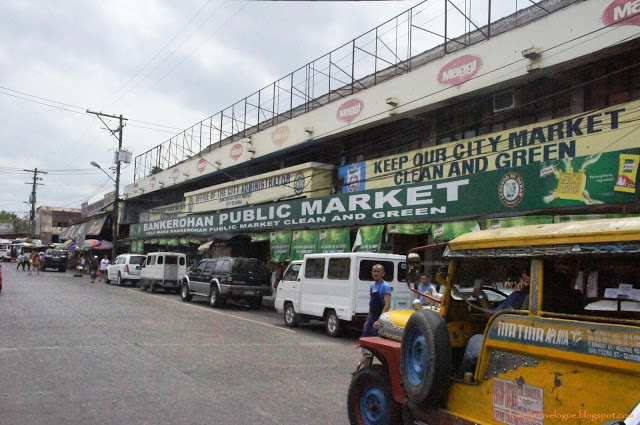 Bangkerohan Market is just like another market in the Philippines. But
the presence of cheap Durian and Marang is what makes this market different
from any other in the Philippines. Whenever you visit Davao don't be shy to
tell to the vendor that you want to eat an Arroncillo or Puyat (Variety of
Durian) on side streets. They will gladly open it for you. In fact you
will see many people eating the fruit while walking or in front of the fruit
stand.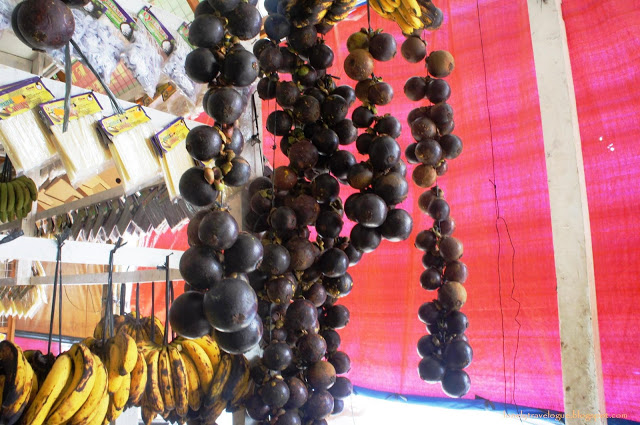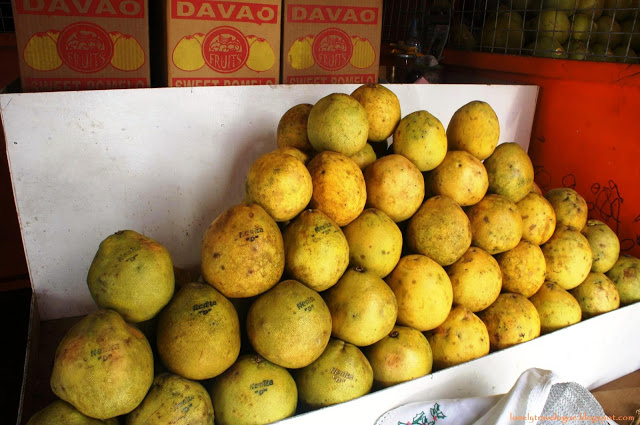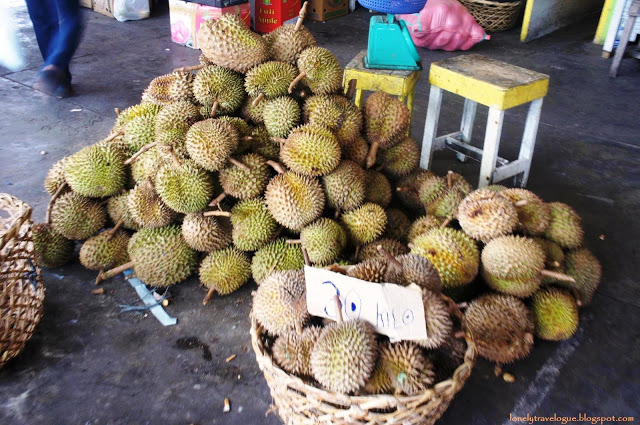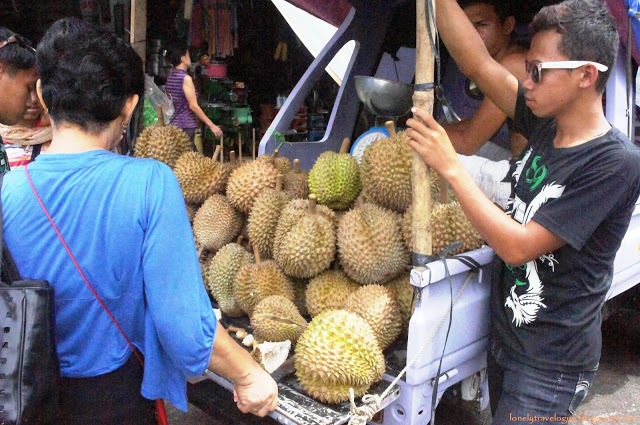 How to go
to Bangkerohan Market? Since
Bangkerohan is the center of Davao City most jeeps are bound there. Jeeps who has
a sign of Claveria (New name C.M. Recto), San Pedro and Magallanes are bound to
Bangkerohan.
PHILIPPINE EAGLE CENTER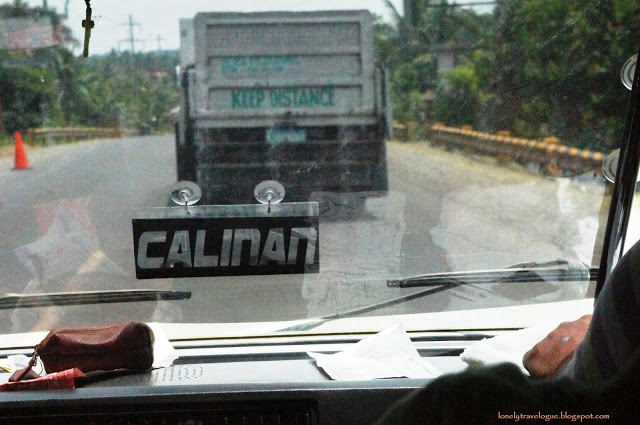 I learn when I was on grade school that the national bird of the
Philippines is the monkey eating eagle or much appropriately named as the
Philippine Eagle. I am not just sure if I saw this kind of bird in Manila Zoo
when we had a field trip there. Going to the Philippine Eagle Center is probably
around 40-50 minutes from Bangkerohan. A van and a Habal Habal will get you
there.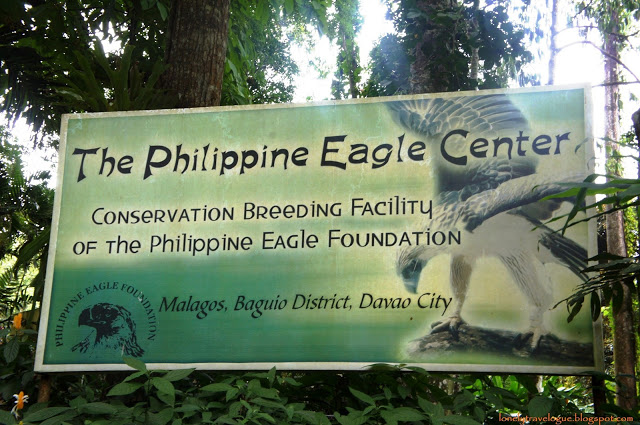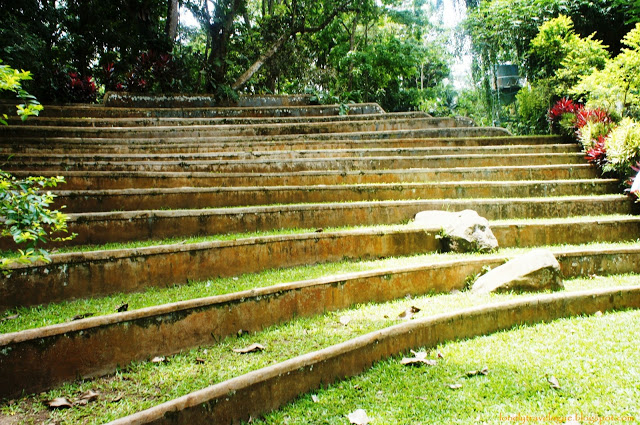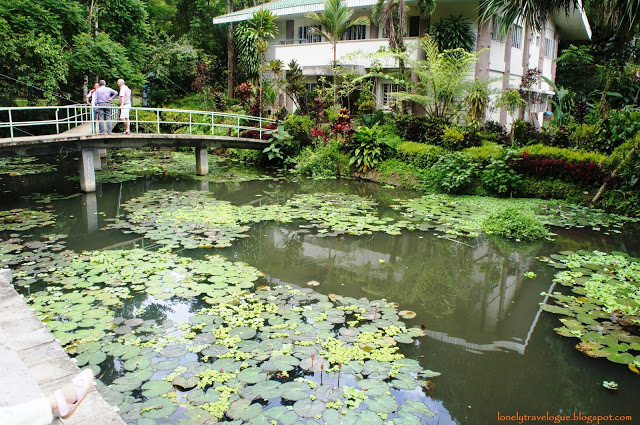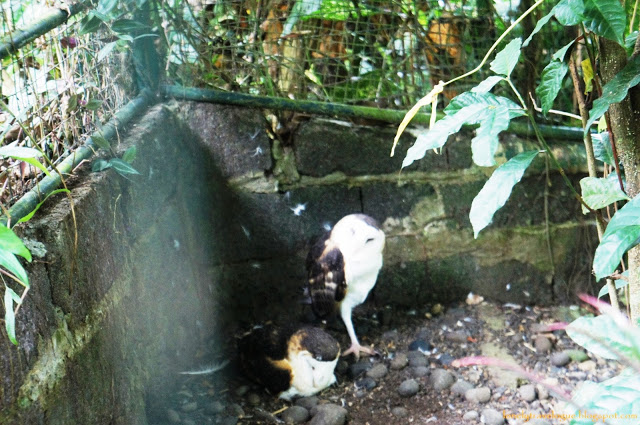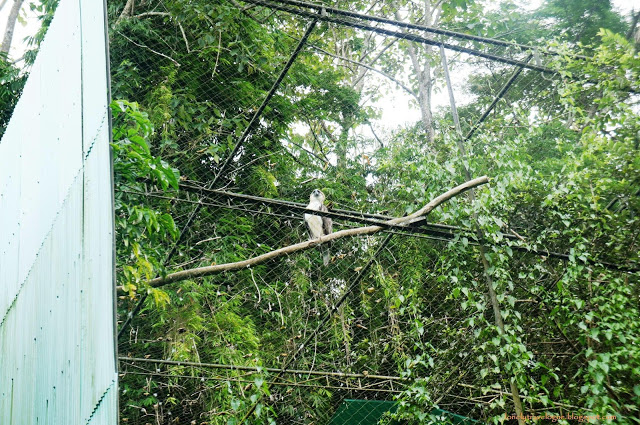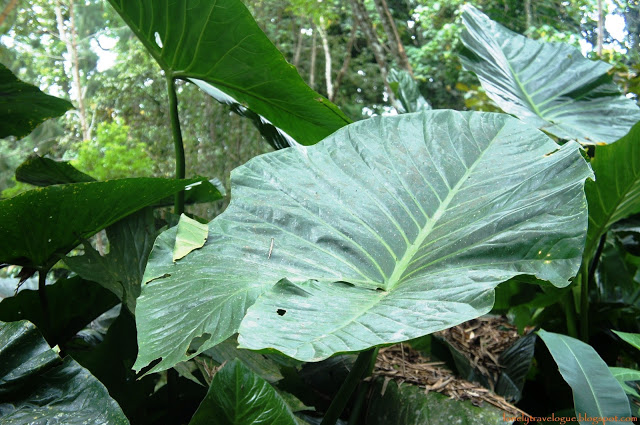 Philippine Eagle is the biggest eagle in the world in terms of wings span.
The Philippine Eagle's wings span could reach up to 7 feet. Oh wow… Once inch
smaller from O'Neil's height.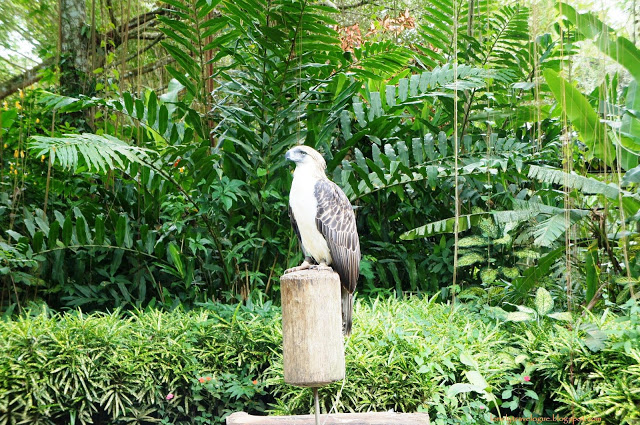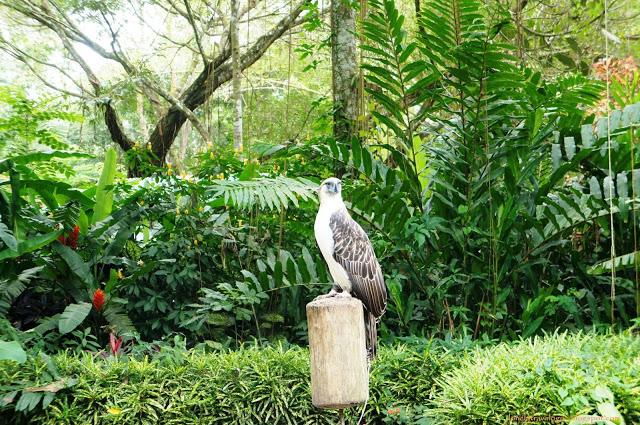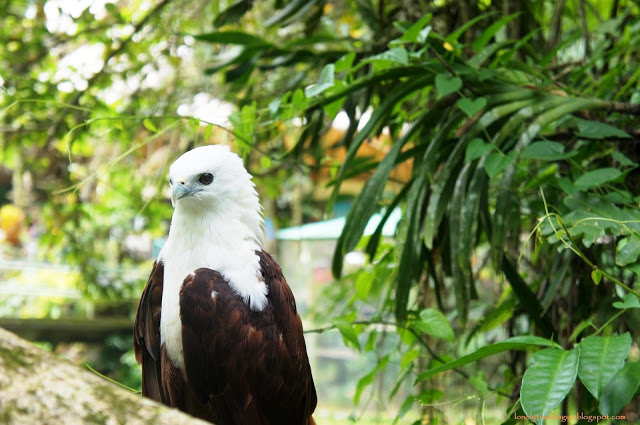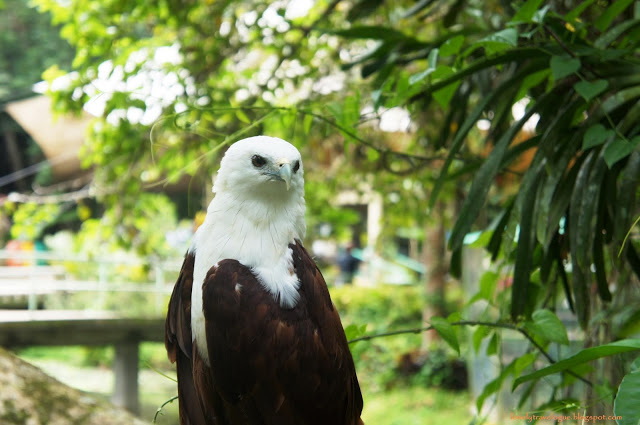 I felt two things when I went out of the center. First was, I was happy I
saw a big Philippine Eagle face to face and I knew more about them. Second was,
I was saddened because these God created creatures they can't use their mighty
wings to fly in which they are born to. And what makes it worse is that their
feet has a cuff with a rope so that it will give a good effect of an eagle
standing mightily on own podium. Oh that was a prison podium.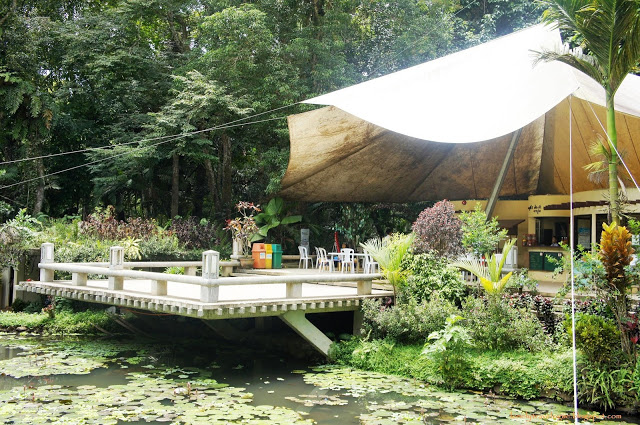 I understand that these creatures are endangered and the people at the
center are protecting them. It just makes me sad that they cannot fully use
what God gave them which is to fly in the sky. How to go
to Philippine Eagle Center?Take a
van off to Calinan(Php40). Once at Calinan take a Habal Habal (Php20) going to
Philippine Eagle Center.
DAVAO CITY WALK – DAVAO CITY HALL, RIZAL PARK, SAN PEDRO CATHEDRAL,
OSMENA PARK, DAVAO MUSEUM
Two things I notice in Davao. It's generally clean and peaceful. Yeah…
Looks perfect right? It is not that euphoric as you imagine though. That's how
the people depict their big city and that what I actually saw. People are
polite and courteous to the visitors.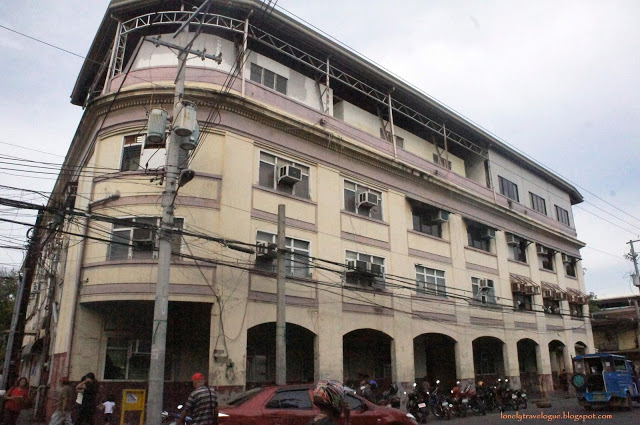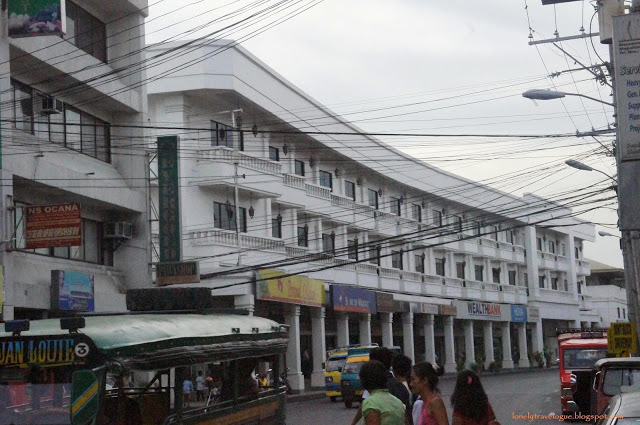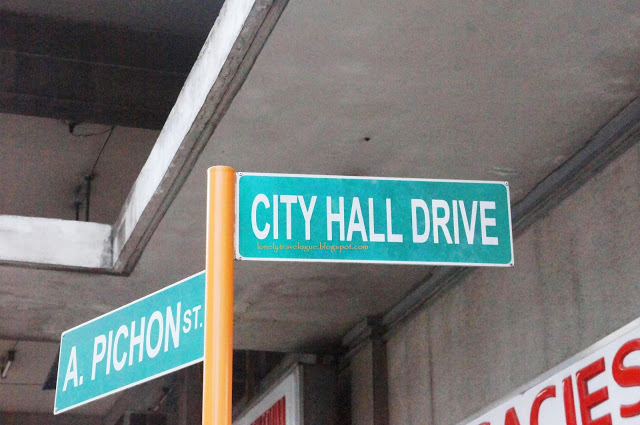 A little walk in the city hall and the city parks will definitely complete
one's visit to a particular city. Davao City hall has of course has many people
doing their own business. It is where the jeeps make a turn from Claveria and
Magallanes since the city downtown Davao City has a one way route
transportation system.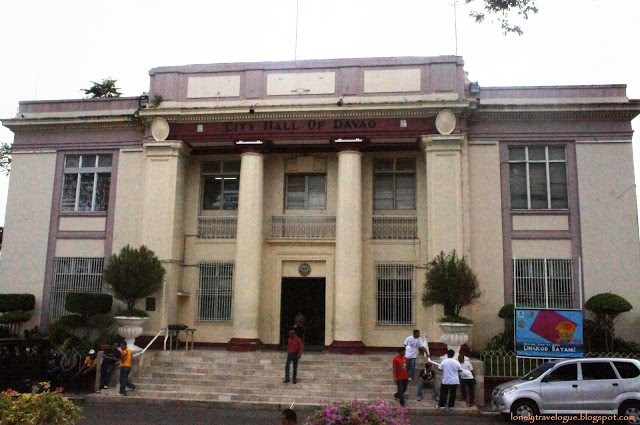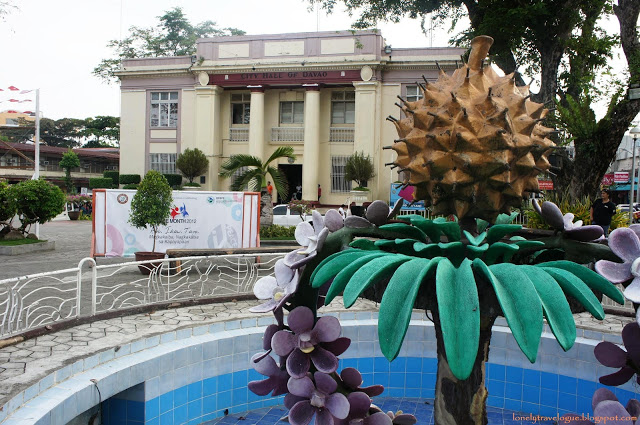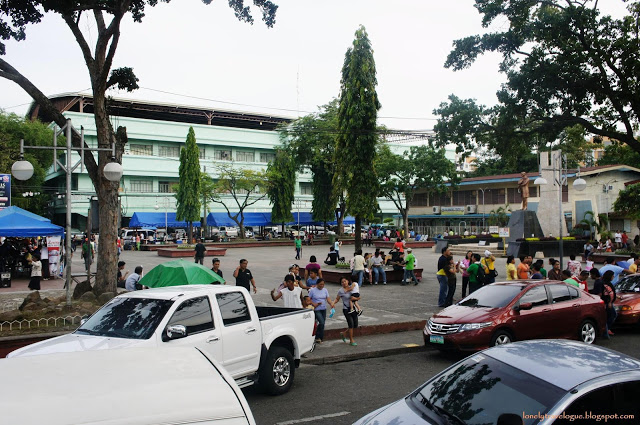 You could see a lot in the city hall area. In front of the city hall is a
park where picturesque big flowers on the center of the two fountain is making
the façade of the city hall perfect. Adjacent to the city hall are the
Rizal Park and the Sangunuang Panglungsod. In front of it is the San Pedro
Cathedral which has a bishop's hat or mitre
architecture. Adjacent to the Sanguniang Pangungsod is the Osmena Park where a
flock of masseurs and masseuse will offer you nice massage for 60 – 200
depending on the type of massage you want.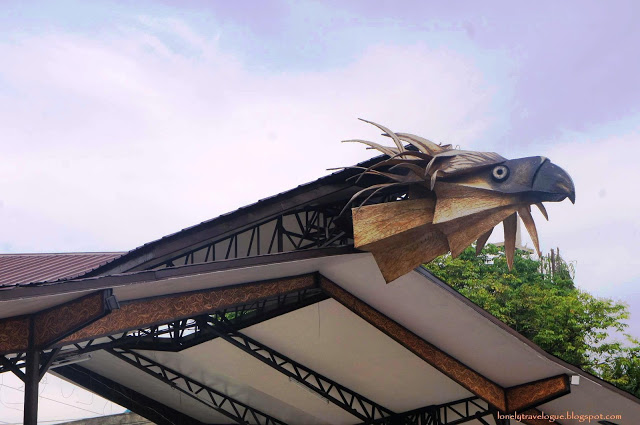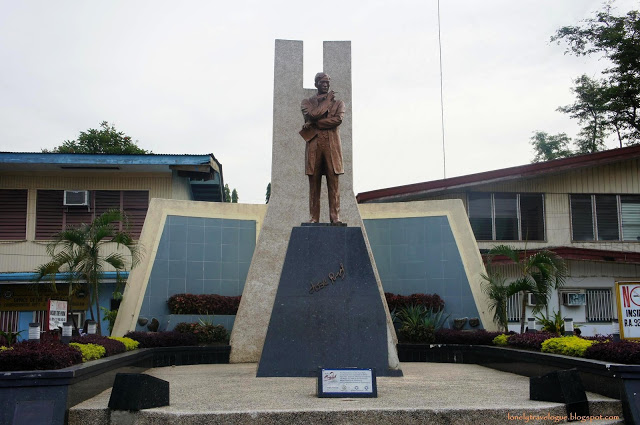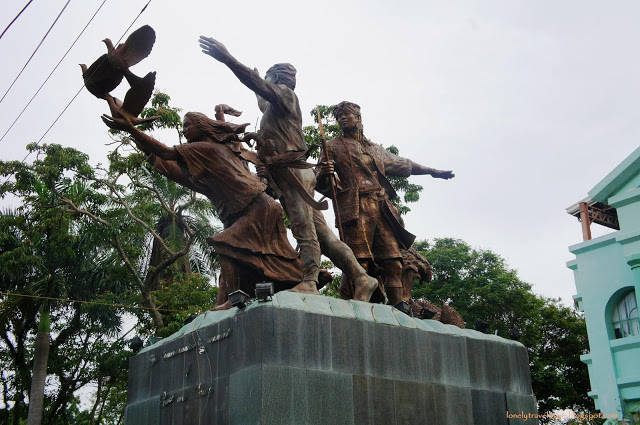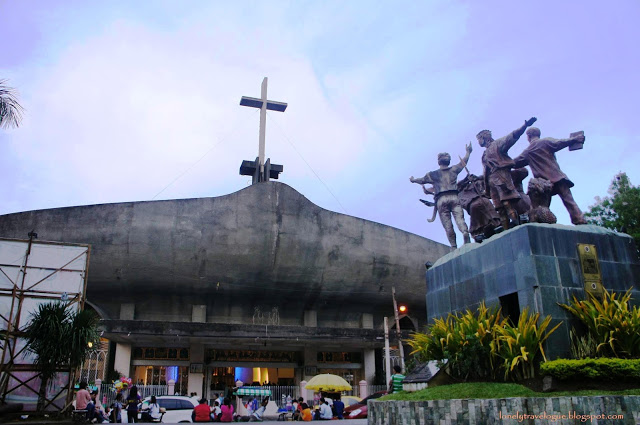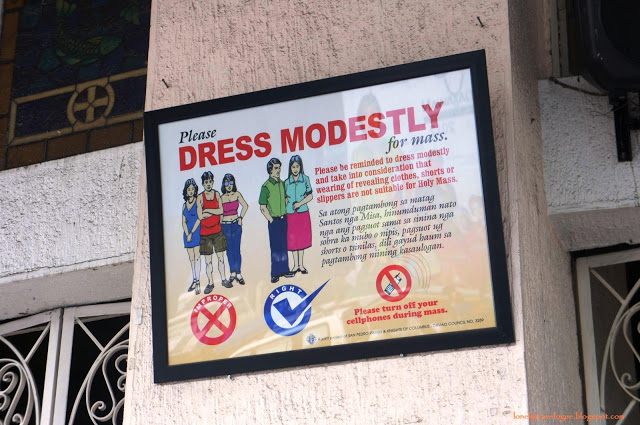 Osmena Park is my favorite portion of Davao city… Hehehe… I really
like foot massage and they offer a good one there. As a matter of fact I'm in
this park every afternoon for 3 days to have a relaxing foot massage. Hehehe…
So after a tiring day of walking, pamper your feet and give some livelihood to
the cooperative of masseurs and masseuse of Davao City. Talking to these
people is good though. You gonna' have an insight through there street commentary
on the current issues of Davao City.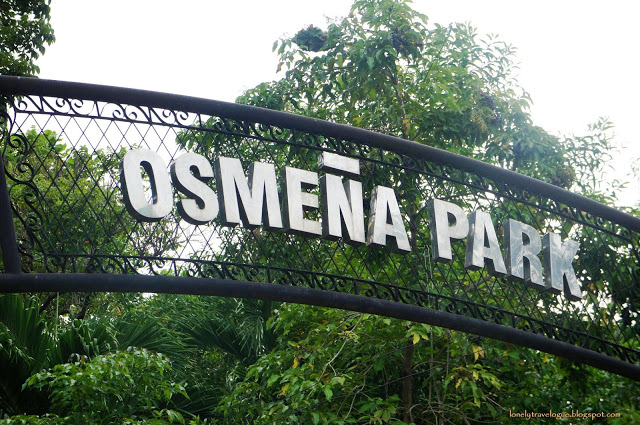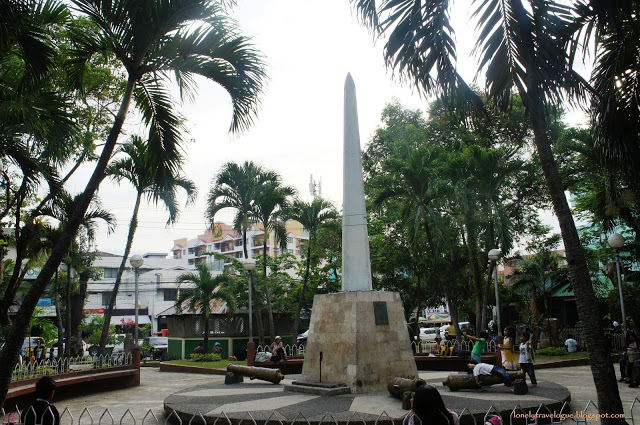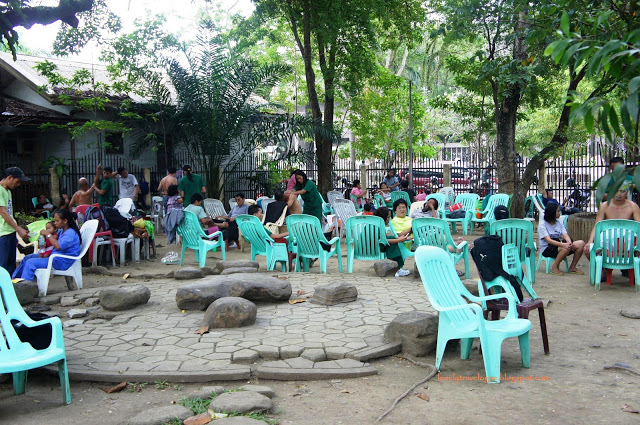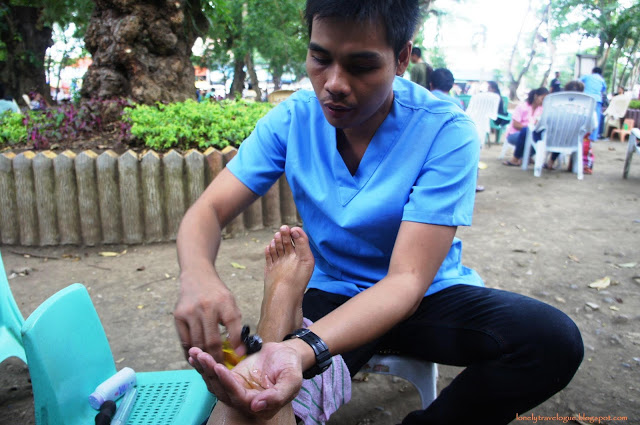 At the back of Osmena Park (Magallanes St.) is the Davao City Museum. The
two story museum showcases the history of the city for free. You will be
greeted by the employees politely and they would love to tell the story of
their city to you.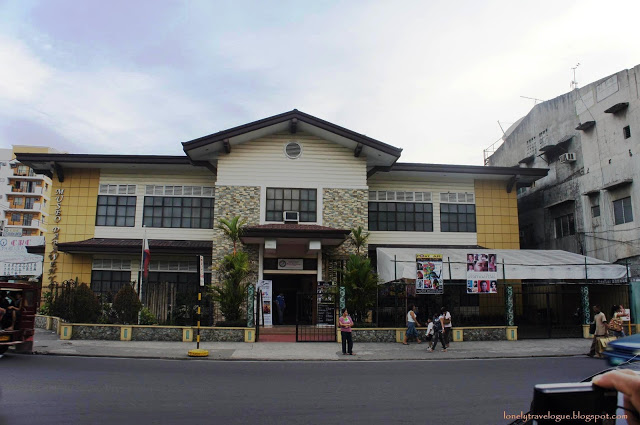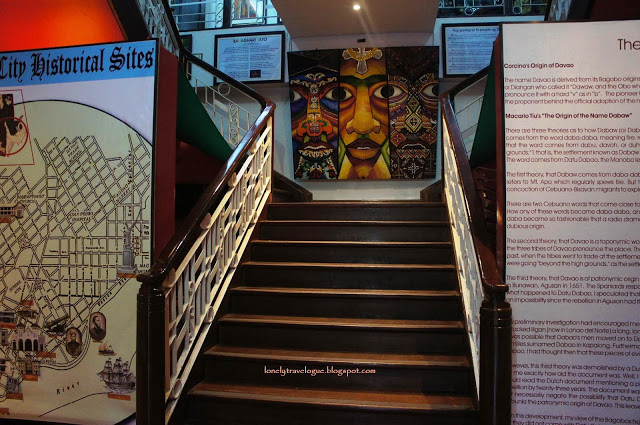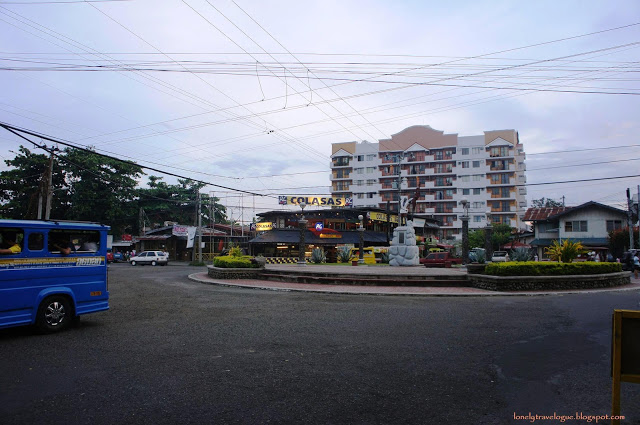 JACK'S RIDGE
It was late afternoon when I and my travel buddy decided to have our
dinner. And where else is the place to be? Of course it's Jack Ridge!!! Okay.
Jack's Ridge is I think best place to visit during the dawn. You will see the
whole of Davao City in this hill. As for us we didn't able to catch the good
view of the city since its already dark when we reach the place.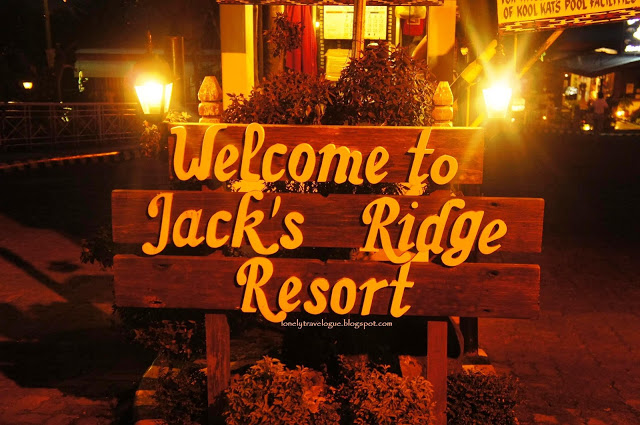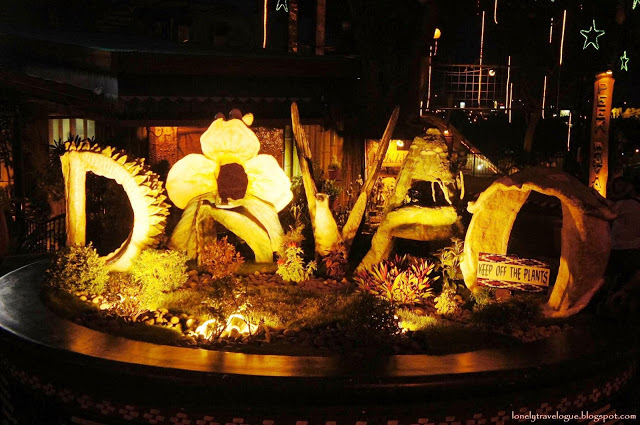 Since our tummy was already aching because of an all-day walk, it was
best to indulge ourselves with the good food of Taklobo Restaurant (also in
Jack's Rigde). We ordered the meal of the day and one big spare rib. After eating
we surprised ourselves with a Php600 bill… lol. So that Php300 each. It was
just so disappointing that we were not able to eat our Marang because it was
prohibited and we would have to pay Php50 for corkage. What!!! Were they
kidding!!! We bought the Marang for just Php20!!!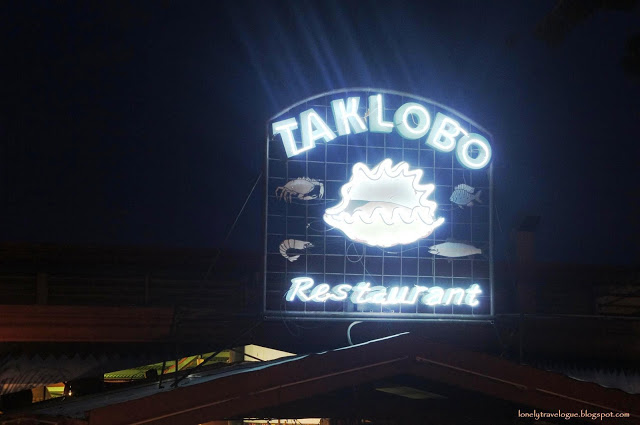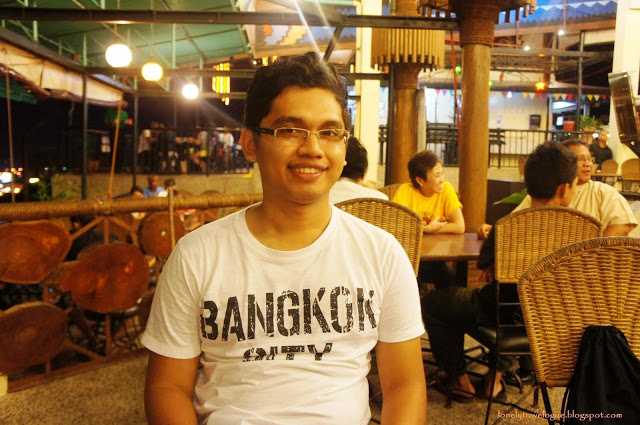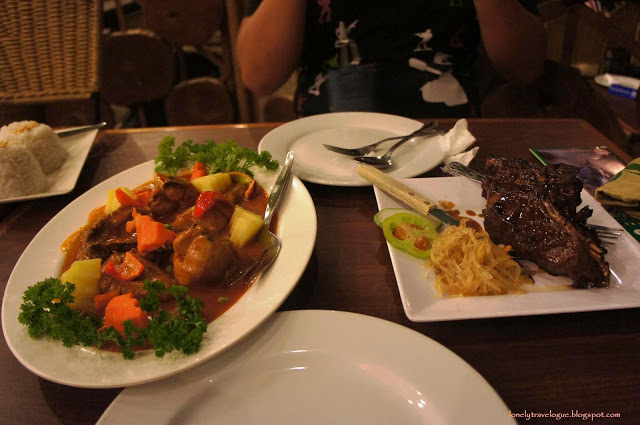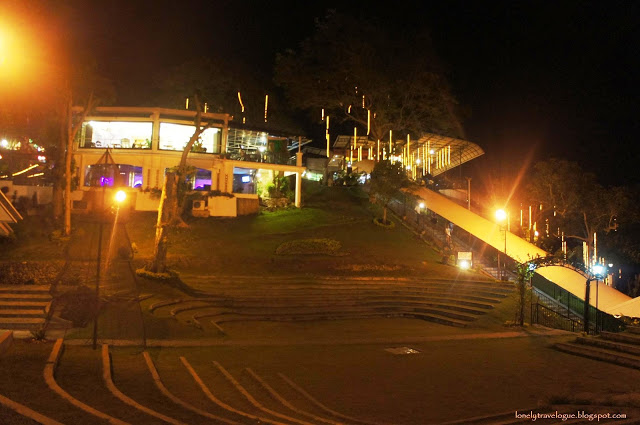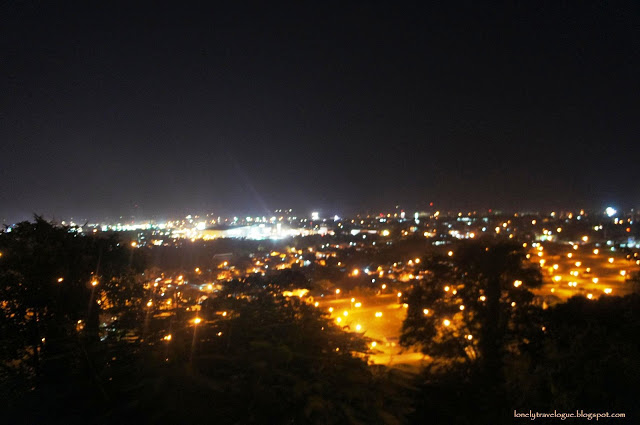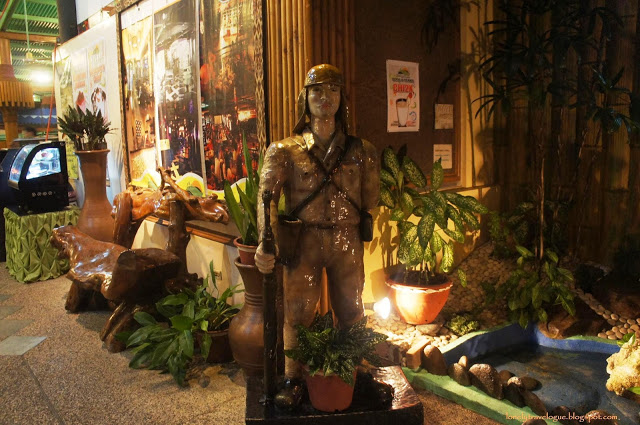 Even though, I enjoyed the night view of Davao City in Jack's Ridge. It was
just refreshing and stress freeing night for me =)   Hot to
get to Jack's RidgeFrom San
Pedro Street (in front of the city hall) take a jeep bound to Matina (Php8).
Tell the driver to drop you in Shrine Hill. From there take a tricycle going to
Jack's Ridge. You can either rent the whole tricycle for Php40 or wait for
other passenger and pay Php8