AirAsia launched an initiative that focuses on education, talent development and the economy to celebrate 50 years of ASEAN. This initiative, called AirAsia Loves ASEAN, was launched in art and in style at the Villamor Airbase in Pasay City last Nov 14, 2017. During the launch, AirAsia also unveiled an "I Love ASEAN" aircraft livery.

The initiatives comprise the AirAsia ASEAN University Partnership, ASEAN Entrepreneurs Day, ASEAN Journalists Camp and All-Stars Exchange Programme.


Through the University Partnership, AirAsia will give tertiary students from across the region the opportunity to intern in various capacities with the airline, with a chance to secure full-time employment upon graduation.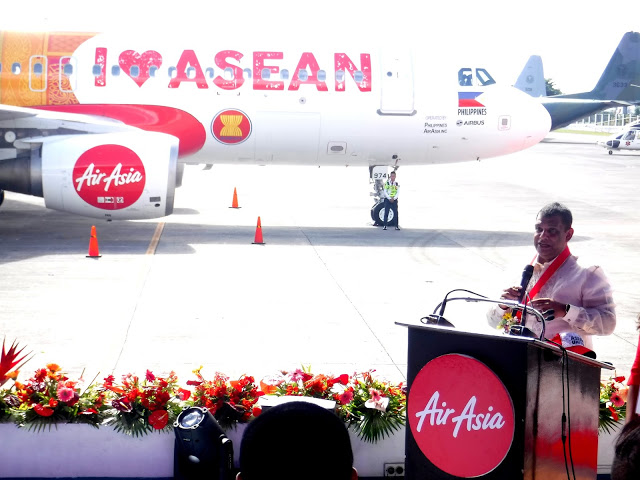 ASEAN Entrepreneurs Day will reinforce AirAsia's commitment to ASEAN entrepreneurs by providing them with a forum to learn from the best start ups in the region and a platform to develop and market their businesses, starting with Indonesian actor, host and VJ Daniel Mananta's "Damn! I Love Indonesia" brand.


To encourage better reporting on ASEAN, AirAsia will host the ASEAN Journalists Camp, a workshop for journalists that will build a greater understanding of ASEAN's brand of regionalism, how the organization works, social, development and integration issues as well as sustainable, community-based tourism.

Lastly, AirAsia All-Stars will get the chance to experience working and living in other ASEAN countries through the All-Stars Exchange Programme, which aims to foster cultural exchange at a working and personal level. At the launch, AirAsia also unveiled an "I Love ASEAN" aircraft livery showcasing designs inspired by textiles, architecture, art and nature from all 10 ASEAN nations – Batik Cetak from Malaysia, Poom Khao Bin from Thailand, Ulos Batak from Indonesia, Tapis from the Philippines, Trống Dồng from Vietnam, Kbach Pka Chan from Cambodia, Lao Phouthai from Laos, Chate from Myanmar, Jongsarat Brunei from Brunei, and Vanished da Miss Joaquim from Singapore. All AirAsia aircraft based in the region will now also feature the ASEAN flag, in addition to their national flags.
AirAsia Group CEO Tony Fernandes said, "We owe our success to ASEAN. As a truly ASEAN airline, we want to bring the people across the region closer together in line with the amazing work ASEAN has done over the past 50 years. AirAsia Loves ASEAN is just the first of many initiatives we have planned to give back to the region that, together with our continued promotion of ASEAN destinations through our branding and marketing efforts, will be able to help bridge communities and economies as ASEAN moves towards even greater integration and mutual understanding." The event was graced by AirAsia Group CEO Tony Fernandes and other members of the AirAsia management. Also attending the event was ASEAN Deputy Secretary-General Dr. AKP Mochtan, Malaysian Ambassador to the Philippines Dato' Razlan Abdul Rashid, Philippine Congressman Cesar V. Sarmiento, Philippine Assistant Secretary of Tourism Daniel Mercado, Philippine Assistant Secretary of Trade Abdulgani Macatoman, Indonesian Director of Aviation Security M. Nasir Usman and PAF Commanding General Lt.Gen. Galileo Kintanar
Lets take a closer look at the AirAsia I Love ASEAN livery: