All-in promo seats from as low as P1 up for grabs now and 5 million promotional seats available for booking across the AirAsia group via www.arasia.com.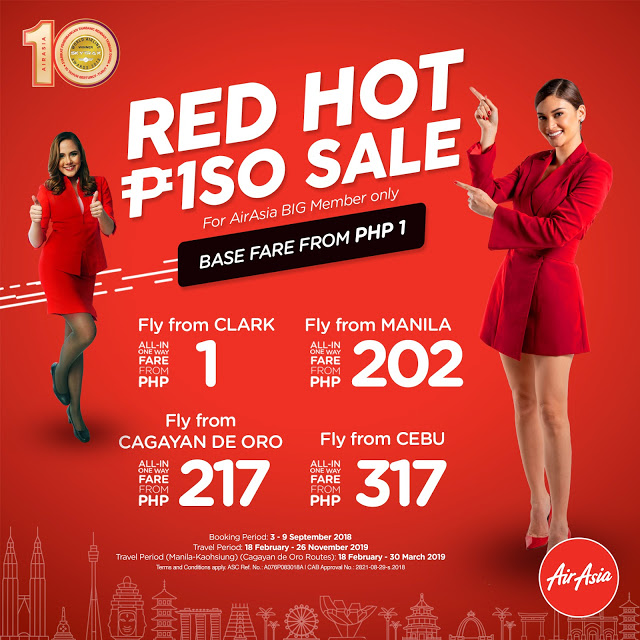 Up for grabs are promotional fares starting from P1* for flights from Clark, Manila, Iloilo, Cagayan de Oro, to exciting destinations including Kaohsiung, Bangkok, Shanghai, Shenzhen, Hangzhou, Taipei, Incheon (Seoul), Hong Kong, Macau, Kuala Lumpur, Kota Kinabalu, Guangzhou, Ho Chi Minh, Singapore, Jakarta, Bali and many more. AirAsia BIG members will enjoy priority access to the promotion from 2 September 2018 (0001h GMT +8) to 9 September 2018 (2400 GMT +8). Bookings can be made on airasia.com and the AirAsia mobile app for travel between 18 February 2019 and 26 November 2019.

The AirAsia Group and its long-haul AirAsia X are offering promo fares for flights from Kuala Lumpur to Bali, Jeju, Seoul, Osaka, Amritsar, Sydney, Melbourne, and Hawaii.
AirAsia Group Chief Commercial Officer Siegtraund Teh said, "We are pleased to once again offer 5 million promotional seats, enabling everyone to fly to any of the more than 130 destinations within AirAsia and AirAsia X's network. AirAsia BIG members will enjoy more perks, including instant discounts, when they book flights directly on airasia.com or via the AirAsia mobile app. To register as an AirAsia BIG member for free, simply go to airasia.com and click 'Sign up'." Stay close with your family and friends while you're flying with the 'Pick A Seat' option. All bookings made during the campaign will enjoy 20% off for seat selections. Fly with more perks when you pre-book Value Pack. This value-for-money bundle comprises 20kg baggage allowance, one Santan hot meal, standard seat selection and travel insurance by Tune Protect, including 1-Hour On-Time Guarantee and Baggage Delay protection.
Meanwhile, BigPay members will enjoy zero processing fee and also discounts on pre-book inflight meals and check-in baggage when making payment using BigPay card.
AirAsia's travel activities partner, Vidi, is also offering an exclusive 15% off with the promo code FREESEATS15 for all activities booked on deals.airasia.com. For latest updates on promotions and activities, follow AirAsia on Twitter (twitter.com/AirAsia) and Facebook (facebook.com/AirAsia).