There is a new way to earn more AirAsia Big Point!
AirAsia and Solaire Resort & Casino has partnered to make the dream of traveling within reach. Traveling is a way to enrich the mind and understand the numerous cultures of the world. For many, checking countries off their bucket list is a life-long dream. Fortunately, the developments in the travel and tourism industry have paved the way for loyalty programs to reward its members with travel miles in every purchase made.

Each Solaire Rewards Program card holder starts at the Silver Tier and moves up to Gold, Platinum, Emerald, Ruby and finally the Diamond upon earning the corresponding Status Points needed. Loyal Solaire Rewards members will be closer to their ideal destination when they reap travel rewards from the Status Points that they earn.


"AirAsia's presence globally allows us to continue providing our guests with memorable experiences that go beyond our property. We are delighted that we can reward our loyal Solaire Rewards members with AirAsia exclusive privileges no matter where they are, and fully enjoy their dream destinations." said Cyrus Sherafat, Solaire Resort & Casino's Executive Vice-President for Casino Marketing.


One Solaire Rewards Status Point will be equivalent to one AirAsia BIG Point, making it easier to track and redeem that much coveted flight upon linking the AirAsia BIG Member ID to Solaire Rewards.


AirAsia BIG Loyalty Chief Commercial Officer Victor Kaw said, "Solaire Resort & Casino offers their customers a multitude of activities and services to enjoy, from recreation and dining to entertainment and shopping. We are excited that we can now extend the privileges of AirAsia BIG Points that are just as valuable as cash to their customers, taking them further around the world easier, faster and better than ever."


Make every Solaire experience count and let your loyalty reward you with your big dream. Sign up to Solaire Rewards and AirAsia BIG Loyalty and start earning points to your next destination.


AirAsia Big Points
The AirAsia BIG Loyalty Program lets its members earn AirAsia BIG Points through every plane ticket bought, hotel bookings via travel partners and even on purchases from over 160 lifestyle merchant partners. BIG members can fully maximize the value of AirAsia BIG Points and use it just like cash to fully redeem for their flights including taxes and airport fees, making their flight absolutely free. The more AirAsia BIG Points they earn, the more they will be able to save when they redeem with their AirAsia BIG Points.


About Solaire Resort & Casino
Bloomberry Resorts Corporation (PSE: BLOOM/ www.bloomberry.ph) is a public company listed on the Philippine Stock Exchange that develops destination resorts featuring premium accommodations, gaming and entertainment, and world-class restaurants and other amenities.


The company's flagship property, Solaire Resort & Casino, is an integrated destination resort on an 8.3-hectare site in Manila, Philippines and the first to open in the government sponsored (Philippine Amusement and Gaming Corporation) economic development zone known as Entertainment City.


Philippine-based Solaire Resort and Casino currently operates two distinctive towers, the Bay Tower and the Sky Tower with 800 opulent rooms, suites and bay side villas. Solaire Resort and Casino the first premier integrated destination resort to open in the Entertainment City with luxury facilities and personalized services. Solaire has 15 extensive dining options, bars, lounges and entertainment venues. A total of 18,500 square meters of impressive gaming facilities. 1,823 seat State-of the art lyric theatre. Other facilities are an outdoor swimming pool with cabañas and Jacuzzi, Spa and fitness center. The Sky Range Shooting Club an indoor shooting range for gun enthusiasts and shooting aficionados. 41 retail shops, 2,920 square meters meeting facilities, a grand ballroom, along with full banquet and catering facilities.


About AirAsia BIG Loyalty
AirAsia BIG Loyalty was established in November 2011 and is owned and operated by Think BIG Digital Sdn Bhd, a subsidiary of AirAsia Bhd in collaboration with Aimia Inc. As the loyalty programme for AirAsia, AirAsia BIG Loyalty enables its members to enjoy the lowest flight fares across AirAsia's extensive network. More than 18 million AirAsia BIG Loyalty Members can earn AirAsia BIG Points on AirAsia flights to over 130 destinations across Asia, Australia and New Zealand and the Middle East, participating hotels as well as retail, e-commerce, travel and lifestyle partners within the region. The loyalty program makes all seats redeemable by utilizing AirAsia BIG Points. Other member-exclusive privileges include 24-hour priority booking for selected AirAsia sales.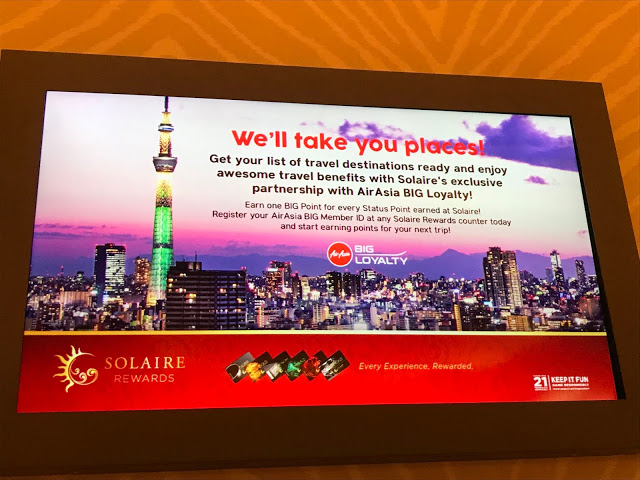 AirAsia BIG Loyalty was named the Loyalty Programme of the Year in 2016, and won gold for Best Regional Loyalty Marketing Campaign, Best Use of Direct Marketing, and Best Use of Social at The Loyalty & Engagement Awards 2016. In 2018, it received the Best Use of Technology Award at the 10th Annual Loyalty Conference and Awards. It also took home a gold for Best Loyalty Programme – Travel/Hospitality at Loyalty & Engagement Awards 2018.


The AirAsia BIG Loyalty app is available for download from the Apple App Store and Google Play Store. For more information on the mobile app plus other updates, log on to airasiabig.com or follow AirAsia BIG on Facebook, Twitter and Instagram.