One of the treasures of the Philippines is its islands and islets scattered throughout the archipelago. Some of these island can be found in the North East part of the heart shape island of Panay. Gigantes Group of Island or Islas de Gigantes is one of the underrated tourism destination in the Philippines. Islas de Gigantes is the crown jewel of tourism in Panay Island.
Whenever we plan a vacation what always come to mind are Boracay, Palawan or Cebu. You can't be blame because these are the most advertised destination locally or internationally. Gone are the days that our options are limited to these destinations. Gigantes Group of Island is undeniably an equal-matched to these famous islands. Gigantes Group of Island is equally stunning and uniquely alluring. Jump-off to Islas de Gigantes The jump off to Gigantes Group of Island is in Bancal Port, Carles, Iloilo. From Carles you can either rent your own private boat to tour the islands or wait for new friends to share a boat for a much cheaper cost. We joined Las Islas Travel and Tours who offers a joiner's package for Php999 per head. While waiting for other joiners we sipped our morning coffee while some ate their breakfast at Gigantes Travel Hub & Café where you can also book your Islas de Gigantes tour.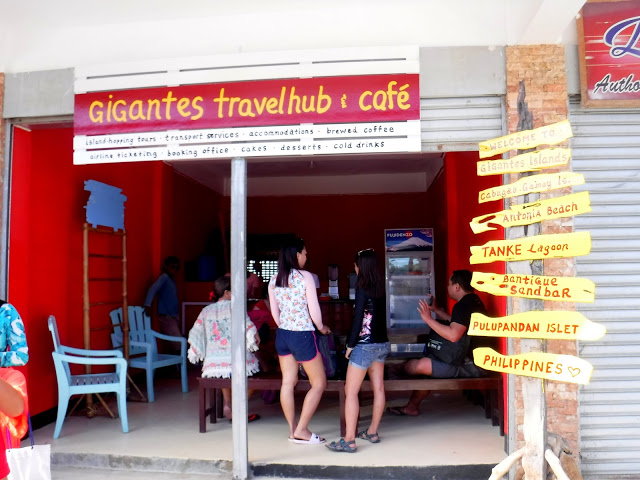 Be there as early as 8:00AM to reserve your slot. Tours usually starts at 9:00AM   There are eight island destinations in Gigantes Group of Island. But to maximize time and enjoy each destination, you can visit six destination that can make you smile, feed your eyes and sun-kiss your skin. These islands are Pulupandan Islet, Tanke Lagoon, Antonina Beach, Tinagong Dagat, Cabugao Gamay Island and Bantigue Sandbar. Each destination is unique from each other.   The Islands Destinations Travel time from Carles to the first destination is about 1 to 1.5 hours boat ride depending on the current. It is very important to listen to the guide so that you'll be inform of the safety precaution before sailing. Some of us are used to island hopping, we often neglect wearing the life jacket. Wearing your life jacket at all time is very important during tour.  Pulupandan Islet Our first destination was Pulupandan Islet. This islet is very picturesque with the towering coconut tree in the middle. This islet serves as the resting place of the fisherman in Gigantes. It's their haven so give them a genuine smile of gratitude when you see some of them.   The big rock at the edge of the islet serves as a stage for all tourist to have their picture taken – it serves as a natural photo booth.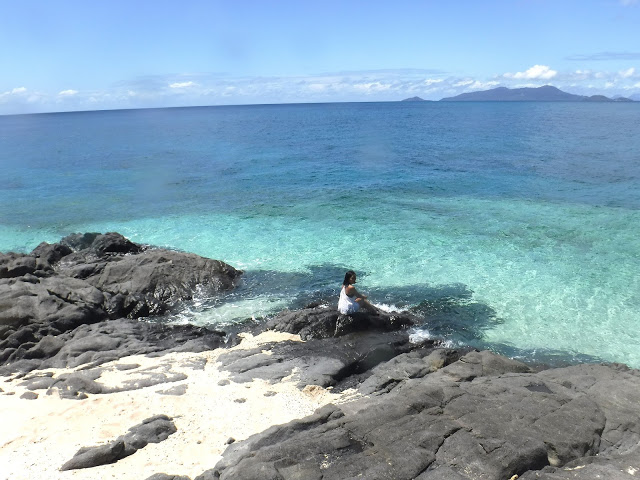 I climbed on the rock to have my picture taken too. But the real treat was when I looked down and saw the marriage of the black rocks and crystal-clear water over the white sand that produces a stunning postcard perfect view. Tanke Lagoon When our boat docked in a makeshift wharf, my heart pounded like I'm waiting for my exam's result. The clear blue water around the wharf makes me want to jump and play with the school of fish visible from where I was standing. Little did I know that the real attraction is behind those rocks where wooden ladder was setup for tourist.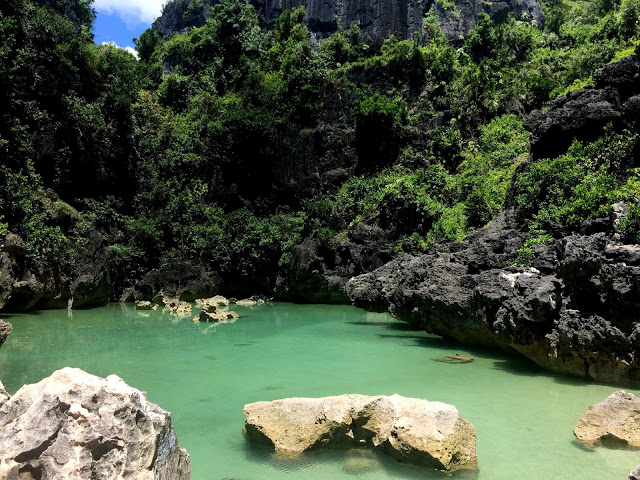 Behind those towering sharp rocks is this blissful lagoon.   Tanke Lagoon is the place to watch-out in Gigantes Group of Island. It's a big natural swimming pool with saltwater on it. The view was amazing. You'll stop of a second to internalize nature's magnanimous presence in front of you. Then you'll capture it with your camera. But you must dip in it to feel the heavenly touch of this blissful natural pool.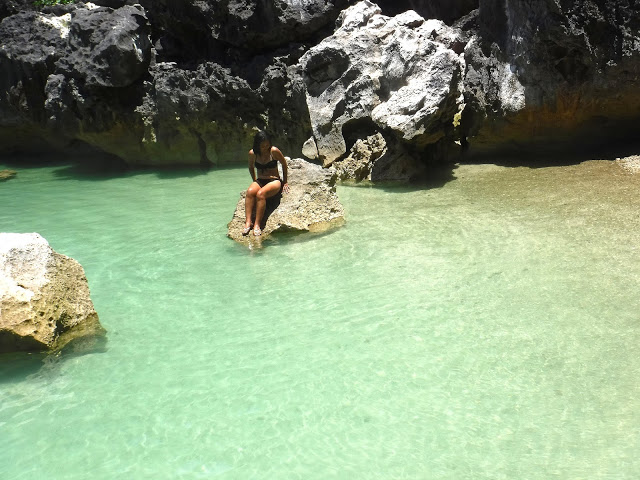 Depending on the tide, the water level in Tanke Lagoon changes. When we arrived, the water in the lagoon is just waist deep which is the perfect level for swimming and sunbathing.
For maintenance purposes, Tanke Lagoon is closed from June to August. Antonina Beach Beach hopping is not complete without sumptuous lunch of grilled liempo, overpriced ice-cold Coca-Cola and SEAFOOD!


We all had that 🙂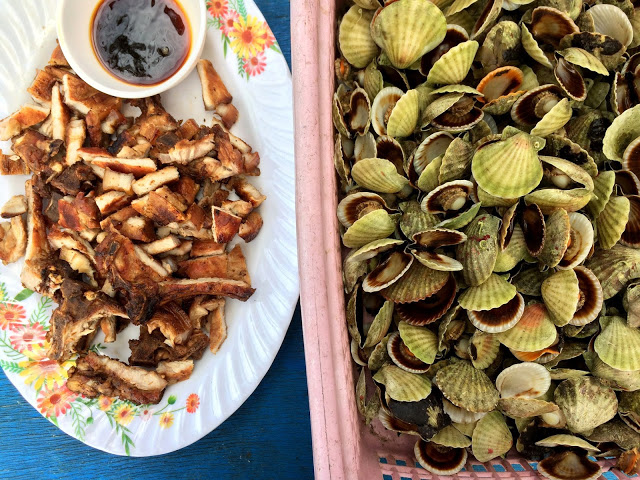 Islas de Gigantes has something other beach hopping destination cannot offer – the abundance of affordable and endemic seafood that can make you skip your diet plan. You can buy fresh scallops for Php1 each or Php200 per basket – that's way below the price in Bantayan Island in Cebu. You don't have to worry preparing your food, Las Islas Travel and Tours will provide all your food including lunch, drinks during lunch and during island hopping. Generally, seafood in Gigantes Group of Island is much affordable as compared to Palawan, Cebu and a lot cheaper than in Boracay.
Antonina Beach is also good for swimming and snorkeling. If you do not have a snorkeling gear, you can rent for Php50.00. Tinagong Dagat Minutes away by boat from Antonina Beach is another good swimming spot in Islas de Gigantes. Known to the locals as little Boracay because of its white sand and flat seabed, Tinagong Dagat is the favorite stop of tourist for swimming.
There is a big rock in Tinagong Dagat where you can climb and jump during high tide. Cabugao Gamay Island Among the island in Islas de Gigantes, Cabugao Gamay is the most famous because of its view deck showcasing an aerial view of the whole island stretching with white sand on the right and a lovely rock formation on the left. It is also called the selfie island because tourists are taking a selfies, also groupies, on its view deck.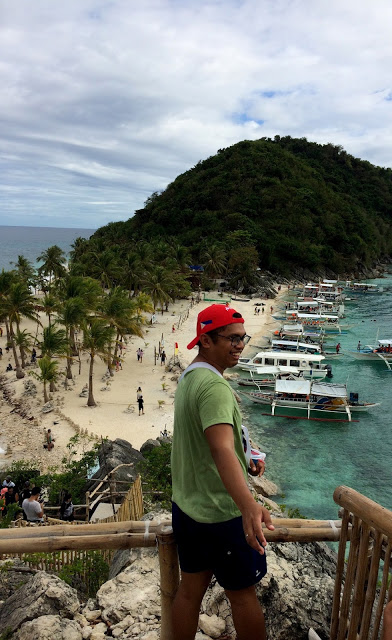 Cabugao Gamay is not swimmable because of its rocky shore on the left while the small sandy part is where all the boats are docking. But being a rocky island has its own allure. There are rock towers arranged by the tourist scattered around that makes Cabugao Gamay the island of Zen.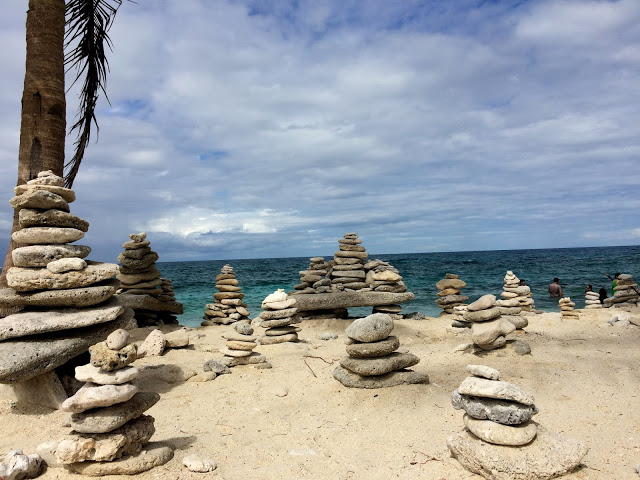 Bantigue Sandbar Attached in an island or alone in the middle of the sea, we all love the stretch of fine white sand where we can walk and gives us an illusion that that we are in the heart of the ocean.