Half day tour in Sta. Cruz Island was a tranquil experience. We can't
afford not to have dinner with our two new friends, Lili and Teta. We planned
to have dinner to talk about our courageous Basilan invasion the next morning.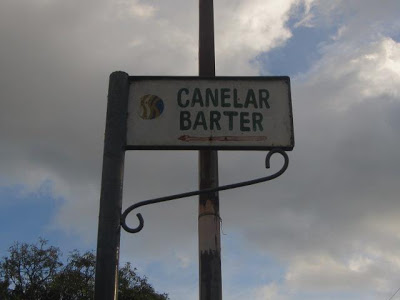 I usually do not stay in the hotel whenever there still light in the sky. I prefer walking in the streets of the city to further get to know the place and the people. Since it was still 4pm and too early to have dinner, I decided look for some pasalubong in Canelar Barter Trade. The place is just a 5mins walk from our hotel. The name of the market does not really characterize the place. There is no barter exchange happening in the 21st century. Well, that was I am expecting. Lol.  
 You can buy varuous Chinese, Malay and local food delicacies and imported items (most are). There are also pearls, South Sea Pearls and extile products such as malong, scarf of different colors. . 
Since most of the goods are imported, most are expensive for a backpacker. But you can still haggle if you buy in bulk and offer a bargain by buying more souvenirs in one store. This is what I did. Lol. I manage to buy a set of pasalubong for only Php1,000 (US$23).
Colorful bags worth Php100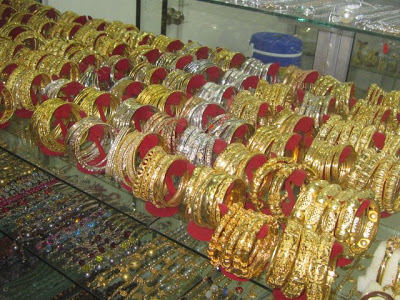 After the shopping and cultural talk with the natives in Canelar (I asked them to speak in Chavacano- a mixture of Spanish and Italian… hehe) I walk back to our hotel to keep the things that I bought.


Walking down the metropolis one can see the lively nights of the city. The city has grown into an economic power in the south matching Davao and Cebu in the Visayas. Zamboanga City is the major supplier of sardines in the Philippines.
Lantaka Hotel. One of the most famous in Zamboanga City.
You could feel the beat of a youthful Zamboanga when entering
Paseo del mar. Park in the morning turn a night life hub in the evening was (I
think) a replica of the formerly Bay Walk where bars and restaurant sprung like
a mushroom (Bay walk concept in Manila was transferred to MOA in Pasay). Good
thing, the government organized this for it invites tourists and locals to indulge
in a youthful sound of Zamboanga in the night.     
Young people drinking mad…
Yes that is a food court.
Has anyone tasted the famous Isaw (Intestines of either pork or chicken grilled and dip in a vinegar or sauce)of Manila? Who never did? lol. Try this one Red colored Isaw (as compared to white in Manila)   
They call this Tempura? Its made of flour with a flavor of shrimp, off course deep fried. Php5.00 each.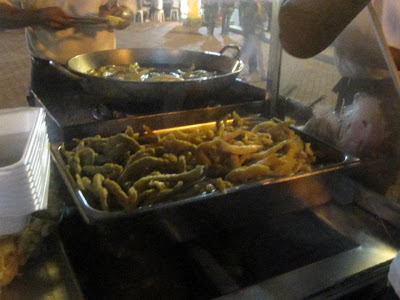 According to Teta, she first saw this street food in Dumaguete. I never been there… hmmm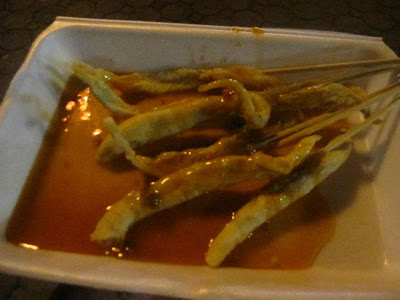 Fan of the Red Isaw and tempura.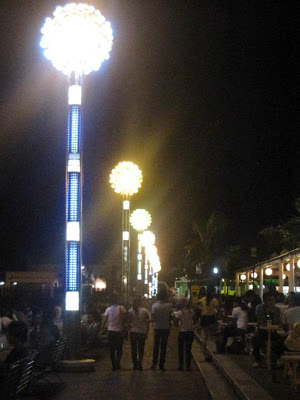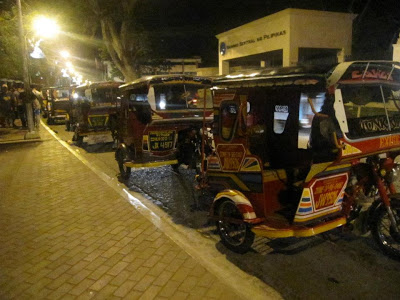 We had our dinner in Tsokolate beside Lankata hotel. But unforetunately Teta and Lili was not able to come because their meeting with somebody lasted more than expected.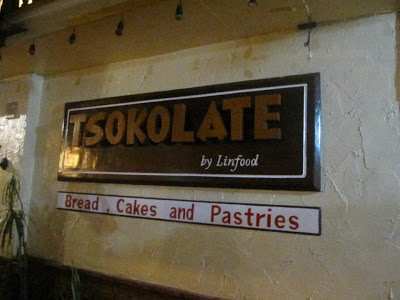 While waiting for the two girls we make use of the wifi and listen to the voice of this country singer.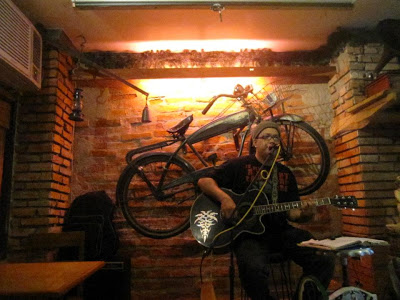 Food in Tsokolate was very affordable. You can dine as low as Php200.00. Their pastries are excellent with a cheap price.
The Train actually is moving but i requested that it will be open through the retaurants Twitter account.