Three days and two nights in Bangkok is nowhere near enough to do all the things that you might want to do, so the key is to pick what you really want to do. Here, we suggest the things that you simply cannot not do! First things first, you need to get your accommodation sorted. You can choose from a wide range of different types of accommodation in Bangkok, from budget rooms to luxurious hotels and private villas.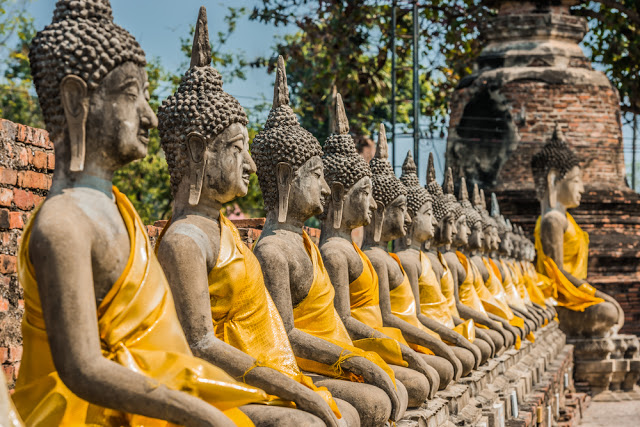 Day One Afternoon: Hire a Boat Bangkok is known as the Venice of the
East, and its canals were the only method of travel until as late as
the 1850s. So head to a busy pier and hire a boat for cruise on the
canals. Delight in wooden stilted houses, temples such as Wat Pho
with its enormous gold Buddha or the Grand Palace, and floating food
stalls.
Evening: Enjoy the sunset at Wat
Arun. Called the Temple of Dawn, you need to
walk up one of the stupas to really get a great view of the Grand
Palace across the river in front of the sunset. Make sure you arrive
in good time before the sun goes down to get a good spot and plenty
of time to relax into your first night in Bangkok. Eat at Supatra
River House for a variety of delicious Thai
food, including red duck curry and mango sticky rice. Make a
reservation, and you can get a free shuttle to the restaurant from
Chang Pier. Day Two Morning: Visit Pak Khlong Talat Wake up early (6-7am) and head to Pak
Khlong Talat, Bangkok's largest 24-hour flower market, where you
can see florists rearranging their fresh flowers. Take the Chao Praya
River Express boat from Saphan Taksin BTS station.
Take a ferry from Rachawongse pier to
Saphan Taksin for a Historic Bangrak Tour from Bangkok Food Tours.
Take in the hidden gems of the area and local dishes and
specialities. Afternoon: Chinatown An adventure all by itself, Chinatown
is a popular tourist trap. With street-side cuisine, market stalls
and Chinese temples, Chinatown is well worth the trip. Evening: Patpong Night Market While you might want to avoid the
infamous "ping pong shows", the Patpong Night Market (which you
can find at Silom MRT/Sala Daeng BTS station) is the place to go for
nightclubs and nightlife. There are also lots of food stands.
Day ThreeMorning: Breakfast Head to Black Box for some great
breakfast and then it's time to head home!