I am not a coffee expert nor a cafe enthusiast, I just LOVE coffee… and tea. I am not an authority to talk about cafe in Chiang Mai, Thailand, but I do think there is a coffee culture in Chiang Mai and we experienced it. We stayed in Chiang Mai for only four days and I saw how locals and tourist loves coffee in Chiang Mai. Its like a mushroom in the forest, every corner has a classic, chic, hippie, rustic or oriental cafe concept.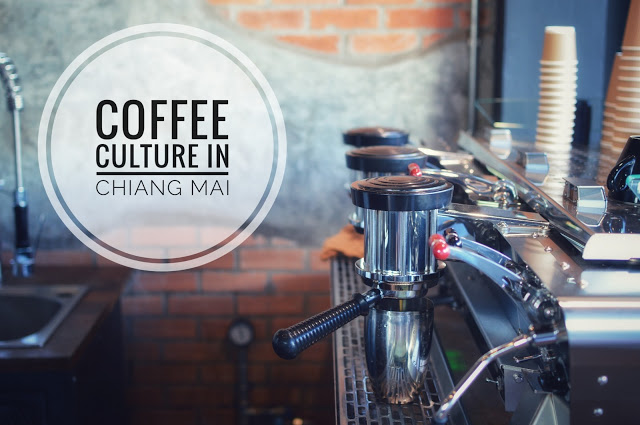 In this article, my goal is to show you the three cafes we experienced during our four-days stay in Chiang Mai. Actually, we only have one favorite in which I will reveal later on.
On our first day, we decided to just stroll around the old city of Chiang Mai and feel the vibe of the place. Just in time when my soles were already complaining, I saw a cute coffee shop along Prapokkloa Rd. near Ta Pae Gate called Chiang Mai Coffee Bean. Then I remembered my friend who stayed in Chiang Mai for two months saying that I should try coffee in Chiang Mai.
It was an automatic destination for us. My friends and fiance did not hesitate to agree with me to have a cup of coffee before we hit the night market. I ordered Cafe Mocha, my favorite in any cafe. Prices in Chiang Mai Coffee Bean ranges from THB45.00 to THB55.00. All coffee bean came from the barista's own farm in Chiang Mai. Cool right?
We decided to just stay in Chiang Mai Coffee Bean for a while since we all wanted to rest. Credits also to the antique and rustic interiors of the cafe for the reason of our prolonged stay. Did I mentioned that they have a free fast WiFi? All cafes in Chiang Mai has free WiFi by the way 🙂


One of my best find in Chiang Mai was found when I was looking for a place to shelter because it was raining.


I biked around Chiang Mai one morning when the heavens started to pour her blessing. I entered an empty cafe where a sweet lady in her mid 30s approached me and ushered me to where I can park my bike. I was so wet and I started rinsing my head, my face and my body when she started talking, i could barely understand, peace! From what I understand, they are not really open yet and the barista was not yet around. So I just ordered Thai milk tea.


She ushered me on the second floor while saying that I can lay there until I can get food for lunch or brunch. The moment I saw the area, I was sure i'll stay there for long 🙂


When my THB70 Thai Milk Tea arrived, it came with cookies, two slices of bread and one cup of soya milk with sweetener. I said, I did not order bread and soya milk but she insisted that its free and she was so apologetic because they are not yet open and they could not serve me food.


That was so hospitable.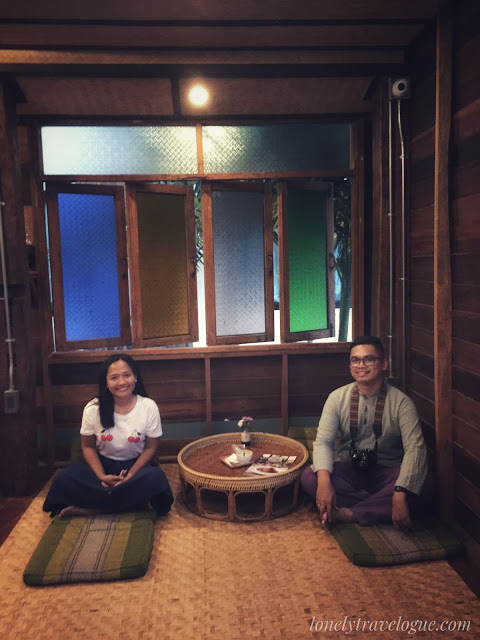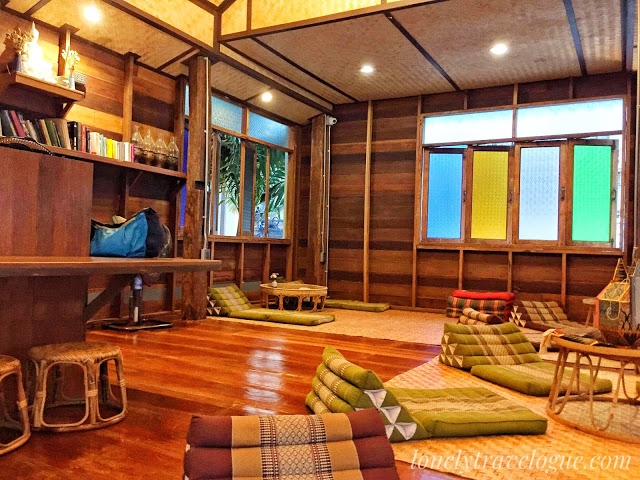 I spread the good vibes of Baan Buri Cafe to my friends when I returned to the hotel. We decided to go there after our Chiang Rai Day tour.


We all enjoyed the hospitality of the staff and the oriental ambiance of the cafe. We lay there like we own the place, laughing and joking around. There were to Caucasian tourist beside us who were busy drinking beer and reading books.
We loved the place so much that we decided to go back on our last day while waiting for the time of our train departure. We ordered rounds of caffeine for an unlimited stay and laughter. By the way, I decided to do some work while my friends are chatting/gossiping about life.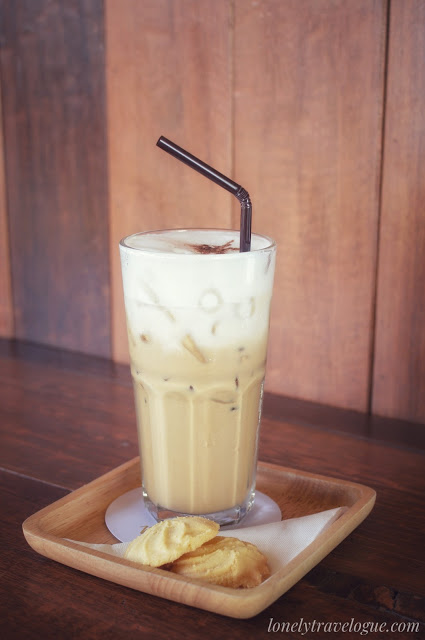 Cappuccino


In the middle of our (their) exchange of thoughts and opinions, the lady who ushered me when I first visit Baan Buri came to us to give us pineapple cookies for free. Awwww… What a nice way to say goodbye to us.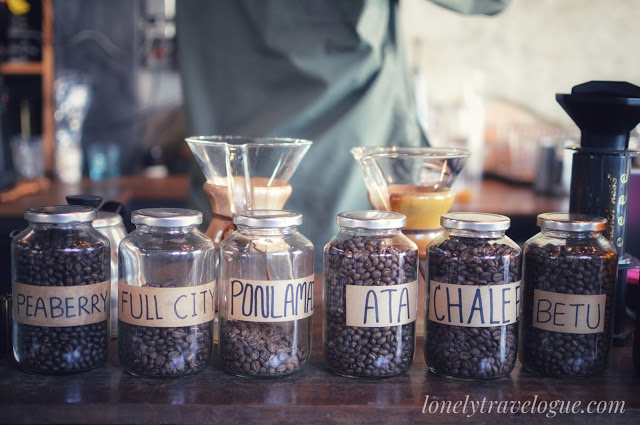 Just in front of Baan Buri is one of the most popular cafe in Chiang Mai at least in blogs and reviews. I did not had the time to stay in Akha Ama Coffee because of our limited time in Chiang Mai and their limited space for big groups like us (we are six).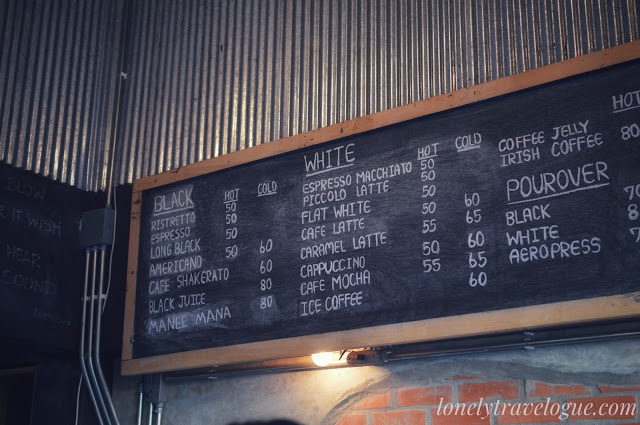 I just needed an extra shot of caffeine before we finally board the train. I ordered Manee Mana as recommended to me by the barista, according to him, its there specialty. It is a black coffee with honey and ice. I like it because its what I needed to boost my sad mood because we were leaving Chiang Mai.

This is the coffee culture we experienced in Chiang Mai. It is something I will tell, that is why I wrote it, to those who will ask me about Chiang Mai and Thailand. It is worth doing again. I can just go back to Chiang Mai and just do a cafe hopping.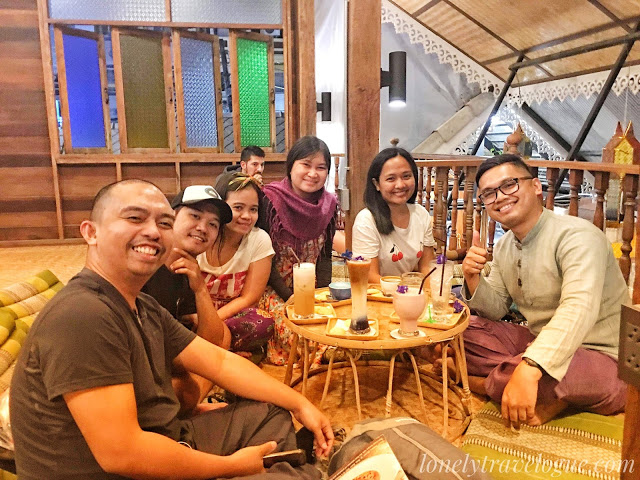 Unanimously, our favorite among the three cafe presented above is Baan Buri. Although I think, Akha Ama is more coffee shop than Baan Buri and I think it has the better coffee and selections, still, without a doubt we will choose Baan Buri because of its ambiance, staff and food.


Cheers!

Chiang Mai Coffee Bean 216/1 Prapokkloa Rd, Tambon Sripoom,  Amphoe Muang, Chang Wat Chiang Mai 50200, Thailand