Our day started on a Sunday. Excitedly we all jump on the jeep and chase the view of Mayon as if we will not see it in our nest destination. Our host's parents would like us to see Tiwi Church as well as attend the Eucharist in Tiwi Church.
Mayon Rest House and Observatory
Before we proceed to the church we decided to climb up to the Mayon Resthouse and Observatory which is like Baguio because the place is really cold. We spend about 30 minutes there taking pictures and looking at the cloudy sky hoping to see a perfect view of Mayon. The rest house is non operational and the observatory was closed because it was a Sunday.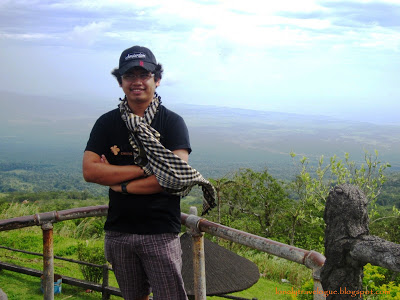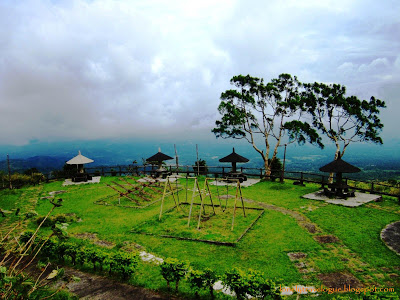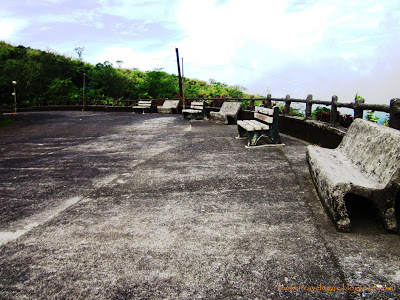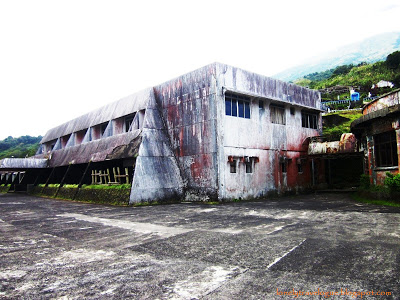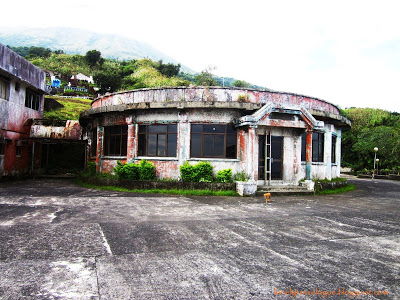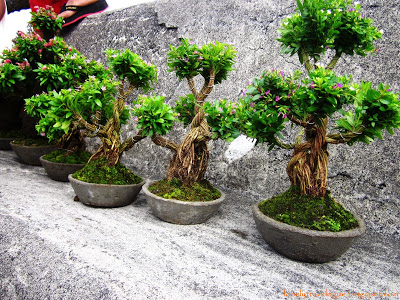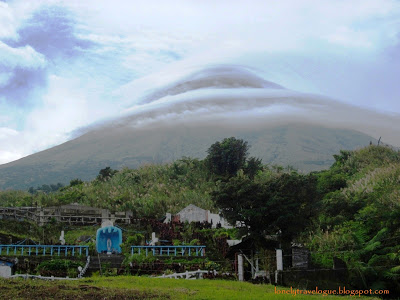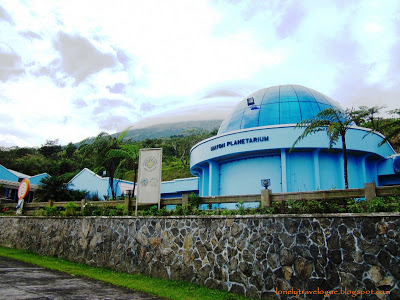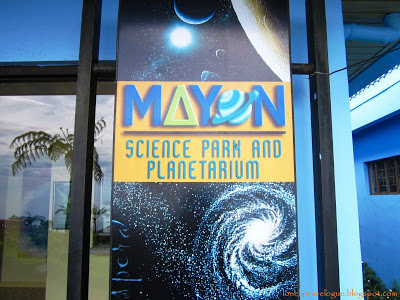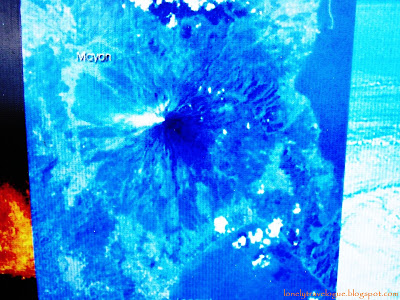 Tiwi Church (San Lorenzo Church)
Tiwi Church or The Church of San Lorenzo was completed on 1829 and had undergone renovation to stand the changes of time. Base on my internet search the ancient religious structure was built by Franciscan friars.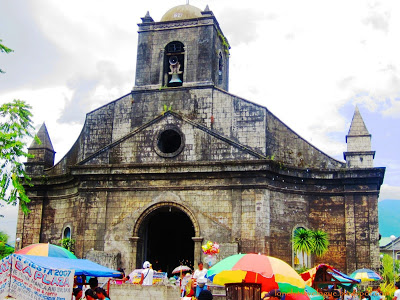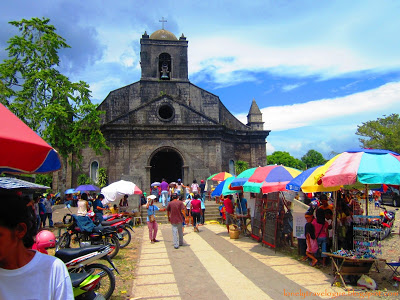 This visit excites me even though I am not a Catholic. Visiting old churches is one of my favorite things to do whenever I travel. Since it was a Sunday morning I expected that the vicinity will be full of people both attending the mass and doing business around the church. And I wasn't wrong. Hehe… The place was too crowded. At any side of the church there were stalls that covered the façade of the church from the main road.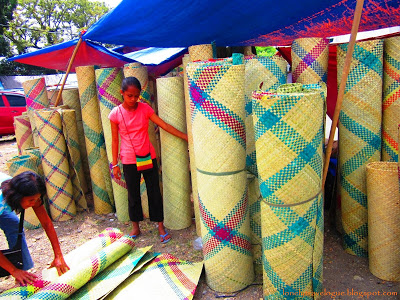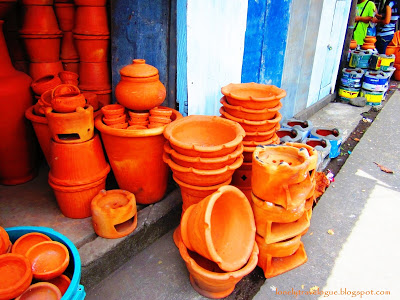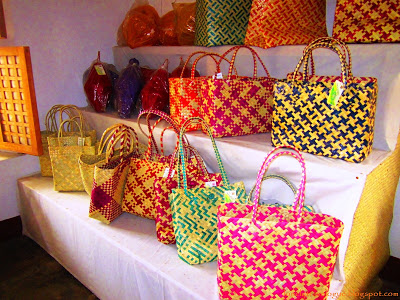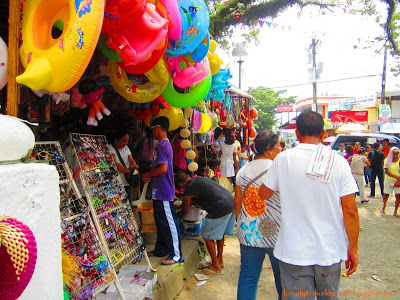 Tiwi is a First class Municipality located in the Northern part of Albay. And this was made true by the commerce going through during our visit. After I took pictures of the façade of the old church my friend and I decided to walk around and look for some pasalubong for our love once.


Back on elementary days we were thought that Bicol's main produce is abaca fiber. And there, on a Sunday marker you will see various abaca items being sold. Other goods that can be bought are banig, pottery, knives etc.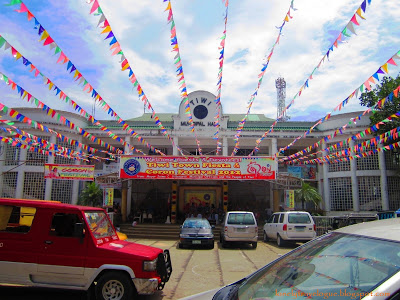 You can see the church, the community plaza and the city or municipal hall all in one area in a typical Spanish colonized province. In just a few steps and one road crossing from Tiwi church, you are now in Tiwi Plaza with a big pot in its center as the symbol of their municipality. The Municipality plaza was actually in front of the municipal hall of this humble town. The Municipal hall is a modern structure as compared to the ancient church in front of it.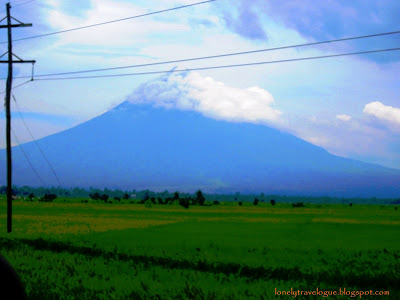 On our way to Legaspi, we traversed the east side portion of Mayon Volacano. Luckily, I was seated on the front left side of the jeep which is the perfect spot to observe Mayon Volcano while traveling. My face was locked looking on my left side as the perfect clouds covered the perfectly created mountain. Albay has the perfect spot to travel for long-travel lover like me. The volcano named after Magayon is defiantly an eye magnet! Only those who do not appreciate the beauty of God's creation cannot notice Mayon with its perfect shape.

Embarcadero de Legaspi
After a few minutes of staying in Tiwi our group proceed to Legaspi to see and stroll Embarcadero de Legaspi. I am looking forward to visit the place because like Marcos of Ambot-Ah, I am an avid follower of infrastructure developments.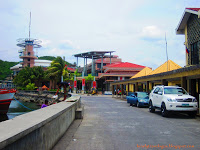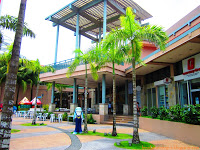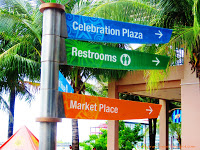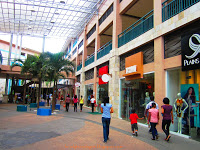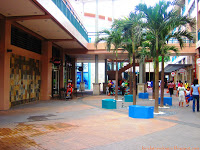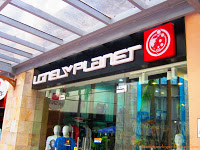 Embarcadero is a great place to see the blend City development with a perfect natural wonder as its background. Embarcadero is a mall and shopping area located in Legaspi Port Area. One of the attractions is the pink lighthouse which is not open to the public at the time of our visit.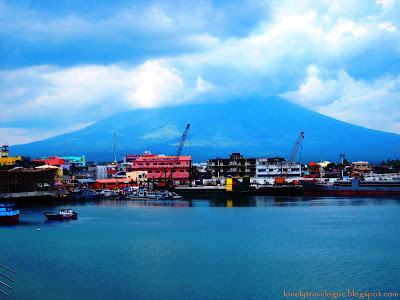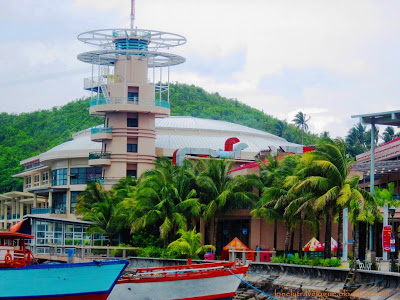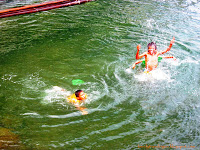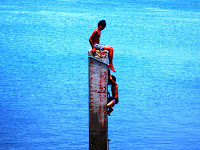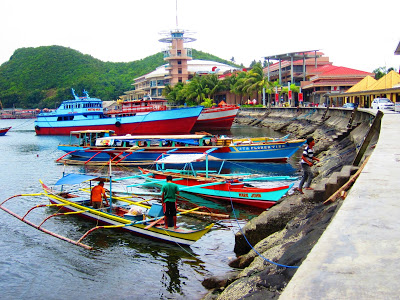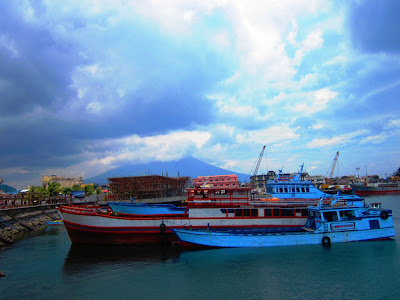 It was indeed the perfect spot to see Mayon standing in front of urban developments in Legaspi City. The City, small and big vessels makes a perfect spot combined with Mayon which is truly Magayon…
Cagsawa Ruins
It was already pass 11am we left Legaspi to proceed to Daraga and have our lunch in the famous Cagsawa Ruins. At this point I accepted the fact that we will not be able to see a perfect view of Mayon Volcano. In fact it rained when we left Embarcadero so I expected massive clouds to cover the conical shape Mayon.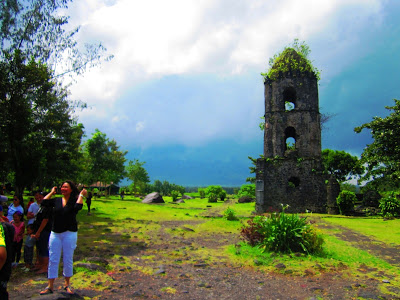 Again while we were eating a heavy rain fall welcomed us making our (or mine) disappointment worst. When we finished eating our packed lunch we headed to the main attraction – the Cagsawa Ruins itself. After paying the entrance (Php10) I run to the famous spot which will make your Bicol Trip complete and see myself if my disappointment will continue – and it does… hehehe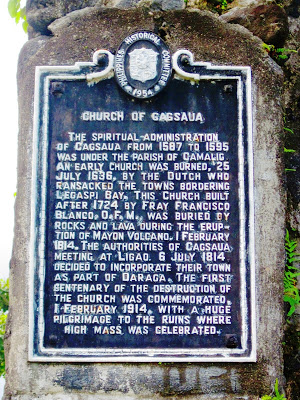 Later on I found out that there can never be disappointments if you decide not to be disappointed. A man approached us and asked us if we want to have picture taking using our camera. I thought for a while until he showed me a clear book which contains his entire photo master piece. He added that we need not give him a payment and a small tip will do… (whats the difference? You decide how much you give hehehe).
And this is his product. =)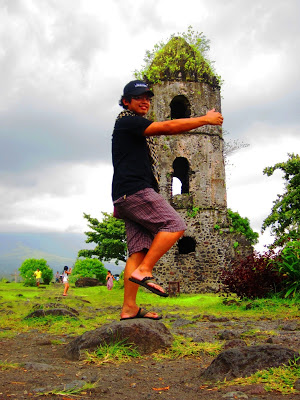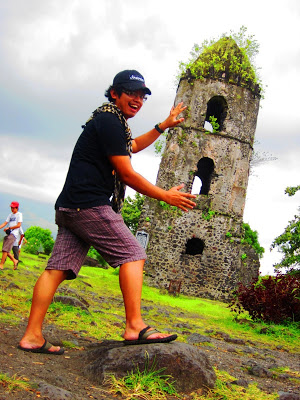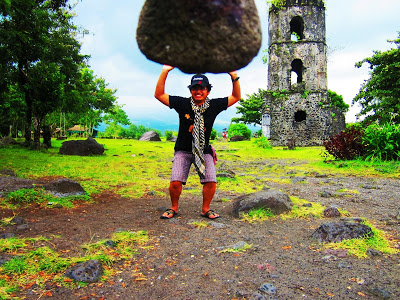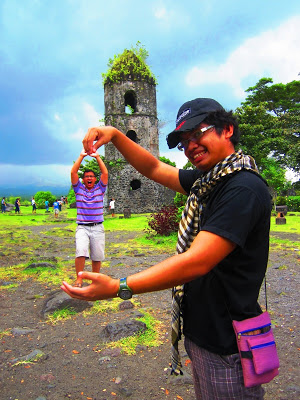 Although we weren't able to see the perfect view of Mayon, at least we had fun posing in front of many people who were likely to do the same. Lol. I jusy said to myself that I will have to come back the next morning if it will not rain… and it rained =(
Kawa-Kawa Hill
Heading north traversing the National Highway, our last stop for the day was Kawa Kawa Hill. The hill is famous for its life sized station of the cross depicting Last Supper to Christ ascension. So obviously it is a religious park on top of the hill. The hill was called Kawa-Kawa Hill because of its Kawa like or a large frying pan (creole) shape on the top of the hill. Thus one would walk the more than one kilometer circumferential pathways to complete the station.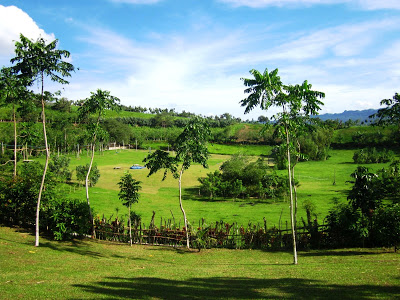 Tip: Bring a sunblock if you're going during the afternoon. Also bring a lot of water at any time of the day.


At the top, the hill will provide you a great view of a green creole like plateaul. At the center you will see a team building equipments which I am sure are for used by churches and other organization who will rent the area.


Our day was full packed and therefore tiring but fulfilling. But that day wasn't my kind of traveling. I prefer riding jeep, tricyles, habal-habal and sometimes walking to feel the place and the people. It's just that I don't prefer big groups. So my next day in Bicol was dedicated for my solo travel. I am not Lonely Travelogue for nothing… hehehe…