There is a 70% chance that you love coffee or at least drink coffee. You maybe on a passive side when it comes to the passion of drinking coffee, but I am pretty sure that you've tasted coffee once in your life. When my friends were planning to go to Baguio, someone mentioned in our chat group that they will buy coffee in Baguio.That ring a bell on me and made my way to Baguio.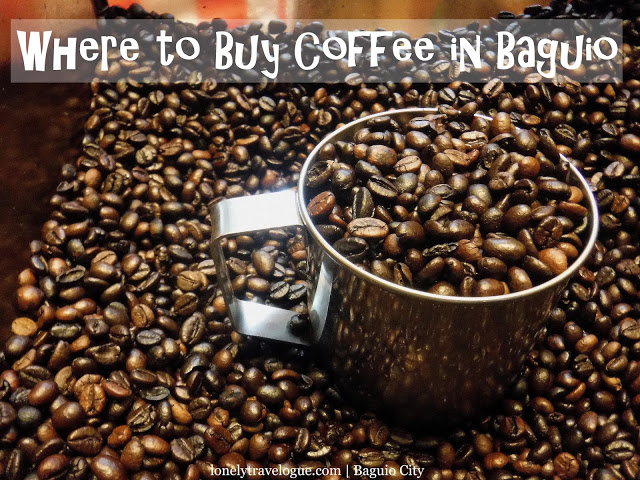 But where exactly you can buy coffee in Baguio? Ate Liberty, one of my friend who invited me to Baguio knows exactly where to buy coffee in Baguio – its the Garcia's. From our hotel, we hailed a taxi going to the market (where you usually but your pasalubong) and from there we walk a bit and ask a bit where we can buy coffee. The locals knows where. Ate Lib told me that if I smell coffee, surely where on the right track. Seconds after she said that, I smelled freshly grind coffee. It was like a Starbucks in a public market.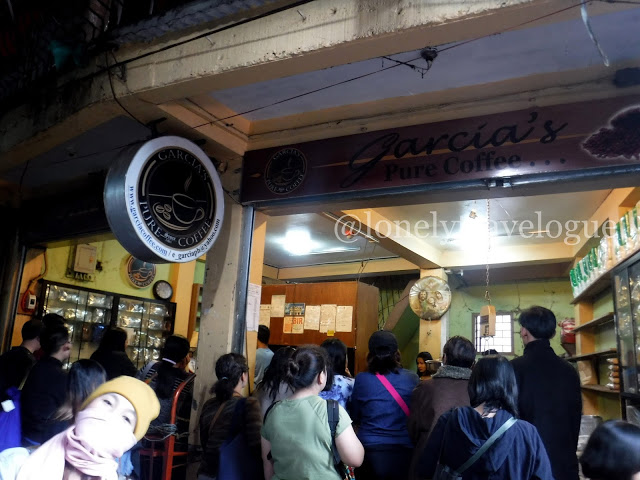 We joined a mob forcing their order to unorganized store of the Garcia's. I was overwhelmed by the choices I have in front of me. I didn't know what to buy. There's Kalinga, Benguet, Sagada, Robusta. There's even a mild, medium and dark roast. For a time being, since there was no one from the store entertaining us, they were busy with other customers, I enjoyed smelling them, photographing them and just adore the different kind of bean in front of me.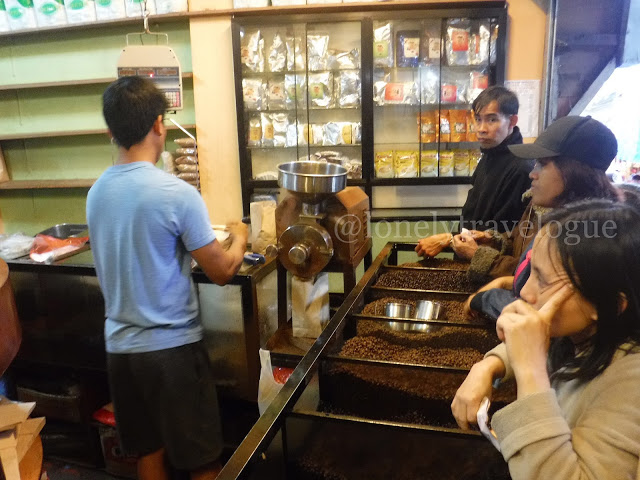 I end up buying a kilo of Benguet, Sagada and Robusta from the Garcia's Pure Coffee. After a while I ordered Sagada Dark Roast. Base on the aroma, I like Sagada Medium Roast with its brownish color and roughish texture. But I'm pretty sure i'll be enjoying Sagada Dark Roast because I like strong and dark coffee.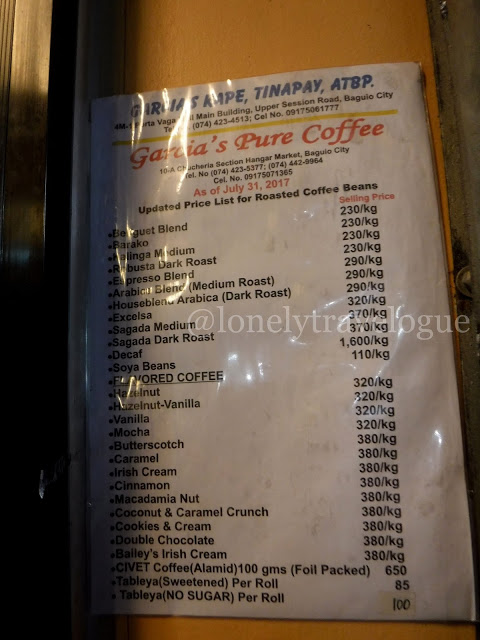 Beside Garcia's Pure Coffee is Kape Umali. I also bought 1 kilo of flavored Arabica Bean from them namely, Hazelnut, Caramel, Mocha and Vanilla. According to one of the staff, their flavored beans came from Silang, Cavite. They have this large roasting facility in Cavite that could accommodate large quantities of coffee. But they assured me that their beans are fresh. They have a weekly delivery of coffee bean, she added.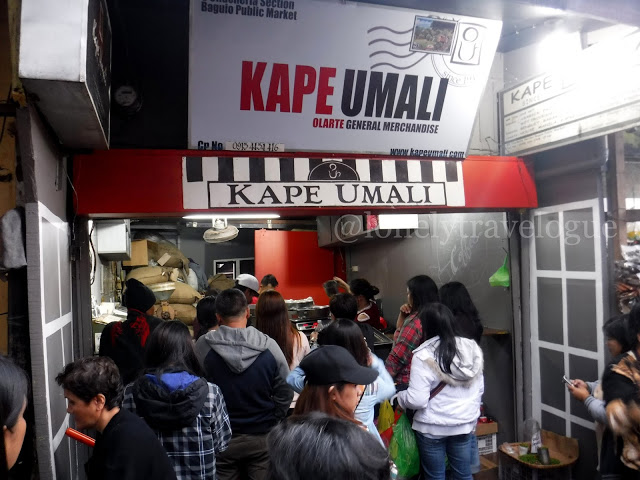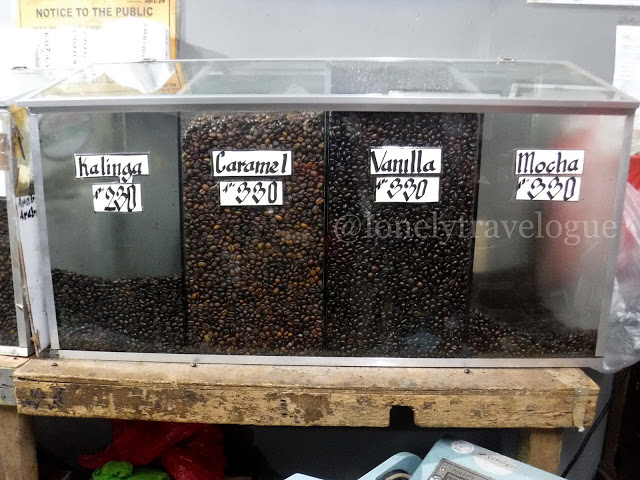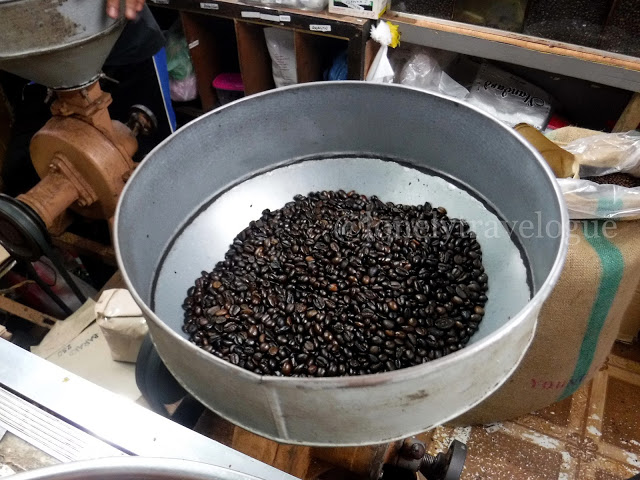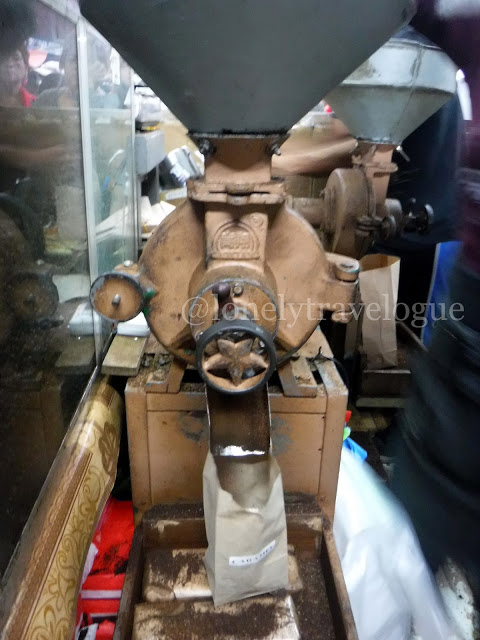 So I bought a total of 4 kilos of coffee. What did I do with them considering that you can only store grind coffee for 2 to 4 weeks? I never thought of it while I'm panic buying for coffee. Here's what I did, Christmas present for my office-mates and friends 🙂
Garcia's Pure Coffee Address: Hilltop Street, Hangar Market, Baguio City, 2600 Phone: (074) 423 1064 Kape Umali Address: Hilltop Street, Hangar Market, Baguio City, 2600 Phone: 0915 445 4416