Water activities pushes me beyond my limits. Those things that I thought I cannot do, heavens open its gate and made me do it not just one but for a couple of time. When the opportunity strikes for us to visit Badian in southern Cebu after our sojourn in Bantayan Island for an extreme experience at Kawasan Canyoneering, I knew I must take it to heart and follow where my adrenaline was leading me.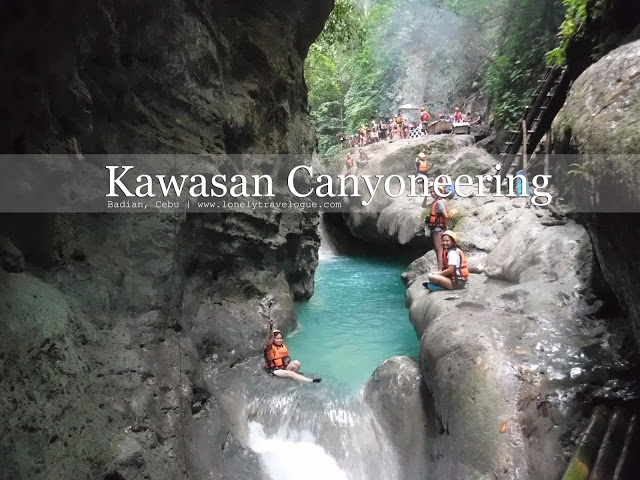 Kawasan Falls is popular tourist attraction among local and foreign visitors in Cebu. Even without its canyoneering activity the water falls itself is a good reason to visit. For some Kawasan Falls is a must destination after they swim with sardines or after their diving activity in another popular destination in Cebu – Moalboal.

I was able to visit Kawasan Falls years back but canyoneering wasn't known then and besides I just wanted to see the falls and bathe in it. Back then, there were no massive infrastructure around Kawasan Falls yet. It's a pain in the eye seeing concrete structure doing business meters away from the falls.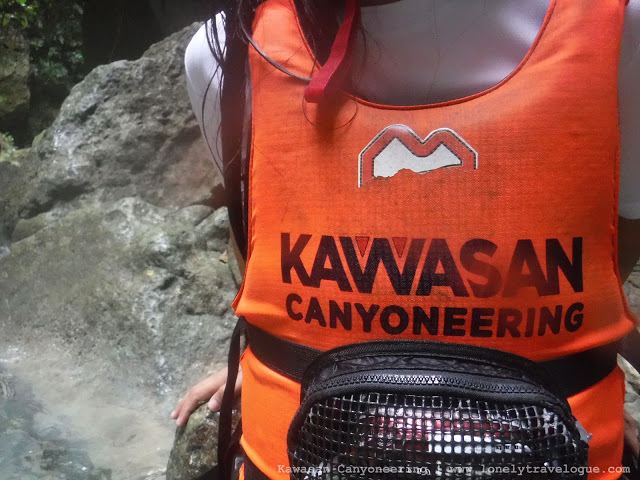 After our fun eco-tourism activity in Aloguinsan our group, which consist of millenials and xennials (but all has similar taste of almost everything under the sun) proceed to Badian. It was almost dawn when we left Aloguinsan but it was not a problem for us because time did not stop when we were in the van provided by CYBU Tours and Rentals. Throwback music made our veins alive and kicking during the almost 2 hours ride from Aloguinsan to Badian.


When we reached Badian, we decided to buy food in the market for our dinner. It was a very festive scene where locals sells their grilled food while some were cooking Puso – a local way of cooking and preserving rice. We stayed in Aisha's Transient House for one night before our adrenaline pumping activity in Kawasan Falls.


We woke up at 4AM to prepare for our adventure. Although you can do the Kawasan Canyoneering anytime of the day before their cut-off, it is advisable to do it early to avoid the crowds and to enjoy the main waterfalls at the end of your canyoneering.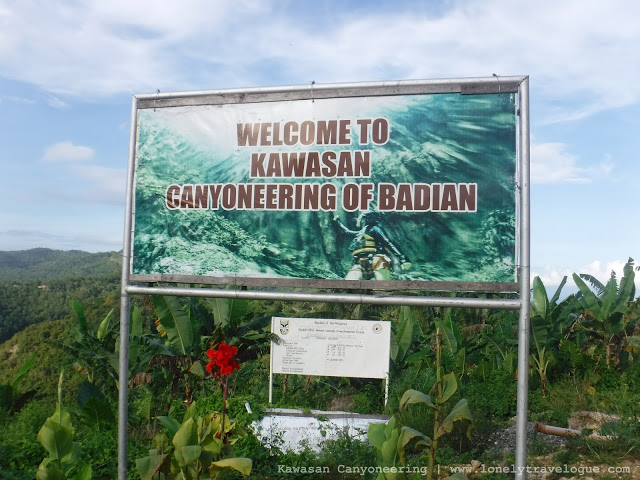 Kawasan Canyoneering office and meet up station is located in Matutina Beach in front of the church. You will get there all the necessary things for canyoneering such as your life vest, helmet and light snack and a bottle of water. You will also asked to sign a waiver form.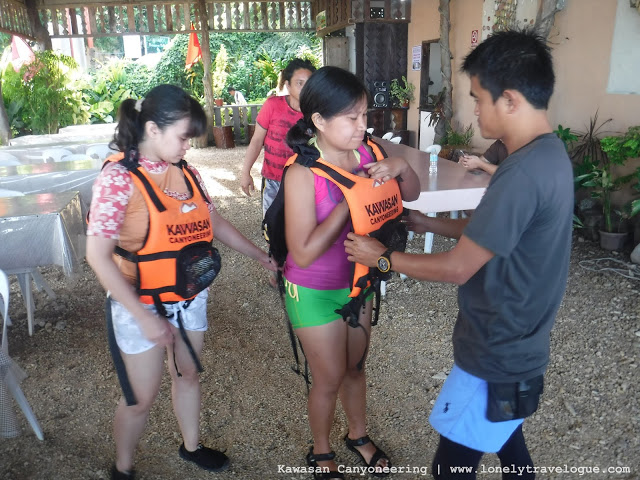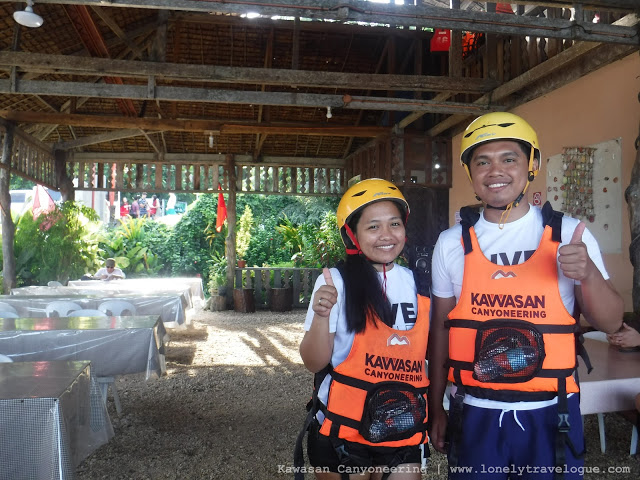 Once everything is provided and done, you will be asked to ride a motorcycle going to the jump-off. Motorcycle ride is less than 15 minutes.


Before you actually jump on the cold-blue-water of Kawasan, you'll have to walk for like less than an hour in a paved and unpaved trail with overlooking view of Badian. During this time, use it to talk to your guide to build a good rapport. Just a piece of advise. Hehehe…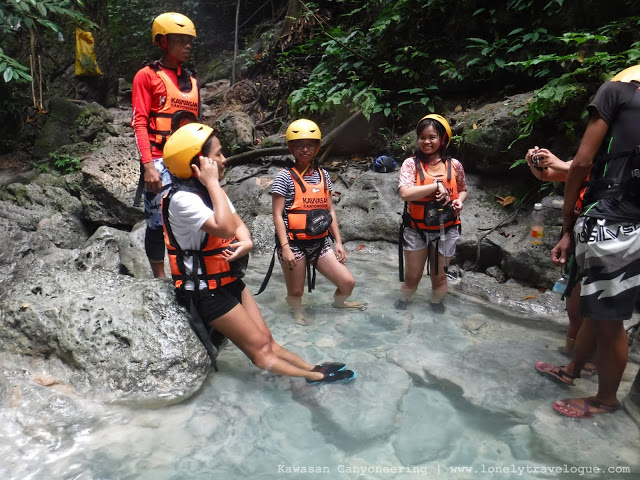 The official orientation will be conducted when your feet is already immerse in the cold water. Just a piece of advice, listen to your guide during the orientation and before you jump. They know all the details of each stones to step on – trust them with your life.


Your guide will get your camera and will willingly take your photos.


I lost track how many waterfalls I jumped. All I remember is that, I jumped in all of the possible falls to jump. If I remember it right, there are 6 or 7 waterfalls to jump in varying height. Supposedly, the last falls is the main falls but it is no longer allowed to jump there as of writing.


You will have a choice if you wanna jump in a certain waterfalls or not. Some of my friend did not jump in some of the waterfalls because its either too high for them or they were tired of it. There are some waterfalls however, where in you will not have a choice but to jump.


Kawasan Canyoneering is not just about jumping into the water. It involves spelunking, river crossing, long trekking and of course swimming. It's a very tiring and physically challenging activity that could cost you all day especially if you are in a big group and some of the members takes time to jump. Your body will react a day or days after the canyoneering with pain. I suggest to prepare for this activity. It's more than your usual weekend day hike.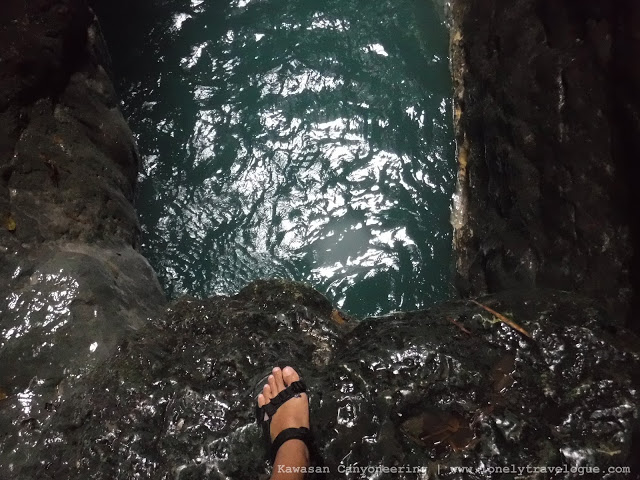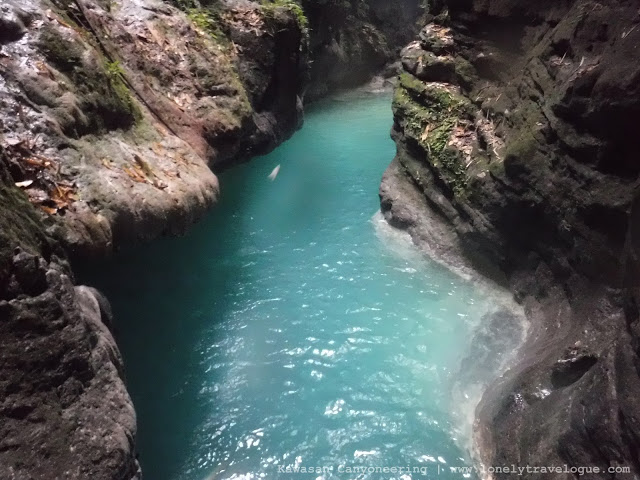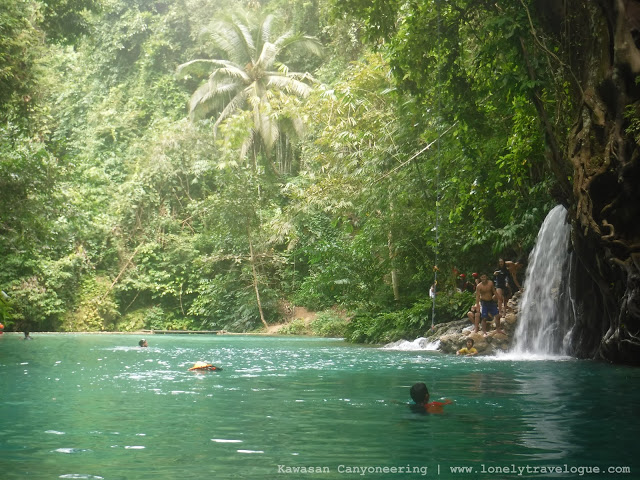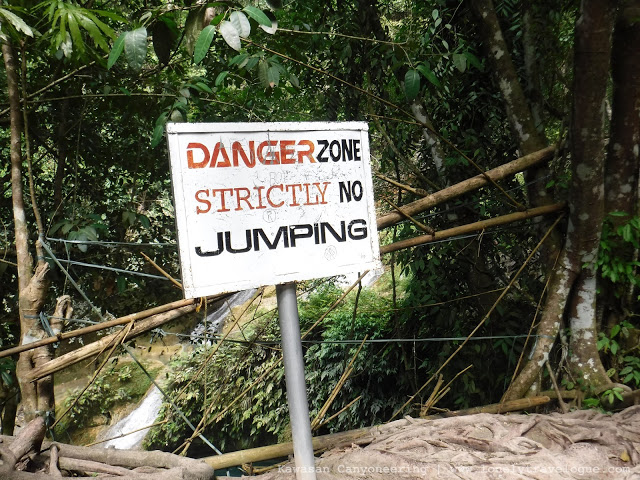 In passing, one of my friend commented that she will never do canyoneering again. That made me think thoroughly about this activity. It is not for all especially if you have special medical condition. If you fall into this, you might have to consult your doctor before doing canyoneering. I cannot speak for Senior Citizen because I know some over 60 years old who are far more energetic and stronger than me. It really depends on you, if you are sound physically and well mentally. My friend who commented that she will never do canyoneering in Kawasan again has a special condition in one of her leg. You have to be responsible for yourself before doing any extreme activity.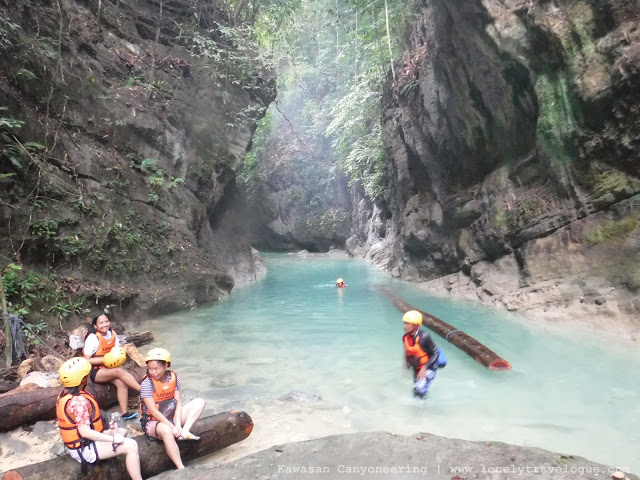 Kawasan Canyoneering is one of the activities in Cebu that I will do again. I had so much fun. Although its painful days after, the happiness it gave me and the love I felt with nature at that moment can never be replaced by anything. After all that whole Cebu trip was the happiest travel I had with a group. It's worth reminiscing all the fun in the coming years by doing canyoneering again.


How to Go to Kawasan Canyoneering
1. In Cebu South Bus Terminal take a bus going to Santander via Barili (jump off to Dumaguete) that will pass-by Badian. – Fare: Php120-Php150 | Travel Time: Approximately 3 Hours
2. Tell the conductor to drop you in Matutina Beach Resort in front of the church. Kawasan Canyoneering is in Matutina Beach Resort.


If you don't want to DIY Kawasan Canyoneering, you can hire a private van. Since we are 10 in our group we decided to rent a van for our Cebu City-Aloguinsan-Kawasan-Osmena Peak-Carcar-Cebu City for 2 days. We paid Php10,000.00 (Php1,000.00 each inclusive of gasoline and a good music inside the van. To add, we can always ask the driver/tour guide to stop wherever we want whenever we need. Just contact CYBU Tours and Rentals. They will even pick you at the airport.


CYBU Tours and Rentals Contact
Contact: +63-0917 708 6233
Email: [email protected]


Kawasan Canyoneering Package – Php1,500.00/ head


Inclusions:
Lifevest
Helmet
Guide Fee
Entrance Fee
Ride to Jump off
Bottled Water
Light Snack
Lunch
Use of Dry Bag
Luggage Counter
Free use of Shower and Comfort Rooms


Contact: +63-0918 654 4111 / +63-0905 333 2623
Email: [email protected]


Watch my Vlog about Kawasan Canyoneering to see all my jumps 🙂
https://www.youtube.com/embed/7EB2NzgMM_A?feature=player_embedded