Ditumabo Mother Falls of San Luis, Aurora is 45 to 60 minutes
away from the Philippine's surfing capital – Baler. Ditumabo Mother Falls is
one of the main attraction when you visit Baler per se for surfing or out of
your curiosity. It is in the Municipality of San Luis and can be reached via chartered
tricycle or by private vehicle. Going to Ditumabo Mother Falls entails a bumpy tricycle ride
or motorcycle ride. Some do have private vehicles or joined an open tour posted
all over social media sites. From the jump-off, you will trek on a rocky train
for about 30 minutes or more depending on your phase. The trail is a
combination of small and big rocks with plenty of river crossing. So, expect to
get wet even before reaching the falls.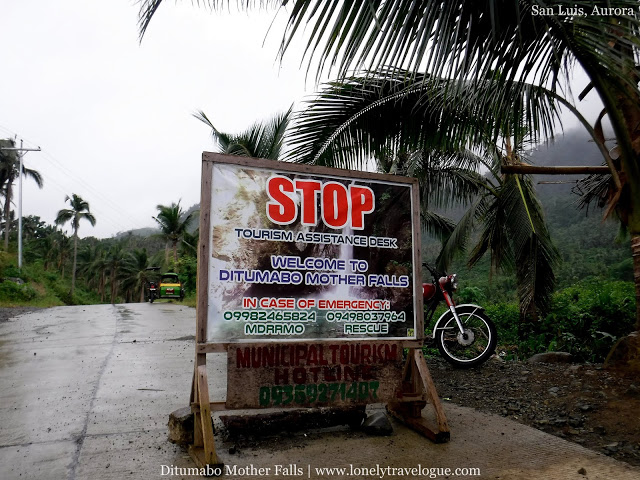 At the check point before entering the jump-off your
representative (if you are in a group) will be asked to sign a wet blue log
book with his name, address and number of participants. They will tell you that
a guide is needed going to the falls. Each guide has fixed fee of Php200 and
each guide can accommodate 10 guest. By principle you need to have two guides when
you exceed 10 but my guide told me that sometimes if you are 12 or 13 they will
allow you to have only one guide. But men, be generous. It's their livelihood.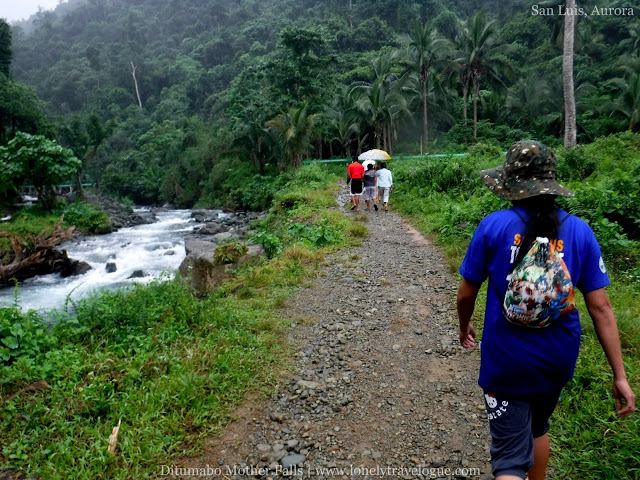 My guide ate Aiza 😉 My guide was Ate Aiza not the singer but the guide. She
hopped in the tricycle going to the jump-off. The view from the check point to the jump off is
very cinematic. Huge hills with lush forest will greet you on the way to the
jump off At the jump-off to near the hydro power plant, there is a
booth where you must pay Php30.00 before you can proceed. They call it a fee
and I am not sure if it is an environmental fee or sort off. I guess there is
nothing to worry though because they issue a municipality receipt.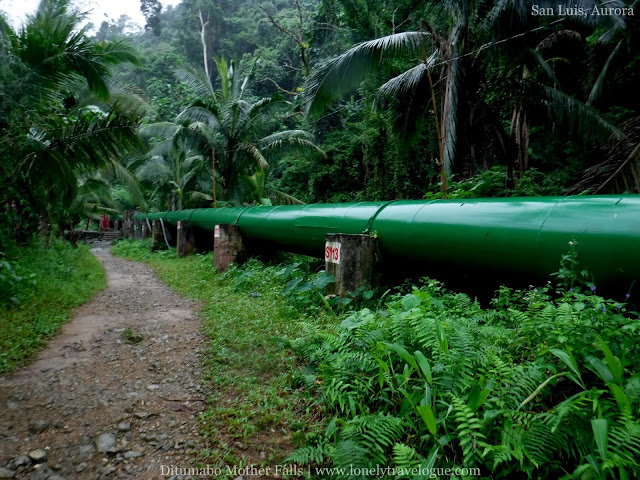 We started the trail along huge green water pipes. I could
not ask ate Aiza about it because she was so damn fast! I though she's up to
something or someone. But I guess she's not! I wanted to asked her why she's so
fast but I backed off when a saw a mob crossing a river with strong current. Ohh…
and I wanted to rush as fast as she can just to bypass the mob! Now I know what
she's up to. She wants me to go first and see the falls first among others.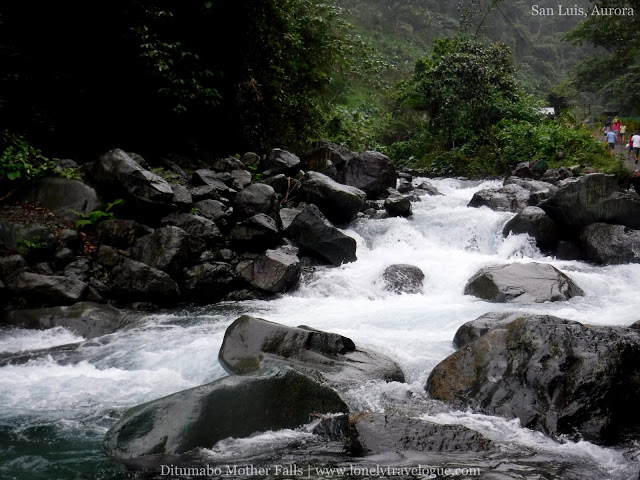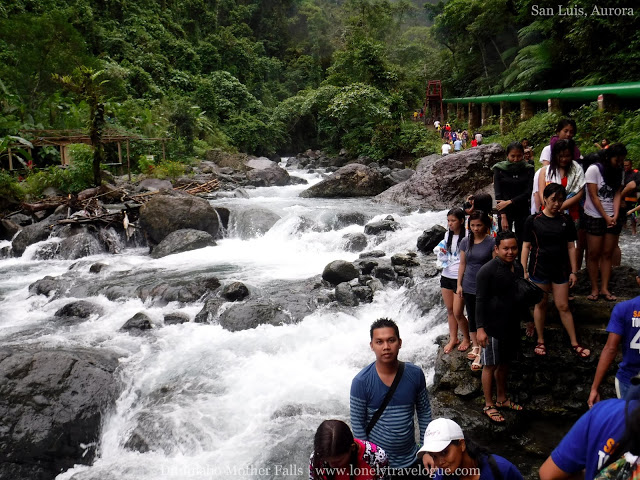 Then she saw me taking pictures of the landscape and she
told me to just approached her and tell her to take a picture of me. Oh common
ate, I can't even get ahead of you! I brushed off and told her okay! Haha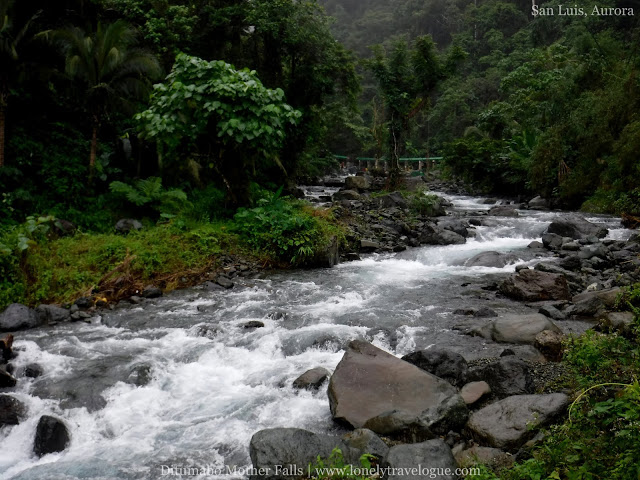 Every spot of the trail is so picturesque. Every spot has a character
and is longing for a shot. Ate Aiza, no matter how fast, will occasionally stop and would
point me to some interesting view of the trail. I never saw other guides doing the
same with their guest.
If there is a Mother Falls there is Baby Falls! What I like most about the trek is that it isn't muddy plus
it has a crazy river trekking. Not one river trekking but 3 river trekking on a
strong current. They assembled a rope on each side of the river so people can
cross easily.
You think its easy… try it haha. Funny thing about ate Aiza was that she lead me, and we bypassed
the long queue to the rope. She must be a very street smart kind of guide
(though we were not on the street).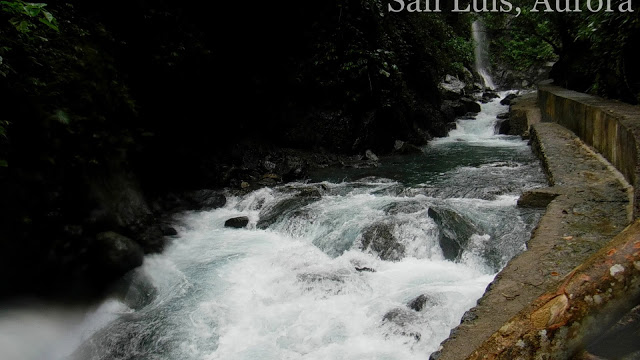 I know we were near when we reached the Cliffside where whirlpools
are forming. I could hear the sound growl of the water and the excitement on me
rushed to my heart. As I was expecting, ate Aiza rushed and again bypassed all
the people. I let her move and I decided to savor the music that the water
created down me. I took photos and videos. Then there she was waiting for me
not yet at the Mother falls but at the Shower Falls. She just waited there just
to tell me that 'hey this is the Shower Falls.'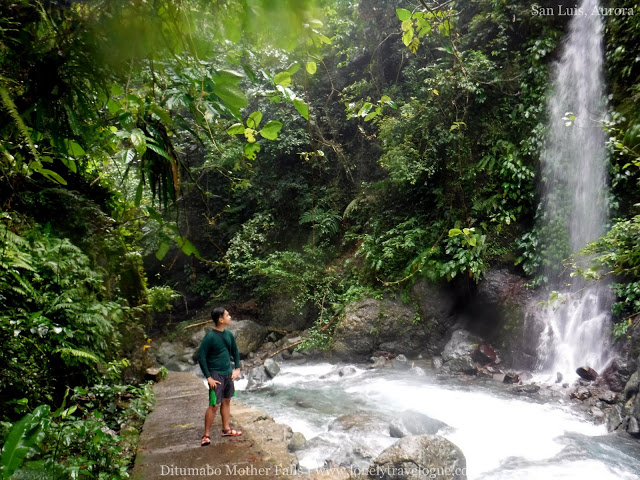 Shower Falls She ran again outsmarting other guides. She turned back to
me with a huge smile and pointing to what seems to be our destination. Her
smile not her gesture told me that we have arrived to the Ditumabo Mother
Falls. "Ohhhh…" (with almost backing off) was my first word when I
saw the Ditumabo Mother Falls. The water is so huge! The water is so strong!
That was the strongest waterfall current I have ever seen. Its roaring in front
of me. No wonder it is called the Mother falls. It's so grand and gorgeous.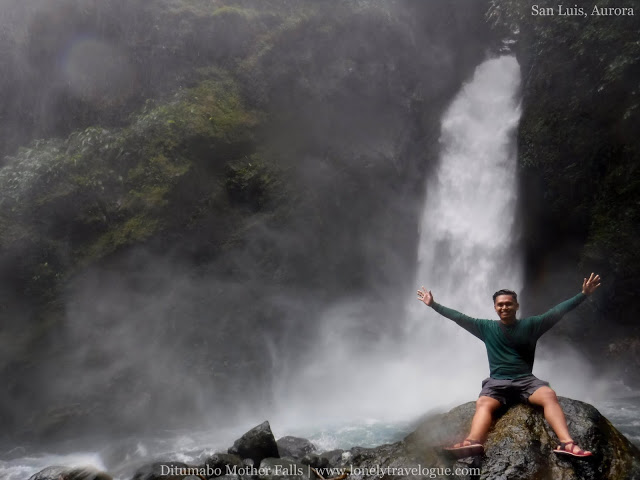 I can't take a good shot of the Ditumabo Mother Falls because
the mist of the falls was keeping my lens wet with droplets of water. Although
I am using now a Fujifilm XP90 Waterproof Camera water droplets make me crazy!
Grrr!!! Scary but gorgeous.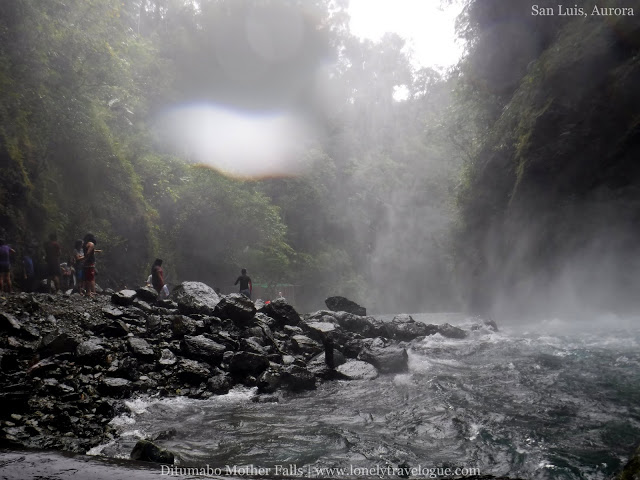 I wanted to see the Ditumabo Mother Falls because of its positive
feedback it gets among friends and relative. They said that the trek is hard but
worth it. The trek is not hard by the way. If you are familiar with Pinoy Mountaineer's
scaling, the trek to Ditumabo Mother Falls will not even pass to 1 out of 10.
Strong river current and slippery rocks are the challenges though.     The water is so cold like the water of Bomod ok falls of Sagada,
Mountain Province. I manage to swim for a short while aster I allowed the
spirit of the water to get in me.       Ditumabo Mother Falls is worth a visit again. Who knows, I
might visit again this year. According to ate Aiza the current is not that strong during summer season. It was raining night and day in Aurora during the months of January that is why the water is so strong. I would love to see it again with calmer water so that I could swim at the falls. Nevertheless, I like it that way too.