My soul is somewhere else. That's why I wonder around. My
appetite for traveling is increasing whenever I go and carry my backpack. My
wanderlust habit is mounting higher than infinity. I see places through my eyes
but my heart is shouting with joy and enthusiasm as I feel the different
vibrancy of people, place and culture. Experiencing the rich culture
crafted by its people and history is the sense of traveling. To wander
around, I all the more appreciate God's sovereignty over His creation.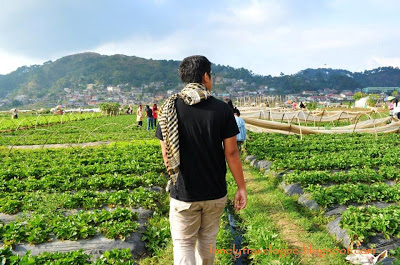 Walking on the Strawberry fields This was such a blast year for me. If I thought that 2011
was a generous year for me, 2012 was extravagant. My foot stepped on the most
famous landmarks in the Philippines
and in Southeast Asia. All I can say is
thank you 2012. Thank You God for this opportunity =)
Here are the 12 destination I went in this 2012: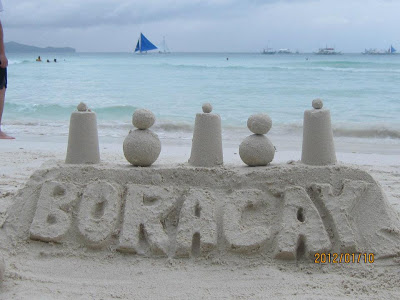 I never thought that I would be able to go to Boracay
without shelling out a single centavo! How? I was asked by my company to visit
a client in the Island! What a job for me.
Isn't? Now I am sure you are asking what my job is. lol. Well don't ask I just
resigned. I was in Boracay for four days spending the morning on my clients and
the whole afternoon beach bumming! Boracay is the best beach I have ever seen.
I am not a beach bum expert but it's the best. I've been to Palawan (Honda Bay), Panglao, Batangas and Samal. None of
those mentioned, although all nice beaches, can match the shore of Boracay.
The water is so light, so clear and has a soothing effect!!! Oh well the night
life is an added factor. Unforgettable
Anything: Php200 massage by the beach at night!!!
Because the Philippines is one of the texting or still the texting
capital of the world and has the most number of Internet user, the St. Paul Subterranean
National Park or more commonly known as the Puerto Princessa Underground River
was hailed as one of the New 7 Wonders of Nature. It is really a natural
wonder. See it to believe the title. It also has its own sacredness as
perceived by the people of Palawan. Because
of that recognition travelers from all over the world are flocking in Puerto Princessa
to see this natural wonder. If you are planning to go there be sure to book
your Underground River Tour. I am allergic with guided tours but this one need
a reservation that is being made through a travel agency or through hotel.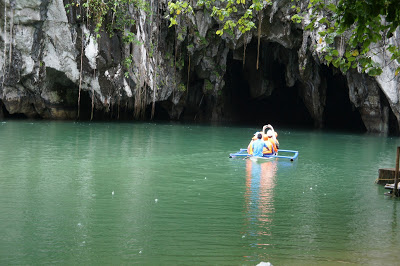 If you think that the Underground River is the only thing in Puerto Princessa, you are under rating the city. Have you
heard of Ka Lui Restaurant? What about Pandan Island in Honda Bay? If you haven't heard these places better prepare your backpack,
book a ticket and be astonished by Palawan.
Unforgettable
Anything: Eating tamilok worm that tastes like sea (arrggg)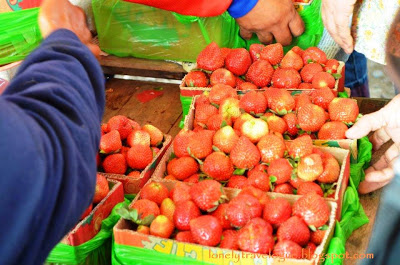 Baguio Baguio
Baguio… The
Filipinos, generally speaking, loves that man made plateau in the province of Beguet in Northern Philippines. Maybe because of the
weather… Obviously =) Our visit in Baguio this year was not a typical backpacking. Together with my officemates we joined
a guided tour worth Php2, 000 for the Penagbenga Festival. I will never and
will not forget this trip because here… I lost my camera =( That camera was
my mom's graduation gift for me and it was lost during the fluvial parade….
Well I moved on hehehe…. Unforgettable
Anything: My lost camera. What else?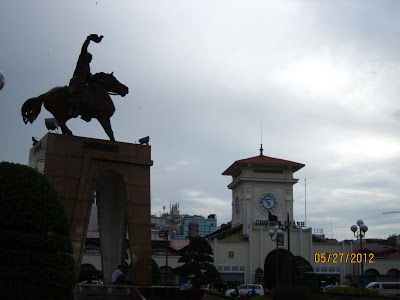 Behn Than Market The whole Indochina Adventure was an ambitious trip for me
and I made it (Naks)… My right foot had stepped in Ho Chi Min city my first
foreign land! Aside from Pho (pronounce as FU) most of the times of my visit
are either depressing or stressful. Don't get me wrong I did enjoy. Their
history embittered to the Americans makes this travel depressing. Victims of Agent Orange as
displayed in the War Remnant Museum makes my previous statement true. Unforgettable
Anything: Php700 Northface backpack in Ben Than Market… fake of course
This was an unplanned trip. My head was towards Siem Reap
to see the famous Angkor Wat when the bus makes a stop over in Phnom
Penh the capital city of Cambodia. This was an accidental
affair with Phnom Pehn because I thought we will just pass by it and will not stay for 5 hours.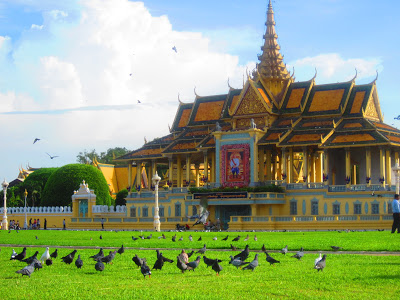 Grand Palace Phnom Penh is a colorful city
canvassed by its palace, European style buildings and well paved side walks
along the great Mekong River. One thing I
remember about this city is that most of the establishment including the bus
terminal has a free wifi in which travelers like me loved the most. Of course
not to mention that most of the Khmer speaks good English better than the Thai
as per my observation =) Unforgettable
Anything: Wifi on Mekong River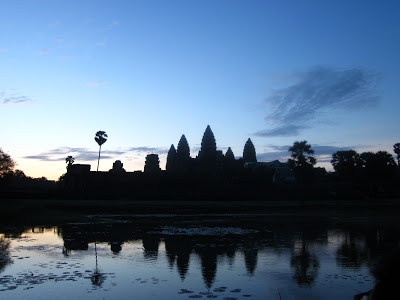 Angkor Wat Sunrise With 3 hours of sleep the Tuk Tuk Driver/Tour Guide was
knocking on my door for me to catch the sunrise in Angkor Wat. It seems that I
fail because while travesing the road I am already seeing the orange sky
bursting on the backdrop of Angkor Wat. After hurrying to but the day pass
ticket the tuk tuk proceeded to the ancient temple. I didn't saw what I wanted
to see. There was the sunrise but it was not that perfect as I expected and
wanted. After the sunrise we were like literally chasing temples after temples.
With the sun shining mightily on the sky every traveler were patiently and eagerly
standing under the heat just to get a good shot and impressed themselves with
the ancient super temples. Every temple has its unique architectural value as it
was build on different era of the Khmer history. Unforgettable
Anything: $1 250ml water inside the Temple Complex
What I love about Bangkok is it's
like Manila! The
infrastructure, the traffic, the crowd, the malls, and the side street vendors
everything have a close similarity to Manila.
Although there are similarities you will be able to see the distinction on
between the two. Undoubtedly Bangkok is one of the most visited city in the world! Although it gained its place on
every travelers map, it remained cheap and affordable for a backpacker. Well
that is why it is the most touristy destination among other Asian city. Bangkok is where Religion,
Culture, Commercialism and world class infrastructure are mixed together
forming a powerhouse travel destination.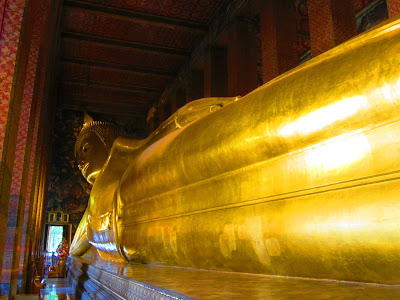 Wat Pho From shopping, cruising, history, Tuktuk haggling and with
all the things that I did in Bangkok…
I will definitely do it again and finish my unfinished business there… Well I
have a lot of reason to go back to like the Floating Market, Ayutthaya and Chang Mai (Chang Mai is far but
it's worth a visit along with Pai =) ) Unforgettable
Anything: Tutuk driver who will almost grab you to the giant Buddah because the
Museum or Wat Pho is close or the king will visit the grand palace so you cant
come…
Being with elementary school teachers makes this trip the
loudest one literally!!! I mean what do you expect with teachers??? They got
the loudest voice on earth that they developed on the four corners of classroom…
hehehe…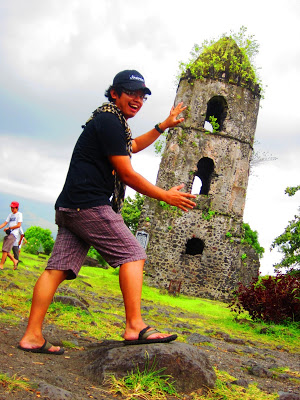 I felt kinda' dissapointed because we were not able to see
the famous volcano on its perfect view. We just had to make most out of the
tour and enjoy the moment in Bicol. Unforgettable
Anything: Pose shot in Mayon Volcano (Picture above)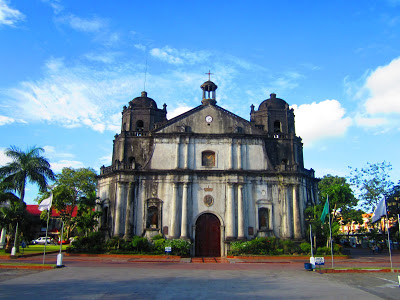 Metropolitan Cathedral Aside from the Mayon Volcano, I looked forward to experince
the newly rehabilitated PNR trains that traverse from Manila to Naga vice versa. Before that I see
to it that I at least roamed around the downtown area to feel and see the
Spanish era city. Naga is a rich city both in commerce and history. I got to
visit some of the landmarks of the city but not the whole city and the famous
CWC. Nonetheless I got to see the city and that gave me a glimpse of what to
see on my next visit. My Bicol trip this year was short it was not enough
to satisfy my wandering soul. On God's time my foot will step again on Bicol
and explore the region with quality and quantity. Unforgettable Anything:
The super cold air-conditioning of PNR!!!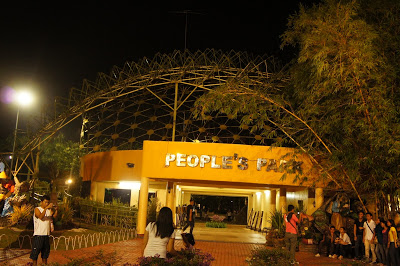 Touched down in the land of the Dutertes' the smell of the
king of fruit, the durian, welcomed us in the City of Davao. I didn't know what to expect in Davao. All I know was I
will eat a lot of Durian and hear a lot of stories about their well loved
mayor. My stay, rather our stay in Davao
was delighted by the fruits in Bangkerohan Market. I mean really, aside from
the adventures, side trip in Kidapawan, the Philippines Eagle, the fruits
specifically the durian and marang made our stay in Davao so memorable. And Durian can be a major
reason to go back in Davao. Unforgettable Anything:
The King of Fruit – Durian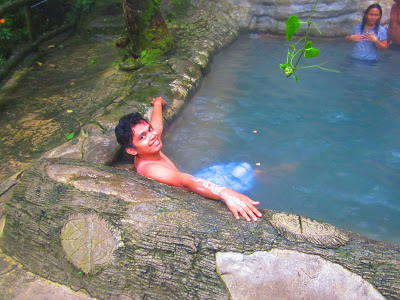 Lake Agko Sulfur Bath (Jacuzzi) Mt. Apo – since I am not (yet) into hiking and I wanted
to go to Mt. Apo, I forced my self to
find something else to do in the highest mountain in the archipelago even just
on the foot of the gigantic mountain. Being a responsible backpacker (naks) I
did my research and found Lake Agko in Brgy. Ilomavis, Kidapawan City. Lake Agko is a sulfuric mud hot spring at
the foot of Mt. Apo. Soaking my whole body for literally
hours made my aching feet relaxed. My soul was rejuvenated and thirst for more
travels especially on chase of hot
springs. Unforgettable Anything:
Boiling Mud that is (according to them) good for the skin.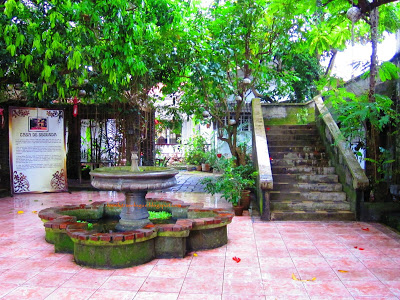 Casa Segunda Lipa is a beautiful city with old houses one after another.
It is the home of Rizal's first love – Segunda Katigbak. I am always in Lipa
visiting clients with my boss. One day I was assigned to visit our client –
alone. Hahaha… (Evil laugh) And upon knowing this I planned to do some little
tour around the historic city and visit the home of Rizal's first love – the
Casa Segunda. Unforgettable Anything:
Casa Segunda The year will end as the word time means change. Every
calendar will be soon be replaced. You already bought your 2013 planner or sip
a lot of coffee to get your Starbucks Planner. 2012 will end but the memories I
cherished will be stored in my heart to forever remember it – my treasures. The
adventures and misadventures this year will be all summed up to be my life
experience. I will never forget this year the year I first stepped in a foreign
land. Isn't that a memorable one? I have plans next year but I guess it's up to the Lord if He
will allow it. I just pray that God would give me more opportunities to roam
around His creations. I am not spiritualizing my wanderlust. I just believe
that the Lord has plans why he allows this traveling. I am facing 2013 with much more excitement and enthusiasm to
travel more!!!
This is my entry to the Pinoy Travel Bloggers' Blog Carnival for December 2012 with the theme "2012: This Year In Travel" hosted by Gay Mitra-Emami of Pinay Travel Junkie and Regine Camille Garcia of Between Coordinates.