The Quezon City Tourism Department held the "QC Medical Tourism
Stakeholders Summit" last June 6 at the newly-opened Quezon Ballroom of Seda
Hotel Vertis North, Quezon City.  The Summit was officially opened by no
less than Quezon City Mayor Herbert M. Bautista. Various officials, such as
Quezon City Representatives, Councilors, and Department Heads were also present
at the event.   It was a success as the Summit gathered a high attendance among Quezon
City's tourism stakeholders. Aside from representatives from the private and
public hospitals, clinics, and doctors' association, also in attendance were
members of various travel agencies, hotels, spas, gyms, and wellness centers.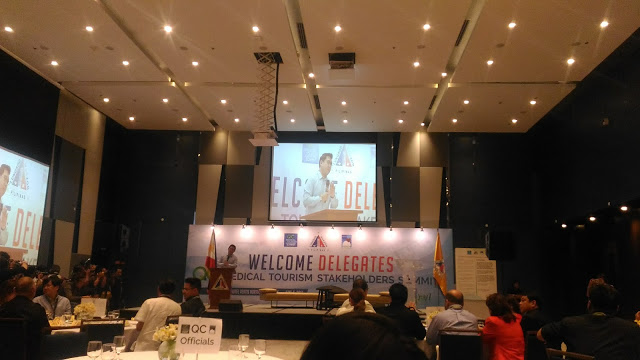 "I am delighted to speak in front of all of you as this event is a
realization of our vision to make Quezon City a 'Wellness Capital of Asia.'
I have instructed the Tourism Department to host this event to gather
inputs from stakeholders and to come up with an effective plan to raise the
profile of Quezon City in the world medical tourism stage," the Mayor said in
his speech. Medical Tourism is a growing trend of travelling across international
borders to obtain health care. It does only affect the medical field but
more importantly, the travel and tourism industry. "On a global scale, I have learned that Medical Tourism is one of the
so-called sunrise industries. A report forecasts the World Medical
Tourism market to be at US$143 Billion by 2020. Growth is phenomenal and
the Philippines is poised to benefit because of our hospitality, skilled
doctors, and ready facilities. QC wants to be part of it and I want all you
here this morning to be also part of this success story," the Mayor added. Though other countries may claim to have far more superior facilities or
equipment, the Philippines is not far behind as our hospitals are also equipped
with state-of-the-art facilities. Add to that, the world renowned Filipino
hospitality shines best in the Medical Tourism field. "But Medical Tourism is not only about hospitals or clinics. It is about
People. I believe Filipinos are the best in terms of providing that personal
and effective health care. Medical Tourism is also providing the best
experience for the patient and his or her family," he said. For him, Medical
Tourism serves as a catalyst to bring in more tourists to Quezon City. As a proof of the city's commitment to pursue its vision to become a
Medical and Wellness Tourism destination, Mayor Bautista led in the signing of
a "Vision 2020 Commitment" detailing steps and action plans to make the dream a
reality. Add to that, to learn from the best practices abroad, the Summit
featured Abrianna Kim, the Executive Director of Medical Tourism Association
Korea as Keynote Speaker. She spoke about the importance of collaboration
between government and the private sector as a first step to an effective
medical tourism program. To put the local perspective, Cynthia Lazo from
the Department of Tourism, Josephine Aguilar from St. Luke's and Rick and Eva
Trinidad from Philippine Medical Tourism, Inc. shared their time and expertise
for the benefit of the Summit attendees. With the success of the Summit, it is a proof that Quezon City is now
"Ready for the World" and its stakeholders are supporting the vision of Mayor
Bautista. For more updates, visit http://www.qcmedtourism.net./