We were caught in a heavy flow of traffic along AH26 going to Baliwag, Bulacan. It took us four long hours to arrive in the jump off city going to San Rafael River Adventure. We arrive almost midnight and our tummy were shouting for food. Good thing though the food was almost right in front of us when we arrive. No time for night stroll. We all prepared for the next big thing the in the morning.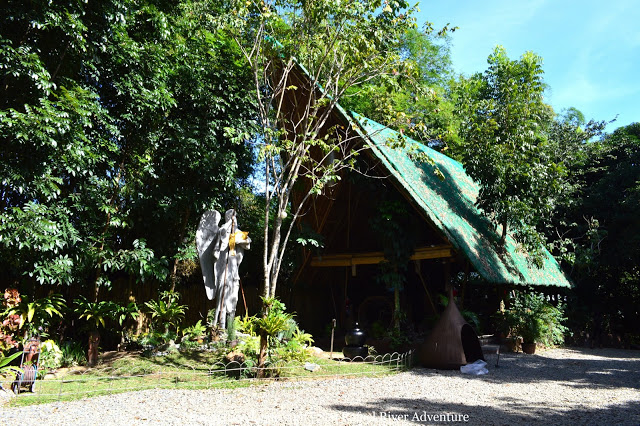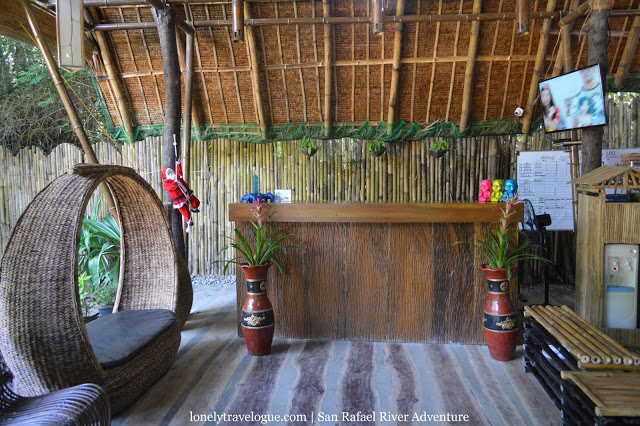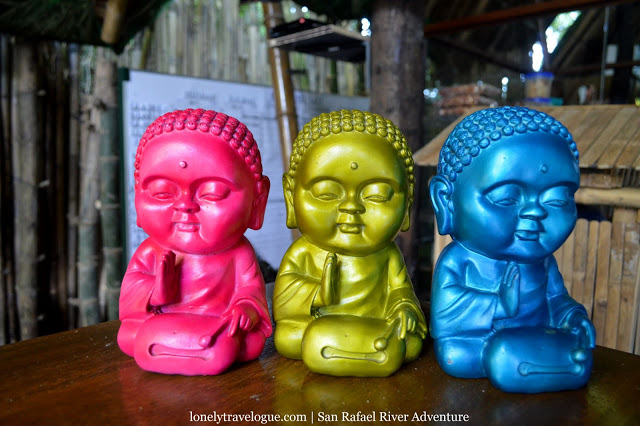 When I woke up the next day, I was greeted not by the staff but by a green foliage outside our glasshouse. The melody of the words singing was so inviting that I went outside. I stepped some more and I saw the vast and calm Angat River. Being one with nature maybe too much, but that was my words though.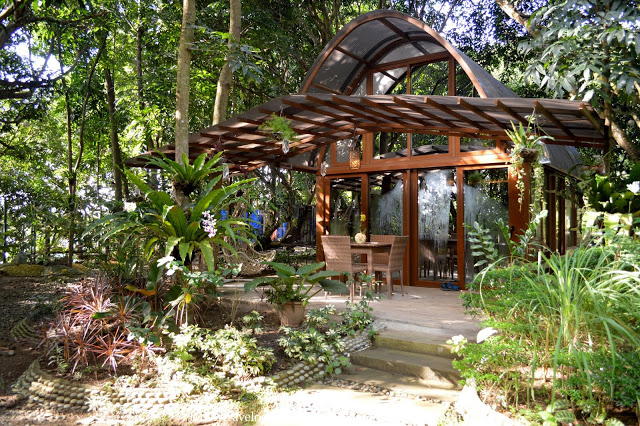 Our Glasshouse San Rafael River Adventures offers a unique accommodation experience with its all glass cottages – no wonder why they are called glasshouse. Don't be afraid that all your personal activities inside will be seen by the people outside. They used a glass that is tinted from the outside whenever the lights hit it and still you'll everything outside from the inside. There is a certain feeling that brings magic when a hotel-style accommodation and outdoor ambiance are mixed into one complete experience.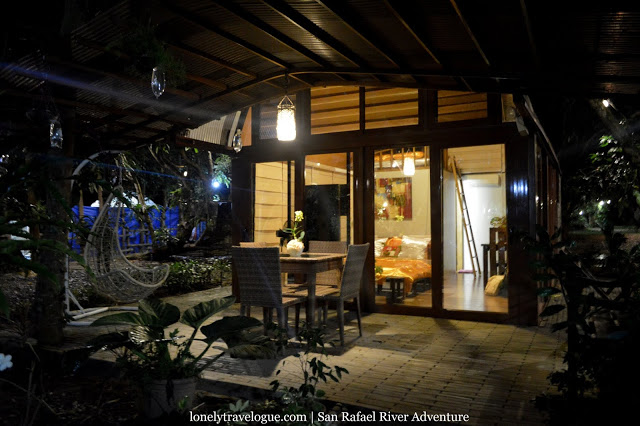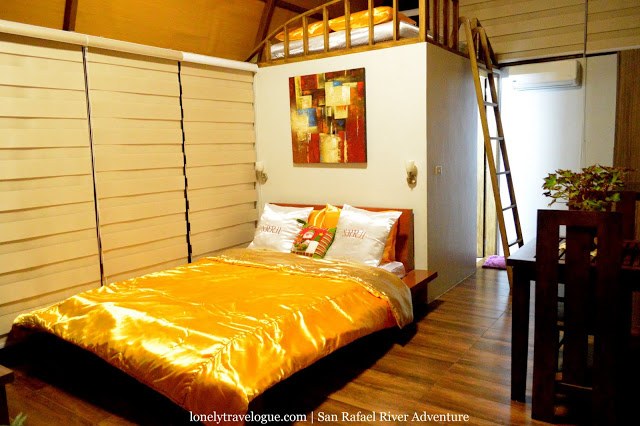 Posh interior in each glasshouse Each Glass House can accommodate 6 guest with extra mattress I guess. It has a loft – another thing that made this cottage unique – that can accommodate two person and a bed that can also accommodate two, San Rafael River Adventure offers a hotel-style accommodation with all its amenities.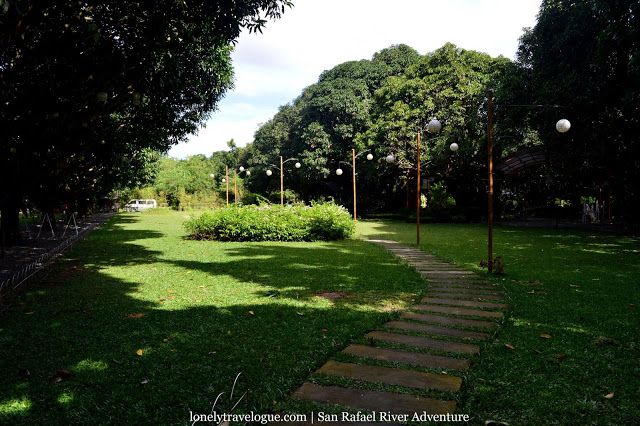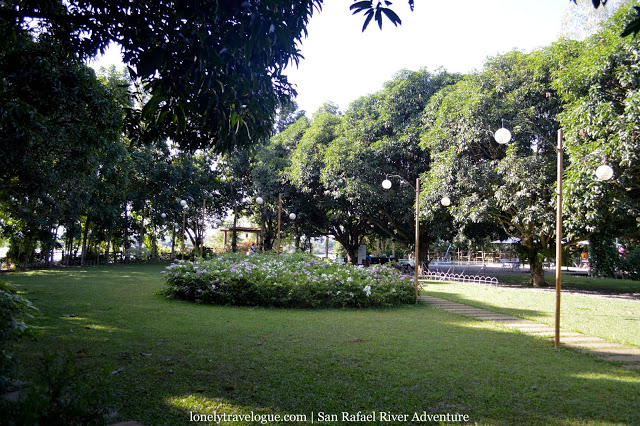 Under the mango tree of each Glass Houses you won't just be relaxed, the birds will sing lullaby for you till' you sleep till' dawn. When you think that there is nothing to do or you just don't want to do anything – you can actually do something – that is to relax and listen to the Inner voice about many things in life..
San Rafael River Adventure is an experience itself as I have said, what more when there are water and land activities provided for you?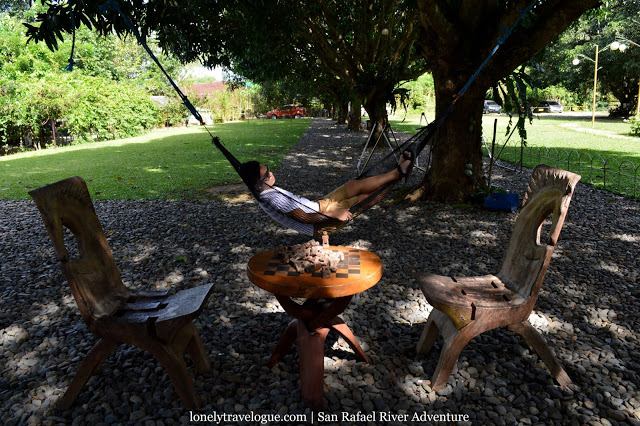 In San Rafael River Adventure, you will be sure that you'll have that full river experience. With the waters coming from the Sierra Madre, slice your way down with their jet skis.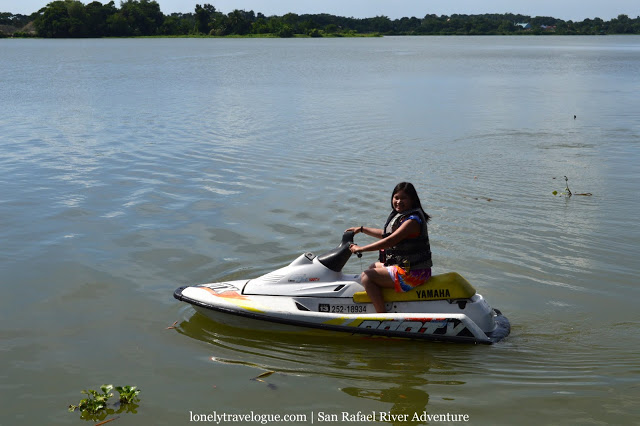 Claire Madarang of iamtravelinglight.com enjoying the jet ski Not that so excited, I jumped off the little buzz water vehicle the moment I saw it floating on the river. Afraid that I might fall by my adrenaline carelessness, I was assured that doing jet ski on the river is much for easier and much more fun as compared to the sea. Less the strong current of the sea, the smooth flow of the river gave me no sense of time while on it with my jet ski. It feels like flying with all the fresh air in your face. I entered into a realm where only the water, the lush greens, the view of the Sierra Madre and myself – creating a mystical story not meant for publishing. There was no other being and I felt freedom. I forgot how far I was until civilization brought me back to reality. I maneuvered and entered to the space and time of my other reality. Aside from the jet ski there are other non-motorized water activities in San Rafael River Adventure. Just like the jet ski the kayak gave me equal serenity in every stroke of the paddle to move into the realm of the river. My new friend Louie Dimaano – a tourism and social enterprise advocate of Bulacan – joined me as I commune some more with the waters of Angat River. The sound of the water touching the kayak and the stroke of the water were the melodies of the tales we shared together from both our ends. Refreshes and calmness brought by the kayak and Angat River.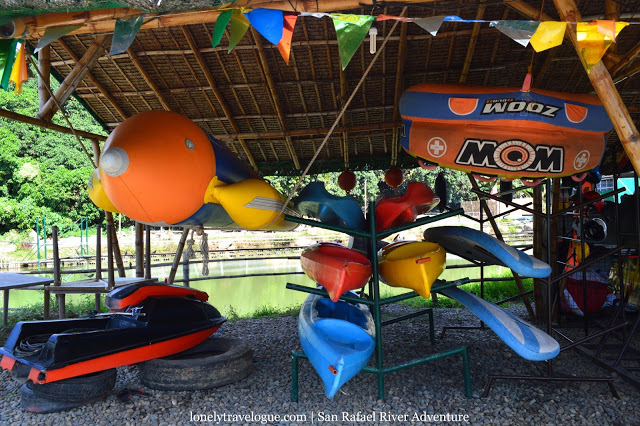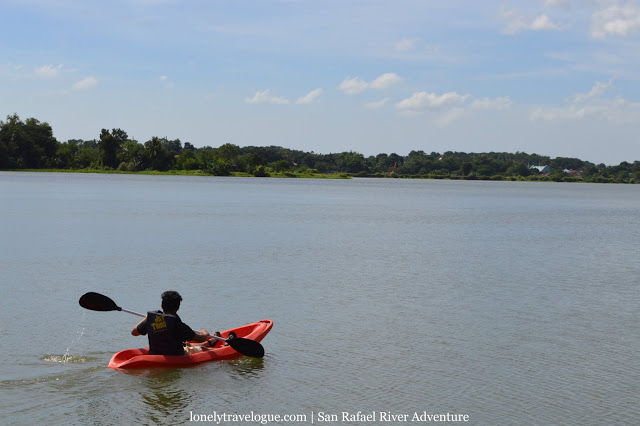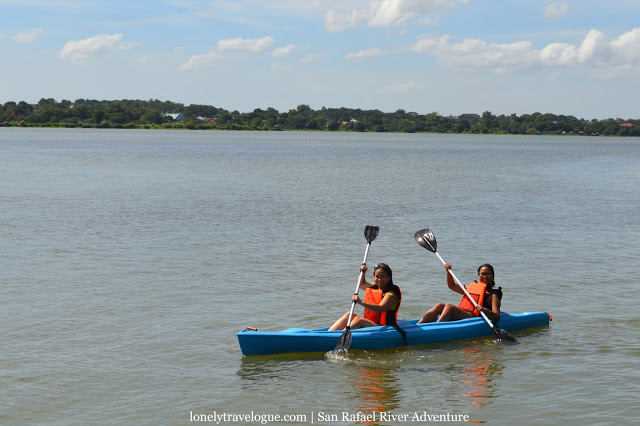 Paula O of ponderingpaodaolei.net and Beng Manila Correspondent of EscapeManila.com Back at the station our friend Marx of Marxtermind.com was celebrating his own serenity while fighting for balance with his paddle board. You have to stand up where you stumble without drowning into the river of love and failure. He did enjoy it for a fact that he was able to stand with a smile of triumph in his face.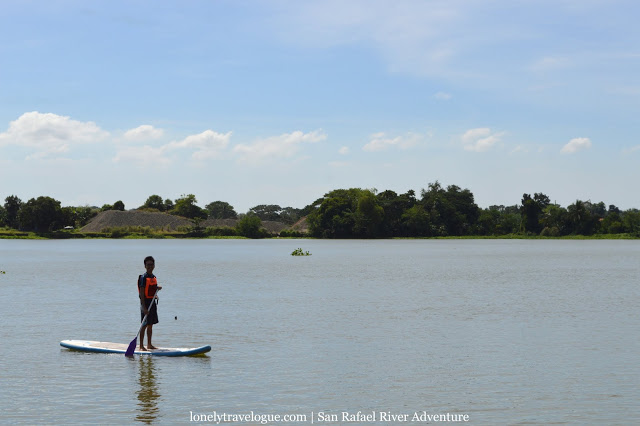 Marx If you grow tired of water adventure – I will never get tired of it by the way – San Rafael River Adventure can let your adrenaline pour once again with its ATVs. Drive till sunset along the farm beside the river while contemplating how life has been good to you. We had our usual stops because we wanted to capture the moment where the sky changes colors from blue to orange to darkness.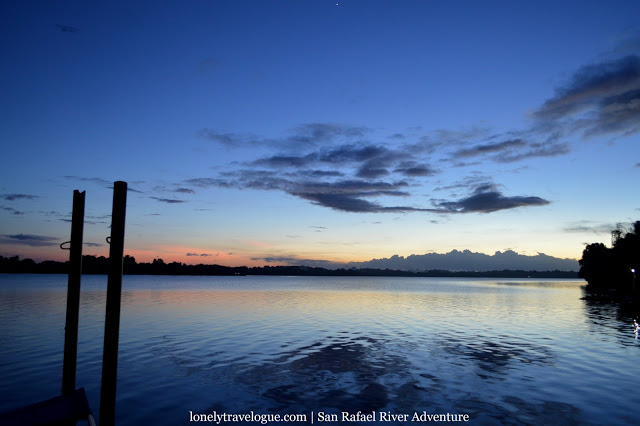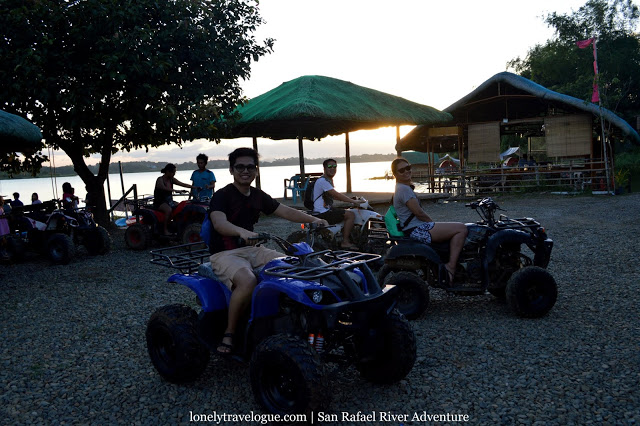 Me and Mai Flores of budgetbiyahera.com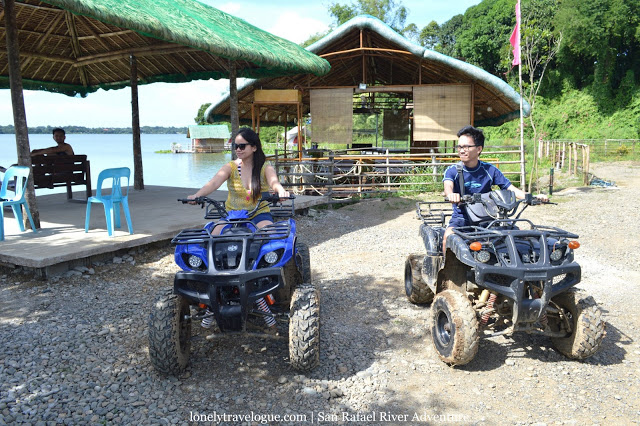 Pao and Marx What else could be equally important is the chance to open your heart with the souls of the same spirit. Before we had our last dinner at San Rafael River Adventure, the quiet and colored swimming pool invited us for a dip. With the sound of a cricket and the night blow of the wind, the moment was peaceful and solemn. We had a random talk with open hearts and open mind. We shelled out our feeling to the world full of little sorrow and magnanimous gratitude. I would never forget that moment because I realize that love and friendship supersedes human faulty attitude.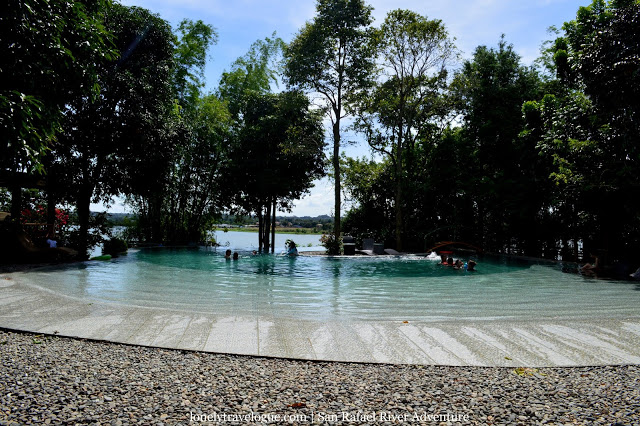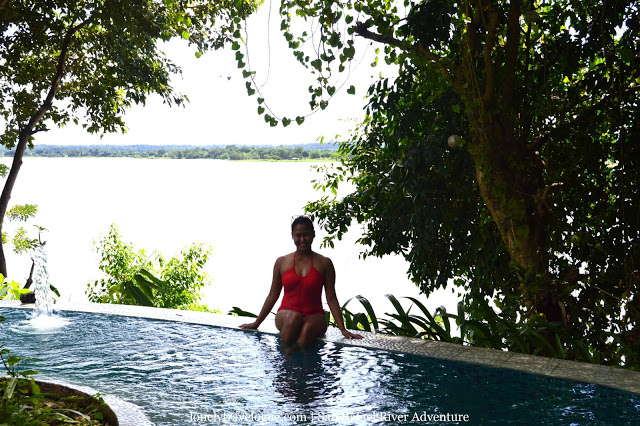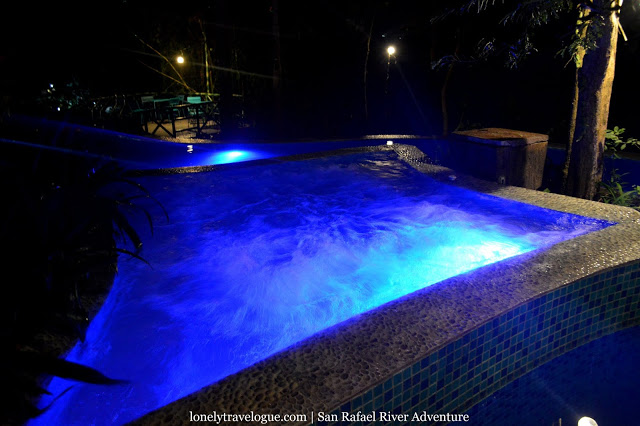 While writing this story, my dream is for you to be serenade my calmness of nature till you fall into a space where real retreat will take place. So when you go back to the life we almost hated the most, you will realize that life ain't not to be hated but to be appreciated. San Rafael River Adventure can offer you that serenity inside when you allow yourself to experience the true meaning of communion with nature. San Rafael River Adventure is a true haven in the heart of Bulacan. San Rafael River Adventure ADDRESS: Barangay Talacsan, San Rafael, Bulacan, Philippines LANDLINE: (02) 513 1569 MOBILE: (63) 995 974 6224 (Globe) / (63) 917 924 4546 (Globe) EMAIL: [email protected]; [email protected]