Mt. Hapunang Banoi is one of the newest mountain in Montalban, Rizal that was opened to the public for leisurely hiking and exploration. According to Pinoy Mounteneer who is the ultimate guide for mountaineering, Mt. Hapunang Banoi has a 4/5 level of difficulty. True enough, the mountain is difficult to climb for a non-pro like me but very fulfilling for every nature lover. Be sure to bring gloves as the trail is both muddy and rocky with sharp edges.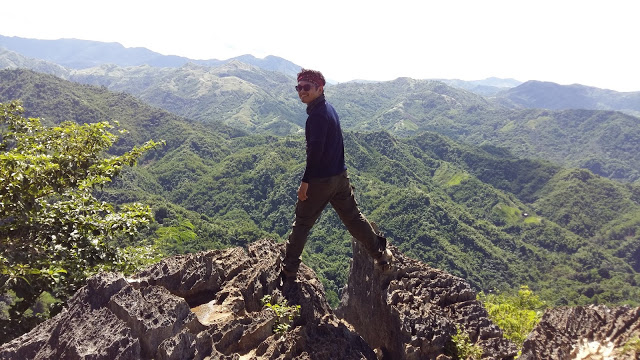 The mountain is called Hapunang Banoi because it used to be a resting place for many "Banoi" which means eagle. At the summit, we actually saw one eagle flying freely. I forgot to capture it because I was so amaze seeing an eagle freely flying. There are some things that is better not captured by your lens, I thought after.

#HikingDiaries
A week before the climb I felt that the mountains are calling like an echo in head. I did not know then where to go as I am not that much of a hiker. I guess I am just an enthusiast-lover nature. Early morning like 3:00AM I messaged a friend of mine to invite him to hike for the weekend and it turned out he was the one who suggested a mountain to climb. I also invited my girlfriend and some friends to join the climb.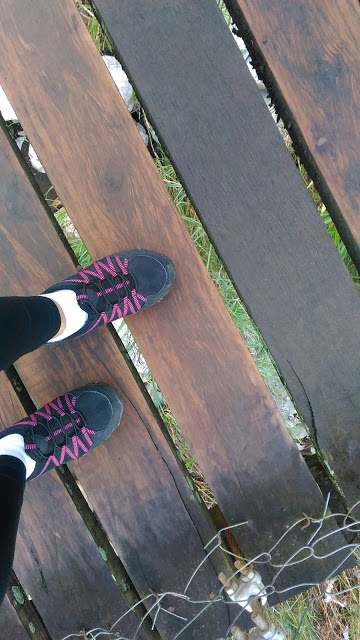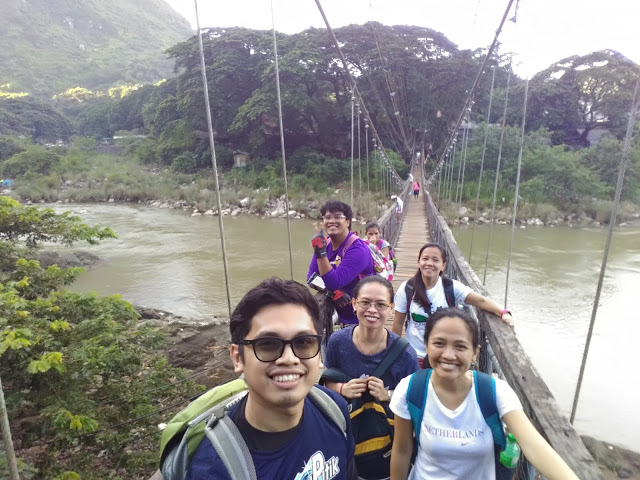 We were expected to meet up at Jollibee in Farmers at 4:00AM then from there take an FX to Montalban, Rizal where Mt. Hapunang Banoi is located. A lot weekend warrior who chose to climb mountains in Rizal are flocking in Jollibee Farmers so its quite a feast when you see folks with big backpacks doing the same things that you do.


For about an hour we traveled to Brgy. Wawa in Montalban, Rizal. The same area where the famous Wawa Dam in located. You can opt to choose to dip in Wawa Dam after your climb or just go to the area for Wawa Dam alone. The first time I went to Wawa Dam I saw a lot of families enjoying the waters of Wawa River. There are stunning rock formations in the area which are sure selfie hit.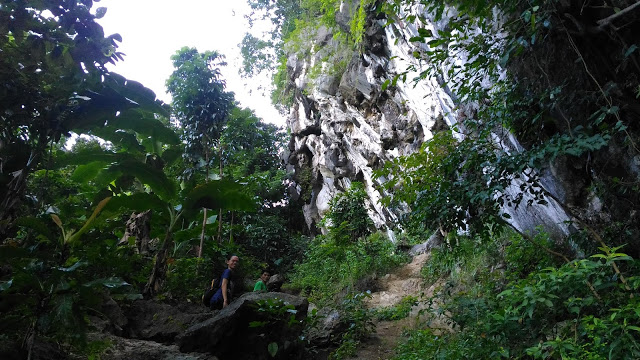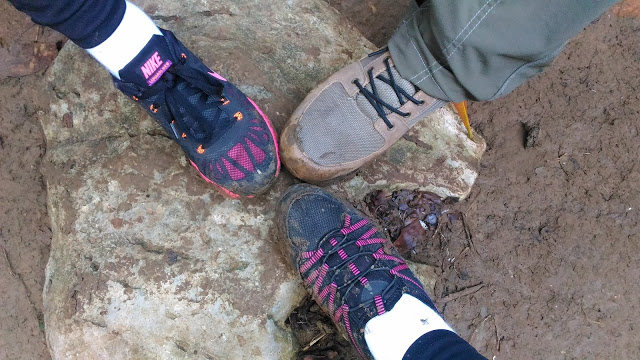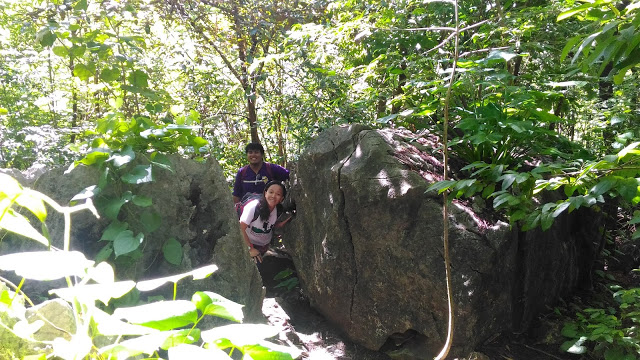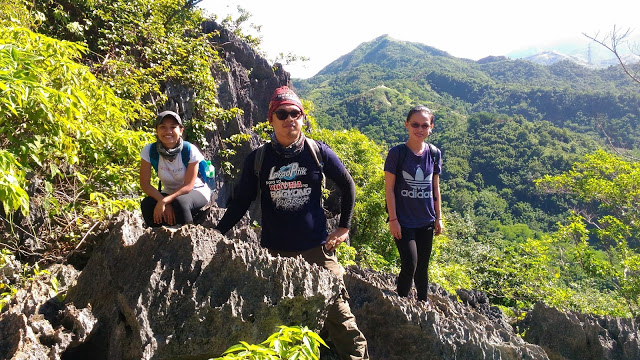 At the DENR in Brgy. Wawa we registered, paid the environmental fee of Php50.00 each and asked for a guide. We were very lucky with our guide kuya Albert who is both accomodating and is full of energy to take unlimited number of photos of us. Guide fee is Php500 but since he is good we decided to give him an extra.


The climb was short but painful. The first part of the trail was the steep trail going to the junction where you slice up the trail going to Mt. Pamintinan and Mt. Hapunang Banoi. Though it was painful, the trek was being one in nature walking through its veins all the way to its heart. The mud, scratches, bite of ants or mosquitos, stumbling and frequent exhaustion are just part of the journey all the way up.


The trail after the junction was less exhausting for a person who has poor cardio like me. It was a rocky trail but an adventurous one. That's the one I like. You have to stretch your feet wide to reach the next sharp rock so you can move forward. It was hard but fulfilling. Your tendency is to move forward because number one there is no other way around and number two there are people at your back who is either cheering at you or ready to kick you. We have to move on no matter what trail we are facing.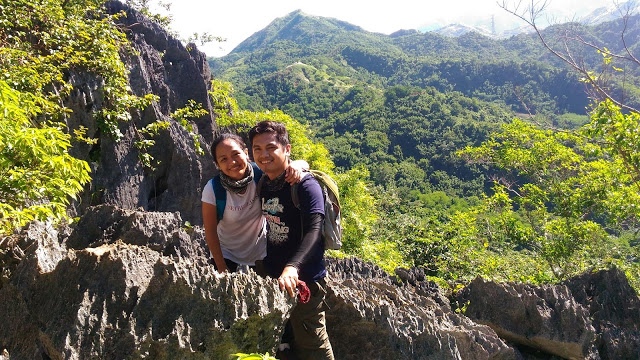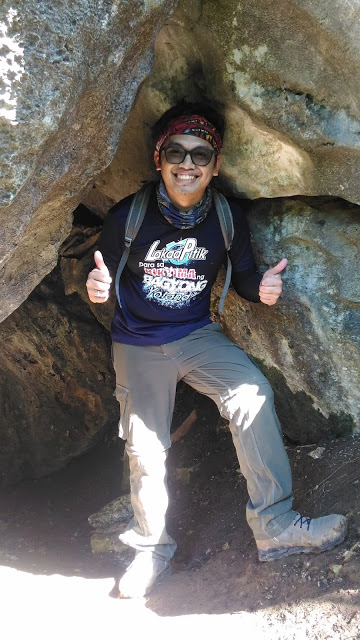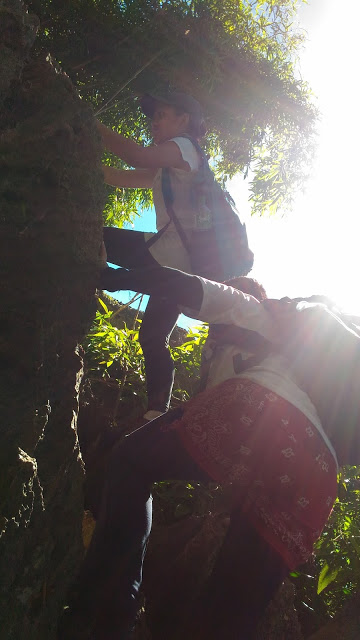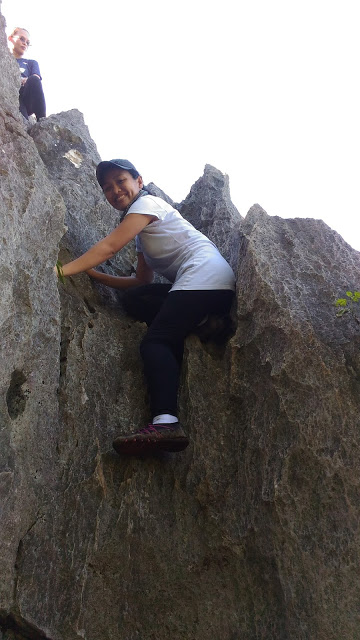 After 2 hours we reached the peak where we did a lot of selfies. Out guide like what I have said was game to take a picture of us in all angles that he knows and its unlimited! He's climbing rocks after rocks just to take a picture of us.


He asked us to climb an almost 90 degree angle rock. We all did climbed it, I'm so proud. We stayed there for more than 10 minutes occupying a space just good enough for our feet. Thanks to a big rock we've got something on our back to hold us alive on the top.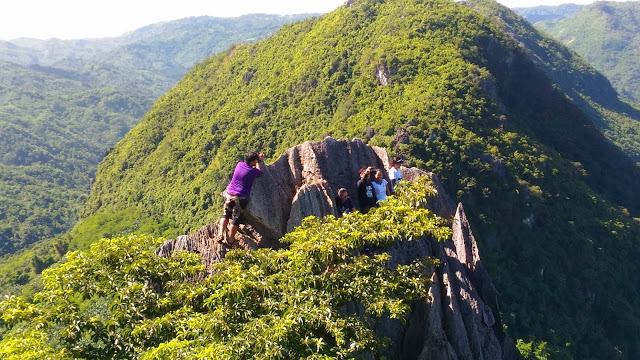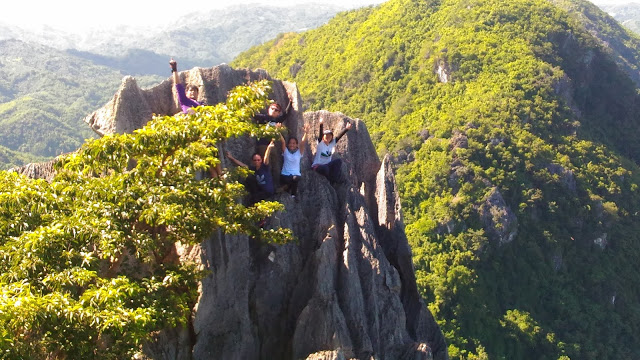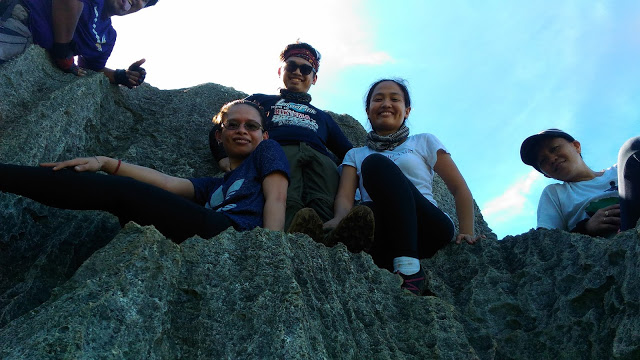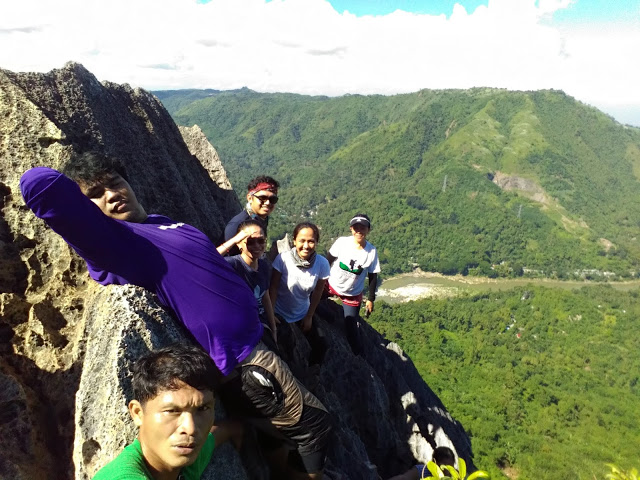 All of them had descended the 90 degree rock and I am stuck on top to have a selfie for myself. The truth of the matter was, I was afraid and do not know how to go down. I was afraid and nervous but I had to go down. I did. With all the laughter and cheering I was able to go down making a scene on that rock. I will never forget that rock.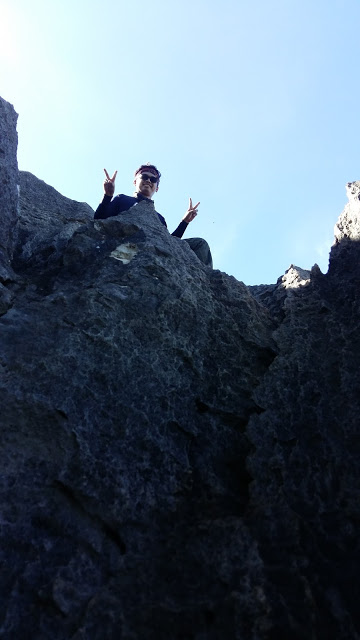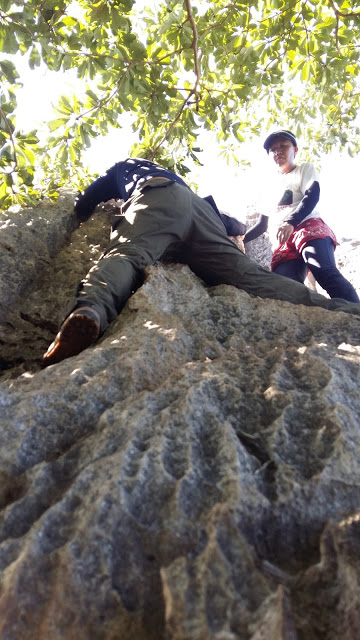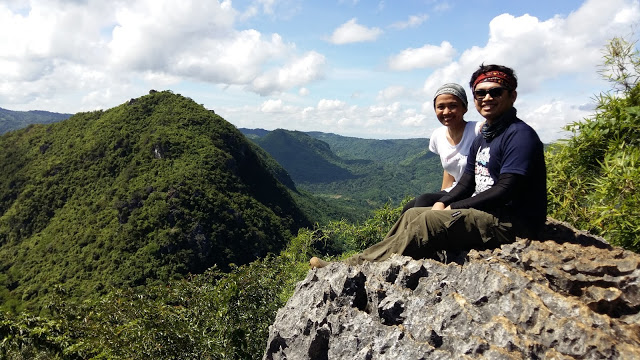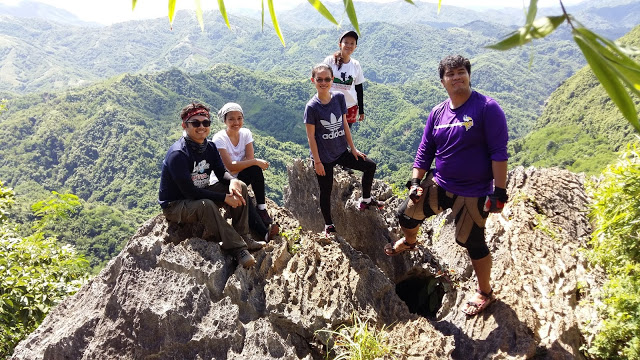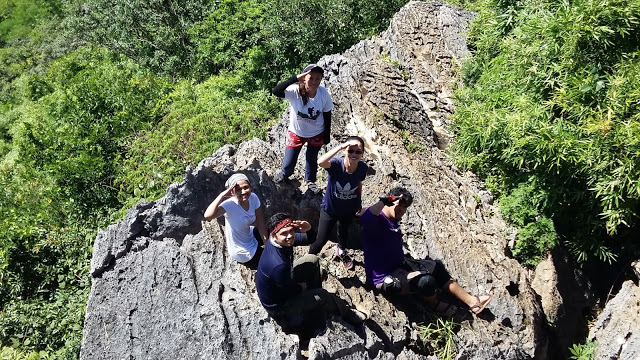 Kuya Albert asked us to climb another rock for a good view and of course another round of selfie. While sitting on that rock we saw an eagle freely flying. That was a priceless reward of making it on top.




How to go There
In front of Jollibee Farmers in Cubao take an FX bound to Rodriguez/Montalban, Rizal.
Tell the driver to drop you in "Eastwood" (not to be confused with Eastwood, Libis hehe)
Take tricycle to DENR in Brgy. Wawa. Note that the tricycle cost Php10.00 each, Php60.00 for special trip. There are also jeepneys but as I saw it its very seldom.
Register in DENR and get a guide.
If you want to get our guide and experience the unlimited picture taking, you may want to contact Kuya Albert Dalida 09296681671/09302863558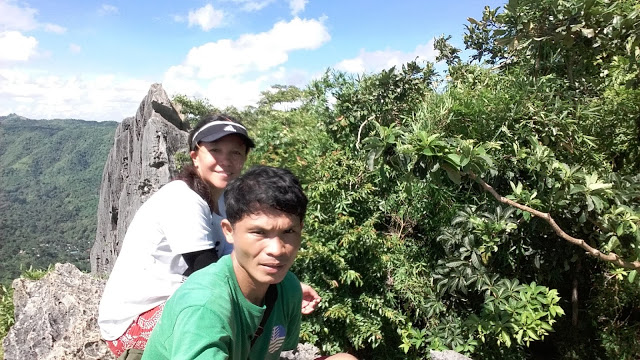 Expenses
Transportation

Cubao to Rodriguez/Montalban, Rizal (Eastwood) – Php50.00
Eastwood to Brgy. Wawa – Php10.00 to Php60.00 (Special Rate)
Brgy. Wawa to Eastwood – Php10.00 to Php60.00 (Special Rate)
Eastwood to Cubao – Php50.00

Guide Fee – Php500.00 per group
Registration Fee – Php50.00each
Brgy. Wawa Donation – Php10.00 (any amount)
For a group of 5 person
Transportation – Php124.00
Guide – Php100.00
Registration Fee – Php50.00
Brgy. Wawa Donation – Php10.00
Food – Php100.00
TOTAL – Php384.00