Six years ago when I visited Bangkok during my Indochina Trip, I saw a T-shirt in Chatuchak Market with an emoji equivalent for Bangkok, Chiang Mai, and Pai. Bangkok was a frown, Chiang Mai was a smiley and Pai has a bigger smile. That T-shirt was like telling me that it's a big mistake I am in Bangkok and that I should head to either Chiang Mai or Pai. Fast forward today, I found that T-shirt emoji to be true. So much true!
I wasn't expecting a grand vacation in Chiang Mai. All I wanted was to discover whats in this old city, experience its culture, meet new people, eat food, eat more food, eat much more food then rest the night with a bottle of beer or tea. Basically, just to relax and unwind. Aside from the fact that I will do something life-changing in Chiang Rai, a city 3 hours away from Chiang Mai, all I want to do was to just make the most out of my vacation.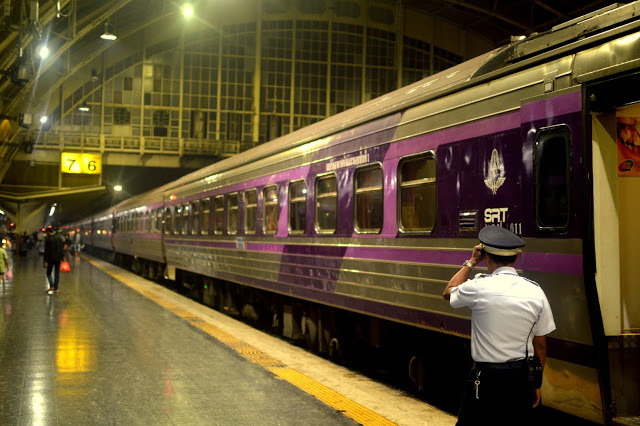 Located in the mountainous north of Thailand, Chiang Mai is a major tourist hub in Asia. 700 kilometers away from Bangkok, tourist and backpackers all over the world found themselves in either 12 hours comfy train ride or in a 9 hours bus ride. Some choose to fly to Chiang Mai from Bangkok. We choose the first and we never regretted the decision. Thailand has a pretty comfortable train system that cost slightly higher than buses but still, I would say that it is affordable. You may want to visit Thailand State Railway website to book your ticket.
Chiang Mai is my happy place. There are a lot of reasons for me to go back and I will never ever get tired of telling people why it is my happy place. The city has this vibe that will make you just wants to linger in its coffee shops or in its road riding a bike. It's such a pleasure to just walk or bike around its walls (old city wall) touching it and talking to it. Along your way, you'll encounter street foods that will satisfy your tummy for a less than a dollar. Then if you want dining, Chiang Mai has a vast number of good restaurants that offer an affordable and sumptuous meal. Temples are scattered inside and outside of old city. All of them are not just tourist friendly but also a living place of worship for the locals and pilgrims.

On the day we arrived in the Chiang Mai, we immediately fell for it. Our cameras automatically clicked when we arrived in Ta Phae Gate. The gate is a replica of Chiang Mia's glory from the time it is hailed as the capital city. Ta Pae Gate would set your experience in Chiang Mai. It is considered the main entrance to the old city.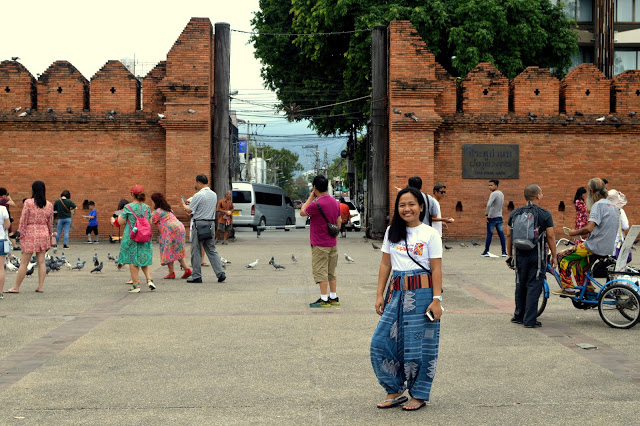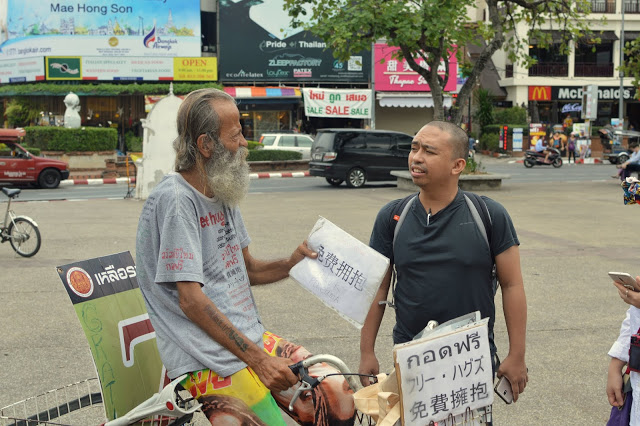 We met a man in Ta Pae Gate that holds a sign "Free Hug" – we talked to him and I realized that it was a great way to welcome us in Chiang Mai. Is it not?
We entered the old city and found a place to eat after a long walk. It wasn't an accident that we walked like almost 40 minutes to find Kat's Kitchen – the restaurant that almost gave up my love for my own country's cuisine. Their food is simply the best I've tasted in Thailand. It was so good and very affordable. The first bite was like a first kiss – hot and tender. It rained while we were eating in Kat's Kitchen. The heavens gave us a moment to ponder about life lessons, decisions we must choose, struggles in life and more travel plans, of course. This is what you get when you combine folks in their late 20's and mid-30's – adulting.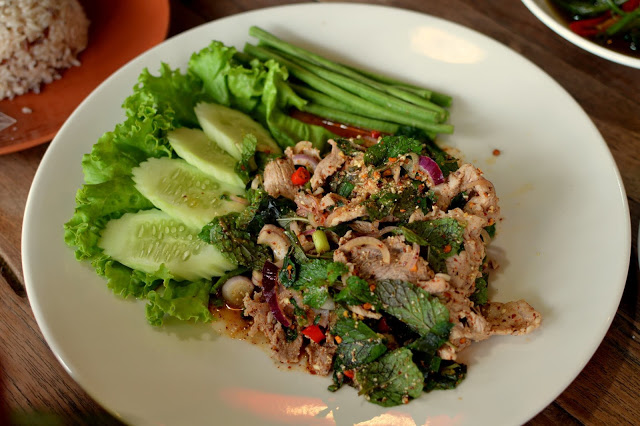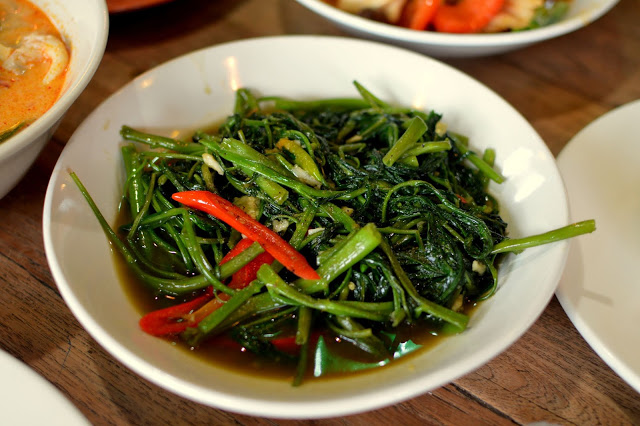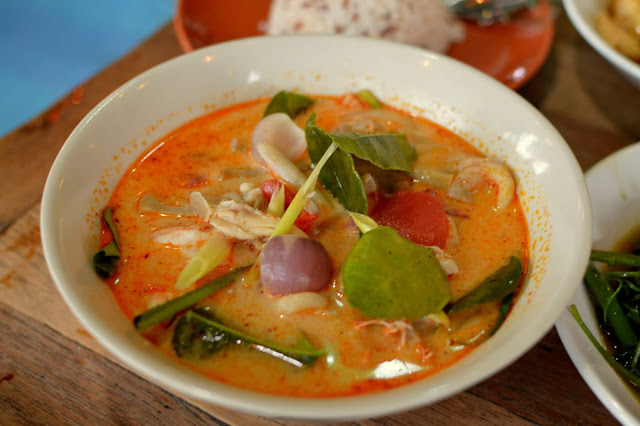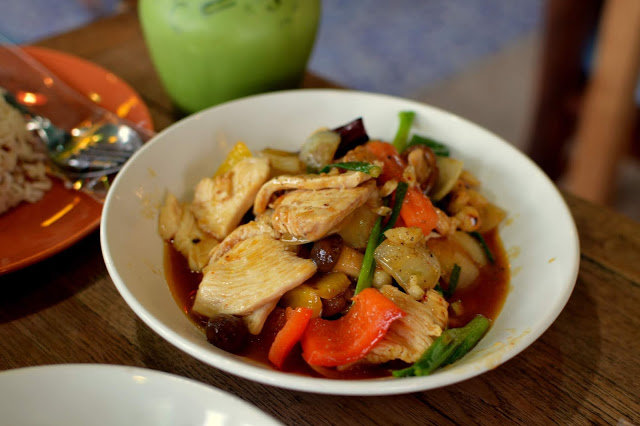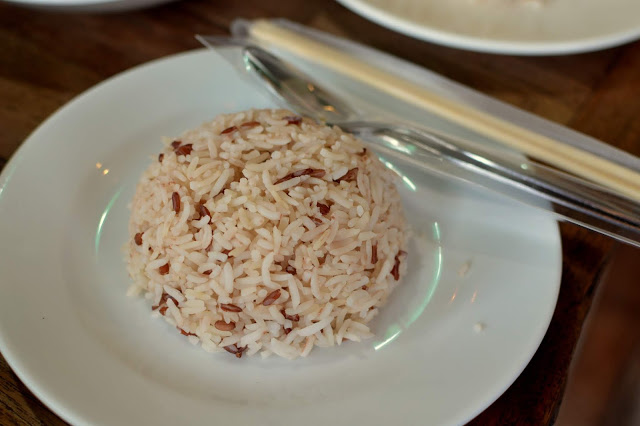 Rem and Lana splurge some time in a bookshop in front of Kat's Kitchen while I and Claire stayed in the restaurant to just talk. It is becoming a habit for Lana, my fiancée to buy books in the language and script of the country we are visiting. Specifically, she will look for "The Little Prince" and it must be in a very good condition before she buys it after an hour of choosing among the stock which is better. Rem almost bought the whole shop if only it accepts credit card. We cannot spend a lot of Baht because the exchange rate at that time was very expensive against the peso. We walk further inside the old city while we enjoy the cool breeze of the lazy afternoon – thank God for the rain. We found an interesting shop while we were walking, a massage house with a lot of parasol, a humble art gallery that also sells souvenirs, a lot of coffee shops and fruit shake stand, stupas in almost every corner and most of all, a lot of people both locals and foreigners – that made me think of coming back by myself to just explore all the possibilities inside the old walled city.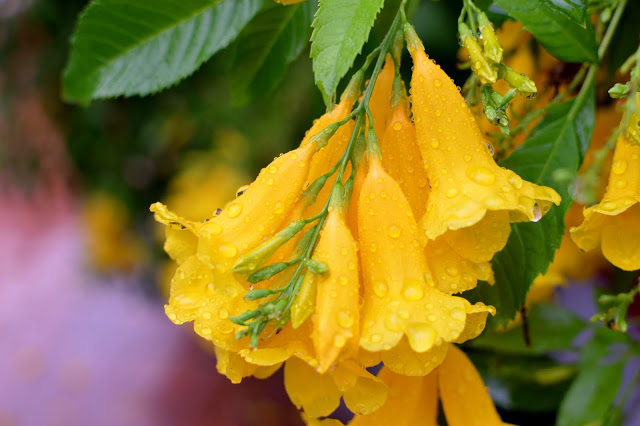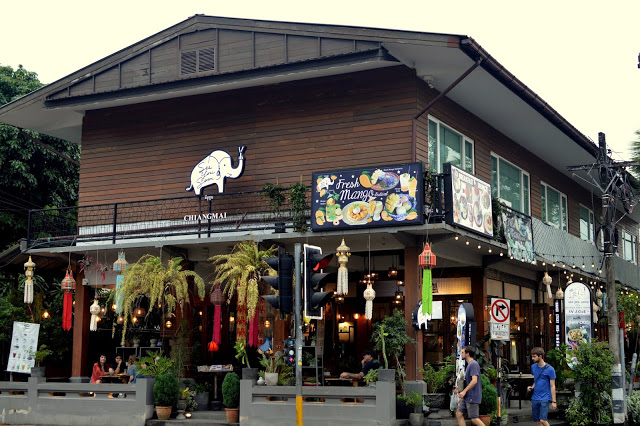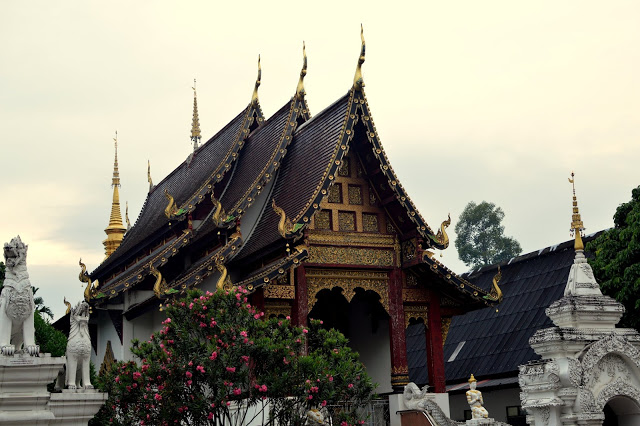 As we walk along narrow streets and in between compact structures, we often stop just to linger to a spot or scene that brings joy to our hearts and brings festivities to our eyes. A quick stop to a temple with a long name in Thai script, a group of students crowding a cheap but delicious street food – where they mistaken me to be an Indian… mehhhh, an automatic click of our camera in front of an oriental boutique hotel and adoring the seamless line of coffee shop made the walk lovely. We didn't even notice that we were tired until we felt that we had to stop. After walking for so long, my soles decided to rest in a cozy coffee shop just right after the sunset. I was glad that the group heed to my call. We made a supposedly quick stop in Chiang Mai Coffee Bean to rest and drink some caffeine to keep us awake till the night. The idea of just resting in a café in Chiang Mai seems very rational and obligatory. The couch and free Wifi plus, sometimes, the good music will make you stay if you are not in a rush. You will betray your hard thought itinerary when you start chilling in the cafés of Chiang Mai so make it an open itinerary if possible.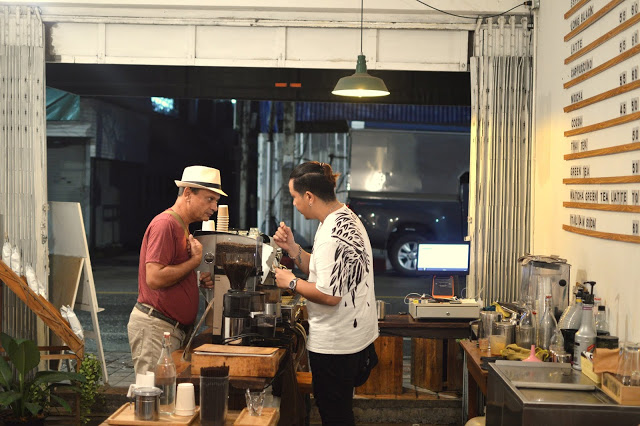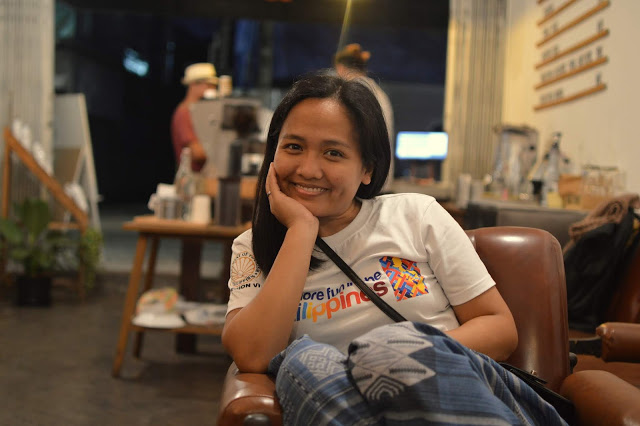 In Chiang Mai Coffee Bean, we had another round of talks – gossip, lies, dreams, frustrations, hopes, anger, and love – with friends and loved ones you cannot be not yourself. They are not your friends if you cannot play around with tales, people's circumstances and comment about others – you only do that in front of real friends, and that is just between you. If you cannot speak your mind and if you are not comfortable telling your most weird tales, well then you do not have the relationship I have with my friends. That's trust in the deepest way.   We booked a grab to splurge ourselves in the famous Chiang Mai Night Market for crying out loud. People listen to what I will have to say. If you are doing Bangkok – Chiang Mai VV and you plan to shop till you run out of money, because according to your friend shopping is great in Thailand, DO IT IN CHIANG MAI AND NOT IN BANGKOK!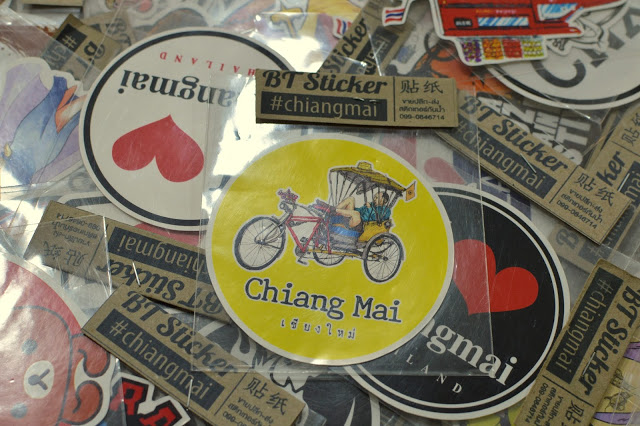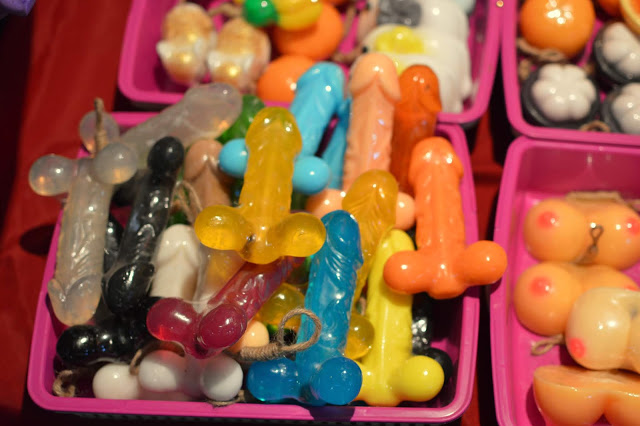 Bangkok is a big city where everything is so expensive. In Chiang Mai, it has the rural vibe but is still a city with great people selling you goods as a souvenir or a present back home. It is cheaper to shop in Chiang Mai and I must say, they have better selections there.
If you're looking for more details about traveling to Bangkok on a budget, you may check out this Bangkok Travel Guide with DIY Itinerary to help you plan your trip. For three straight nights, we were doing shopping in Chiang Mai. My best buys are the comfortable pants with an elephant design (it's very common though in SEA and in India) and tea leaves from Chiang Rai. I love my Rose Tea 😊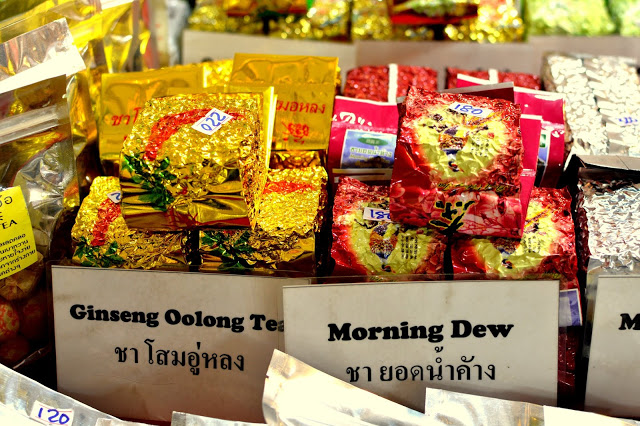 Next day we decided to just hang around while we were waiting for our friends Pau and Billy to arrive. I, on the other hand, decided to do a tour of my own. I wanted to bike, but the heavens poured its might once again. Lana wants to join me in biking around Chiang Mai but the rain and uncertainty that she knows how to bike in an open road stopped her.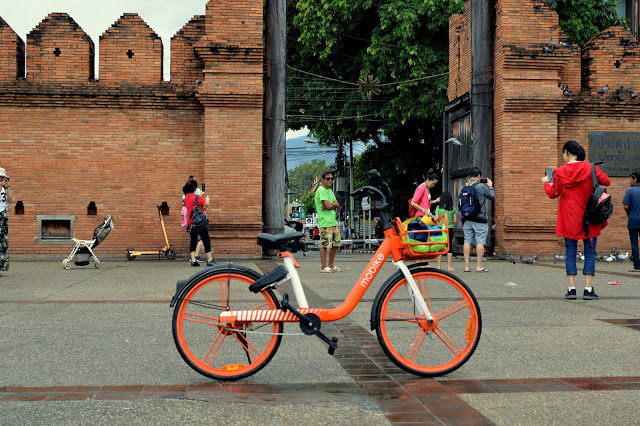 Armed with the desire to see more of Chiang Mai, I braved the wet road under my thin raincoat. I passed by shops and hotels crisscrossing the old city's alleys until I found myself in a Lanna Traditional House. I didn't enter the house, I just adored it from the outside by looking on its details and architecture.   During the 13th to 18th Century, Chiang Mai was under the Kingdom of Lanna, Kingdom of a Million Rice Fields. The kingdom, during its heydays, expands through Thailand, Burma, Laos, and even China. Due to some civil and government unrest, the kingdom vanished and remained in history books and museum. Lanna Architecture is one of the kingdom's treasure gift to our generation.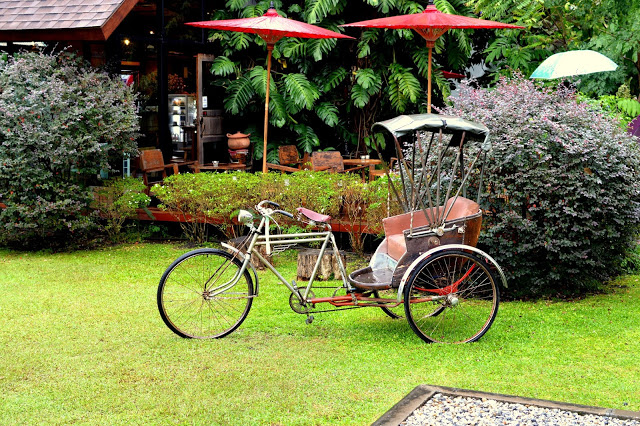 I continued pedaling on the wet road and heavens was still not forgiving. Despite that, I was having bliss with the cool weather and the calm the surroundings were giving me. In fact, the touch of the rain was very liberating. I was tickled by memories of my childhood and I felt like I was a child again playing under the rain! But the rain became unbearable. I had to stop somewhere or else my gadget will get soaked inside my supposedly waterproof bag. With coffee shop lining up on the street, I had no problem looking for a place to stay. I turned in one of the classic Lanna styled café and found myself hanging out there for the next 3 hours or so. I was assisted quickly by one of the staff in all her sweet smile. She's the supervisor, I learned afterward, and she exceeded my every expectation. She was very apologetic because their barista was not yet around and that they could not serve me a coffee. It was okay, I just ordered a milk tea.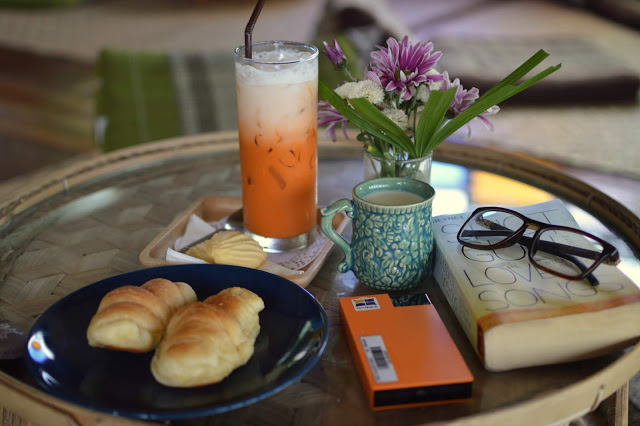 She ushered me into an area where I could relax, read books, browse the internet and most of all sleep – just kidding. The place allows you to sit on the wooden floor with soft mat comforter, spread your legs and relax your head. It was an extra special moment because the rain was my natural music while I browse my photo and sometimes vlogging. The place hit me hard. I realized that I would be selfish if won't bring my friends there. I did, twice. Just like me they love it there. We created deep memories while laughing and learning at each other's stories. I wonder how many people did the same thing. A place like that was designed to have memories worth telling to other travelers so that they will experience what we experience there. My milk tea arrived. And I thought they mistaken my menu inquiry, they brought me other stuff like bread, cookies and soy milk. They said it was free and I do not know why – I really felt some gladness. I smiled and for some reason, I felt the genuine hospitality of the Thais. On my third visit, this time with my friends, while we were waiting for the train's departure time back to Bangkok, the lady supervisor gave us each pineapple cookies for free. She even told us that we can do it too in our homes because it is so easy to make. No matter how easy, the gesture was a nice goodbye. I will never forget that lady in Baan Buri Café. Chiang Mai will always be a happy place for me.



Travel Tips:
How to go to Chiang Mai – Chiang Mai can be best reached by Train. You can book your tickets in advance in Thai Railway Ticket. They will email you the actual train ticket that you will have to print. It is best to book your ticket 2 weeks before your travel dates. Upper berth is a little cheaper since most want to buy the lower berth.
Accommodation – Our home for 3 nights was in Lanna House. It is 2 minutes away from Ta Pae Gate. Very accommodating staff, even if we have a language barrier. They will help you with all your needs. We paid like USD25 per night for 2pax.
Transportation – Tuktuk is expensive for tourist. Since we six in the group, we are using Grab Taxi which operates very efficiently in Chiang Mai. Once you click book, it won't take more than 5 seconds for the app to look for a taxi. Since we are six in the group, Grab is much cheaper than Tuktuk. If you are alone or only 2, you need to have good haggling skills.
Currency – Obviously, the money you will use in Chiang Mai is Baht. There is a lot of currency exchange in Chiang Mai. There are also ATMs where you can withdraw cash. They will not accept dollars like what they do in Cambodia.
Food – Urggghhh. I love Thai food. Their food is spicy but some restaurant will ask you if you want it spicy or not. There's a lot of restaurant in Chiang Mai ranging from THB40 to THB100 per order and it is for sharing. It is cheap to eat in Chiang Mai I must say. Like what I have said above, you don't want to miss Kat's Kitchen inside the old city. They have the best Thai food! Click here for the map
When to Go – I don't know with your preference, but you might wanna skip the festival month like April for Songkran Festival (Water and New Year) and or course November for Yi Peng Festival (Lantern). If you want to join these festivities you have to book in advance. Generally, for Asia, December to February is the peak season.
Places to Visit – There is a lot of places you can visit in Chiang Mai. From temple's to extreme adventure to eco-adventure (Elephant Tours), you can do it all in Chiang Mai. We decided to just do temples and exploring the old city. Plus we head out of to Chiang Rai, a city 3 hours away from Chiang Mai and is home to the famous White Temple.
Places to Visit in Chiang Mai
Old City

Activity – Sightseeing
Fee – Free

Ta Pae Gate – Main Entrance to the Old City. Known as a site for many community events, this preserved city gate dates back to ancient times.

Activity – Sightseeing
Fee – Free

Wat Phra Singh – 14th-century Buddhist temple boasting gold & copper Buddhas, murals & ancient manuscripts.

Activity – Sightseeing. Prayer.
Fee – Free

Wat Chedi Luang – Temple complex with a partially crumbled 15th-century chedi & a pillar believed to protect the city

Activity – Sightseeing. Prayer
Fee – Free

Lanna Architecture Center

Activity – Sightseeing
Fee – Free

Chiang Mai Night Bazaar

Activity – Shopping. Eat.
Fee – Free. Depends on your budget.

Doi Suthep – 5,499-foot mountain featuring trails through evergreen forests & a picturesque, hilltop temple.

Activity – Sightseeing. Prayer.
Fee – THB30.00
How to go – By Grab. THN300-400 per way