Doing a food and historical trip in Cavite is not a bad idea. I mean, seriously, Cavite is just an hour away from Manila but I haven't written a lot about it except for the notable places like Corregidor and well Tagaytay City. A food tour in Cavite was new to me, although I know that each province in our country has something to offer with great pride, Cavite cuisine just doesn't ring a bell. Well about history, I know that there was a republic in Cavite during the post Spanish Era. President Emilio Aguialdo was born and raised in Kawit while Gat Andres Bonifacio was killed – okay just to be historically consistent with our tour – Gat Andres Bonifacio was executed in Maragondon Cavite.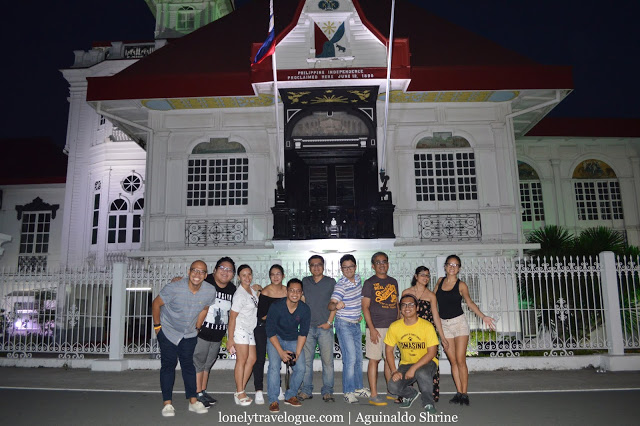 One thing about this Food and Historical Tour was I was able to see the beauty of Cavite – not just your option for middle to high cost housing – through my eyes and tummy. Yeah for the tummy 😉 If you have not seen my pictures on this blog, well I am wearing an eye glasses for a clearer vision of the most majestic views of our surroundings.

I was wearing my Transitions® XTRActive® Lenses although out the tour and holla the tour was just as perfect like the weather that day!


Malen's Restaurant, Noveleta Cavite


Our first stop was Noveleta, Cavite for our breakfast in Malen's Resataurant. This restaurant is not just your ordinary restaurant and event place in this part of Cavite. This restaurant is as historic as the food is appealing and mouthwatering. The owners of the restaurant is a direct descendants of General Pascual Alvares who is one of President Emilio Aguinaldo's allies during the revolution up to the first Philippine Republic.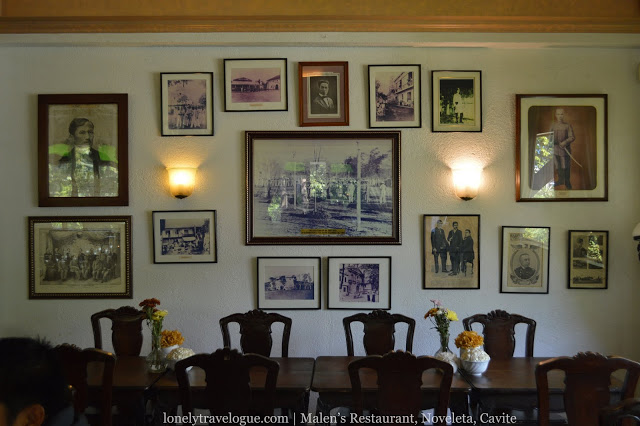 Our breakfast feast was named after one of the faction or chapter of the Katipunan – the Magdiwang Breakfast. This breakfast treat was not your overly complicated breakfast meal rather its the simple Filipino breakfast served in our homes. Wow!!! The smell of the tinapa was so good. When I saw our table full with appetizing food I knew it was a complete treat!


We were served with savory Tapa, rich Imus Longanisa, salty-goodie Tinapa, creamy scrambled egg and the heavenly ensalada.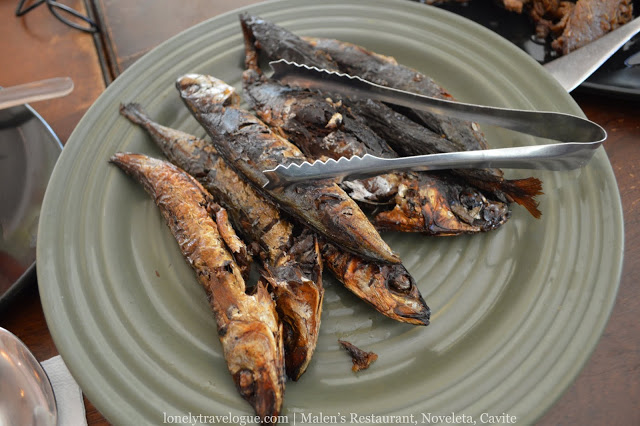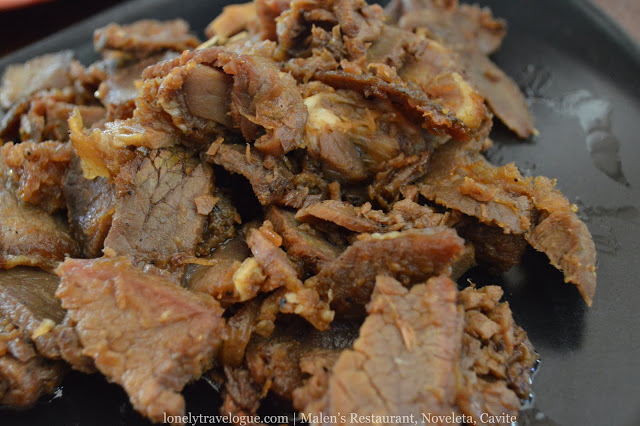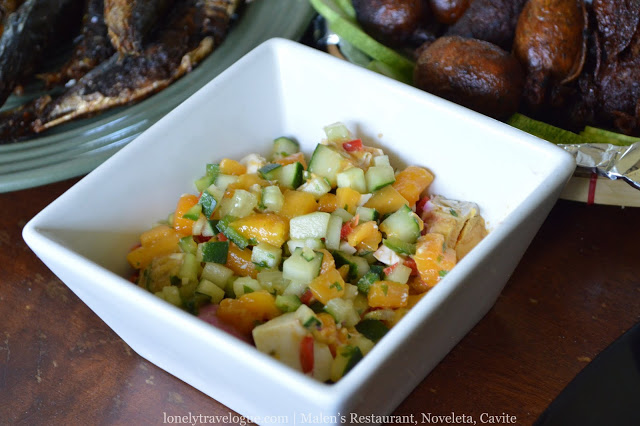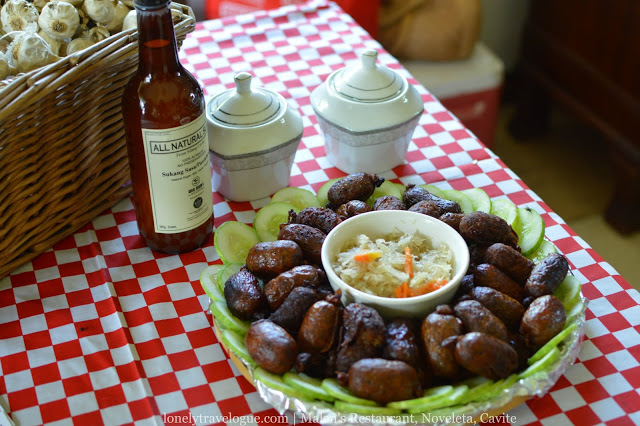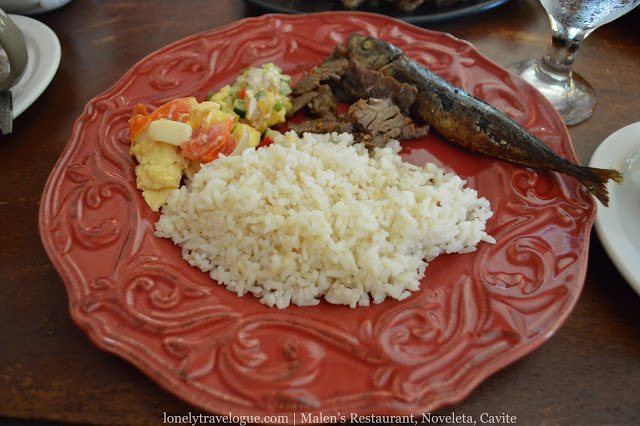 My Magdiwang Plate Magdiwang breakfast is not just a treat in the palate but also a historical journey through food. While enjoying your Magdiwang Plate you know that you are sharing that humble breakfast with the Aguinaldo's, Alvares' Bonifacio and the rest of our forefathers who fought for our freedom.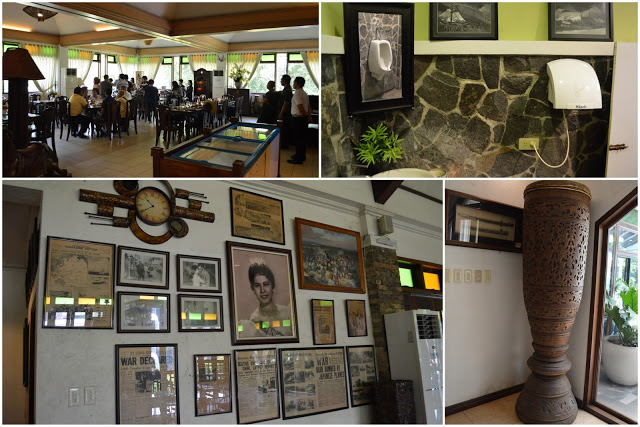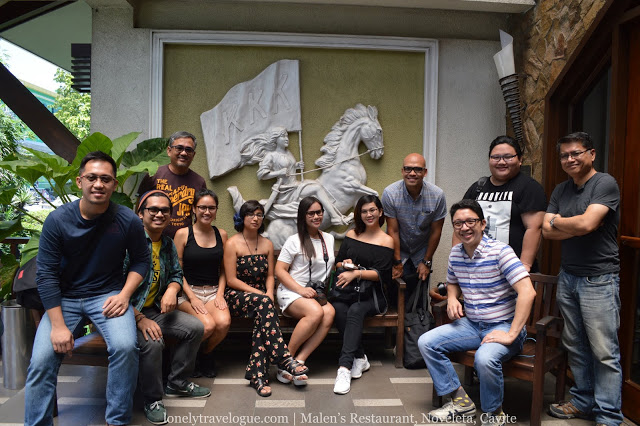 Kakanin Food Demo in Naic, Cavite


Our next destination was the quaint town of Naic, Cavite where we tried some of native delicacies of Cavite. These delicacies are made from what our curator described as the 'crops of oppression' namely rice, sugar and coconut.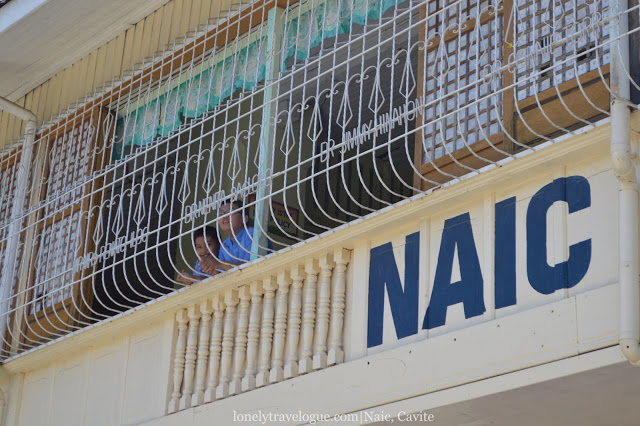 Actually most of the native delicacy or kakanin in the Philippines are made from these ingredients. Of course you make out of what you have in your backyard and whats in the market. In our case its rice, sugar and coconut.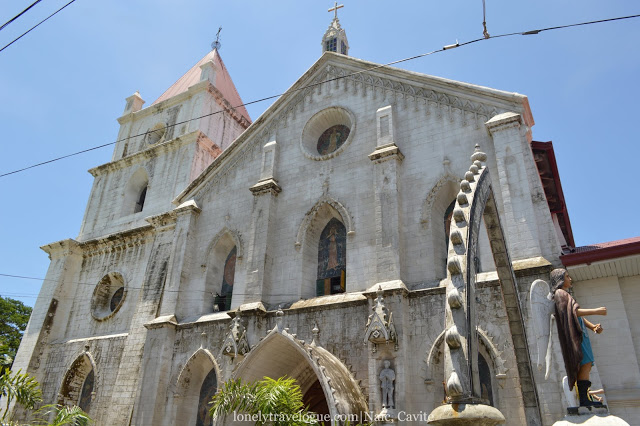 Shrine of the Immaculate Conception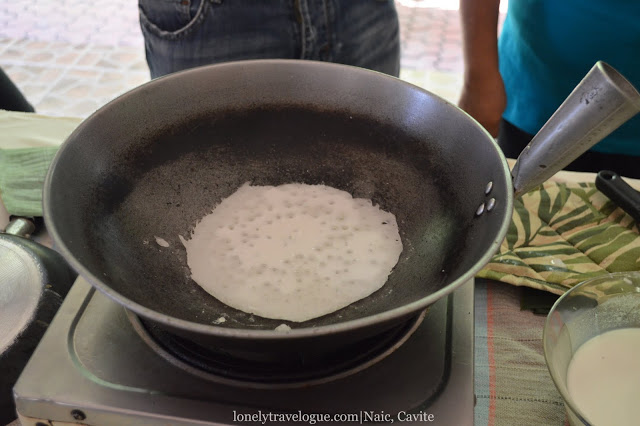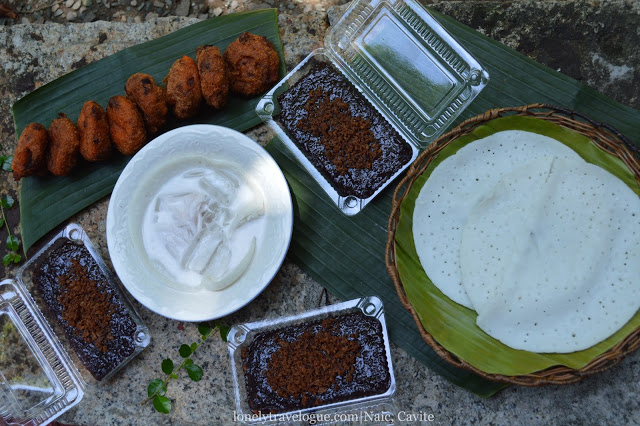 We were able to watched a cooking demo of how to make Sinudsod inside the gate Shrine of the Immaculate Conception. The base of this delicacy is completely made of rice, sugar and coconut. They add some ingredients like gelatin, ice, milk and others to make it more appealing and appetizing. Sinudsod is made cold with ice to complement the tropical temperature that we have. Cool isn't? Not just adding value but making it global I guess.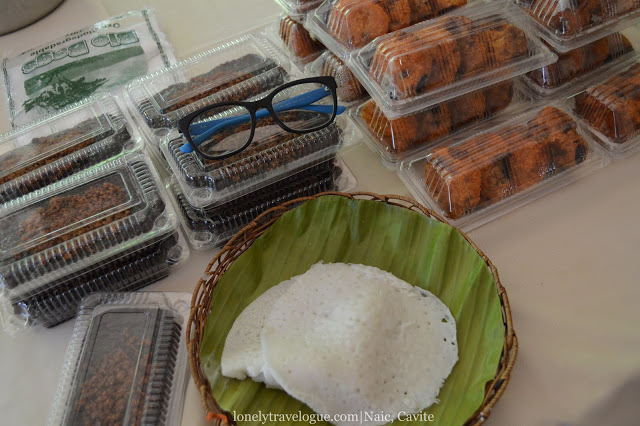 Sinudsod and other delicacy with my Transitions® XTRActive® Lenses Casa Hacienda de Naic Steps away from the Shrine of the Immaculate Conception is the Casa Hacienda de Naic where Andres and his brother Procopio Bonifacio were incarcerated during the Revolution. Under the stairs which I assumed was then a bartolina, you will find the life-size statues of Andres and Procopio Bonifacio badly wounded and exhausted.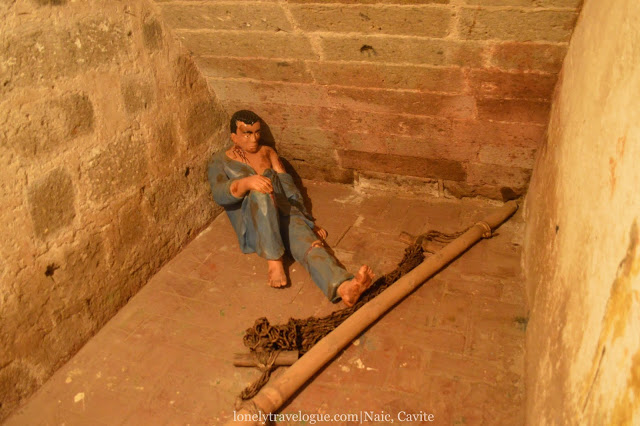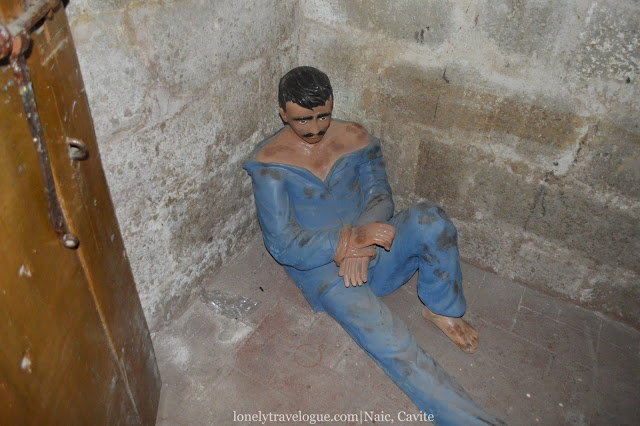 Procopio Bonifacio   Casa Hacienda de Naic is now the Naic Elemnetary School. The very site itself where the Bonifacio brothers were incarcerated is solemn. I felt a little sad that its just like that without any distinct care from who ever it would be. Andres Bonifacio is the father of the Revolution if I may just say. Nevertheless the student in Naic Elementary School are all studying with a great hero under their stairs.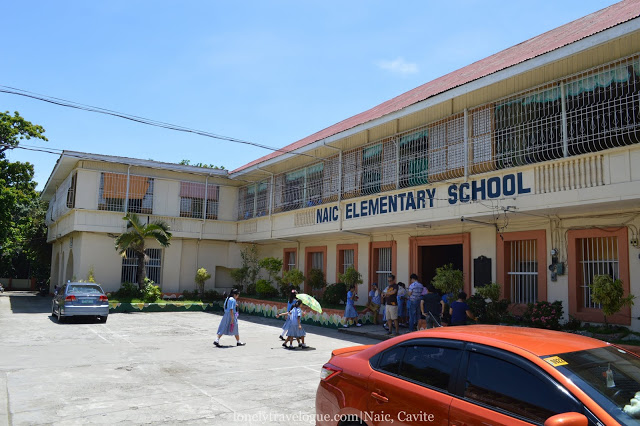 Our Lady of Assumption Parish


Since we were already out in the sun talking about Andres Bonifacio we dug more about his life by visiting the Bonifacio Trial House in Maragondon, Cavite. But before we proceed to the Trial House we pay visit first to the Our Lady of Assumption Parish. T


he sun was really out at its peak at that time good thing though we were all using our Transitions® lenses which respond directly to the intense heat of the sun by changing its colors to protect out precious eyes thus giving us convenient sight seeing. The Transitions® XTRActive® lenses also blocks 100% of UV rays, offering comprehensive protection for my eyes! Great isn't?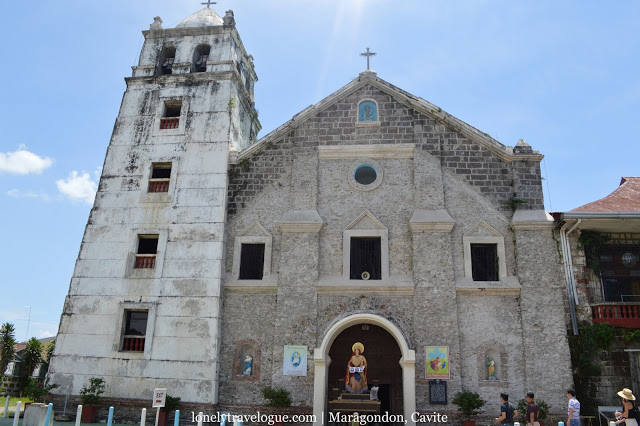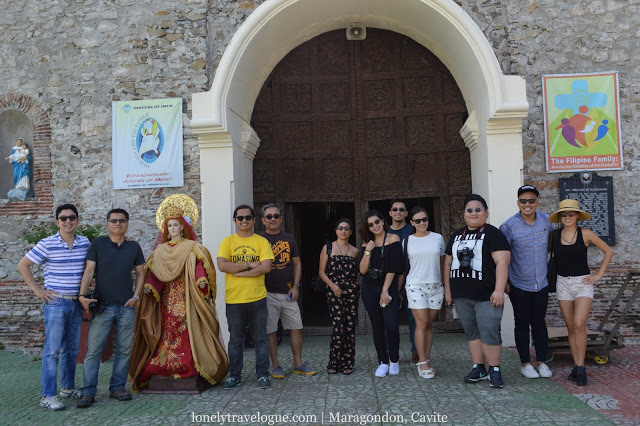 Bonifacio Trial House
Just meters away from the Church is the Bonifacio Trial House or the Bahay na Pinaglitisan Kay Andres Bonifacio. It was a beautiful house owned by Teodorico Reyes that was built on 1889. The house is witnessed to one of the first and greatest political downfall in the Philippine History. The house was converted into a museum that talks about the life and downfall of Andres Bonifaio.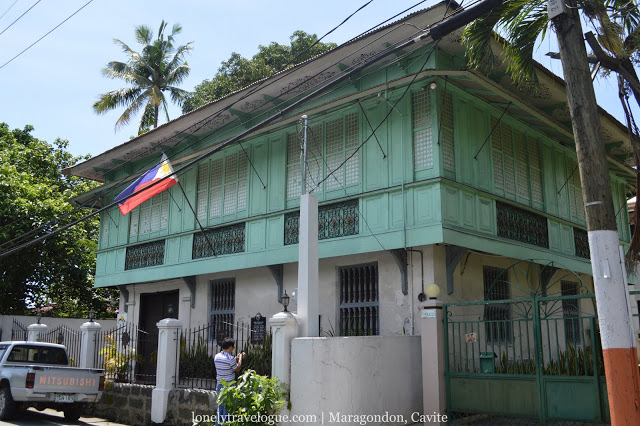 Ige Ramos our proud Caviteno Curator with his Transitions® Signature® Lenses I do not know if it was just me, but I felt a little ashamed and sad when I get out of the museum. I pondered the life and the circumstances during the time of Andres Bonifacio. We were taught that Andres Bonifacio was the father of the Revolution, that he is a great hero worthy to cancel classes and work on his Birthday – Nov 30, thank God for the double pay for BPO workers – that he is worthy to be named after a big commercial area – BGC but why is he killed not in battles or in the hand of our colonizers? He was killed by his own brother in the Katipunan. Talk about greatness, Aguinaldo prides himself as the first and youngest to be president ever. I was though in my Sibika at Kultura days that Aguilando was one of the greatest hero because he raised the flag as the President of the Philippines on June 12, 1898. But why we Filipinos now accused him of killing Bonifacio – thanks to Heneral Luna. The museum curator said that Andres Bonifacio was executed because he was sentenced to death by firing squad by Aguilando together with his minions then. Oh he even said that Aguinaldo did not want to pursue the execution but the council who are much mature and maybe wise that they had to execute Bonifacio because he was a threat to the Revolutionary Government of Aguinaldo.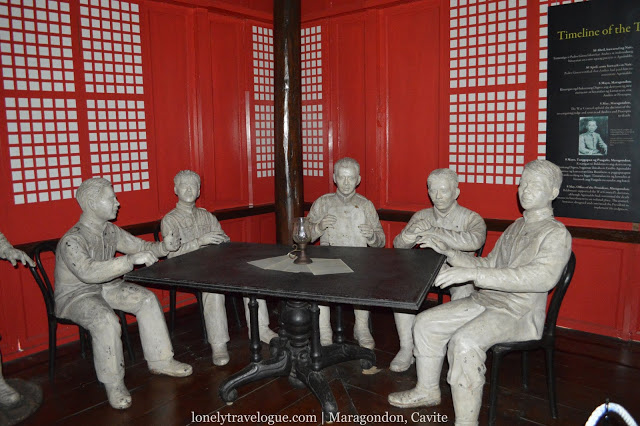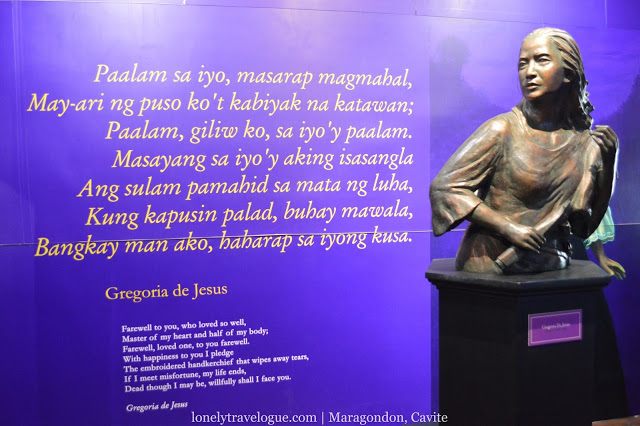 My big question is, if that was a legitimate Revolutionary Government operation why in the world they had to lie to Bonifacio that they will help him escaped in the mountains? Bonifacio could not do anything because the government has the people and soldiers to execute an order.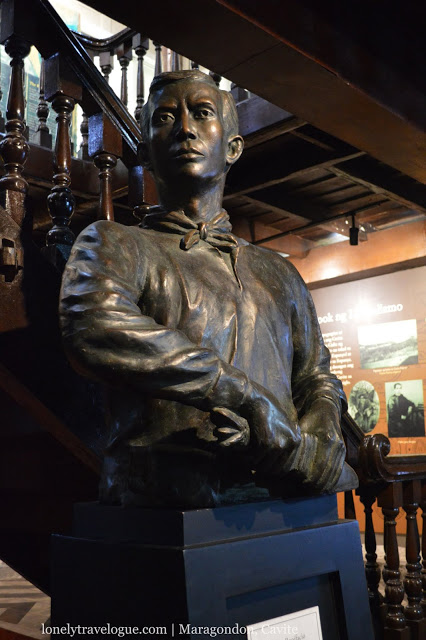 Oh so much for history and lots of whys. We traveled to Tanza, Cavite for our late lunch at Calle Real. This was another treat for me because the restaurant is a century old house. It is the ancestral house of the Tahimic Family of Tanza, Cavite. It was a sumptuous lunch at Calle Real.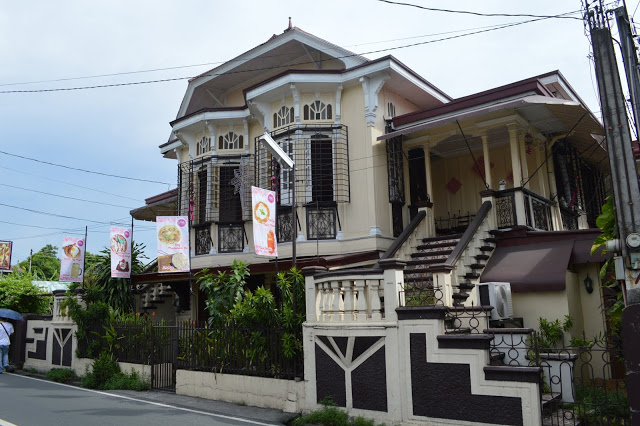 Our lunch at Calle Real was superbly delicious. The aroma of each dish will make you full even without touching it. The food arrangement is a masterpiece for the eyes.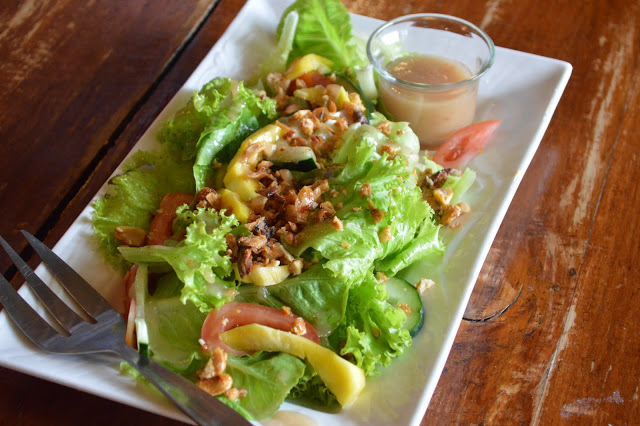 Dried Pusit Salad with Tamarind Patis Sauce


Our first treat was Dried Pusit Salad with Tamarind Patis Sauce. I tell you this is to die for! The sauce is not your usual vinaigrette or mayonnaise but a little bit salty sauce. It goes perfect with the crunchy lettuce and peanut brittle. I will go back for this salad. Its one of a kind.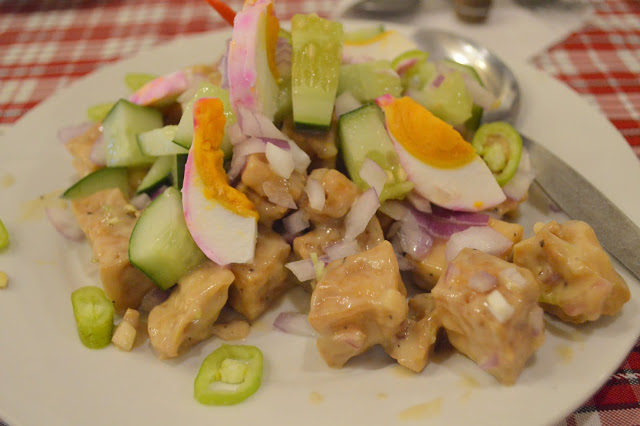 Tokwa Sisig with Lemon Mayonaise


For appetizer, we had a healthy treat from this Tokwa Sisig with Lemon Mayonnaise. I am sure Aling Lucing of Angeles, Pampanga would not mind if Calle Real made a little twist with their pork face sisig. This one taste really good with its Lemon Mayonnaise sprinkled with green chilli and salted egg.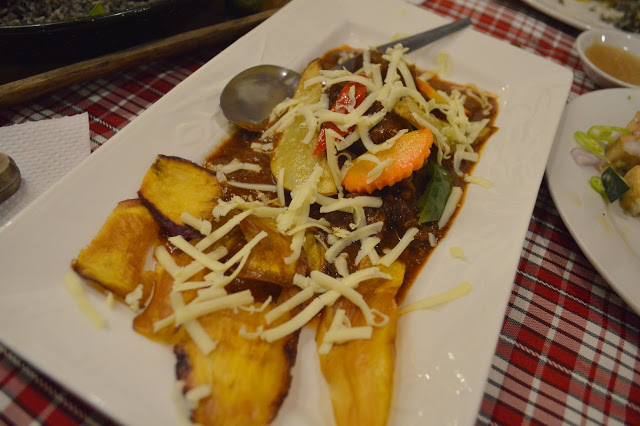 Beef Caldereta with Camote Chips


For the main course, we had an all-Filipino favorite Beef Caldereta with Camote Chips. I like my lola's caldereta but this one also suites my palate with the creamy sauce an tender beef cubes.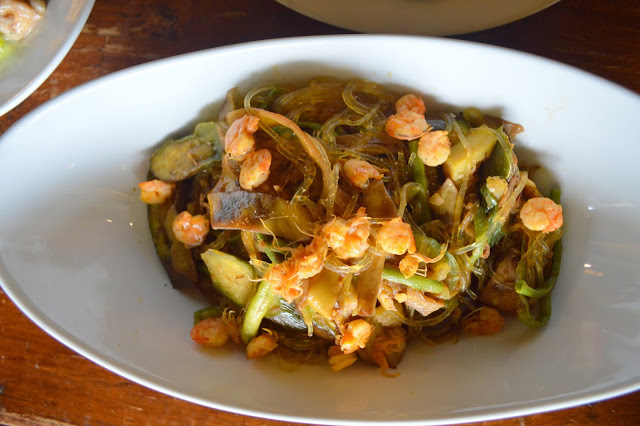 You may think of Calandracas as the Cavitenos version of Pansit, well almost every place in the country has its own version of pansit. But this one has a story to tell. Calandracas is a popular food during the funeral. It is made of everything that you can think of. There is no uniform ingredients.


We were also served Paelle Negra and Crunchy Pork Binagoongan.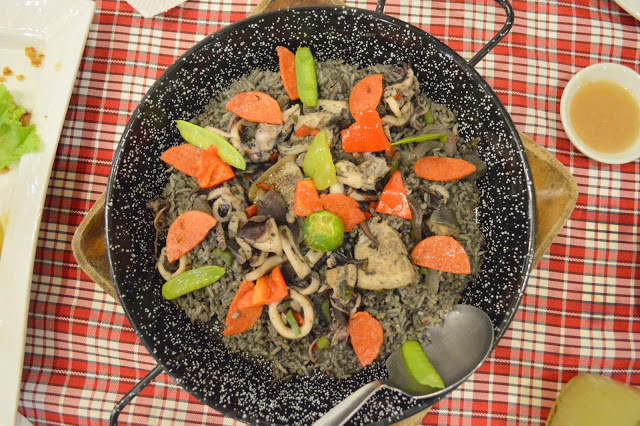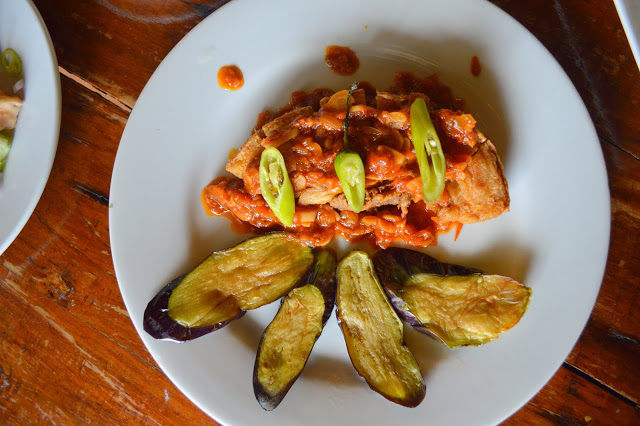 Crunchy Pork BinagoonganPink Table Cafe by Calle Real Upstairs was a paradise for girls, girl at heart… and for boys also. Pink Table Cafe is a place to chill and unwind after you busy tour in Cavite. They serve Brewed Coffee, Churros and other local pastries like Sopas Tanza.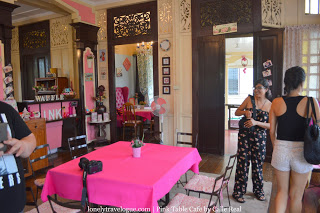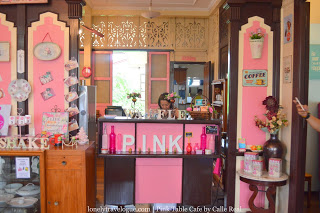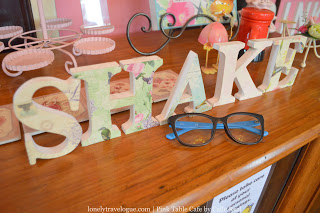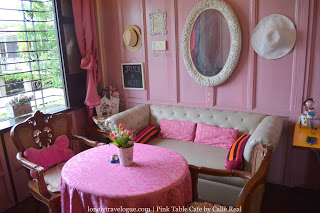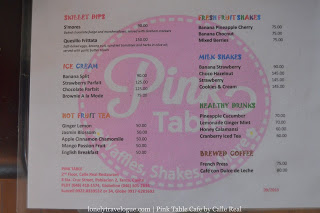 Pink Table Cafe by Calle Real Menu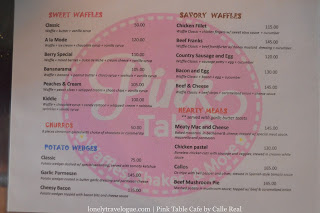 Pink Table Cafe by Calle Real Menu Aguinaldo Shrine Our last stop was the ancestral house of the first president of the Philippines – the Aguinaldo Shrine in Kawit, Cavite. Aguinaldo is the price of Cavite. Cavitenos are proud that they raised an Aguinaldo who became the youngest president at 28 years old.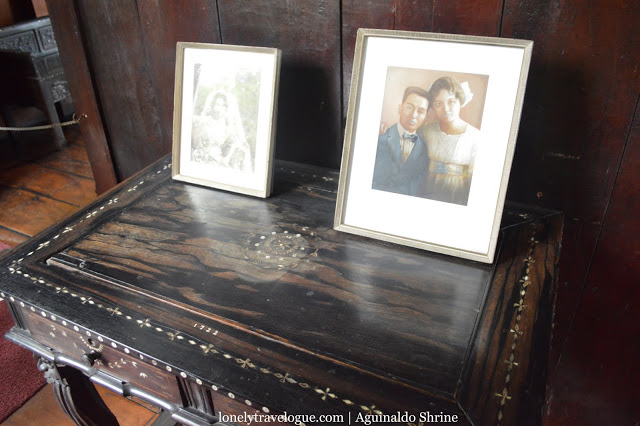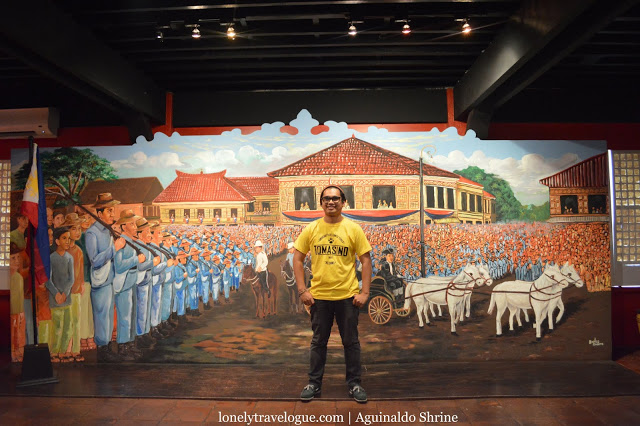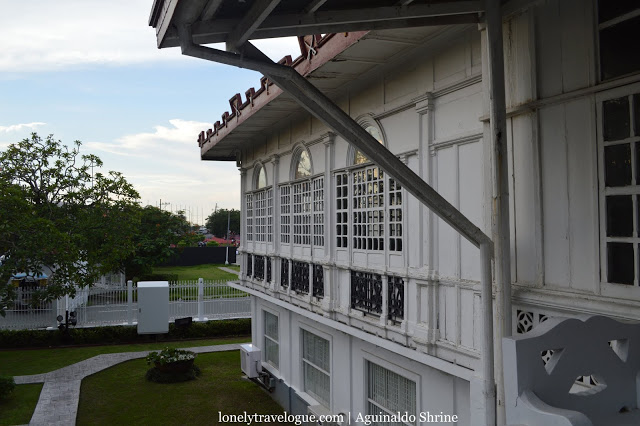 Walking inside President Emilio Aguinaldo's house was like walking in a palace. Its grandeous and full of glory. They even have a pool connected to Emilio Aguinaldo's room and a bowling lane. Each piece is made of hand and hardwork. According to the shrine curator many scuplture were given by artist in Pampanga.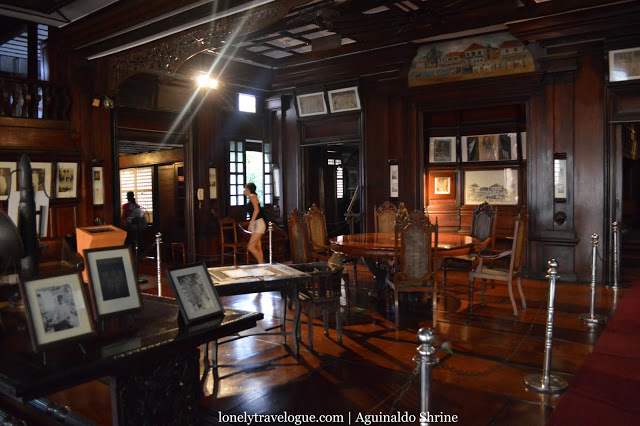 Most of the interiors and passage was designed by Aguinaldo himself. There are secret passages that would made you thnik that Aguinaldo is a paranoid general. You cannot blame him though given the . circumtances that time.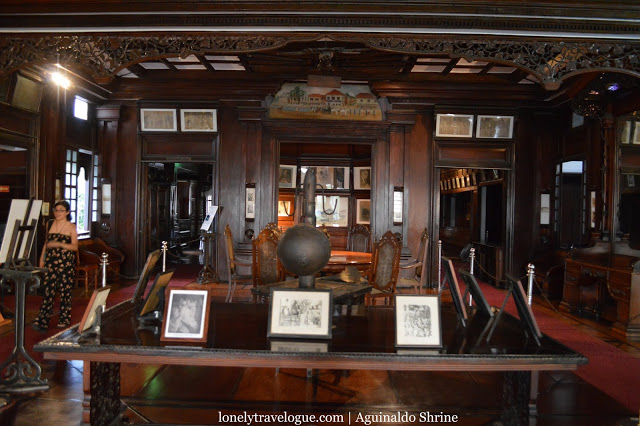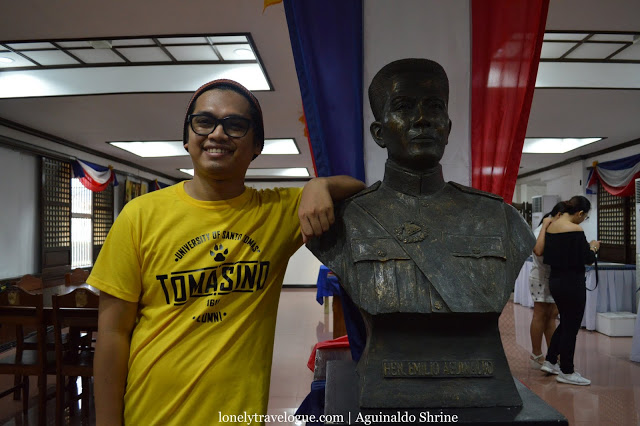 lonelytravelogue with the first president of the Phlippines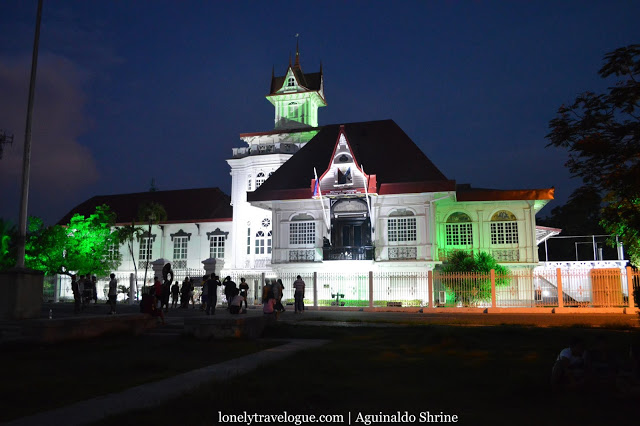 Aguinaldo Shrine This trip did not just gave me a clear vision of my surroundings – thanks to Transitions® Opical, it gave me a walkback to my past with clear and presise context of history. Its not just about food and our story, its actually about us and who we are as a nation. I am just thankful that I was given the oppurtunity to see #LifeInTheBestLight with my Transitions® XTRActive® __________________________________________ Transitions® Opical is the leading provider of plastic adaptive lenses to optical manufacturer worldwide. For this trip I was using Transitions® XTRActive® lenses which maintain a comfortable hint of tint indoors and reach suoerior darkess outdoors. I got my Transitions® XTRActive® lenses in George Optical at Glorietta 4, Makati City.