Summer is not complete without a beach get away bonding with my friends and new friends. This time our feet brought us to Masasa Beach in Tingloy Island in the Province of Batangas. This island, though far from what I have expected gave us a story for our summer. A beach experience in Masasa that is far and new from the previous summer I ever had. It is correct, every summer has a story – our story of friendship and adventure in Masasa Beach in Tingloy Island has that special spot in my heart.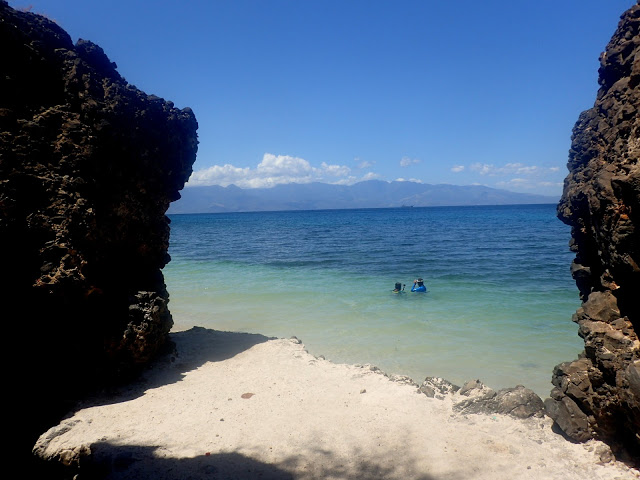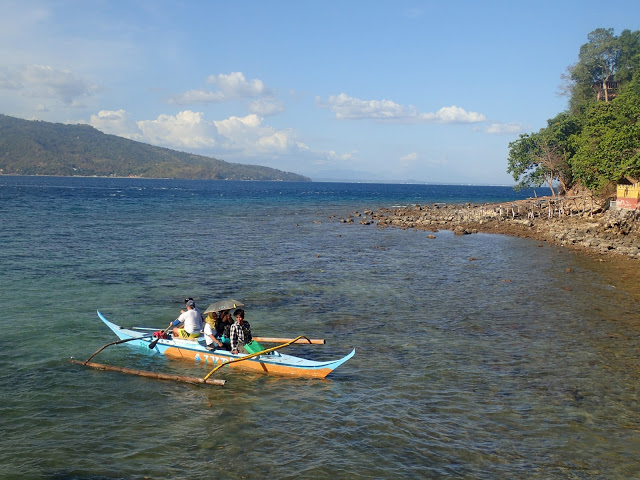 We were trapped in a heavy flow of vehicles with folks looking for their own summer in Bauan, Batangas. Too bad we took the wrong road going to Anilao Port where the boats going to Tingloy were waiting for us. For readers planning to experience Tingloy Island using their private vehicles, take Lipa then Anilao to escape the traffic in Batangas City.
When we reached Anilao Port, we immediately run to the market to buy our food for our beach camping. As the organizer, I hired a local in Tingloy Island to cook for our group of 14. We provided all the ingredients and paid the cook Php1,300 for the service.


It's a beach camping but I opt to hire a cook because I want us to enjoy the beach 🙂


After an hour or so of boat ride we reached Tingloy Port and I was mesmerized by the clean water of port. Usually ports would have polluted water because of the boats and people living in the area. It reminded me of Siquijor Island and Cuyo Island.


We took a tricycle immediately because we were all hungry for food and all that summer experience.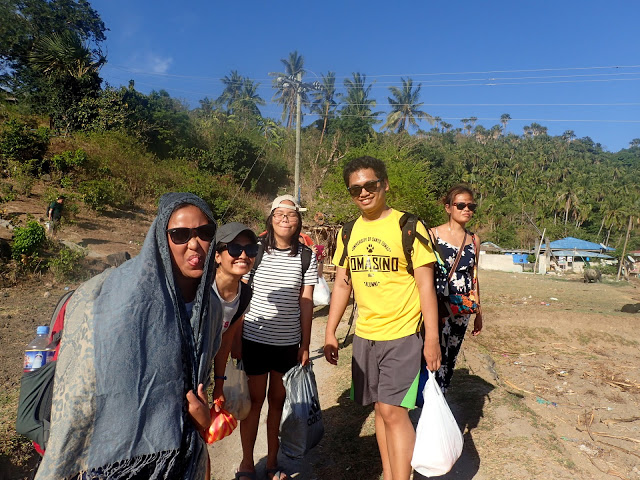 After 10 minutes of walking under the sun in the middle of dry rice fields, we reached the beach and I felt a little disappointed by what I saw.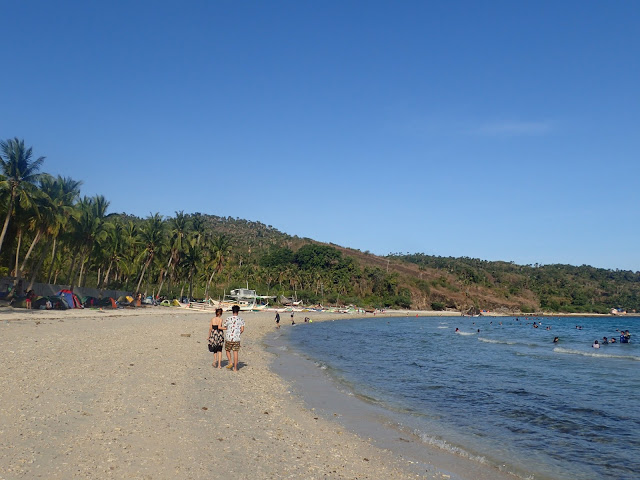 Tingloy is a public beach. Nobody will ask money from you when you pitch your tent on the shore. Because you are not paying anything, the beach is not maintained by the local government of Tingloy. If they do, its not evident with all the trash on the beach. I somewhat appreciate Calaguas and other semi developed beach destination because even though there are fees, the beach are clean and maintained.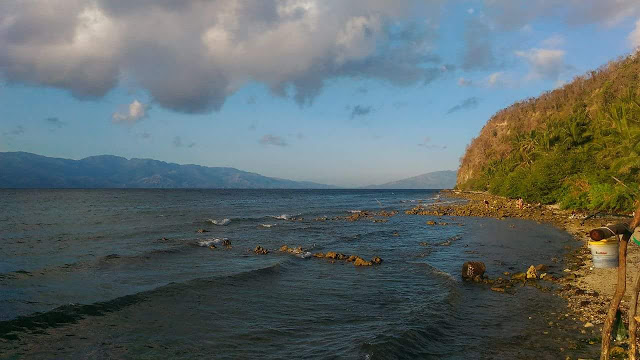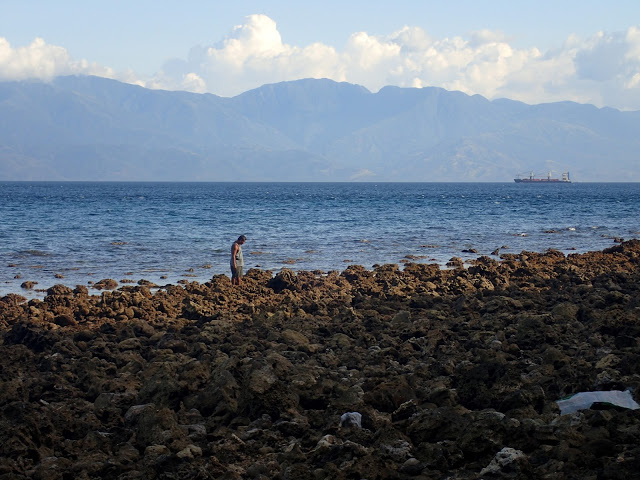 What we did in Tingloy was we rented a kubo so that our bags are secured while we beach bum till the next day. It was also an option for other participants if in case they do not want to sleep in the tent or on the beach. We were 14. 4 slept in the kubo that we rented, 4 slept in the tent and the rest did some star gazing and slept on the beach 😉 Isn't that nice? After we ate some spicy adobo squid courtesy of our cook, we pitch our tent on the beach and surveyed the area where we can swim.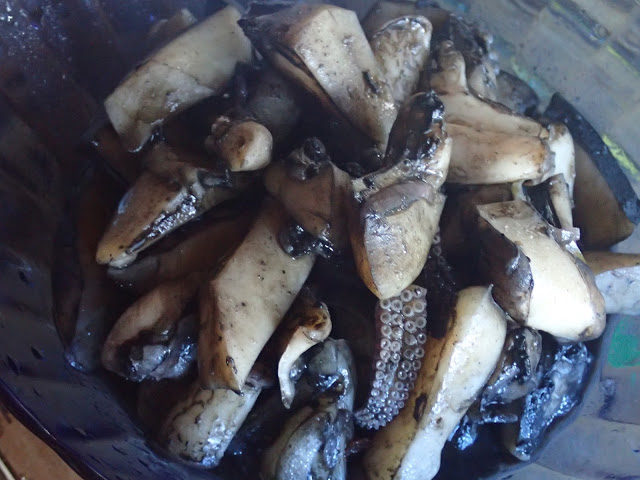 Our Lunch!!! There is something in Tingloy that you will love and you will hate. But overall, you will love it for sure. If you like rawness and character, Tingloy Island is for you. I said that I was a bit disappointed mainly because of the trash brought by the beach goers and also the irresponsible bonfires made also by the excited beach campers. We arrived in the afternoon and it was low tide thus the beach was not that inviting to bathe. We need to find a spot where in we can swim without hurting our feet with sharp rocks.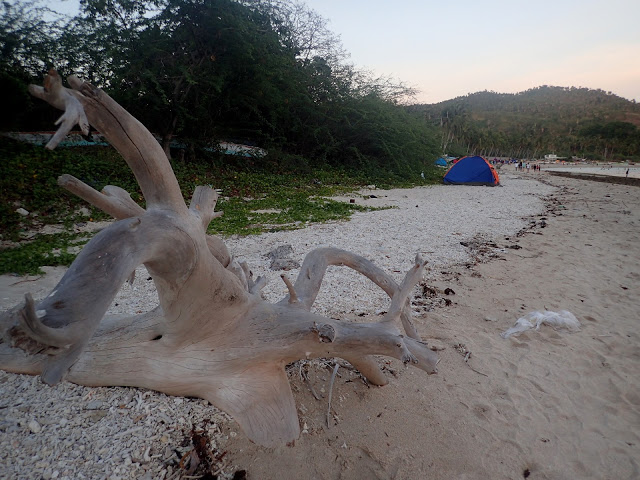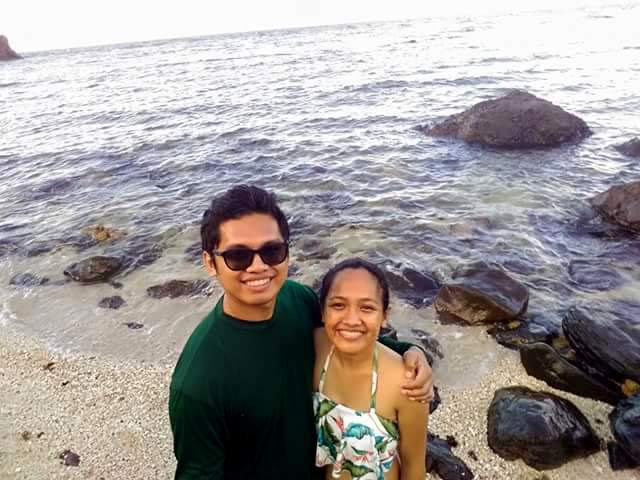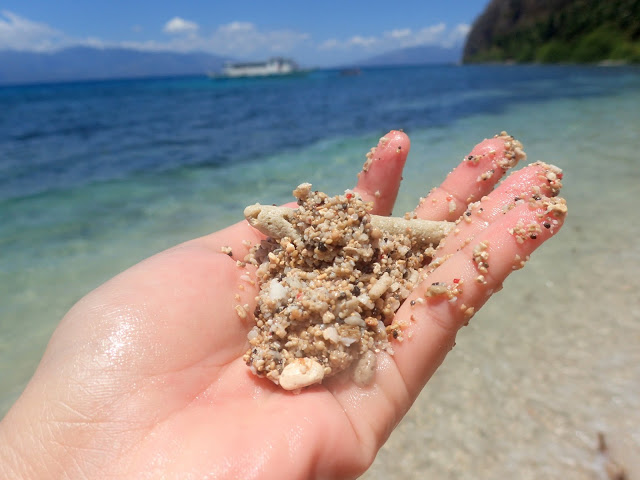 Nevertheless, we still find ways to enjoy our afternoon in Masasa Beach. We had our afternoon and night swim in Masasa Beach while playing with photos and laughing at each other. One of the things that made this trip a success was the fact that we had that spirit to enjoy as one group.


The best spot to enjoy the beach is at the center where most folks pitch their tents. Although there are a number of cottages and kubo readily available for beach goers, most people go to Tingloy with their tent. Everybody wants beach camping.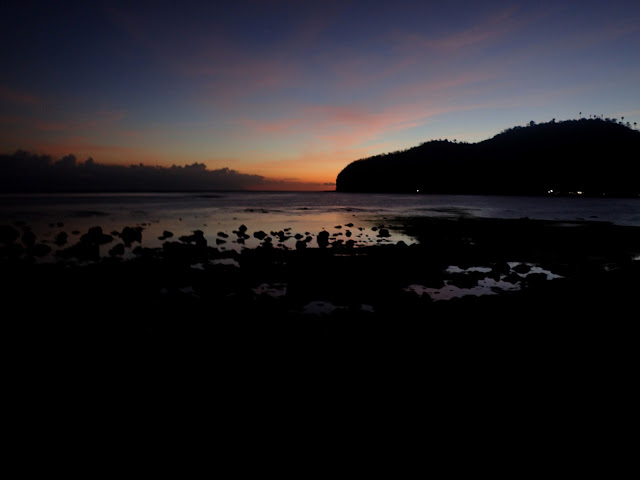 We swim till the sun said goodbye and the stars says hello.


We had a night in Tingloy! After our sumptuous dinner courtesy of our cook we had fun playing games on the beach. Oh and of course we had some liquors to flow the spirit further as the night was becoming ours. Later on we realized that we had the whole beach ours! We were the only group still actively laughing.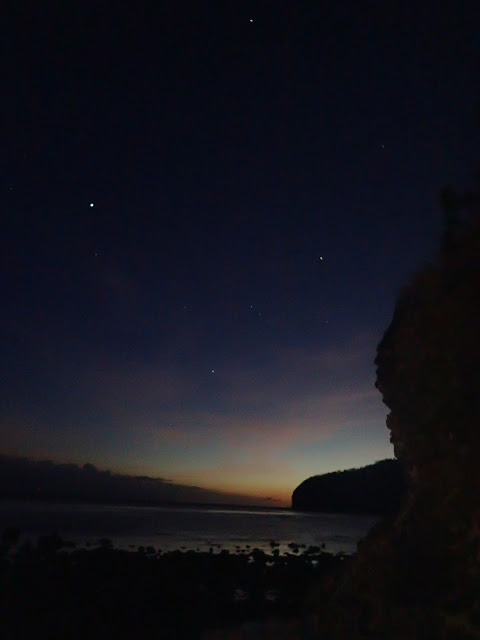 Finally the night ended for some but not for those who wants to lay on the sand and count their stars on the sky. It was a solemn moment with friends talking of their personal encounter with life and love and yeah… hurt.


Each start were like the tears of our heart burst to the world full of hatred and disappointments. But there will always be a shooting star ready to comfort you in all manner. Can you believe it, it was my first time to see a shooting star and I saw seven! Not just one but seven shooting starts!


They say that I should shut up when I see a shooting star and then just wish. But I was too thrilled to the point of shouting. So I shouted for every shooting star and never had a chance to wish. Maybe seeing seven of those is already a dream come true.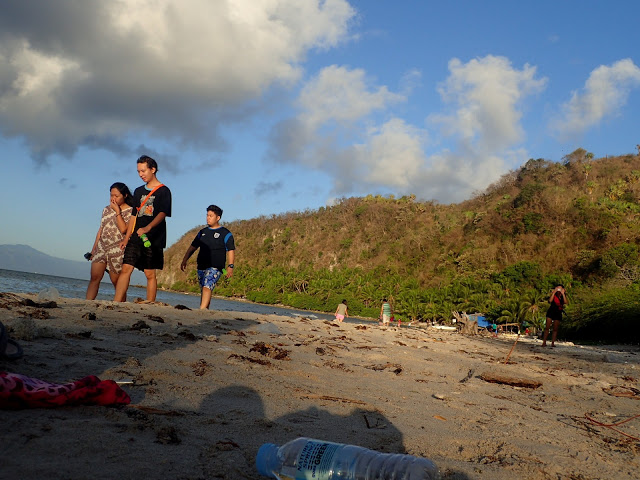 We found ourselves laying on the beach the next morning while folks were doing their own beach drama and locals doing their own thing to live in this thriving island.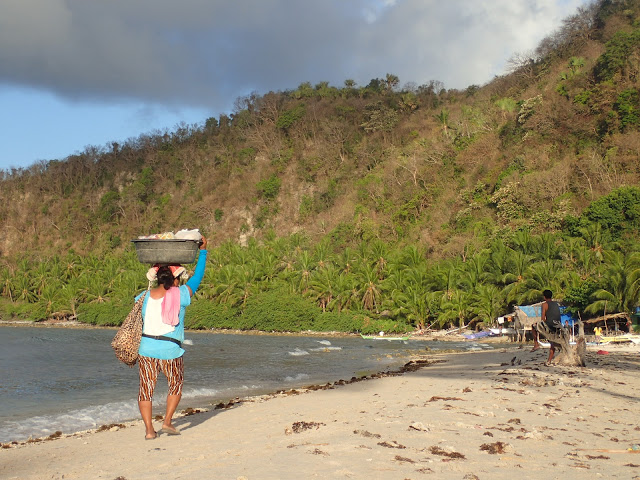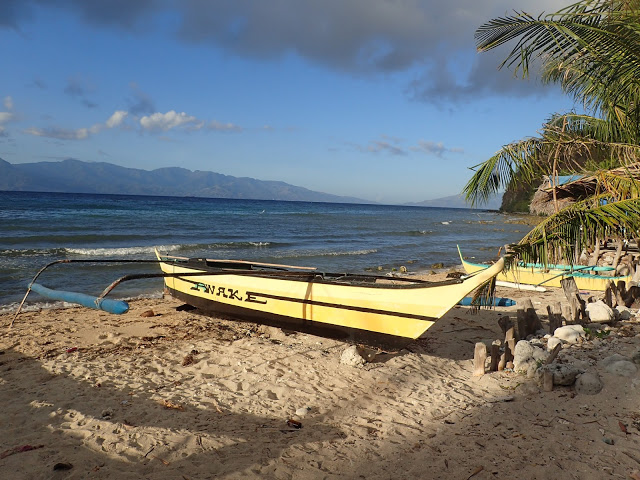 We had the option to climb Mt. Mag Asawang Bato but I don't want to get married soon so we declined the offer of the guide which by the way the husband of our cook.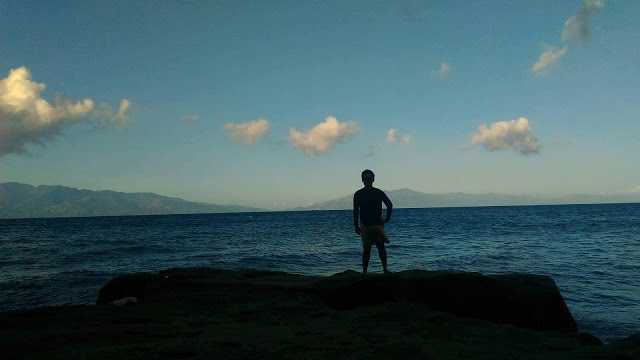 We did not regret it because we had a spot fully ours when we walked westward of Masasa Beach.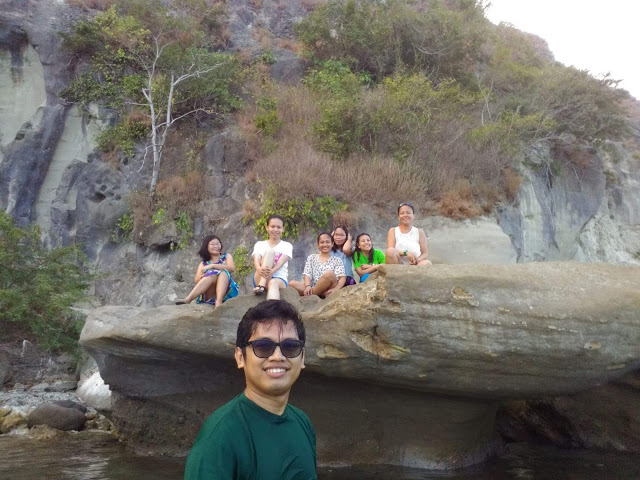 This rock above is a famous spot in Masasa Beach because of its pool-like shape. I guess you can even jump on the rocks down to the water when the tides permits.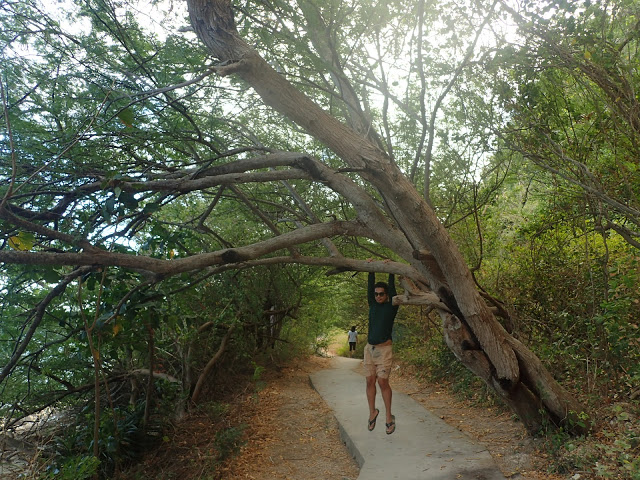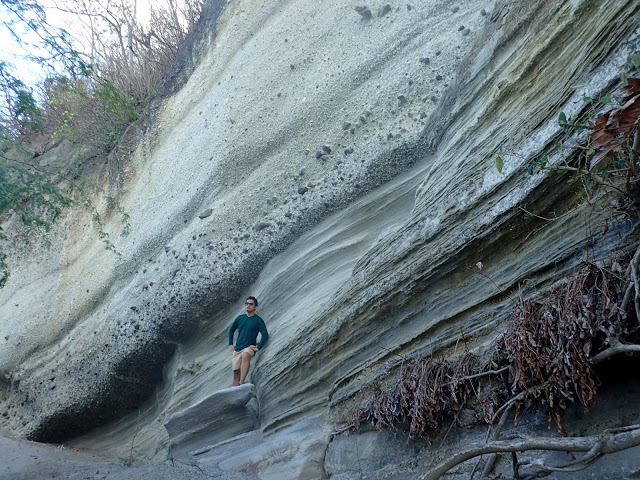 There are some areas which will mesmerized you because of its massiveness and detailed beauty. Like this picture above its like the mountain was split into two creating this awesome view. But I guess this was made by waters splashing on the walls. Whatever it is, its natural beauty made it picturesque and worthy of a selfie.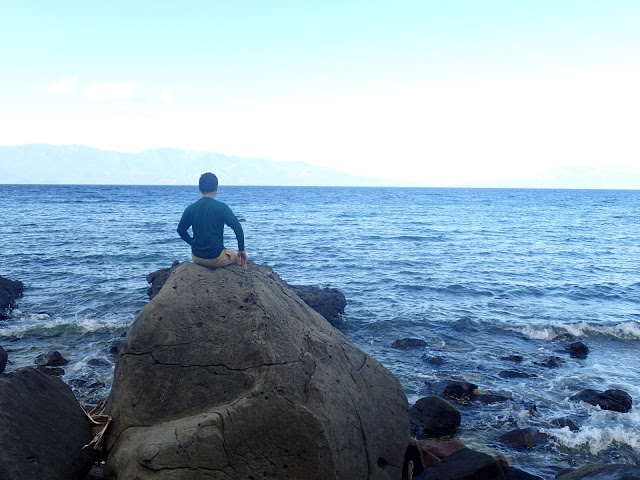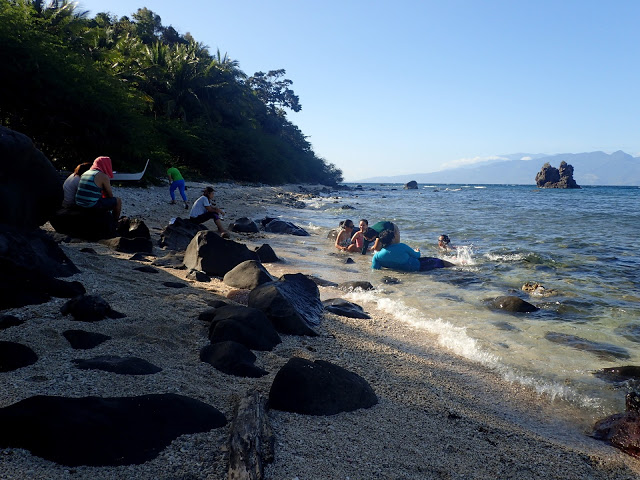 Finally we had our own beach free of other folks. There wasn't a word saying lets stop here. We gave in to the invitation of the waves and stones and breeze.


We went back to our kubo because our breakfast was waiting for us 😉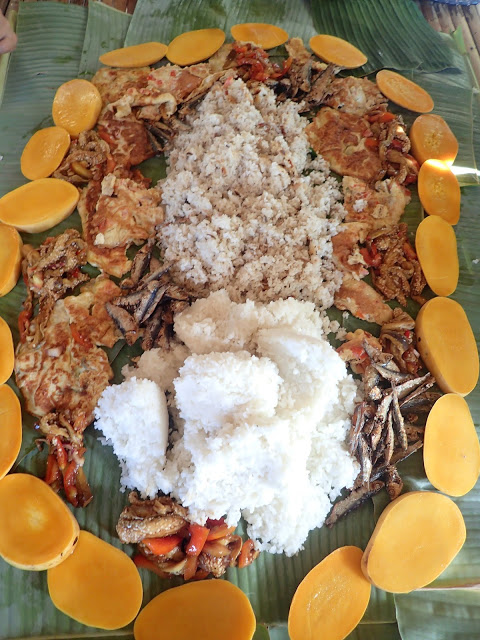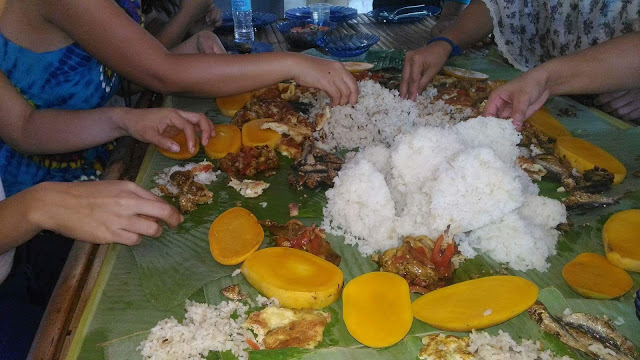 After the breakie… we head eastward to check whats in there. Its still a beach… much nicer sand and water.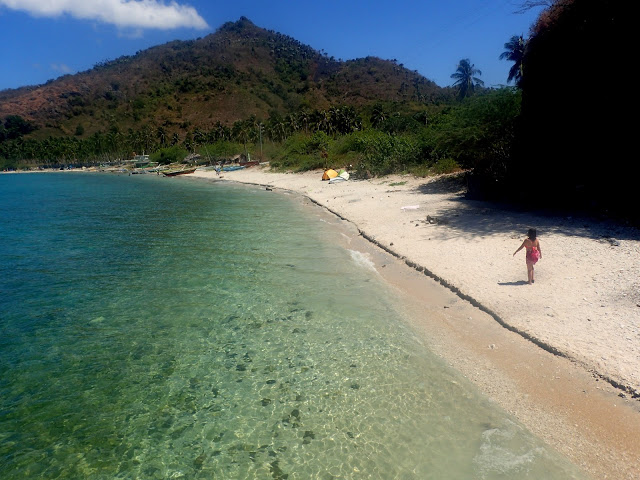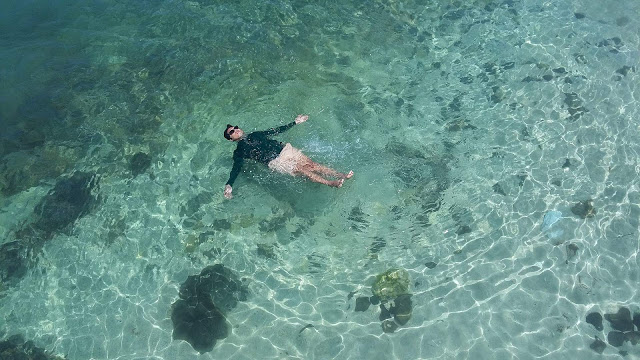 So that was our weekend in Tingloy Island. There is something in Tingloy that will make me comeback soon. Its rawness and character are its secret why its an awesome place to hide.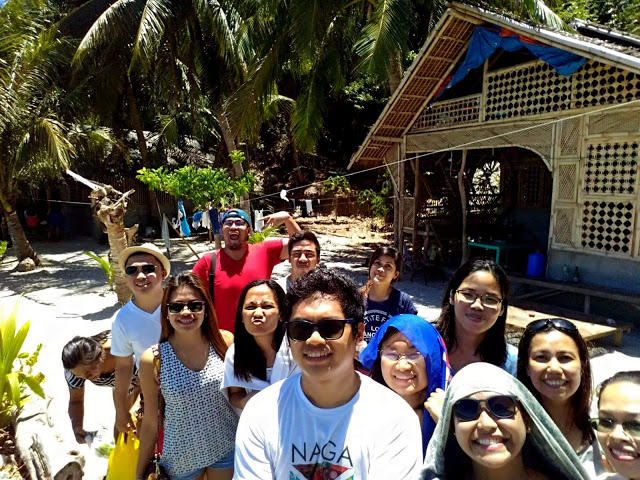 Groupie before we leave our weekend Paradise 😉
Travel GuideWhere to stay?   …or should I say where to sleep?   Like what I have said above most of the beach goers in Tingloy Island pitch their tents on the shore of Masasa Beach. Just find the most comfortable place for you and ola you have your place free of charge!    Most of the time the middle area is the most crowded. You can walk further on both sides of the beach for a peaceful location to pitch your tent. We rented a kubo/cottage for Php200 per head to place our bag and to use the area for cooking and eating. 
You can contact Nanay Rossie for details 0919-6864368.   Where to Eat?   Bring all the things that you need if you plan to do beach camping. Although there are sari-sari stores on the Island its better to buy everything that you need in Anilao Market.    We hired a cooked so that we wont bother ourselves cooking though its a bit pricey. We paid Php1,300 for four meals. They will also do all the dishes and preparation. Its Php1,300 because we were fourteen.    Our local cook's number is 0929-2896348.  
How to go?   If you plan to commute, head to Batangas City Grand Terminal then take a jeep to Anilao Port. In Anilao Port, boats going to Tingloy leaves every hour. If you do not want to hike from Tingloy Port to Masasa Beach, there are also boats going straight to Masasa. Just be sure to be in Anilao Port before 11Am to catch those.    In our case we rented a van in Cubao for Php4,500, diesel and toll included. The driver stayed in Anilao Port and waited for us till the next day.    Also, if you want to charter your own boat to and from Masasa Beach like we did, you can contact our cook's number for Php3,500.00    Each or us spent Php1,900. A bit pricey for your Tingloy experience but it was all worth it 😉   Photos above by Lana Caronongan and Claire Madarang