Once your feet have touched the warm sun drenched sand of the seashore you will never be the same – Patsy Grant
If there is a place where I was expecting to much for my Northern Palawan Adventure, I would say that San Vicente holds too much of that expectation. The so called longest beach in the Philippines is found in San Vicente after all. That 14 kilometers long beach is already enough hold one's expectation. So was I that I almost died just to be awed by this treasure.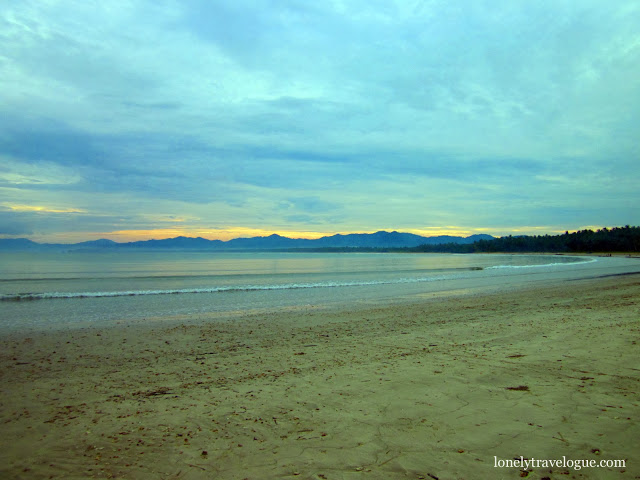 I spend two days and one night in this municipality facing the West Philippine Sea. My first agenda was to find a place to stay so I head straight to the tourism office located in their so called boulevard. Though it was a weekends I was thankful that there was somebody to assist me and if I may say the municipality is quite organize in terms of tourism – fair enough for a municipality whose bread and butter is in this industry. Most of the hotels, Inn, hostels, home-stay – whatever you call it were fully-booked. I was trying to talk to the locals so that I can get help but they're seem so detached. Anyway, I found a place to stay 300 steps away from the main town. With a private bath, a cube TV and a not so comfy bed, I shelled out Php500 for a night. That's above my accommodation budget more expensive that my Php300 El Nido Accommodation.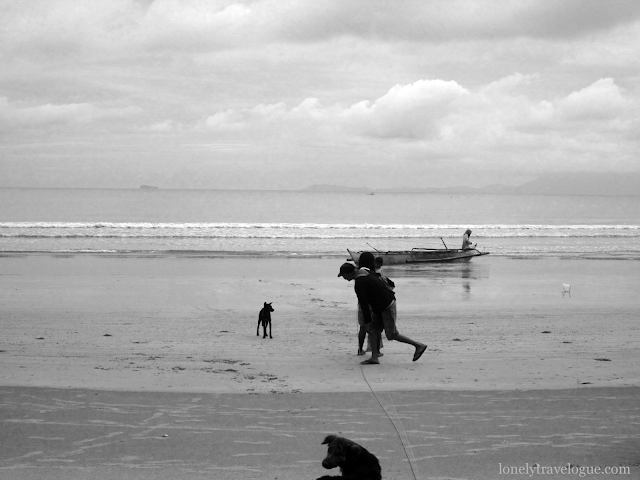 The next morning I hailed a motorcycle/habal-habal to send me to the famous Long Beach of San Vicente. The driver asked me what part of the Long Beach I want to go. Off course I was speechless as I don't know where to go. I just said take me to the starting point. Contrary to what I know, the long beach is not a walking distance from the main town or Poblacion. It took the motorcycle a good of 10 minutes before reaching the starting point of the long beach. The so called Long Beach is actually a fishing town of seven Barangays in San Vicente. The Long Beach belongs to the fishing folks of Poblacion, New Agutaya, San Isidro, Alimanguan, Sto. Nino, New Canipo, and Binga. But off course the poor fisherman really don't own it. The invisible feudal system of the Philippines forbids these poor people of owning a piece of their land.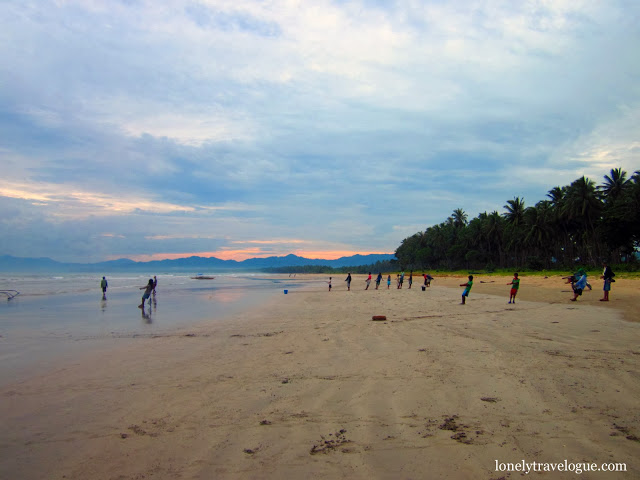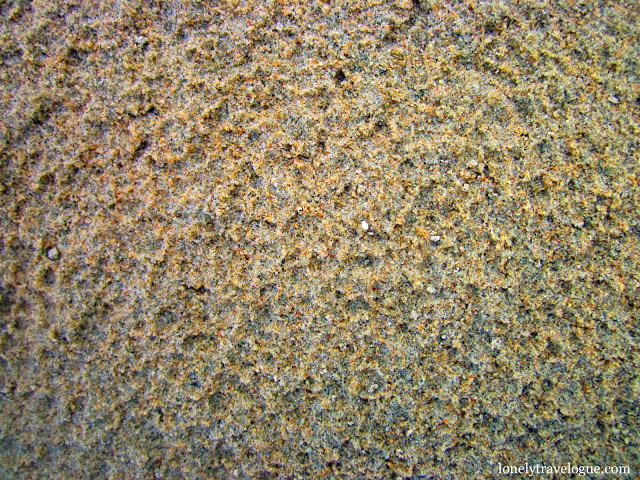 I saw the dawn. Where life begins for the fishermen so as the new reality I uncover from the sands of the Long Beach. There I saw no tourism related activities, at least on the stretch I walk on. All I saw was people of all ages battling the heaviness of the fishing net and pulling it to the shore. This is their life. I saw old woman and kids joining the mock as the fishermen divided the provision of the sea.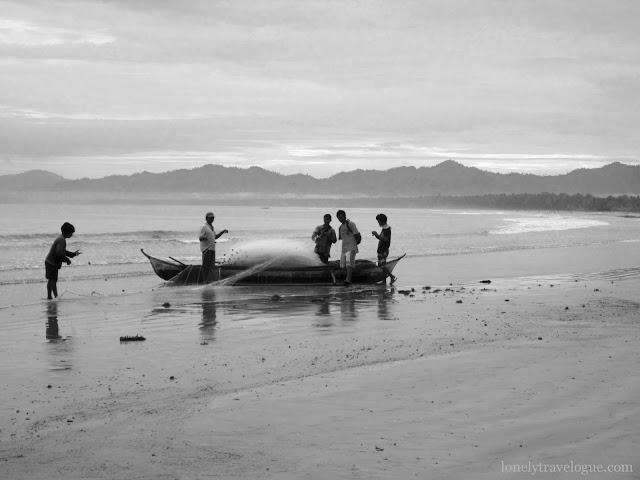 I went on walking seeing no end to what I do. Who cares to the life I have? I was sweating but the scenery and the sound of the waves relaxes my soul. That's enough for me move on despite of pain in my sole and muscle cramps. I put off my flip flops and started walking barefoot on the sand. The sound of my feet stepping on the sand soaked by sea water was the best massage ever. Better than the one I had in El Nido. The long beach is incomparable with other beaches I already saw. I want to be fair and I will not compare it with the beaches of Bohol, Cebu or of Mindanao. Its not the best but its inappropriate to compare because each place has its distinct beauty and aura. The Long Beach is virgin and pristine. Its still deprived of development. But base on what I have heard, that big companies already owns the vast beach front properties. No wonder there are fences everywhere I look. The local even say that when the airport is operational, there the boom will happen. They want it for economic reason. They want their place to be the next tourist destination to provide opportunities for their children.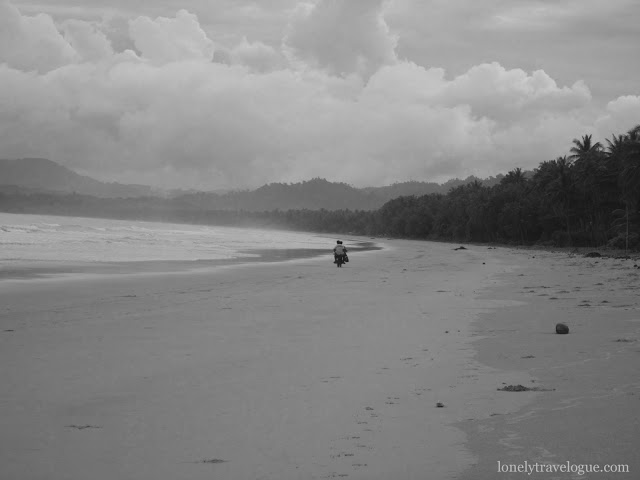 I was so exhausted I need to sit down for a while and rest. When I did so, I found this sand art (below) made by the small crabs. I like how they dig their hiding place, the result is just awesome for a simple man like me. Then I just sat on the sand and watched the waves and the clouds moving and creating a spectacular scenery. I had realization then about my life and my relationship. Before I went on this vacation I had this relational problem with my girl friend. This trip allowed me to settle my mind and think of what I need to do and what I want in life.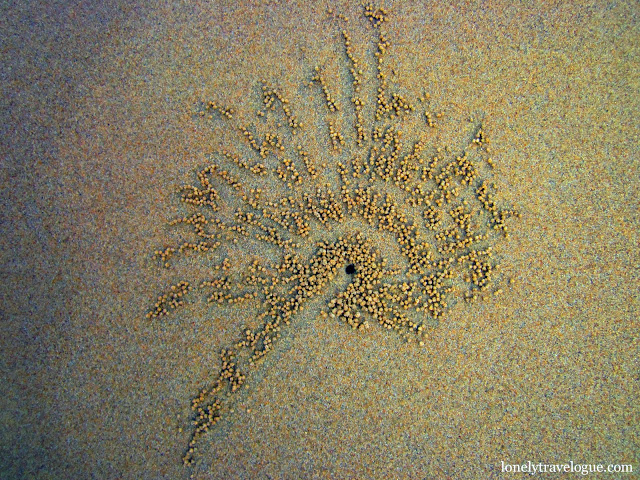 When I reached the cliff that blocks the away to the next stretch of the long beach, I said I am over and I have to get back to Poblacion. Then another challenge was up. How to get to the highway? By instinct I know that I had to go eastward. So I went east and walked for another 20 mins. I bought a coke at the store because I was thirsty and the lady there asked me where I came from and how did I get there. So I said I walked in the Long Beach from Poblacion to their place. Then she gave me a mocking smile. Then I realized that I almost walked 12 kilometers and the habal-habal charged me Php100 for the ride back.    Being alone for a long walk is healthy for your mental and emotional being. Yeah not just for your health. It allows you to think over your course in quality time with God. No distraction from your talkative friends and loud girlfriend. Walking alone in the sand for hours is a therapy for thy soul and thy mind. So find yourself time to do so because salt water heals everything.