Although its one of the tourist spot I
always encounter in textbooks when I was in grade school, Pagsanjan
Falls is not on my list of places to go. Until a friend from Mindanao
asked me to join him in one of his stops in Luzon, there I had
the interest.
I always see it on TV how the bangkeros braved
the rapids of Pagasanjan River for a couple of minutes before
reaching the falls. When I was researching for the price and the
itinerary going to the falls, I've seen two options how one can go to
the falls. You can reach the falls via the most famous the Pagsanjan
route, in which you can experience the rapids I am talking about and
cheaper but sweating way the Cavinti route – we did the latter.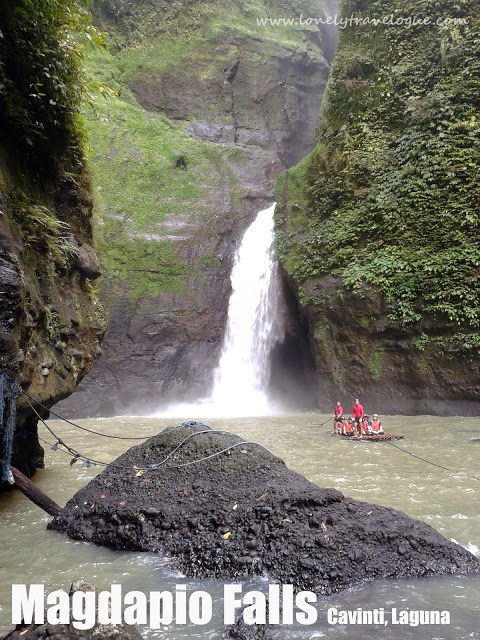 The falls is called Pagsanjan Falls because the most famous entry point is at Pagsanjan Town of Laguna. The local term for the falls is Magdapio Falls. The falls itself do not belong to Pagsanjan but to Cavinti. But as we can see Pagsanjan Town reap most profit of this precious falls because Pagsanjan offers the expensive route at Php1,250.00 while Cavinti would only cost you Php270.00. You do not blame them for the high price because the Falls is probably one of the most famous landmark/tourist spot in Luzon and with the bangkero's expertise, I think their job is not a piece of a cake.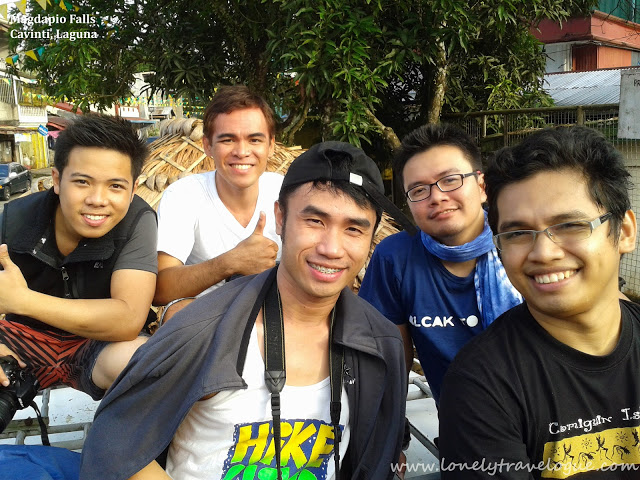 Top loading to Cavinti I met Glen of
escapemanila.com, Rj of rjdexplorer.com and Chino of juanderfulpinoy.com in
Buendia, Pasay where we took the bus bound to Sta. Cruz. After two
hours bus ride we reached Sta. Cruz in Laguna where we will be
meeting the rest of the group. There we met Kuya Jeff of
travelingmorion.com, Xander of binatanglakwatsero.com and his friend Richard.
I thought it would be a hotdog party (or not at all) of seven
gentlemen because Pao of ponderingpaodaolei.net was no where to be seen yet.
We waited for for lighyears – yeah thats a joke – which gave us
the opportunity to chat regarding our blogs and other blog/gers. lol
Pao came and we
headed to Pagsanjan Town to meet our "guide" He helped us buy our
food and accompany us in El Salvador Cavinti. Thats all.
From Pagsanjan, I
had another first of my life – top-load on a big jeep. For 40
minutes we were there on top breathing fresh air. Tick bushes on a
curve road made the trip exciting and more fun 😉 Never ending laugh
and talk was the scene up there on the roof of the jeep. Though
sometimes there were some dead air hanging in the conversations
allowing us to feel the embrace of natures finest gift to mankind –
the unique scenery of the road connecting the province of Laguna and
Quezon. First I thought the jeep would drop us in El Salvador but
instead in the intersection of Cavinti and the road towards Quezon
Province. There we took a tricycle to proceed to El Salvador.
I
realized that YOU DO NOT
NEED A TOUR GUIDE IF YOU ARE TAKING THE CAVINTI ROUTE.
You just have to proceed to Cavinti intersection, ride a tricycle to
El Salvaor and pay your entrance fee worth Php270.00.
The Trek We
started to trek at about 12:20 in the afternoon and reached the falls
at about 1:20PM. Walking down to the falls was a enjoyable because of
the company I have. I met most of them for the first time but it
seems that the spirit of friendship and bond has surpassed the
distance. We share one thing in common, we all
love to travel and we never get tired of aching soles after long
walk.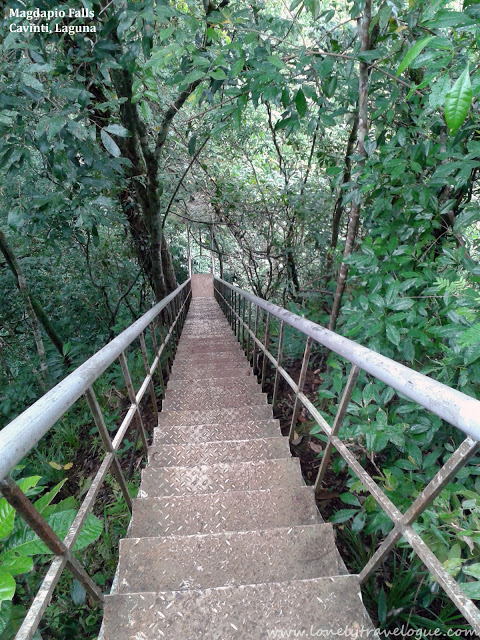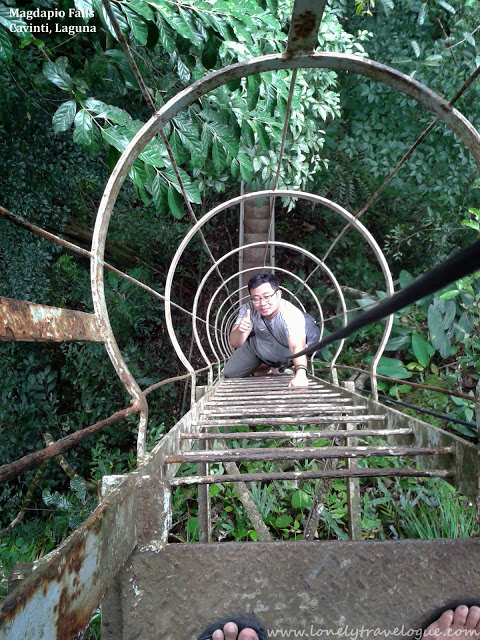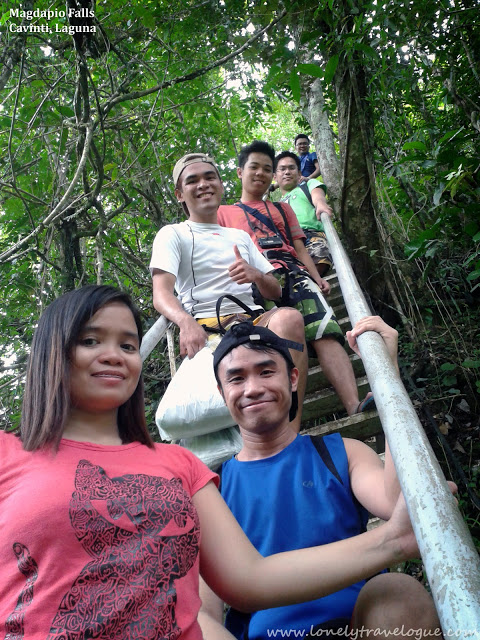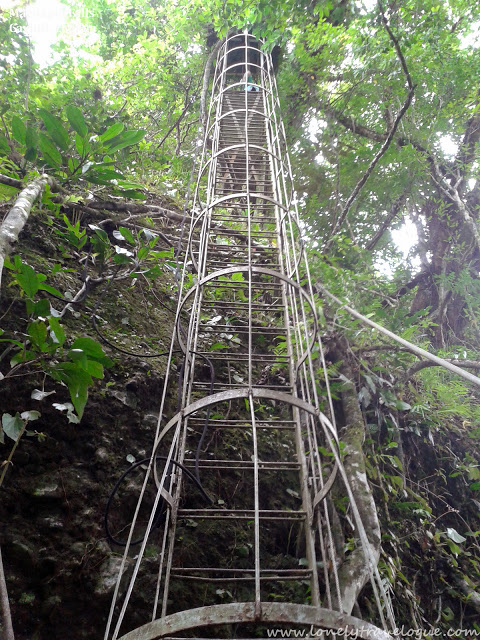 The path to the falls involves a paved walkway, a lot of steep steel stairs and two 90 degrees ladder with a harness attached to a rope. Its looks exciting and challenging. But be sure to do some stretching if you know that you're not fit enough to do the trail. Like what I said it was fun going down there, but ascending is a different story. I knew it when I first saw the two 90 degrees ladder and how steep the stairs are.


And yes, that will be your way back. By the looks of it I would recommend that you do some warm up before you trek. I almost fainted three times on our way back. That made me concluded that I need to exercise. Or maybe just to eat more healthy foods.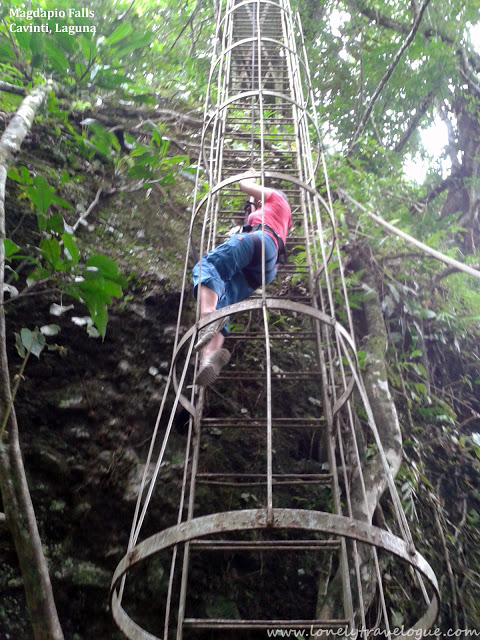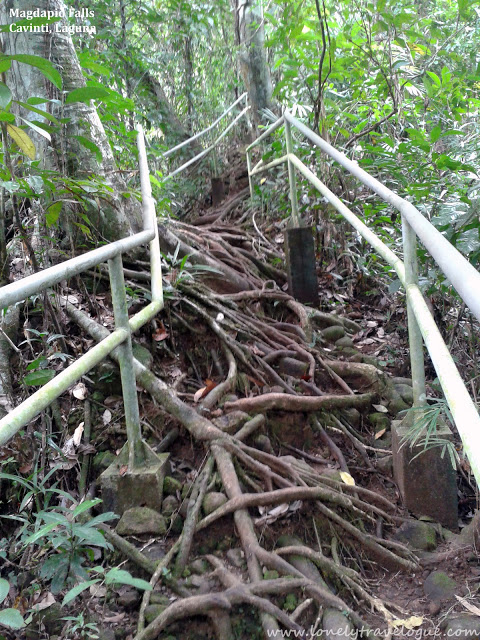 After an hour, I heard a strong sound of water dropping where the river up ends and where the river below starts. My feet started to rush like a child running in rails of the train. The strong current produced by falls seems to ignite my tired soles and made me rush to the falls. After the last batch of the stairs, I saw some picturesque and colorful boats used by some well off tourist. The long-thin- colorful-boats is an added attraction for an avid lover of photography and for the photographers as well.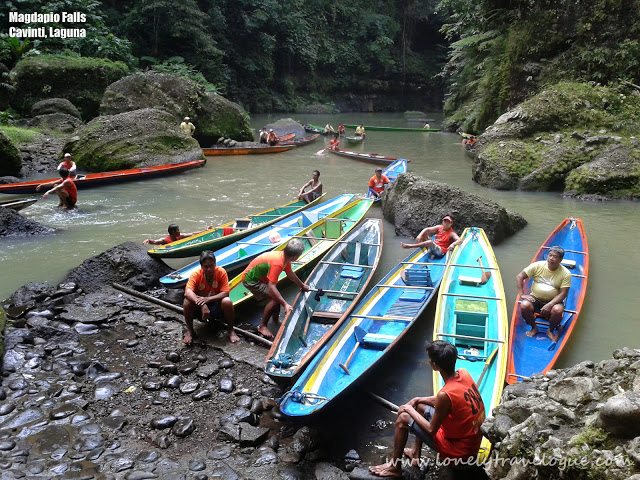 The Falls I liked the falls but not that much. The falls is not that good as compared to other falls that I saw. As they say its overrated. The water was brown but still the people are enjoying it – like we did. One commented that the water was brown because it rained the morning before we arrived. So its an environmental problem. Though the forest of Cavinti, evidently is still in good shape, it can never escape the devastation because of the so called network or ecosystem.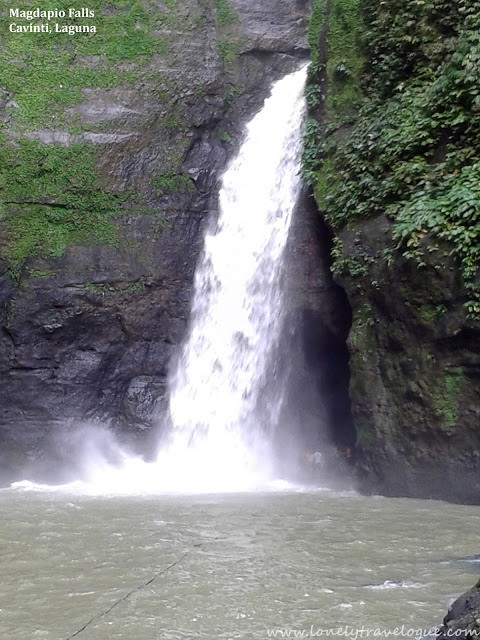 Like I said we still enjoyed the falls. Its was my first time to ride a bamboo raft or "balsa" and to be taken at the bottom of the waterfalls and feel the drop of the water. There will always be adrenaline whenever you are in the water. At the raft what we did was to shout as if we were riding a roller coaster more-so when we reached the falls. It was like an ice cold water poured to us by the gods of water and nature. But there's a hiding place called Devils cave which can be your shelter to escape the wrath of the ice cold water.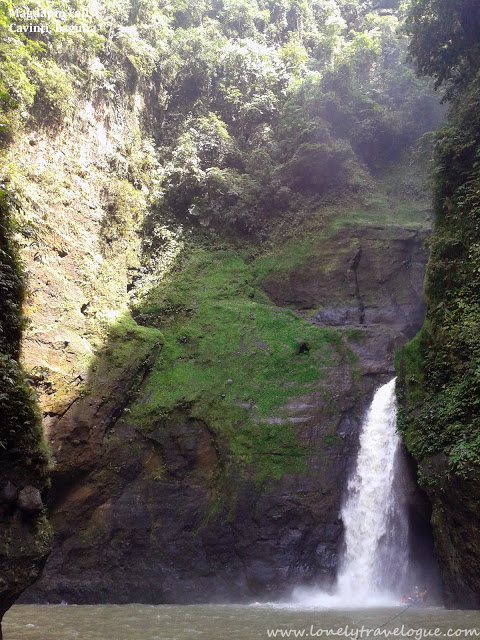 We had our lunch in bamboo leaf which we bought back in Pagsanjan. Do not expect a vendor selling soft drinks or even ice cold water with in the falls premises. You have to bring your own for your consumption.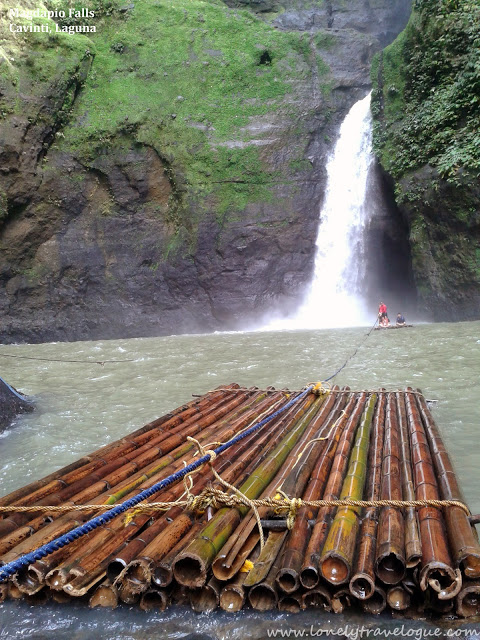 On our way back, some bankeros approached us asking us if we wanted to take the boat back to Pagsanjan. They were charging us Php200.00 for the ride. Some of us wanted to grab the offer because we were so tired and we did not want to experience what we have thought awhile ago. What the bangkeros will do was they will put us each in separate boats together with their original passenger. When Kuya Jeff was about to board, the Korean tourist was agitated and wanted the bangkero to move fast. Haha… Seeing that we all back off from our evil plan. How to go to Magdapio Falls? Soon 😉
If this helps you or inspired you please share this in any Social Media platform or comment here if you wish to ask for more =)
This is the travel blog of Jherson Jaya – banker by profession, adventurer by passion. Everything written here were based on his experiences. The lust of seeing new places thrilled him to explore both the explored and unexplored world. Old and new architecture fanatic; lover of food, both exotic and indulgence; and founds peace in long bus and train rides – thats how he describe his way of traveling. Follow his adventure by liking his Facebook Page LonelyTravelogue and following him on Twitter and Instagram.