Fine white sand beaches, I guess first thing comes in mind would be Boracay or the beaches of Palawan and Bohol. You might wanna add to your list the island eight hours away by bus and two hours away by boat from Manila. The island is called Calaguas. The long transpo might be off to you but I tell you its definitely worth a visit.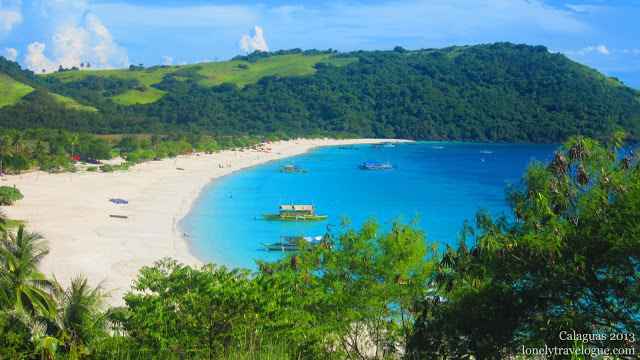 Located in Camarines Norte, Calaguas is a group of islands namely Tinaga, Guintinua , Maculabo and other small islands. Tinaga where Mahabang Buhangin is located is gaining its spot as a top destination for beach bumming and beach camping lover. The influx of tourist came two or three years ago where there are no corteges and other major infrastructure. So if you expect a fancy hotel rooms and by the beach cafes, forget Calaguas. There is no comfort room for your hygienic activity nor a full amenity resorts. Although there are few cottages, tents will gonna be your bedroom if you wanna stay in the pristine beach of Calaguas.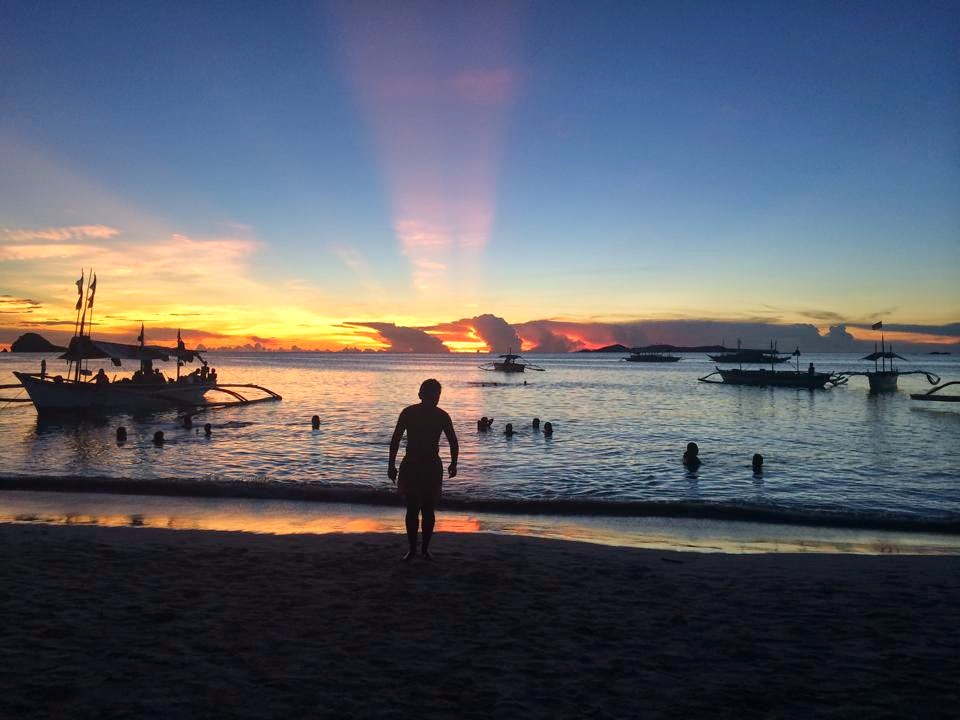 Calaguas Sunset 2014


How to get there:


Two ways in which you can get to Calaguas are via bus and via plane.


Via Bus


There are a plenty of buses that serves Manila-Daet route. One in Cubao in Quezon City and Buendia and EDSA-Taft in Pasay City. Bus fares ranges from Php500 – Php700. You can contact Superlines, DLTB and Philtranco for schedules.


Superlines: 414-3321 / 414-3319
Philtranco: 851-8078/851-8079
DLTB: 843-0246/470-4342


Take a bus going to Daet or Naga and tell the driver to drop you in Talobatib. As I have said travel time is eight (to nine hours) hours. We left at DLTB bus terminal at 8:30PM and we arrived at Talobatib at around 5AM.
Travel Tip
Do book ahead of time to secure a seat especially when you are traveling on a Friday where most people are heading back to their province.
Bring jacket. Buses tend to be very cold because its a night trip
Take another bus in Talobatib going to Paracale port. Because we arrived at 5am, there were no buses available. Left with no choice we took a tricycle which came a little too pricey at Php300 but I was able to haggle for Php250. Tricycle is good for 4pax.
Take a boat (Chartered boat) going to Tinaga Island where Mahabang Buhangin is located. Chartered boat is approximately Php3000 to Php4000 depending on the capacity. But we were able to get a Php500 per head deal back and forth. You can contact Kuya Ernie at 0947-110-9451.
Notes and Updated as of May 2014
The community in Paracalle is trying to organize the boats going to Calaguas. They now have a tariff rates.
1-8 capacity boat – Php4000
9-15 capacity boat – Php500 each
16 and up – Php550 to Php600 each

The community is also collecting a fee (Barangay or admin fee) that cost Php20 each.
Via Plane


If you don't want to sit and sleep on the bus you can take a plane bound to Naga then take a 2 hours bus bound to Paracale. There is an airport in Daet but is not functional.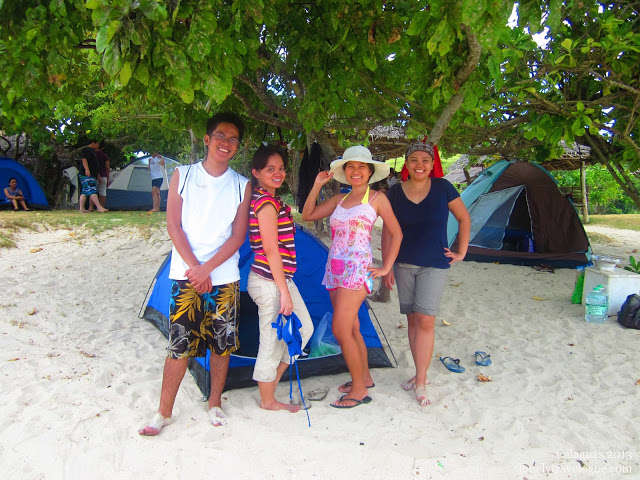 What to Bring:
Number one on the list is food provision for your desired length of stay.
Water
Tent, although you can rent at the island.
Flash lights
Mosquito Repellent
SPF
Garbage Bag
Umbrella (sun protection if you want to walk in the afternoon)
Budget: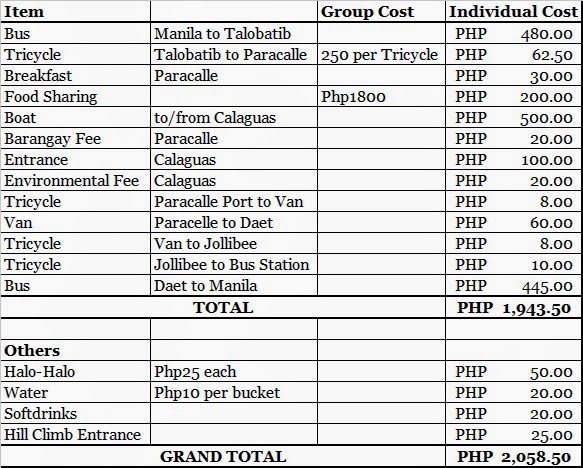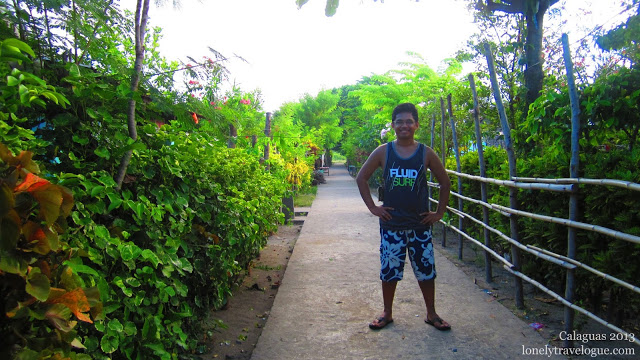 Suggested Itinerary (I mean our Itinerary )


Day 0
7:30 – 5:00 – Manila to Talobatib, Camarines Norte via Bus
Day 1
5:00 – 5:20 – Talobatib – Paracale Market via Tricycle
5:20 – 7:00 – Buy some food supply
7:00 – 9:00 – Paracele to Mahabang Buhangin via Boat
9:00 – 10:00 – Rest/Set up tents/Look around
10:00 – 12:00 – Stroll Around
12:00 – 1:00 – Lunch (we cooked our food!!!)
1:00 – 2:00 – Take a good nap under the tree =)
2:00 – 4:00 – Walk and climb the hill
4:00 – 6:00 – Play at the beach while waiting for the sunset
6:00 – 7:00 – Dinner/Cook Food
7:00 – 7:30 – Dinner
7:30 – 8:00 – Wash up at the poso
8:00 – onwards – Sleep =)))
Day 2
5:00 – 8:00 – Climb Tinago Hills/Visit the community
8:00 – 9:00 – Breakfast
9:00 – 11:00 – Play at the beach/swim/photo op
11:00 – 12:00 – Wash up/Fix things
12:00 – 2:00 – Back to Paracale via Boat
2:00 – 2:30 – Side Trip Paracale Church
2:30 – 4:30 – Paracale to Daet via Van
4:30 – 5:00 – Late Lunch/Snack in Daet
5:00 – 5:30 – Bus Boarding
5:30 – 3:00 – Daet to Cubao via Bus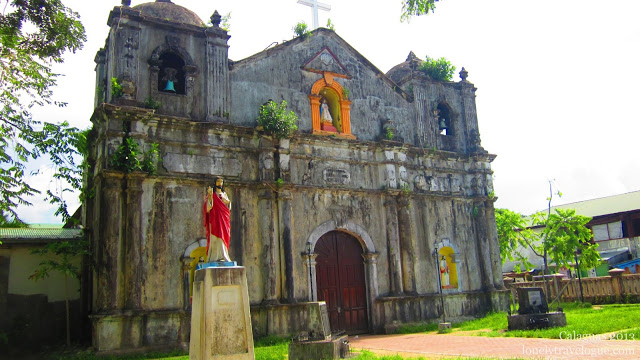 If this helps you or inspired you please share this in any Social Media platform or comment here if you wish to ask for more =)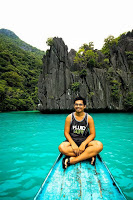 This is the travel blog of Jherson Jaya – banker by profession, adventurer by passion. Everything written here were based on his experiences. The lust of seeing new places thrilled him to explore both the explored and unexplored world. Old and new architecture fanatic; lover of food, both exotic and indulgence; and founds peace in long bus and train rides – that's how he describe his way of traveling. Follow his adventure by liking his Facebook Page LonelyTravelogue and following him on Twitter and Instagram.