Bolinao is one of the treasures of
Pangasinan. Six hours away from Manila by bus, you can experience the golden-brown beach and nice tender waves of Patar Beach. Patar beach
is public beach 30 minutes away from the town proper of Bolinao.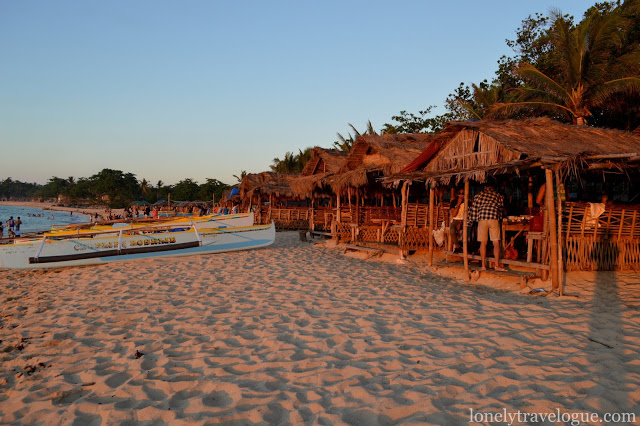 Saint James the Greatest Parish and
the Heritage Town of Bolinao Before you hit the beach, you may opt to explore the town of Bolinao first. Visiting the 400 years old St.
James the Greatest Parish in front of the red-bricked town hall of
Bolinao may set the tone of your weekend in the beach. The old church
is made up of black coral stones and was built by the Agustinians in
1609. The church and the town of Bolinao are featured at the Legoland
Malaysia Resort.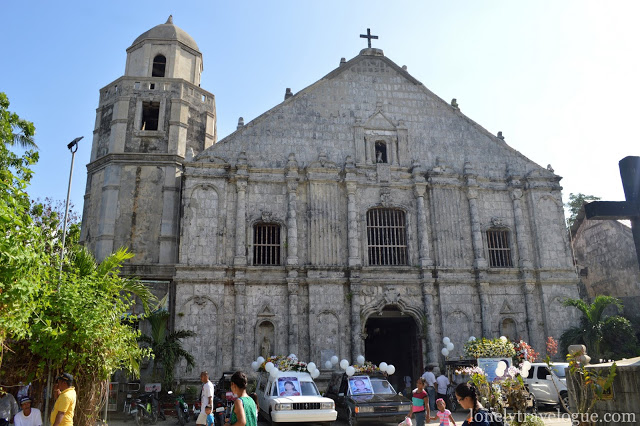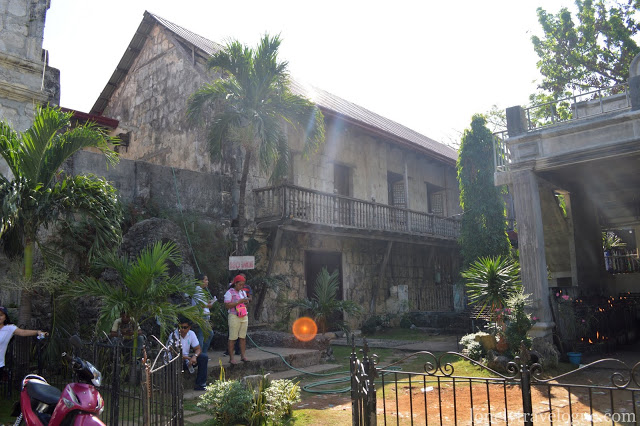 Convent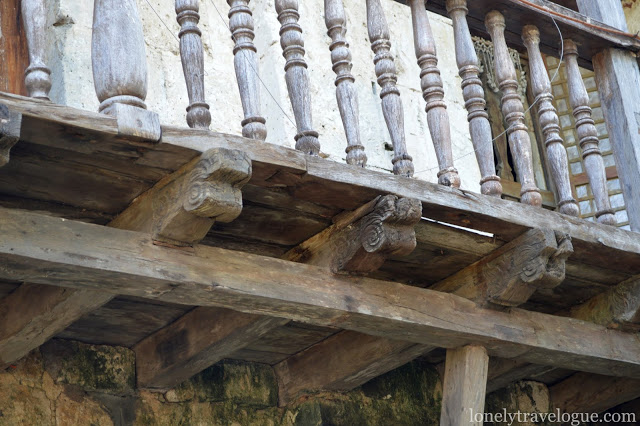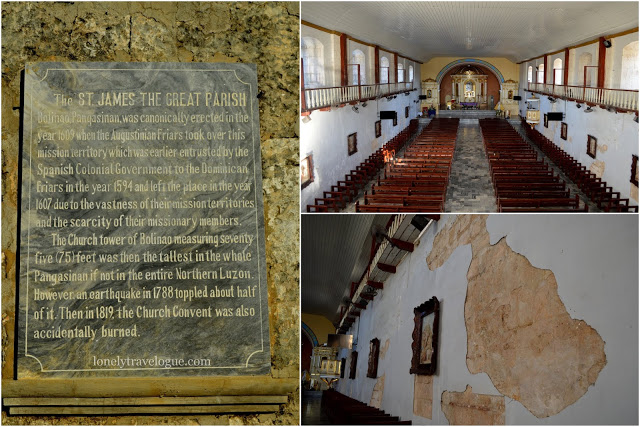 Not so surprisingly, Bolinao still have
some old houses scattered all over the town center (Separate post). Unfortunately,
most of these houses are just waiting for their time to be buried in
old pictures depicting its glory. Although some of the houses'
ground floors are being rented by town entrepreneurs, still the
owners failed to maintain the beauty of their houses. There are some
good stories wherein the owners residing in Manila kept the
aesthetics of the house and use the house for vacations. 30 Minutes Rides to Patar If you did not charter for your
transportation, you can hire a tricycle to proceed to the famous
golden-brown sand of Patar Beach. Fare is Php200.00 one way and is
good for 5 persons. You can also arrange to the driver to fetch you
at your desired time the next day when you leave. The tricycle will
also ask you if you want have tour an eco-tour in Bolinao. They
offered me a Php1,000.00 whole day tour of chasing waterfalls and
caving.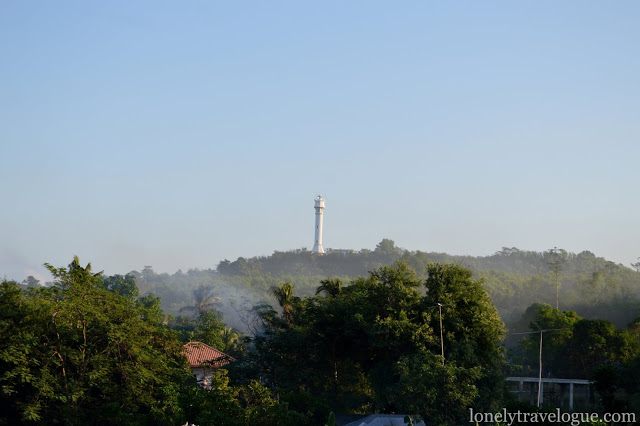 Cape BolinaoSearching for Accommodation When I reached Patar Beach, I
immediately negotiated for my accommodation. Since this was a
spontaneous trip, my goal was to search for the cheapest
accommodation available. I was actually looking for a kubo that is
less than Php500.00. To my disappointment, the first kubo was
Php1,000.00. I tried to approached the next and they offered me
Php800.00. I was able to haggle for Php600.00 arguing that I am alone
and will leave early the next day. Whew…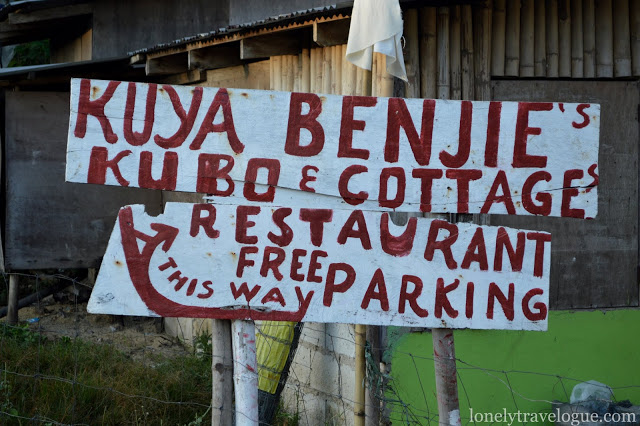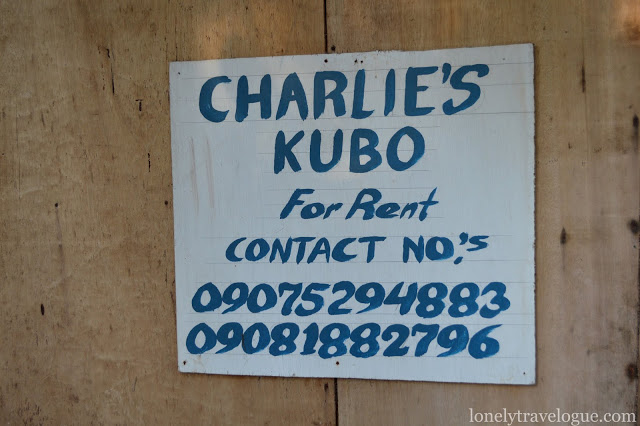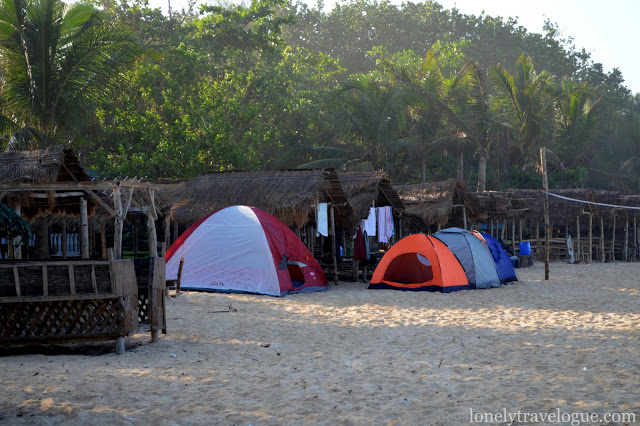 You can also pitch tent for a fee. I am not sure how much but when I asked around they said that its Php300 per tent. Sunset Watching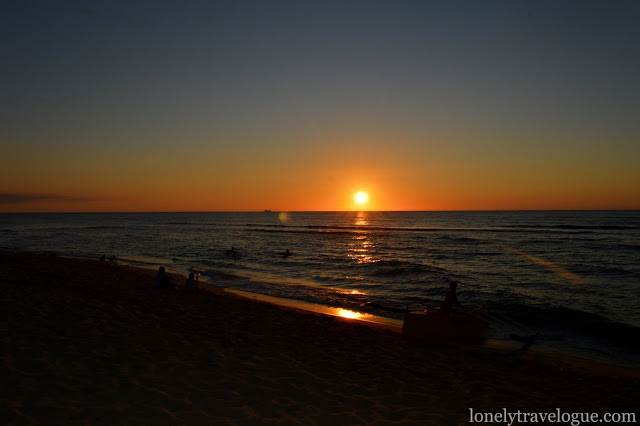 My plan that afternoon was to sit on
the sand, watch the sunset and the people enjoying the wave. I just don't adore the perfect sunset I was moved by the
drama it created with the vessel passing through it. Sunset always
gives me something new that I can cherish and remember whenever I
look back.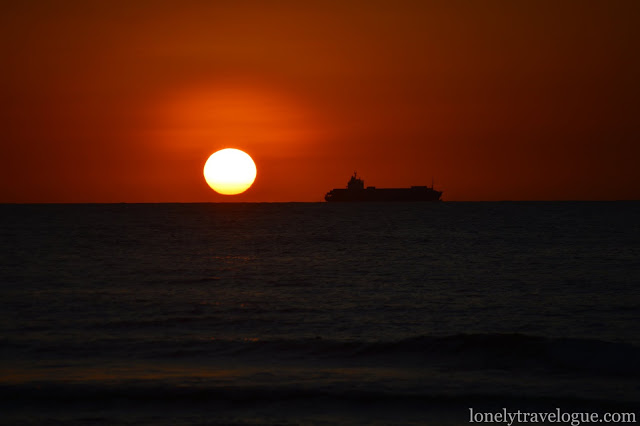 Looking for Food! After the sunset and the long day of
mapping old houses in Alaminos and Bolinao I realized that I haven't
had a single decent meal that day. That's normal with me whenever I
travel. I always forgot to eat but when I eat, I will eat like a
fiesta! I will only realize that I have to eat when I see that there
nothing more to do for that day. I looked around and found some
establishment selling goods at skyrocketing prices. Oh well, what can
you expect from a famous tourist area?
There is a restaurant/eatery selling
short order meals and all-day breakfast meal near my kubo. I ordered
a pansit that is good for two and it cost me Php150.00. The Rock and the Sand of Bolinao The next morning, the plan was to catch
the sunrise and swim till' 9-ish. Unfortunately, I overslept in my
cold kubo so I missed the sunrise. Anyhow, the sand is too gorgeous
to be sad and the rock is too massive to be miss.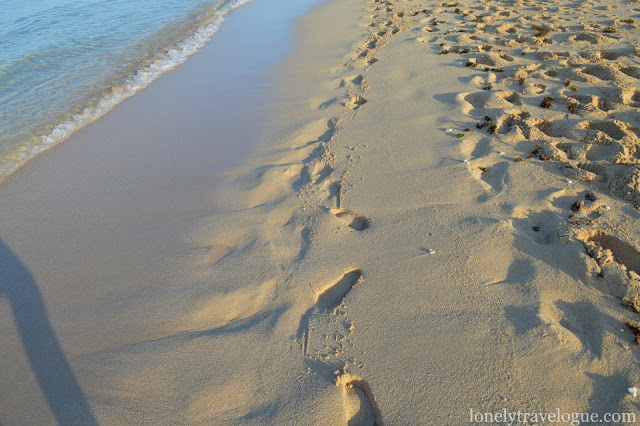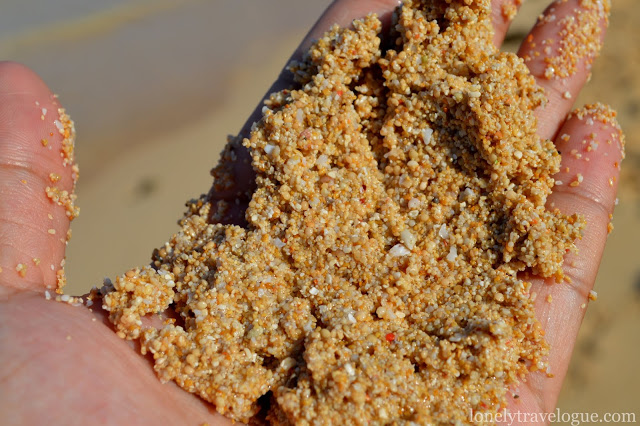 I walked over the fine golden brown
sand of Patar beach to feel its relaxing effect on my feet. Walking
in the sand is a little bit of a challenging because your feet will sunk
whenever you step on it. The sand is compose of mini pebble that is
why the composition can easily break whenever you step on it or when
water splash on it. It no powder-fine like of Boracay and Calaguas or
even the beaches in El Nido but it definitely a gorgeous sand perfect
for beach bumming and sun bathing.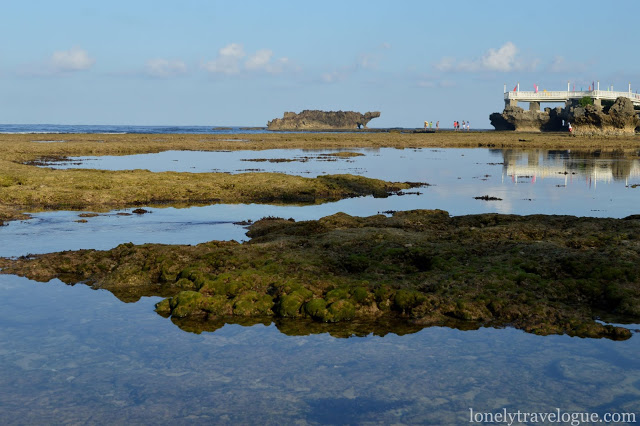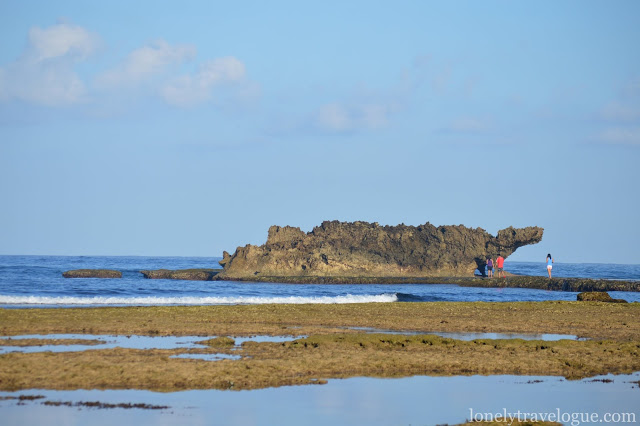 This buddy right here is catching small fish to sell in pet shops near by according to him. He was there for a long time and I was just watching him. According to him some tourist buys his fish that was shy his can was empty when I approached him.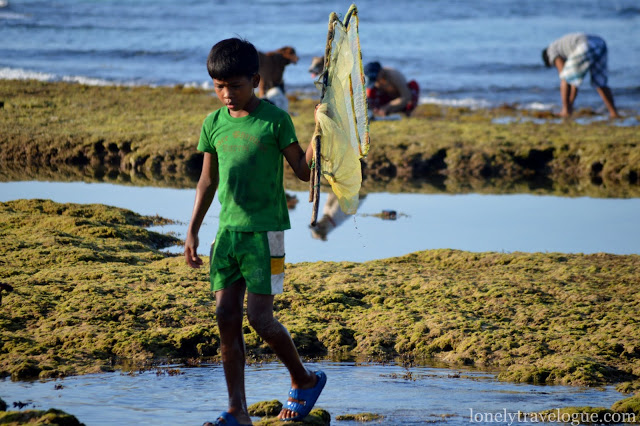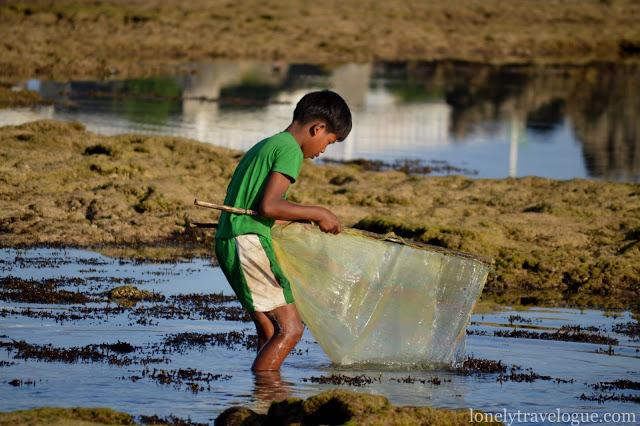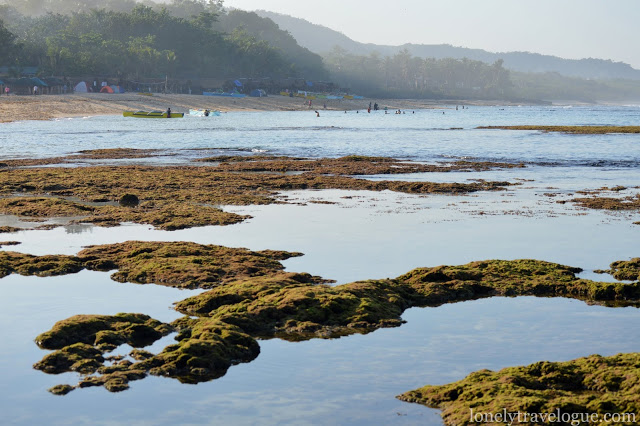 Cape Bolinao A visit to Bolinao is not complete when
you do not visit its famous lighthouse. You can ask your chartered
tricycle to stop at the lighthouse bend (road) and have a quick
picture taking in the lighthouse.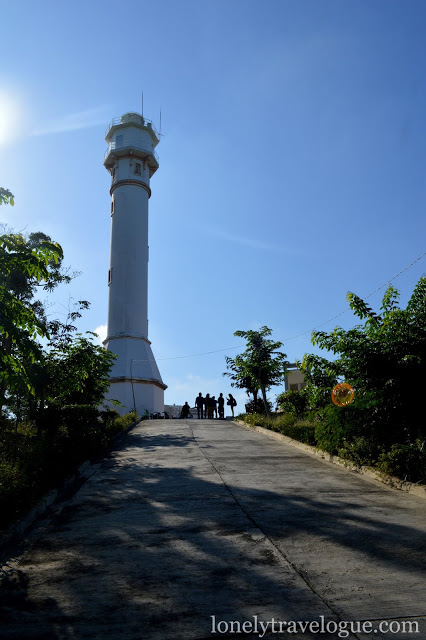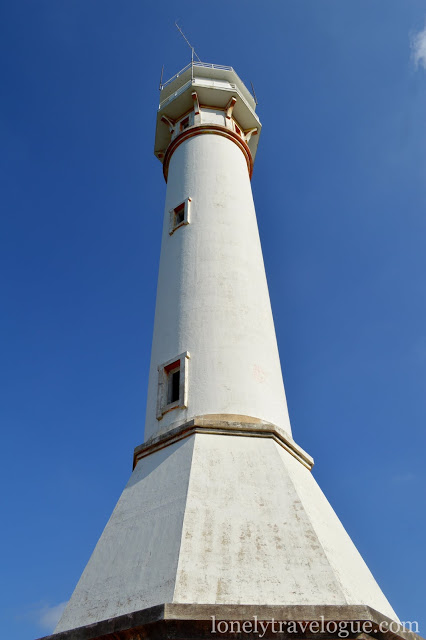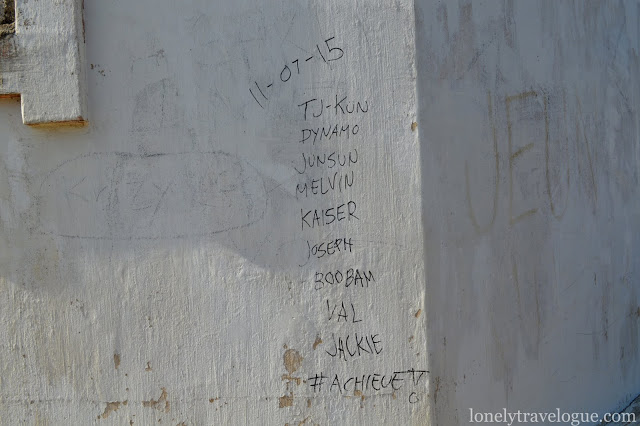 People please stop vandalizing! The 351 feet lighthouse was built by
the Americans in 1903. It is considered a major lighthouse with
visibility of 32 kilometers or 17 nautical miles at mid-sea towards
the lighthouse.
Must Try:
Binuguey (Bamboo Cake) is a must try delicacy in Bolinao. This sticky rice cooked in bamboo is a great snack before you soak your body on water or pasalubong for your love back home.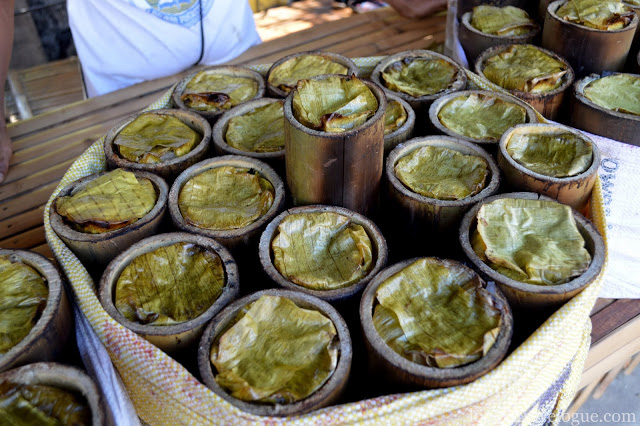 How to go to Bolinao:
There are buses in Cubao (Victory
Liner and Five Star) bound to Bolinao town proper. Travel time is 6
hours. Fare is around Php450.00.
From Town Proper take a tricycle
bound to Patar Beach or in any beach resort of your choice. Travel
time is about 30-45 minutes. Fare is around Php150.00 to Php200.00
Note:
Bring all the things that you need
like food, water and toiletries. As I mentioned above, prices in
Patar is skyrocketing. For example shampoo that normally cost
Php5.00, its Php10.00 in Patar.
You can use tent in Patar Beach but still expect to pay some dues to the Barangay.
————————————————————————   If you do not want to go to Patar Beach, there is an alternatve resort hotel for you just minutes away from the town proper.   Here is my video of El Pescador Resort Hotel.