Why do you travel?
  Everybody has its different answer to that Simple question. I won't gonna' give you all possible answers here let me just
summarize it. We all travel because we all enjoy it.   Right?

We all travel because as the Department of Tourism says its
fun to travel especially in the Philippines.
Though we all know that its fun to travel there will be times that
circumstances will tell us that "Hey dude its not funny" Good
thing about us, travelers/backpackers/nomad/wanderers whatever you call
yourself, we will always turn that dark moment into a shine like a diamond moment. I don't know if that is just justification or a real seeing things
in a positive way. We all have stories of adventures and misadventures. We all
have story to tell and I like that actually. Hehe… When there something
unexpected happened  to me all I will say is "At least I have story to tell"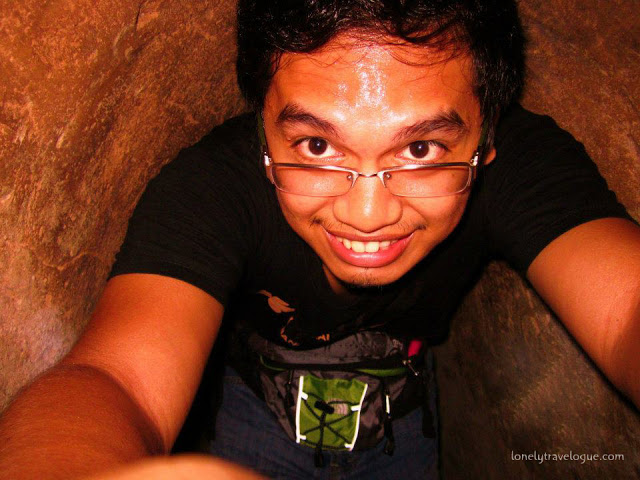 Vanity Shot at Chuchi Tunnel, Ho Chi Min One of the perks of being a single (not without a girlfriend
huh) at mid 20' or even higher is you can do whatever you want in your life. Holding other
things constant e.g. responsibilities and other obligation as a young adult – a
guy like me, a girl like you can do an almost weekly travel if we wanted to.
Yeah… that's a hard core one but not an impossibility right?
As I've said on the second paragraph I chose to travel and
travel and travel at this time of my life. There goes the happy moments,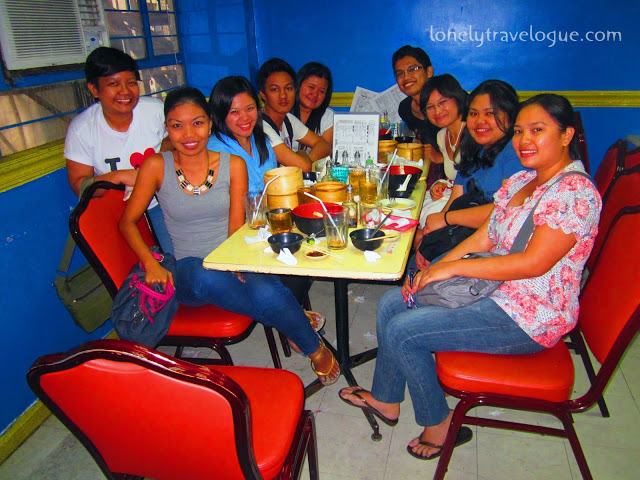 My first ever PTB Meet up =) the emotional moments,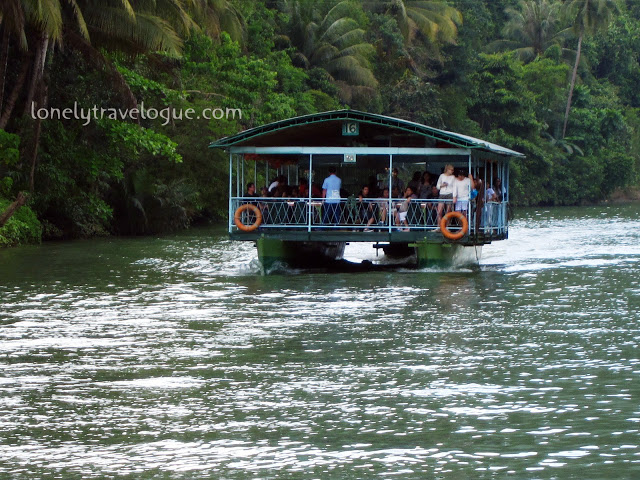 Would you believe me if I say that tear rolled on my cheeks after my Loboc River Cruise Experience haha the physically draining moments,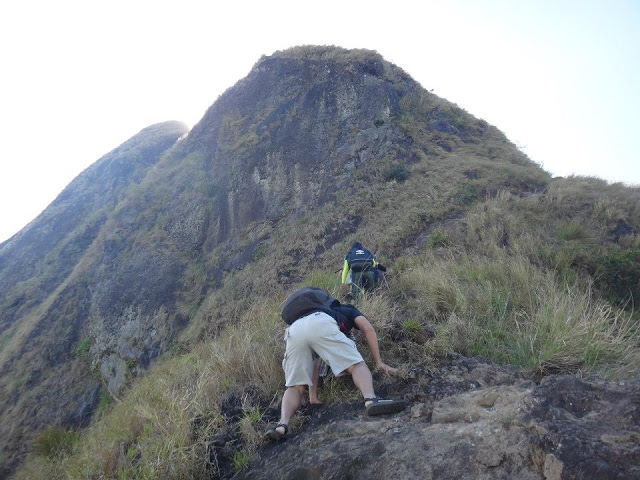 Mt. Batulao. My first ever Mountain Climbing. Photo by Claire the triumphant moments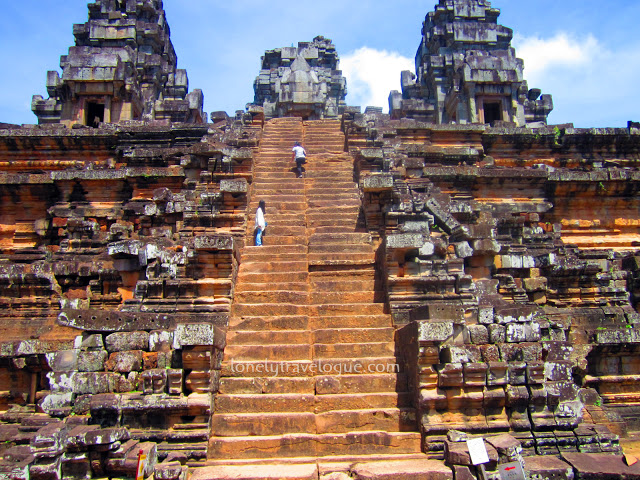 Would you climb up Ta Keo under the instense heat of the sun? the moment of firsts,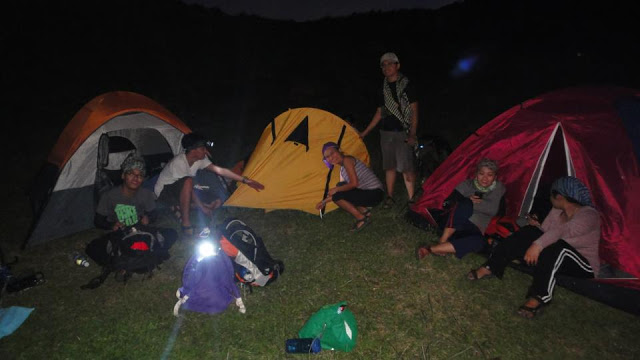 Mt. Gulugod Baboy. Mt first ever camping experince. Photo by Jayvee and most of all the life changing moments.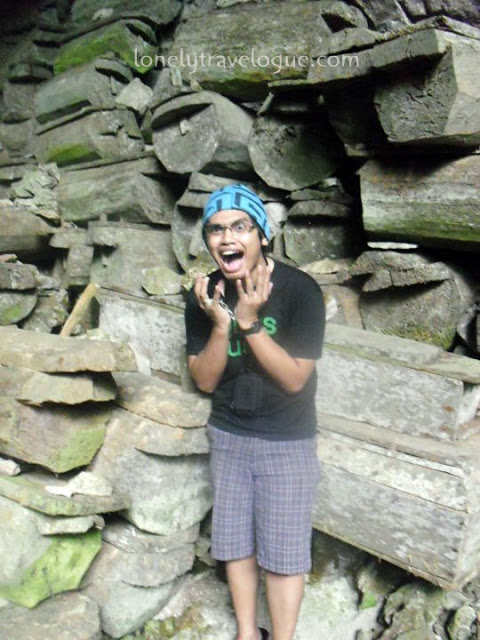 Sagada Adventure back in 2011 made me a backpacker =) Though it seems that you planned your travel as
perfect as you imagine you will never know until you do it. There are these
forces in the world that will not make you stop from traveling though but it
will make it hard for you to do so. A combination of human's infinite stupidity
– as what the president of our company calls it and natural forces controlled
by our supernatural God are what I am talking about. Infinite Human Stupidity This was last year. A very well planned Solo IndochinaAdventure. I actually planned it for six months, save a lot of money for one
year and saved my vacation leaves for this once in a life time travel experience. And so
the week before I depart for Ho Chi Min arrived. Unfortunately (fortunately on
some instance) we had an assignment in Ilocos Sur on a Friday – my flight was
on a Saturday evening. So I didn't have a choice but to accept it. I have
choice actually my boss asked me if I still want to go knowing that my flight
is on the next day. Well I said I still want to go because I do not what him
(and the office per se) to think that I prioritize traveling over my job (I
do actually haha). So I filed my leave on Thursday and joined my boss in
Ilocos. Me and my boss left Manila
on Thursday evening and came back at Friday afternoon. To make for my 1 week
absence in the office I told my boss that I'll be dropping by the office on
Saturday to make all the necessary reports of our Ilocos assignment. I said
"drop by" not "over time". When I called the office (while on the bus) to inform
them that I am "dropping by" they told me not to do so because I might not
catch my flight on the evening. I said that's ok because my flight was still at
midnight and our office (Makati)
is near the airport. Then I went on and did what I have said. Hence I enjoyed
my 8 days vacation in Indochina.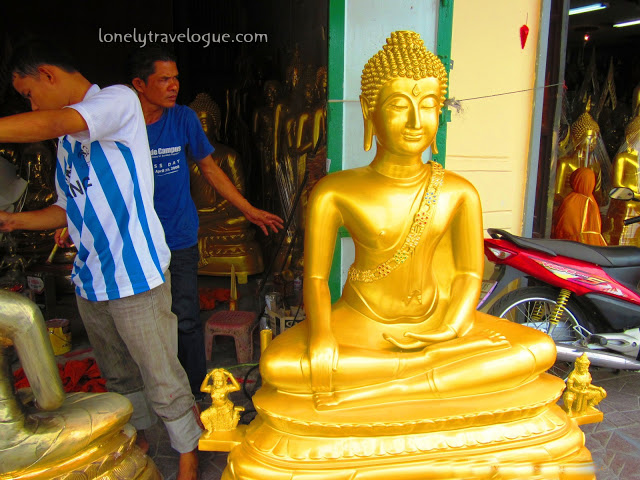 I found a Buddah sculptor while I was lost in Bangkok The plane touched down NAIA 3 on a Sunday. Though my
mentality was still not of work I have to go to work on Monday because I need
save for my next travel. At the office a yellow sheet of paper prompts me the day I came back. A yellow paper means a MEMO. I had a memo because I didn't file
my leave a week before my five days leave. Ok I needed to digest all the things
that the memo was saying. I received a memo because of improper filing of
leave. Ok I got it. But where the hell that policy came from? I've been in the
company for two years that time but I haven't seen a policy of sort that states
the guidelines for employees. Moreover some of my office mates were doing it (not
filing a week before) so didn't see anything wrong about it. Grrr… I won't win if I argue with them too much. I just expressed
my disappointment over the company because of the memo I received. Up to now I
can't accept that I had a memo because of that lame undisclosed policy. Moving
on… I still had to work and move on so I did. 3 months before my Indochina trip was my Palawan escapades. I wanted this trip to be as budget travel as possible. I booked the hotel
and the rest I though we could do via DIY including the Puerto PrincesaUnderground River Tour. My plan was to secure a permit on DOT office in Puerto
Princesa then take a bus the next morning to Sabang. So we asked the tricycle
driver to drop us in the DOT office before heading to Honda Bay. There was a bunch of people inside the office a mix of
foreigners and locals. When I was approached by one of the personnel I told her
that we need a permit for the underground river. She gave me a frown and
scanned a blue record book. Then asked me "when are you going home?" I said
"Monday ma'am" Then she goes "Punong Puno sa Underground ngayon. Wala nang
slot. Within three weeks pa" (Underground River is full. There's no more slot.
There will be slot after three weeks) Then she points out to a whiteboard
with a calendar on it. I said "what three weeks?" I tried to convince them to
insert us into a group since we were only 2. Then she points out to solo
foreign traveler. What the hell is this? We came to Palawan because of the
underground river then we wont gonna' see it!!! What a fortunate event. Then a
guy in the office asked us what hotel we checked in and he told us that our hotel should have reserved a slot for us. Then I felt guilty.
My world stop moving for a while with voices screaming "Its your fault Jherson,
Its your fault" The hotel did asked me via email if we wanted a PP Underground
River Tour. I replied a dignified "No we will do it by ourselves" haha… and the
reply was a dignified "Ok" lol…
I wasn't in the mood when we went to Honda Bay
after the world deceived me (or my boastfulness deceived me?). haha… It even
rained when we were approaching Pandan Island.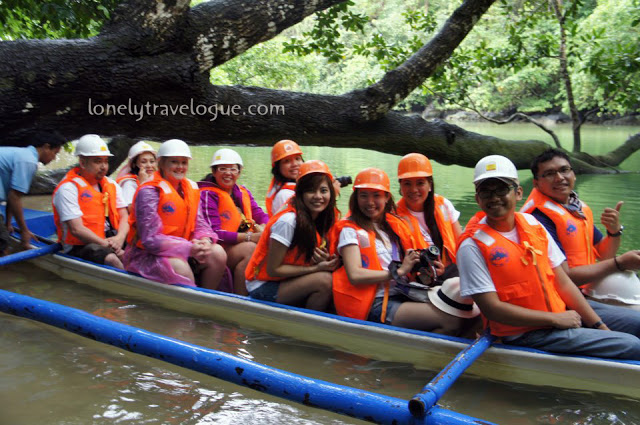 Underground River Tour Ready to go!!! But the tricycle driver was kind enough to comfort us with
his words of assurance that he will try to look for a hotel that has a spare
permit. Wow. What a word of hope in which we could only hold on to that moment.
Then I called the owner of the hotel if he could reserve a slot for a tour the
next day. He answered me with a "We'll see what can I do. Its hard to find a
permit because there are lot of people going there" Can't blame him it was
February where most westerner escape winter season adding the fact that PP Underground River was nominated as the Seven New
Wonders of Nature. I even told him that we are willing to pay higher that
Php1500 just to secure a slot. The afternoon came still has no text or call. The dark
clouds were still dominating the sky. We decided to have a walk in the city and
partially forget our misfortunes. Then while crossing the street my phone
vibrated and good news followed. We have a slot! Though we had to pay Php2,000
each at least we will see with our own eyes live the PP Underground River.
=)
Natural Forces We always battle for a good weather. Sometime it's our
friends sometimes its our enemy. Sometimes we hate sunny weather whenever we
are walking in the park or we are temple chasing in Angkor Wat. There are times
we want a sunny weather whenever we feel bating in Boracay Island.
A rainy season is our friend in times of road chillin' or train journey (does
it make sense to you? Lol) But sometimes your travel adventure can be less adventurous
or worst can be ruined by bad weather. Mine was made worst by raining while on
the road. First was in Palawan last
year. The clouds were in bad shape to do an island hopping. But we pursued it.
We met 2 couple from Austria
and Germany
to share the cost of the boat. The first island was good. We had a good diving
and snorkeling experience. But the second was deadly. If not for my life jacket
provided by the boat I would have died in Pambato reef. The waves began to get
heavy and it was really hard for me, us actually, to get back to the station.
Then the dark clouds followed then the heavy rain made us went back to the main
land before waves can hit hard the boat. Wow what an experience…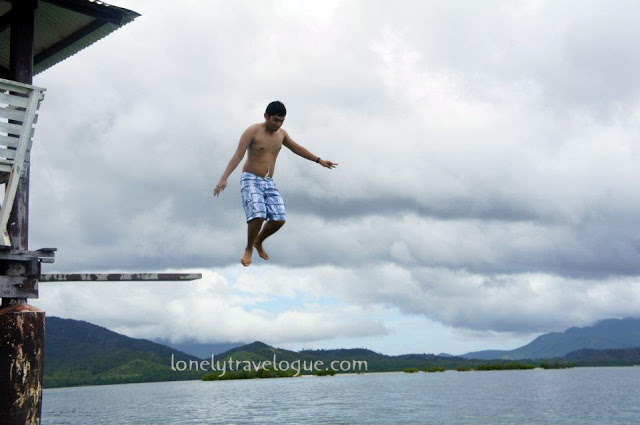 Me jumping on Lu Li Island Another rain partially ruined our Lake Agco Trip. Riding on
a single motorcycle good for 6 people my best friend, the dark clouds began
forming again towards our way. Oh no… then a little droplets poured, just a
little. Then we made it to Lake Agco without getting
ourselves wet. And just about in time a heavy rain poured for a while. I used
the time wisely and bathed myself on the sulfuric spring and toured the virgin
woods of Lake Agco. We decided to rest before dipping
on the resorts hot and cold pool. Unfortunately the sky went mad and shed all
it tears to us; we weren't able to get out neither that afternoon nor that
evening. We just stayed in our room and slept.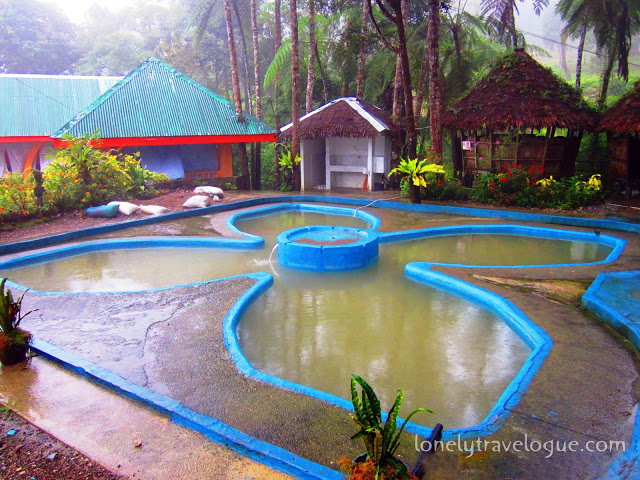 The morning was good though dark clouds have its presence
over the sky. We had a good talk on some locals of Brgy. Ilomavis. We got to
chat to a guide in Mt. Apo. All our questions
were answered regarding climbing Mt. Apo. Then its time to go
back to Davao.
We hired a single motorcycle and set ourselves on a one hour ride. While
motorcycle was paving the rocky muddy road the rain began to fall again! Good
things the motorcycle has its improvised raincoat. Yey! I won't get wet!!! But
the raincoat was a tarpaulin spread on our head while our both hand holding
each ends… haha… what a life. Though it was effective, I cannot breathe
properly so I had to expose my head into the air resulting of getting wet. When
we arrived in Kidapawan City everything was good.
The weather was nice. The roads were even dry. Haha… what a ride. So there goes the story of my travels. Actually these are
just the tip of the iceberg. I have more stories to tell you bout my
misadventures. What about you share your stories =)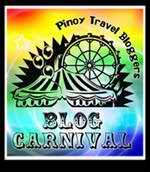 This is my entry to Pinoy Travel Bloggers' Blog Carnival for 2013 hosted by Lak Bay Diva.