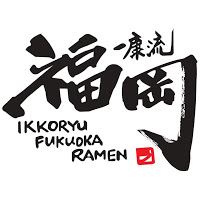 The rainy season is fast approaching and the best armor to combat the cold weather is to sip a hot bowl of soup cooked passionately with delicate ingredients. Then you crave for something authentic! Something that would sooth your hunger for an authentic recipe. Luckily a newly opened Ramen Bar recently opened in the new SM Aura in the posh community of Bonifacio Global City. Famed for its authentic Ramen dishes created by a true Japanese chef, Ikkoryu Fukuoka Ramen opened its second branch in the Philippines last June 1, 2013. I was fortunate to be invited to taste and as if travel to Japan without the immigration stamping my passport.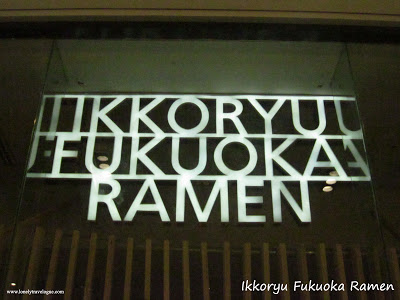 Entering the Ramen Bar you will be welcomed by the wooden planks with Japanese characters. Personally painted by Ms. Yasuko Sensyu a renowned contemporary artist in Japan, the characters is a poem, a love poem specifically.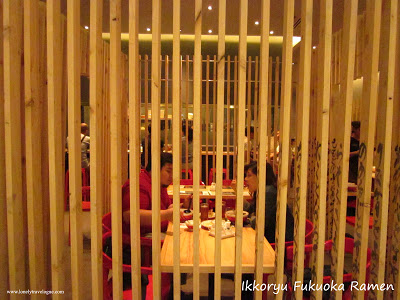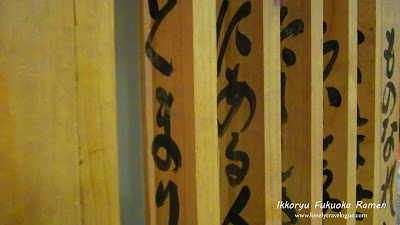 As soon as I arrived in this cozy restaurant I drop my bag and took pictures of the whole Ramen Bar. Then they asked me to place my order so that the chef can start preparing while we were still waiting for the rest. Since I am only liking eating Ramen just recently, I do not have any idea what to order. I just said that I will take their specialty. So Ace ordered for one me.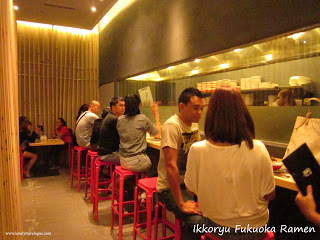 Ramen is considred as a staple food in Japan. Each region, North to South of Japan has its own version of Ramen. The North (Hokkaido Region) is known for the Miso Ramen while the Southern region of Kyushu has Tonkotsu Rames to famed for. This food is considered by the Japanese as the soul food for both young and old. Good thing about this is we Filipinos has a chance to experience the history and culture of the Japanese people through food.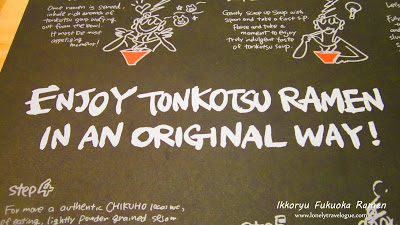 The specialty of  Ikorryu Fukuoka Ramen is the Tonkotsu of Kyushu Region where pork bone broth is the start ingredient. Most of the ingredient came straight from Japan and a group of Japanese chef regularly visits the bar to check on the quality of the Ramen. When I say all ingredient came from Japan, I mean all. Though the noodles are freshly made everyday, the flour and other mixing ingredients came from Japan too.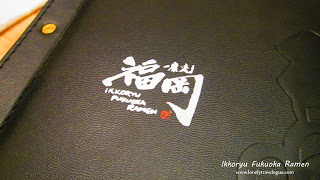 After a round of talk our orders arrived and we decided to share every Ramen to taste more flavors.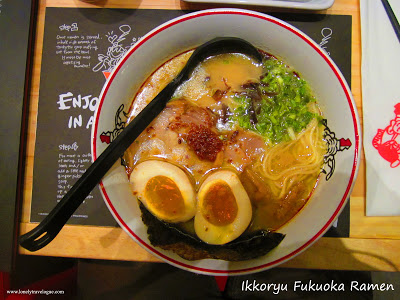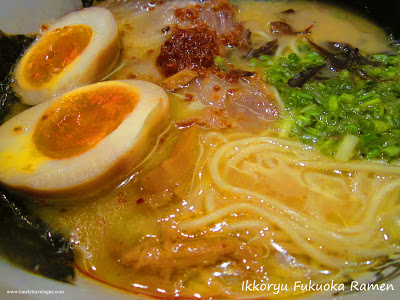 1. Ajitama Tonkotsu (Php380.00) Taste: 4/5 This is my order. Topped with specially marinated egg with a special sauce not to be revealed. Best for its thick soup base with a very detailed toppings this Ramen had my buds appetite to taste more of its kind.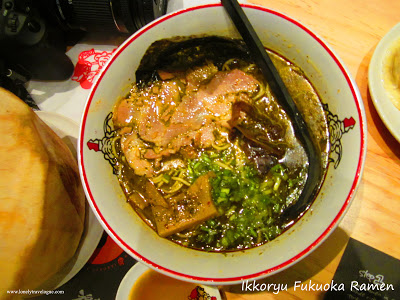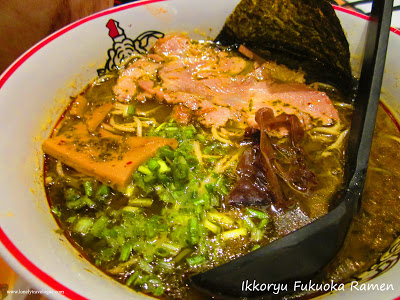 2. Special Vegetable Paste Tonkotsu (Php380) Taste: 5/5 Kids won't be liking this for its name. And you might insist this with your kids. But I tell you I am not a fan of vegtables but this is my favorite. This has some sweet taste blended with salty tonkotsu soup.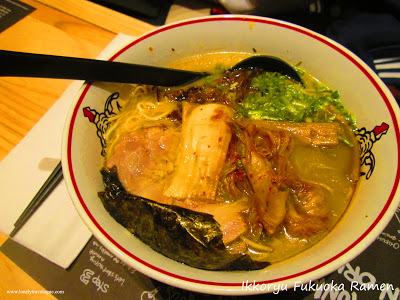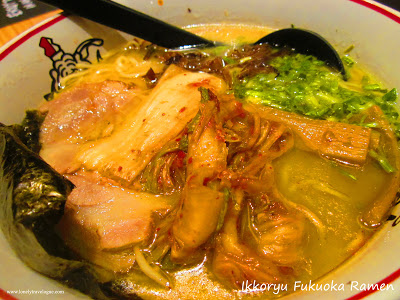 3. Kimchi Tonkotsu (Php380.00) Taste: 2/5 Like vegetables I am not a fan of Kimchi. So goes the conclusion that this is my least favorite. It has a good taste because of the specialize tonkatsu base soup but the Kimchi on top makes it a no no for me. For me it is a confusion  of two culture or maybe convergence of two culture. Though for kimchi lovers this might be a hit.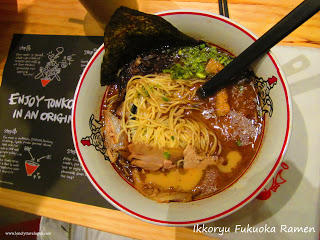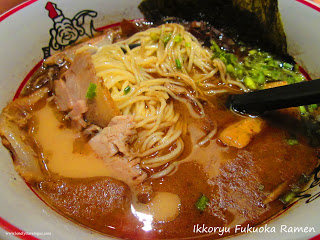 4. Black Garlic Tonkotsu (Php380)      
Taste: 3/5 I didn't taste this much because I was so full already when this came to my sight. The garlic taste with the pork broth brings the aroma of the dish to the fullest.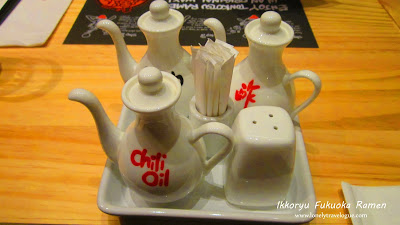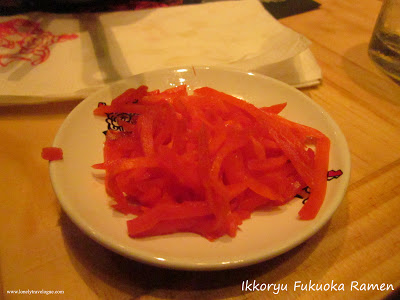 To compliment the Ramen we ordered a Gyoza, a Japanese Dumplings and Chicken Karaage. Both were perfect to combine with the Ramen but I personally liked the Chicken Karaage. The juicy chicken is a boneless fried chicken served with vegetables as side dish. Squeezing a slice of lemon on the vegetables and chicken makes it more aromatic and full of flavors. Gyoza is Php150 while Karaage is Php180.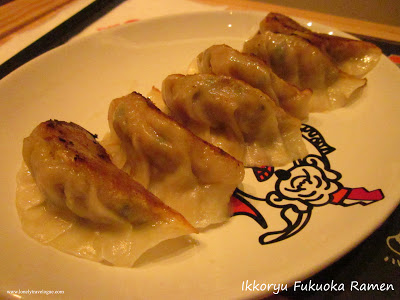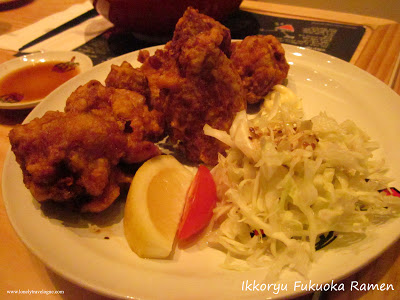 A food tasting will never be complete without a desert. For this we ordered a Ice Cream called Shiratama Zenzai. We tried the sea salt and green tea. The rick flavor and creaminess of the desert is brought by the use of fresh whole milk. Every scoop touched on my taste buds craved me even more to take another. A slow moment in this ice cream to fully appreciate every detail of the taste.  Shiratama Zenzai is Php180.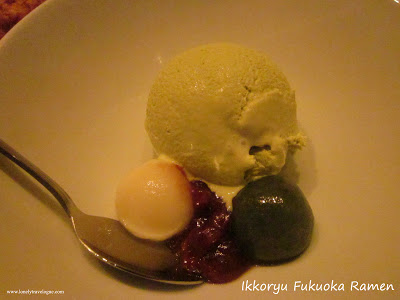 As they say, Enjoy Tonkotsu Ramen in an original way, I know that my buds tastes an authentic Ramen. My experience was gratifying in a sense that there were people eager to share their culture to us through food. Though the ramen bar is a little pricey, I am very sure that you got what you pay for. I'll definitely come back especially for the Shiratama Zenzai Hihi…    Ikkoryu Fukuoka Ramen is located in 2nd floor, SM Aura, Bonifacio Global City Taguig. For inquiries you can call at (02) 477-8333   Like their FB page Ikkoryuph


Other branch:
Level 5 East Wing, Shangrila Plaza, EDSA Mandaluyong City