Calaguas is a combination of hills, white sand, clear blue water, rock formation and a world class shore.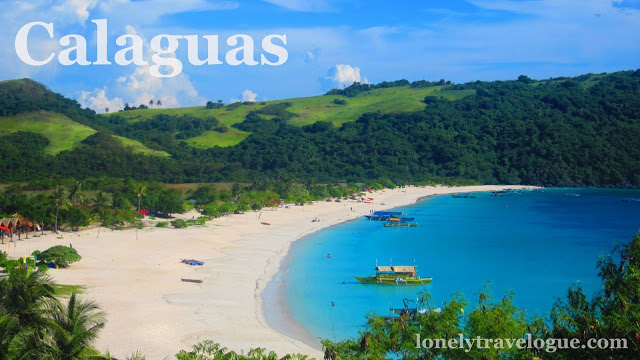 An almost blurred occasion it was. The plan was spearheaded months ago on a friendly blogger meet up in Binondo and Divisoria. We all wanted it to happen but time and budget were the major considerations. It will never be an impossible dream if there are 1 or 2 in a group eager to set things for the benefit of a long overdue plan. Then the time came., a time when I realized that I was out of travel fund or my expected provision came late. With balls and guts I courageously asked a close travel buddy to lend me a portion of the budget. Another option was to back out and I wanted to actually but I didn't want to put aside the sweat and stress of the organizers of this much awaited trip.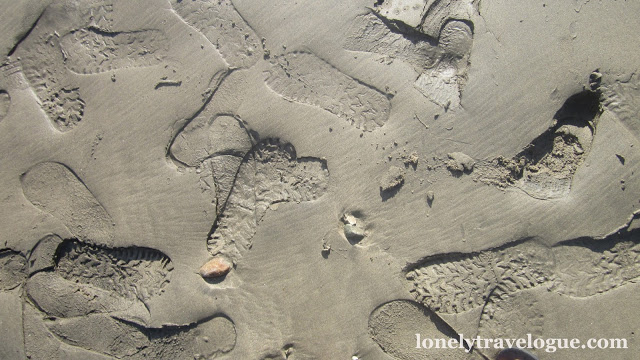 Footsteps of Travelers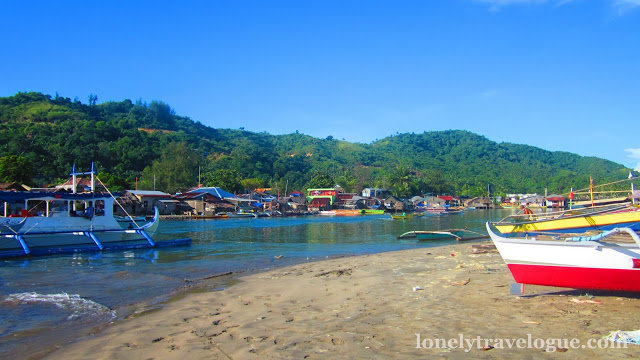 The day came when my abnormal vision saw the clear bluish water of Calaguas long white beach technically known as Mahabang Buhangin. Calaguas is a combination of hills, white sand, clear blue water, rock formation and a world class shore. It is actually a promising hub for your popular beach goer definition – beach party. Yes, sad to say. I never thought I would see a sand as white and as pure as Boracay until I saw Calaguas. Forgive me for comparing these beaches but when my foot dipped on to the water and sand I thought I was in Boracay. Though the two still has distinct persona still the major thing is comparable.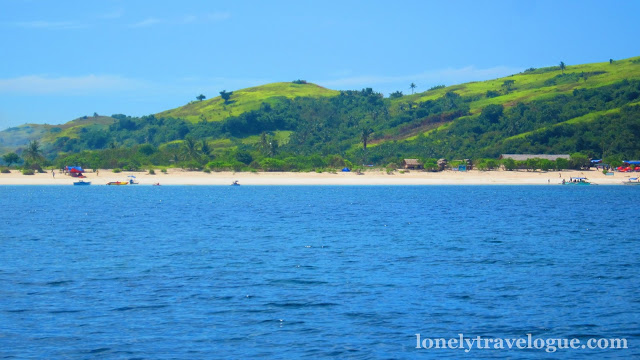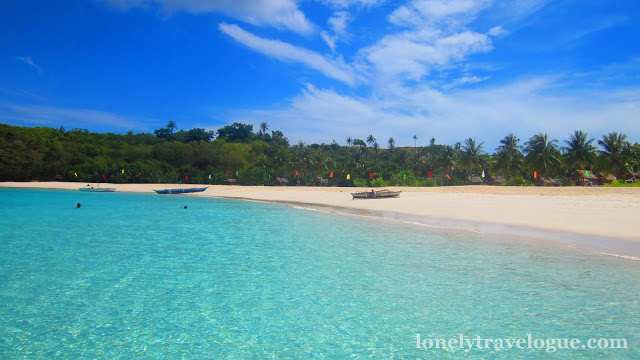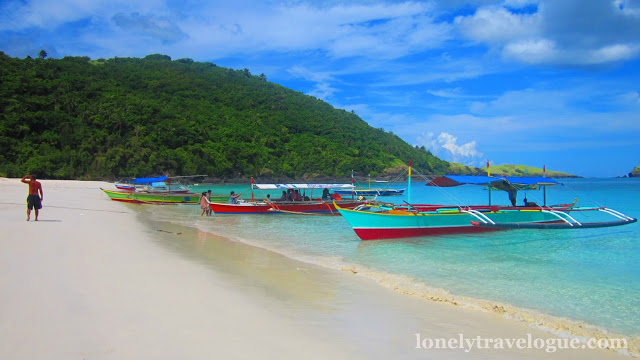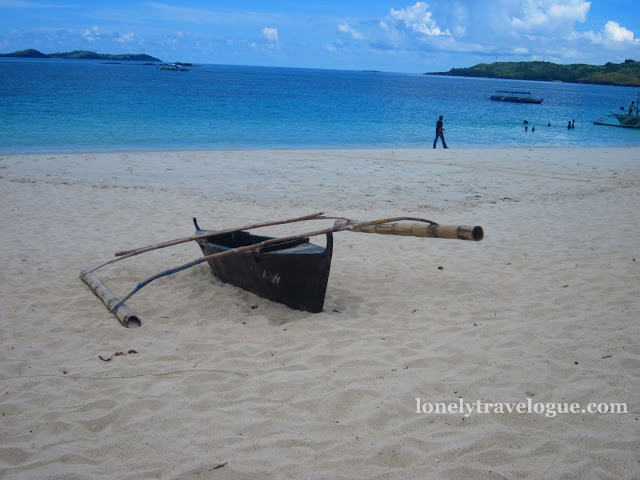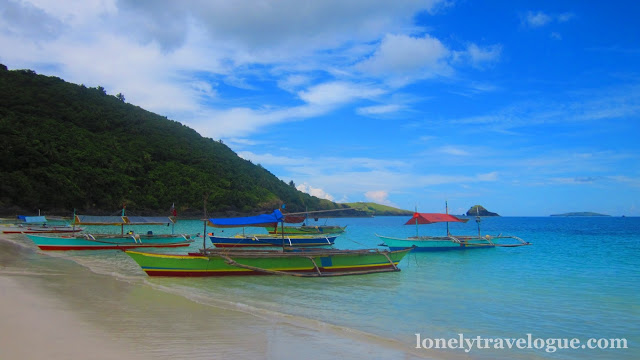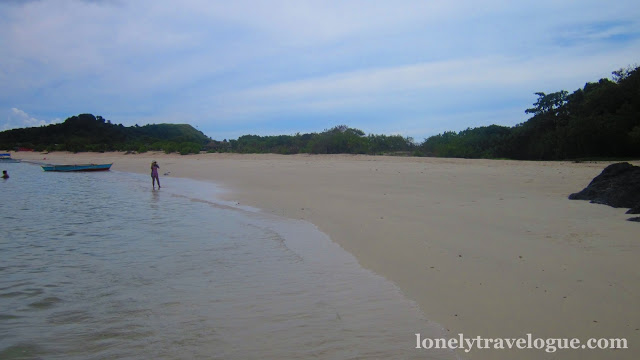 I stared at the beach covered by boats unloading tourist, I say tourist yes. The sun mightily shining which makes the water glitters before my eyes. It was an inviting morning indeed. The humid sea breeze makes me wanna dip my feet on the warm water. Calaguas had me on first sight I thought. My soul lingered to the hypnotizing effect of the beach. I made the first move then it came all the way. I thought I was in paradise not thinking about my skin getting burned by the sun. I walked eastward then westward to check on the island's other facet. I failed half much. On the East side I saw a small community of corals brought by the low tide. Underneath the hills and heavy stones are those fragile creature made only for our eyes. A month ago before this trip I was in Apo Reef and I've seen corals and other visible sea creature. So I thought it was a continuation of the oceans show before my eyes. The nature was on me by showing a small school of fish trapped cause by the low tide. I walked near through them and I was careful I might be stepping on a century created corals covered by sand. I was in a slowmo' Time and circumtances began to slow everything. Hearing only the tiny waves, the air and my breath I focused on every spots close to my feet where I saw different colors of fish and corals.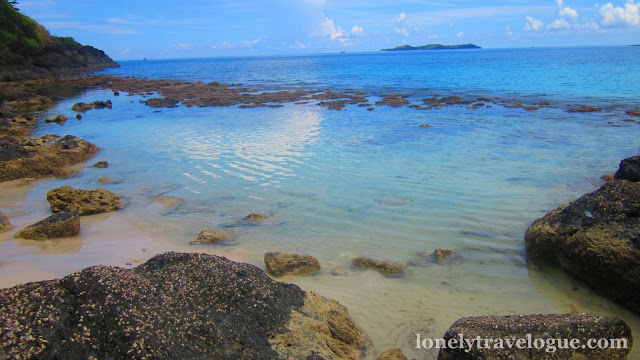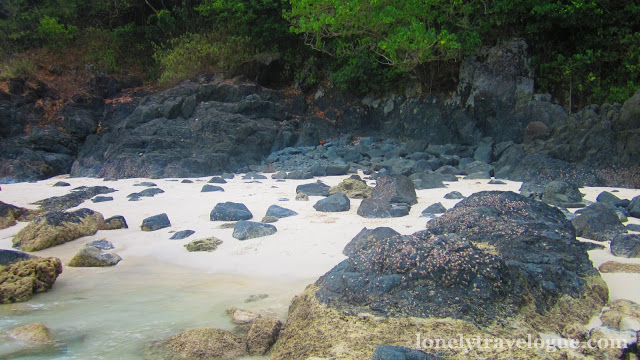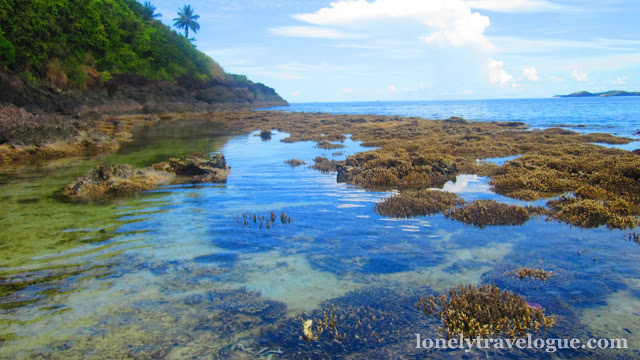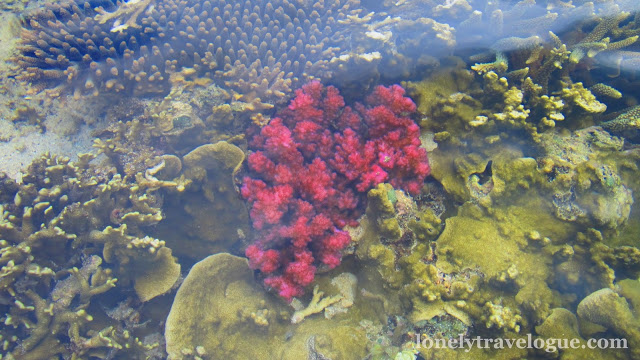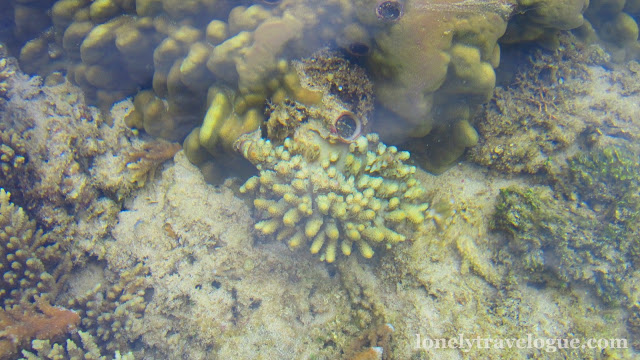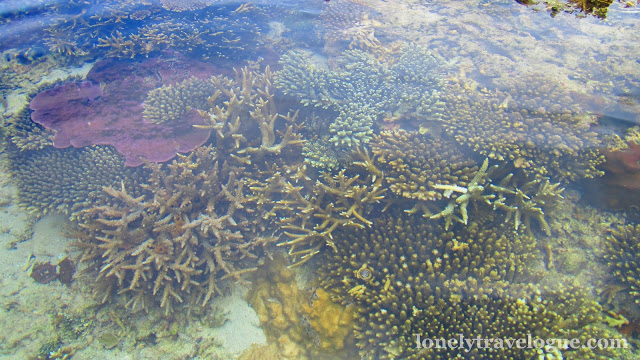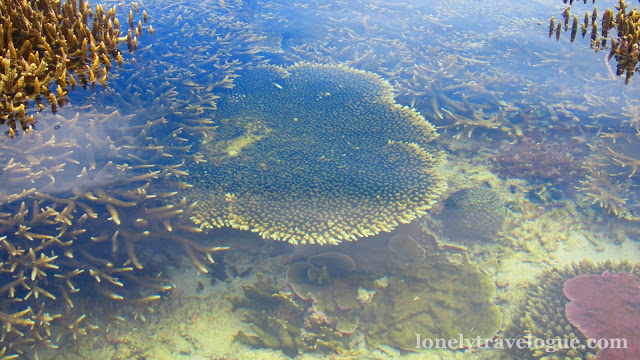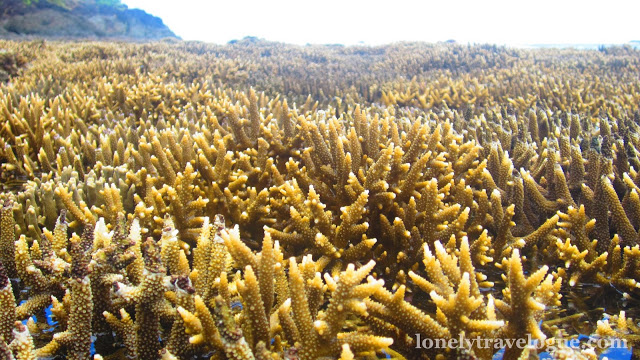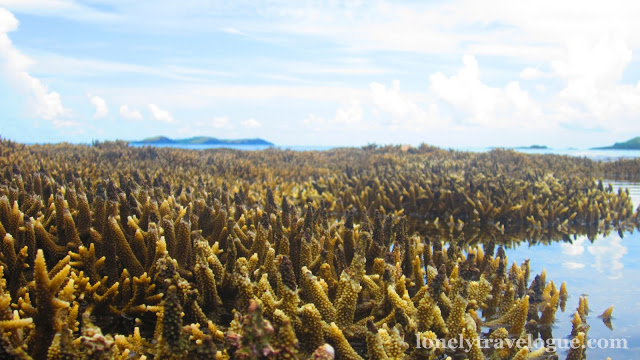 I wanted to cross the rocks to explore the beach we saw when we were approaching Mahabang Buhangin. Maybe I wasn't that daredevil enough to risk my life and career upon the slippery rocks. I wanted to bum and read a book after lunch but the lazy afternoon told me to meditate upon the sound of the beach. So I fall asleep or maybe half asleep with Theroux on my side. Everybody was chatting around our place which makes it hard to get a nice nap under the tree. But the breeze and the smell dictates otherwise so I had the best 60 minutes nap of my life not thinking of the folks around.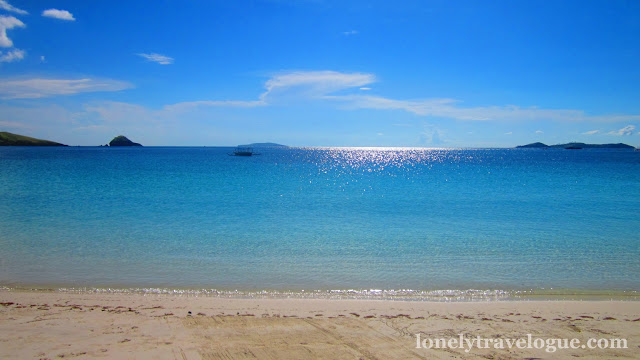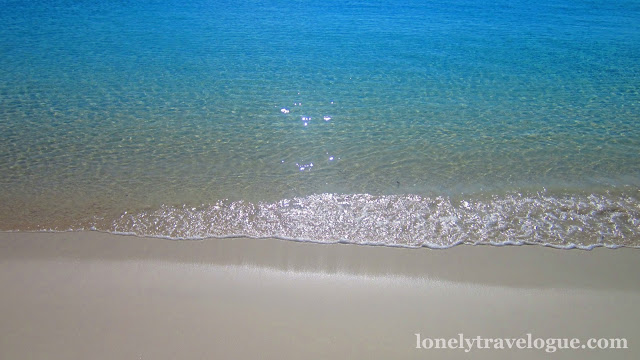 Everybody was afraid to brave the power of the sun except me. Armed with my green umbrella I walked towards the west of Mahabang Buhangin. My goal? I wanted to climb the hill so that I could have that perfect shot of the long white beach above. Calaguas' Mahabang Buhangin is getting some developments because of the influx of tourist about 2 or 3 years ago. The structures erected about 100-200 meters from the shore weren't there a year ago according to some locals and some friends who have been there.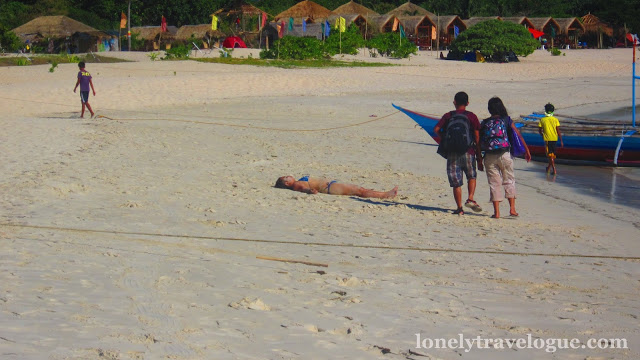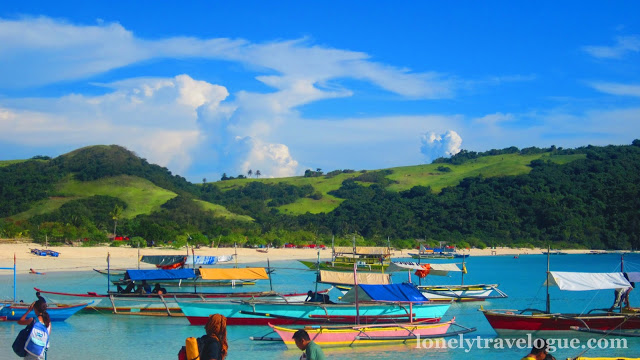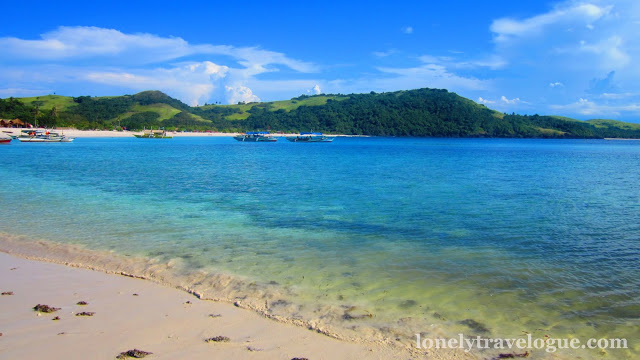 I walk on the powdered like shore of Calaguas without minding the people around looking at me because I have an umbrella to protect my dark skin. I walked barefoot feeling every sediments of the ground. It was as if I am in a massage session passing all the little rocks on the western side of the beach. I climbed on the hill without any clue of the direction. Thank God I saw a path upwards beside the foot of the hill. I was hesitant at first because there were people with tents set up there to cover themselves from the heat of the sun. I entered in a jungle like pathway. A smile from a cooking island excursionist then I proceeded. A less than five minutes trek was a piece of a cake. I reached the top and found a rolling hills with dried grass field. Blame the sun for killing them.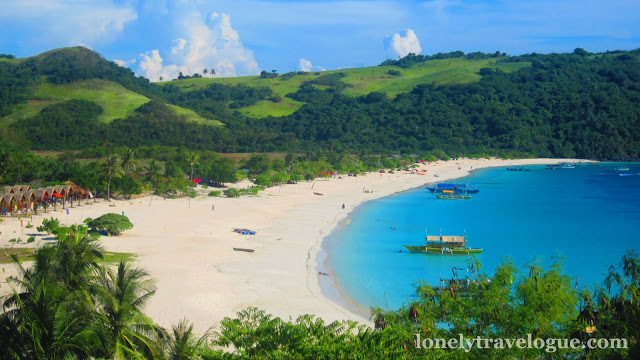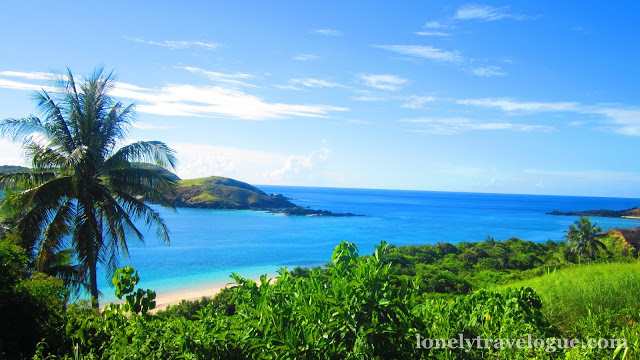 The reward of walking under the heat of the sun was stunning. I have never seen a view like this before that was why I really made it to the hill. I was there on the hill standing for almost 10 minutes, maybe, looking at the beach. I was contemplating about the development of the area in years time. That made me ponder if the LGU can really control the development of this beach paradise.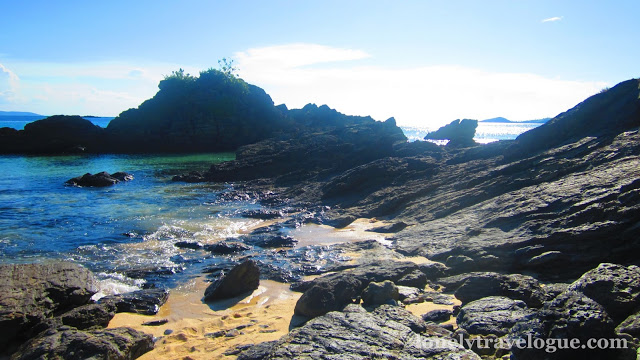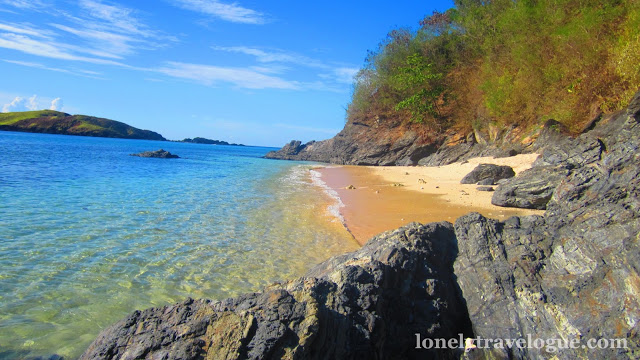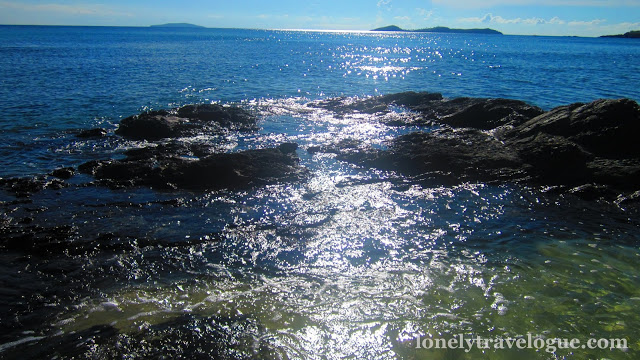 Then I went down to go and see the beach on the other side of the Island that I saw on the top of the hill. There is no other way but to brave the stones and waters to get to the other side. I was thinking if I will continue my thirst to see what I saw above. The other side of me says not to go because I was alone and something might happen to me on the slippery rocks. But I felt carefree to mind all the negatives thoughts running on my mind. The good and bad voices on my head wasn't important but to get to that beach and see my limitation.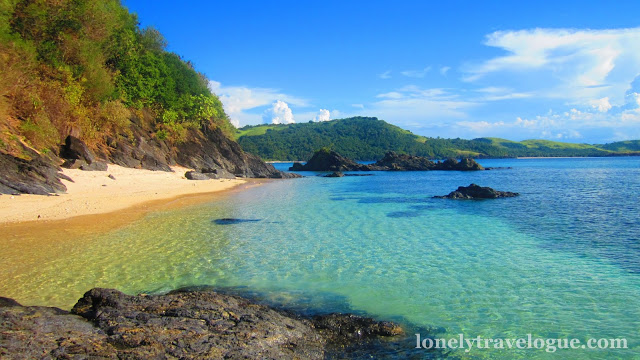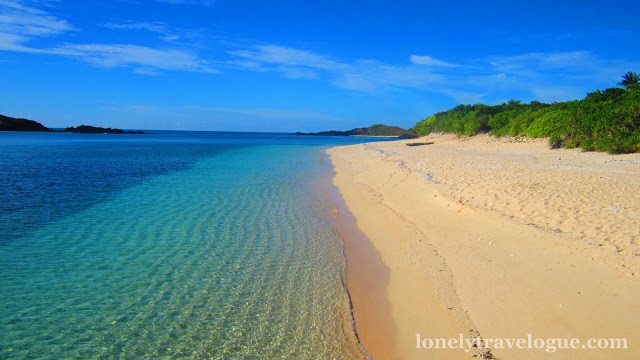 I was half successful and half failure. I saw the beach I saw on the hill but my feet wasn't able to dip on it. The end of the rock were I walked or maybe climbed was about 15-20 feet high. I could jump on it but I didn't know how to get back. The water was too deep to swim on through it. Adding the fact that I have a digital camera on my one hand and an umbrella on the other. Heww….. I know that if I pushed a little more, I can brave that objective. A big consolation was that I was able to capture the calm beach of that side of Tinaga Island Calaguas.


So the conclusion was made. Mahabang Buhangin is not the only beach that can be developed in Tinaga Island, Calaguas. There are more actually.

When I was a child beach for me is for playing… playing endlessly until you say no. So like a child we played in the beach with our cameras with our beach body and outfit ready to pose in front of the world.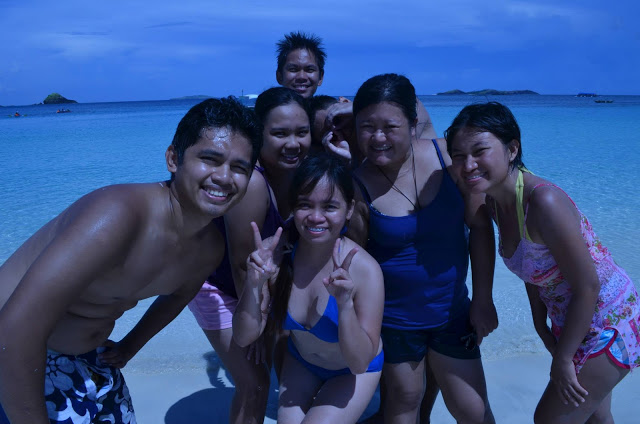 Me, Kat, Rj, Pau, Endeth and Claire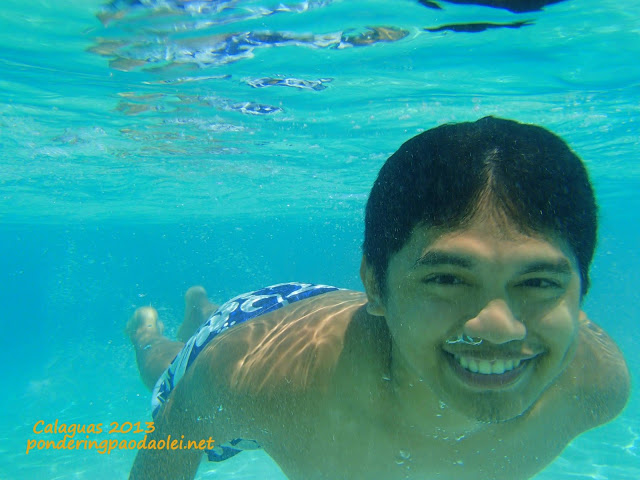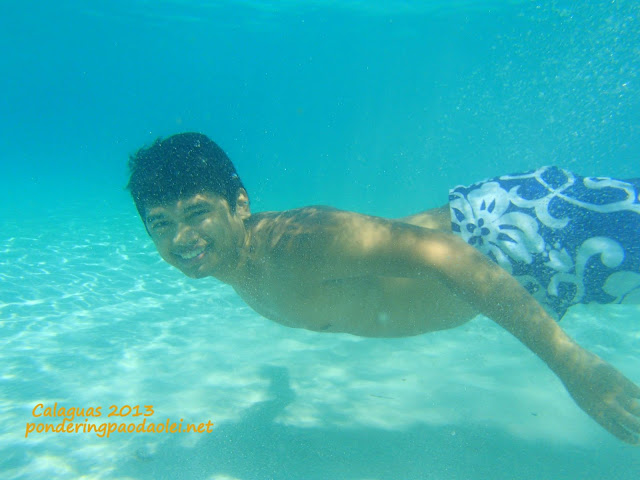 We wanted to see the sunset but the clouds blocks the temporary goodbye of the day. So we just opt to do some silhouette shot to comfort our longing for the sun's goodbye.

The Other Side of Calaguas After we had our dinner we took a shower in an open area where every bucket of water is worth Php10 I felt so tired and wanted to go straight to the tent and sleep. Maybe because I was exhausted because of all the walking I've done under the heat of the sun. Or did I mentioned already that I was part of the group in charge of the cooking that night? Oh well… We had a full course meal that night Tilapia or Peter's Fish as the star of the night. As I have mentioned I was so tired so after taking a bath I immediately entered the tent and place my bag on my head to sleep. I wanted to sleep but I cannot although my body tells so. I cannot sleep because there are lots of people talking, singing and doing their personal stuffs. There were also men drinking liquors at the back of our place. Since a sound proof tent is not yet invented I had to deal with all the noises of the people of the world. A light bulb moment came. I turned on to Streisand, Buble and Carey to at least listen to more bearable sound. But my battery didn't last long so again I had to force myself to sleep with the irritating noise of the people. After some minutes or maybe hours, heard some explosion. A fireworks for the unknown occasion to us. Wow… it seems that there was a party on some parts of the beach huh… hmmm… I wonder if that's allowed. Thank God I was able to sleep. When I woke up most of my travel buddies were disappointed and sad. Was it because they didn't had a good sleep? hmm… So Claire approached me and told me she will tell me everything that they saw during the night.
What happened according to Claire was there was a party where there was a fire dancing on the shore. There were also some people who light some fireworks, the one I heard and sky lantern on the mountain side of the beach. Those were the things that upsets them. Claire wanted to go to authorities and report the incident. Maybe not report but inquire about the guidelines, if there is, of the norms and behaviors towards the beach. The problem was it was a Sunday and most probably there's no one in the Barangay. But then we proceed because there was an earlier plan to hike in Tinago Hills and visit the community in the island.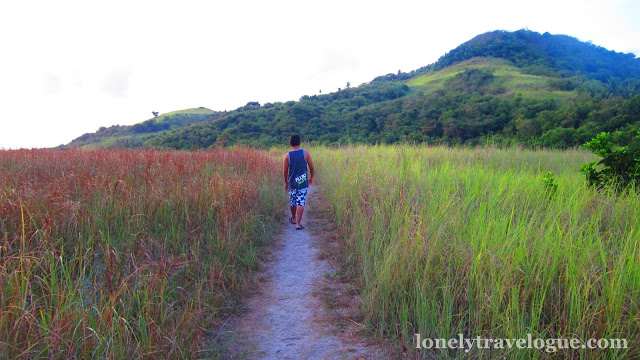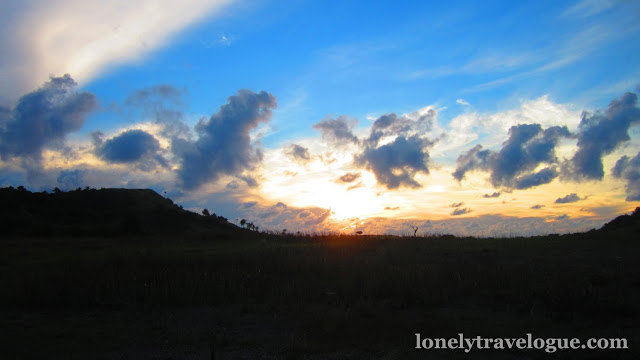 Sunrise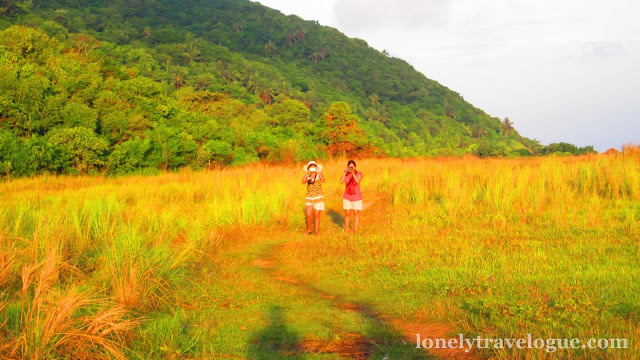 My two female blogger friend. Claire and Pau
Before we proceed to the community we had a quick hike first. We wanted to hike in Tinago Hills but we couldn't locate where it is. So when we saw a hill where there is a path we decided to climb that and see for our self the view of the plain and beach above.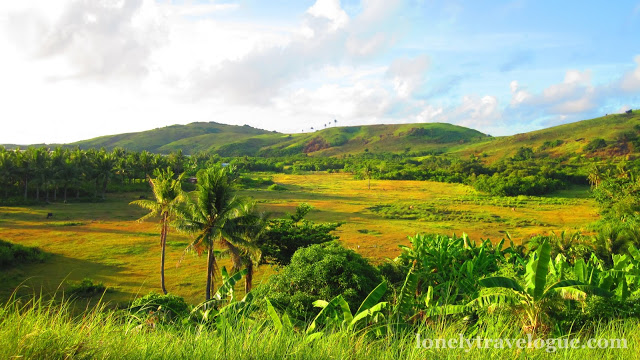 View from the hill. Not Tinago Hill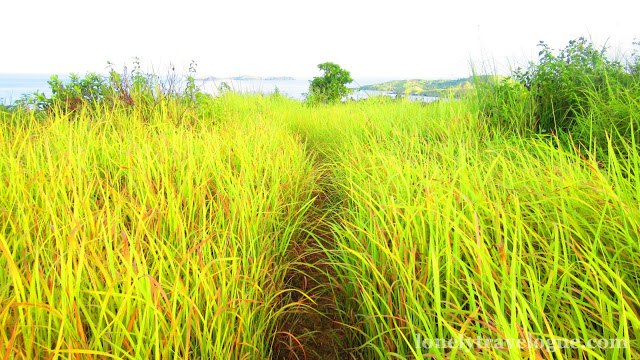 The Community
We were amaze by the simple community in the island. Maybe the frugal life of the people makes it looks simple in the eyes of the urban people like me. Claire proceeded with her agenda which was to look for any barangay captain or official (Community Leader) to talked to. We found one a barangay kagawad. Claire was serious on what she was doing so she talked to the community leader discussing the policy or guidelines of the local government about the beach activities as well as the fees and land ownership.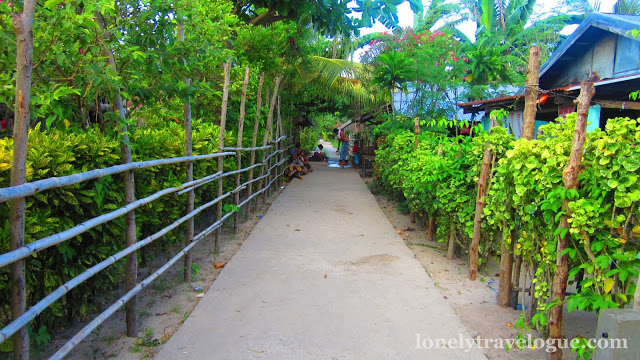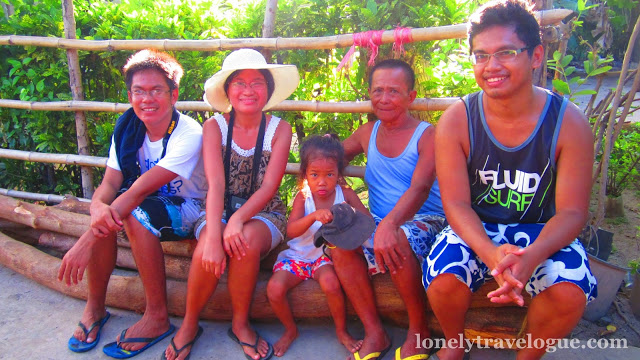 Rj, Claire, the Locals and Me. Pau taking the pictures
Calaguas the Next Boracay?
I was saddened by the fact that they were saddened by what they saw in the island. Half or most of my travel buddies were disappointed as I have said above. Calagaus is overated they claim. Maybe the expectation of the pristine beach wasn't met and the tranquility of the island was abused by the tourist. Our definition of a beach vacation differs from others (most) definition which is party and liquors.


Calaguas could be the next Boracay where un (mis) regulated erection of different establishment could take place in 2 to 3 years time from now. If that happens, It would be economical for the locals and the local government for a short period of time. Development is inevitable. It is everybody's dream. To be a develop community so standards of living could be raise. May it be a town, island, or mountain city everybody wants their place to be developed. Blame it to materialism and commercialism. But development could be place on proper perspective. Development without strong regulation is a suicide especially for natural resources driven economy like Calaguas and even the Philippines.


What I am saying here is that there would be development in Calaguas period. Nobody can avoid that. If the locals were right, most of the beach front (Mahabang Buhangin) is privately owned. So expect these people to capitalize on what they have/own. But even so, there is still hope of proper planning and regulation in this island. Put infrastructures on the inner island and regulate the usage of beach front for commercial purposes. The island is not yet fully developed so the local government can still and must enforce their power to protect the natural resources of their locality. But first they have to have a plan. A master plan for Calaguas tourism.

Development should be properly implemented in all parts of the island. We all know for the fact that the benchmark for an island destination in the Philippines is Boracay in terms of everything like the sand, the water as well as infrastructure development. But Boracay is over developed. It is actually a big environmental disaster. But I heard that the government is now doing something to protect and preserve the island namely for tourism sake.


Lets not make Calaguas the next Boracay or the next island party destination of sort. Let us not abuse what we have now. It might be gone to us too quickly.



Before heading to Daet to ride a bus back to Manila we had a quick visit in Paracale Church. The church is walking distance from the pier.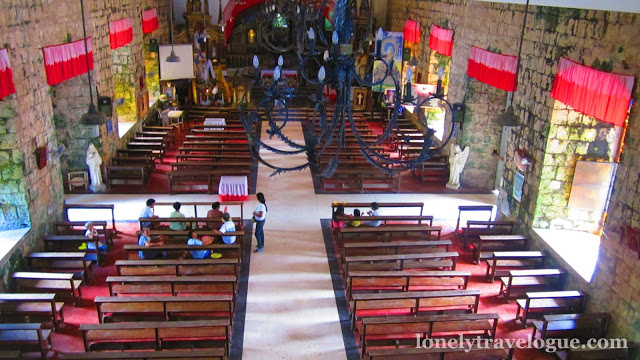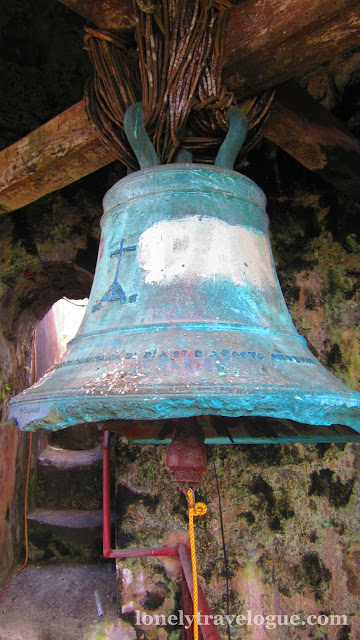 Yes, I left Calagaus with a heavy heart but it does not mean that I did not enjoy the beach. As a traveler and a fan of natural wonders the events and situation in Calaguas deeply mark something on my heart. It is not proper to enjoy God's wonder without minding its preservation. As a stewards here on earth we must assure that everything is in order. In the end it will be us who will reap what we have sowed. Happy Travels =) Related Post
If this helps you or inspired you please share this in any Social Media platform or comment here if you wish to ask for more =)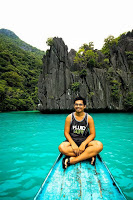 This is the travel blog of Jherson Jaya – banker by profession, adventurer by passion. Everything written here were based on his experiences. The lust of seeing new places thrilled him to explore both the explored and unexplored world. Old and new architecture fanatic; lover of food, both exotic and indulgence; and founds peace in long bus and train rides – that's how he describe his way of traveling. Follow his adventure by liking his Facebook Page LonelyTravelogue and following him on Twitter and Instagram.