Crossing Border It wasn't that tough crossing the Cambodia-Thailand border. The bus up to Cambodia side of border was arranged by Bou Savy Hotel.
They charge me $6.00 for the 3 hours bus ride. Actually they asked me to get the bus up
to Bangkok that costs $11.00 but I said I plan to take the train in going
to Bangkok. I pursued my plan after a second thought.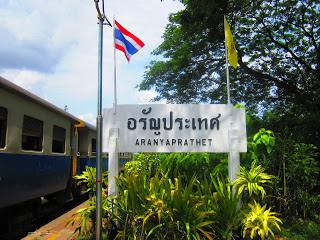 At 7 or 8 am, I was fetched by a Van that I thought will take me up
to the border. After 10 minutes the driver pointed me to a bus full of
foreigners.  Since the bus was full when I arrived I was stuck at the back
seat which I didn't like.
The bus up to the border.
Two and a half hours on the road, I was left with nothing to do but
to think of the future situation in the border. I remember a friend telling me
that corruption in Cambodian immigration was rampant! A friend of mine
experience waiting on the long queue because foreigners were skipping line with
a dollar in their passport so that the immigration officer will prioritize
them. Arggg… Since I am not used with this kind of transactions, my heart was
really pounding.
Not much people in the station.
After the 2 ½ bus ride we arrived at the bus station for stop over and
lunch. The place was new but doesn't have enough establishments to entice us to
buy and eat. Only a few ate lunch. 
I met 2 Filipinos at the stop over. Instinct
will tell you if somebody is a Filipino or not. While walking, we already crossed
our eye giving us the feeling that we were from one country. When were about to enter the
bus I sat at the bench where they were sitting. When I overheard them
speaking in Filipino or Tagalog I immediately asked them if they are Filipino (well it was
obvious, but to start a conversation I had to make those remarks common to us
Filipinos).
Thank God I met them! I was dying to find Filipinos during my trip. Although I met one in the bus going to Phnom Penh, we had to part ways because she's staying (in Phnom Penh) and I'm heading to Siem Reap. I actually wasn't able to neither get her full name nor email for facebooking =(   I met Mai and Awe. We joined each other in crossing the Cambodian and
Thai border. Contrary to what I am expecting, crossing Cambodian
Immigration was smooth and I didn't saw any signs of ill activities. Although
there was a long queue, every backpackers from different parts of the world was
organized and disciplined. It took me less than 2 minutes in front of the
immigration officer to process everything. Just make sure you fill up the
immigration card to avoid any hassle.   Me and my two new friend agreed to tour Bangkok as one group. They asked for the address of the hostel where I am staying. (Since I am
planning to take the train and they were going with the bus we had to arrange
meeting up in the hostel) The sad part is we were not able to meet up =( I wasn't able to
get their full name nor their email address. Arggg…
WELCOME KINGDOM OF THAILAND!!!
After crossing Cambodian side of the border, we walked about 100 to
150 meters before we reached the Thai side of the border. Unlike the
Cambodian side, Thai border is more organized and comfortable (thanks to the
aircon). The process was the same and it was smooth except for Awe who
lined up with, according to him, the very talkative immigration officer making the movement of the line slow.  
The TukTuk Scammer Awe was kind enough in helping me to haggle with the tuktuk driver
who was charging me 100 Baht going to the Arranpayet Train Station. Well as per
seat61.com you can haggle the price to half. The driver agreed to take me to
the station for 60 Baht. Well the driver did get a big Baht from me even if I
was able to haggle 40 Baht. Why? The driver didn't bring me to the train station. He
bring me to the bus station instead!   When I went down the tuktuk I asked him where's the train station and
he pointed inside. So I gave him the 60 Baht and he left immediately. Then
I approached the woman on the desk hoping that she will direct me at the train
station somewhere inside. This woman told me that that was not the train
station and the station is about 7 kilometers far. And here's more, she told me
that I cannot catch the train going to Bangkok because the train will leave at
1:20PM (it was 1:15PM then). So she suggested that I take
the bus that will leave at 2PM. By instinct, I know that "witch" was lying. It
was clear from all possible credible resources that the train was
leaving at 1:55PM.
Oh…yes' he's the Tuktuk driver!!!
I was at lost. Should I be paying again just to get back to the border? Will I catch the train? I realized I had to go to the tourism office or to the police station since nobody wants to talk to me in English. When I reach the highway a lady driving a single motorcycle approached me to ask me where I am going. Good thing she speaks a little English. Then her husband driving a tuktuk approached me also. I asked them what time will the train leave, and the husband pointed to his wrist watch and pointed 1 o'clock and 55 minutes. I got that! So I asked them to take me there. The husband was charging me 100 Baht and I said no I'm 60 Baht. They immediately agreed and the wife drives the single motorcycle with me on her back.   Thank god we made it!!!  
Train Ride for 6 Hours I was just on time. The train departed 10 minutes after I boarded.
As Awe had told me, I entered in the second to the last carriage because it has
comfortable seats as compared to other carriage. I noticed that the last carriage was reserved or for monks only. I'm not sure with that. Sadly, I am not sitting on the window
side. Sitting on the aisle seat was a dilemma because people will bump you
since the walkway is too narrow. As a result I didn't had a good sleep during
the six hours travel.
The train ride begin.


 
It's affordable!!! 48 Baht
While waiting for the departure I realized that I was thirsty and hungry. So I went down and bought some refreshment before we go. I remember Mai saying that there were train vendors so eating while traveling will not be a problem. She was absolutely right. I discovered that there's a food station next to our carriage. The vendors are selling variety of food. From fruits, to rice meals, drinks and even vegetable they were/are selling it
there!
Take the second to the last car for better train experience.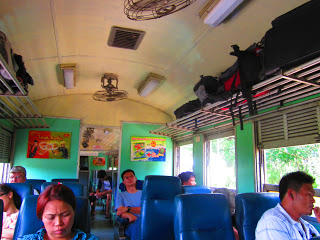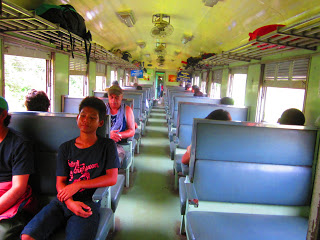 The train was stopping every 10, 15 and 20 minutes at every station. This makes the train travel time longer than buses. Since trains are moving smoothly you can read books to kill time. Sadly I wasn't able to bring any book not even any devotional book or bible. So I settled with my iPad switching from games to music. I should be enjoying the train ride if I was seated at the window side, sadly, I am not.
Hungry? No problem… vendors are everywhere!
There are lavatories and toilets inside the train. So you can wash your face when you feel the dust which passes through open windows formed in your face. (It will!!!). Yes, if I forgot to mention, all train from Arranpayet to Bangkok are non-aircon.
Beautiful sunset at 6:30PM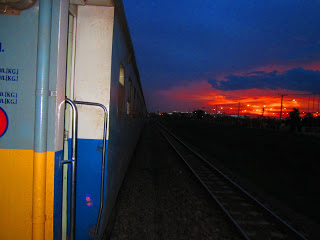 WELCOME TO HUA LUMPONG STATION!!!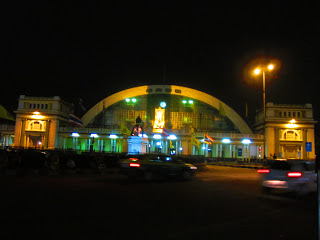 MRT or Subway going to Lumpini.
Since there is a MRT station connected to (MRT-Hua Lumpong Station) Hua Lumpong Station, getting to your destination is very accessible and traveler friendly.
  
MRT station is modern and world class.
Overall, I enjoyed the train ride! Really, if you don't believe me.
Haha… I got to see the people of rural side of Thailand and rode with them in
the train. Although there were handfuls of travelers in that train, I was not afraid because the Thai thinks that I am a Thai! Seeing some
commerce (as in selling wet and dry market items) going on inside the train was
a new learning experience. Knowing that these people are not that far from us in terms of culture and way of life. If you will ask me if I'll gonna do train travel again, undoubtedly, I
will answer YES.