The most famous island in the Philippines, no doubt, that is Boracay.
Long powder fine white sand beaches, party hopping, world class hotels,
hospitable smile of the people and the crystal-clear water of the island made
up the soul of Boracay Island.
Five years ago, I set foot on the Island for work. I spend almost a week in the
island, but I had limited time to enjoy the world-class beaches because I have
been visiting clients in the island. Thus, in this visit, I was so excited to
explore Boracay Island.
My friend recommended Ferra Hotel Boracay which is not in the beach front but
strategically located in Station two which is near to everything – banks,
restaurants, fast food chains, convenience stores, even pharmacies and money
remittance services!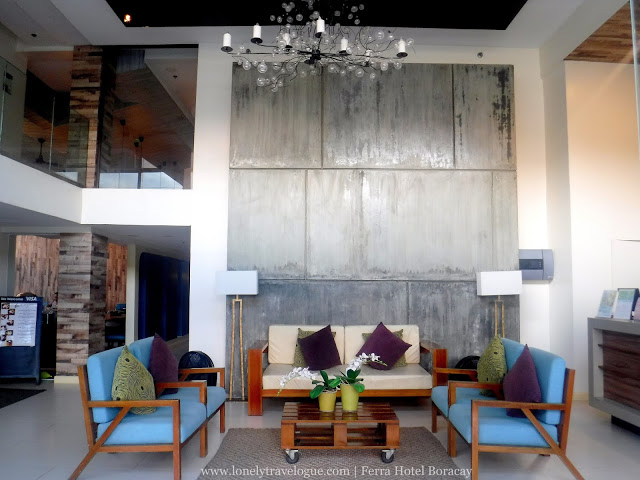 We arrived in the Island a little late. We grab an e-tric from the port
to drop us off in Ferra Hotel. The travel time from the port to the hotel was
about 10 to 15 minutes depending on the traffic. Thank God, we arrive late, the
haste and the crazy traffic was over.
The e-tric drop us off right in front of the hotel and Francel, my contact
warmly welcomed us in Ferra Hotel Boracay. When we entered the hotel lobby, I
immediately drop my bag and seated in the very inviting couch of the lobby. The
staff was so sensitive to our mood, they immediately gave us a refreshing
lemonade in full smile. Amazing!Modern Lobby
The hotel lobby has modern interiors. It is designed in such a way every guest
from all walks of life will rave about in their Instagram account. The high
ceiling compliments the breeze of the beach more so the color of the couch
which illuminates the color the beach and the sea. The lobby is made more
elegant by the glass bubbles with vines hanging in the ceiling that created the
chandelier.
I have spotted some folks happily seating on the lobby browsing books or just
checking their social media profile through the hotel's complimentary internet
services.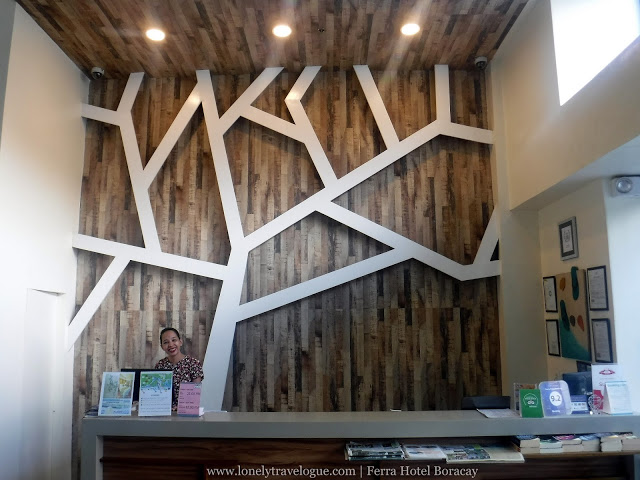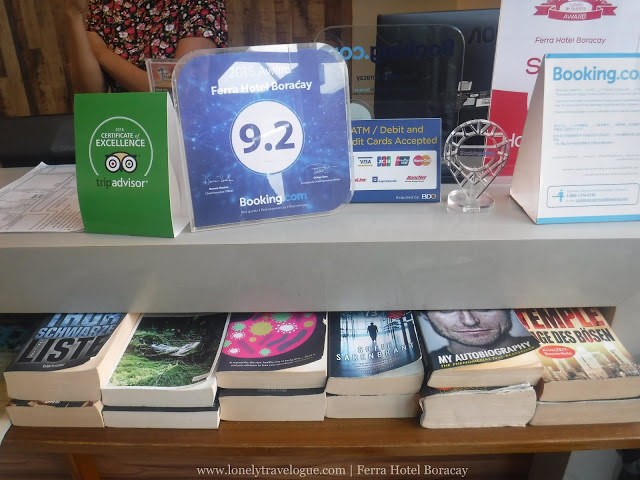 Before we check our room, we had a dinner at The Ruf with Francel. The
food was so good. I will write about it later.
Simple but Elegant Rooms
Ferra Hotel Boracay is a 3-storey facility with 37 rooms, a restaurant which is
called The Roof, a dining area, a lap pool and a stylish lobby. Ferra Hotel
Boracay basically has everything that you need for a beach vacation.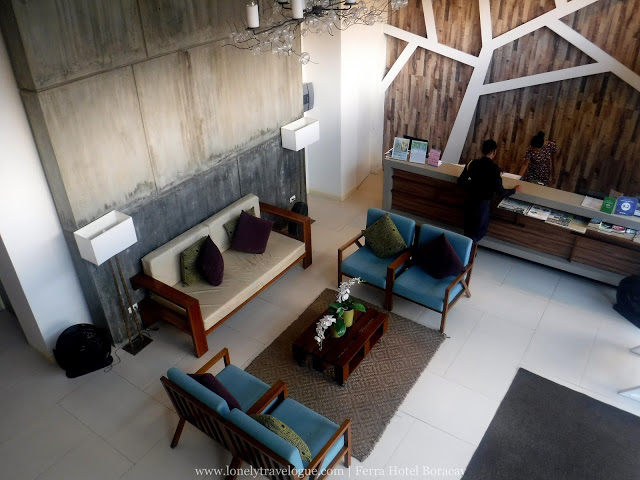 Our room is on the second floor of the hotel. The room we
booked has two
beds, a large Cable TV which we almost did not use (of course), a bathroom, mini
fridge, and the complimentary items such as coffee, tea, bottle water and
toiletries. They also prepare chips, soft drinks and beers in the fridge for a
fee.
Our room has a decent amount of space to fit 4 people. According to Francel,
each room is good for two but guest may add up to two person for a certain
amount.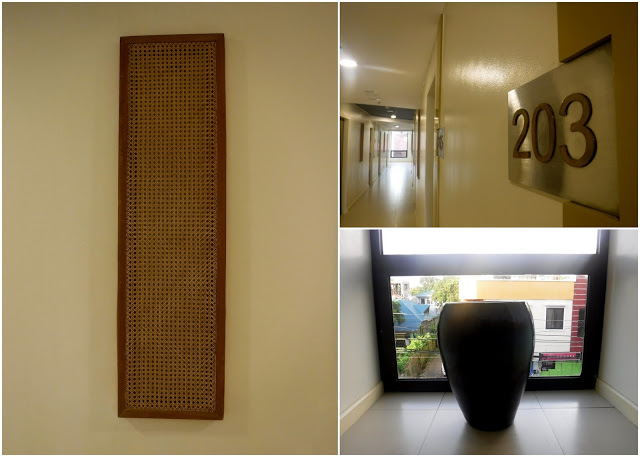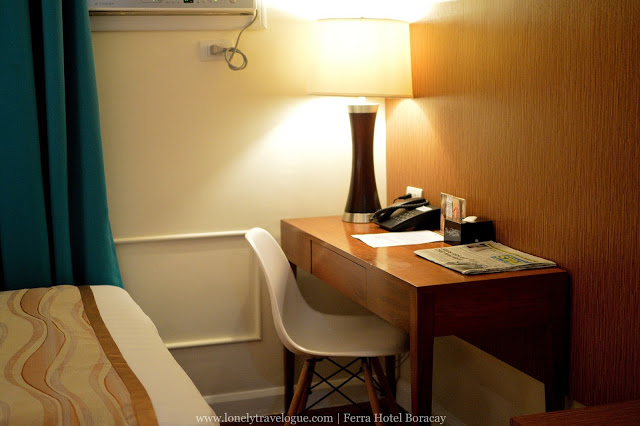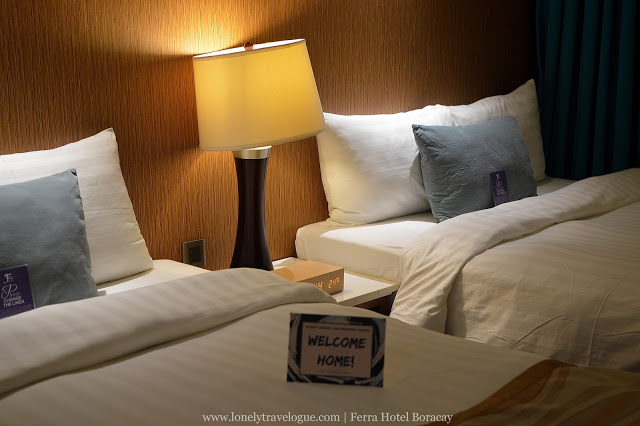 Whenever I enter a room in a hotel, I would always check the
bathroom
first among other things. Some would gear towards the bed, to see how soft and
comfy it is. But me I choose to check out the bathroom first. And I would say
Ferra Hotel Boracay has a standard bathroom with rain shower, lavatory sink,
and a bidet beside the toilet bowl. But most importantly it is clean and
doesn't have that foul odor – it has a nice fresh odor to emphasize. One more thing
I notice, the bathroom it intellectually designed to save and use space.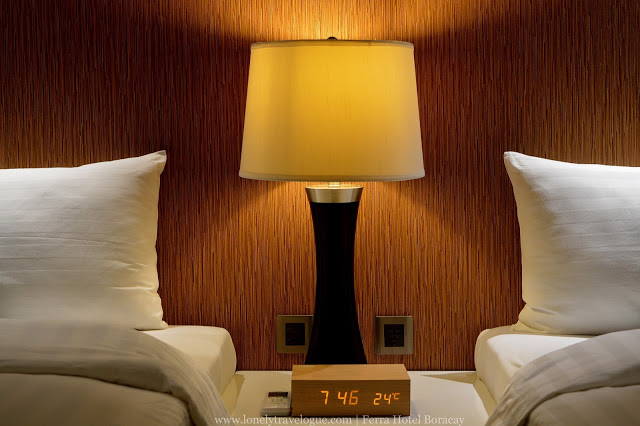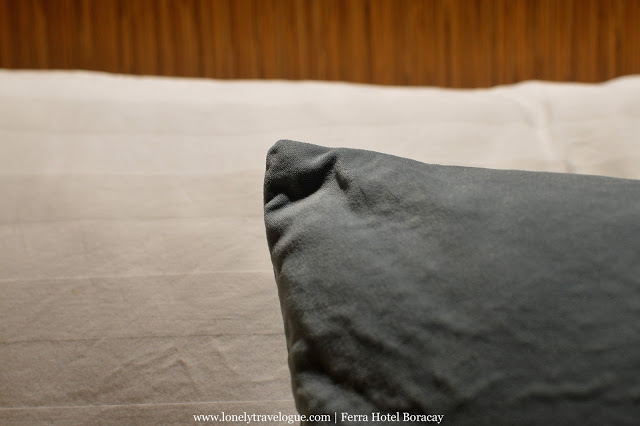 As a standard for all hotels, the beddings have a white linen which I like. The bed is comfortable enough to spare me a good sleep after an all-day beachineerng. The comforter can really warm you even if you turn the air conditioning down to 16 degrees – that could really give you a good night sleep.
I cannot sleep without my playlist on. Knowing that there is a Bluetooth
speaker beside me, I was ecstatic that I can play my modern lullaby.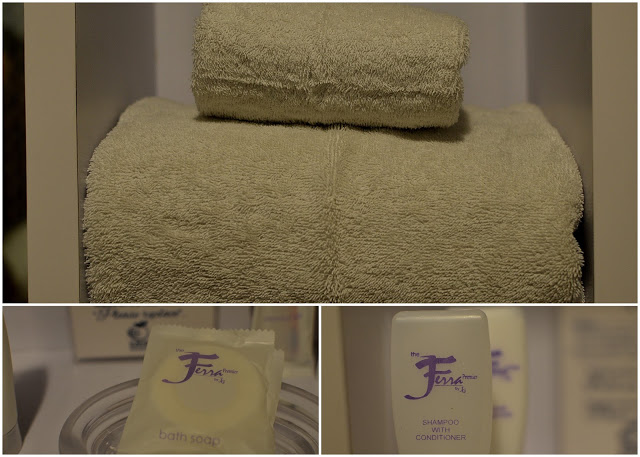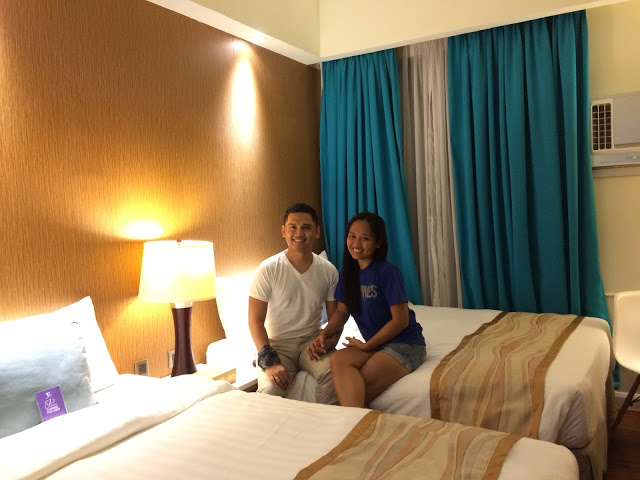 Buffet Breakfast!
Our stay in Ferra Hotel Boracay includes a
buffet breakfast. All rooms accommodation includes buffet breakfast for two.
Ferra offers enough number of food to have a decent breakfast. They have rice,
pansit, sausage, vegetable, pancakes, coffee, tea, omelet, and several spreads
for your toasted bread.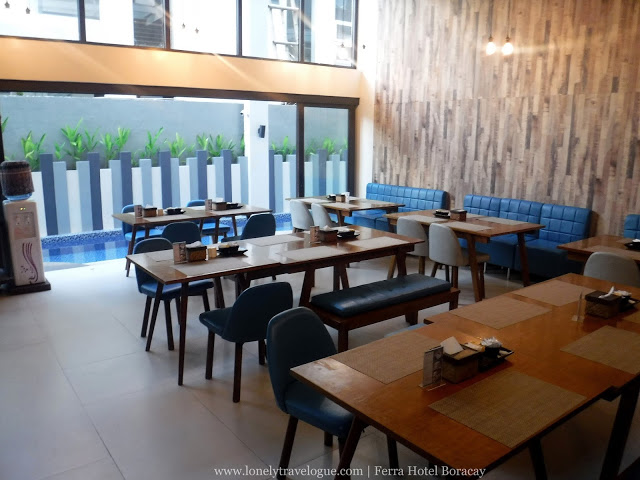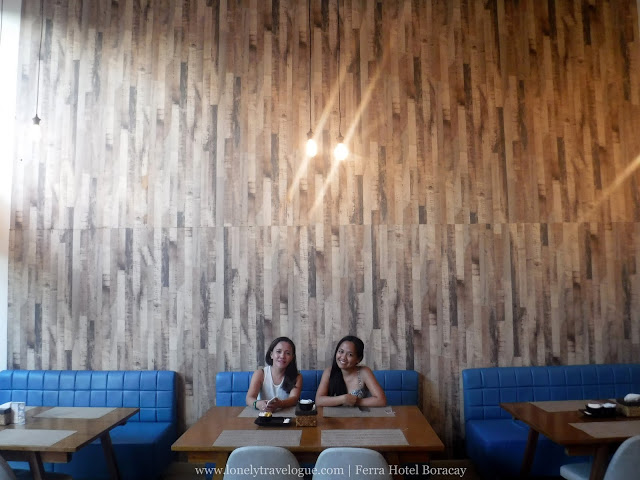 The restaurant where you will have your buffet breakfast is just beside
the lap pool. Yes, you can have a quick dip after your breakfast and before you
head to the beach!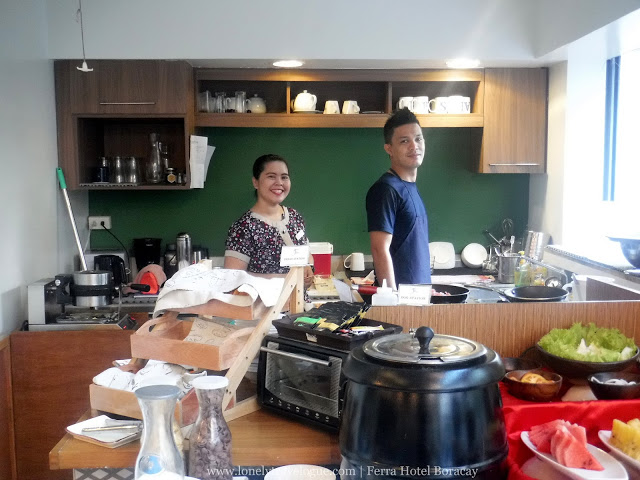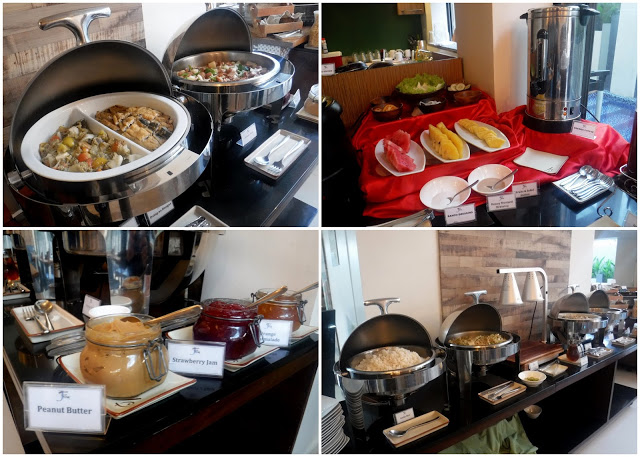 For some reason, hotel plays a
major part in our vacation. The warm hospitality of the hotel staff makes us
home away from our home. That's what we experience in Ferra Hotel Boracay –
Home.
Although I like my stay in Ferra Hotel Boracay, I had some minor issues with
the room service and punctuality which I already addressed to the management
before we checked out. I am so glad that they really took it seriously. They
apologize when I told it to them. I am sure they will act on it.
Despite of what I mentioned above, our overall experience in Ferra Hotel
Boracay was decent and comfortable. They were all nice and hospitable. For
sure, I will stay in Ferra Hotel Boracay again.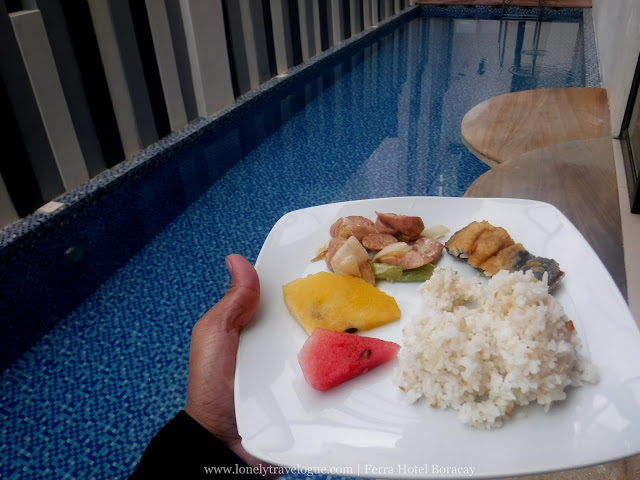 Either with Family, friends, your
spouse or even if you are a solo traveler, Ferra Hotel Boracay offers variety
of accommodation types that will suits to you! Choose from Standard room,
Superior Room, Deluxe room or the very millennial Loft type with one or two beds
– all will give you an exceptional Boracay experience.
You can also book your Boracay activities such as Parasailing, Jet ski,
paragliding, helmet diving and many more through Ferra Hotel's partners. Be
sure of the safety and professionally executed services through their partners. Room prices starts from
Php4,200.00 during low season, Php5,200.00 during high season and Php6,200.00
during peak season. It includes breakfast for two, complimentary internet
access and a welcome drink. Ferra
Hotel Boracay Sitio Bolabong, Balabag, Malay, Aklan (036) 288-1177, +63-925-57933-323 [email protected]www.ferrahotel.com www.facebook.com/ferrahotel