My body cannot move and my mind almost wanted to give up Ladakh, but my heart says otherwise. 
We asked Mr. Tuks Tan if we can cancel the trip to Alchi and Likir Monastery but he was very apprehensive saying "Alchi and Likir is very beautiful" in his Ladakhi accent and animated gestures. In my mind, he did not want to waste his day because we already got him for that day. But Claire was quick to shed some light telling me that Mr. Tuks Tan did not want us to waste our time just lying on bed and singing lullaby for our altitude sickness. We proved it right, Mr. Tuks Tan wanted us to experience the best of Ladakh on a March winter.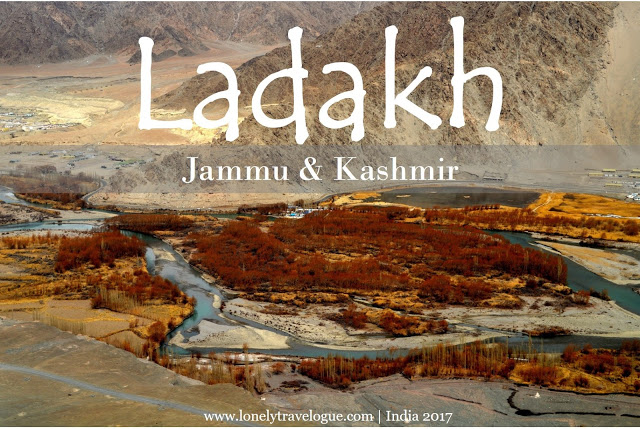 I dragged myself to the bathroom to brush my teeth and to wash my face. I wanted to take a bath but the hot water was limited. There was a water heater but it was unplugged thus we cannot use it. Water pipes were frozen and it was impossible to get water. I knew then why we got a big discount in Tse Tan Guest House. 
Without changing inner clothing, we drove off to Alchi and Likir in a dizzy and "bed" mood.
I was awake the whole time g
oing to Alchi
. I could not sleep because I felt that my stomach was unsettled. While we zigzag the road up and down, Claire was sleeping while holding her precious red camera named Sebastian. Her head almost hit the floor of the vehicle while sleeping. Occasionally, she will straighten up victoriously and will click her Sebastian on the scenery. She will talk to me saying
"Gerber penge nalang picture mo"
(Just give me a copy of your picture) then her head will hit the floor again. I will just stare at her and laugh silently. What she didn't know was that I am very still in my sitting position because I felt like vomiting and I was so cold
Nevertheless, I was glad about my stillness because of the things that I saw 20 minutes after the town of Leh. The whole surrounding is like a movie scene without actors. 
When I could not contain my excitement about the things I am seeing from my window seat, I will wake up Claire and pointed her the view without a smile. I can't smile that much because of the growing pain in my stomach and the cracking of my skin in my face.
When we were on the plane, we saw the snow-capped mountains and adored it intensely, 
Claire even wrote something about it in her blog
. When we were on the road to Alchi and Likir Monastery we confronted our pain in front of the land with snow and a blue-green river called
Indus
with great joy and love for life. I mentioned to Claire
, "Now I understand the reaction of Indians and travelers when we tell them that we were going to Ladakh"
You'll be speechless with the magnanimous rock formation in front of you with snow on the top. Like what I have said, it's out of this world similar to Matt Damon's movie Mars.
After traveling 65 kilometers from Leh we reached Alchi Monastery still with uneasy feeling but our soul full of joy and determination to explore. We were thrilled by the presence of Indus River beside the Alchi Monastery and the proximity of snow-capped mountains from where we were standing. 
We walked down to Alchi Monastery with limited words. We felt tired and my breathing was again challenging. We passed by a community with closed establishments. There were folks walking in their big clothing while some were tending their livestock. 
Though the climate was cold, people in Alchi were so warm, greeting us "Namaste" with a perfect smile in a not so perfect circumstance.   
Alchi is of no grandeur in physical appearance but its aesthetics is unique. The Main temple – a three-tier shrine – has a Ladakhi architecture using wood with engraved art. When the Monastery was founded in 1020AD, artists all over Kashmir and Tibet were invited to build the shrine. The three-tier shrine was decorated with a 

painting

of different

mandalas

that have deep tantric interpretation. It is one of the oldest

shrines

in Ladakh and has a remarkable contribution

in

its history. 
Sadly, the three-tier shrine was closed when we went there. I sat on the bench in front of the shrine while looking at all the details of it while enjoying the sunray that give me direct heat.  
I walk at the back of the shrine and found a series of small prayer wheel like what we saw in Spituk Gompa. I felt the peace and serenity. Claire was out of sight but I continued walking further until I saw the Indus River again.
It was time to move to another place but Claire did not felt the same so I went ahead to hide from the cold inside Mr. Tuks Tan's taxi. 
Likir Monastery
Located on top of the hill, Likir Monastery is charmingly surrounded by mountains. The surrounding is so picturesque. We passed by thick snow that slowly melting away when we drive to Likir. This could be a signal that spring is coming to Ladakh. Though folks were anticipating spring, we on the other hand was still enduring the cold. It was not a problem, we can endure everything as long as we were moving.
Based on my observation, Likir is one of the major

monastery

 in Leh if not in the whole Ladakh region. Likir is massive compared to other monasteries we visited. It has

many

ancient

structures

made of wood and clay for worship and assembly. 
Realizations and Feelings  
There was almost no people in Likir Monastery when we visited but I did not feel sadness and emptiness. I felt a deeper solitude in an ice-cold warmth that let me hear the voice inside me. Claire was with her own journey as I was with mine. I was alone yet I did not felt isolated. The world and the spirit beyond this world were with me. There's something inside my soul that is being weaved – dreams, sadness, pain, mistakes, anger and all the wrath of the world was going through my head but I was at peace.
I could never forget the smell of Likir, the texture of each prayer wheel,  how I struggle to breathe in each step, how terrible my headache was, the soft touch of my first snow – I could never forget it all because until now the thought of the world colliding in my head still lingers in me. It might change the course of my life. Only if I have the courage to take the first step like I was struggling to breathe. 
The tires rolled on the asphalt road of Ladakh back to Tse Tan Guesthouse. Our body was almost retiring for that day. We stop for a lunch to eat a signature Indian food – fried roti with gravy that was basically made of potatoes and curry. It was cheap and flavorful. I liked it. But though my heart wants to eat more by body and mind says otherwise. I had no appetite. Later, the same roti that I love killed me in Ladakh.
The Greatest Hell of my Life and a Friend
I skipped dinner not because I was tired or have no appetite. I skipped dinner because I was sick. I was staring outside through our glass-covered window while my eyes were almost at tears brought by the cold and pain. I had 5 layers of tick clothing plus two tick blanket but still I'm freezing. 
"Why am I feeling this, tomorrow is the big day, we will see Pangong Tso Lake as seen by Pancho and his friends" I said. I kept the spirit and claimed that everything will be alright the next day.
Claire was also sick, sicker than I am I suppose. She went to the living room to eat dinner but according to Mr. Tuks Tan, she's also not in her proper disposition. She really wasn't and even worse than I was. She moves so slow because of her palpitation. I sometimes run out of patience but I am confident that I am not showing it nor intended to make her feel uncomfortable with what I felt then. She was too slow and very disoriented. I was also not feeling well. I had a terrible headache during and after Alchi and Liker. 
At some point in Ladakh, she thought that I would shout at her because of the things that we were experiencing. When she said that when we were in KL, I felt a little pain like the one I felt in Ladakh. She even mentions that at some point, I'm losing compassion due to my eagerness to go home. She was glad though that we did not fight during the trip especially in Ladakh. Well I knew that it's not going to happen. I know she will not give in to my attitude and mood swings. I thought I showed compassion, I thought I cared enough. I realize even further that we see and interpret things with the context of our own emotion and current state of mind. After the trip, Claire asked me if she is still my Traveling Soulmate, I said in a joke that I will think about it – but of course yes. After my girlfriend Lana, Claire would be the next that I want to travel with.  
Claire went back to our room when I was still half asleep. She slept with her back on the wall to breathe normally. I

on the other hand

felt a kick in my tummy. After a few minutes, I went to the toilet to poop. It went on and on until I felt there was

no

enough liquid in my body but still feeling the poison in my tummy, it must be the fried roti. It must be fried roti. I drank Claire's water. She's awake but lying in the bed looking at my dying body going back and forth to the toilet. Then wisdom came to me so I drank 6 capsules of activated charcoal like the label says so for diarrhea. After 5 minutes, I vomited a 

large

amount of black water. It gave me relief for a few minutes then my tummy was aching again. It must be the fried roti. I vomited again then relief came second. I vomited and poop, vomited and

poop

 vomited and poop…. This goes until 4AM then I gave up on Pangong Tso Lake. I felt so

emotionally

and physically tired, I just wanted to go home.
Broken Dreams in Pangong Tso Lake
I asked Claire if she still wants to go to Pangong Tso Lake or rather if her body can still go to Pangong Tso Lake because I already gave up the dream of Pangong Tso Lake. I asked her so that we can cancel the trip before the taxi arrives at 7am. But she did not answer. I know she was awake. At around 6AM I told her I'm not going if she wants to go. I'm prepared to pay the split just to get the rest that I wanted. The driver came, still I was not joining. She's talking to the driver in her most painful sound. I wanted to help but I just could not move because of my tummy and headache. She's negotiating and at the same time convincing me to join. I said I could not. Due to her repeated words for me to go, I woke up irritably, told her "that's why I asked you if you can still go!" went straight to the bathroom, pooped, washed my teeth and went straight to the car with a heavy load in my head and tummy. 
We hit the road without knowing how we look. I knew I was hungry and needed to eat but I just cannot. I finally drank loperamide to stop the diarrhea and that was not a good idea. I felt like vomiting the whole time while my saliva was so sticky. My biggest regret was that I was not able to capture the beauty of Ladakh during that road trip.
We crossed a checkpoint and the driver asked for the permit and for our passports. I handed it over slowly like an old man done in life. He disappeared. I stared at the window thinking if we can endure the altitude and cold in Pangong Tso Lake. I got a little excited when I saw snow-capped mountain again in my view. I was glad we pursued it. 
The driver knock on my window and spoke to me in his limited English,
"I'm sorry. We cannot go"
He paused and I did not speak  
"There was an avalanche on the way to Pangong Tso Lake"
I wanted to scream but instead, I asked him
"So, what we are going to do now" Obviously to go back to Tse Tan Guesthouse. 
I already imagine myself in Pangong Tso Lake. Every drama in the picture was already laid out in my mind – I just do not know if I can make them, then suddenly I cannot. I felt fear when I heard the word avalanche. In hindsight, all was well with me when we were driving back to the guesthouse. Next option would be to visit other places or roam around the market area. But we just wanted to rest and wait for our flight the next day. It was a broken Pangong Tso dream at that certain circumstances, but if God did not allow it he has a better plan for me and for us.
We went back early to the guesthouse with the same feelings when we departed. All the things that I experience the night before all came back and haunted me till we departed for New Delhi. The road hit me hard in Ladakh. That was bad. The pain was almost a heartache, I do not what to experience it again but I will go back to Ladakh for sure.  

Here's' the video of our road trip in Ladakh. Listen to Om Mani Padme Hum as you watch the spectacular scenery in Ladakh.



Related Articles: