Everybody wants a piece of you – That's what you have to endure when you want something from a place with dazzling culture, colorful history and stunning architecture. I didn't mean to start this article in a negative tone but being real gives integrity to what I am about to tell. Besides you deserve the truth and genuine experience from us travel bloggers.
Jaipur is a big city with colorful streets and crazy bazaars. It is one of the famous place for tourist in India. The city also known as the Pink City and belongs to the India's Golden Triangle namely New Delhi, Agra and Jaipur. Expect a massive diversity of folks from all over the world – tons of tourist, touts, scammers and best of all, still, with good people and a collection of unforgettable memories.
Our delayed train from Varanasi arrived in Jaipur at around 8:00 PM. A 17 hours adventurous train ride becomes almost 23 hours – the first betrayal of the Indian Railway System. That wasn't enough to break our spirit. Though physically tired, we went out of Roadhouse Hostel to find the first love affair in India – food. We strolled around to find nothing but darkness in the streets of Jaipur. In the middle of it was an Ayurvedic Clinic where we met a doctor who talked about Boracay and drove us to a fine dining restaurant after we bought some of his essential oils. A visit in Jaipur wont be complete without visiting the sites it boast such as the Hawa Mahal, Amber Palace, Jal Mahal and the palace that made me shut up Nahargarh Fort. Roadhouse Hostel arranged a tour guide/TukTuk driver to bring us around the city for a whole day. The cost is 500 INR.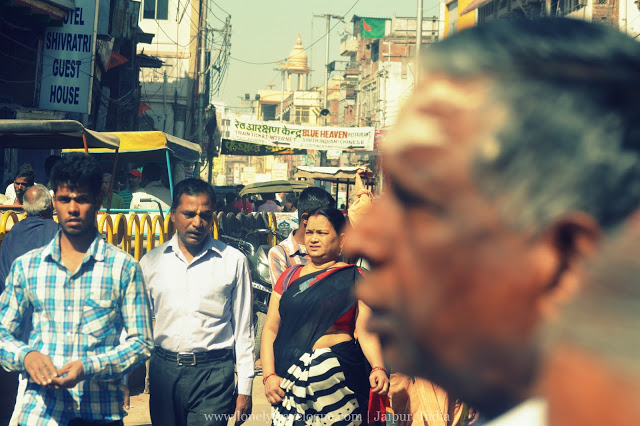 We bought a composite ticket that cost 1,000.00 INR each in Amber Palace. This includes the entrance fees to Amber Palace, Nahargarh Fort, Hawa Mahal, Jantar Mantar, Albert Hall and other minor attractions inside the Pink City.
Palace and Forts
When you visit Jaipur it is almost necessary that you visit the palace and forts that put this city on the tourism map of India – especially if it is your first time. Some of these are Amber Palace – the oldest and which I think is the most famous, its near by fort called Jaigarh Fort and Nahargarh Fort.
Common thing about these massive and ancient palace and forts, aside from they are all build to protect the past kingdoms and rulers of Rajasthan, India is that they are all grand, beautiful, has great architecture but some lacks the symmetry of the design. All of them has the color of the desert. I do not know what material they used in building these palaces but the color of the forts gave the structure a dramatic and unique aesthetics especially during sunset.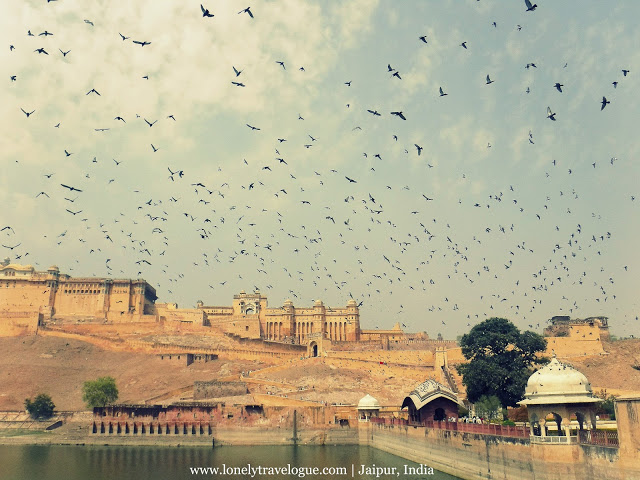 All of them are located on top of a hill or mountain which will give you a nice view of Jaipur City.


Amber Palace was the first we visited in Jaipur. No words can fathom how amazed I was when I saw the palace. It is the first ever picture worthy palace I saw. Don't blame me, I have Disney and European palace in my head.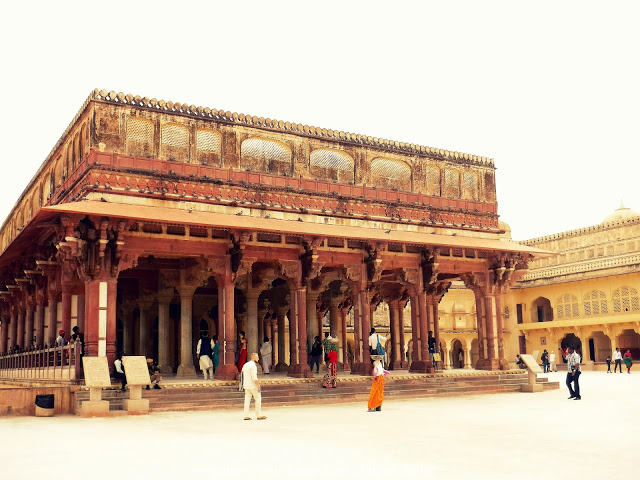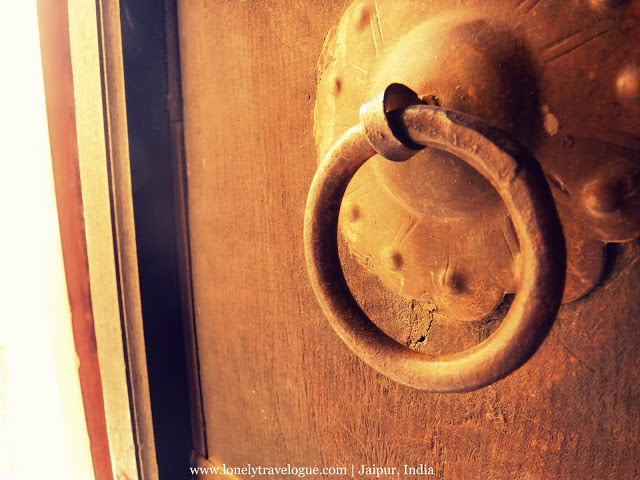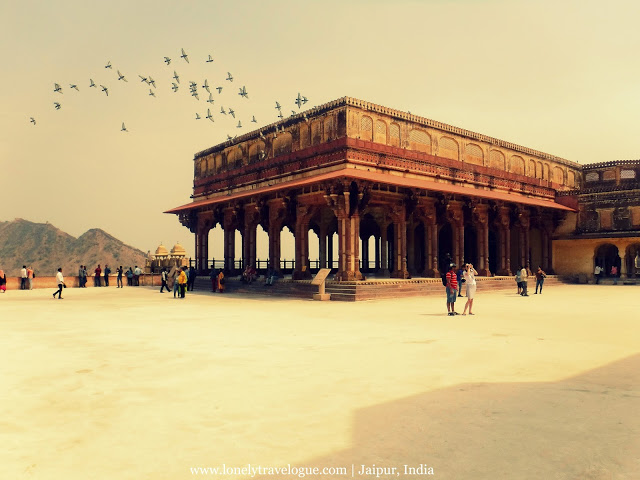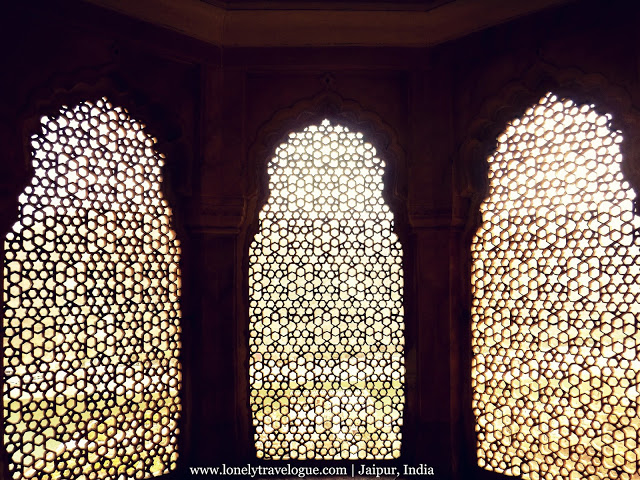 We entered and tired ourselves from taking millions of pictures which we can never upload all while battling with other tourist for a perfect selfie or solo shot. There are no lean season or days in Jaipur. Every spots are full of tourist all year round.
The next day we visited Nahargarh Fort which for me is a palace or castle I imagine when I was a little boy. It was almost sunset when we went up to Aravalli Hill – that after the rain in the Pink City of Jaipur. On the way up, the temperature dropped under my thin blue kurta and red shoal. But I wasn't complaining – how I love to endure the temperature in the city of Jaipur.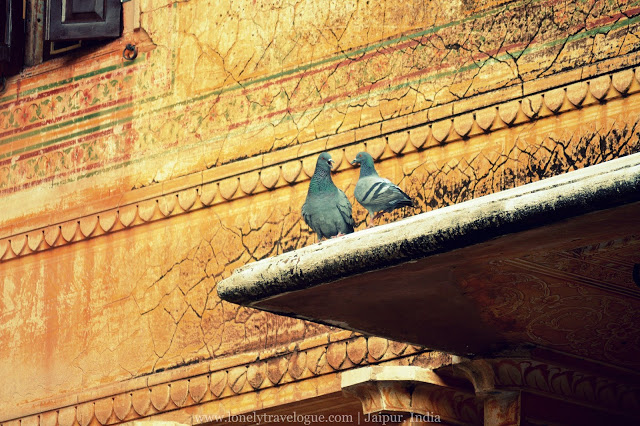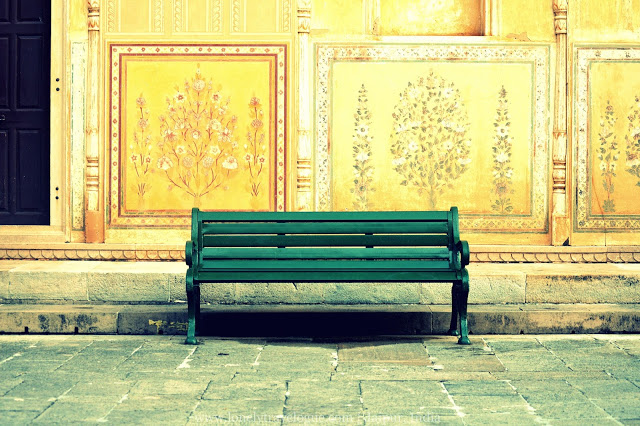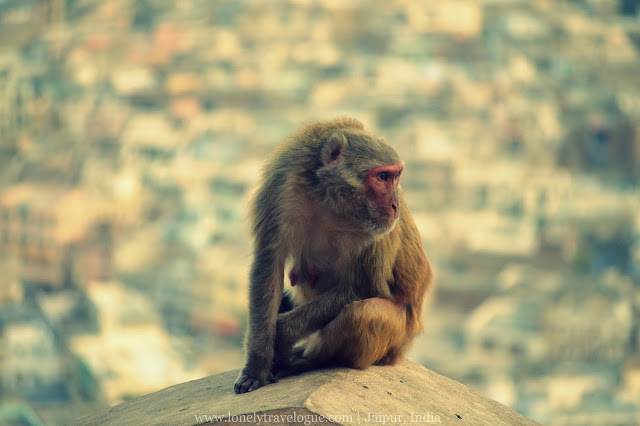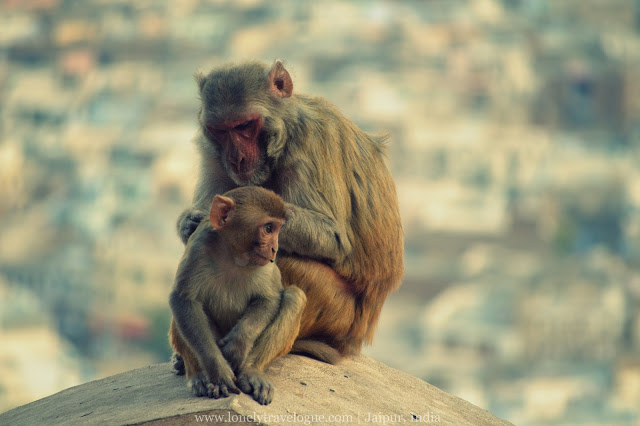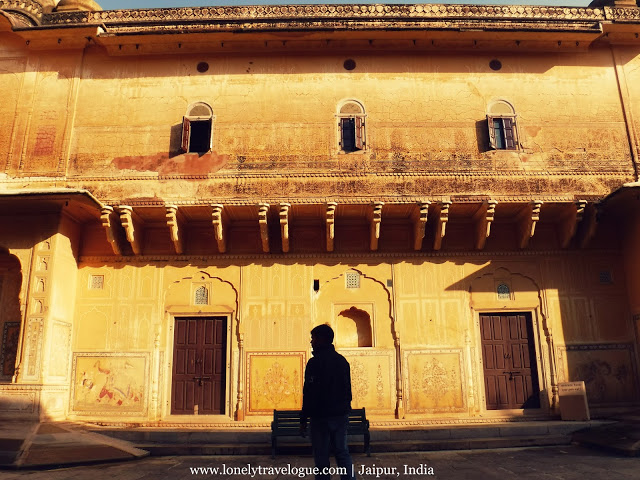 Nahargarh Fort made me shut up and just sit on one of its bench for a while. Not because I am tired from the Pink City Tour, I sat for a long time to feel the palace with its music surrounding me – yes there was an Indian sound effects.


When the sun was setting, when it touches the sand color walls of palace, when its rays touches my face all I felt was stillness in an ancient fortress of the past rulers of India.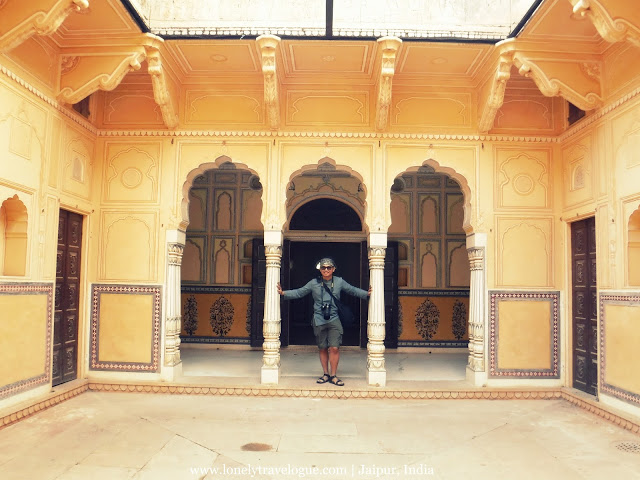 It is indeed one of my favorite fortress in Jaipur.
When you go down the hill from Amber Palace you will pass by another unbelievable structure in Rajasthan, India – the Jal Mahal or the water palace. Though no one can go inside the palace, you will be allured by its beauty away overlooking it in the middle of Man Sagar Lake.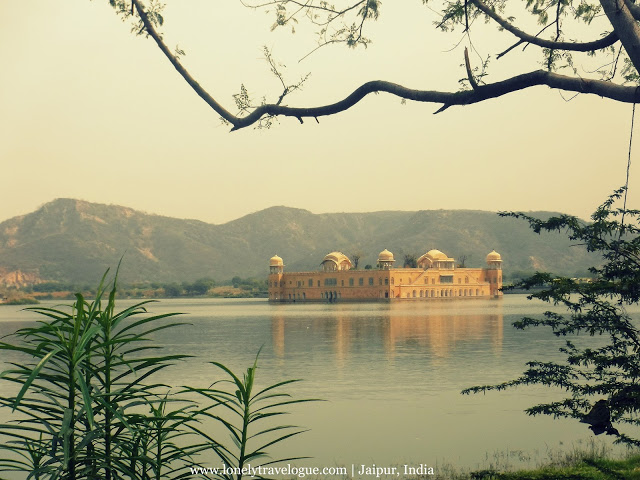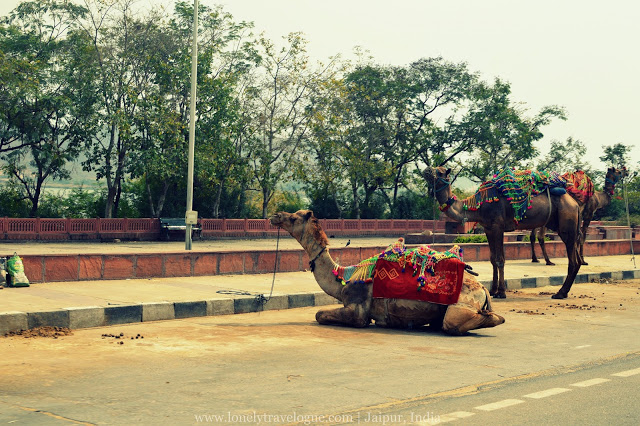 The Pink City It is in downtown Jaipur where the masterpiece of the city's architectural wonder is located – the Hawa Mahal or Palace of the Wind. The facade of the palace is one of the famous landmark in India. Its pink color along with other pink structures in the city gave Jaipur its name, the Pink City.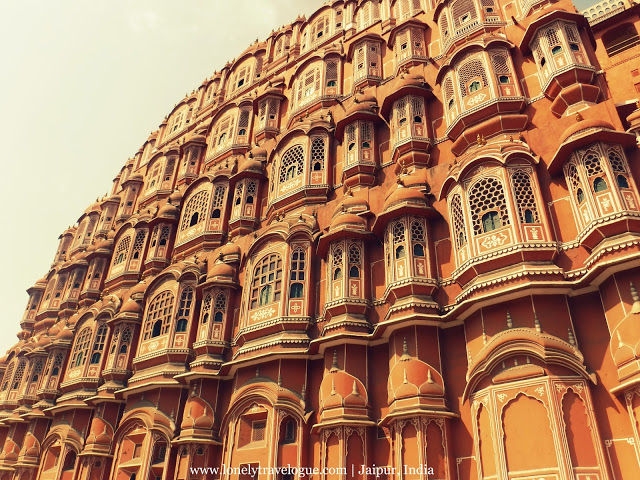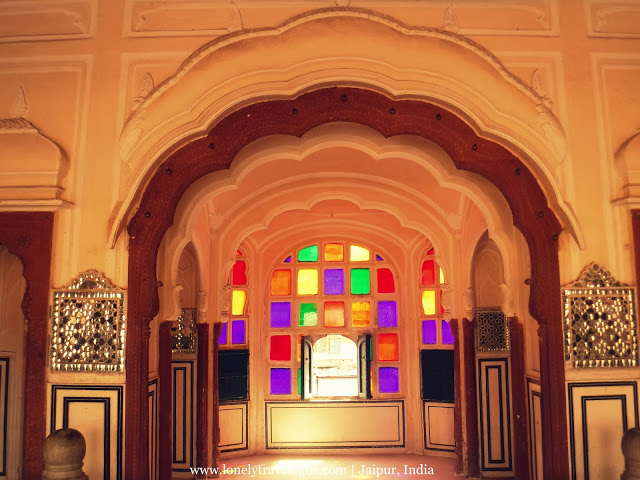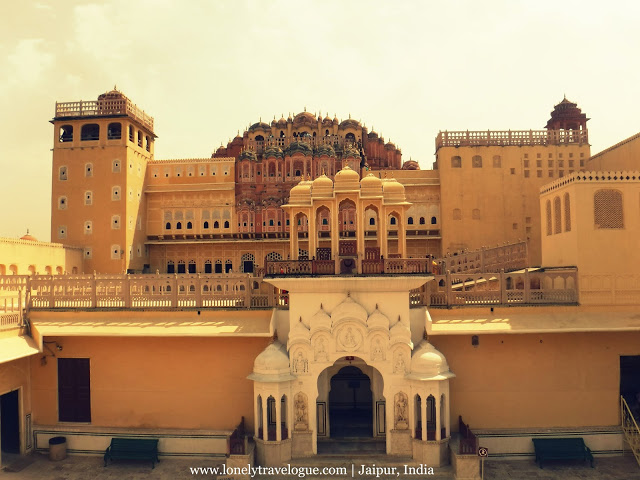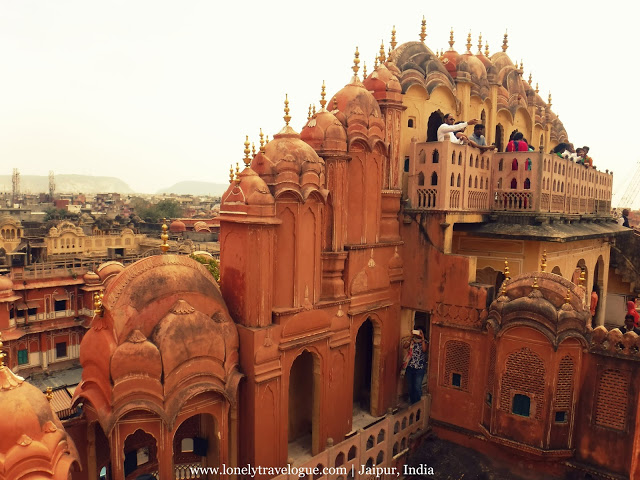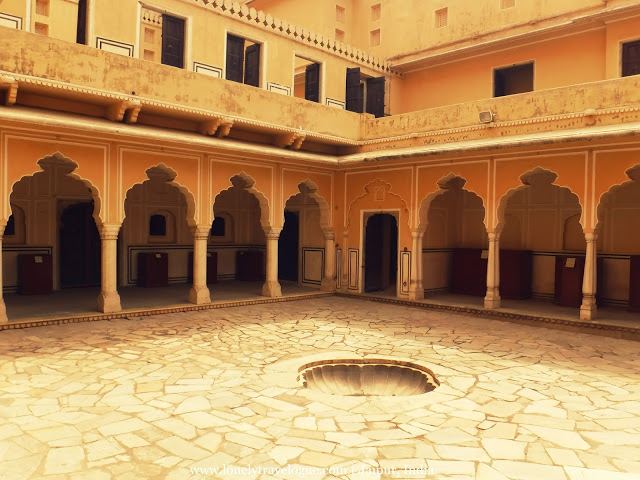 We wanted to visit Hawa Mahal in the afternoon to have the natural light for photo ops. That didn't happen because when we went back to the city from Amber Fort, Hawa Mahal was already closed


Hawa Mahal was built for the royal ladies to view the everyday life of the people on the streets. They observed through the 900 plus intricate windows from the back of the palace. The architecture of the palace allowed the wind to pass through inside giving the palace a natural cooling system thus its called the Palace of the Wind.


Included in our composite ticket is the Jantar Mantar which has collection of 19th century astronomical instruments. Jantar Mantar is a UNESCO World Heritage Site. You can find there the world largest sundial.


I love the stars and all the constellation stuff but I am not really into astronomy like my buddy Claire. I just sat in the corner and waited for her while she contemplates on these big ancient instrument.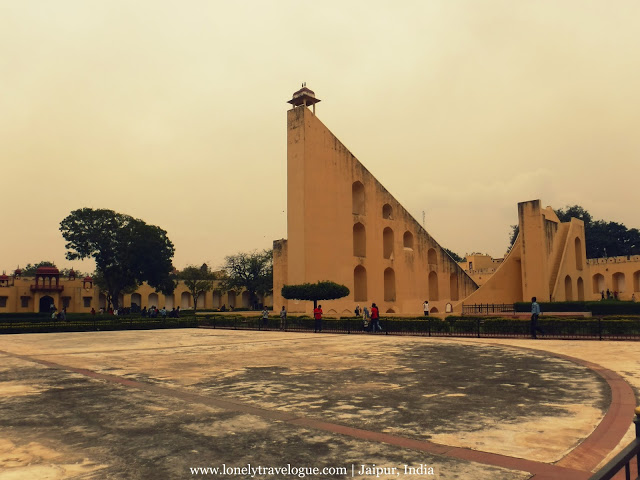 You can also find a Jantar Mantar in New Delhi.


Albert Hall Museum is outside the Pink City. It has an extensive collection of artifacts including paintings, carpets, ivory, stone, metal sculptures, and works in crystals. It is in the Albert Hall Museum where I learned that India has six major climate subtypes depending on the location. That makes sense because when you go to Northern India like Ladakh, it can be super cold.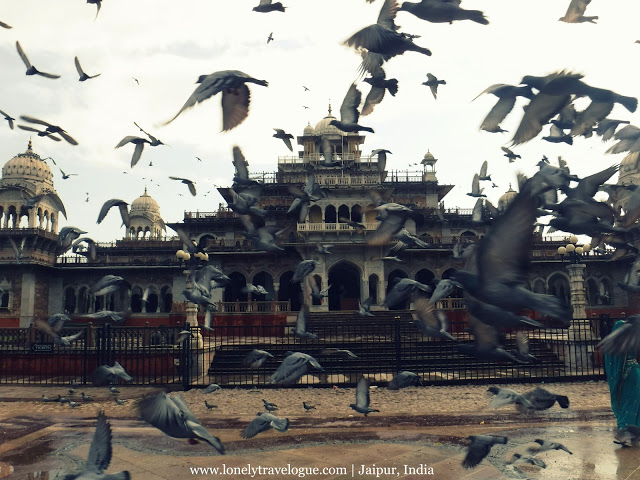 A Piece of Jaipur
We also enjoyed buying souvenirs and presents in the bazaars of Jaipur inside the Pink City. They are everywhere! We also bought a cotton textile printed with organic colors from Village Textile on our first day outside the Pink City. The textile cost me around 700INR which I think is cheap compared here in Manila. Plus I like the color, design, and quality. We also bought some clothes for our love ones in Village Textile.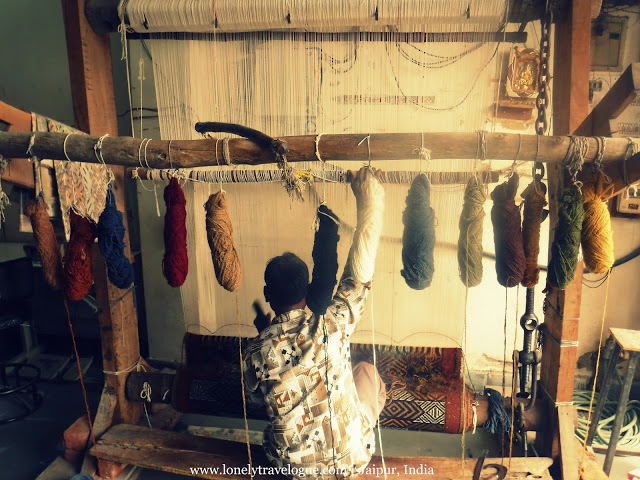 This is usually part, I am sure, of a commissioned tuk tuk tours. Our tuk tuk guide even brought us to a jewelry shop where in we felt insulted by the salesperson because he thought we don't have money to buy a service of one Indian sorcerer or shit. Our tuk tuk driver brought us in a tea shop where they sell tea in fancy packaging with price like diamonds.


Instead of bringing us to Hawa Mahal on the time that we wanted, the tuk tuk driver brought us to these shops where they sell skyrocketing items. The result, Hawa Mahal was already closed when we arrived. I think this was a semi-scam. He brought us to these shops, some we like and some we did not, to get a commission from the owner. My travel intuition tells me that.


When we went back to the city on our first day from Amber Palace, we walked around the Pink City and spend a hefty amount of money to get a piece of Jaipur. But it's always a struggle to get a good deal knowing the fact that they are charging you two or three times the actual price. There was one instance on our 2nd night when we walked out of a shop because of an intense argument with a salesman.

When we walked out of that shop, it was as if the forces of this world were leading us to what Jaipur (and the whole trip to India) was really all about. My travel buddy Claire was so pissed off. She walked fast and turned into a dark alley where there are religious shops and mesmerizing music almost like pulling us. The dark alley in that dark moment gave light to our journey (also a literal light).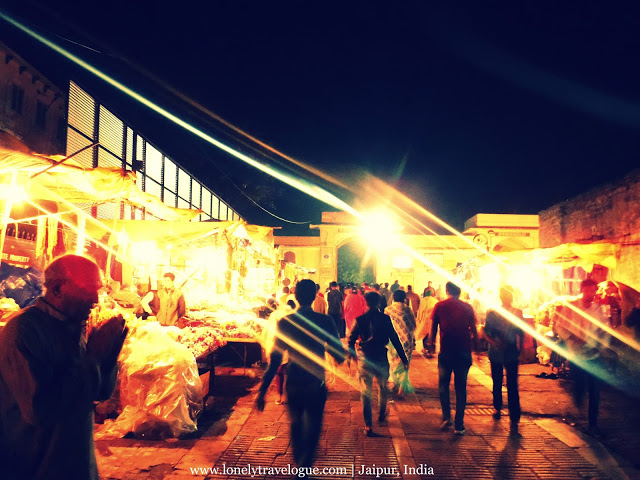 The chilly night and the dark encounter lead us to a Hindu Service where devotees were chanting "Hare Krishna" 

Magic usually happens for me during the unplanned and unexpected. Tonight, after being harangued by some shopkeepers, we walked around and stumbled upon a street selling religious items, which led us to a Hindu temple. We were just in time for their worship service, and the resounding chanting and singing of "Hare Krishna" washed away all our stress; I could even feel the sounds vibrating and resonating in my body. Later, we were given sweets by two of the templegoers. I write this moment in my heart as I am again reminded of how spirituality and the sacred can powerfully thrive anywhere, and in cultures and places not my own. This photo was taken after their worship service. The place was packed during the actual service! #magic #sacredencounter #iamtravelinglight #lonelytraveloguexiamtravelinglight #abrbrbrtravels A post shared by Claire Madarang (@iamtravelinglight) on Mar 10, 2017 at 10:43am PST


Like in Nahargarh Fort I was shut at the corner of my spiritual consciousness to reflect on the trip – its purpose on my internal being and my view of the world we are all living. We were not Hindu and we gatecrashed in their service and I personally felt welcomed by the smiles and nod of the people around us. While they were praying and chanting in that cold night, there was a golden resounding voice that, at every moment, gave me a moment of bliss.


The encounter with the tuk-tuk driver and the shop vendor was just a part of the bigger purpose and it shouldn't determine the whole trip – it did not. The whole trip in India was a retreat for me – not just a spiritual but a retreat that will eventually determine me.


More than the textiles, kurtas, and glorious palaces; Jaipur gave me a piece of her – a reminder of my inner peace in the midst of uncertainty and where to find it again and again. Everybody wants a piece of you in a touristy setting but be reminded to be still and find bliss in the midst of a chaotic trap.