It was not a predictable adventure in the Indian part of the
Himalaya.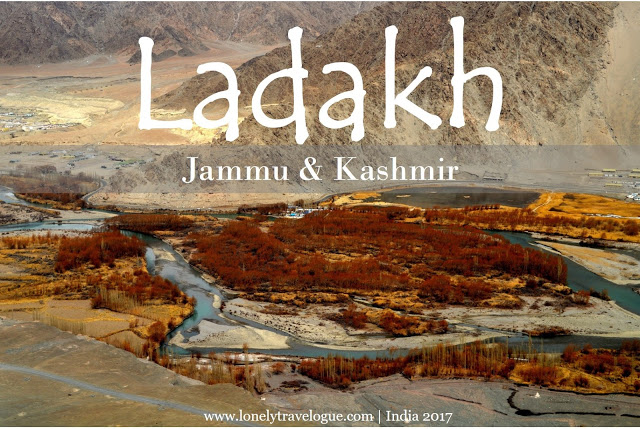 Ideally, I dreamed of Ladakh this way: playing in the snow
while enjoying the cool weather, roaming around towns and monasteries while
talking to some locals and to cap everything, I imagine myself sitting on the
banks of Pangong Tso Lake admiring the out of this world beauty of Kashmir. I
experience some of my expectations with the pain in the ass and an almost – a
life exchange experience if ever we pursued one further. I felt the joy and
pain in Ladakh. My spiritual well-being was fed many times during our Northern
Indian Adventure. Still, I felt betrayed by my own plan of great Himalayan
adventure Quote and Quote. I wanted to give up and I almost cursed the road
which I begin my love affair in 2010. I was devastated emotionally, mentally
and most of all physically.
Thirty minutes after the plane took off from Indira Ghandi
International Airport, the view from my window seat begins to change from plain
land to uneven and rocky mountainous land formation. There were no trees. All I
saw was a large mass of brown mountains with rivers and streams attached to it.
Later on there was a white thing on the top of the mountains. It was like a
dust dotted on the mountains. I turned my eyes on the horizon and I saw an
uneven line of white mass of land. Then I realized that the white thing is snow
and snow-capped mountain of the Himalayas.
It was a stunning view in the eye of an Asian who sees only
mountains covered with thick and lush forest. It was a magical feat for my
excited soul. Another outstanding revelation of God's perfect creation! I'm all
smile and if you can see me, my eyes were full of excitement. Who wouldn't be
excited to see the Himalayas snow-capped mountains!
We had to put our jackets on before we deplane because
according to the flight attendant, Leh is very cold. But contrary to what we had expected there
was no snow in Leh. There was snow in Ladakh but only on the mountains and on
higher places of the region. We were thrilled when we deplane and saw the magnificent
backdrop of the airport – mountains covered with snow. Claire shouted with joy
in the chilling temperature of Leh. Though I was overjoyed that finally after
months of preparation we are now stepping in one of the highest places on
Earth, I felt the first bite of the altitude. It was cold and the air was so
thin. I could felt that my lungs were adjusting because my breathing was not
normal when I first taste Ladakhi air.
One of Indian Army base in Ladakh
Ladakh is a region in the Indian state of Jammu and Kashmir
(J&K). Its gateway and capital is the city of Leh which is 3505 meters
above sea level. If you do not know what that means, continue reading. I pre-arranged our accommodation in Leh with Tse Tan
Guesthouse. Aside from accommodation they also provided us transportation, food
and guidance during our stay in Ladakh. Mr. Tuks Tan, the father of Mr. Tse Tan
welcomed us in the airport with great smile under the sunny and cold Ladakh
weather. He introduced himself and lead us to his taxi which what we used
during our 5-days life shaking stay in Ladakh.
Our taxi for 5 days While on our way to Tse Tan Guesthouse, I noticed that most
houses and all of the establishment were closed and locked. I asked Mr. Tuks
Tan if there is a WiFi in their house because when I checked my phone there was
no signal for my roaming. The Flytpack that we brought with us was not also
working. According to Mr. Tuks Tan, there is no Internet connection in Ladakh
during winter. Too bad yet too good, we were shut off from the rest of the
world. Too bad because I did not tell Lana my girlfriend and my family as well
that there was no Internet connection in Ladakh. Too good because we were shut
off from the world! No FB updates or IG photos for 5 days. The whole family of Mr. Tuks Tan welcomed us with a smile
while handing over hot cup of Masala Chai with biscuits on the side. They asked
mandatory questions for strangers visiting their guesthouse. Mr. Tuks Tan was
quick to warn us that we need to rest that day and possibly until next day,
Ladakh is very high and altitude sickness is very common mainly because our
body is used to low altitude. Well we all know those things and we came prepare
for it. We know that we must take a rest on the first day. Well we thought we
were prepared… After the short but sweet conversation with Mr. Tuks Tan and
his wife which I forgot the name, we immediately went to our room to rest. Our
room has a good view of the Himalayas mountain ranges and the view of the
garden without any plants because it was winter. I did not bother to change
clothes and I immediately jumped on the bed under our two-thick blanket to hide
from the cold. I could not hide from the cold of course. The room does not have
electronic heaters instead they gave us a hot pack as our source of heat. Altitude Sickness I planned to sleep so I fell asleep very quickly. That's
what we need to according to our research and according to Mr. Tuks Tan. I woke
up occasionally and I saw Claire walking around the room and sometimes she goes
out of the room to create her own memories. At around 3pm I woke up and I thought I
was dreaming. I thought that It was just a dream that we were in Ladakh. I felt
a heavy pour of something on my throat. Then I saw everything was going down
including my vision and I felt a heat on my ears that is not normal. I could
not breath. Everything around me seemed not real. I could not breathe. I
partially came into my senses and almost shouted Claire that I could not
breathe. I really could not breath. I only remember Claire's calmness and the
thing that she put on the table beside me – a medicine for altitude sickness.
Nonetheless, I could not breathe still. I hold my struggling breathe and
release it and I thought it was my last. I fainted on my bed. That was the first major attack of altitude sickness during
acclimatization period in Ladakh. I felt okay during dinner but I had no appetite. The food
was great and well prepared for 150 rupees but I just could not eat too much.
Having no appetite is also a sign of altitude sickness. Mr. Tuks Tan discussed with us the possible things that we
can do in Ladakh. We agreed with all his recommendation because we felt Mr. Tuks
Tan is a good man. On our second day, we toured the Town of Leh and the nearby
monasteries. We also applied for the permit to Pangong Tso Lake on the 2nd
day. Third day, we went much further to Alchi and Liker Monasteries. The last
day was for Pangong Tso Lake. Mr. Tuks Tan gave us discounts in all the tour because
maybe it was winter. The accommodation, food and airport transfer was all
discounted. The 3 days' tour was all discounted by 10%. Day two was a cold and cloudy with occasional sunshine. I
completely forgot the headache and severe dizziness the other day. It was time
to get to know Leh, the capital of Ladakh. We woke up at 9AM and had our simple
western breakfast courtesy of Mr. Tuks Tan's wife. For 100 rupees we had an
egg, bread, jam and butter to splurge. When the clock ticked at 10AM, Mr. Tuks
Tan drove his taxi to tour us around his hometown. Our 2nd day in Ladakh would be Spituk Gonpa where
the Dalai Lama has a special seat, Leh Market where we had our light lunch and
where we enjoyed observing the locals, Leh Palace or the Ancient Palace and Shanti
Stupa where I was led spoke to the Monk. Spituk Gonpa My body was not functioning normally when we reached Spituk
Gonpa. A little headache, breathing was not normal to the point of catching it
after a few steps on the stairs, my face was a little itchy while my lips were
cracking, my skin was so dry and an occasional longing for the toilet (Number 2)
were all I am battling over. That I blame on the high altitude and cold
weather. We have no way of monitoring the temperature but according to
Accuweather, the average daytime temperature that day was 12 degrees Celsius. Claire
was so pale and so slow during that day… and the days to come. It was all
because of altitude sickness.
But nevertheless, I was on track with my usual travel goals
– picture, selfies, pictures with my dramatic or signature pose, wander around,
talk to the people if possible and just stare at the standard of beauty of the
place. In cold temperature and at high
altitude I tried to act normally as possible but the pain was growing every
minute and every hour. Spituk Gonpa was built and founded during the 14th
century. This monastery on the top of the hill has a special seat for the Dalai
Lama in one of its main temple. When you enter the main door of the monastery,
you'll see some of the sayings or quotes from the Dalai Lama before and after the
big prayer wheel on the monastery.
When I entered the monastery, I had no intention to look for
the seat of the Dalai Lama. Besides I do not know that there was such a set
until Claire told me when I accidentally found it. My purpose was see the main
temple on the top. My feet led me to the series of ancient doors before the
long stairs to the temple. I must admit I felt that those doors invited me to
go inside. A temple surrounded by small prayer wheels was at the end of the
doors. I entered to take pictures of the prayer wheels then a man approached me
to tell me to take off my shoes then he pointed me to a red door saying, "Dalai
Lama" I knew what he meant but I am not sure. He opened the door and I saw a
big picture of the Dalai Lama on a splendid upholstered golden brown chair.
It was the seat of the Dalai Lama – I knew it! I told Claire what I saw for I know she will be thrilled but
I did not saw what I expected of her. She took off her shoes, went inside and
sat in front of the Dalai Lama chair. I shut up and sat on the corner. Later
on, I asked her what she prayed for.
There are a lot of dogs in Ladakh and they are all very gentle.
Leh Market The market parking lot was surprisingly packed with taxis
and some private vehicles. It was the opening day of the market for the year (2017)
and we felt a significance about it and that added to my excitement as well!
But what excites me the most was when I saw the manicured pedestrian-only
streets where all the souvenir shops – Cashmere cloth, magnets, shoes,
t-shirts, rags etc – are located. Locals together with a handful of tourist
where all there too!
We entered on the side of the market, the street beside the
post office, and we saw some hardworking ladies preparing their stores for
business. They were selling items from Nepal including necklace, earrings,
meditation materials like tingsha and singing bowl and a lot more. Claire was
curious about and her curiosity led her to buy a relaxing singing bowl for only
800 rupees especially when she knew that she was the first customer of the
year. I on the other hand bought a necklace for my girlfriend Lana with a
Sanskrit character engrave on the stone which means peace.
We walked around the market and we enjoyed the post card
perfect scene. Not all shops are open but most of them were starting to pick up
after the winter hiatus in Ladakh. Just like the bookstore and coffee shop
where Mr. Tuks Tan brought us, it was open even though there was no electricity
yet. The bookstore was owned by Mr. Tuks Tan sister in law and they served us
hot coffee and local pastries as a welcome. The sister in law, like all the
people in India was almost shocked that we went to Ladakh on a winter season.
Blame it to bad planning. Nevertheless, like the coffee that was served to us
we experience a warm hospitality in that bookstore.
Seeds are sold in the Market in preparation for Spring
These are Ladakhi shoes during winter. I was tempted to by for 600 rupees, but I thought I cannot use that here in the Philippines.
Mr. Tuks Tan in red
I think this is the only photo we had together in Ladakh and its blurred 😐
Our light Lunch
Mr. Tuks Tan's Lunch We tour the market like a normal tourist wandering in s
strange land while Mr. Tuks Tan greeted all his friend in the Market. Some
people greeted us, some did not. But one thing they are not camera shy and like
to have a picture of them even though they won't have a copy of it. Sometimes
it's nice to have Polaroid so that strangers will have a copy of your picture
of them. Before we proceed to Leh Palace Mr. Tuks Tan brought us to
what it seems like the tourism office of Leh to get a permit for Pangong Tso
Lake. One of the staff told me that we must go to a travel agency to get the
permit. For Indian, the tourism office releases the permit but for foreigner
like us we will have to go to the travel agency, he explained. Mr. Tuks Tan
drove to one of the travel agency that he knows and there we paid 600 rupees
each to get the permit. Claire joked for a "winter discount" but they just all
laugh. Upon leaving I saw a telephone and asked them if I can use it to call
Lana in the Philippines. The staff at the travel agency said no and she handed
over her cellphone to me. I smiled and dialed Lana's number. We talked for a
few minutes just to update each other of what's happening. I dropped the call with the I love yous and
all the sweetness in the world then I hand over the phone to the staff. I asked
her how much will I pay for the phone call but she just smiled and told me that
"It's your winter discount" We all burst into laughter. Another genuine
hospitality experience. Leh Palace Leh Palace or the Ancient Palace is a ruined palace in the
city of Leh located on a hill. It also serves as a attractive backdrop of downtown
Leh. From Leh Market you will be amazed by this brown structure with annexes
attached to it with equal size-windows. In my eyes, it is not a palace given my
standard and defined aesthetics of a so called "palace"
I suppose Tsewang
Namgyal and his team were limited by what they have during the construction on
1553. They used mud bricks, stone, poplar wood and other common materials back
then. The Leh Palace was completed by Senge Namgyal, the most illustrious king
of Ladakh. The nine-story Leh Palace, because it's on a hill, provides
a breathtaking view of the Leh Town. The snow-capped mountains were blossoming
like spring time. The mountains around Leh were all stunning. It was a dramatic
view for us because it's our first time to see snow and snow capped mountains. I
remember when I asked Claire about it. Her remarks were something like "I am
ready to die" And I was like, please not here in Ladakh. Though we bought
insurance that includes shipping of your remains back home, I don't want to use
it for crying out loud.
The View from the Palace Entrance
Dating?
I believe there supposed to be an entrance fee especially
for foreigners. But for an unknown reason the authorities just let us pass
through when we asked them about the fee. Based on the information posted on
the ticket office, Indian citizen, visitors from SAARC (Afghanistan, Bangladesh,
Bhutan, Maldives, Nepal, Pakistan, Sri Lanka) and BIMSTEC (Bangladesh, Bhutan,
Myanmar, Nepal, Sri Lanka and Thailand) will pay 15 Rupees while all other
nationals will have to pay 200 Rupees. Shanti Stupa The most popular religious site in Ladakh when you search
the Internet is the Shanti Stupa. For one reason, it's just I the town of Leh.
It is a prominent landmark in the town of Leh along with the Leh Palace.
Ladakh Shanti Stupa was built by the Japanese on the request
of Ladakh Buddhist Association. Japan is also a Buddhist country with many
other religions. The view on the top is a stunning view of both the town of
Leh and the serene nature with trees that were all ready to blossom in time for
spring.
Shanti Stupa was the serene version of my experience in
Shwedagon Pagoda in Burma. The latter, though gave me a spiritual fulfillment,
was crowded while the former was so peaceful and calm. No wonder I was the only
person in the pagoda for a certain time. I could feel some needle punches in my
head when the cold wind brushed to my dry face. I was chilling but determined
to circle the pagoda to do the rituals of the local. Somebody told us that
usually they do it 5 times but as I observed, locals do one round of circling
it so I just did one too. While walking around Shanti Stupa I rubbed my two palm
together to get some heat and warm my face.
I could have walkaway after taking pictures but there was something knocking
in me. A though. A question about many things. A question why we are doing the
things that we do. I asked myself what am I doing here.
I walked down and found a temple not far from the stupa. I
stayed there for a while. I guess I got tired of a temple without an action.
There was no life in it. It's an empty temple if there was nothing you can
learn. I did my shoelace and found a sign saying like "Ask your question here"
I knocked and found myself talking to a monk for the next 30 minutes. My first
question was "What is the Buddhist concept of Creation" He was not able to
suffice the answer that I wanted because based on our soul-uplifting conversation,
Buddhism does not a dogma about creation.
Instead, Buddhism is based on teachings about life – sacrifices,
love, forgiveness and evil. The conversation with the monk was just uplifting. I
know most of the concepts and teachings that he was talking about but I enjoyed
listening to him. Oh no, I did not just enjoy, I felt that it was a needed
conversation that it does not matter if I enjoyed it or not. Its life
confrontational and my soul was refreshed unexpectedly.
Lobzang Thinlay – the Monk in Shanti Stupa There was a cracked on my head but my soul was smiling. When you
thought that your life is great because your soul was fed, it will test your
courage and strength. The real deal in Ladakh is yet to be experience. That I
will tell you about soon.
Continue to the Next Part
You can also read Claire's narrative of our first day tour in Ladakh. Click here.