Disclaimer: At the time of our visit to Julyan's Coffee Spot, it wasn't the best time to drink coffee, but stories of food and love are best all day.   
Whenever you go beach outing you would need a place to kick off your great weekend and cap all the fun-filled activities and memories. In San Narciso, Zambales there is a quaint spot that will make your weekend not only unforgettable but also inspiring. With Julyan's Coffee Spot wide selection of food and drink and Instagramable spot, you'll surely have a summer blast!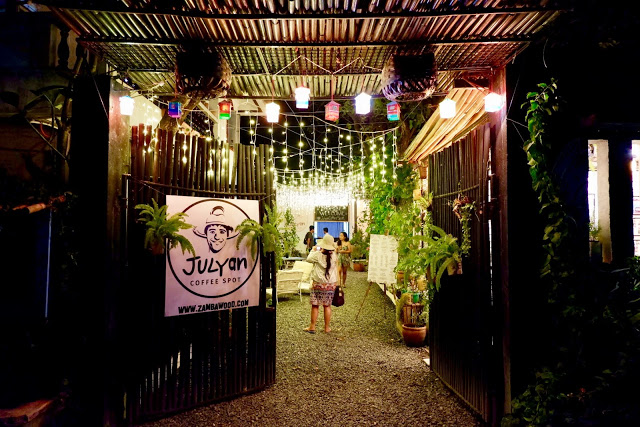 From 11AM to 10PM, you can grab a book or board games while sipping your milk tea using a metal straw and eating your finger food or pasta. While doing that, I'm sure you'll enjoy the breeze of Zambales weather under tall fruit-bearing trees inside Julyan's Coffee Spot. Then at night, be serenaded by soft music under the stars in well-lit surroundings. Brown bags are used to lamp the whole restaurant at night. 
A Place of Dreams
Julyan's Coffee Spot is a place not just to eat in San Narciso, Zambales or to hang out with your friends but also to contribute to their advocacy. Yep, you read it right. In Julyan's Coffee Spot you can order food and drinks and you are helping people achieve what we call an "abled-person" can do. When you order you'll encounter staff that will just smile at you when you talk to them. Staff who will you think are weird because they are not acting normal like us. Be patient. These folks with special needs are hired to achieve their dream and be able to provide for their own needs and the needs of their family.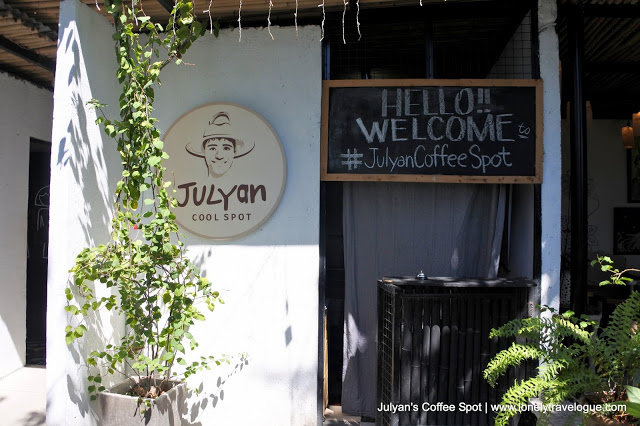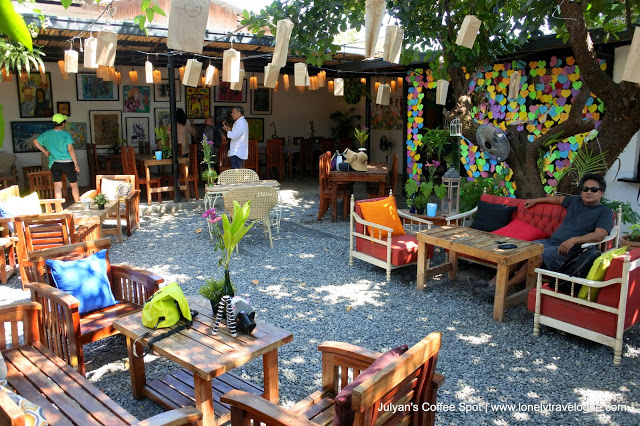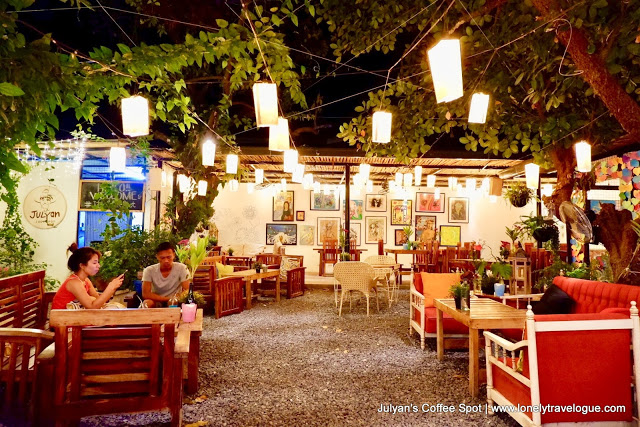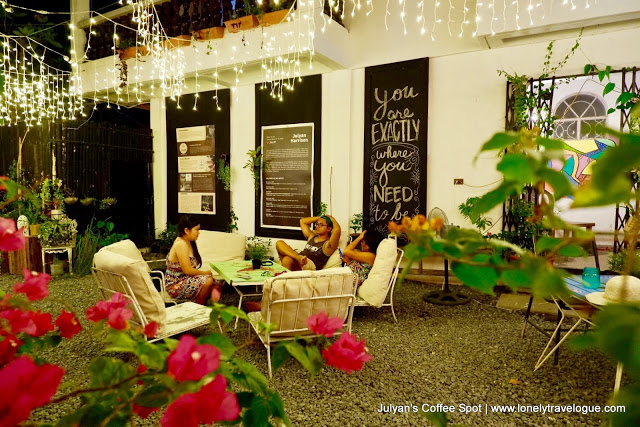 Julyan's Coffee Spot was established in the premises of the Zambawood concept – which was built as a playground and home of Julyan Harrison, one of the sons of Rachel Harrison who has autism. To expand the vision and awareness about autism, Julyan's Coffee Spot was set up to help the community and to give chance to other folks who have special needs.   "Whenever I see them that they are happy in what they do, masaya na ako doon" says Jennifer Uy, the manager of the restaurant and the mother of the 5 PWD staff.  Julyan's Coffee Spot is a place where dreams do come true. 
Christian, one of the specially-abled staff at Julyan's Coffee Spot wants to be an English teacher someday. With the money he's earning from the restaurant, he's not just able to continue his studies but also to provide for his mother and father. Christian is such in high spirit and uplifted because he received an opportunity and that makes him dream of being a teacher someday.    "After Julyan's Coffee Spot, we want them to see having work and contribute to the society," says Jennifer Uy.    It's up to us how we treat specially-abled individual whenever we see them in restaurant serving us, in the grocery arranging stalls, in MRT queuing for their ticket – we can just treat them as normal being and help them achieve what a normal man can do without having a mindset of being judgmental of they are capable to do or of their being itself.
I am not an expert to talk about the science of these specially-abled individuals but humanity doesn't need to be taught at school. Respect for them as a child of God and sensitivity to their needs is what we should always consider.    Zambawood and Julyan's Coffee Spot hire persons with a special need – persons who are deaf and mute, with a speech problem, Low IQ and with autism – either as an OJT or a regular employee. They are trained to be a barista, front line service and sometimes simple kitchen chores.      
Julyan's Arts and Skills Centre
The centre has a program for the local community that encourages the youth especially PWD to get into arts.    Jennifer Uy also teaches the children how to paint and use recyclable materials to create art. They don't need to have all the expensive painting materials to join the program.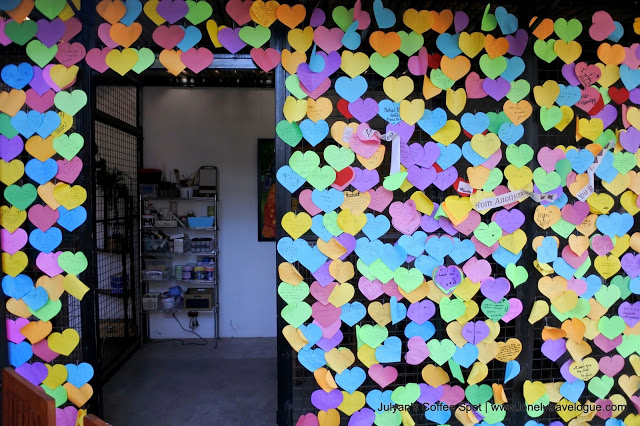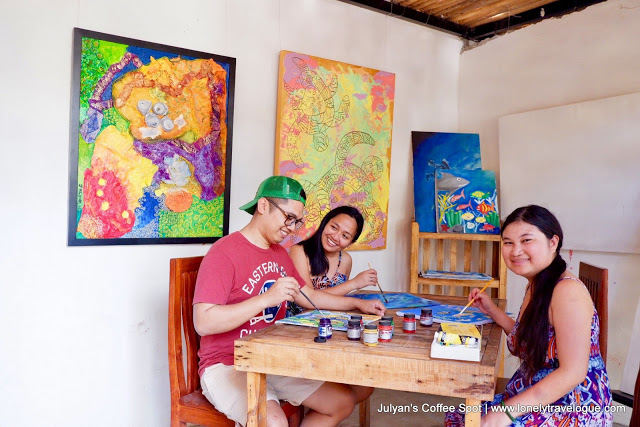 Just this March 2019, they have partnered with a school in Sta. Cruz Zambales wherein the students teach the PWD students in San Narciso and San Felipe how to paint. Later this month, March, they will exhibit their works in Julyan's Coffee Spot.  
After all the hard work from Monday to Friday, day and night, we will always be reminded that there is a greater world around us. Life is not just about you, your boss, your irate client, the needs of your family, the issue of your friend and your commute every day. There are people created by God that needs the support of the community. We are the community. Treating them fairly will go a long way. And what is fair? I guess by being sensitive to their needs. I hope you do visit Julyan's Coffee Spot soon and see the work they are doing because it is beautiful, not just the place itself but the advocacy they are promoting.   
Julyan's Coffee Spot
Address: 8 Foton St., Brgy. San Pascual, San Narciso, Zambales
Phone: 0917 705 4740
Facebook Page: Julyan Coffee Spot
Operating Hours: 11AM to 10PM
Price Range: Php200-Php250 per person