Two weeks before the climb I was informed by my contact in Capas that the local government of Botolan, Zambales is charging each climbers an additional Php700.00. I was worried that those who confirmed would back out because of the sharp increase in total fees. And yes one by one they backed out. But I was determined to continue the climb even if it means commuting so long as we reached 5 to share the cost of the 4×4. In the end we reached 10 just enough to rent a van 😉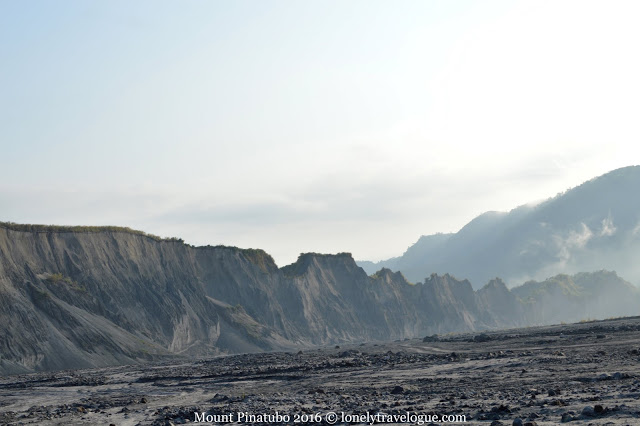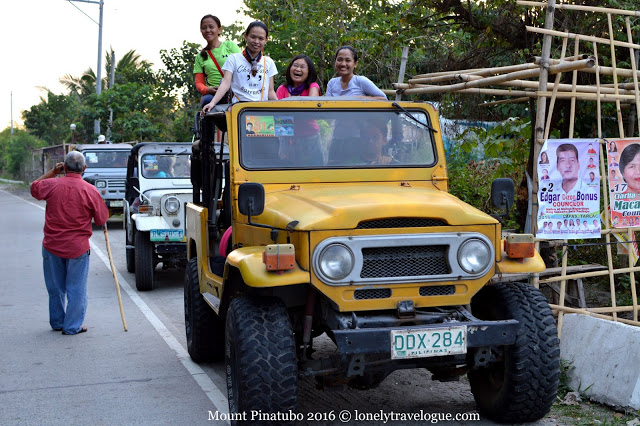 Mt. Pinatubo is one of the most expensive mountain to climb but I do not regret spending money to see how massive destruction can be so beautiful and jaw dropping.  
We arrived just enough to escape the sun's wrath for a while. We rode the 4×4 for one and a half hours
under the comfort of the clouds and the thrilling slope of the lahar. The 4×4 itself is an attraction because of the adrenaline it produces whenever it gets bumpy and wild. It is like an Amusement Park ride actually.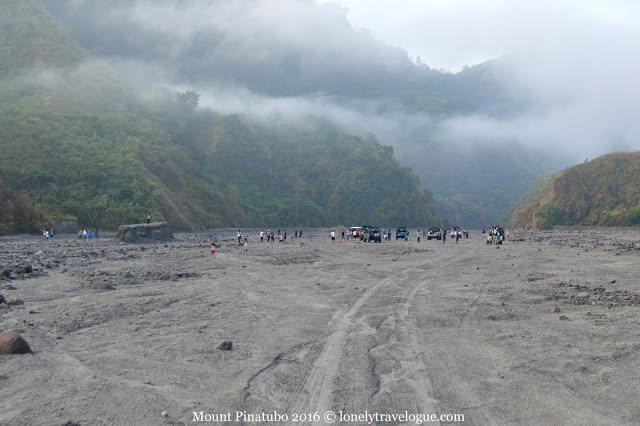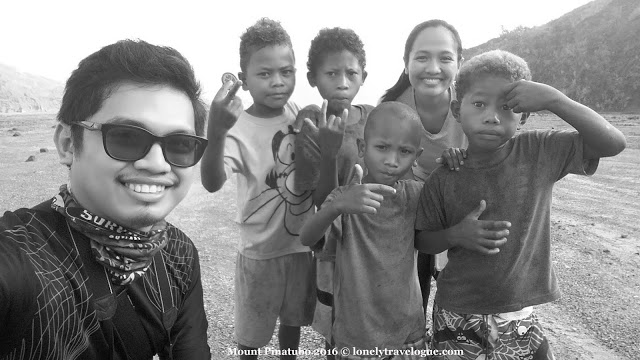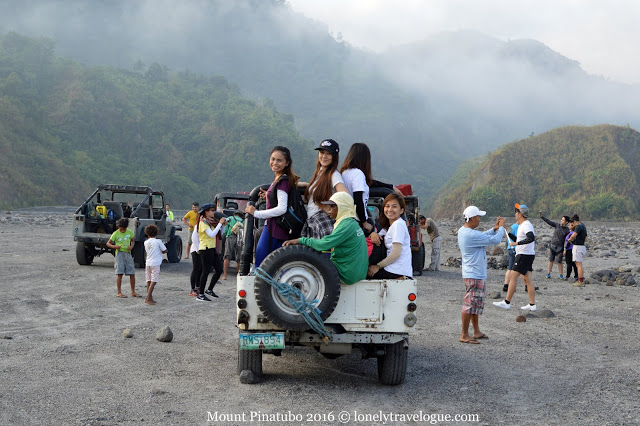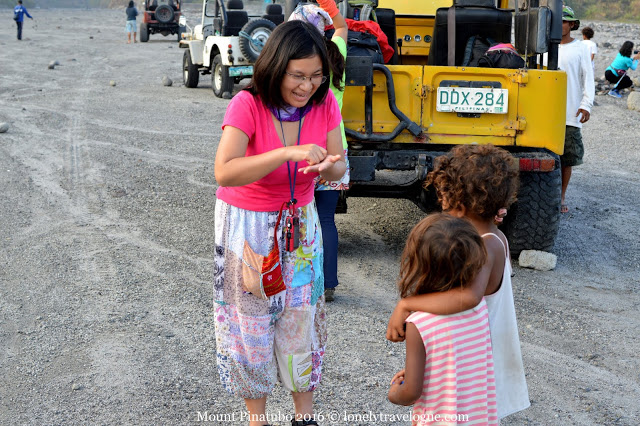 A quick stop over to have a photo ops at one of the picturesque spot along the trail. There you will be greeted by the Aetas. I anticipated this so I asked my friends to bring something for the kids like clothes, candies and food. Most of them brought something like biscuit, chocolates, clothes and slippers. We were happy to see the kids smiling with a candy bar on their hand. I'm looking forward to do this again.   The the 4×4 ride ended when the heat was intense and the sun was roaring with its rays. Prepare everything that would protect you from the heat such as sunblock, long sleeves, cap, water and the like.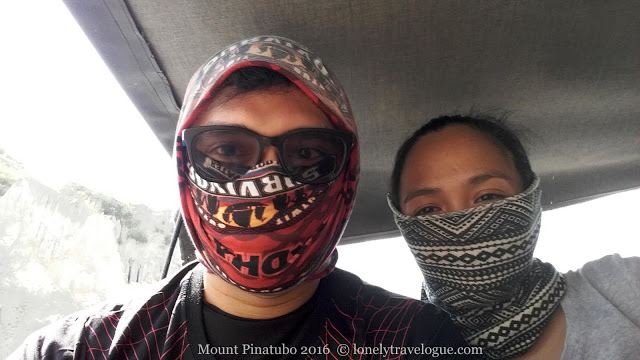 We were walked in the valley created by the eruption of Mt. Pinatubo in 1991. I was 3 years old when the
volcano erupted. I do not know but the eruption is not even vivid in my memory. Walking between the two high walls of ashes that could anytime erode was just surreal. Its a like a death zone formed by
magnanimous elements that actually made it stunning.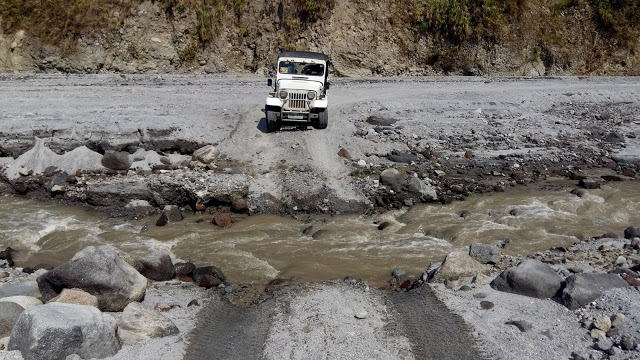 It was so hot. Its April, summer and the sun was at its peak. Thank God you will cross and ankle deep
streams of cold and clean water which you can dip to cool off from the heat. The streams in Mt. Pinatubo actually is the melody that serenades us while we battle the heat.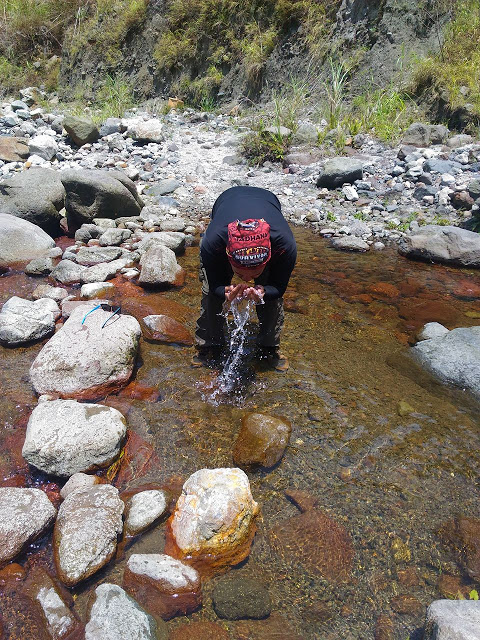 Im not drinking the water 😉
Passing by the boundary between Tarlac and Zambales you will see more Aetas doing their dailies such like
washing clothes in the river and kids playing. Aetas are nomadic people but you will see them in the communities built in the Mt. Pinatubo area after the 1991 eruption. There's no land to till since Mt. Pinatubo
covered their land with tick ashes.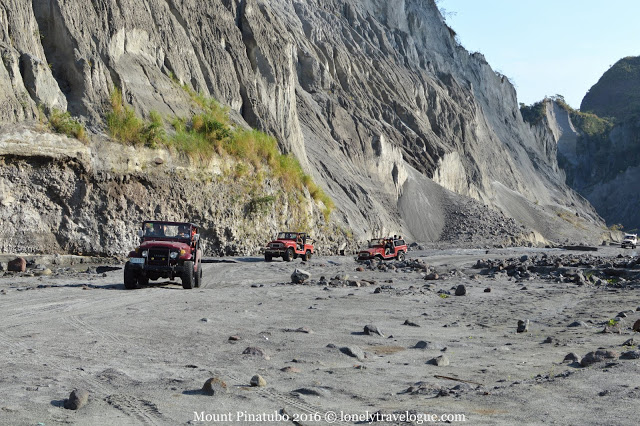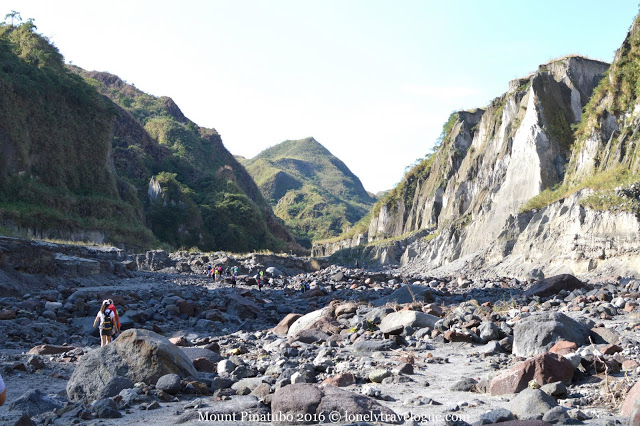 The Aeta owns Mt. Pinatubo. Mt. pinatubo is their home for thousands of years. With the development
of tourism in Mt. Pinatubo, with its numerous fees charged to each climbers the Aetas still live like an orphan in their own home.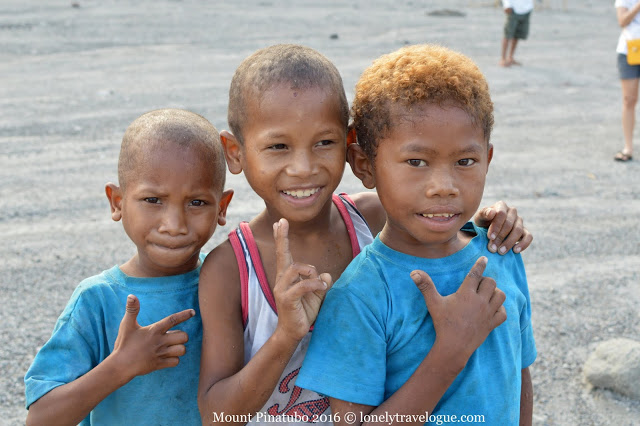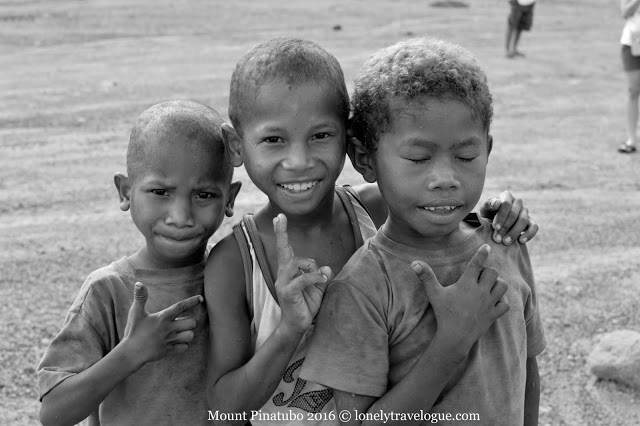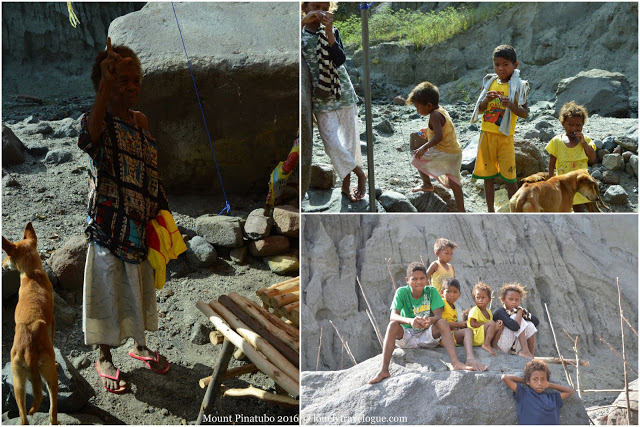 Each climbers is charged Php150 for "Aeta Pass" and just recently the local government of Botolan, whom the crater found its jurisdiction, file a resolution to charge each climbers additional Php700. Part of the Php700 pesos is labeled as "Ancestral Domain Preservation" by the Botolan, Zambales Council. The truth is they have all the rights to the fees being collected by the government. The local government of Capas and now Botolan collects fees for them yet the living condition of the Aetas is backward. They don't even have a school.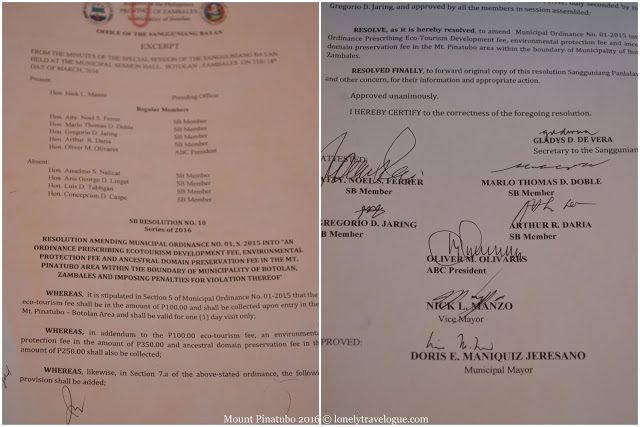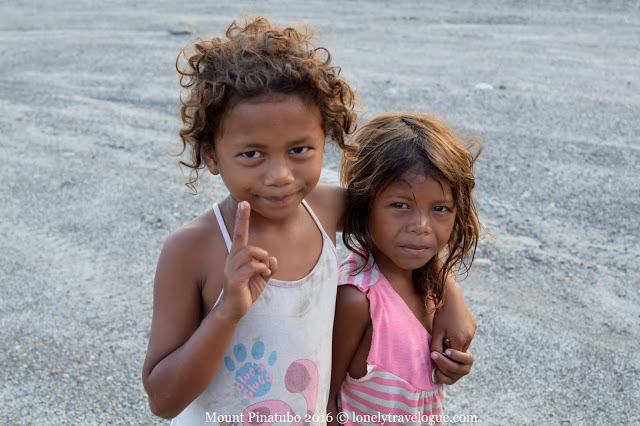 I asked one of the kids that we met along the road "Saan ka nagaaral?" (Where do you study?) and he
can't answer because he do not attend a real school. What they have is a makeshift classrooms and volunteer teachers that visits them weekly. That's according to our guide.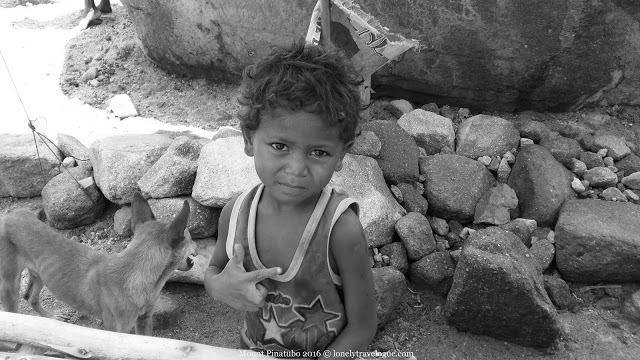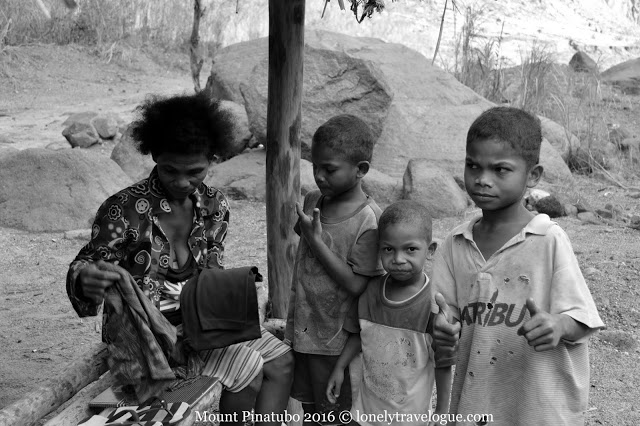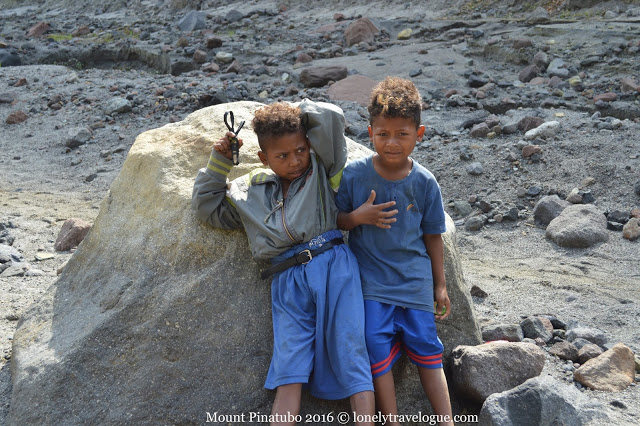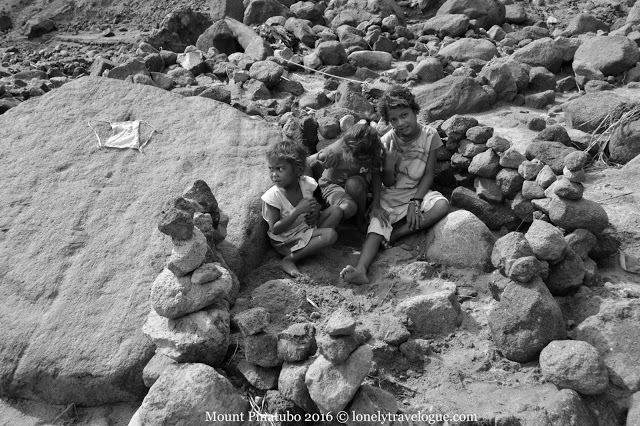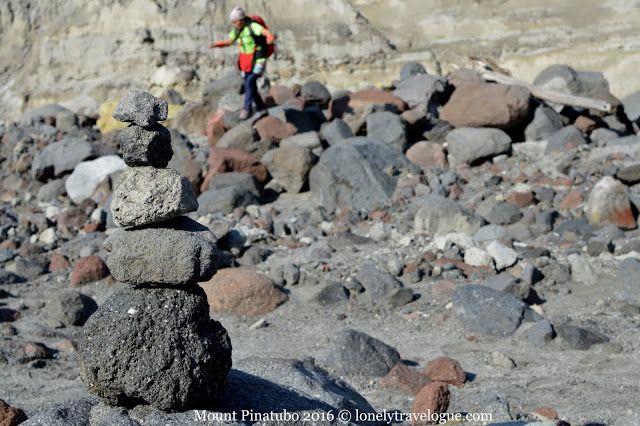 The one kilometer mark is a delight knowing that we were almost in the crater. There are some
infrastructure in the area like comfort rooms with spring water and pavilion to rest. If you forgot to bring water and you are very thirsty you can buy some cold refreshment like regular sized coke for Php100. If you are not into soft drinks, buy a 750ml bottled water also for Php100.00. As an alternative there are spring water faucet near the crater.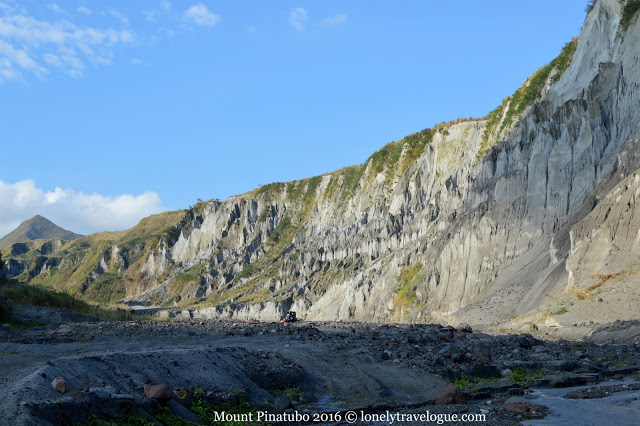 The trek between the one kilometer mark and the crater is like walking in wonderland. Tall trees and plants
are your friends because they will cover you from the sun. Be sure to wear sandals to enjoy the water flowing on the streams that, again, you will cross. I was wearing trekking shoes but still I walked on the water to enjoy that moment with nature.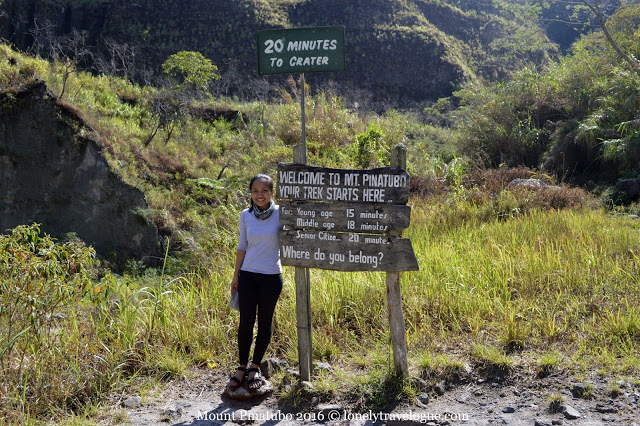 The concrete stairs will tell you that you have arrived at the crater.
 
Although I did not see what I expected the scenery was still jaw dropping. After an almost non-life environment while trekking, the crater has a developing foliage. The lake was blue but not the blue that I have expected. But never the less Mt. Pinatubo is one of the most stunning view I have ever seen.
No wonder many people climb the mountain to see the lake on top of the mountain.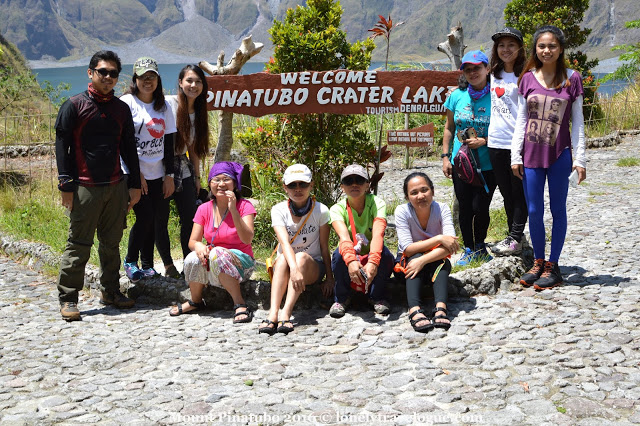 After some photo ops on the viewing spot we went down to the lake using the 200 steps volcanic stone
stairs. Everyone are supposed to keep quiet because too much noise can cause erosion. I was silent because I remembered my Oh that Lake moment in Ormoc, Leyte 3 years ago. The only difference was, we were the only people there so the silence was ours. In Mt. Pinatubo, although I felt the respect of the climbers, people are talking and laughing while doing their signature pose for Instagram and Facebook purposes.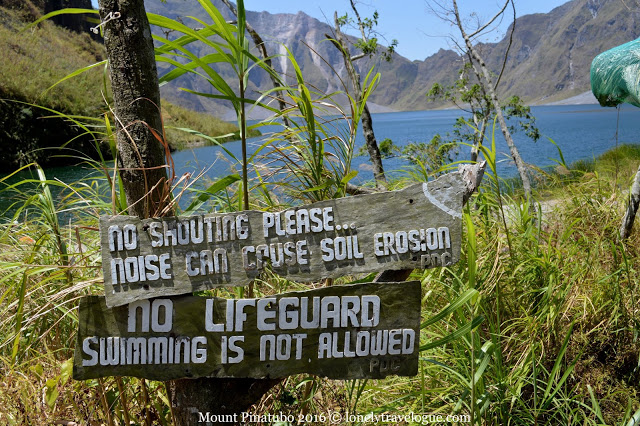 Imagine how a disaster can make such an awesome place 2 decades after. It's a beautiful disaster said
Daniel Padilla in his movie "Crazy Beautiful You" with Kathryn Bernardo. And truly it is. She was deeply mad like a broken hearted bride in 1991 but now she is stunning and alluring hypnotizing many from all over the planet.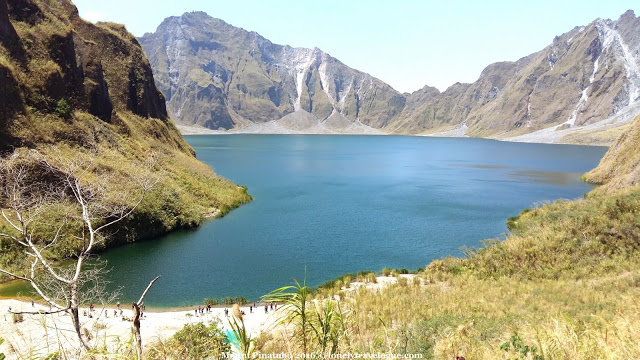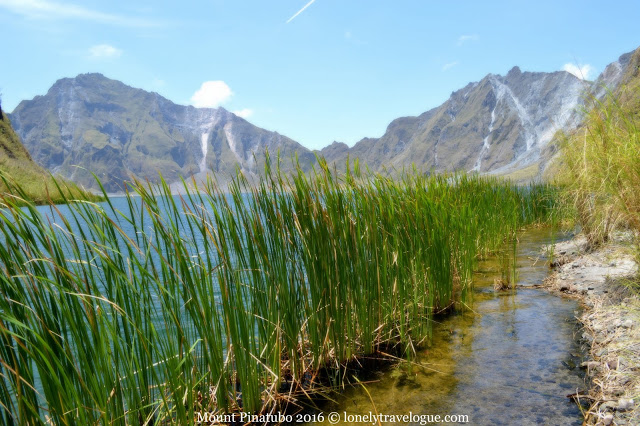 It almost did not happen. But thank God we did I was able to see Mt. Pinatubo and experience the 4×4 ride. But the greatest revelation to me was the condition of the Aetas living in the communities in Mt. Pinatubo. Its heartwarming and heart breaking to see that they are neglected by modernization and inhumane capitalism of the people. Mt. Pinatubo is their home they should have a larger share of the pie. If ever they have, its not that evident. This trip is an eye opener to me. I will be a better Filipino to make sure the generation next to them will live not backwards but with dignity and pride. How to go to Mt. Pinatubo
Go to Capas Tarlac. If you arecommuting, take a bus bound to Baguio, Pangasinan or Ilocos that
will pass by Capas. Tell the driver to drop you in McDonalds in Capas, Tarlac. From there you can hire a tricycle to bring you to Sta. Juliana – the jump off to Mt. Pinatubo. Expect to pay Php300 to Php500 depending on your haggling skills. A tricycle can decently accommodate up to 3 person. According to my contact Php300 one way is enough. Mind you that its more or less 20 kilometers from McDonalds to Sta. Juliana, the roads are paved all the way. In Sta. Juliana, register in the Tourism Office and hire a 4×4.
Alternately, hire a Van going to Sta. Juliana, Capas. This option is more convenient for me because you will skip the hassle of looking for a tricycle that will bring you to Sta. Juliana. Also, its not easy to hail a bus bound to Manila in Capas, Tarlac because they do not have a bus station there. Moreover, you can do some side trip in Capas National Shrine or Monasteryo de Tarlac and even have dinner in Angeles City right after your climb. You can do this even when commuting but as I have said, its more convenient and comfortable when you have a Van. Its economical to hire a van if you reach 10 or above. I was able to
hire a Van from McDonalds in Quezon Avenue to Sta. Juliana for Php4,500 exclusive of Diesel and Toll – Php6,000 total. That was expensive, I realized after. There are Van that offers Php5,000 inclusive of Diesel and Toll.
List of Fees
Transportation
– If commute bus from Cubao cost Php200, Tricycle cost Php400
conservatively. If Van – will cost from Php5,000 to Php6,000
4×4 –
Php3,000. Strictly 5 people per 4×4. So 5,10,15 is the magic number
to pay Php600 each.
Guide Fee –
Php500 per 4×4. If divisible by 5 you pay Php100 each. This guide will not tell you a story, they will just tell you where to go.
Conservation
Fee – Php500.00 each.
Aeta Pass –
Php150.00 each.
And just
recently, the fees mandated by Botolan LGU – Php700.00 each. If your number is
divisible by 5 each will pay Php2,050 plus the transportation of
your choice. In our case each paid Php2,650.00.
Reminders
Leave as early as 2AM especially when you are commuting. You should climb early to avoid the intense heat of the sun. 4×4 can leave as early as 5AM to 7:30AM.
Bring something for the Aetas like candy, food, clothes and slippers.
Protect yourself from the sun and the ashes. Cover your body with protective headwear or bandana. Wear long sleeves or something that will protect your skin from burning. Apply sunblock.
There are shower rooms in Sta. Juliana that cost Php50.00 – unlimited water. You will surely want to take a shower after because of the ashes in your body.