Finally, we boarded the 15-capacity boat off to the island called
Alibijaban. After almost 12 hours of
land travel from Quezon City to San Andres, Quezon Province we saw the
turquoise-clear water, white and almost power-fine sand of Alibijaban Island.
It wasn't an expectation versus reality moment when my foot first touched the
warm water of the shore. It was really it! There were people enjoying the beach
but not too much to fail our weekend escape. Alibijaban Island is great escape
to those who are willing to enjoy the long journey down to the island.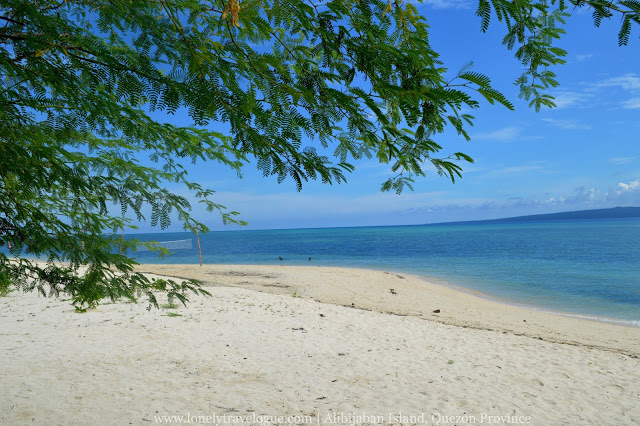 The Van we rented left Cubao at exactly 1AM just like we all
planned. When we organize events like this, my last thought would be, if the
group would click at first impression – impressions do not really last but it is
an important factor to determine the color of the group. As much as possible,
we invite happy souls and positive folks to join the event. In Filipino "Walang drama dapat at walang attitude" Gladly
our group was loaded with people like that. The journey was longer than I expected. The 8 hours Google Map
forecast became 9 then 10, 11 then finally 12 hours. Add the weather then that
makes me felt anxious. Weather reports said that it will be a bed-weather for Metro
Manila and its nearby provinces. Weather agency images shows that there were no
dark clouds in the southern part of Quezon Province and it gave me relief. But
the heaven shows otherwise. Tick clouds appeared when we exit Lucban and heavy
rain fell when we reached Lucena City. San Andres though is still 4 hours from
Lucena. A positive attitude was my shield towards the weather. At 11AM, we met our guide Ronnel outside the Port of San
Andres in his yellow shirt and all smiled face. We immediately went to the
market to buy things that we need in the island. We commissioned his mother to
cook for us for our entire stay. Ronnel and his entire family, unexpectedly
assisted us in all that we need in the Island. I owe them so much because in my
opinion we had a great feast in the island.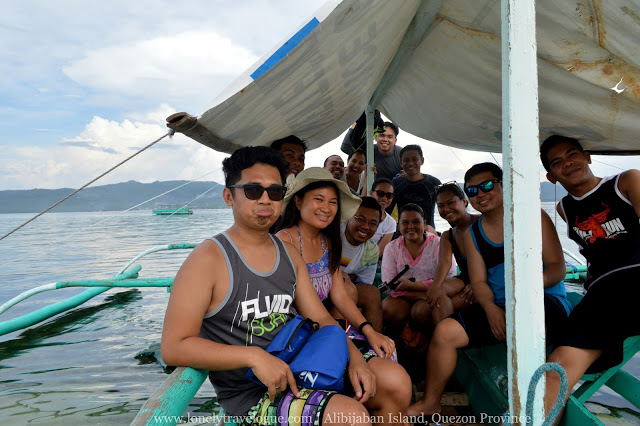 We all boarded the boat with our ready to dip ensembles. We
were all excited to dip in the water! Fortunately, the sun was showing his
might to us promising a sun-kissed weekend. Alibijaban Island is simply glorious and gorgeous. It's just
perfect for a weekend of fun, laughter and adventure with friends and new
friends. The short stretch of white sand beach gives a memorable summer vacay
for folks tied in an 8-hours work empire. The moment I saw the clear waters of
Alibijaban shores, I immediately wanted to jump on it and stay there for the
entire day!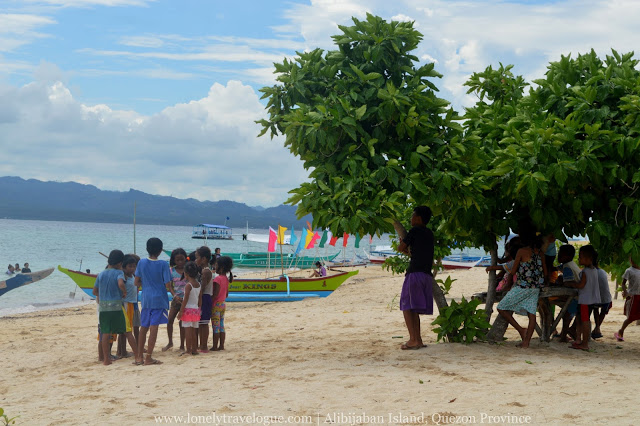 After we had lunch courtesy of Ronnel and his entire clan, the group went to the less crowded beach area. There's nothing to do in there but to swim and play the sand. There are no beach activities in the Island except for the volleyball net readily set up. The island is raw from hard core beach commercialism found in other beach destination in the Philippines. We all settled in a shaded area to rest and eat some of our snacks. Moment like this is an automatic bonding time for the group that is unfamiliar for some but a reunion for others. We did not have an official introduction yet, but seems like the group was getting along like they all met 10 years ago. Sand Massaging our feet in #AlibijabanIsland #LonelyTravelogue #Summer2017 #QuezonProvince A post shared by Jherson Jaya (@lonelytravelogue) on May 30, 2017 at 4:11pm PDT