It has been a long time since my family or should I say clan
had an outing. It has been customary for us to go out of the city once every
year to dip into the salty water to quench the heat of summer. Usually as most family do,
we were doing it every summer. I love to reminisce about that. I was young then
when these family outing was held annually. This has changed in line with the
economic stability of each family, my mom, tito's and tita's. As each family
got bigger and bigger the chances of going out of town was very limited.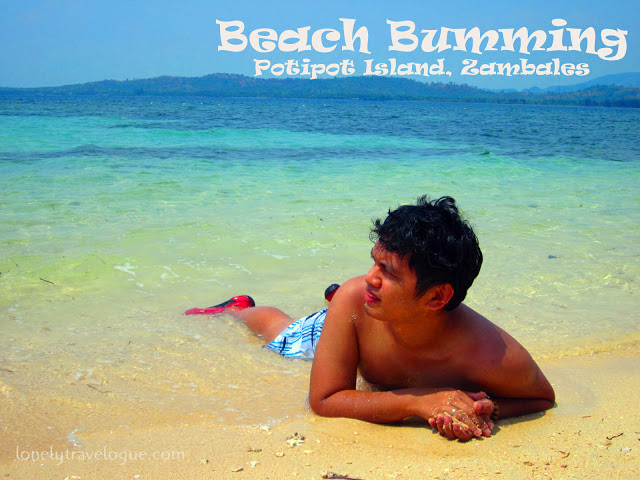 But then this year has a new light. With a little
persistence from the few housewives, all agreed to have a vacation for the
whole clan!!! Yey! With a big L300 Van, all 30 of us, children and adults
squeeze there for seven hours long journey to Sta. Cruz Zambales. Do not try to
imagine how we looked like inside. Hehe… kids are sitting on the floor, the
adults has a kid on their laps, and all
you hear are laughter and punch lines to ease the stress of the travel. There
were times that some kids complain but the hope and dream of dipping into the
white sand of Potipot makes it more sensible to sacrifice for seven hours. Did I mention that it was the first time my girl friend
Phoebe joined my family in a trip? In any event actually. Yes she did!!! With a little
apprehension that her parents won't allow her or she might be out of place she
joined my crazy funny family on the trip. With little space given on the Van,
she was forced to (or I forced her hehe) sit on my lap. It was so painful for
the both of us so we decided to take the bus when we reached Bataan.
So in the middle of the darkness we were waiting for a bus bound to Olongapo.
Then from Olongapo we took an ordinary Victory Liner Bus, which I think the
only decent bus in Zambales, bound to Sta. Cruz Zambales. All of it costs us
Php225 each (35 + 190). Bus ride from Olongapo to Sta. Cruz is four hours.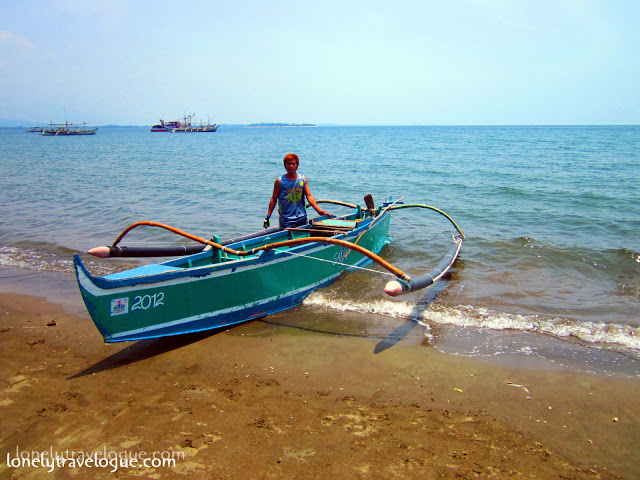 Our Boat Going to Potipot We arrived at Brgy. Naulo, Sta. Cruz Zambales at exactly
10am. The conductor was pretty accurate with his estimate time of arrival. Our host
together with my family members who went ahead of us welcomed us so warmly with
drinks and food ready before us. A rock star beach food such as grilled pork,
grilled fresh fish was set before us with rice cooked on a native stove. A
happy informal lunch was the best appetizer for the much awaited Potipot
getaway. We though we needed some fine relaxing moment by the beach
before we could actually set off for the paradise Island of Zambales. Besides the sun was shining to its finest making the afternoon
more laid back and bed or hammock inviting. We sat at the foot of a short
coconut tree facing the sea. Looking at the kids who were more than a decade
below of me makes me reminisce the moment my cousins and I wont allow our
parents to stop us from becahin' even though the sun was making more unpleasant
to swim. Those were the days and those days where being passed on to this generation
of our family. Interrupted my reminiscing moment was the call to take the
five seating fishing boat to take us to the Island I was craving for almost a week or so. But before we departed we all made it
clear the payment. Since the boat we rode were not the commercial boats to
Potipot the owners of it who were fishermans agreed to take us there for
Php300.00 two-way. Each boat as I have said has the capacity of five to six
depending on the passenger riding it so each must pay Php50 back and forth. Fair
enough, right?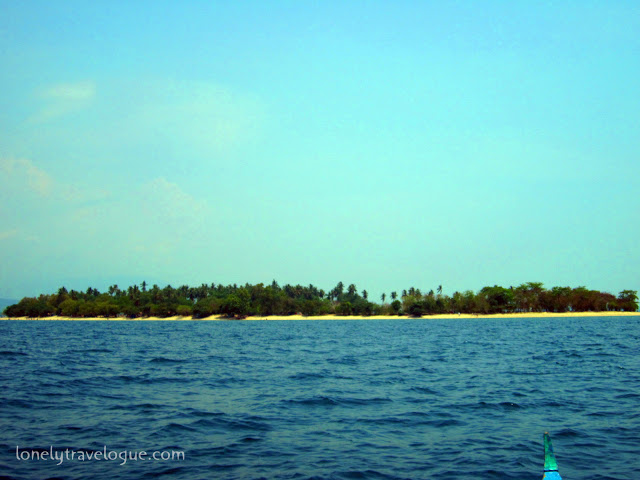 The 20 minutes ride was the moment of excitement and thrill.
Excitement because the end of the travel is you got to see the island. Thrill
because of the waves which will make you dizzy or enjoy the bumpy ride on the
boat. That depend on your type but I prefer the latter.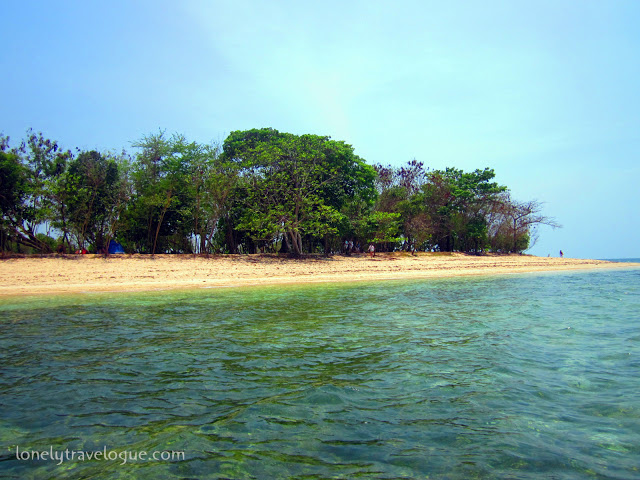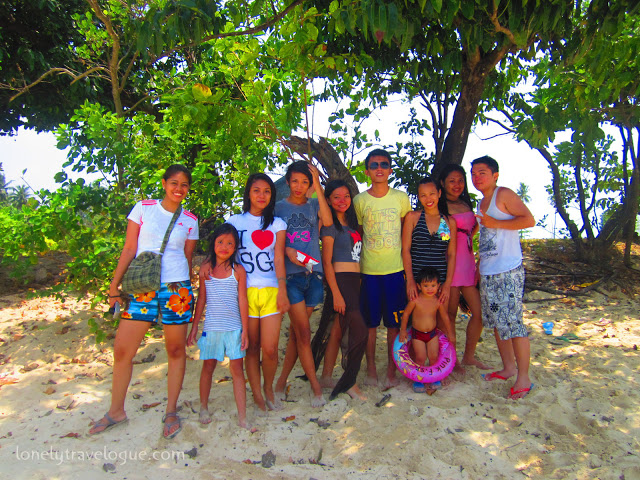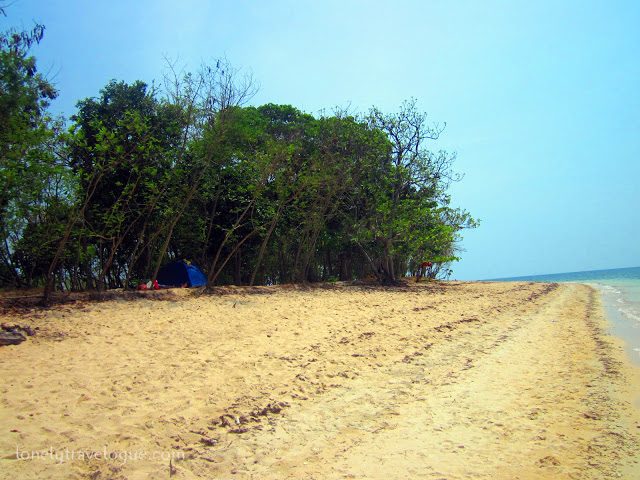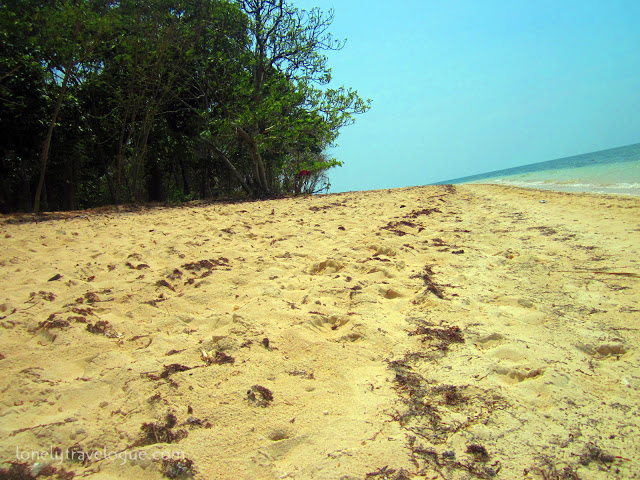 The moment of truth arrives when the fisherman's boat finally
dock on the harbor less island. You got to soak your feet onto the crystal
clear water brought to you by the white sand to start your beachin' in Potipot.
When we all went down, the boat man went back to the main island to fetch other
members of the family. The island did not fail me. Though it didn't exceed my expectation
as I expect (wow too much expectation huh) the island was a perfect for beach bumming.
It is comparable to the white sand of Boracay, Panglao and Palawan (Best beaches I've been so far). Though the dried sea grass on the shore makes
it looks a dirty beach still the white sand will entice you to roll your beach
body and cover yourself with white sand.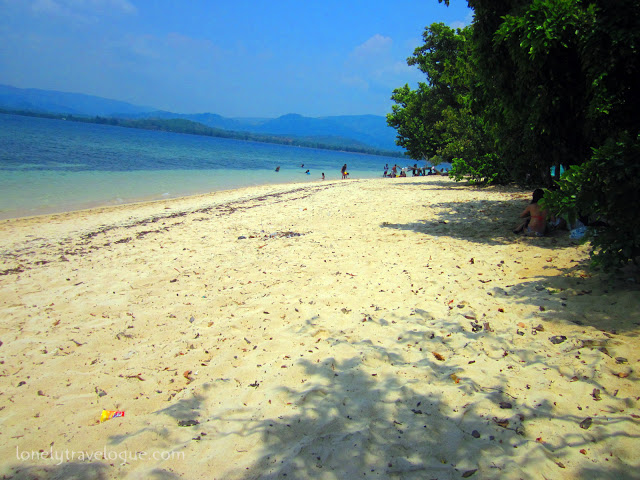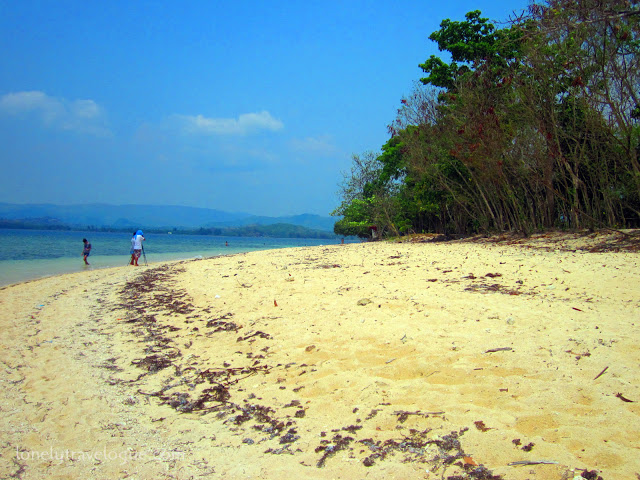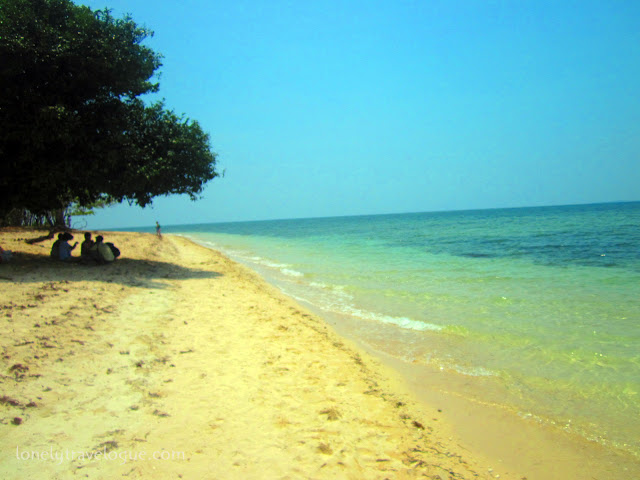 We first secured a spot where we can leave our things before
going to water. There are cottages available but I wasn't able to ask how much
it cost because I was too exited to dip my body into the water. I forgot that I
am a blogger hehe… If you are like us who wants to spend less but enjoy more
there are tress all over the island and on beach front where in you can leave
your things and have a nice beach bumming moment. I would advise you to know
where the sun rise and sun set to get away from the direct heat of the sun.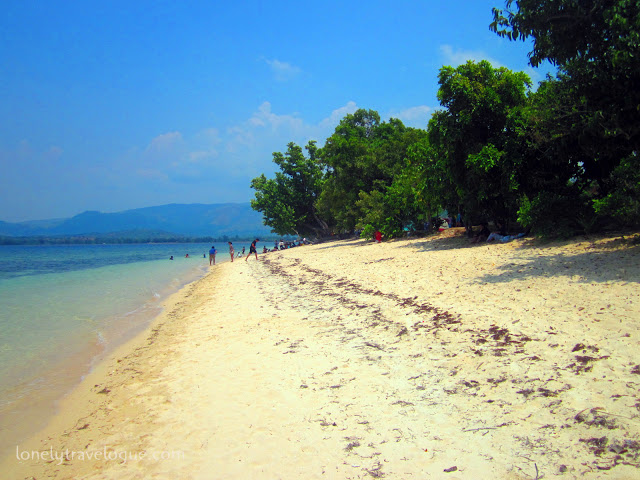 There are portions of the beach where in pebble will hurt
you. It was a perfect timing actually when I bough an aqua shoes the day before
this trip. Hehe… Strolling around the Island would have been a good idea but the sunrays constrained us to do so. After some
pictorial with some nice spots In the Island Phoebe and I decided to go back to
our base and relax with the sound of water crushing against the sand with the
voices of children playing on the shore.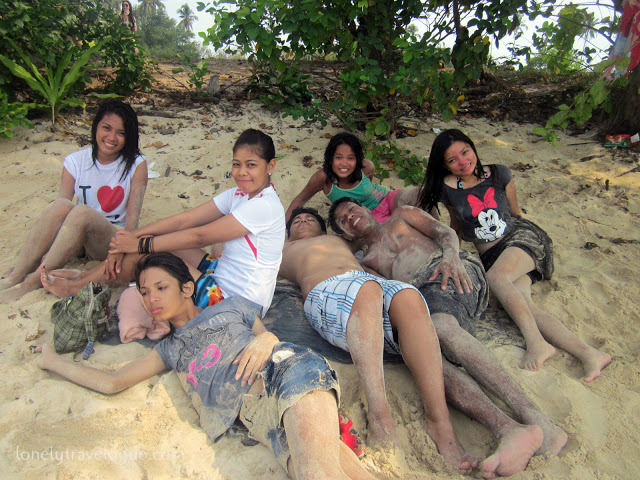 It was the perfect afternoon lying on the fine sand and just
let it spread all over your body. There were times that Phoebe was telling me
to stop putting sand on my body because according to her it is dirty. Who the
hell care if its dirty? I was there to enjoy it. I love the moment when I close
my eyes and I am feeling the sea breeze. I was awake then but my body was at
total rest from the stress courtesy of the urban life. I was awake but eyes
closed while listening to mood of music of my girl friend who has her own
beachin' moment. It was the time I am totally at rest though my thoughts were
alive listening to the chitchat of my cousins, uncles and nieces.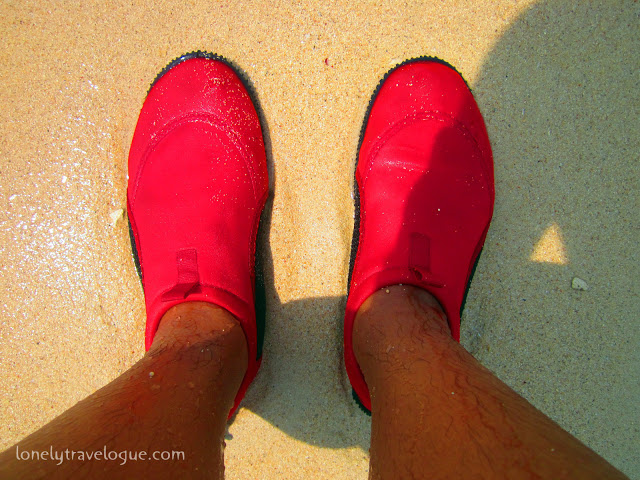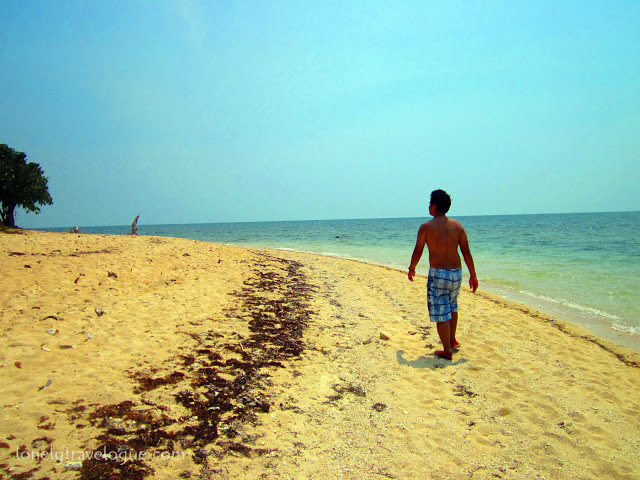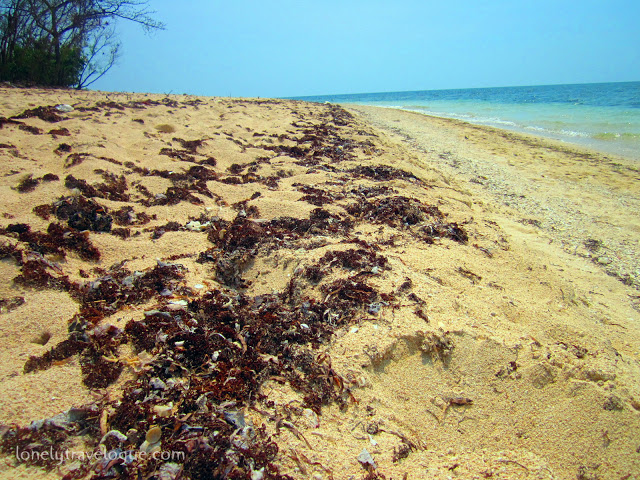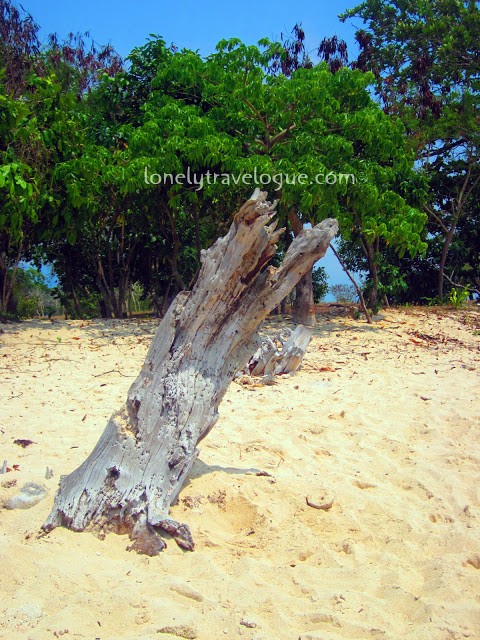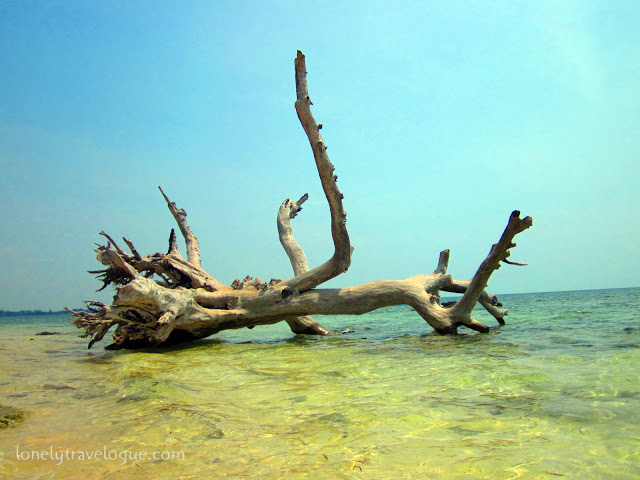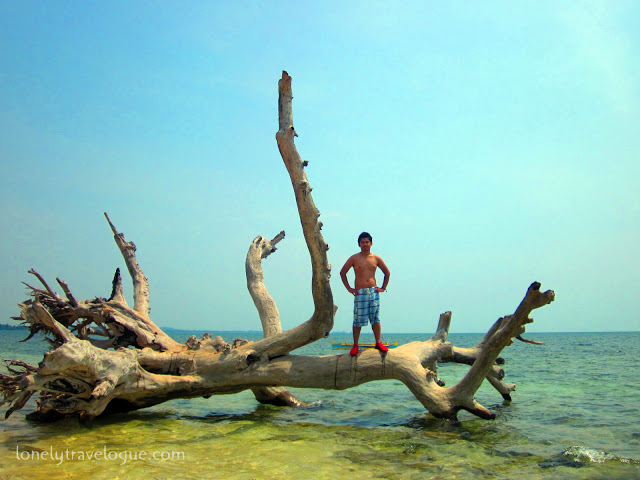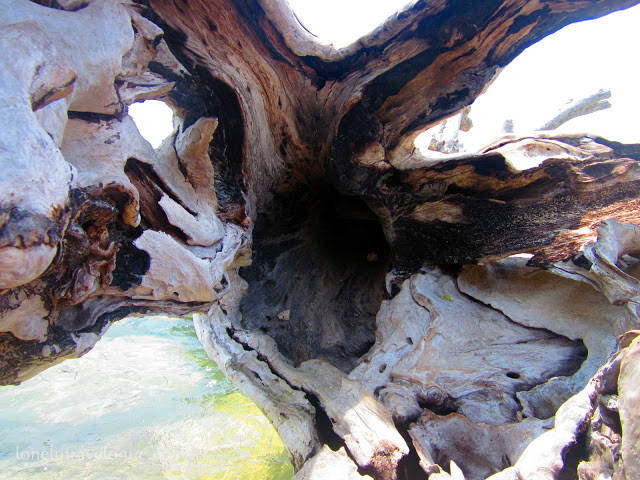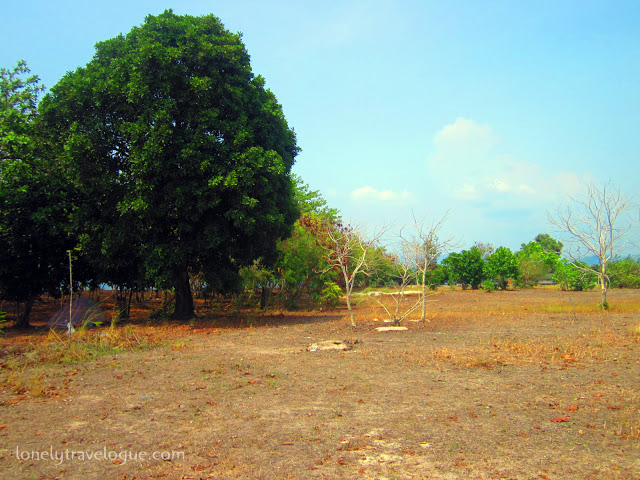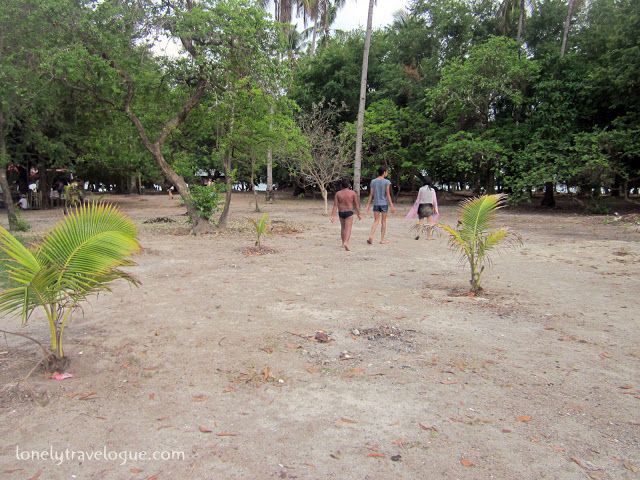 There will be always an antagonist in the picture. A moment where you are having your good time but a person will come only to ruin it. While lying on the sand a man in red came to us asking for an entrance fee on Php100 per head. I know this. It's a norm in every Island destination in the Philippines which has no formal regulatory authority to manage it. When I was in Sombrero Island in Batangas there was a fee and that time I didn't question where the payment will go or if it is illegal or not. But this time my uncle did it for us. He just simple asked the guy if they do have a permit and for what for is the entrance fee. He said that all the while he though that the island is a public island. I also asked the guy if they have a receipt to issue. The guy can't answer us and after a few arguments with my uncle he walked away and never came back. I will pay if I am required to pay. I will pay if it's legal and follows the law. But with simple questions that you cannot answer who in his right mind would think that it's a legal transaction. Its not getting away with obligation to pay, its being fair and transparent to the public. I asked the locals of Sta. Cruz who owns the Potipot Island. And according to the locals nobody owns it. Before it was free to go back and forth to the island but when the incumbent governor assumed office the payment started. If the provincial government is the one implementing it, and I guess they have valid reason to do so why in the world they are not issuing receipt? If the Php100 day camp payment and the Php300 overnight camping is a genuine act of the provincial government I would pay provided they issue receipt. Fees should go to the development of the Island basic infrastructure needs and not in the pockets of anyone else. =) Potipot Island Travel GuideHow to get there:
Take a bus bound to Sta. Cruz Zamlabes/Olongapo
If you happen to ride a bus up to Olongapo only, there is a Victory Liner Station in Olongapo. There are buses going to Sta. Cruz Zambales. First trip is 6AM
Tell the bus conductor to drop you in Candelaria Beach Resorts. AS of research these are the notable resorts which are also the jump off point to Potipot Island
Isla Vista
Harvest Beach
Resort
Sunbloom Beach
Resort
Dawal Beach Resort
Villa Valerio
Trinidad Beach
Resort
Note: We didn't checked in in any of these resort so I cant give you the rates and their rates in Potipot Package. Candelaria is much closer to Potipot so charging of boat might be cheap. As per our experience, our jump off point was in Brgy. Naulo, Sta. Cruz Zambales. From there we talked to the fishermens to take us to Potipot. Expenses: Transportation Cubao-Olongapo (via SCTEX) 3 hours = Php245.00 Olongapo-Sta. Cruz (ordinary bus) 4 hours = Php190.00 Boat to Potipot (Good for 6, Two Way) = Php300 Sta. Cruz-Olongapo = Php190.00 Olongapo-Manila = Php245.00 TOTAL = Php920.00 (Assuming you are sis in the group thus split the 300 boat ride) Food: Food will depend if you will stay for overnight or just a day tour =) So there I hope this post helps you. If it does please like it and share it on Facebook. Hehehe Happy Travels =