Most of the tourist if not all will always find a way and time out of the tight schedule to pay a
visit to Singapore's most famous landmark – the Merlion. I could not imagine at
first why Singapore a prosperous nation would ever build and make a mythical character to be its
symbol. That goes the beauty of studying history and not
just looking Merlion as it is.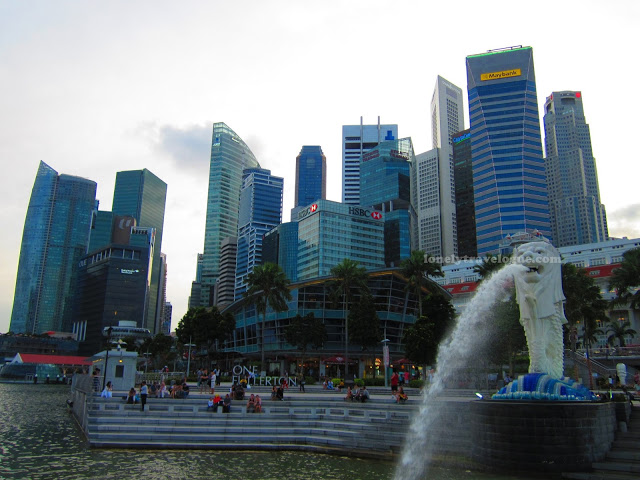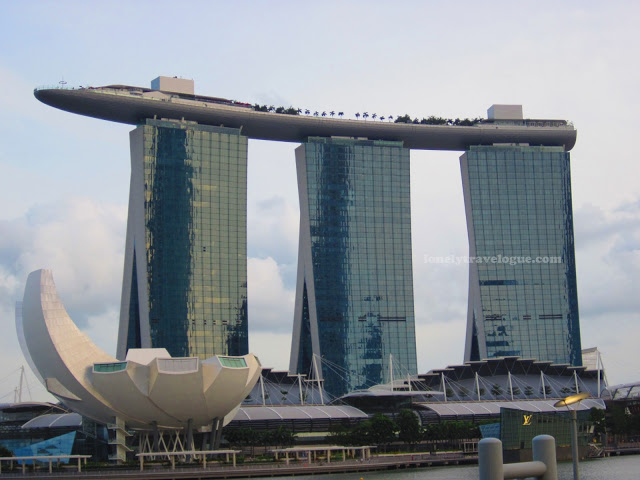 Merlion is a half mermaid half lion statue that was erected
in the 1960s. The statue actually is the symbol of Singapore's history and origin. The
word mer which means water symbolizes
the Singapore
as the former fishing village while lion
represents Singapura meaning the lion city.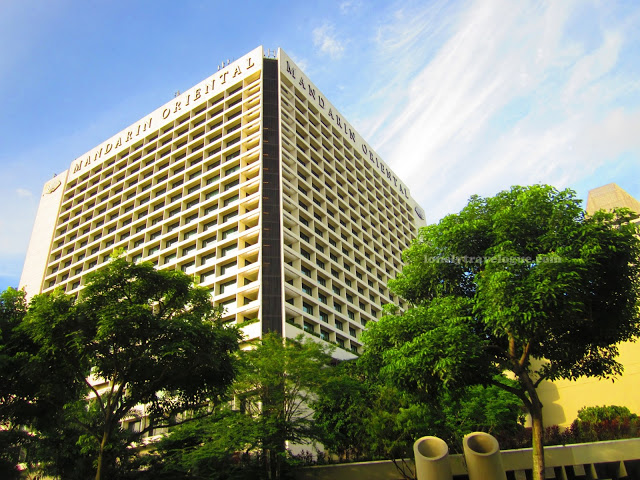 It was dream come true for me to see this gigantic symbol of
Singapore
among other mega structure of the city. The time has come for us to approach
the Merlion but Tito Gel our host told us to eat our dinner first. Dinner on a day light? I haven't keep
track of the time since I was busy mesmerizing my self by looking at every picture
worthy spot of the city. Glutton's Bay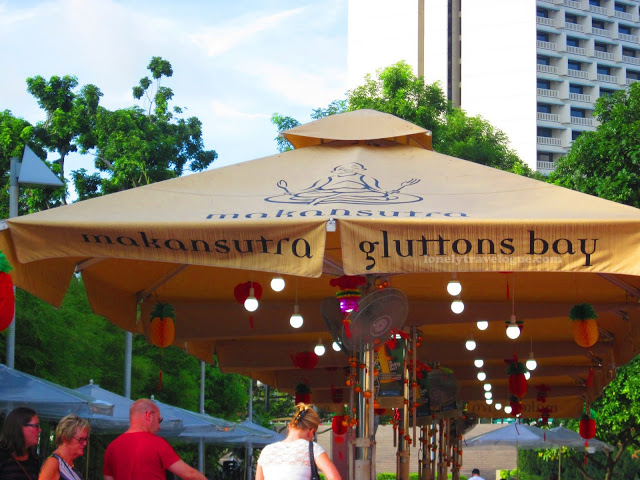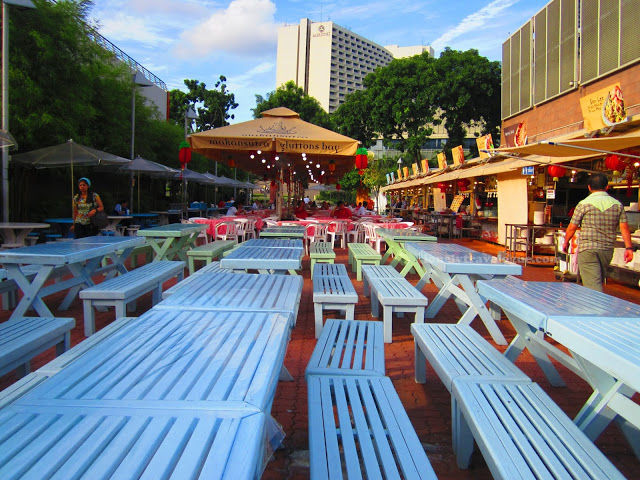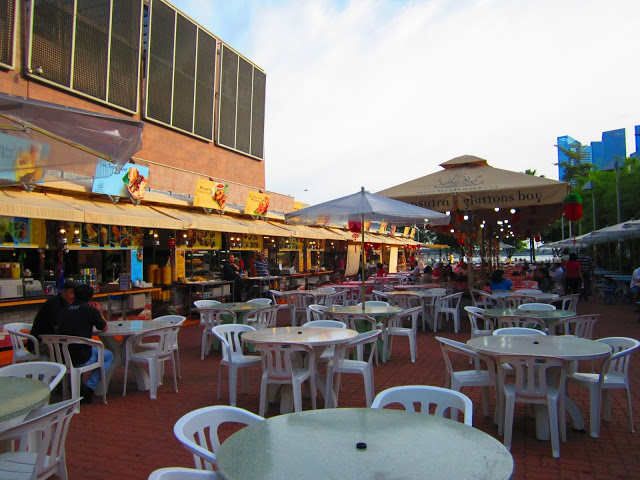 It was 6:00PM when we reached Esplanade Mall coming from the
Singapore Flyers via bus. I never though nor read that there is a mall in
Esplanade. All I know then was it is one of Singapores' symbol which is shaped
after my favorite fruit Durian that houses theaters and other performing arts
related stuff. We were not able to enter the mall because I notice that our
host was in a hurry. Later I found out that he wants us to catch the light and
sound show in Marina Bay Sand. Walking down left to the Marina Bay is the famous Makansutra Glutton's Bay
where table and chair are prepared for the gluttonous individual. Hehe… I am
very familiar with this kind of dining experience beside the sea. Many of these
kind of dining is all over the Philippines.
I am not thrilled of the food because I do not hear my tummy shouting yet. I am very
excited on seeing the complete view of the Marina Bay Sands – the modern symbol
of Singapore,
the Singapore Skyline and the Merlion. I got the more excited when I saw that
the end part of Gluttons Bay was the Marina Bay.
It was actually one of the best part to see those landmarks I mentioned above.
I then realized that most of the places that I saw on the map via Google Earth
were all walking distance from each other. See the map I created below: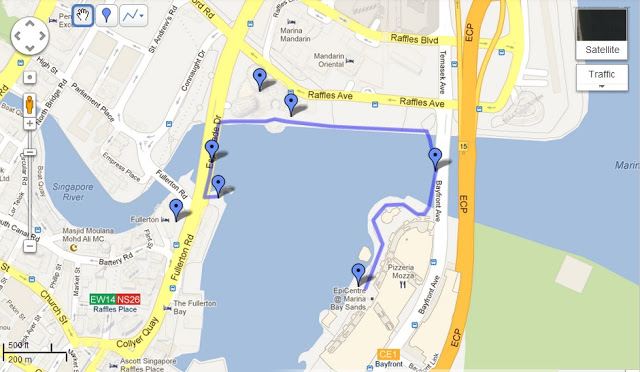 L-R (Blue pin) Fullerton Hotel, Merlion Park, Esplanade Bridge, Esplanade, Gluttons Bay, Helix Bridge and Marina Bay Sands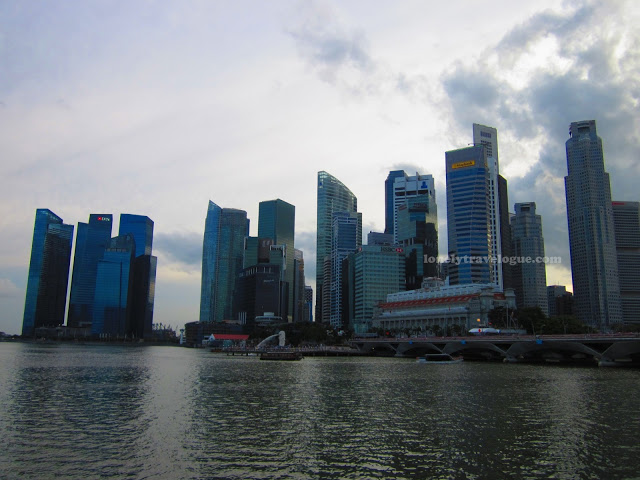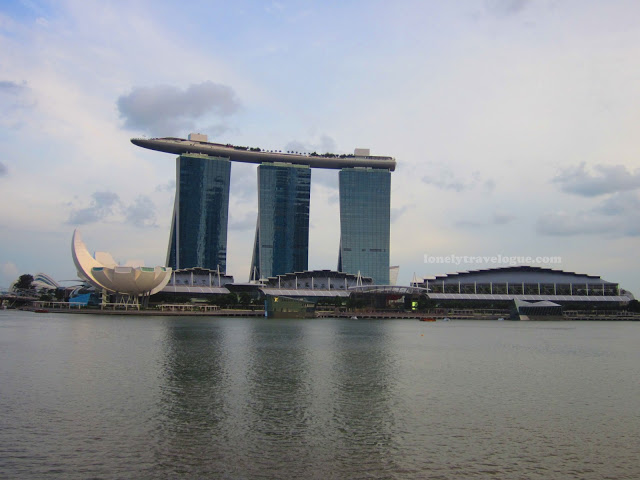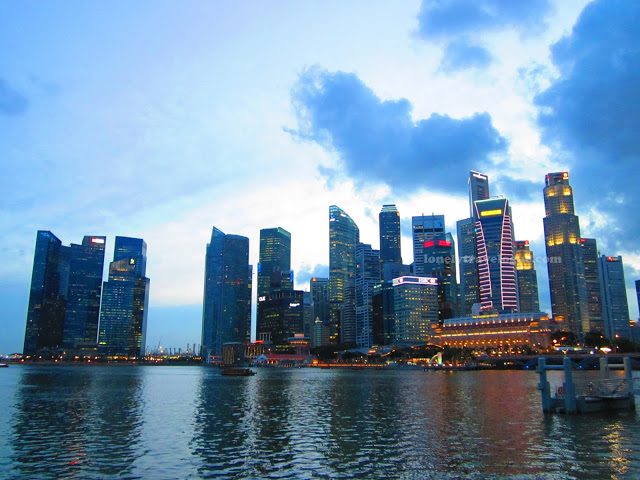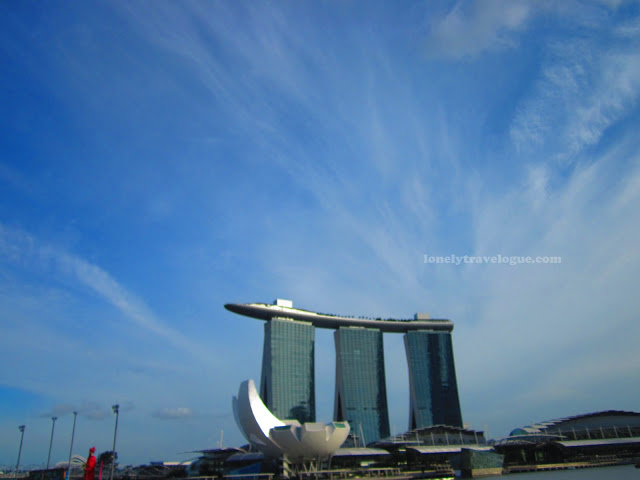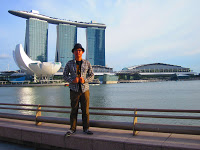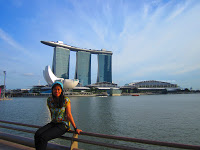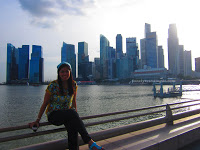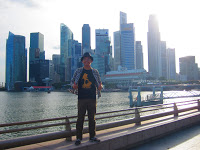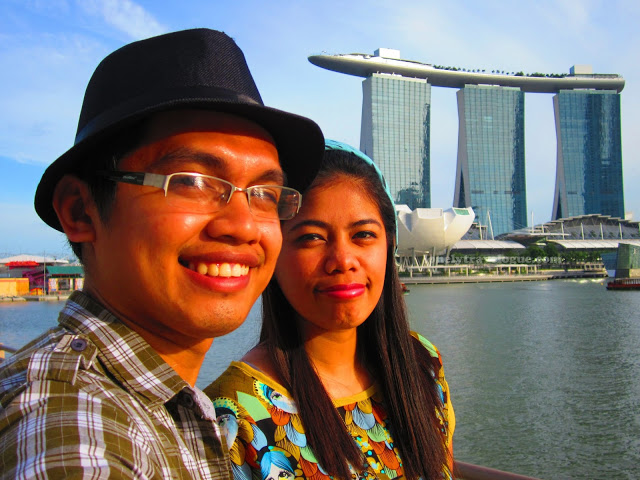 I was rushing at the bay area like a child to see the view
of the Singapore
skyline. As an infrastructure avid person that was the time I am most looking
forward to. All the post card memories of Singapore came into reality with
this experience. The sun was on its perfect location for us to enjoy the scene.
The feeling was like I am looking into a panoramic view of a picture then suddenly
it all came into reality. Phoebe and I didn't wasted time to capture the
memories that we can get though our cameras. I remember that time my feet was
really aching because I was wearing a topsider shoes and not rubber shoes
which was a big mistake of mine. But the aches and pain went away the moment I
breathed the air of Marina Bay and saw what I wanted
to see. It was a time of rejoicing because one of my must-to-do ( I don't have
an official list) was crossed out and a time of reflecting for my mother land
back home. Could we ever be this prosperous and achieve the economic gains that
Singapore
is enjoying right now? All I have is the question. The answer is in the hand of
every Filipinos. That includes me. Our host called us, its time to eat in the Makansutra Gluttons Bay. By that time I feel
my tummy longing for food. I didn't know what we ate that afternoon. I don't want
to call it a night because the darkness doesn't cover the sky. All on my mind
was to eat fast to get to our next destination – The Merlion! Everything tito
Gel ordered was delicious. Indeed it was because it was his treat the second
time around. Hehehe…. The best things in life are free. The place was getting
crowded when we're about to leave the place.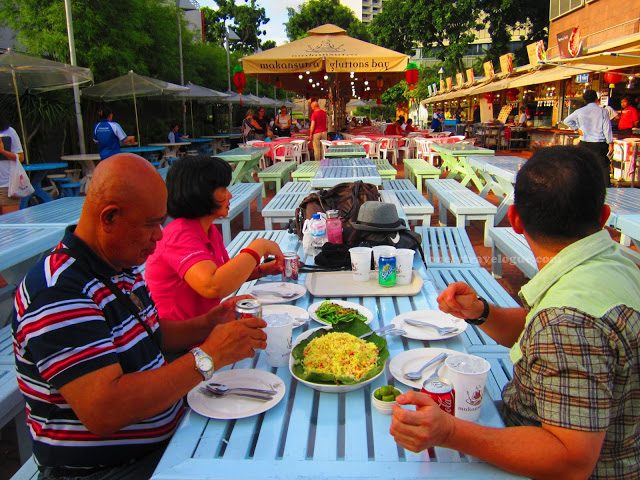 Quarter to seven when we started walking towards the Merlion Park. Still the sky was still in full
tune though darkness was fast approaching. Phoebe's father and our host tito
Gel decided to stay on Glutton's Bay and just appreciate Marina Bay from that spot. They were too tired after the entire long walk we did that day.
But my girlfriend's mother tirelessly joined us towards our march to the
Merlion at the side of the Marina Bay.
Esplanade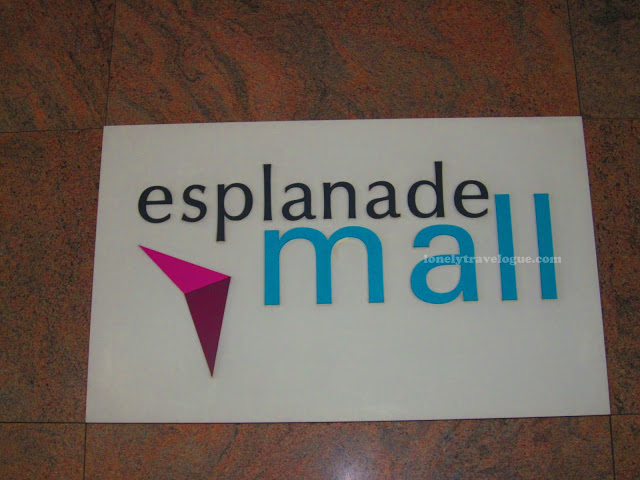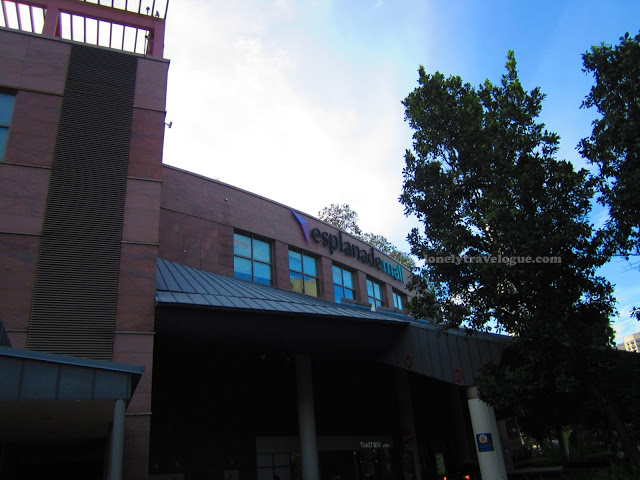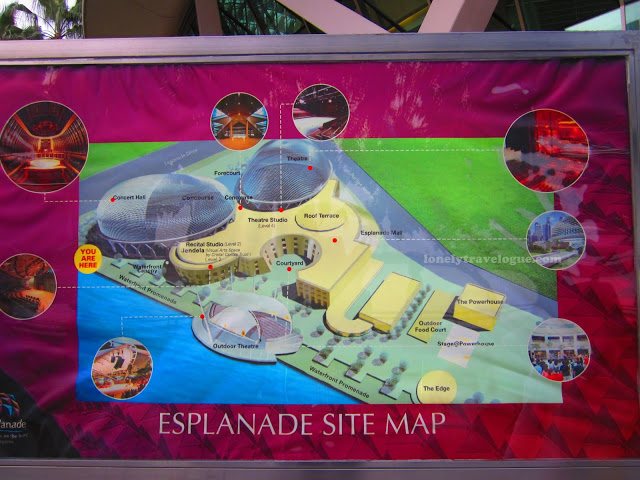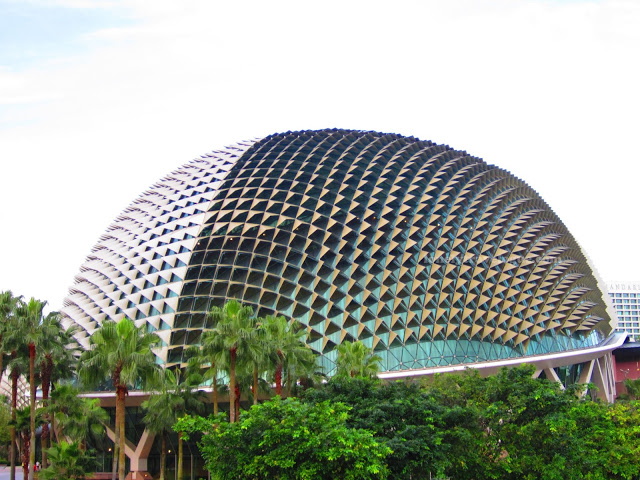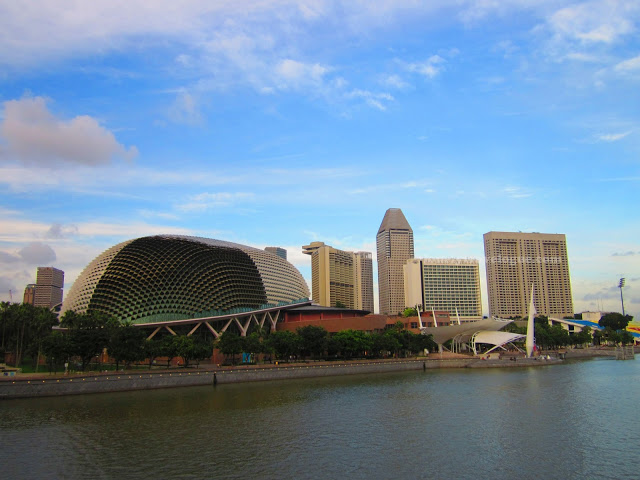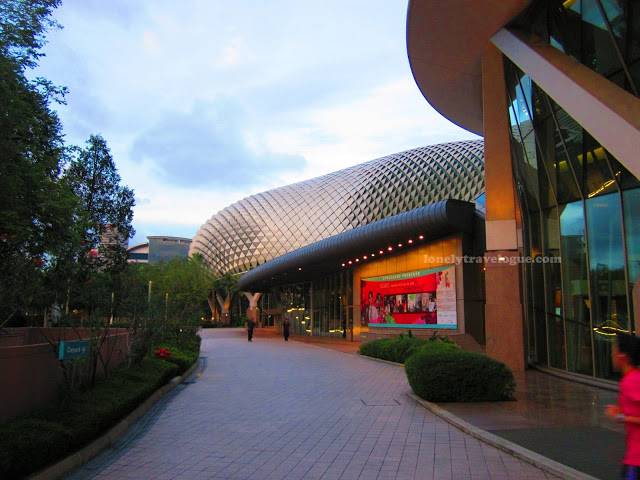 Of course our walks won't be complete without stops at every
picturesque spot in the Marina Bay. The problem was
everywhere is picturesque. Hehe… Imagine how much time we cover by just getting
there given the fact that it was just half mile from Glutton's Bay – where we
had dinner. Fullerton Road/Esplanade Drive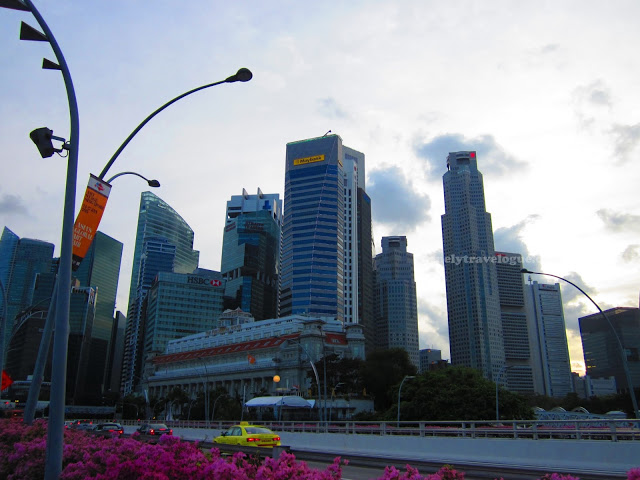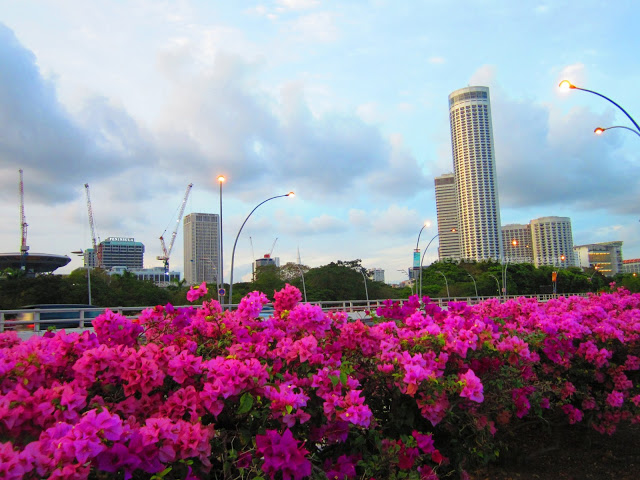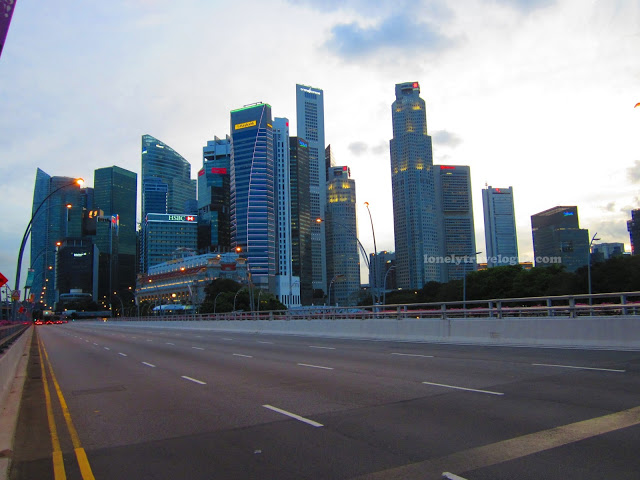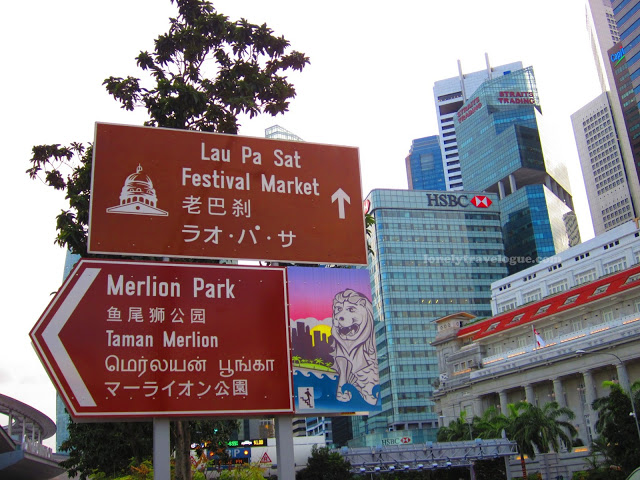 When we reached the Merlion Park there were a lot of people taking pictures at this famous spot. Everybody had
to wait for their chance to get the spot where it is best to take pictures of
yourself with the half lion half mermaid on your background. You had to really
make a way to get to that spot as there are no authorities to organize. Well it
is organize and orderly. The Merlion Park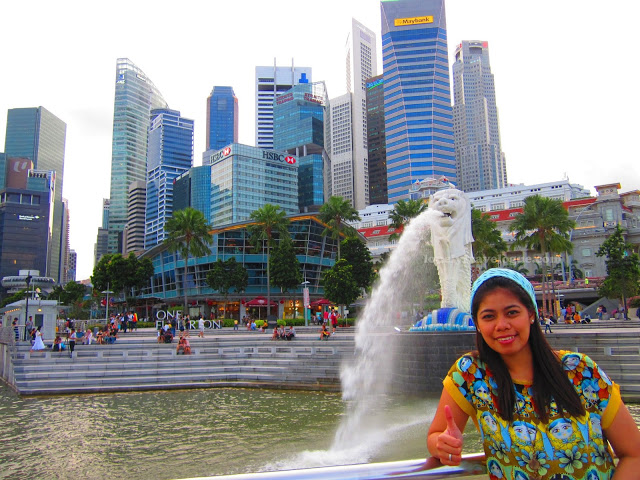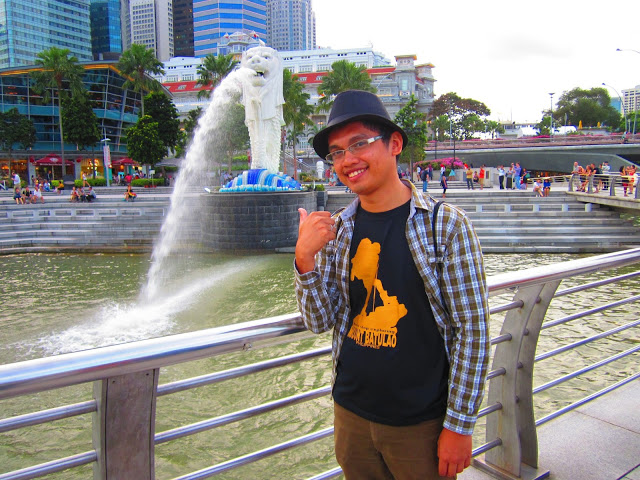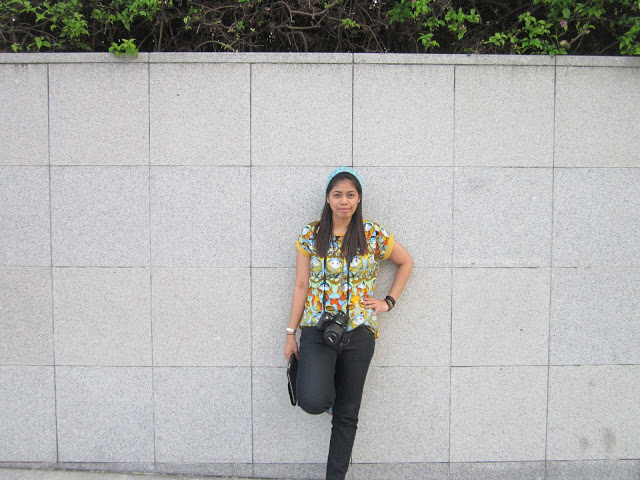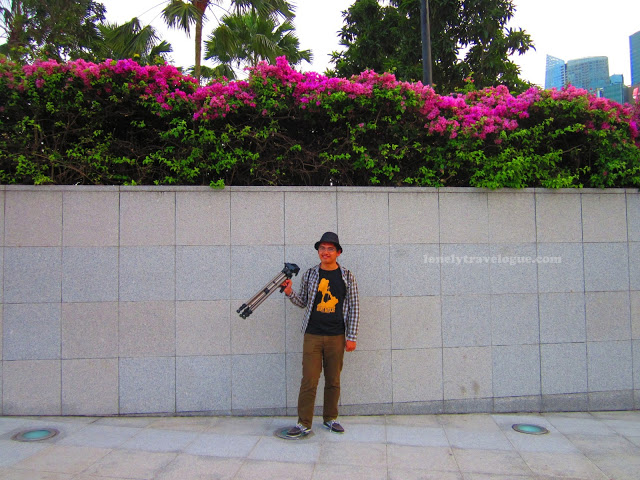 Infrastructure is not just about how great and good looking
the architecture is. It was instilled to me that everything that the nation built
reflects its heart and soul. It's not just about the origin and history of such
and such landmark. It is also about how determined and serious the people on
protecting arts and culture of the community. Thus the people of this city
state full of swamps and had struggled to be part of a nation once did a great
job on making their country rich not just economically but also of spirit that
makes them one of the great nation.                       
Happy Travels =)