"Will I meet the clouds up there"…was my first thought when I heard Mt. Ulap in Benguet. My
friend Karl of www.turistatrail.com mentioned to me that he will kick off
2016 in Baguio with a climb in Mt. Ulap. He half invited me by the way. Aside from the cold
temperature in Baguio during the first quarter, I was motivated when
I heared that he will stay in Peredo's Inn – an ancestral house in
the heart of Baguio. So I said yes, I will join you!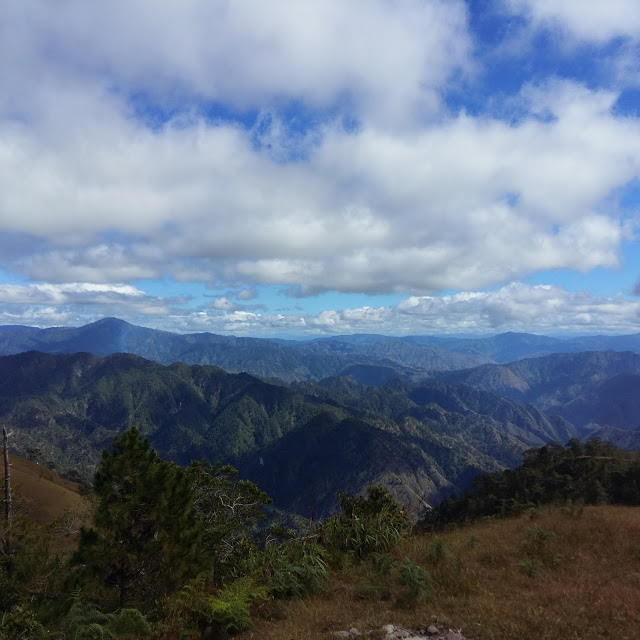 Mt. Ulap in Ampucao, Itogon, Benguet
was the least of my agenda. I just wanted to walk around Baguio and
eat as many food as I can. But as the days goes by before the trip Im
getting more and more excited about Mt. Ulap. The trail, the pine
trees, the fields on the summit, the cold weather and the like, seemed magnet pulling my excitement. Mt. Ulap is relatively new to
mounteneers. The trail was opened to the public last October 2015.
Though new, Mt. Ulap is gaining popularity among avid hikers because
of its majestic sceneries and stunning landscapes not to mention the
cold but tolerable temperature. We started our day in Lakandula Street (Adjacent to Magsaysay St) in the heart of Baguio City where jeepneys plying Baguio-Ambucao are located.
Don't waste your time when you heard that the jeep going to Ambuao
will pass by Petron near Victory Liner Terminal. They will wait
in Magsaysay till' the jeepneys are full before they leave. We bought
some snacks and lunch before we boarded the jeep.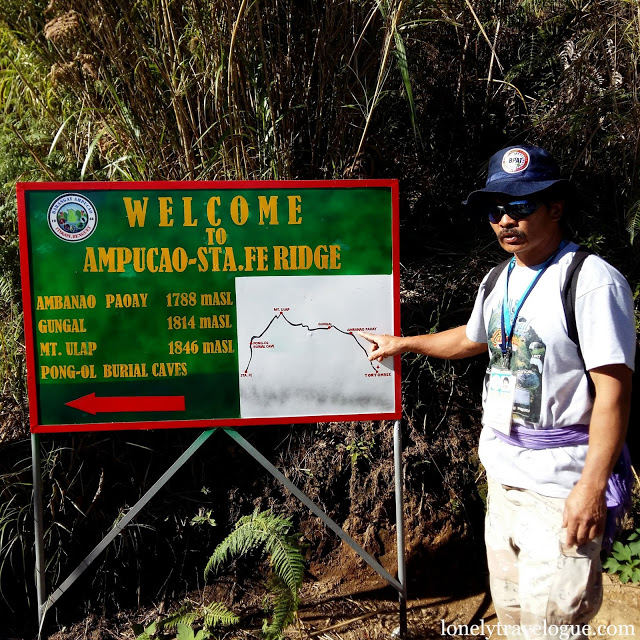 Marker of Ambucao-Sta. Fe Ridge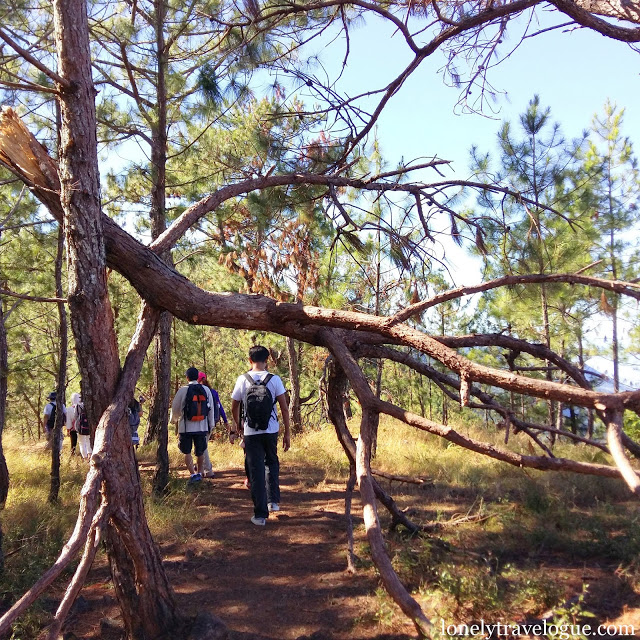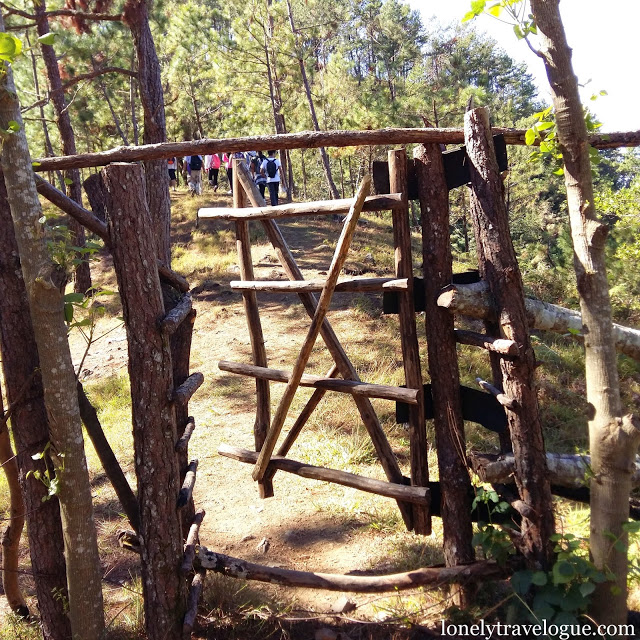 After the quick orienatation of our guide I was excited to see pinetrees and picturesque trail along the trail. I did so with my heart pounding like I was snoring. I would not lie. I expected a "chill" climb in Mt. Ulap. I never thought that I will have a hard time
breathing along the trail.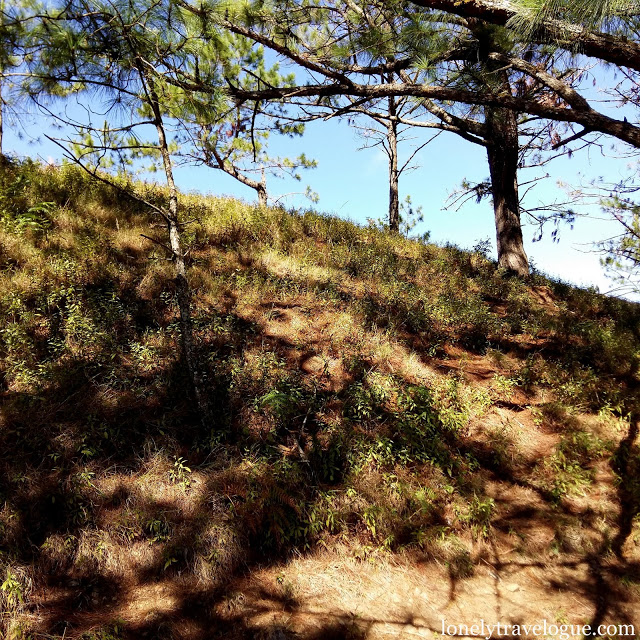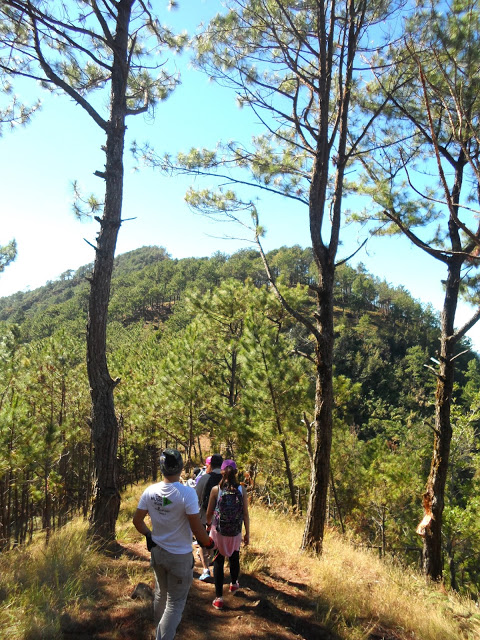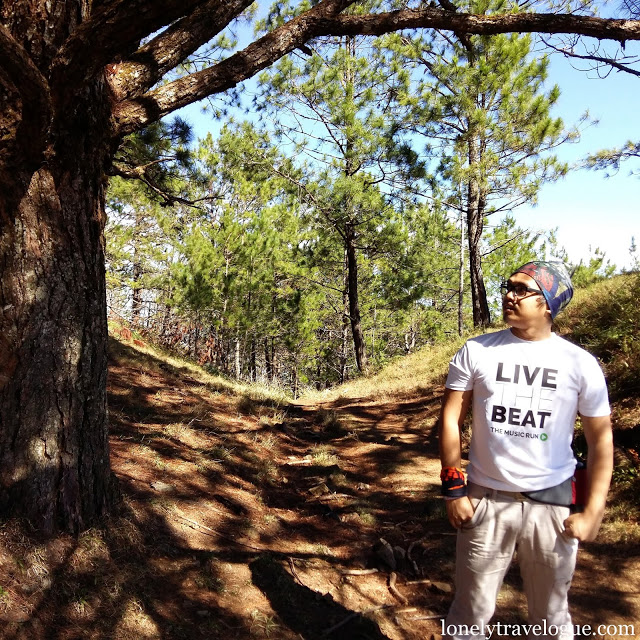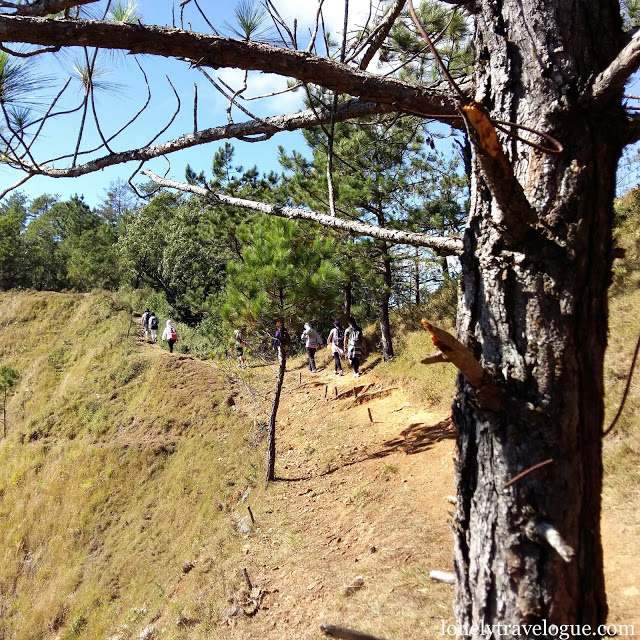 The first part of the climb was hardest. After a nomal mountain trail at the beginning, we experience a sudden sharp assult just 30 minutes after the orientation. Big steps upwards in a narrow and slippery trail. Thanks to the pine trees we can grab a branch to support our body up. We need to stop for quite some time to regain our stamina and catch our breath. I must admit a good energy bar with savory or sweet flavor would be perfect at this point. Because of the sharp assault and thin air we almost exhaust all our energy from last night sleep. Later on our lungs adjusted to the high elevation, our breathing becomes normal, though there were still moments where Im catching my breath, we now enjoyed the cold weather and sceneries of Sta. Fe Ridge.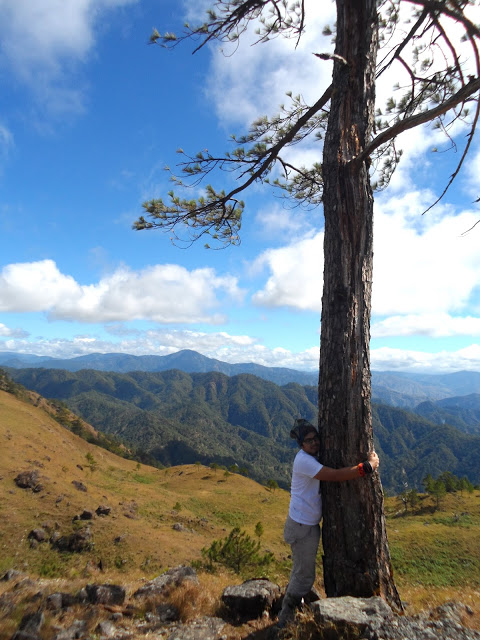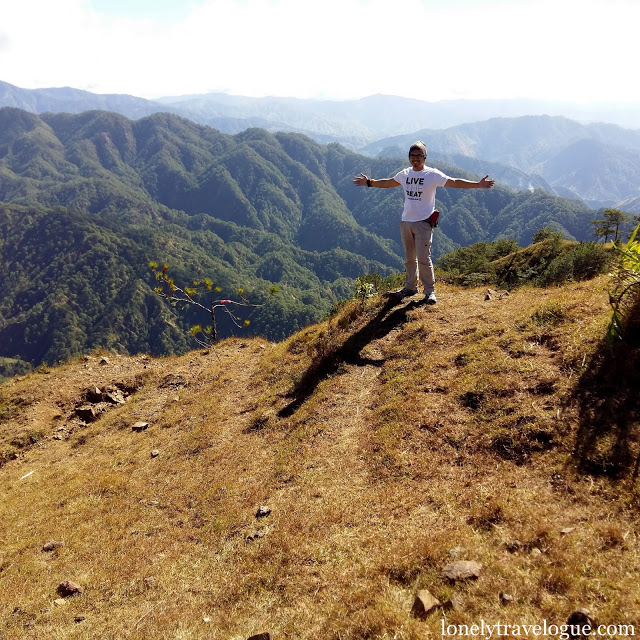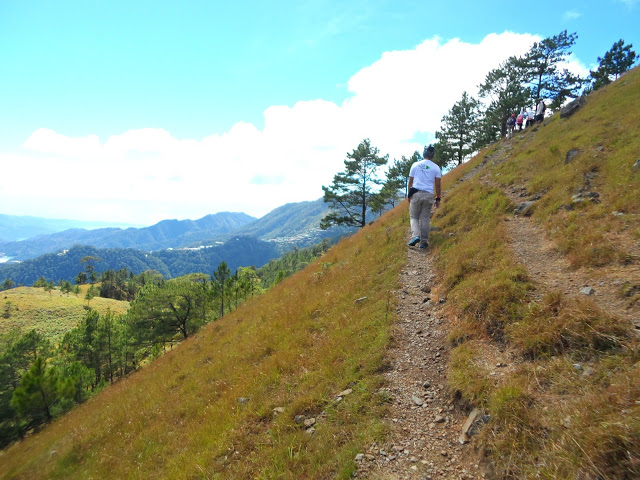 Though half deadly and exhausting, no doubt the view on the trail was amazing and tantalizing. Sometimes I wanted to stop not to rest but to stare at the view. You will regain your strength when you see how marvelous and majestic God Creation is. Because you are watching your step, you don't have a choice but to stop to see the mountainous horizon.


Nature will never fail you if you choose to look at it the right way. Beauty is in every leaves, dry or fresh. Beauty is in every flower, no matter what color. Beauty is in every trail, no matter how narrow or wide. Beauty is in every trees, tall or short. Beauty is in every field, plain with grass or with foliage trees. Beauty is in every person looking at nature.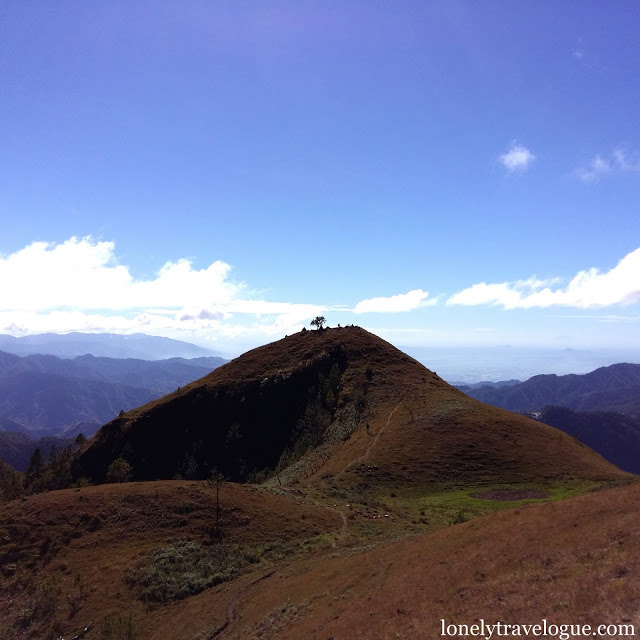 At 1788 Meters above sea level, we reached Ambanao Paoay the first of three summit of Sta. Fe Ridge. You know its a summit when you see a hill with a lonely tree on the top.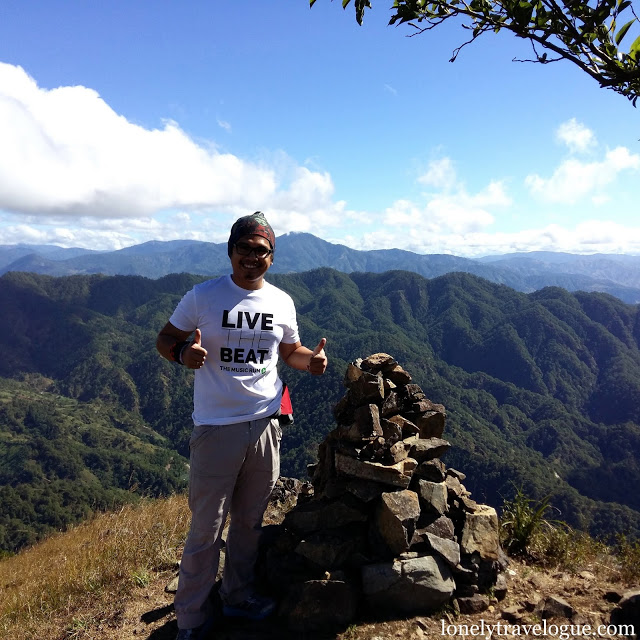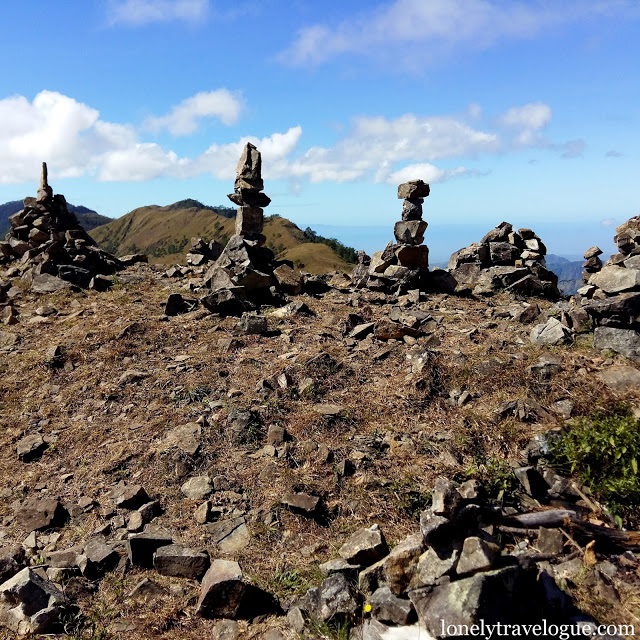 Stone Tower on Ambanao Paoay You'll have a great vantage point when you climb on top. Only clouds and mountain are visible on top. I felt like flying with out wings with cold wind colliding on my face and open space I can freely run.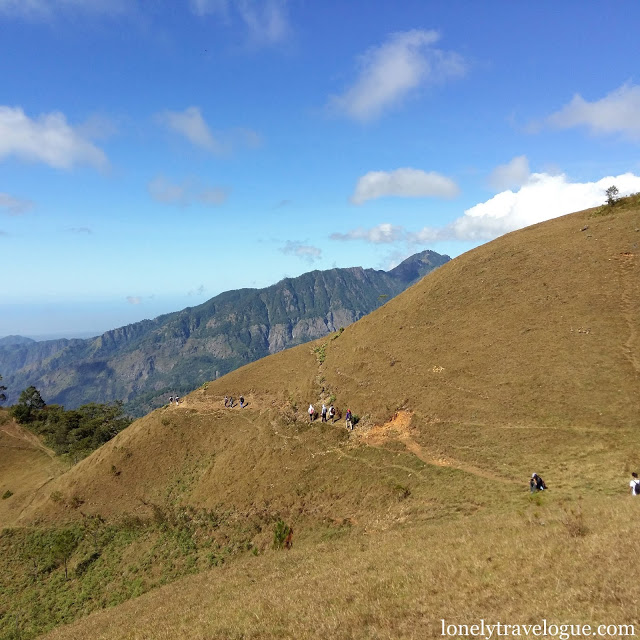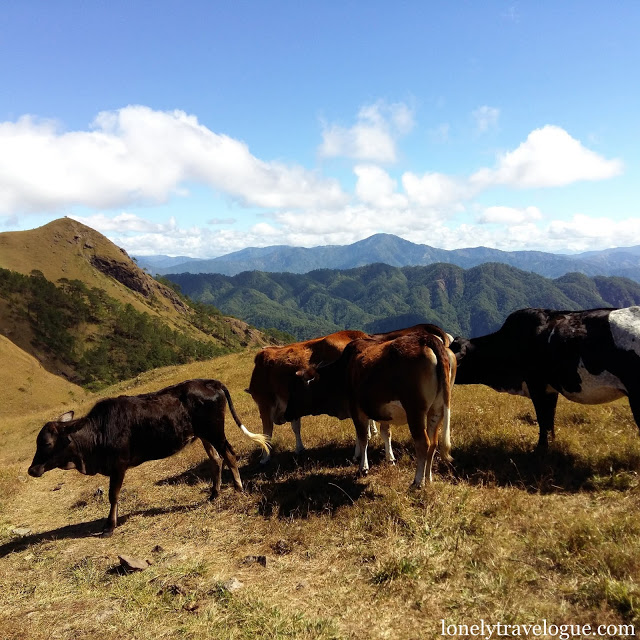 I wanted to run till my every alveoli inside my lungs burst out but I saw this fat and healthy cows. I stopped and smiled at them like they were smiling at me. Call me crazy but I felt surreal when I saw this animals. Don't even question  I don't see cow before. Yeah I'm from the city.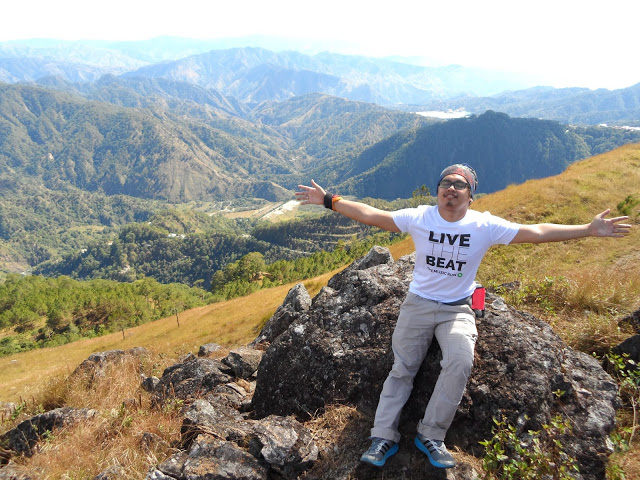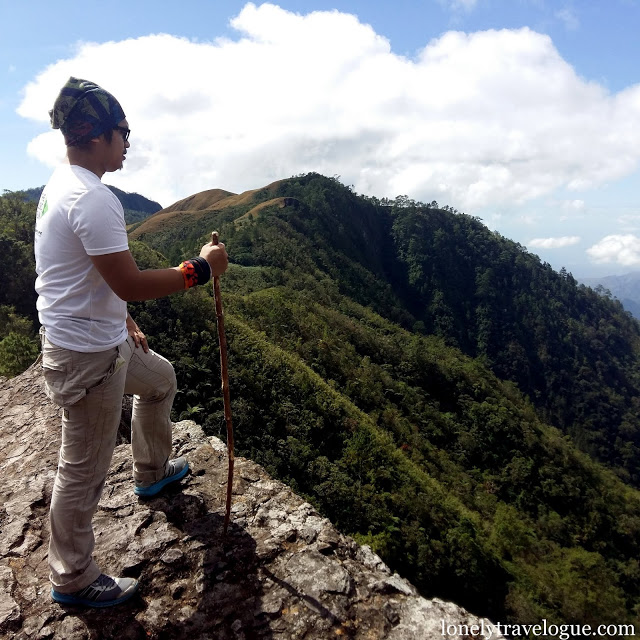 We reached Gungal at 1814 meters above sea level. Gungal Rock is the second of three summit. Actually Gungal it is the most celebrated among the three summit because of its majestic rock formation. If you are a "daredevil" have a selfie on the edge of the big rock at far end. It will give you a great photo reward when you do.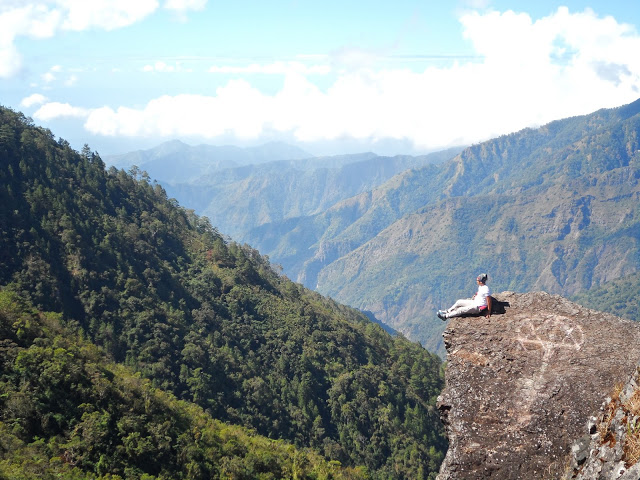 I was pissed of when I saw the big vandalism on the rock mainly because it is visible on my photo. Kidding. Why people would do that vandalism? I cannot understand what it does to them. But then, I realized, what if this has a purpose and this is not just a vandalism? I asked our guide but he doesn't know who did that star in a circle vandalism and what it is all about. Okay, I stop judging and let the nega feeling go away. But please let us not vandalize natural beauty.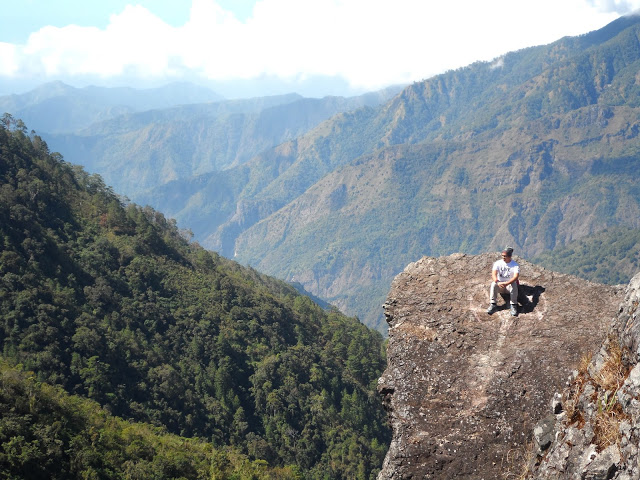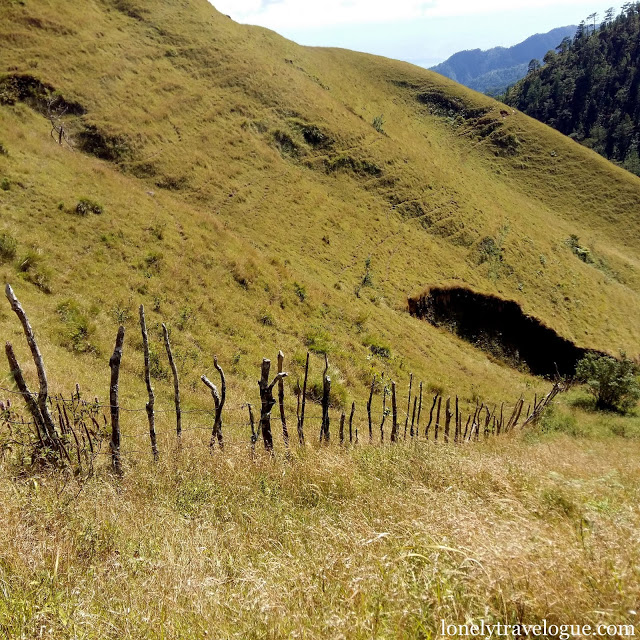 One hour of down slopes and up slopes in a grassy and slippery trail, jumping on the fences and twice or trice of stumble we reached our purpose – the summit of Mt. Ulap. At 1846 meters above sea level, I was lying on the grass to feel the heartbeat of the mountain… or if I still have a heartbeat to bring home. Everything seemed sucked by the clouds.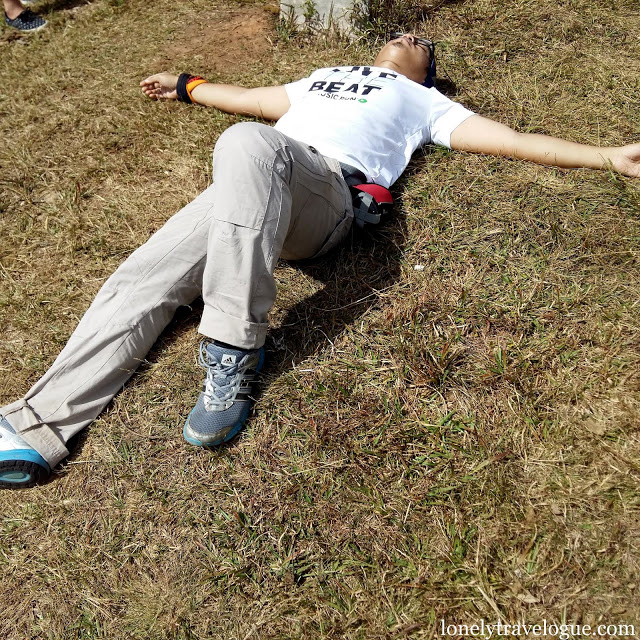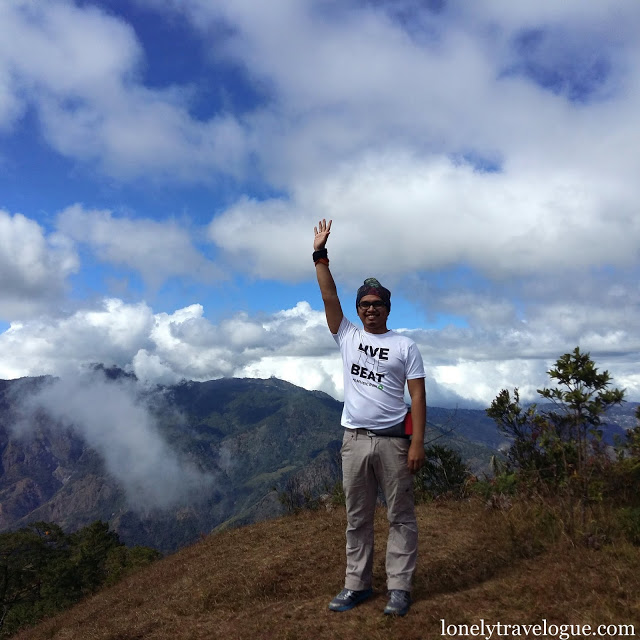 "I was touching the clouds… nah kidding"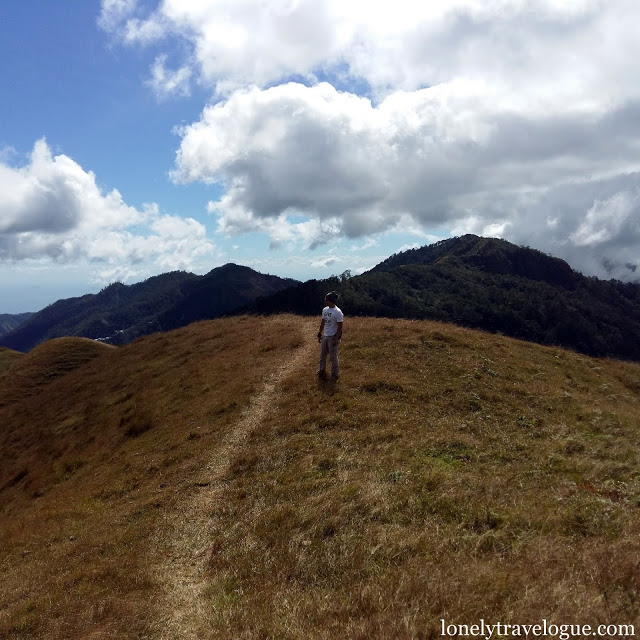 Funny about this summit, we didn't know that its the summit already when we reached it. At first we did not want to climb the steep mountain because we saw an easier trail down. But our guide was very insistent. In the middle, we were catching our breath, I asked our guide: "Kuya where is Mt. Ulap?" He answered "Sir you are already stepping in Mt. Ulap" I was like, "What? Kuya, di mo naman kami ininform" Then we started running up to the summit.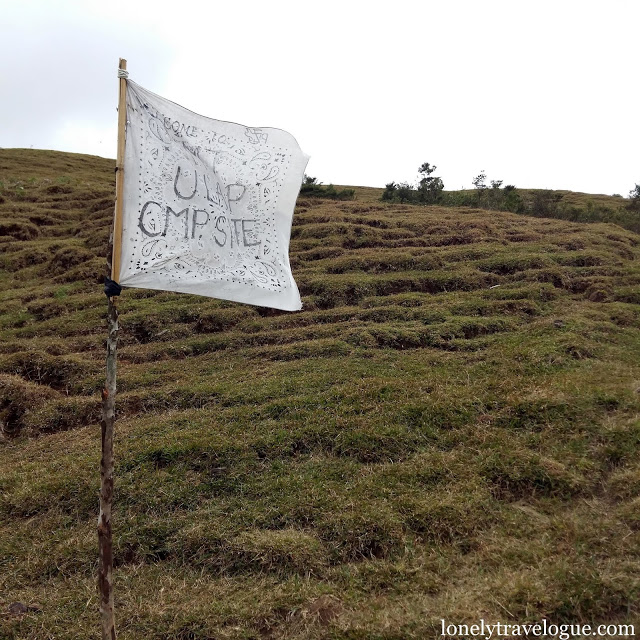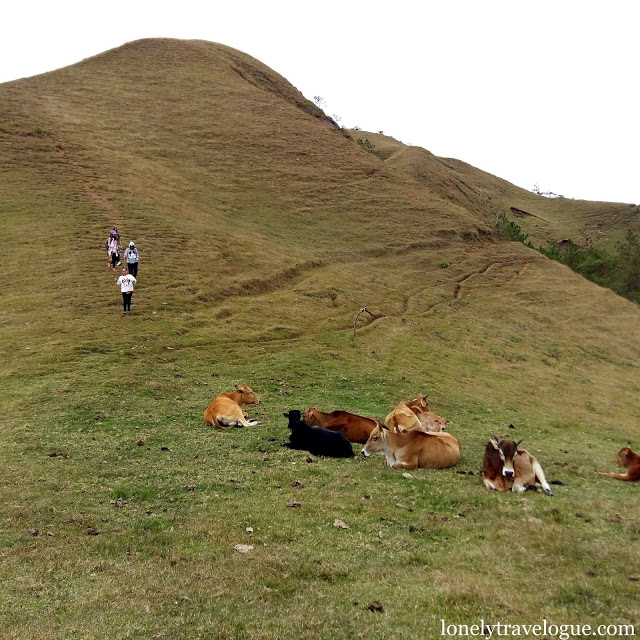 Before descending the mountain, we were informed/warned by our guide that it will be a very hard. It was. All the pressure will be on your feet thus it will be hard to balance if you are not used to it or if you do not have a good trekking shoes or sandals fitted on your feet. I was ready to face the worse kind of trail.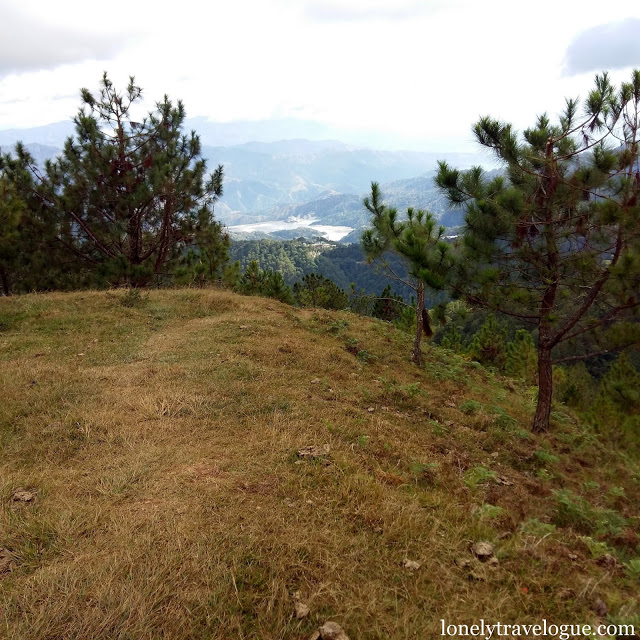 But before the hard trail down we were all excited about the three burial caves we will pass by. Sadly the first two were empty. Our guide said that it was stolen long time ago. Good thing they were able to protect the bones in the third cave. However, our guide did not allow us to take pictires of it as a sign of respect.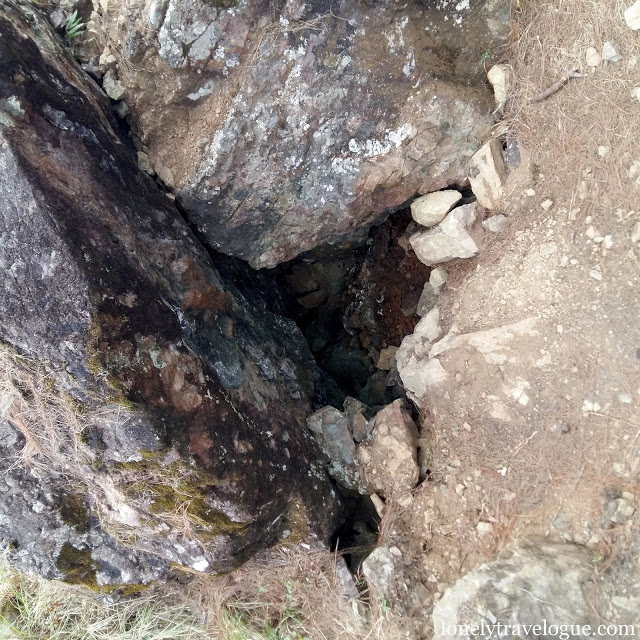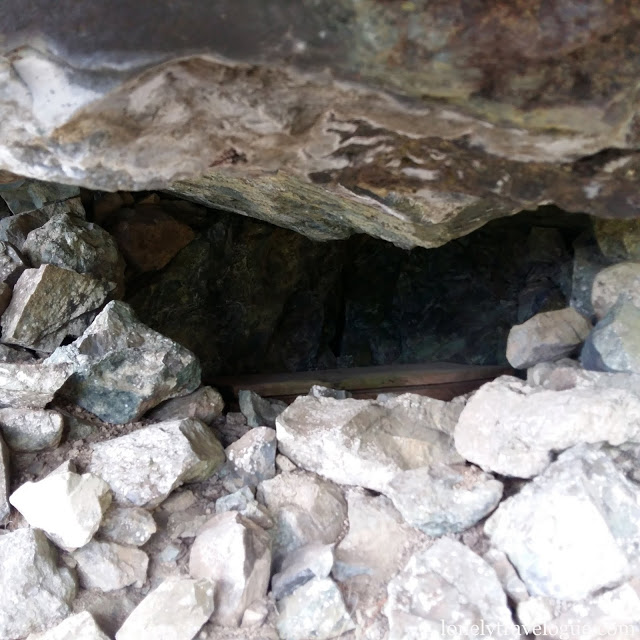 The trail down was hard but it was fun. I enjoyed climbing down because it impose great care and challenge to us. They use natural rope to get us down. Yeah you read it right "natural rope" I dont think its similar to what Tarzan used in the movies. They said its a "rattan" tied on the trees. See that one below? We used that to go down without any harness. Cool right? nyahaha…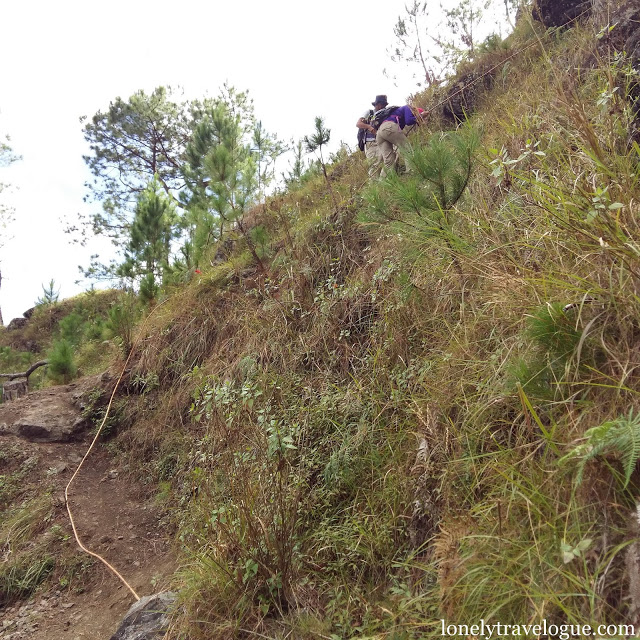 Mt. Ulap is the hardest mountain I had so far. I did not expect the things that I experience climbing up and going down. It was deadly at the beggining to the point of not believing in myself. Thank God I was mentally convinced that I will finish what I have started. Besides I don't want to be a liability in the group. I do not know if I love Mt. Ulap. But one thing is for sure, I love the feeling when we finished it. Ask me if I will comenack soon? Ask me again after a year or two.     
Itinerary:


7:30AM – Depart for Ambcao (Fare Php31)
8:30AM – Arrival at Ampucao Barangay Hall (Reg fee Php100 each, Guide Fee Php400)
9:00AM – Start Trek
9:30AM – Reach the marker of Ambucao-Sta. Fe Ridge (Quick orientation by the guide)
10:30AM – Reached Ambanao Paoay – the first of three summit
11:45AM – Reached Gungal Rock
12:45NN – Reached Mt. Ulap Summit
1:10PM – Reached Mt. Ulap Camp Site
1:45PM – Reached the first burial cave
1:55PM – Reached the second burial cave
2:10PM – Reached the third burial cave
3:40PM – Reached Brgy Sta. Fe
4:30PM – Jeep baack to Baguio (Php50)
5:30PM – Arrive in Baguio City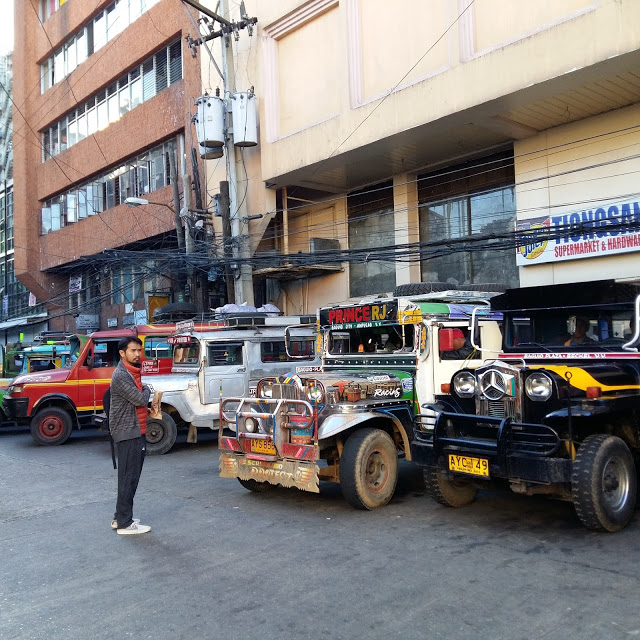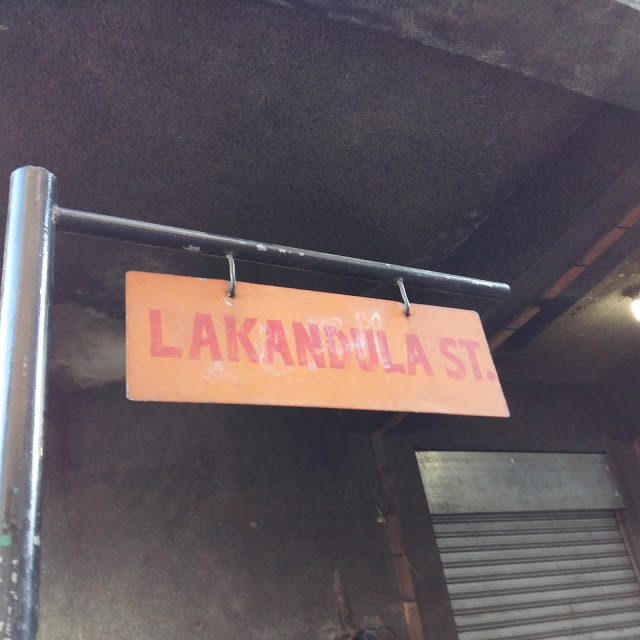 Notes:
Jeepneys are located in Lakandula St. (Adjacent to Magsaysay St.) in Baguio City. Tell that you are going to Mt. Ulap and they will bring you to Ampucao Barangay Hall for registration.
Registration Fee is Php100 each to be paid at the Barangay.
As of writing Guide Fee is Php400. Number of climbers per guide is not clear at the Barangay but I asked our guide he said maximum would be 10 person.
Bring atleast two litters of water. Eat Banana to strengten your knee.
Camping is allowed but you have to pay the guide for two days.
Bring food/lunch for yourself and for the guide if you have a kind heart.
Don't waste your time when you heard that the jeep going to Ambuao will pass by Petron near Victory Liner Terminal. They will wait in Magsaysay till' the jeepneys are full before they leave.
Going back to Baguio from Sta. Fe might be challenging. Be sure to coordinate the jeep at the barangay if you are in a big group. Your guide can also contact a jeep operator in Philex Mining near Sta. Fe. Fare is Php50 per head.