Its the last stop of my Burma Backpacking in Mandalay when my tour guide/motorcycle driver asked me if I would still want to go to Inwa. I wonder why he asked that. Maybe I looked so tired already because our city tour started at 3AM so I can witness the famous washing of Buddha's face. I asked him how far is Inwa from downtown Mandalay. His answer was unnecessary because I will say "yes" no matter what. I said "Okay lets go"
Of all the touristy and non-touristy places in Burma, its only Inwa that I did not do a research. In fact I don't even know what is Inwa, where is it and what I can see there. We travelled to Inwa for an hour (maybe less). My tour guide who is a fan of Katrin Bernardo's Mara Clara (Yes they showed it there) said, in broken English that its an old city with many temples similar to Bagan.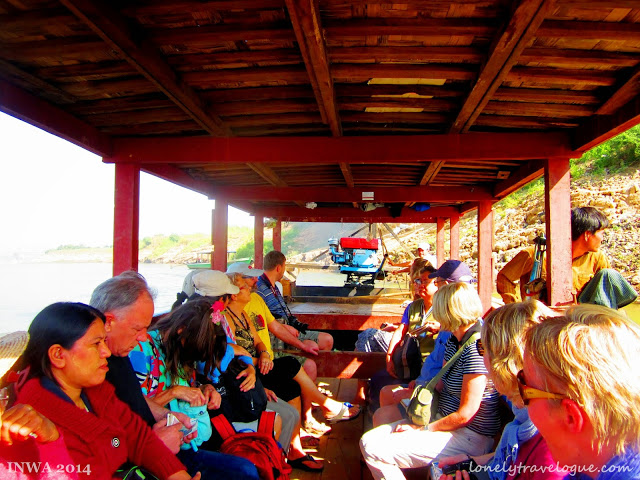 Reaching Inwa is in itself an experience. Aside from the rural views of the outskirt of Mandalay I had to pay like 800Kyat (less than $1.00) to cross the river for about 3 minutes where the old city of Inwa is located. On the boat is a mix of passengers from locals to Western tourist.
Unlike in Bagan, horse cart is the only way you can tour around Inwa. I was thinking of renting a bike. Horse carts can accommodate up to four tourist. According to my tour guide, horse cart cost like 2000kyat per person. That I should look for other tourist to share the horse cart he added. But that was not the case when I reach the other side of the river. The horse cart drivers and middle man were charging me up to 8,000kyat for the tour. They also discourage sharing with other travelers that just formed to specifically to share the horse cart. I don't have enough cash to pay for the horse cart tour. So I haggle only to be rejected. When all the tourist in our boat was gone touring Inwa, I was seating and walking thinking what to do. I already thought of walking but I know that the temples and pagodas are far because I can't even see the top of the stupas from where I am. Until a man came to me and offered me like 6,000kyat. I said no because that's still beyond my budget. I countered him for 4,000kyat and he agreed. See I guess that is the real value of the horse cart tour.
The wooden wheels rolled in the dusty road of Inwa. Truly, Inwa is a forgotten kingdom that it actually become a rural area where agriculture is the dominant industry and cows and horses are the king of its unpaved road.


During the span 360 years the Kingdom of Ava led my many kings build numerous temples. Most of the temples was destroyed by a series of earthquakes in in 19th century. After the quake the city was leveled and the government decided to move the capital to what is now Mandalay.

Yadana Hsimi Pagodas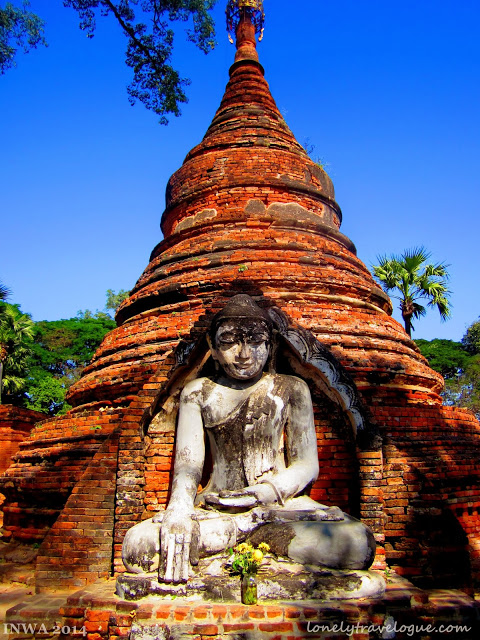 Similar to Bagan there are lots of artist in Inwa that sells their works in the temple ruin. Hoping that tourist will buy their works, they even do sketching in front of the tourist. The most common subject is the U Bein Bridge in Mandalay.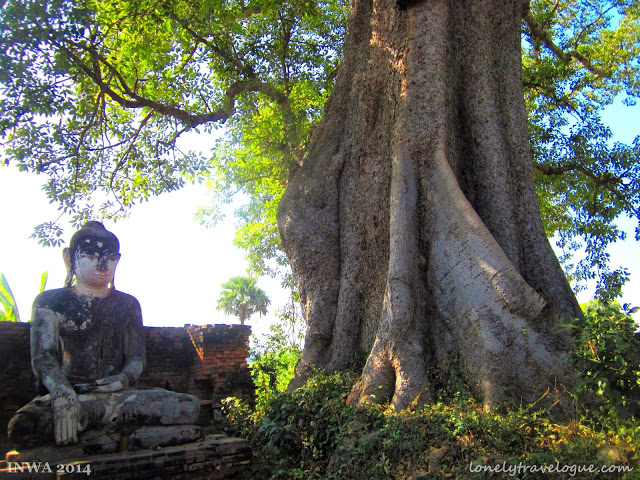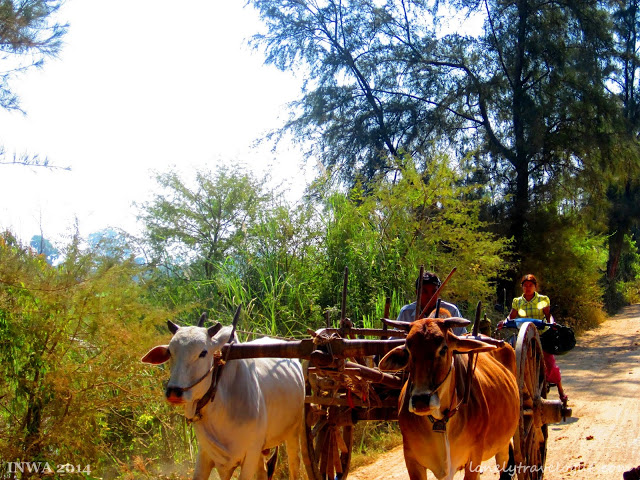 This monastery is a living monastery. There are monks residing in this place and still teaching children. Good thing though they allow the tourist to go inside and be mesmerized by its gigantic teak wood structure. It was here that the members of the royal family were educated.

This monastery is 180 years old. The durability of this teak monastery was tested many times that it even championed a series of earthquakes of the 18th century.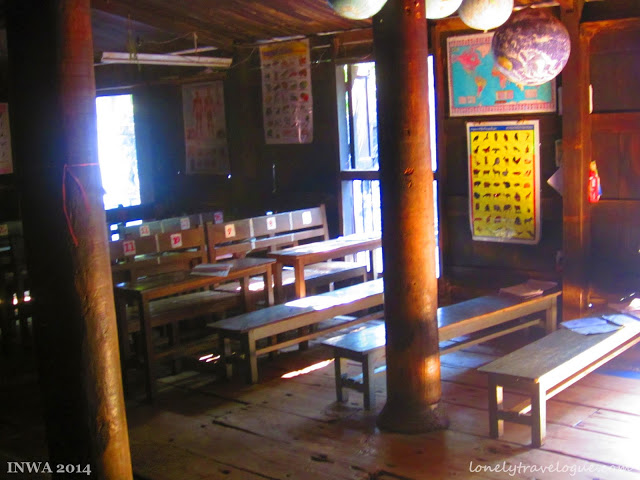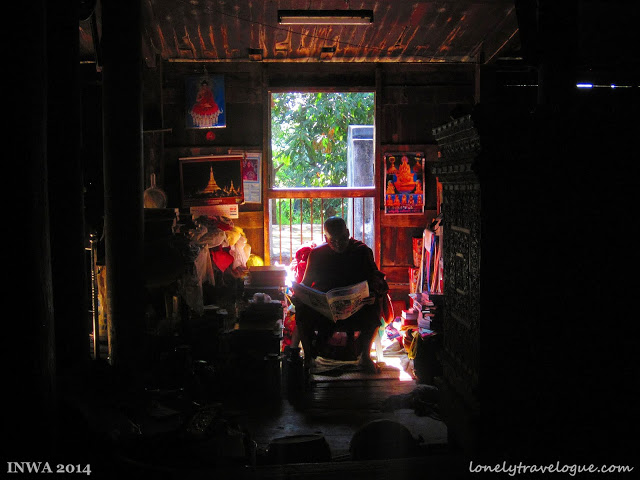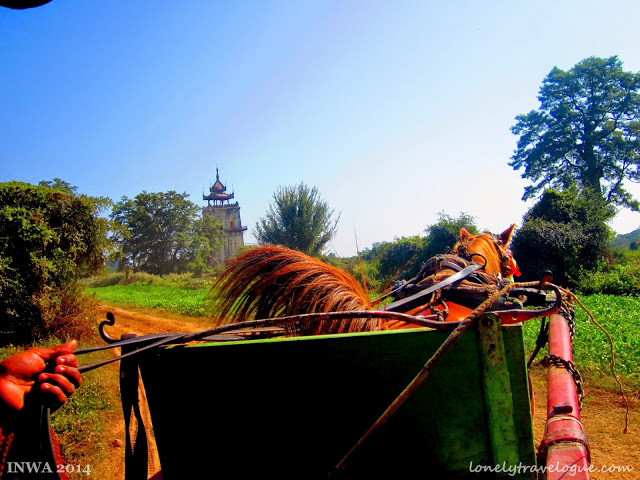 It is here in the watch tower where a lot of souvenir vendors place their goods. They were all assertive in selling. If they saw you taking pictures they would assume that you wanted it thus they will not stop insisting to the point of begging you to buy. If I have all the riches of the world I will but from each of them. In all fairness, what they sell are works of art.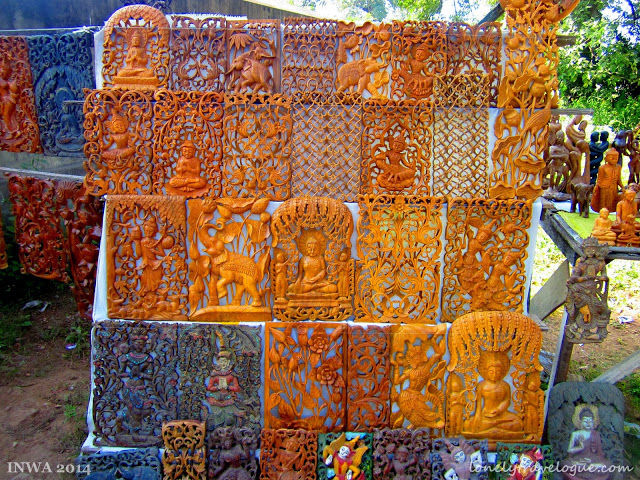 I was disappointed when I reached the tower because I thought I can climb to its peak. It is prohibited to even enter to its door because its very dangerous according to the people guarding the place. I should have expected that because from afar you would see the tower is not stable. Its like a leaning tower of Ava.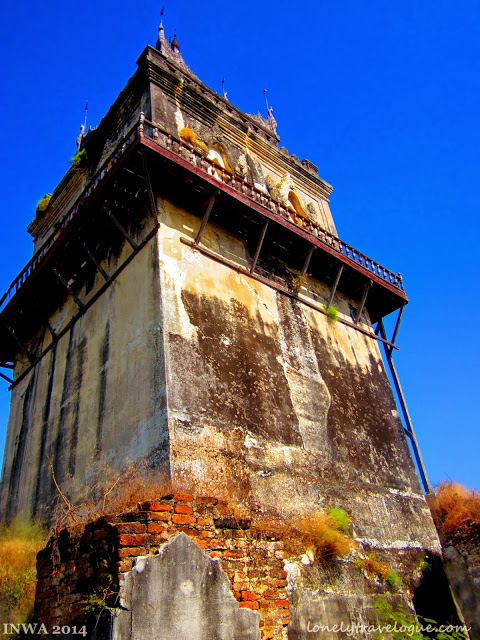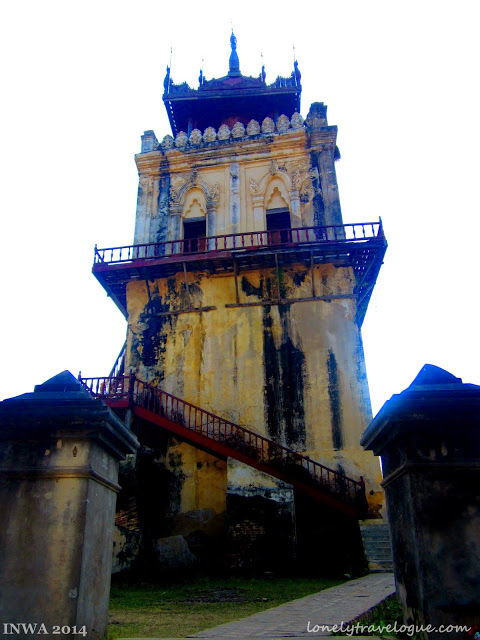 Mahar Aung Mye Bo San Monastery / The Brick Monastery Of all the structures and landmarks in Inwa, the Brick Monastery epitomize the grandeur of the Ava Kingdom from in inception up to the 19th Century when the earthquake leveled the kingdom. There were a lot of tourist stopping here for long to rest because this place is magnificently beautiful.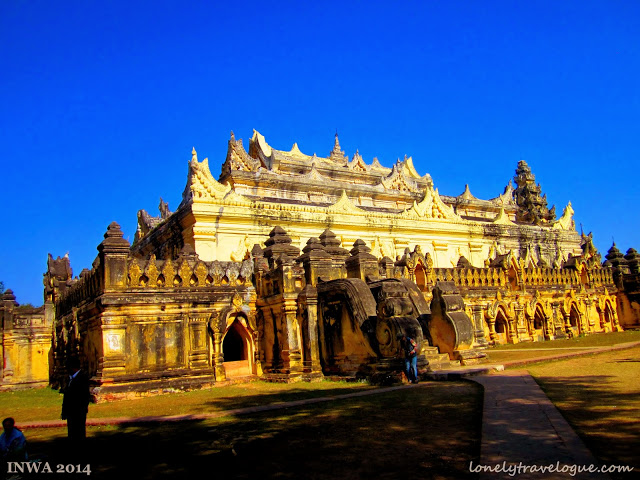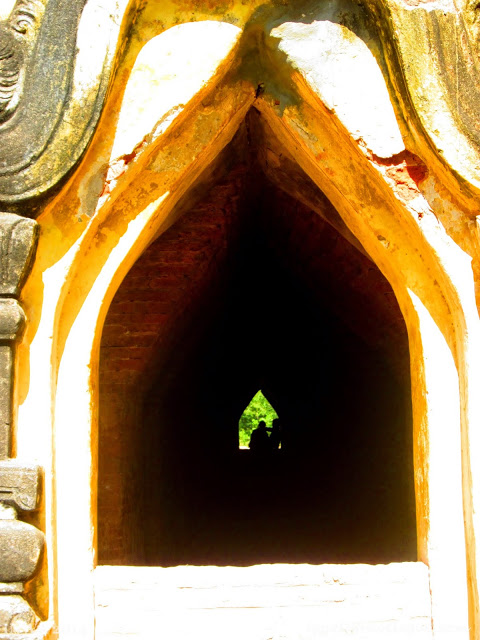 It has a detailed architecture in all its portion.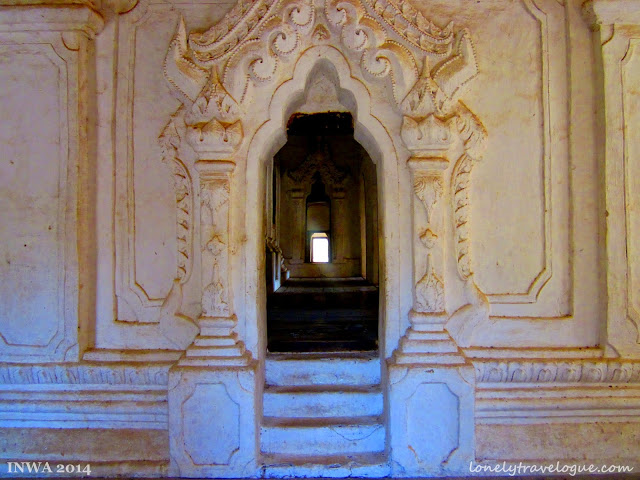 This monastery is one of the finest specimen of Burmese Architecture during the 19th Century, its architecture is in simulation of wooded monasteries with multiple roofs and a prayer hall of seven-tiered superstructure.
So here is the last entry for my Burma Series. I hope you like all my naratives about this beautiful country in Southeast Asia. Happy Travels 😉