Early morning after a small chat with Clover I grabbed a for rent Bike parked at the
backyard of Pan Cherry Guest House. I wasn't sure if I can do it or
if I know how to bike. I stepped on the pedal but it seems that I am
not moving. A staff approached me and he unlocked the back tire of
the bike. Ok! It was lock. I was excited. I pedaled on the paved road
– struggling for balance. I said I will practice… till I enjoy the
free smooth movement on the road. Gaining confidence on my pedal and
balancing skills I went back to the hotel to get necessary stuff for
a butt numbing all day
bike tour around the temples of Bagan.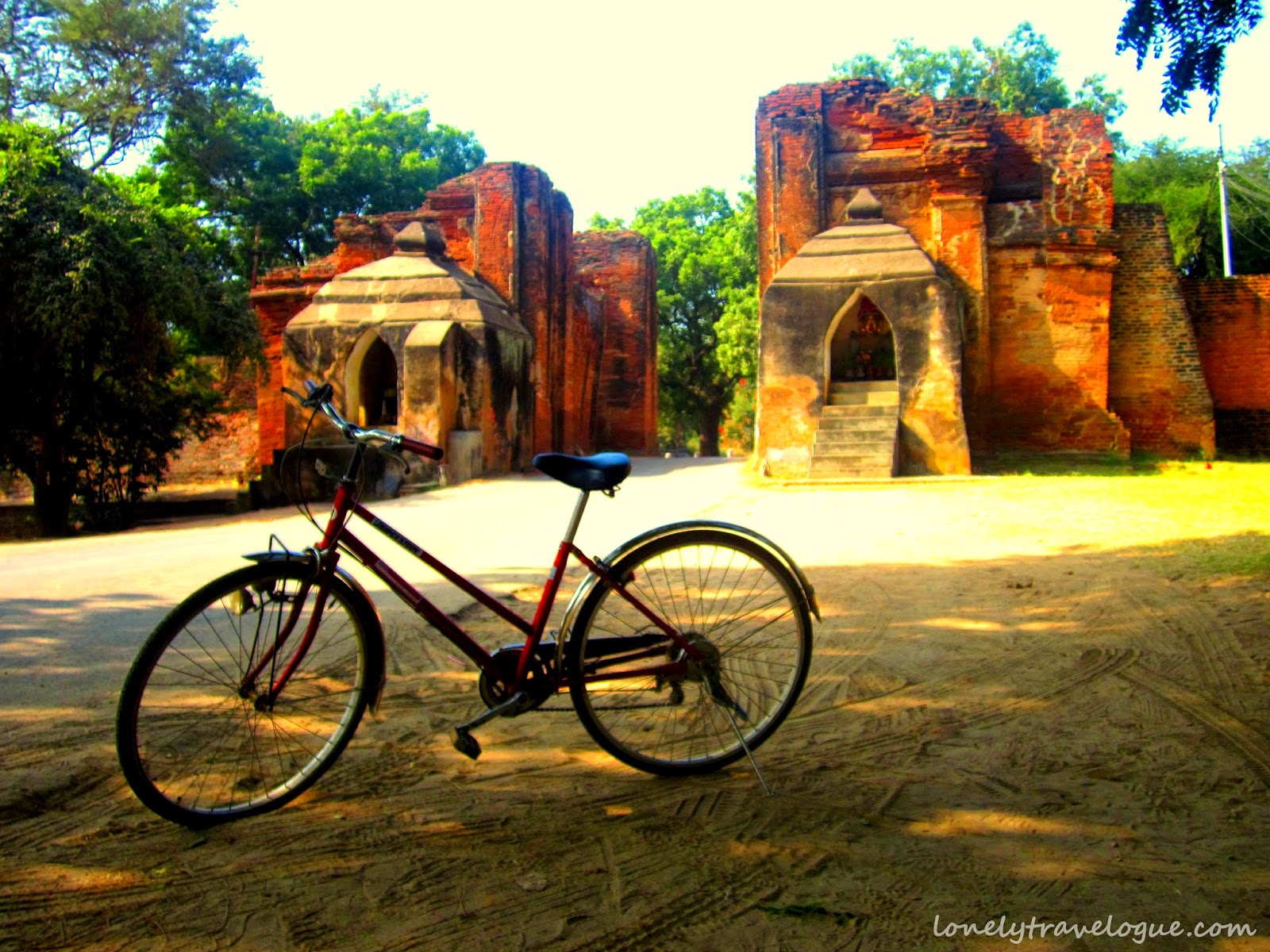 My bike at Thanabar Gate I was scared. I wasn't sure if I can
survive or at least be back to my native land free from scratch. But
I was determined to push my limits and do something I did not do for
the past 25 years. To tell you I really don't know how to bike. Yeah
laugh till you drop but I do not know how to bike until I learned how
to do it properly in Bagan. Didn't had the chance to learn the best
childhood experience. Two reasons: nobody was there to teach me and
they don't want to buy one for me. Come high school I was with
friends who like me do not know how to bike as well. Come college
when I first attempted to push down the pedal and I did it. That
happened once in the paved track of Quezon Memorial Circle. No
vehicle was to challenge my capabilities thus come Bagan where I am not sure if I can battle with big cars and some horse cart.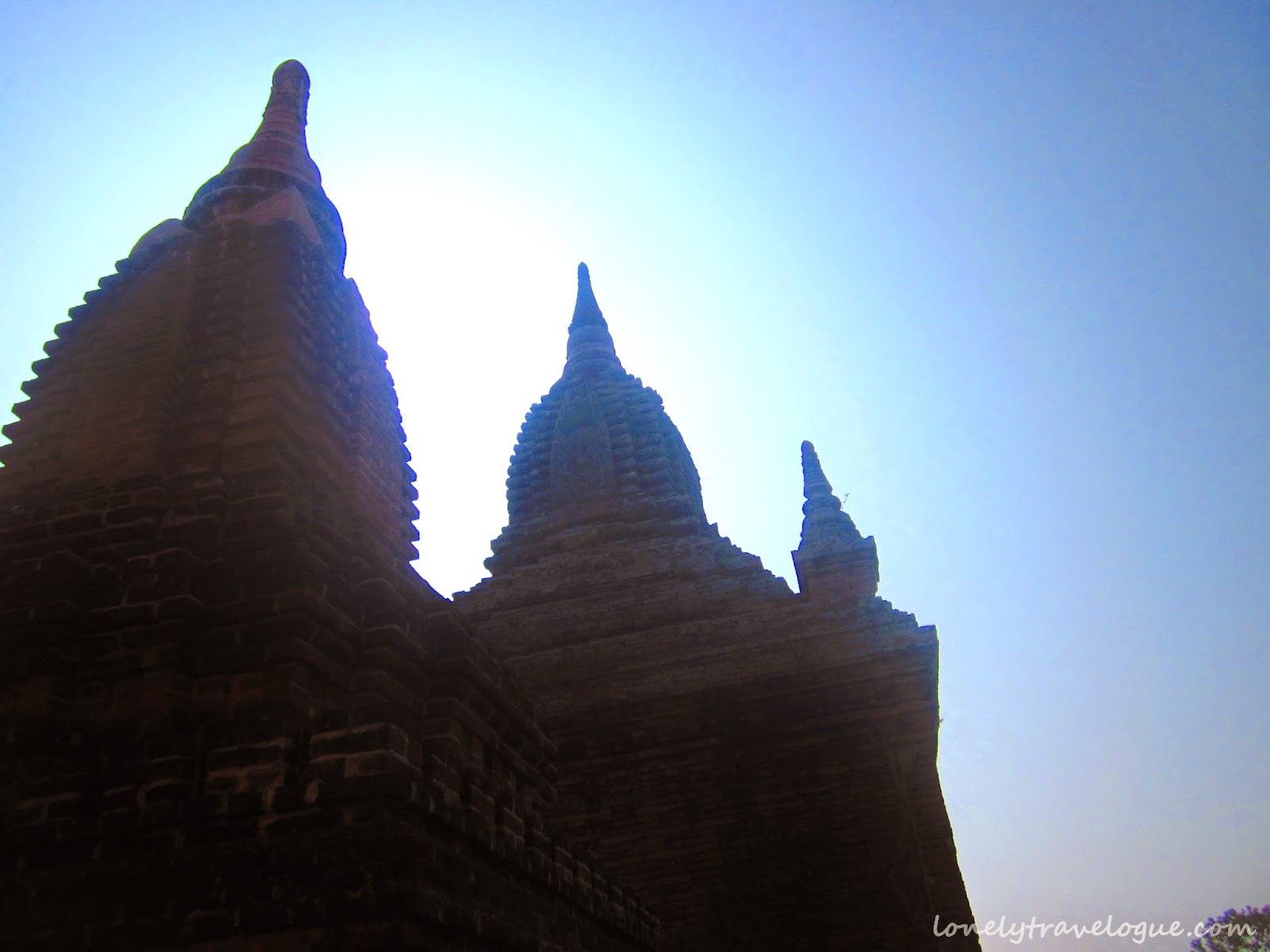 Mini Stupas at Min-MyawyazaBike or Horse Cart? Equipped with a map and
determination, I biked on the main road of Bagan. I noticed the
demographics of tourists kind of traveling; travelers from the yellow
countries were for the horse cart, most of those with white and gray
or naturally blonde hair from western hemisphere were using e-bike
and those age that ranges from 20-40 that includes me were for the
manual bike. Here manual bikes and e-bike are good because you have
the freedom to roam around as compared to horse carts. Manual bikes
is faster than the e-bike and horse cart. Though both e-bike and
manual bike are but numbing, e-bike saves more of your energy than
the manual bike. The thing with bike (manual and electronic) is that
it is hard to move on the sandy part where most temples are located.
I crashed 10 times on the sandy parts to tell you. If they have a
mountain bike with heavy duty tires, that would be perfect. Most
bikes they rent in Bagan are pre-loved from China or maybe Japan or
Taiwan.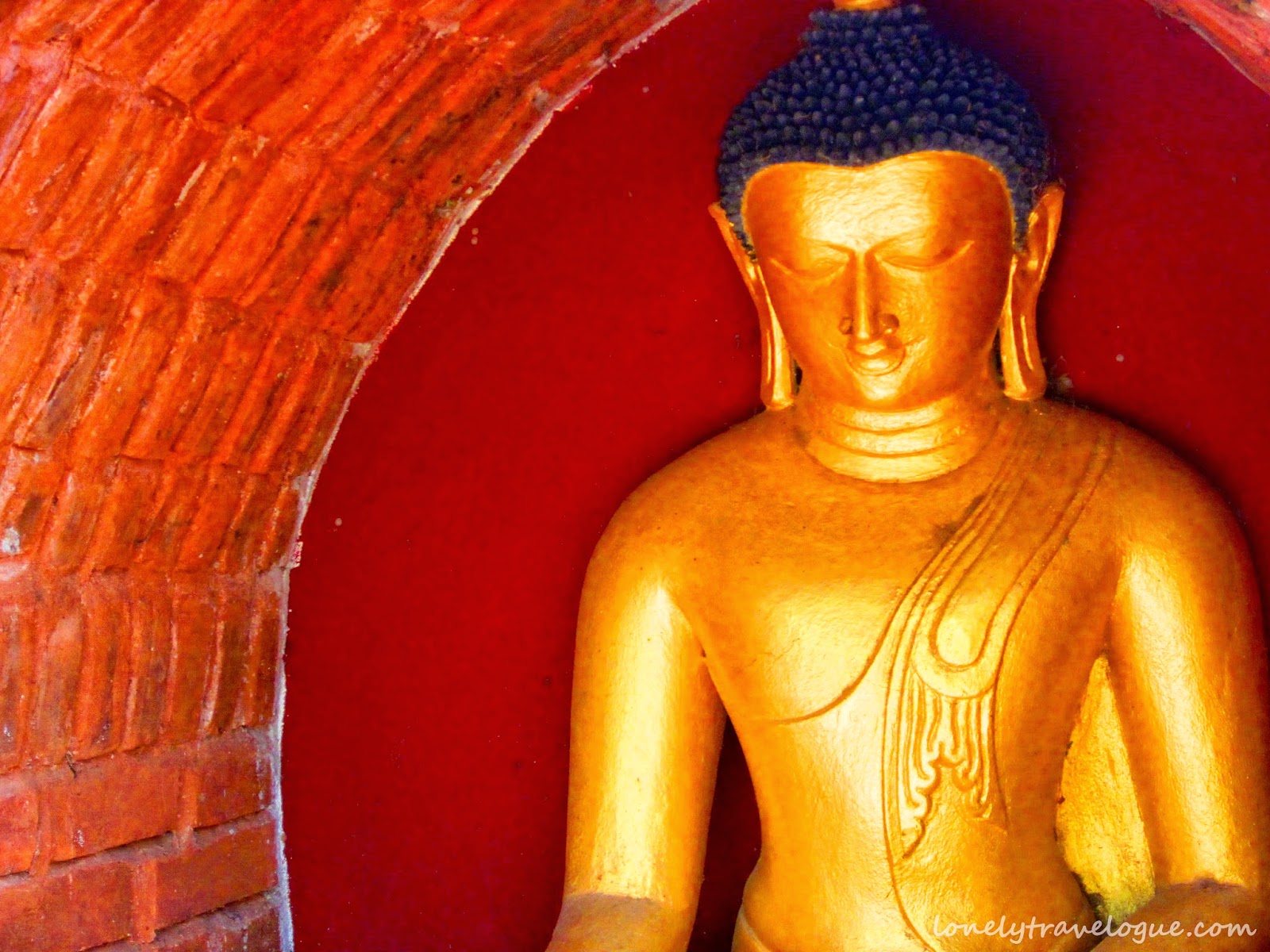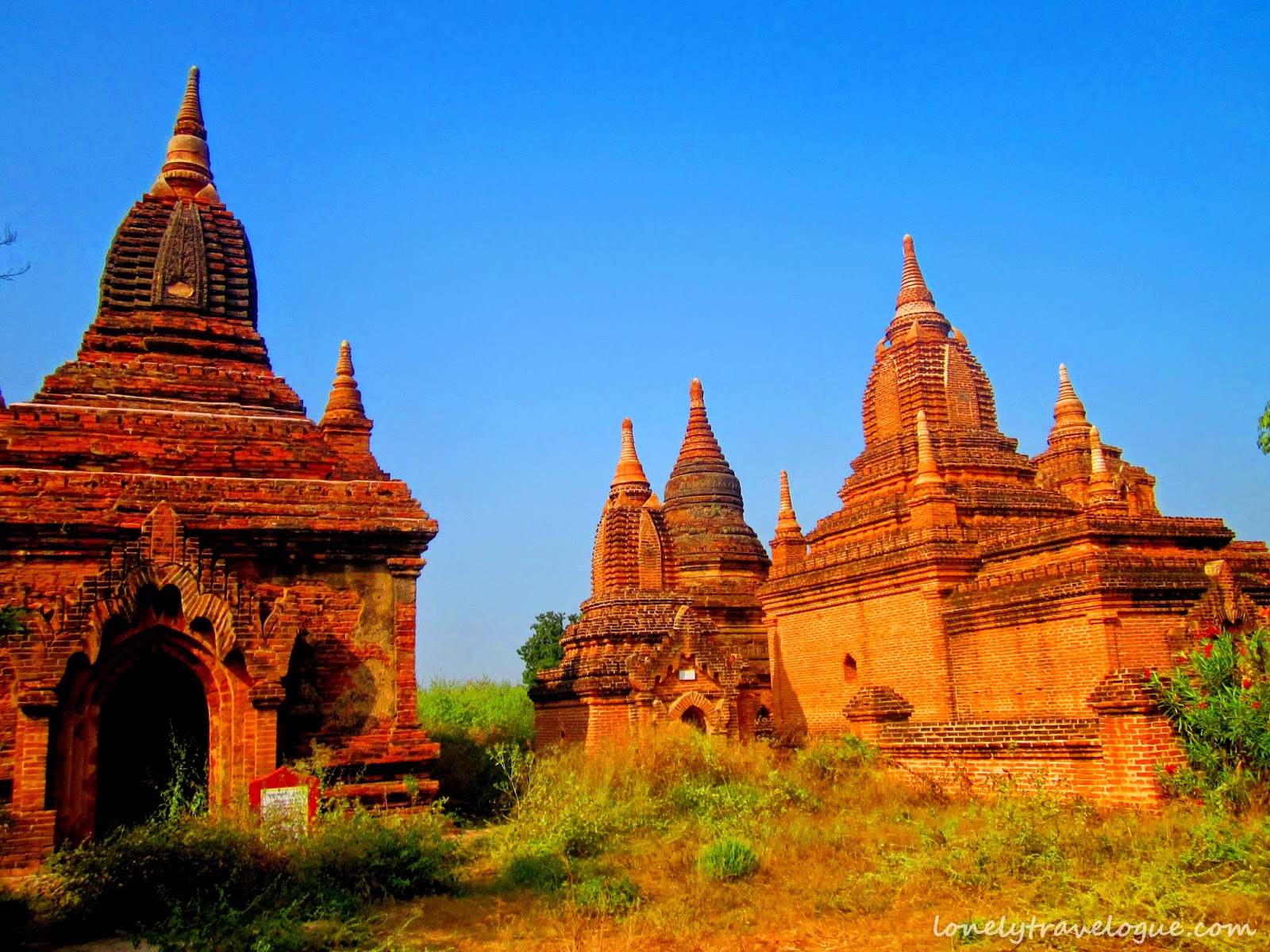 Min-Myawyaza Still I go and recommend
the manual bike for speed, freedom and challenge.
Every single moment I
exerted effort to push my feet on the pedal was like freedom. Its
just like smooth walking on paved road and walking wisely on the
unpaved or sandy road – there I feel the smooth speed. I learned
the art of balancing while relaxing my body – that was a challenge
for me actually. It was dancing with gravity feeling all the dust on
my body while savoring the fresh smell of rural Bagan. I was
confident! There were time I loose control over the bike but I was
quick enough to save my life.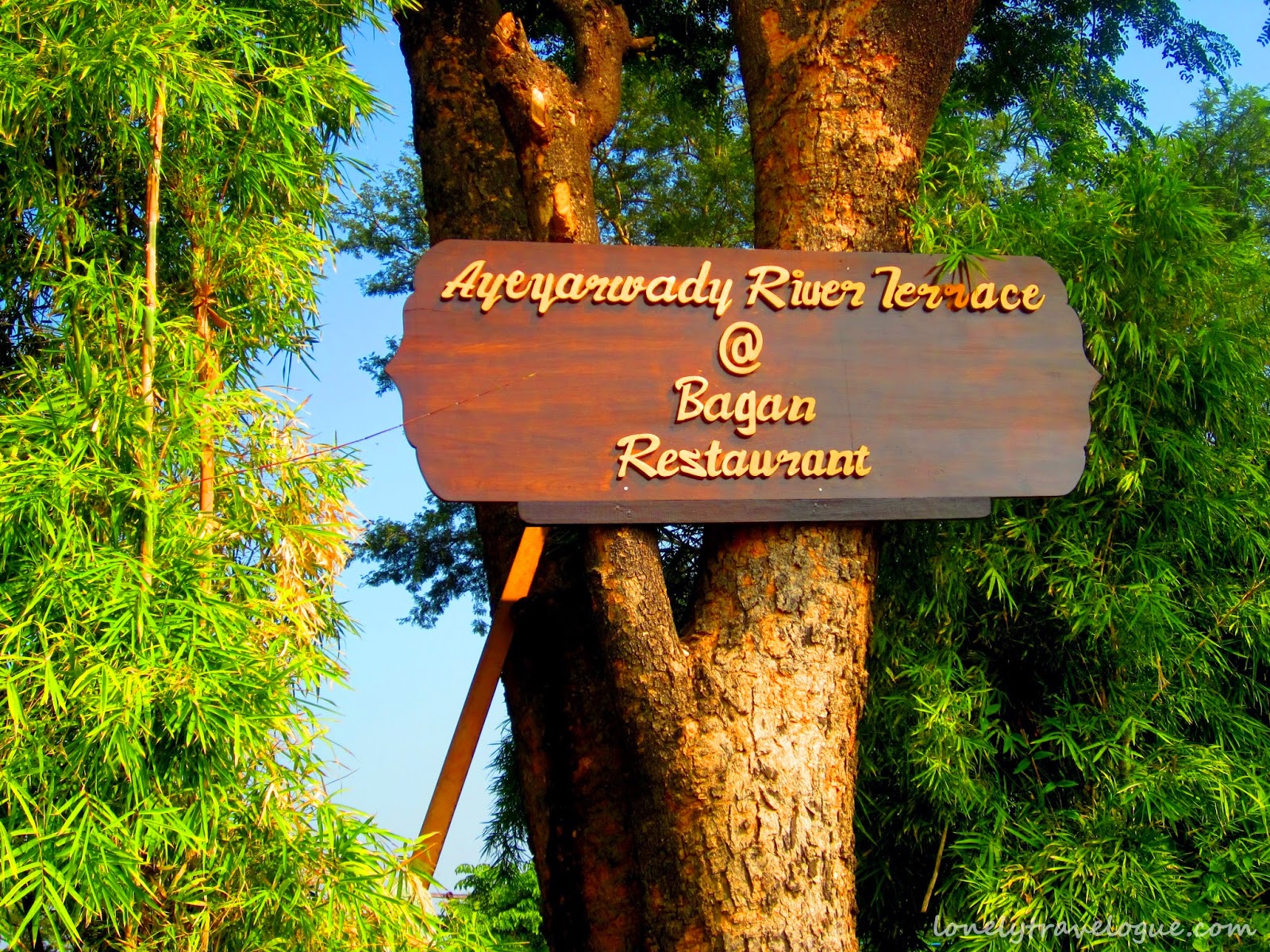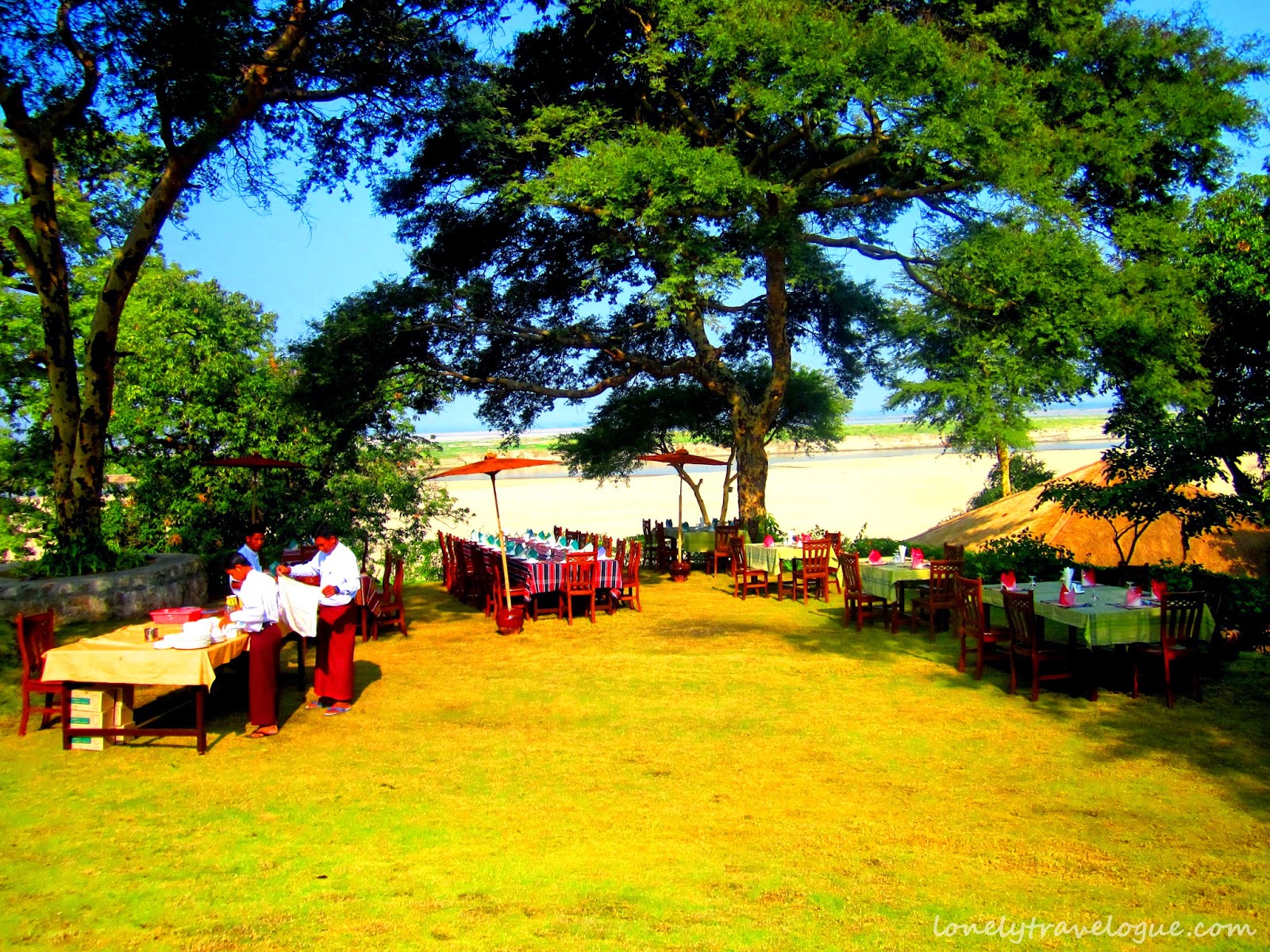 I went to different
temples along the road and on the outskirts. I went back to the
stunning mini stupas of Min – Myawyaza and mingles with the
air for a few minutes to an hour. I tried to act like Burmese to
enter in the paid zone of Uphathein but to no avail. We went
to Uphathein during our horse cart to have picture of the outside. I
went back to charm the guards with my Burmese (really?) looking face
but as I've said to no avail.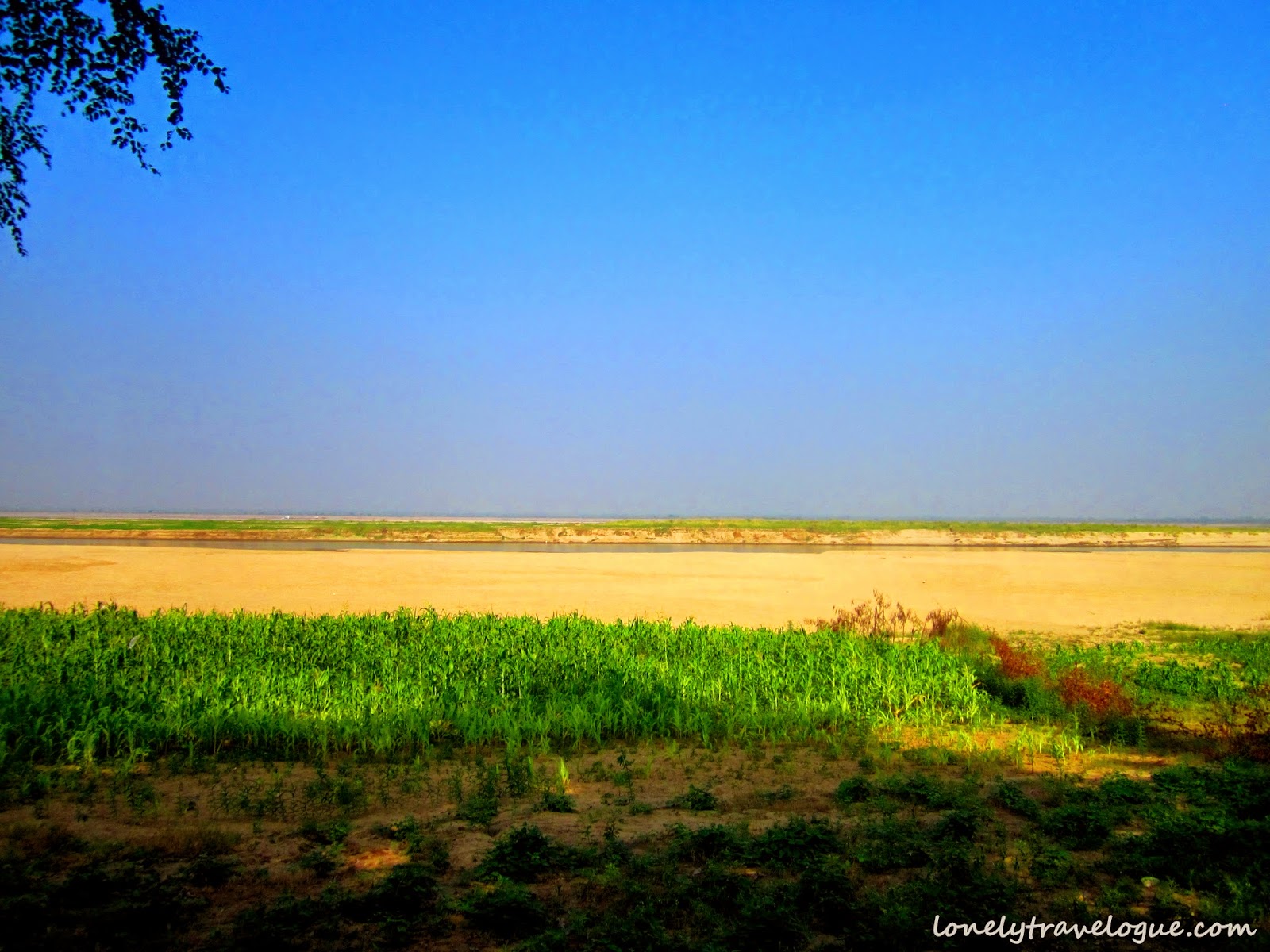 Isn't ridiculous if I plan
to get lost? No Maybe I just want to wander… I turned right along the
main highway on the unpaved road leading towards the place that I
don't know. It was instant. I do not know what went on with me. I
wanna skip the road and the major temples. I passed through a village
where students were flocking on the middle of the road. I stopped a
little to wipe my face and stare at them beautifully with all smile.
They smiled back, I pedaled forward.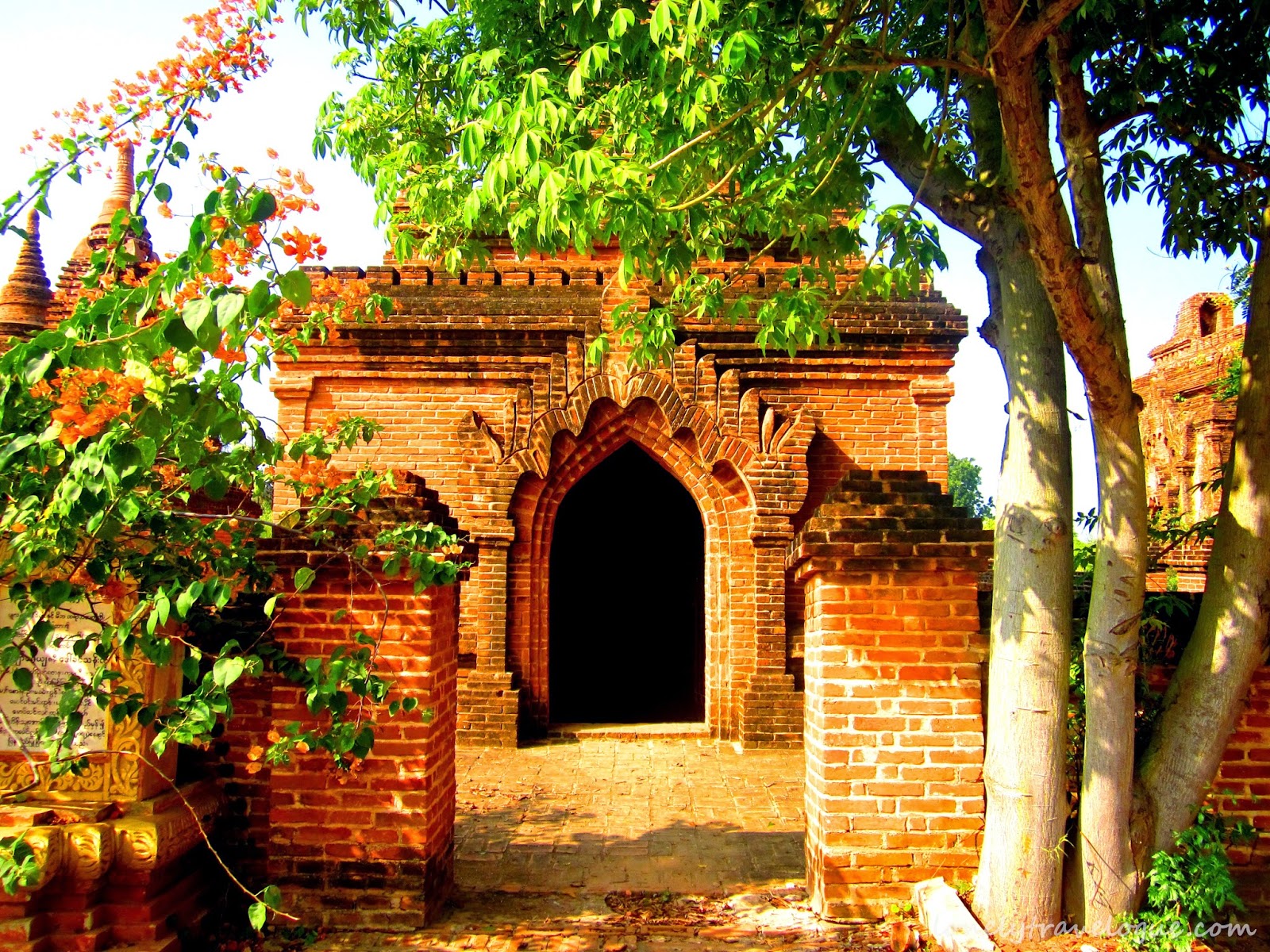 I realized I wanted to see
the river. The name of the river seems so dramatic – Ayawaddy –
river. I felt some pain while reading the English characters of the
signage. I saw an upscale restaurant along the brown mighty river. I
knew it was alive. A lot of passenger boats passing through and a lot
of dredging was going through – bad sign tsk.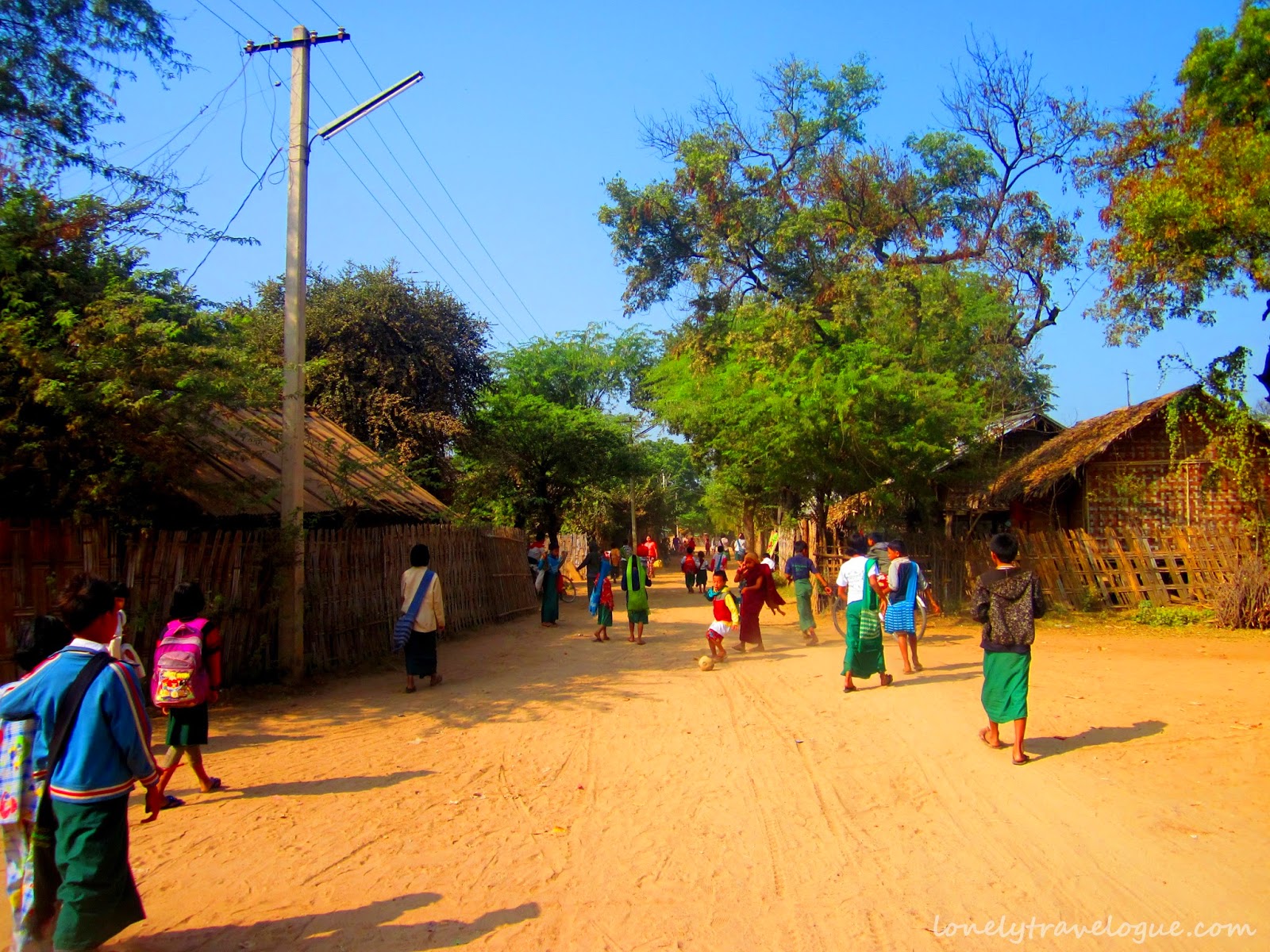 I went further to nowhere
– actually – I biked on the sandy path causing me to crash hundred
times. I had no choice but to move on. There was nobody there to help
me but myself. I had to get up from stumbling to move on. I got a lot
of bruises that now turned into scars to remind me how great the
journey was.
Along the river, I saw a
monastery and my eyes was glued to it. I just don't love it, I want
it! Its old, dark heavy and strong! Its a living Teak Monastery!
Monks were around it of course. Beside it is a modern building where
I saw monks having early lunch.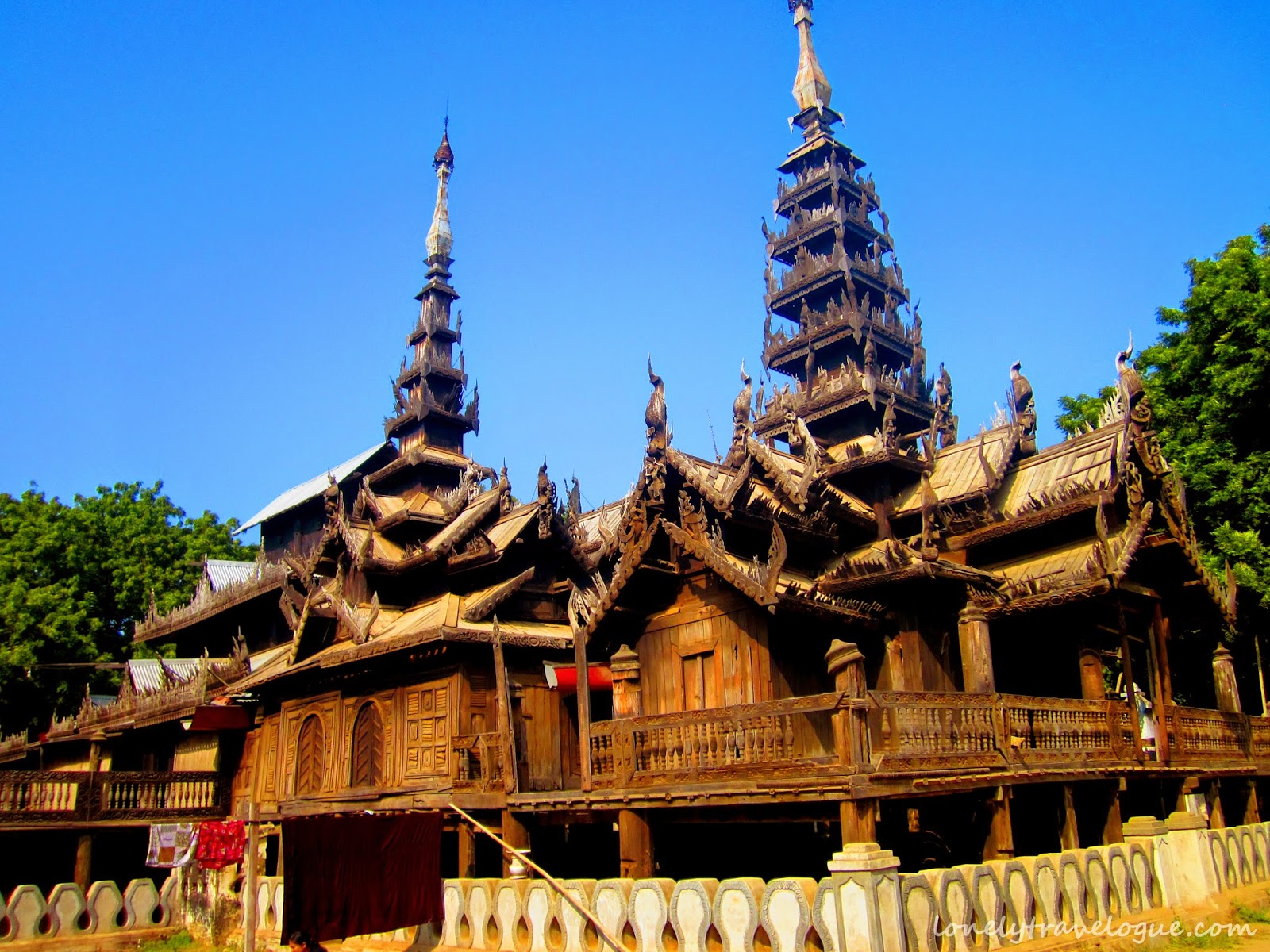 Later on I found out that
the monastery is called Nattan Monastery and it is situated in
Taungni Village.
There was this one boy
selling books of Ang Suk Yi – and other literature about Burma –
together with other children who I suppose are unschooled. He kept
walking where I biked then he talked to me with his little English.
He asked me where I came from I said of course "Philippines"
he said back "You are very handsome" I was waiting for the
magic word "do you want to buy a book? – it could be his sales
technique! But he continued asking me where I am going – I did not
have an answer to that.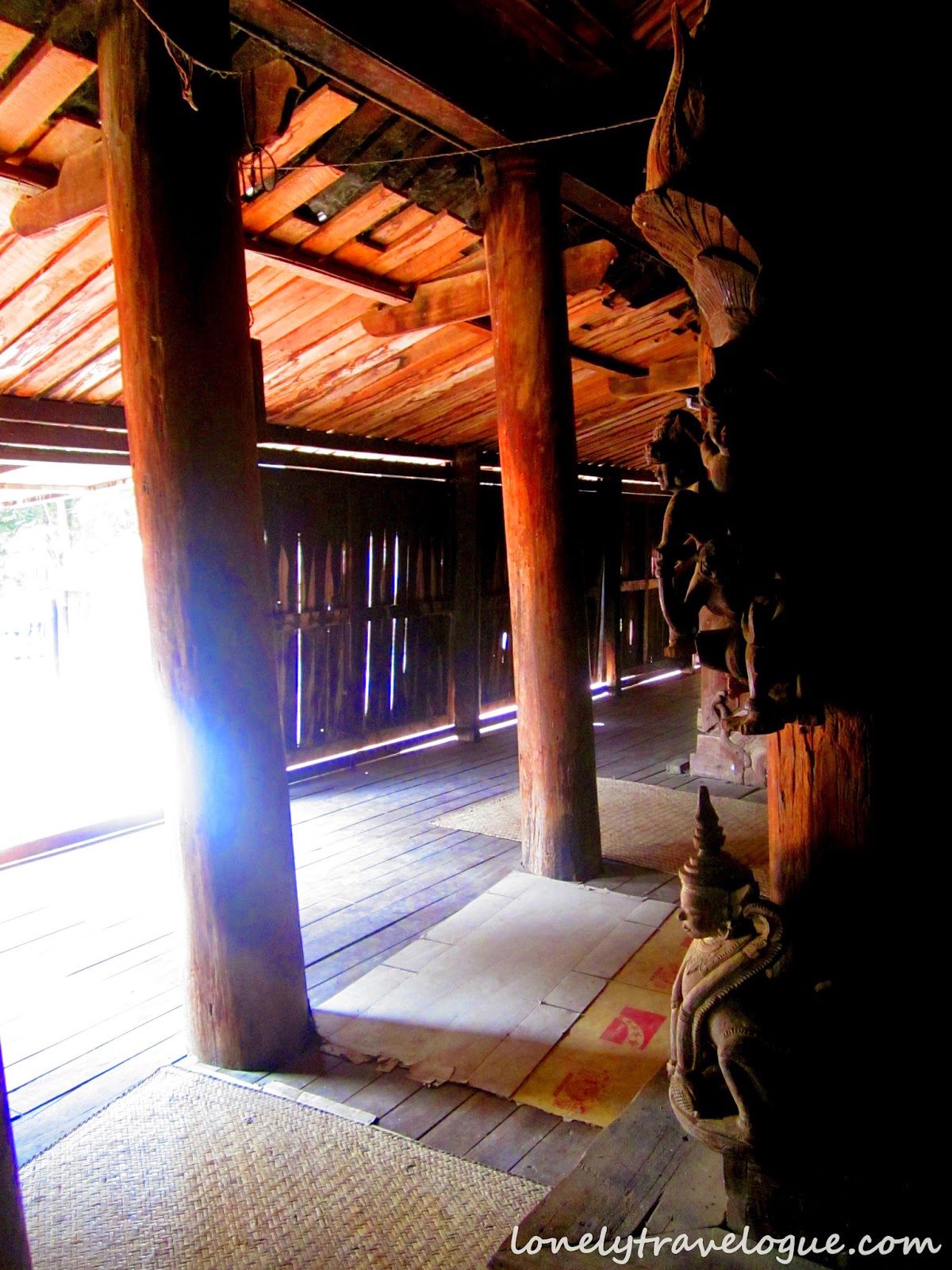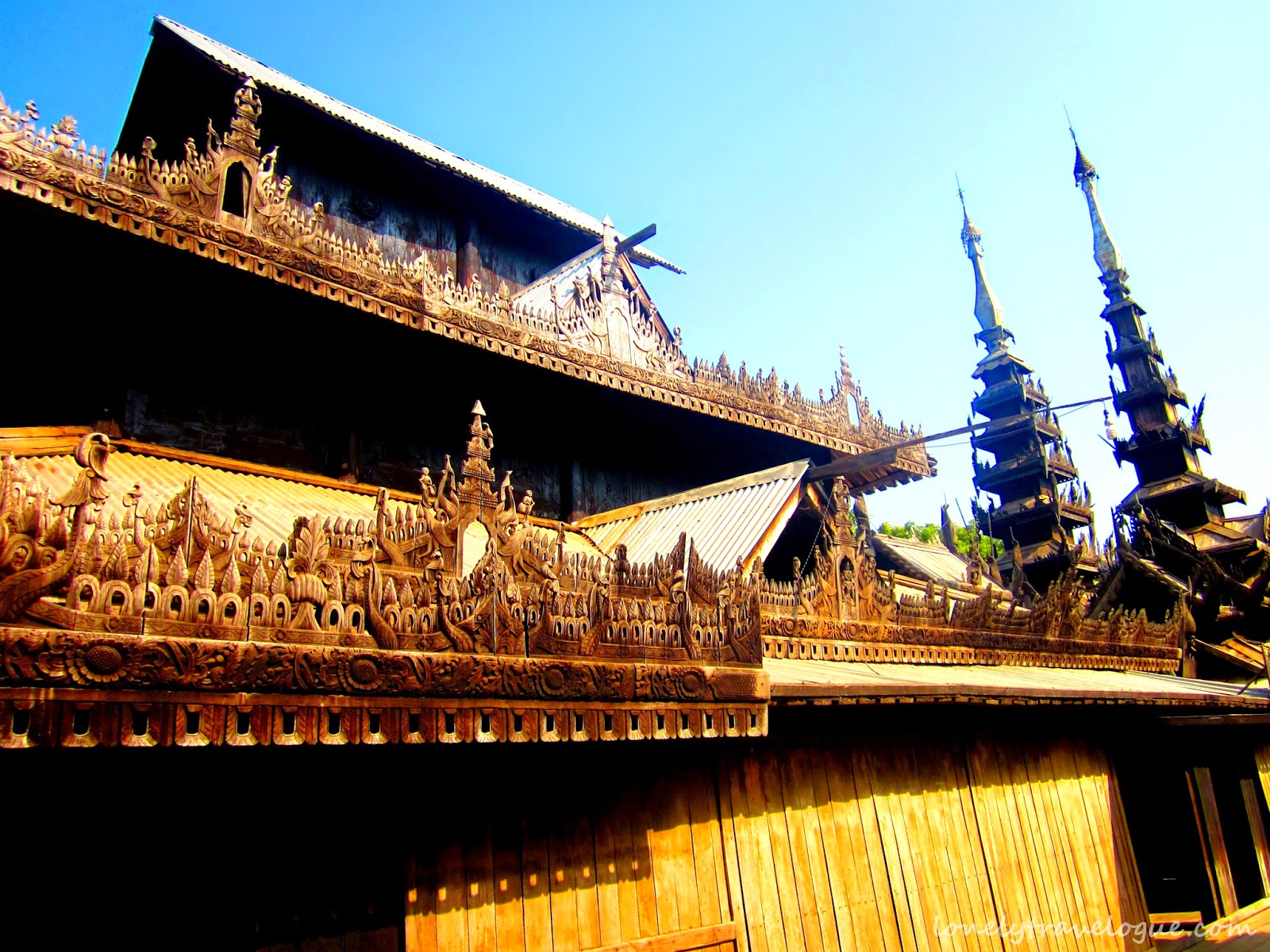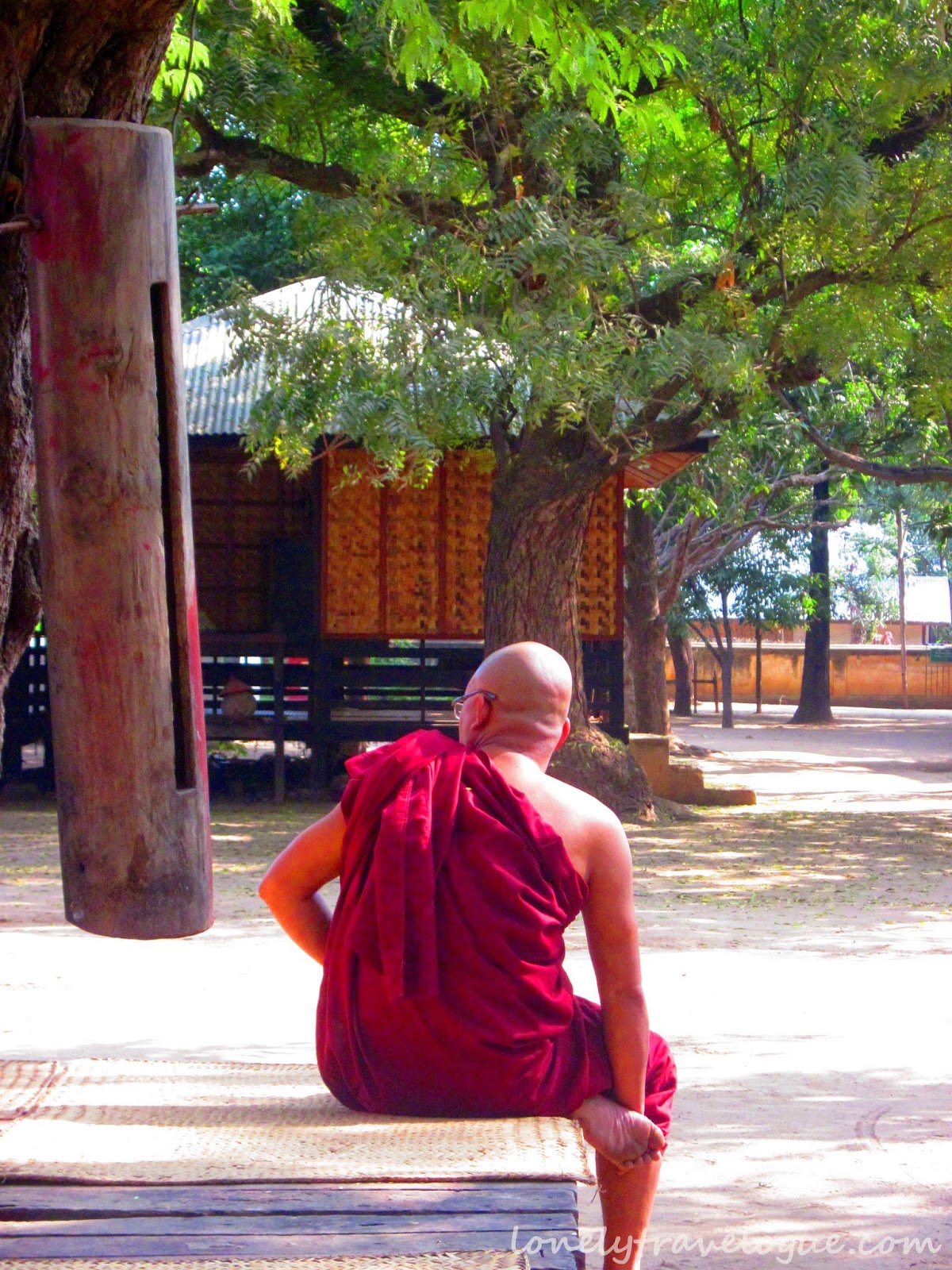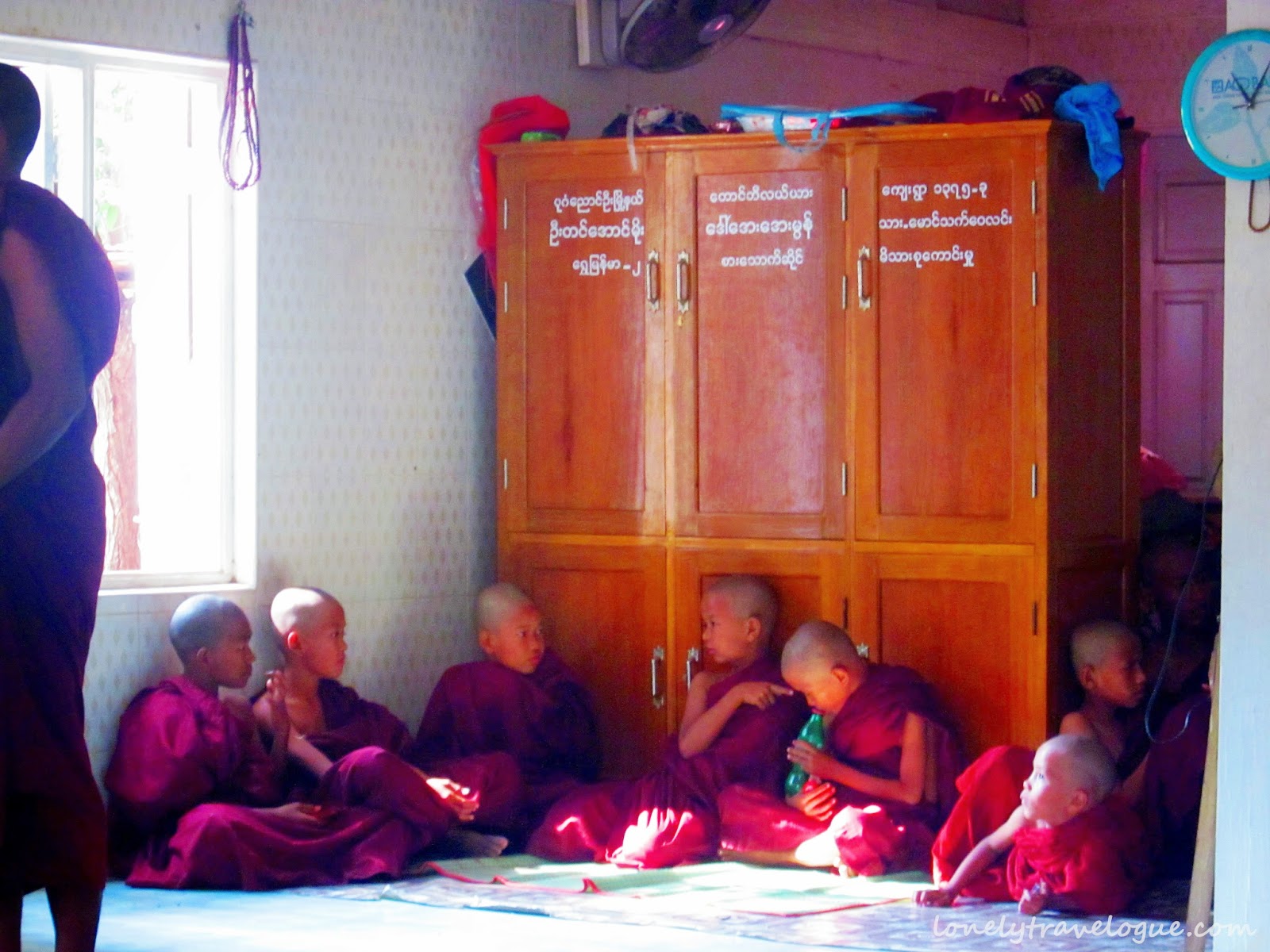 I went on not knowing
where to go. My goal was the main road. Not only but numbing it was,
I felt that I have the dust all over my body. Trucks passing me was
like it was laughing on me when its speed puts powder to my face and
body. Thank God I have headwear and eye glasses. Gladly I hit the
main road before my hair turned into dust color.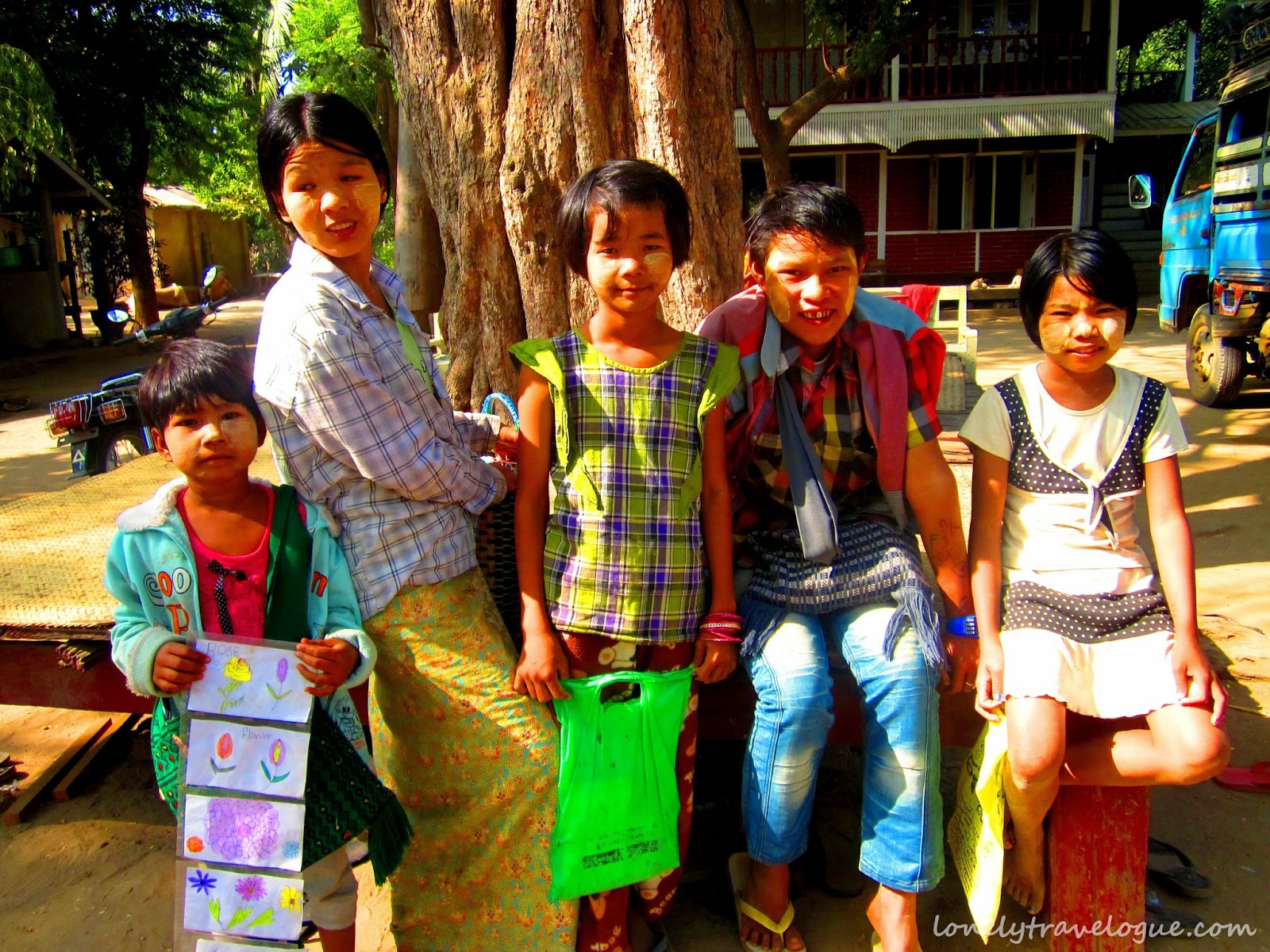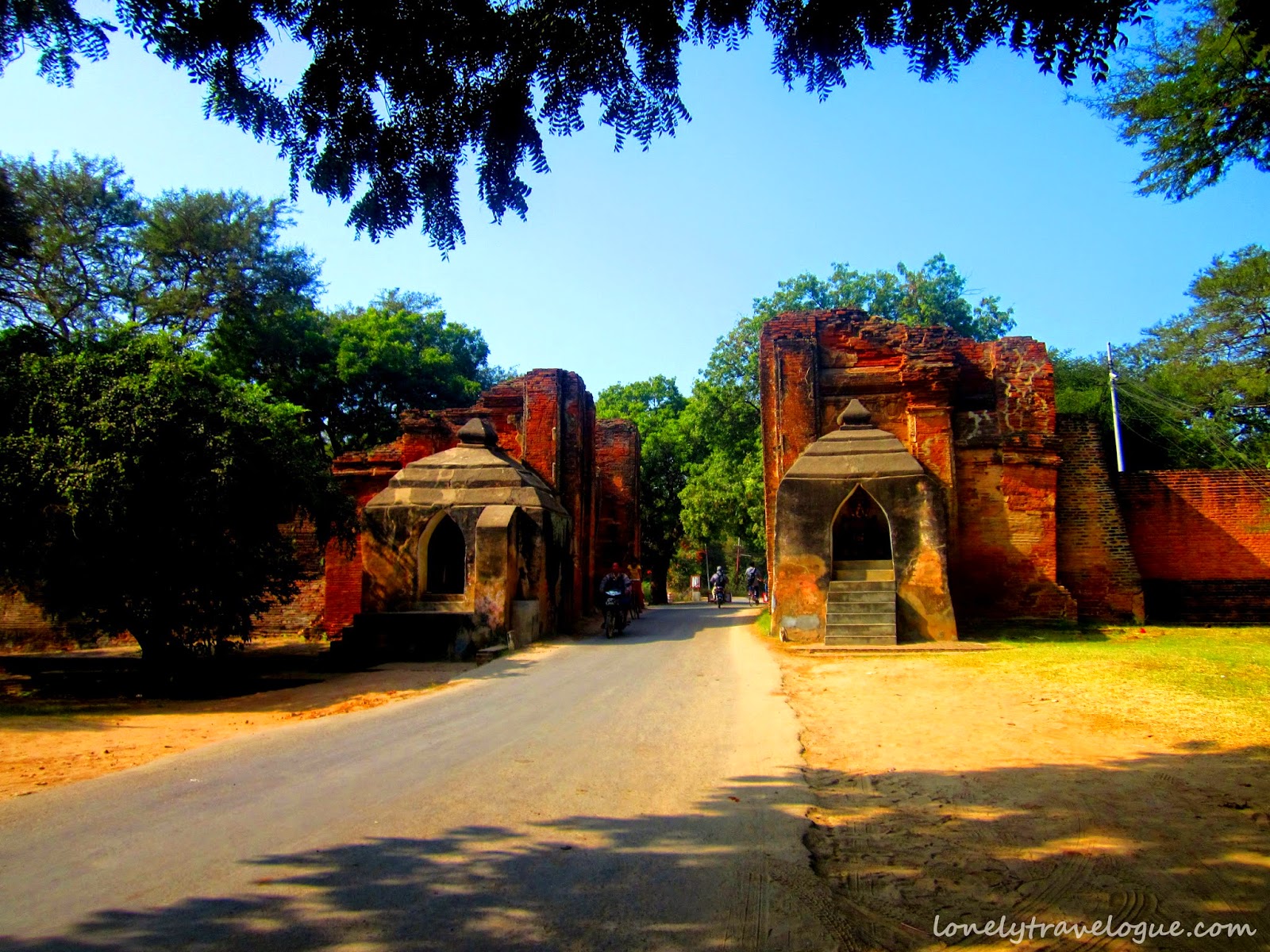 Thanabar Gate I saw many temples
different from the one I saw during the horse cart tour. Its almost
mono-color red on one side but there will always be something
different. I was bored, I wanted the trail. After passing by the Gate
of Thanabar in Old Bagan, I turned left to locate the lake I saw
on my inaccurate map. I pedaled on the rough road, sandy road, grass
road and muddy road. On the sandy road was where I always fall. No I
crashed against myself. Gladly it was sandy I did not had any
bruises. It was also on the sandy road, during one of my crashes was, where I lost my inaccurate map.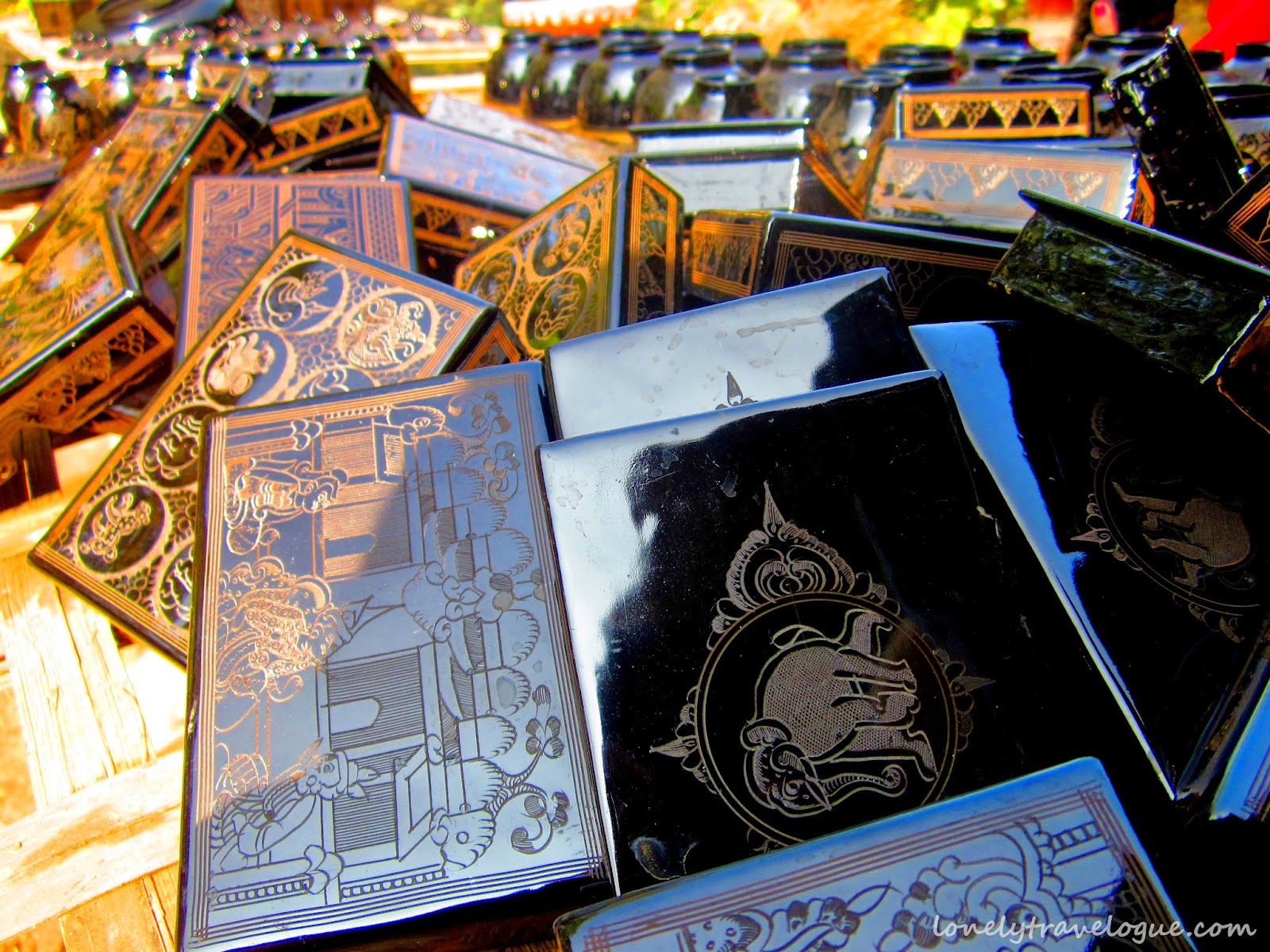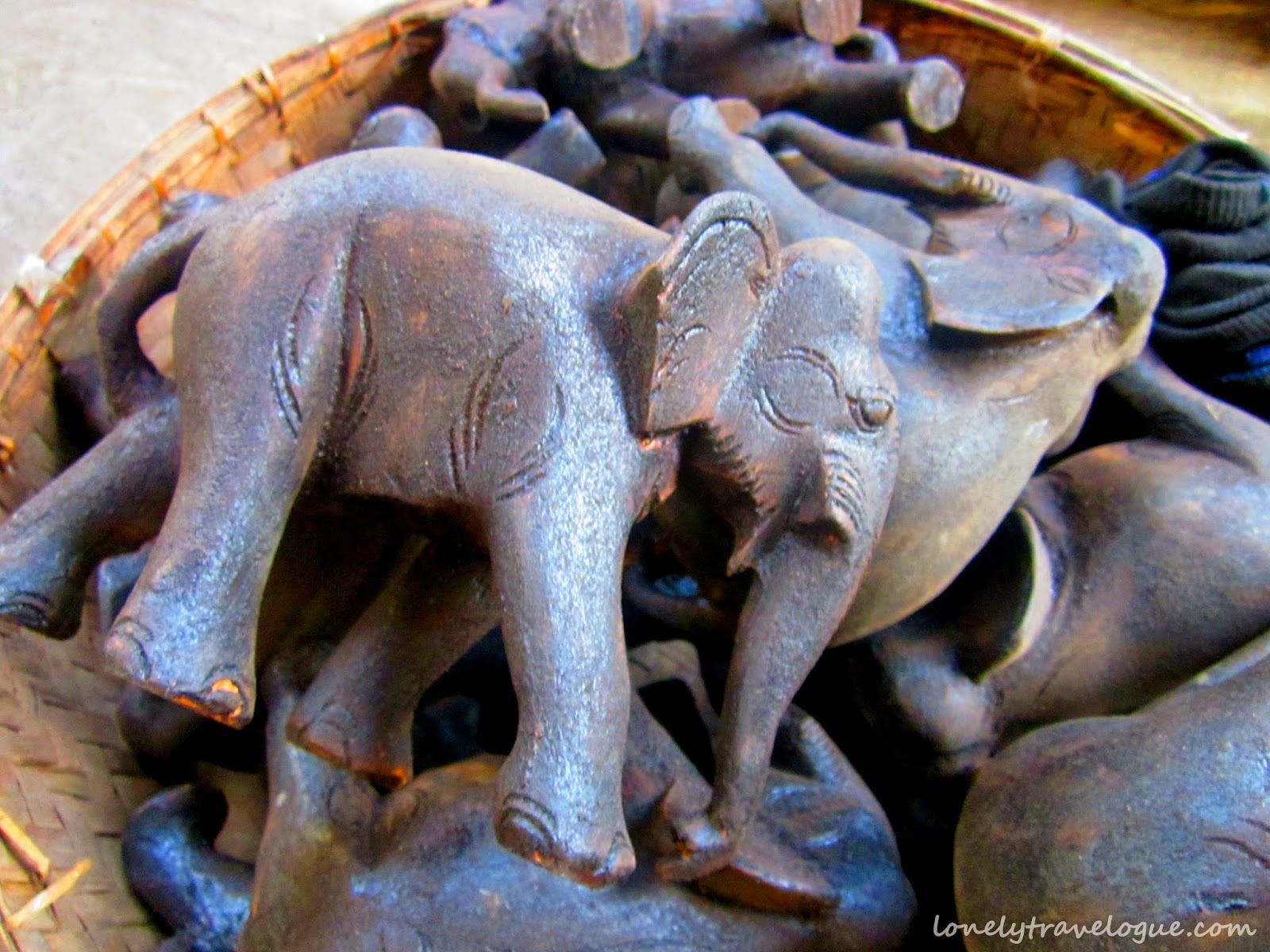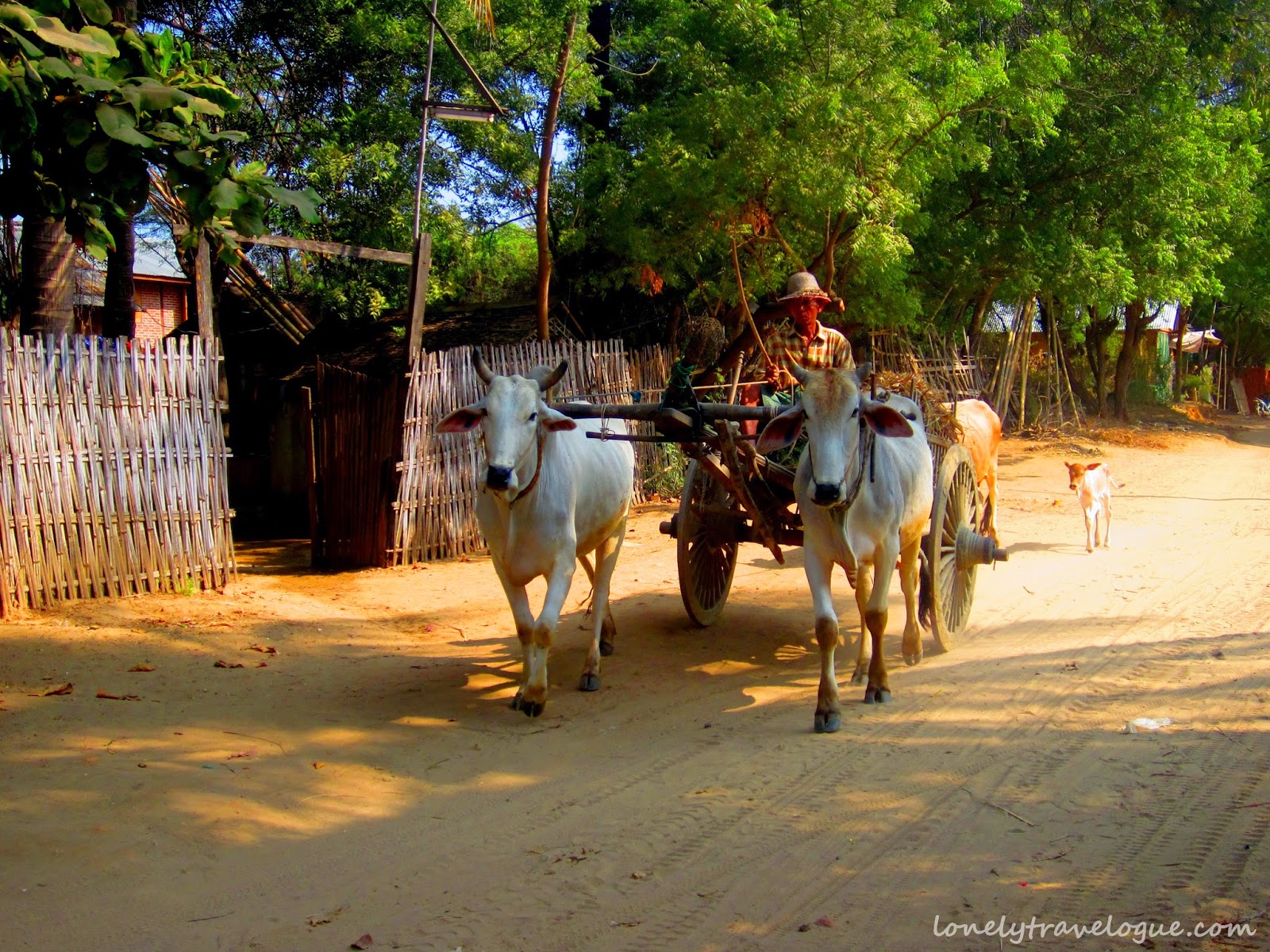 Yes on the sandy road of
Myinkaha Village I lost the map, I wasn't able to locate the
lake. I moved on. I saw a familiar temple when I'm nearing the road.
It was the temple where we had coconut drink for refreshments.
Perfect! I'll sit for a moment, grab some coconut before I proceed
and look for a restaurant, shop, store, whatever available in
dessertous Bagan for my lunch – that was like 3pm – I thought.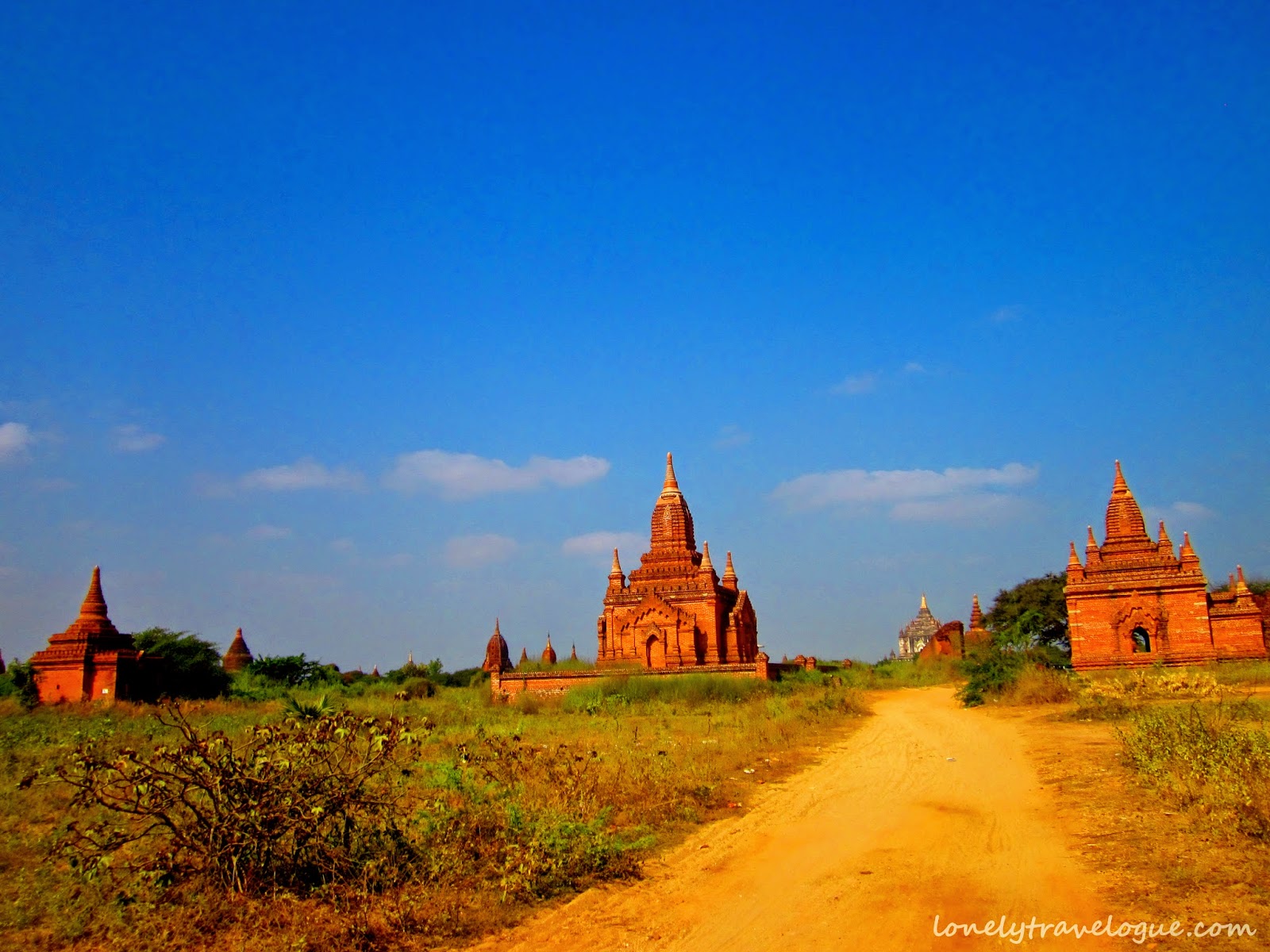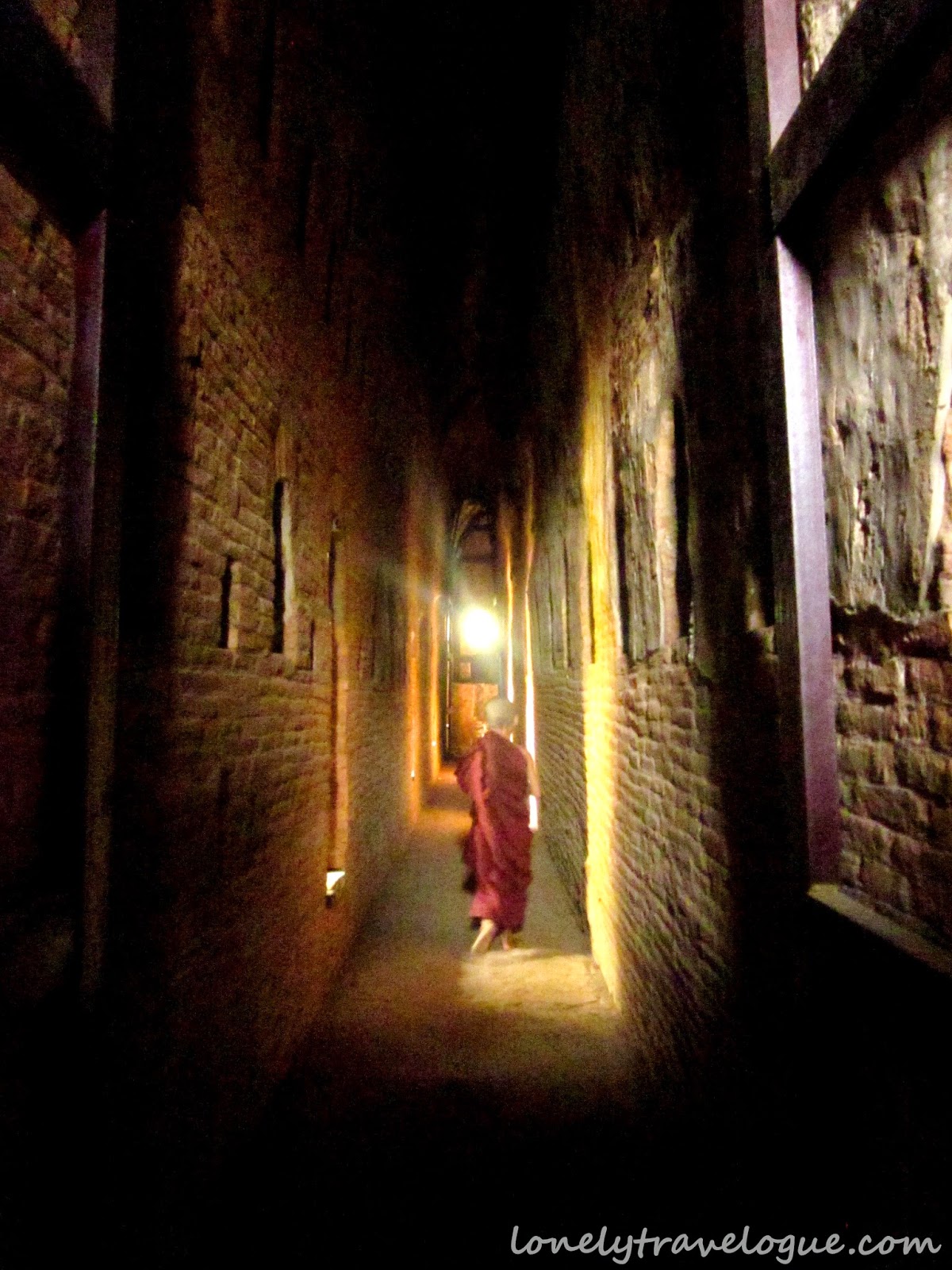 In Shwe-San-Daw-Paya
I rested for a minute over my coconut. A man in shorts and long
camera lenses talked to me. He asked where I came from – from the
womb of my mother, joke – and I said from the Philippines. He asked
me about typhoon Haiyan. He asked me stuff like, how are they
doing, is it now normal? Etc etc etc… I answered the
best way I could and thanked them for their (county) help.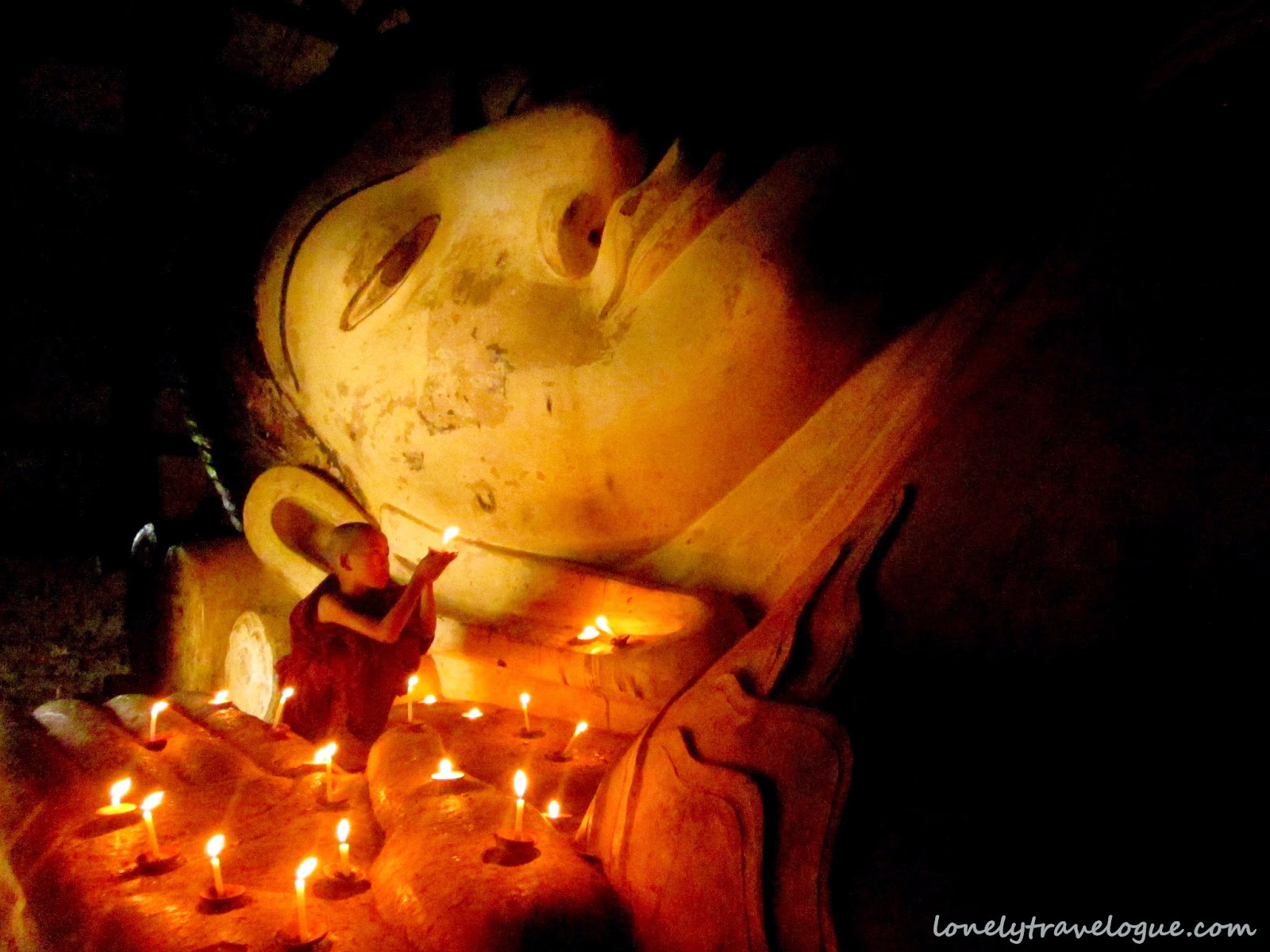 Later on I knew that he' s
a photographer documenting Burma for the last 5 years. He's releasing
a book titled "Burma Magic" He showed me on his iPad
some of his works. He was at the temple to shoot for his book. It was
an amazing experience, it was my first time to witness a photo shoot
and I assisted him on some parts of the shoot 😉 cool!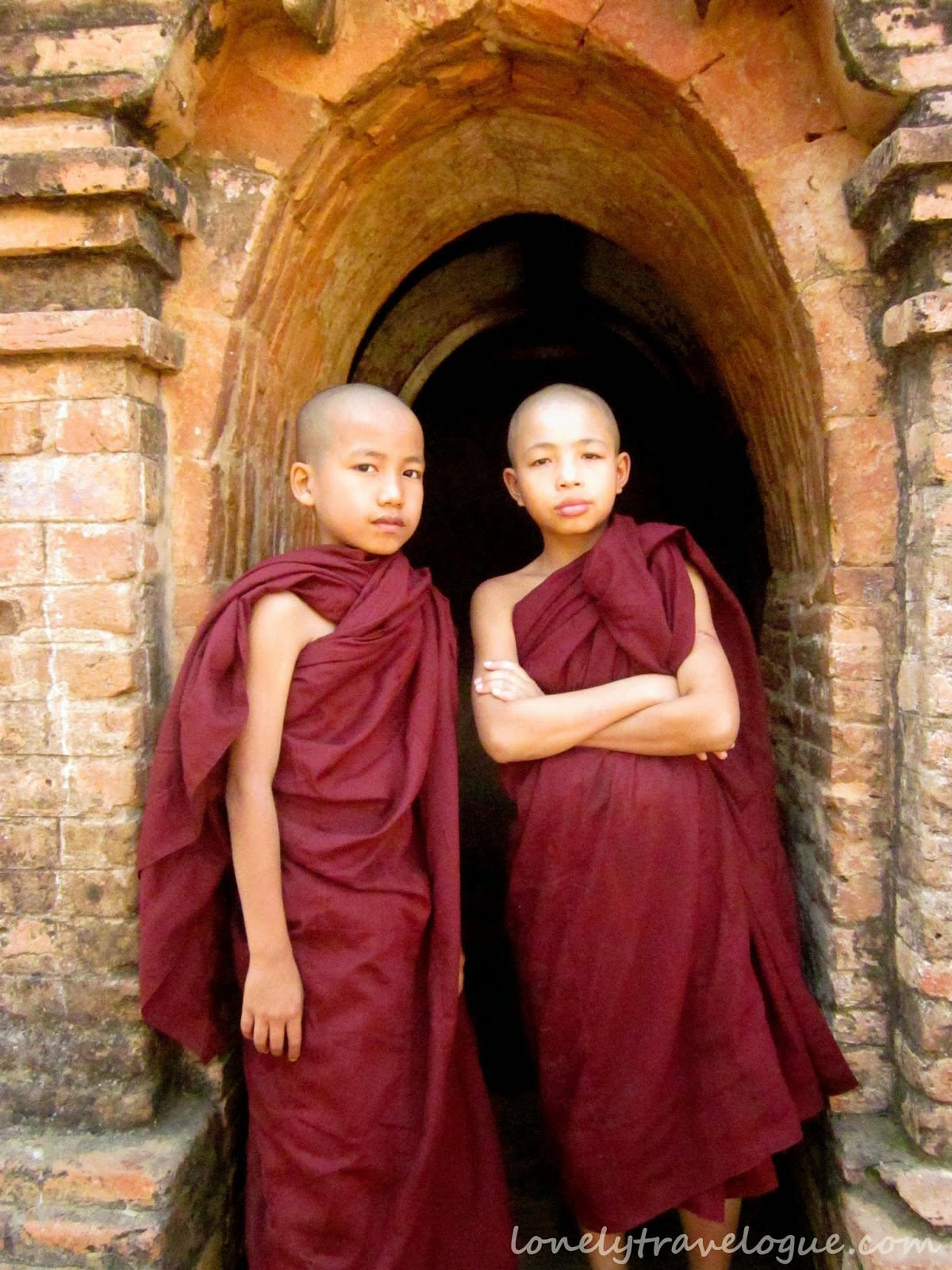 Didn't notice the time, I
said I had to go because I want to catch the sunset and I have to be
first in the temple. I biked again, bike, bike, bike…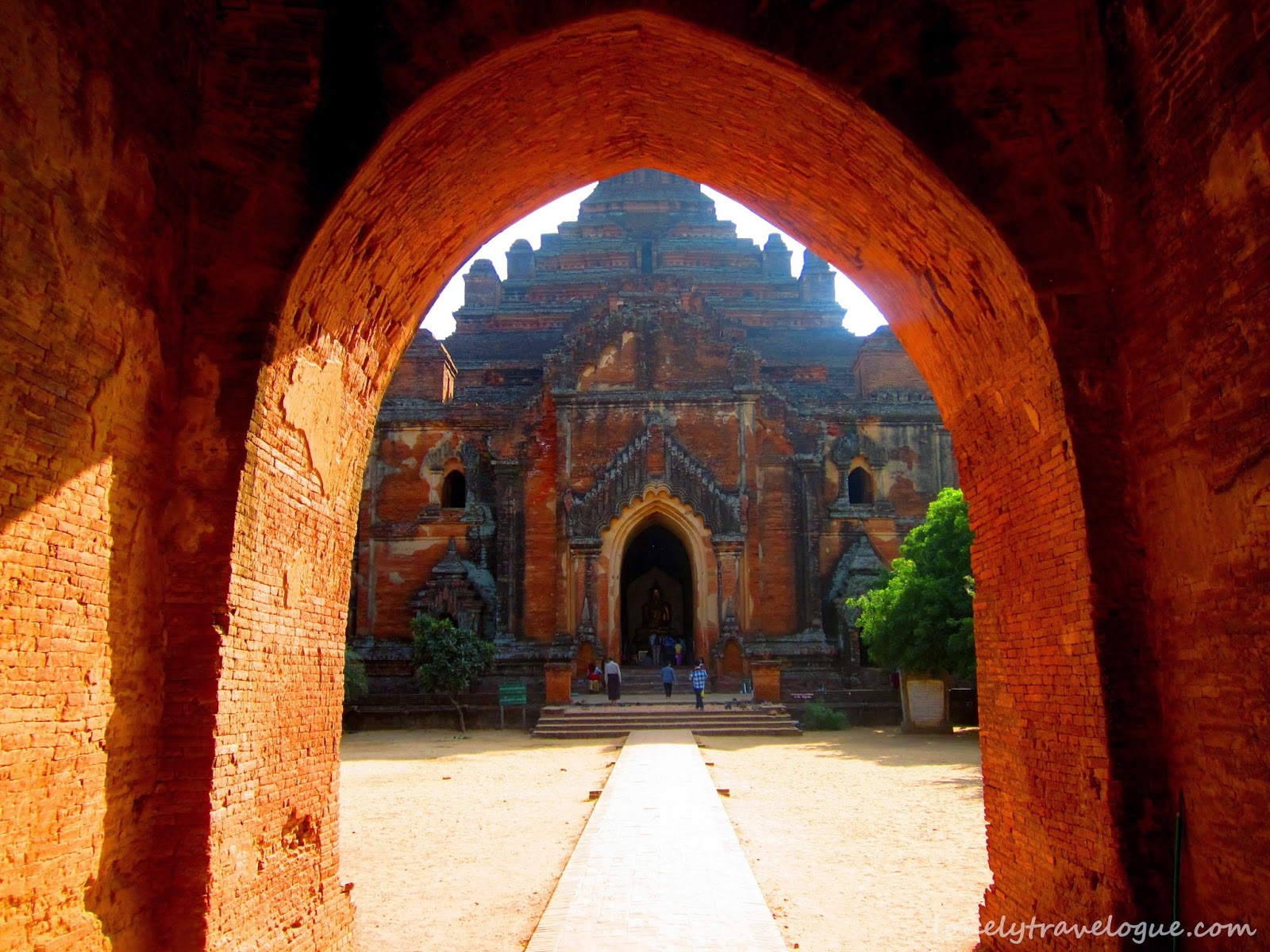 I realize that it was
still early and I saw two gigantic and interesting temple on my way
to Pya-Thada – they said the best sunset temple in Burma. I did a quick scout in
Phamma-yan Temple and rested for 30 minutes in Sulama-ni
Pahto.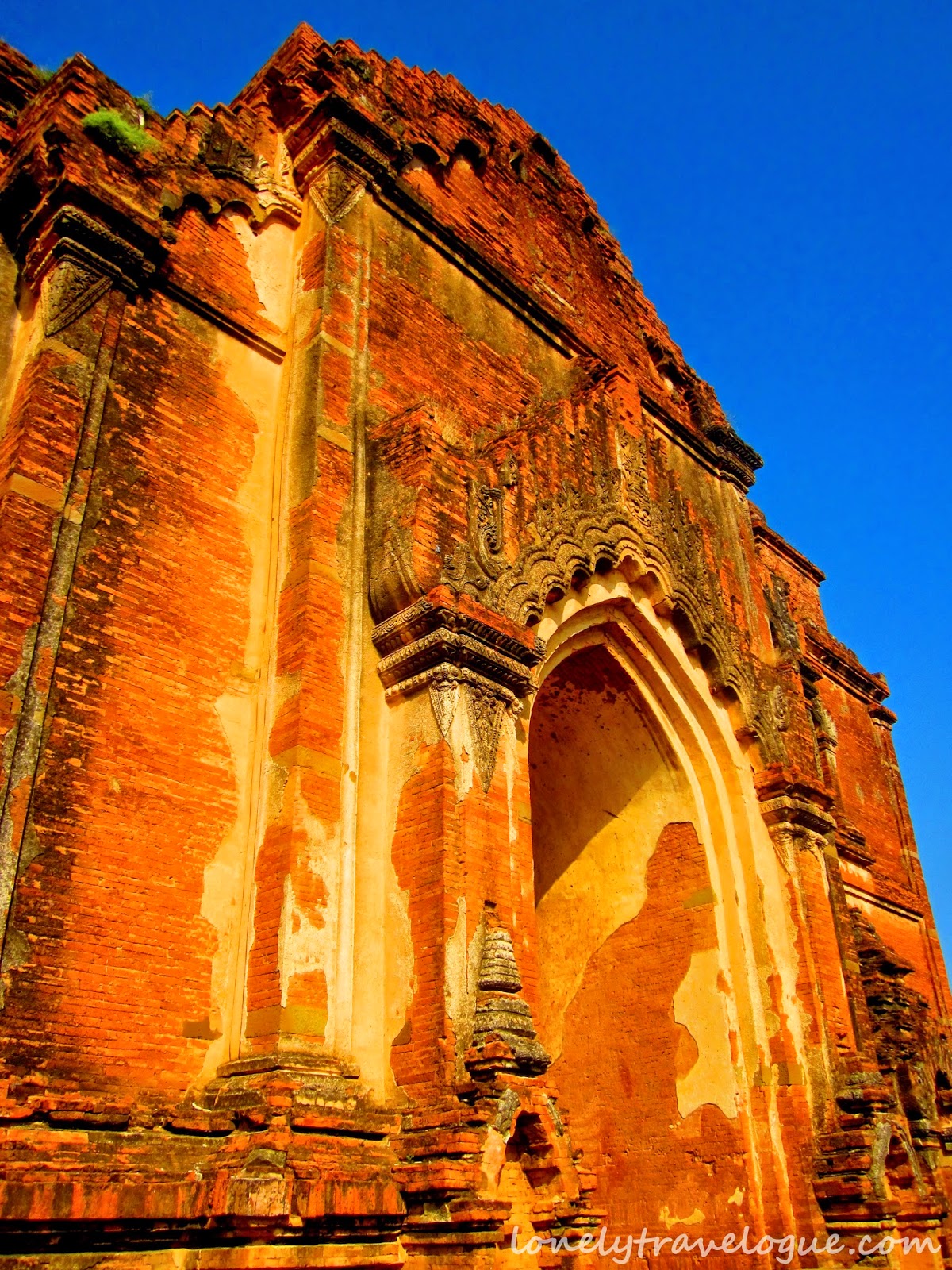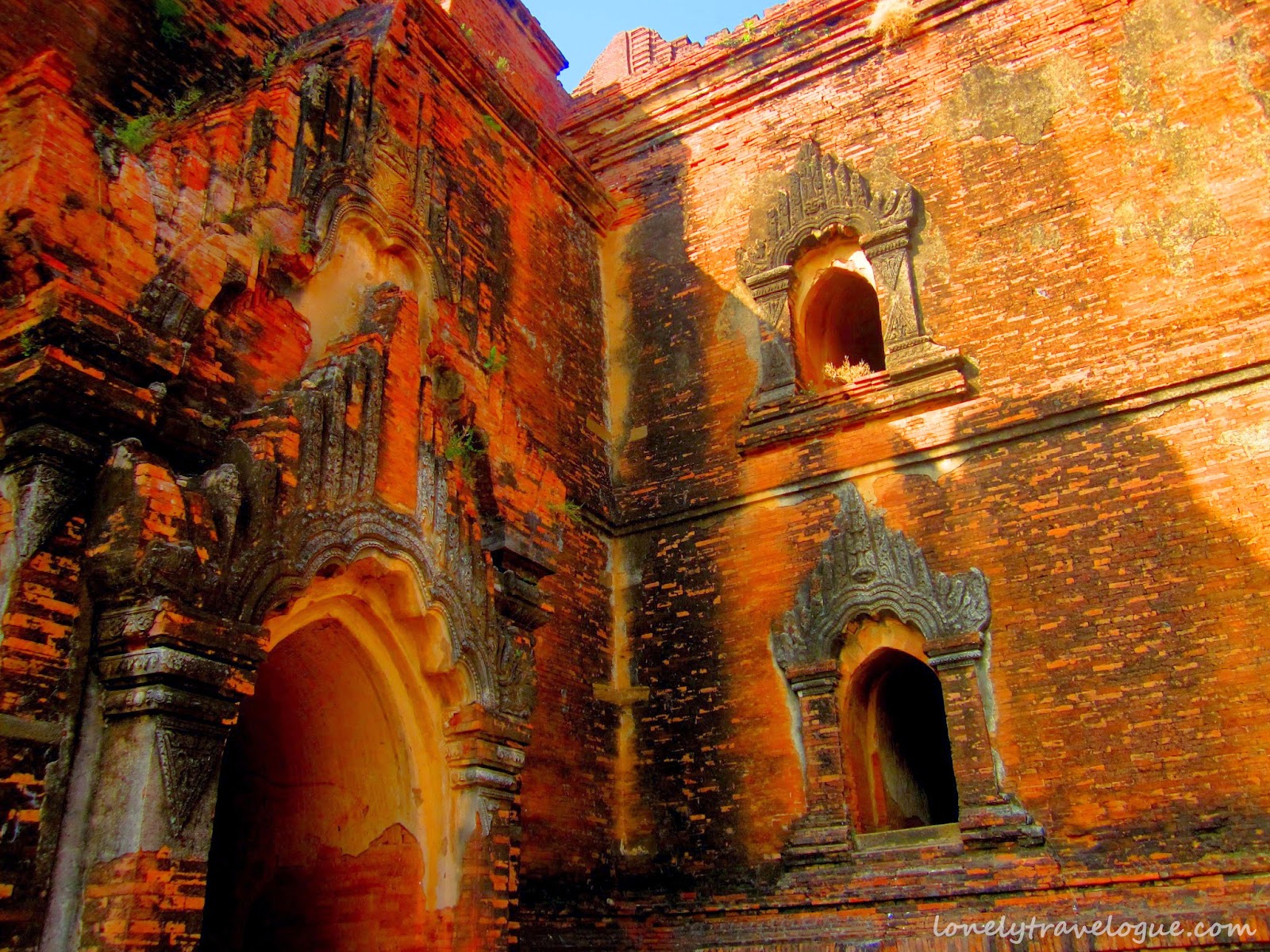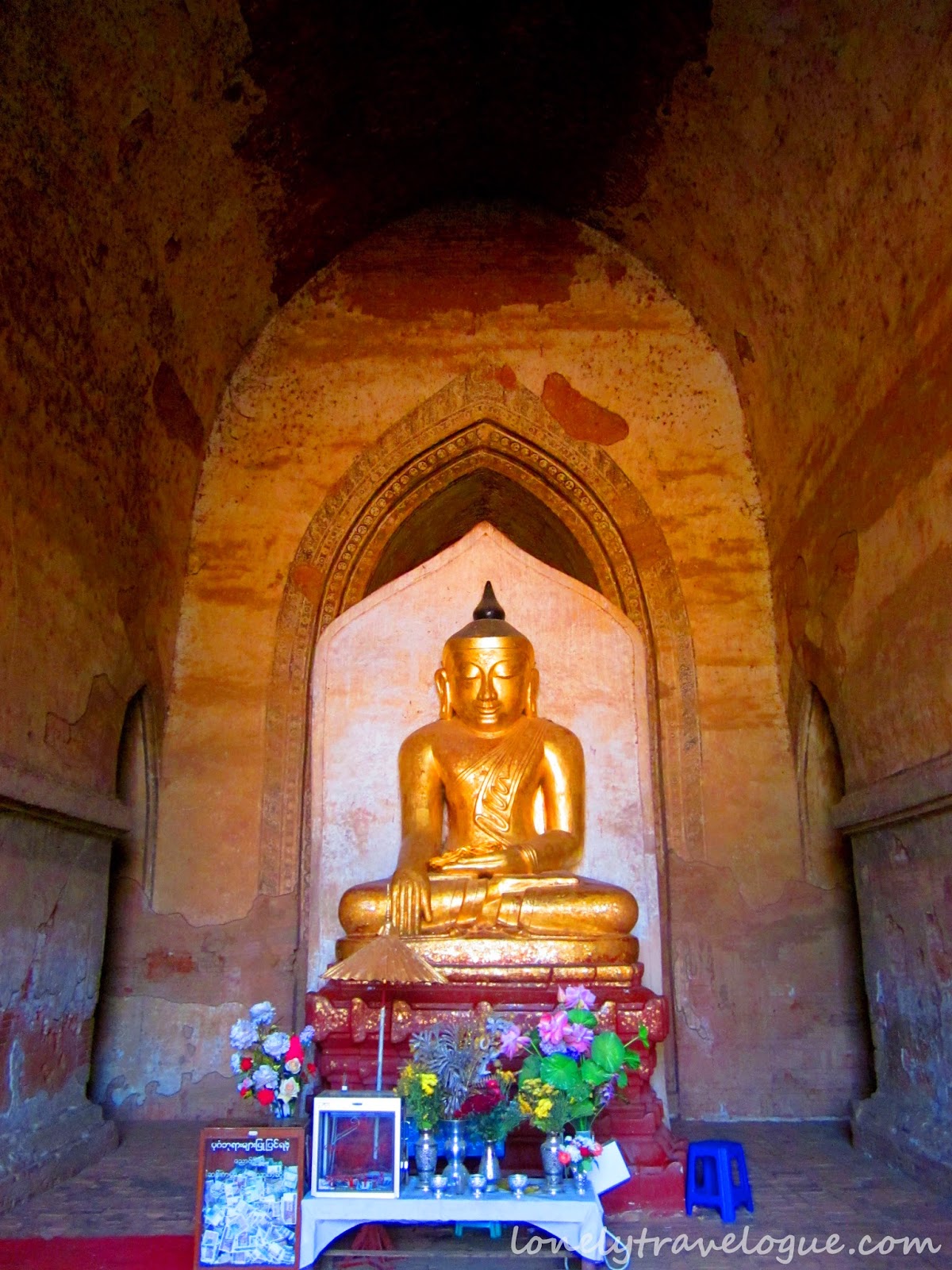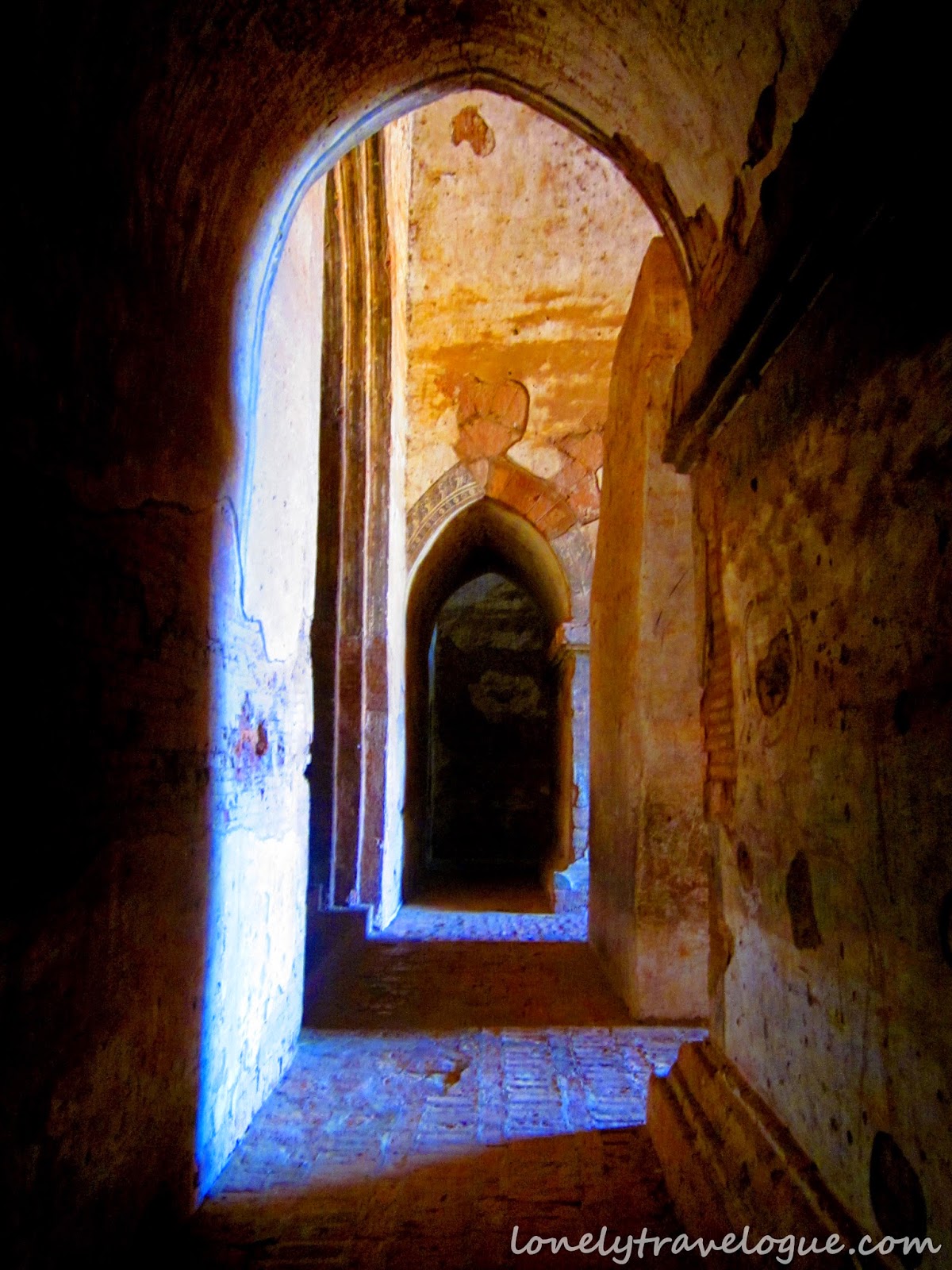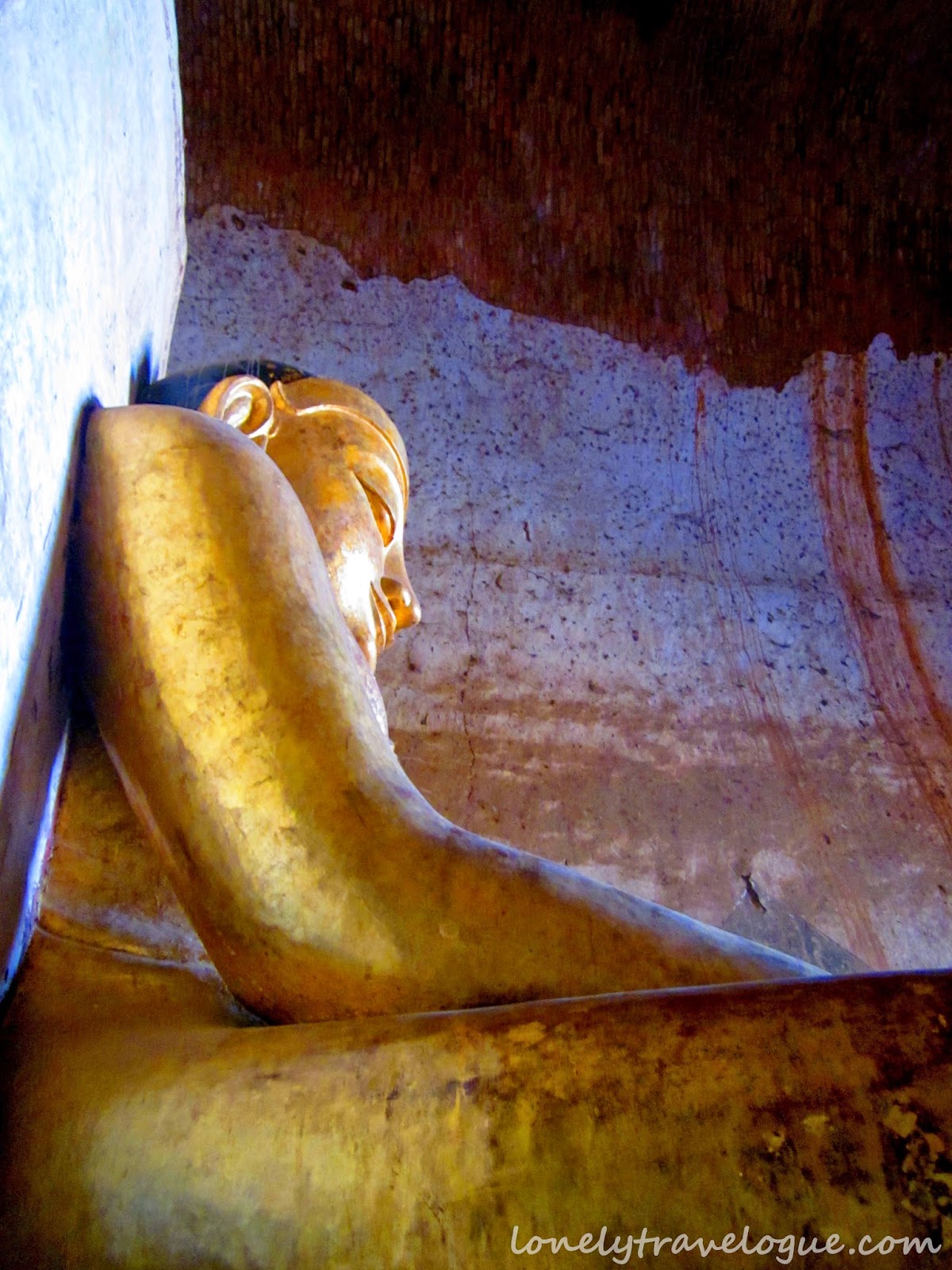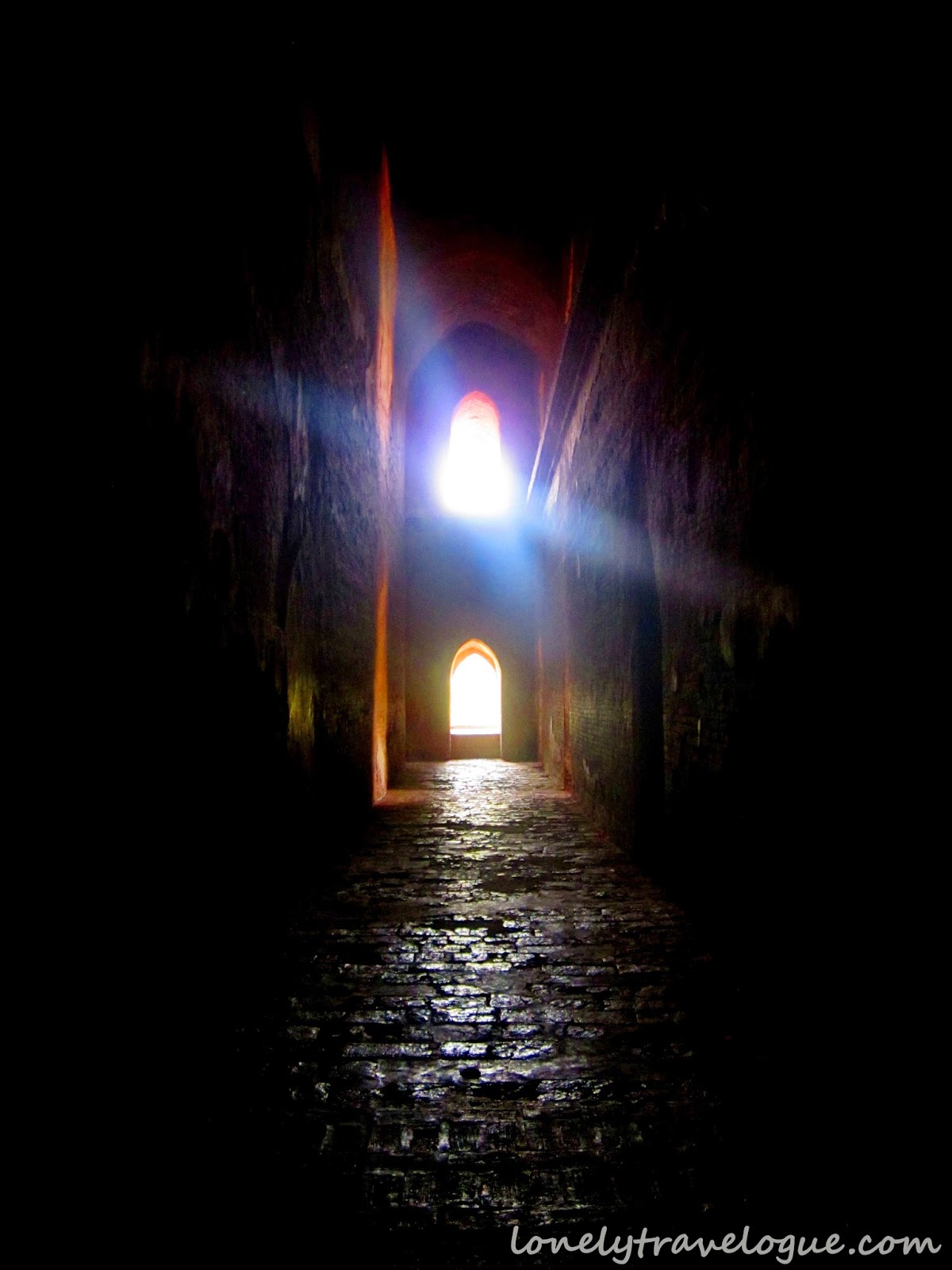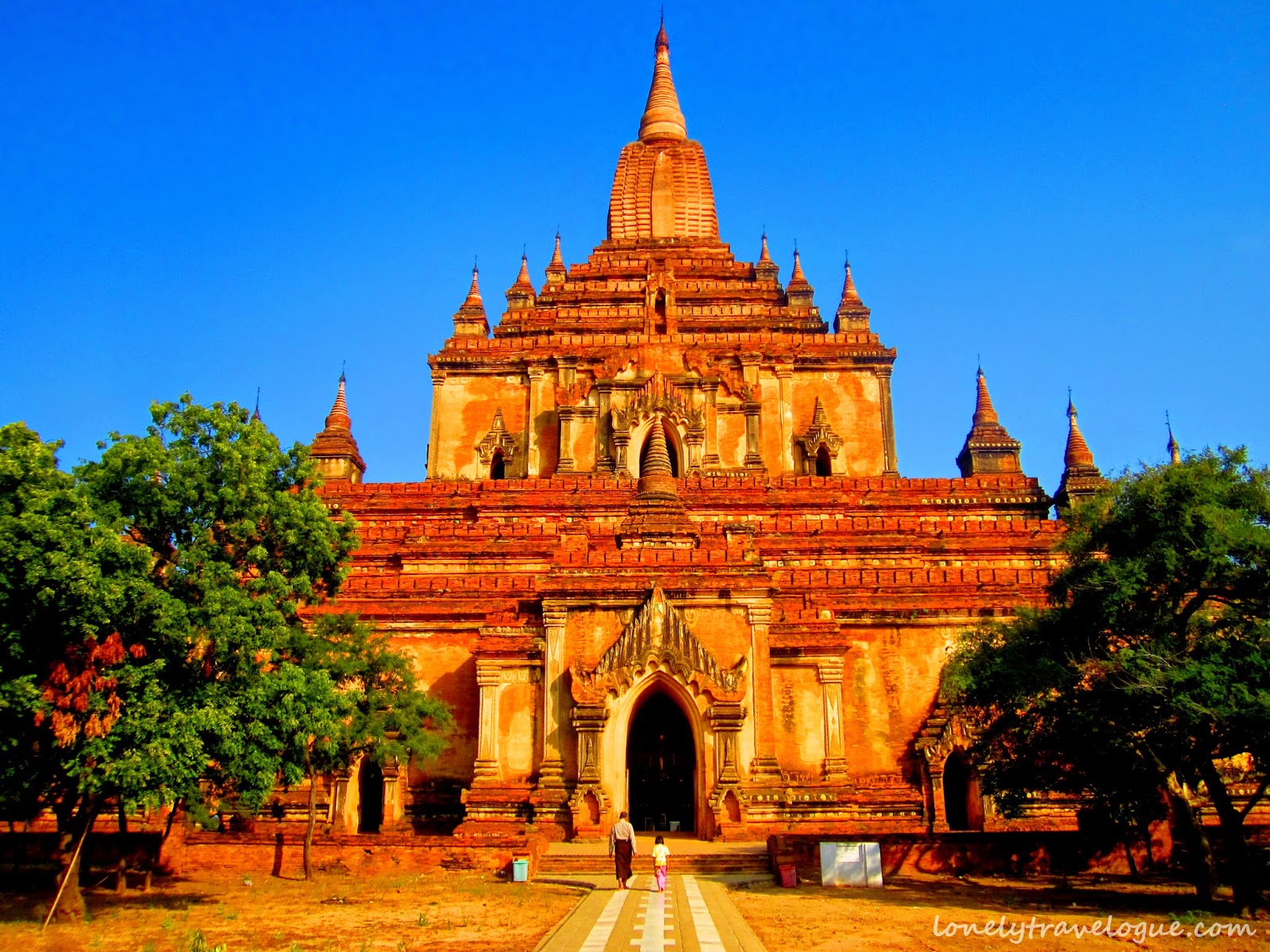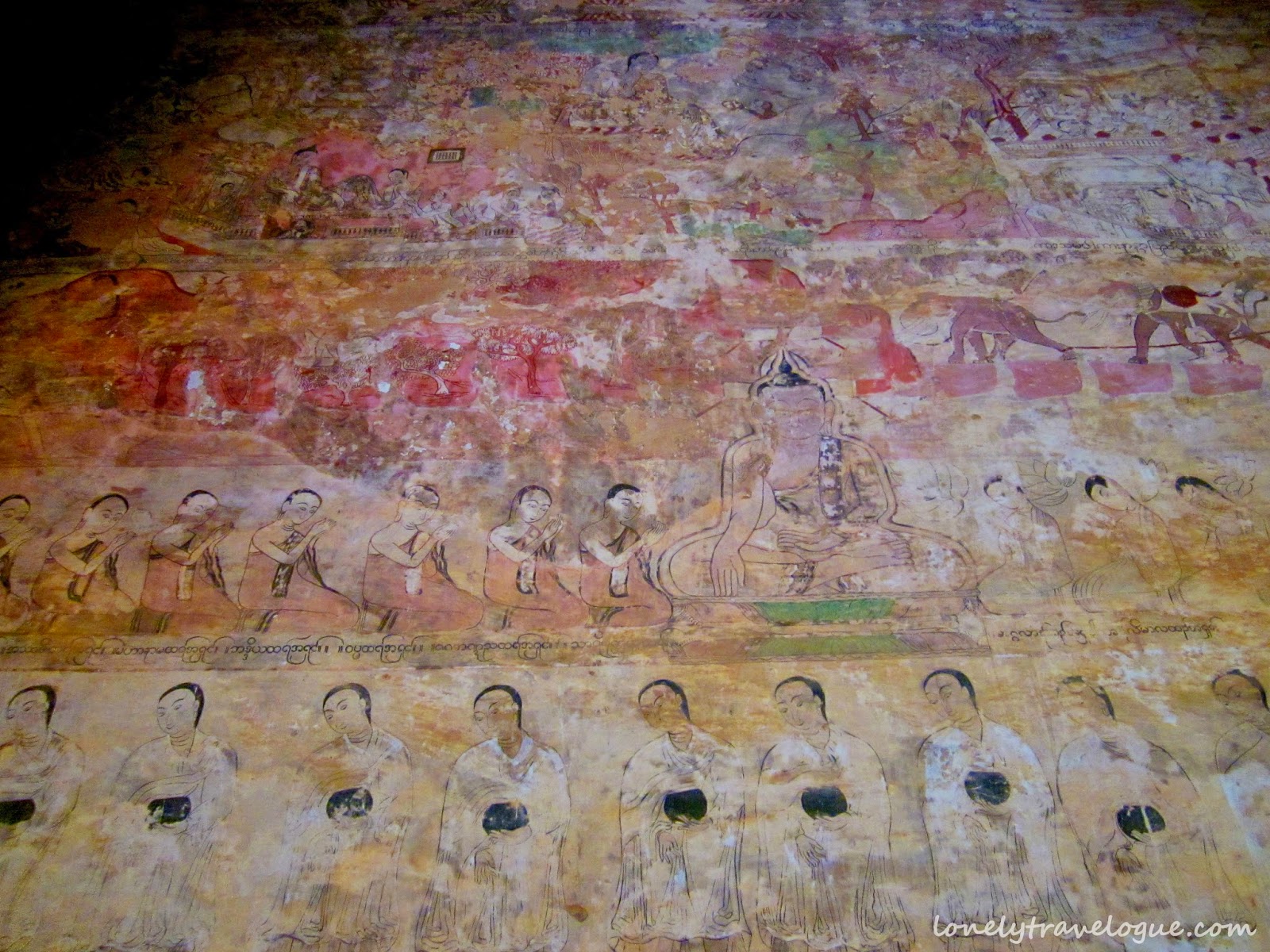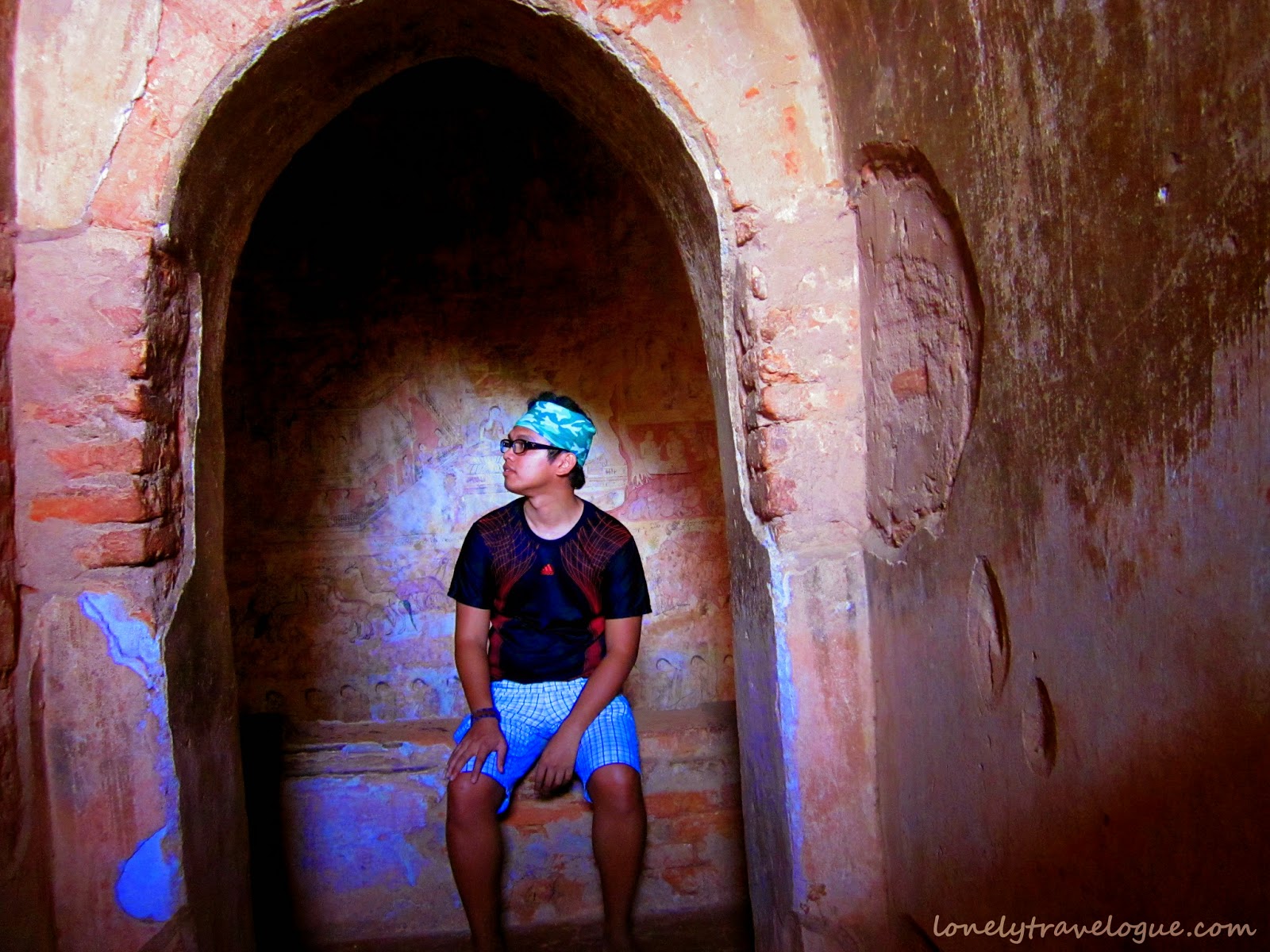 There was no other people
when I reached the Pya-Thada Temple. I laid down on the
cobbled floor like it was my bed – hard bed. My butt was aching, my
waist was in pain. I wanted to sleep and wait till the sun waive
goodbye. But my tummy was shouting. Thank God there was a corn vendor
outside and my tumbler was still full of water. I bought some food
and went up to the temple to find my spot.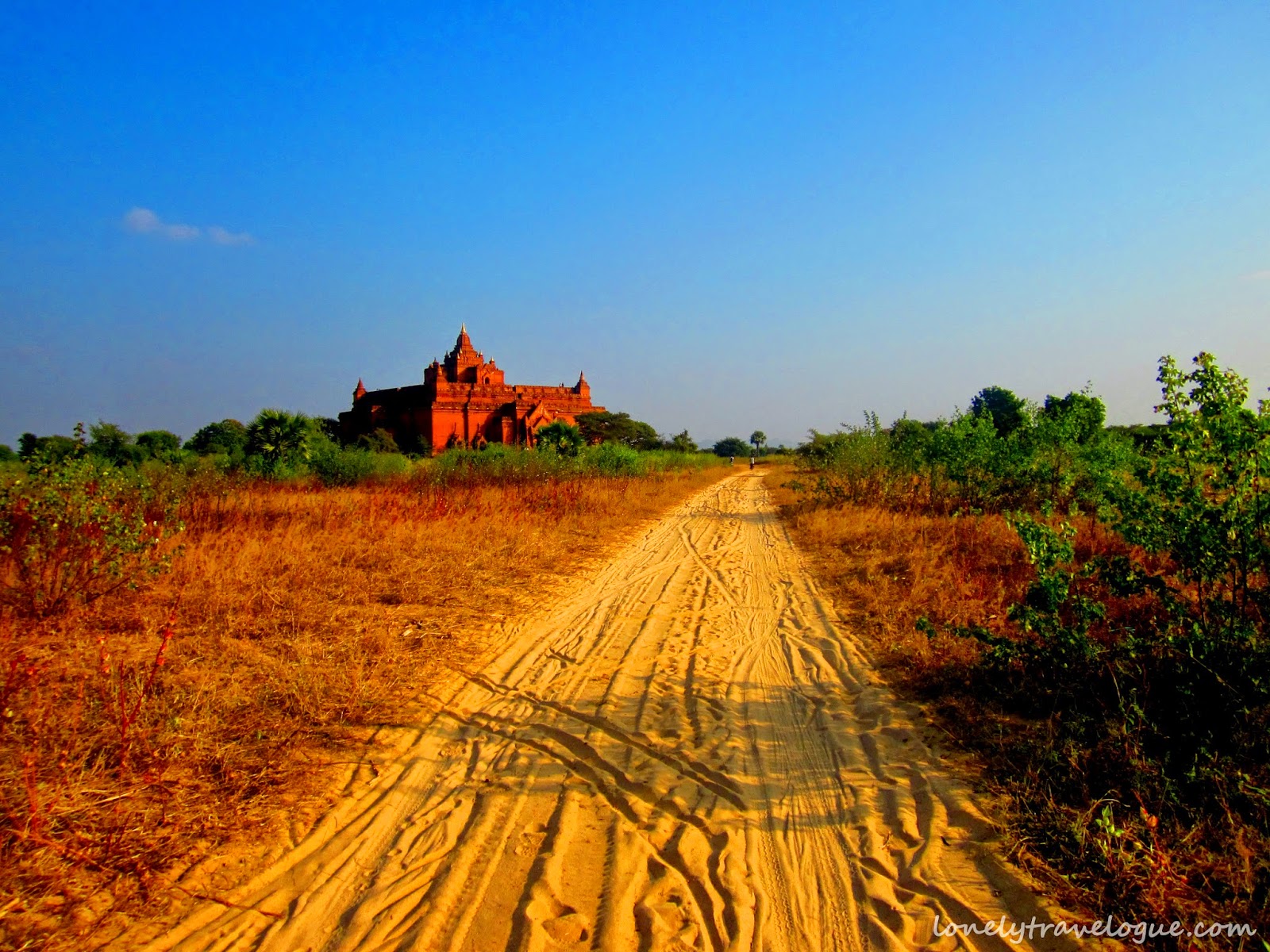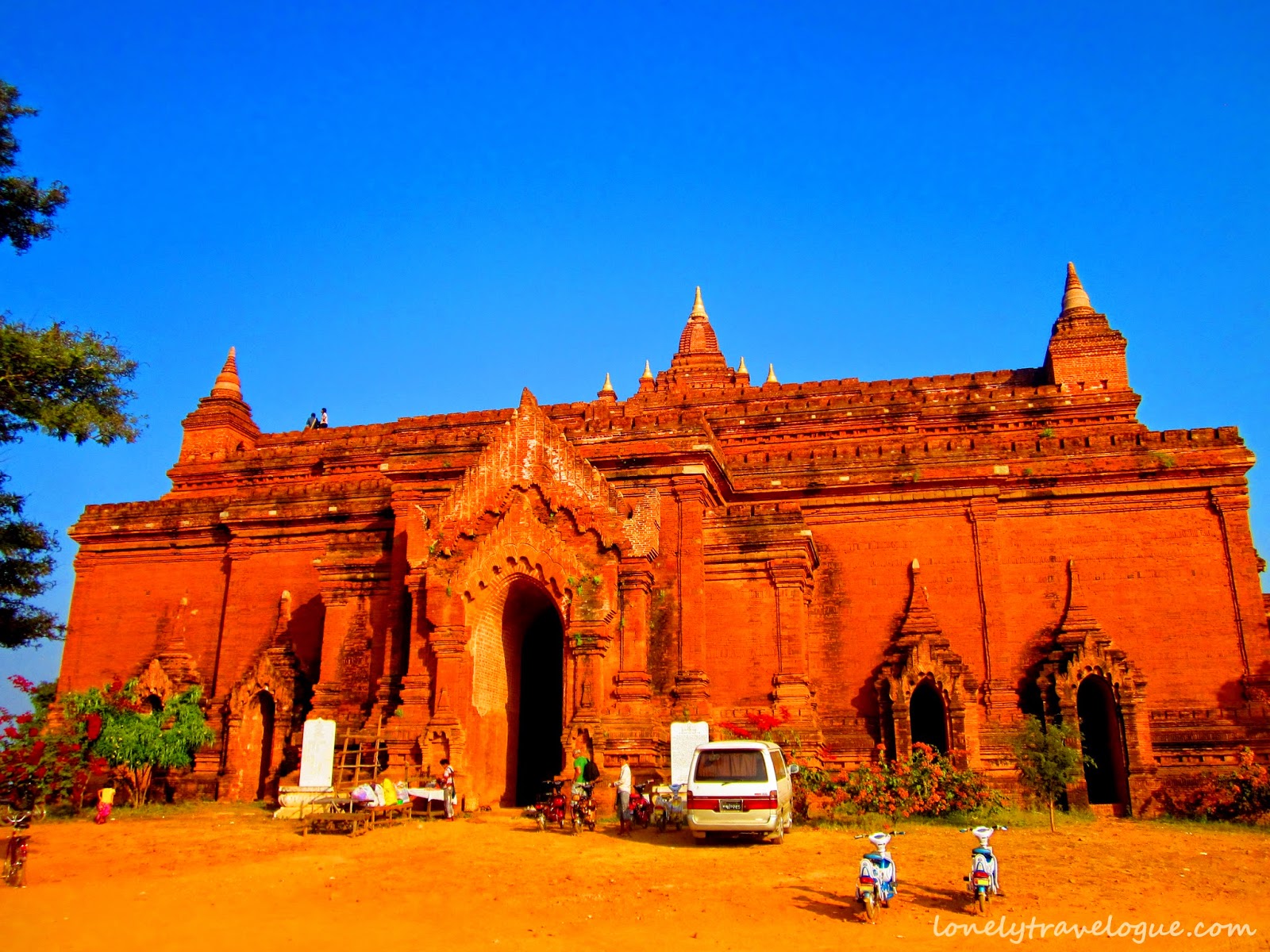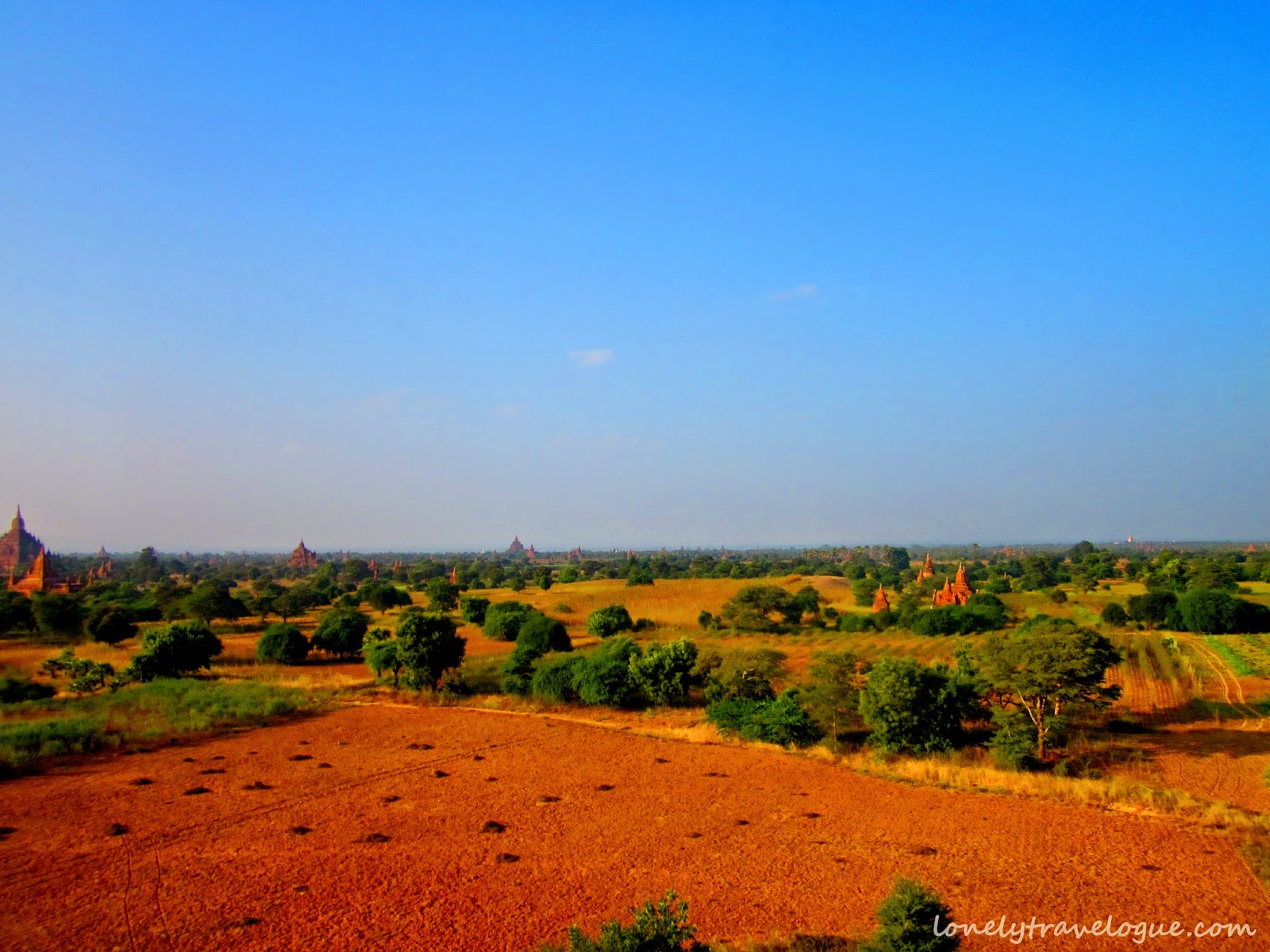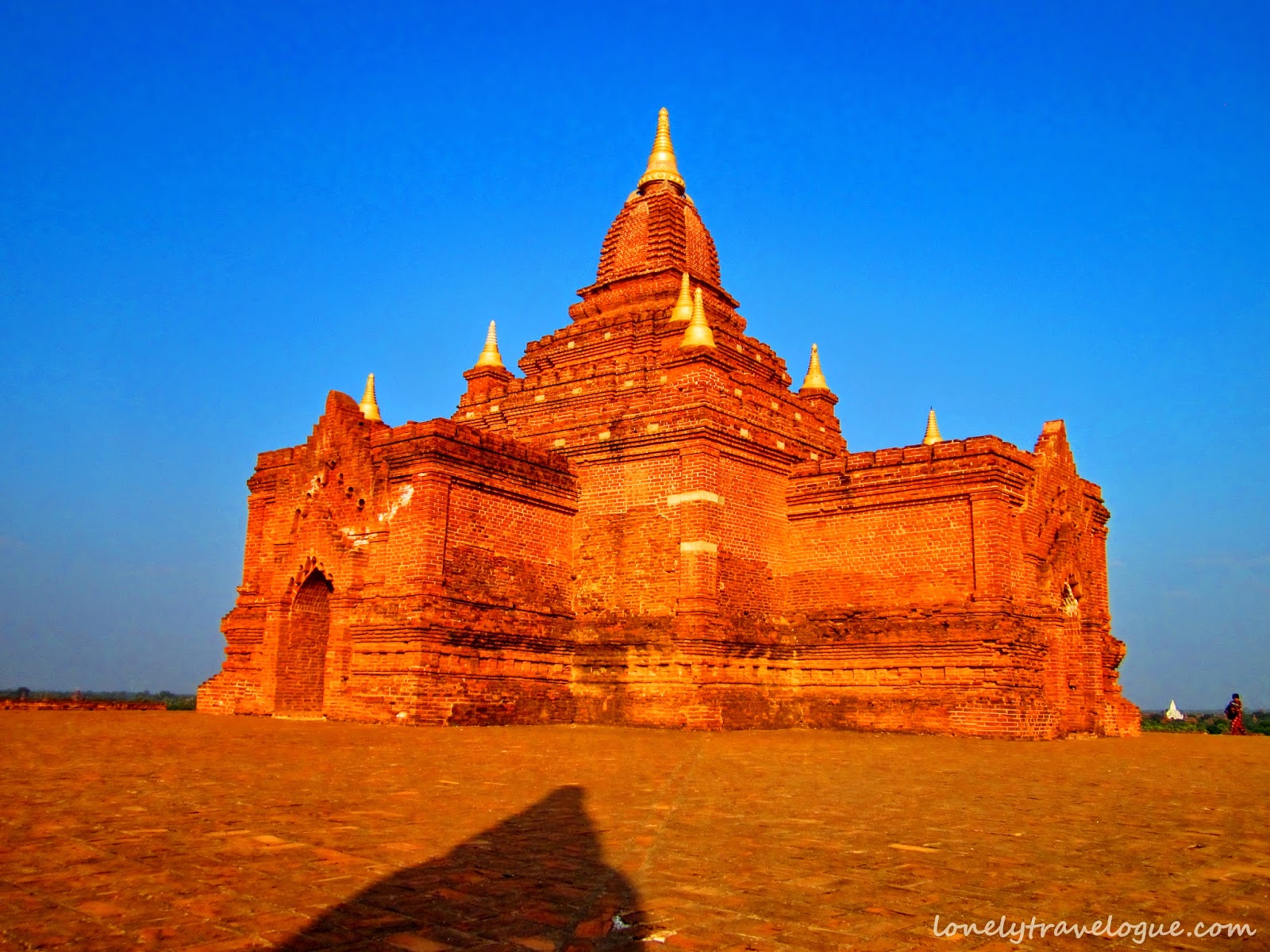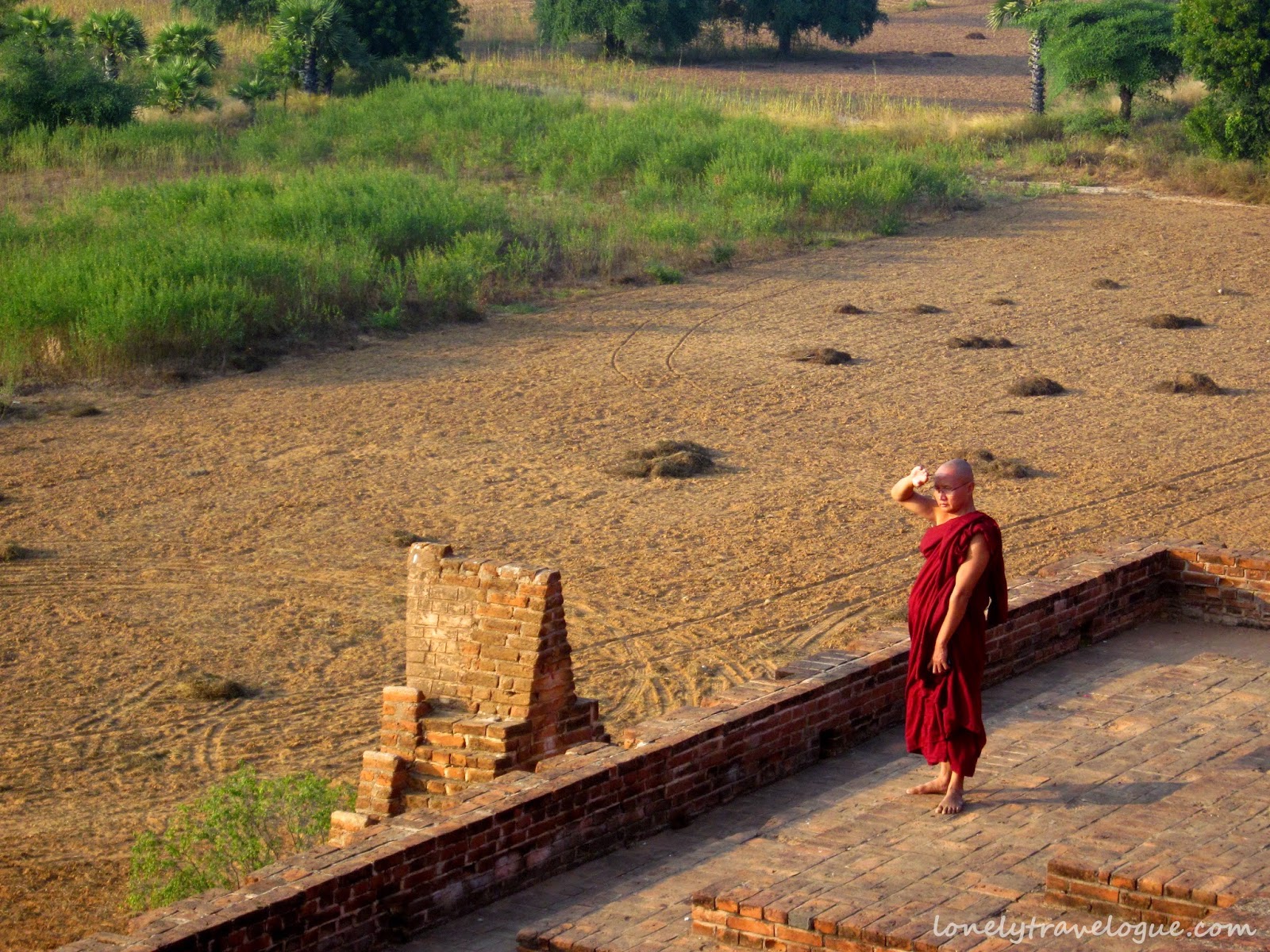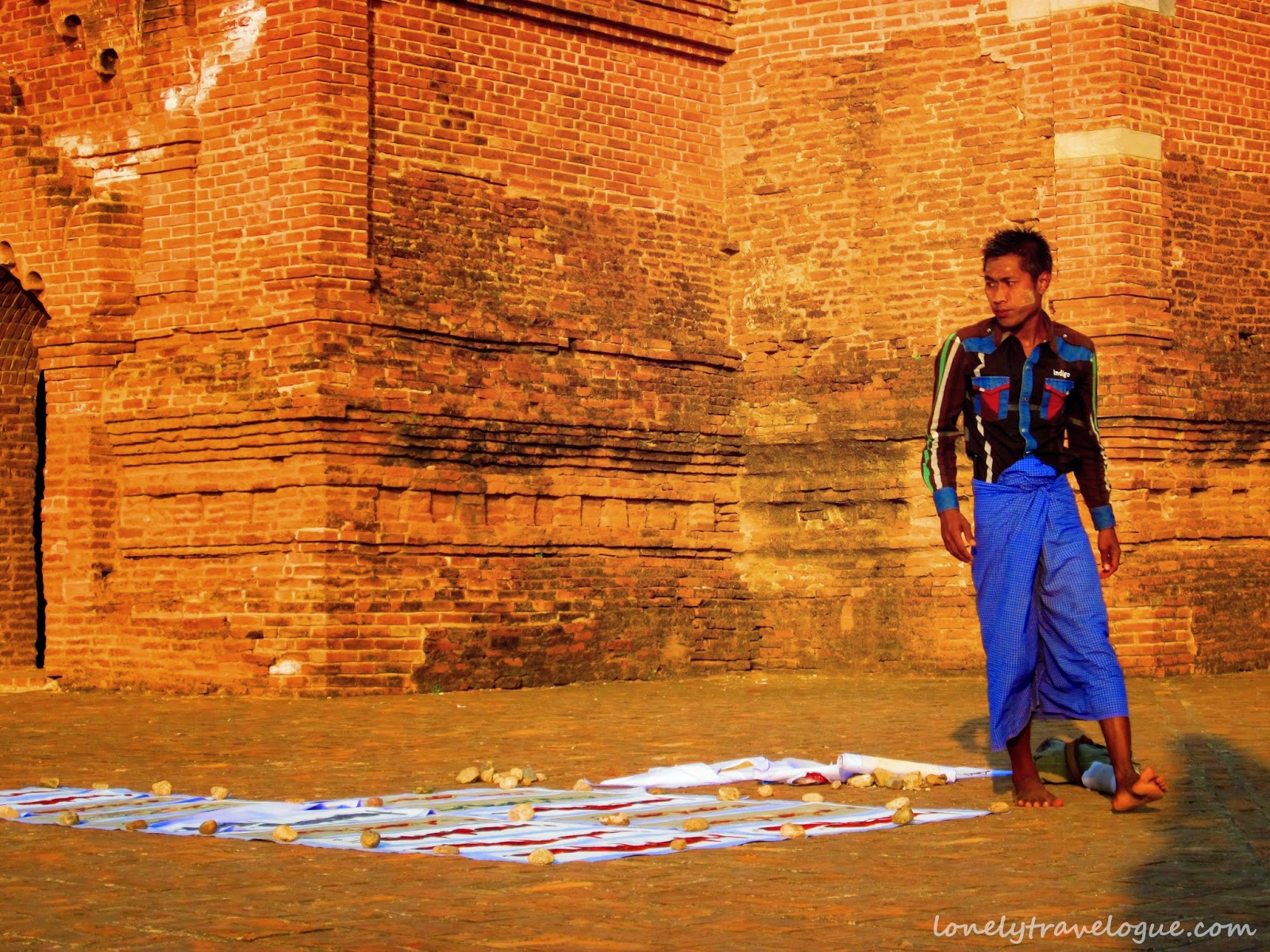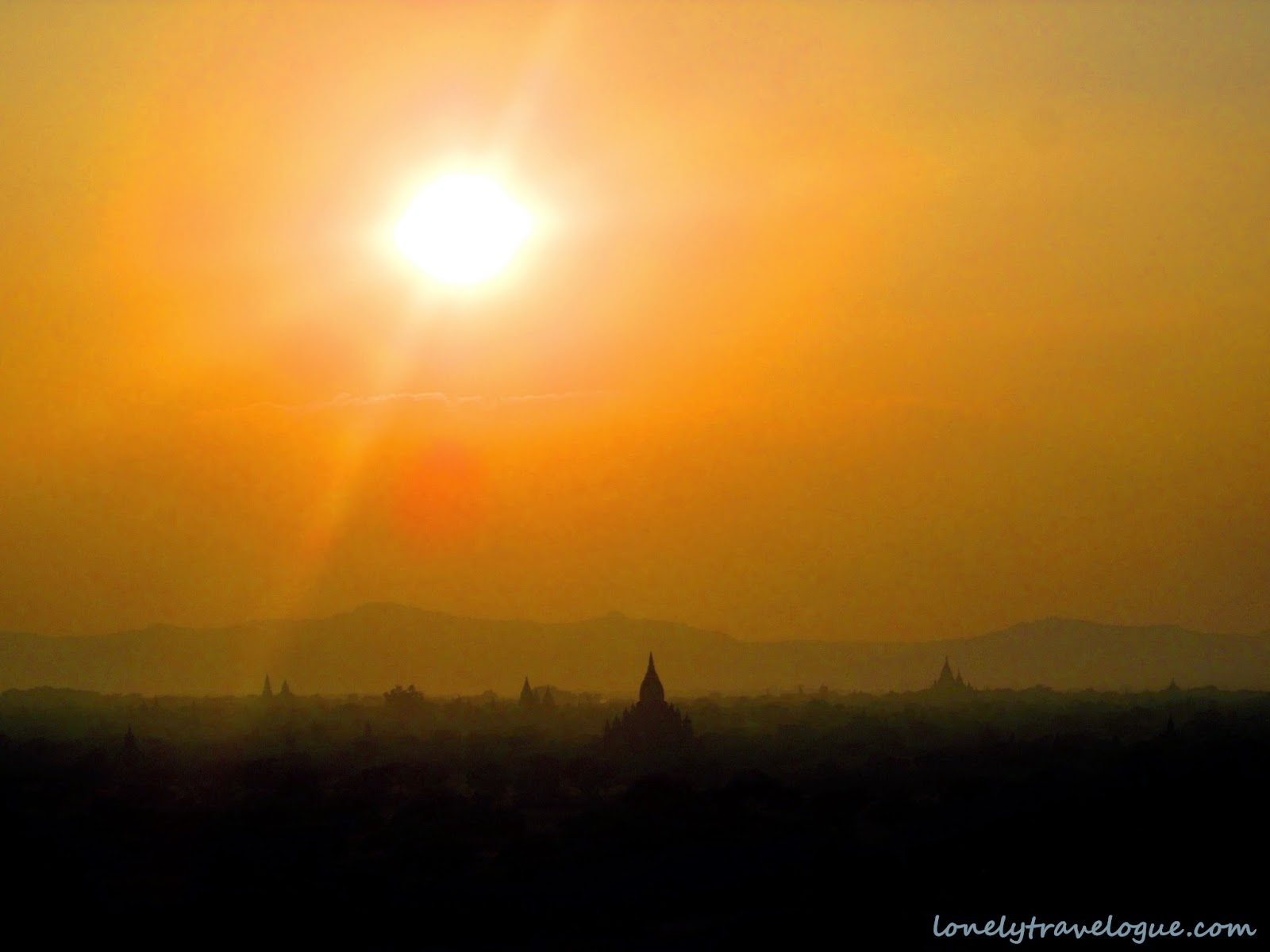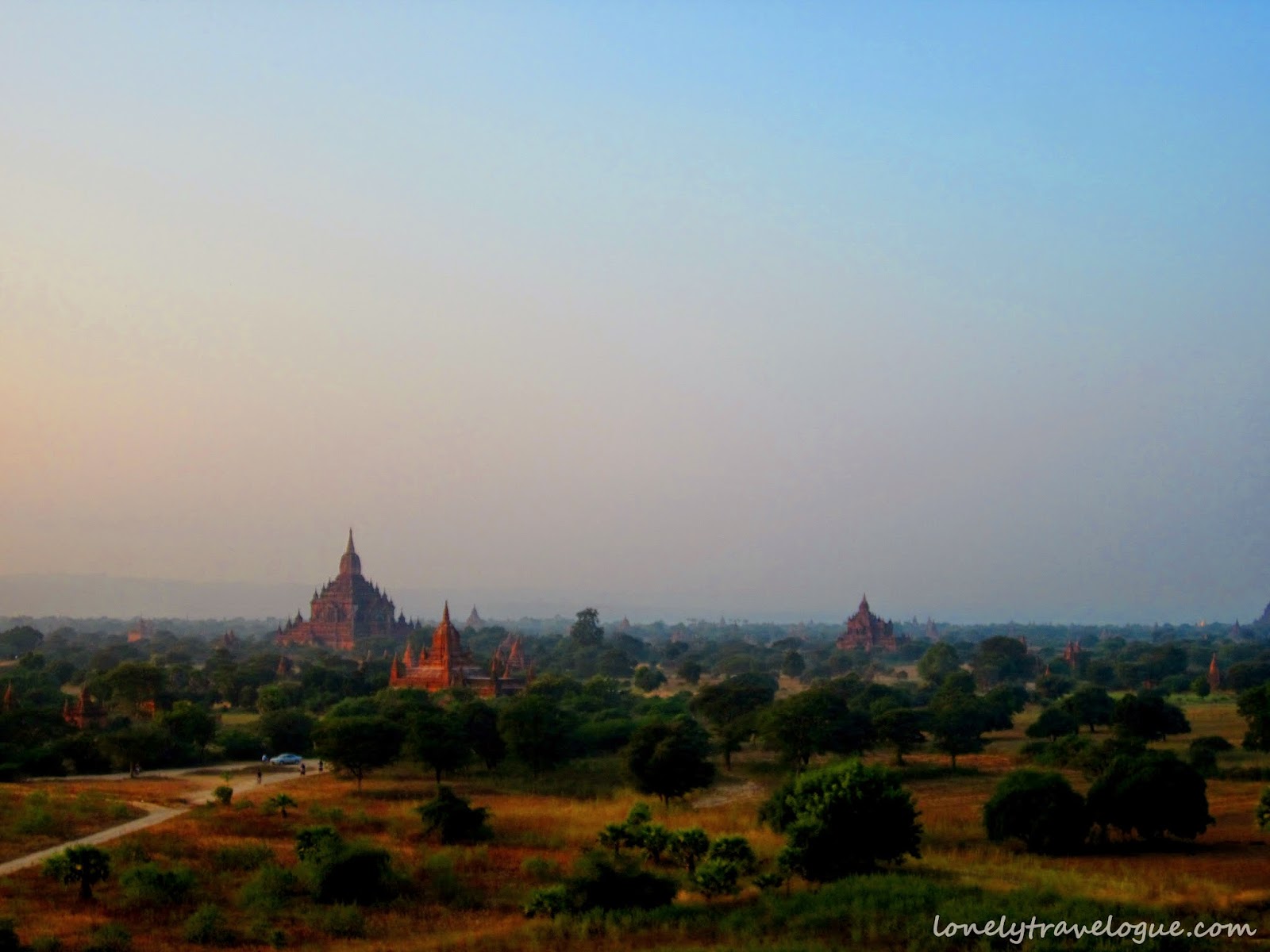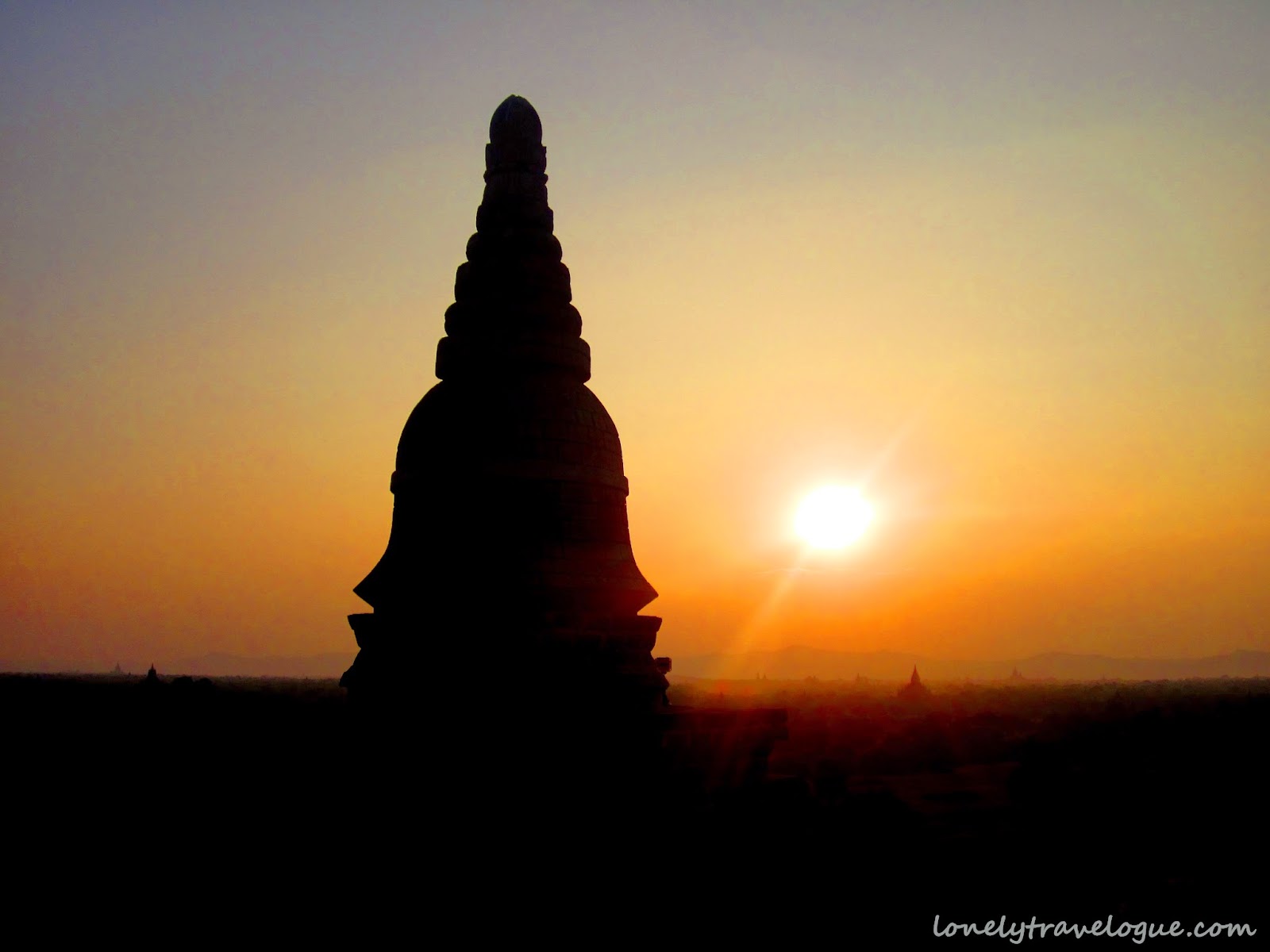 There was no other people when I reached the Pya-Thada Temple. I laid down on the cobbled floor like it was my bed – hard bed. My butt was aching, my waist was in pain. I wanted to sleep and wait till the sun waive goodbye. But my tummy was shouting. Thank God there was a corn vendor outside and my tumbler was still full of water. I bought some food and went up to the temple to find my spot.